Today we're dialing up the decadence, and there's no space with the power to channel a decadent vibe quite like the boudoir. Let's face it–life is challenging. So at the end of the day, isn't it nice to unwind in a luxurious space surrounded by plush bedding, irresistible textures and creature comforts? Achieving this look is easier than you think, and it's possible to get the job done on a budget.
I'll be honest–this post was inspired by my upcoming bedroom makeover. And you can bet that I'm shopping around for ideas! I want my sleeping space to be a place of relaxation, where sleep comes easily and the blood pressure is lowered simply by stepping into the room. What makes a bedroom decadent? Here are five design elements regularly found in the most decadent of spaces…
Chic Bedding
Folks, we have to start with the bed! And whether you're sleeping on a mattress that rests on the floor or you're elevated from the ground on an opulent king-sized bed with a headboard the size of Texas, it's the bedding that makes a difference. Does this mean you have to shell out the big bucks for the most expensive sheets you can find? No–but you do want your bedding to be comfy. Aim for a variety of textures, as shown in the space below. Drape a throw over the end of the bed for a welcoming touch. [from Marble of the World]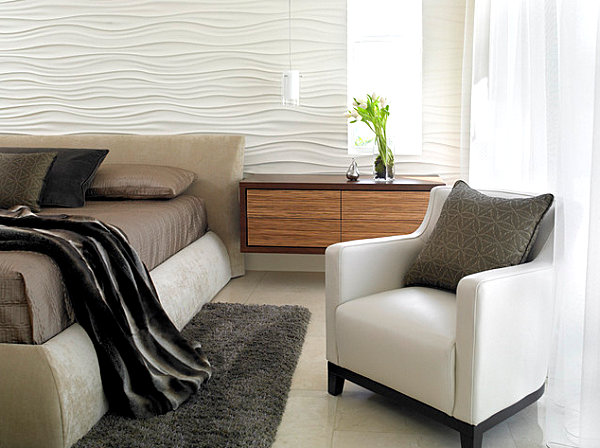 Let's hear it for pillows! It never hurts to have a big bunch of them near the headboard. Pillows remind people of comfort. So what better way to emphasize a relaxing vibe in the bedroom than by mixing and matching a lovely collection of pillows in various colors and patterns? A little warning: resist the urge to cover the entire bed in pillows. They can take over your life! [from Lonny]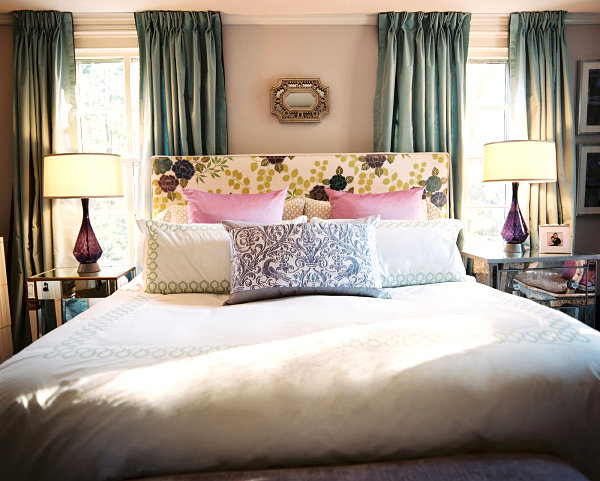 We know we just warned you not to overdo the pillows… But this next featured bedroom is so enticing, we couldn't resist it. A big part of the allure: a slew of pillows that beckons you to fall into them and begin a long night of sleep. Note the use of solids, patterns and monogrammed pillows for an eye-catching mix. Also check out the striped throw at the foot of the bed. What a great way to inject a dose of color! [from Lonny]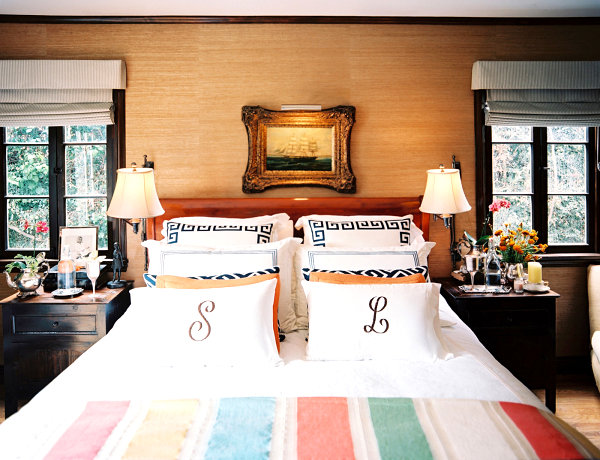 Nothing calls attention to your bedding quite like a stunning headboard. And tufted headboards certainly add a hefty dose of glamor… Don't have a headboard? No need to break the bank! There are a slew of DIY headboard ideas that pack a stylish punch. [from Lonny]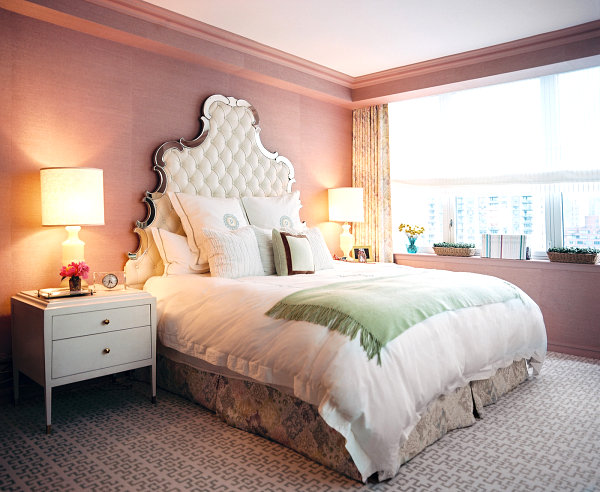 Mood Lighting
Many of the hours we spend in the bedroom are evening ones. That means the sun is down and the lights are on. Why not give your lighting an edge? Mood lighting is a great way to set a stylish tone in your bedroom. Check out the sconce lighting in the room below. Dramatic. Classy. Unforgettable. [Photography by Steve hall and Hedrich Blessing for Wheeler Kearns Architects]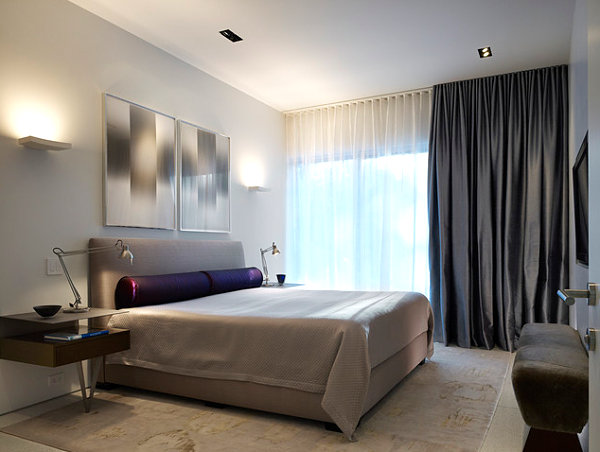 Try using a variety of light sources for a decadent effect. Below we see recessed lighting, bedside lighting and overhead lighting… [from Samantha Chung Designs]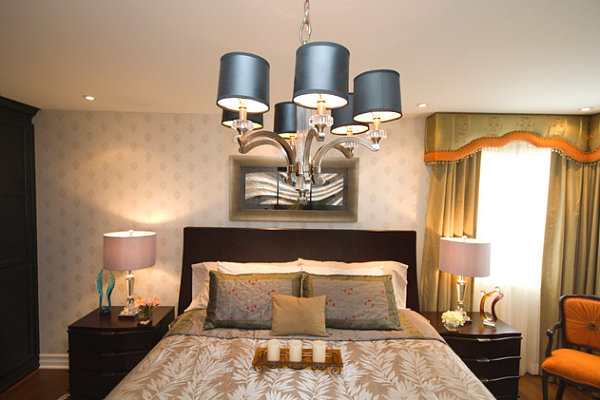 And remember to keep it interesting… You don't want the lighting to lose its effect in the daytime hours. Choosing eye-catching pieces will keep the space intriguing, even if the light isn't shining as brightly! [from Todd David Architecture]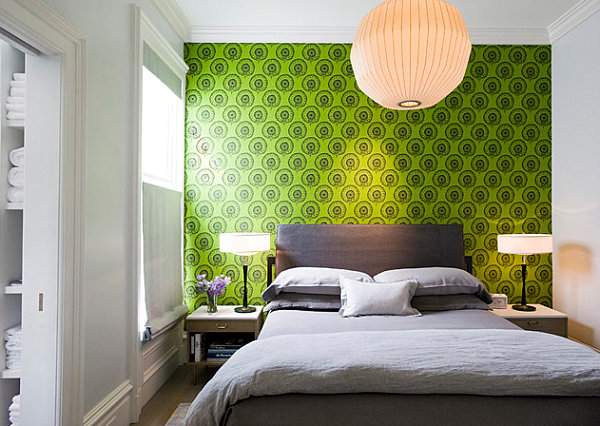 Stylish Seating
Is seating in the bedroom an absolute necessity? Absolutely not! That's what makes it decadent. Not all rooms can fit a full-fledged seating area. No problem… A chair against the wall can do the trick. But if you're lucky enough to have a large window in the boudoir, why not put a couple of chairs next to the glass so you can enjoy the view? [image by Dominique Vorillon Photography for Thinkpure]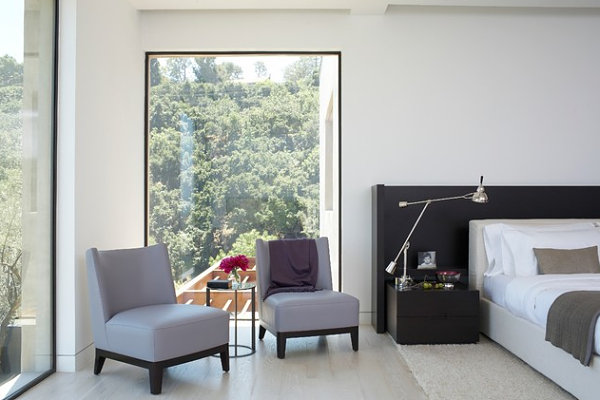 And if a seating area is possible, have a little fun with it! The vintage chairs in t he space below are stunning, along with the marble pattern pillows that nicely complement the curved love seat. Side tables add glamour to a seating area, especially since they hold treasures such as fresh flowers. Now I could spend an afternoon in that space… [design by J.P. Warren Interiors, photography by Peter Margonelli Photography for Neuhaus Design Architecture P.C.]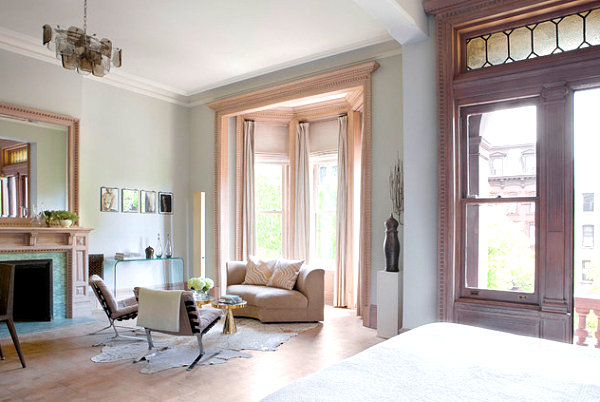 Another great seating option, especially for compact spaces? A narrow bench! Try making the area extra special by hanging a piece of artwork on a nearby wall. And don't forget the throw pillows! [from Space Harmony]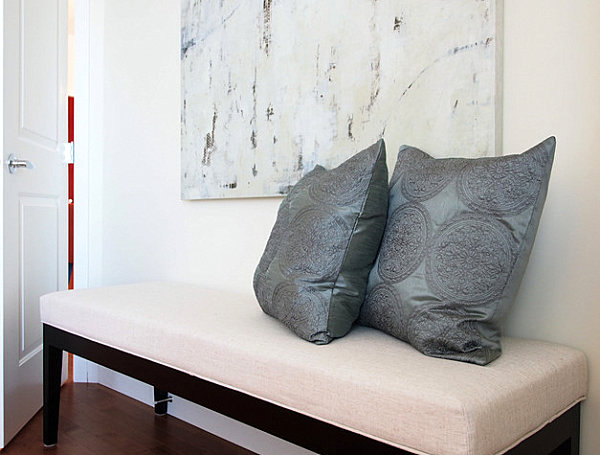 Try putting a pair of ottomans at the foot of the bed. They don't take up too much space, they're the perfect place to place the pillows while you're sleeping, and they're a nice spot for sitting down while putting on your shoes at the beginning of the day… [from Lonny]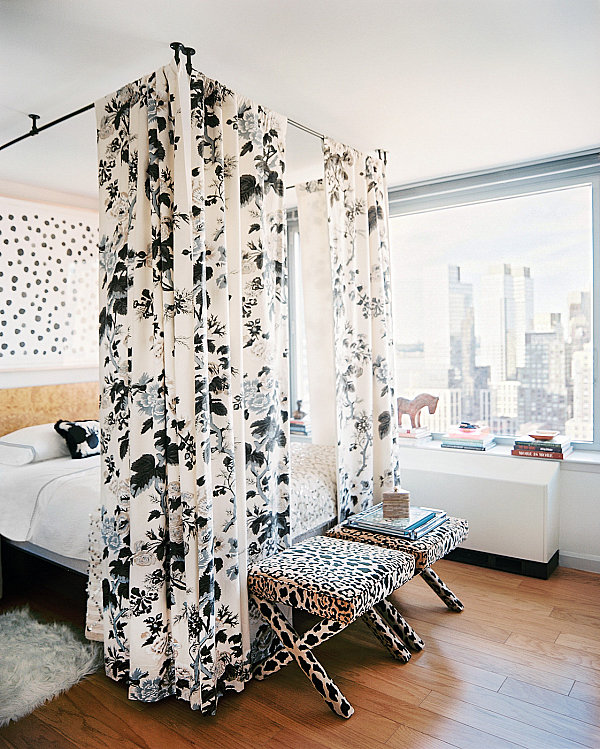 An Eye-Catching Rug
There's nothing like a warm, cushy rug to welcome you into the bedroom at the end of a long day. So take your shoes off, wiggle your toes and get ready for the ultimate in comfort. The Kasbah Wool Rug in Ivory from West Elm is the perfect ingredient for a little geometric decadence in the boudoir. Choose a rug with a soft texture for an extra dose of comfy style.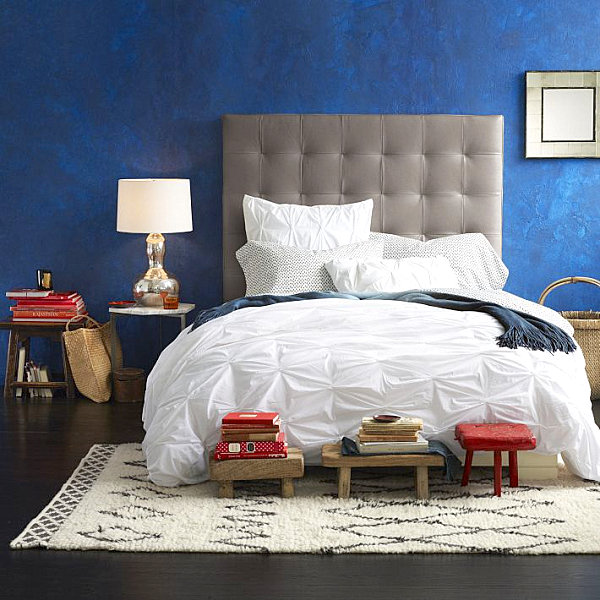 A pattern can anchor the room in style. Especially if you're mixing patterns, don't hesitate to choose a piece with a classic print, such as the Safari Wool Rug from West Elm. Neutral shades and tried-and-true patterns are the perfect backdrop for a range of colors and designs.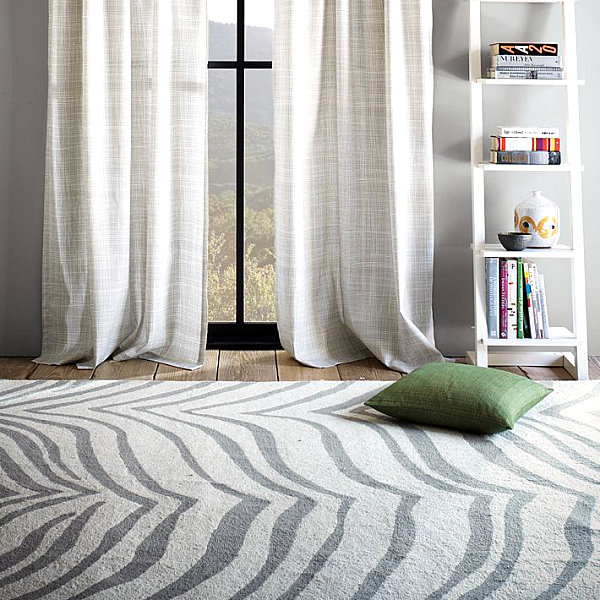 I have my eye on this next piece! It's so rich and deep–perfect for a decadent space! This Lagoon Wool Rug from West Elm is available in a variety of dimensions, including a runner. In fact, if a giant rug that encompasses the bed and your other furnishings is out of the question, a runner is a great way to go for a dash of color and texture. Did I mention that this stylish rug is over-dyed for a saturated look? Yummy!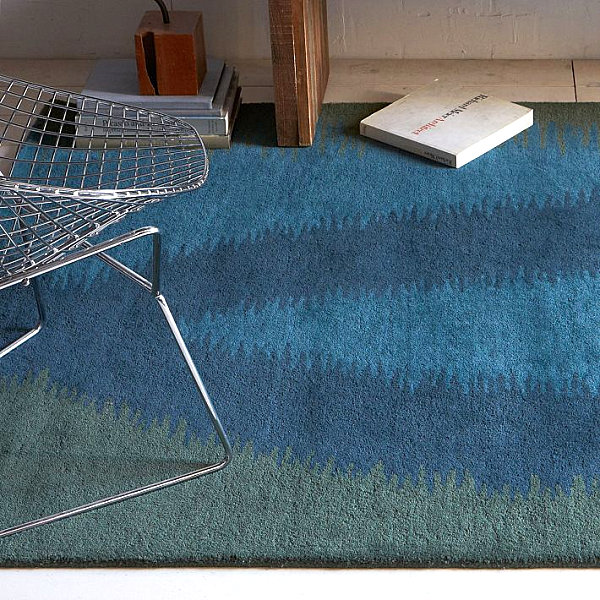 Unnecessary Indulgences
We end with the ultimate in decadent bedroom design: unnecessary indulgences. You know, those items that aren't required but you can't seem to live without. My favorite indulgence: Striking artwork! No, you don't have to include it. But investing time (to create your own wall art) or money (to purchase a beautiful piece) is well worth the effort. [from Buckingham Interiors + Design]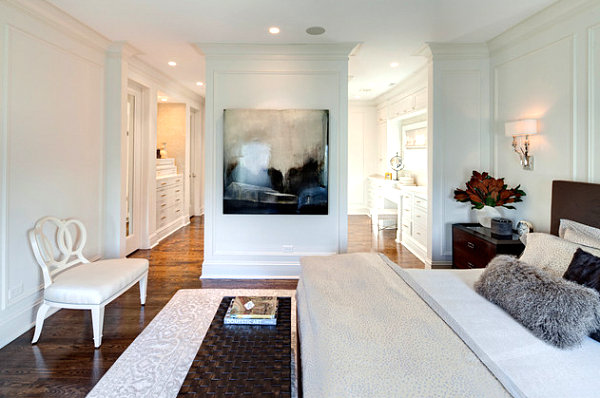 A vase of flowers. A candle. A gorgeous mirror. Necessities? No! But that doesn't make us desire them any less. Amass a little collection of lovely things. You'll thank yourself for it later! [image by Liily Dong Photography for Nicole Benveniste Interior Design]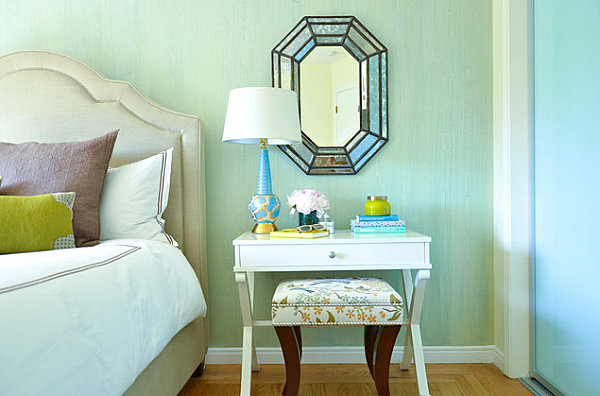 The sunburst mirror. The chandelier. The vase of calla lilies The tassels on the closet doors. How many indulgences can you find in the space below? And are those little tangerines by the bed? Who knows–but they've got our attention! When it comes to a decadent space, sometimes more is more. [from Studio Baron Interiors]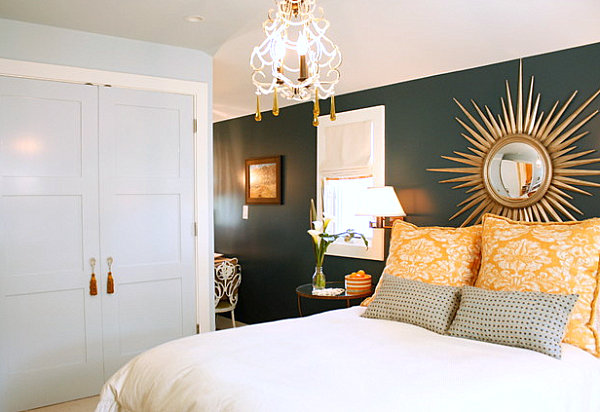 We end with another shot of decadence. After all, gorgeous details make a difference. And this space has it all. Lovely lighting. Interesting bedding. Little indulgences. Are you ready to design your own space? [from Lonny]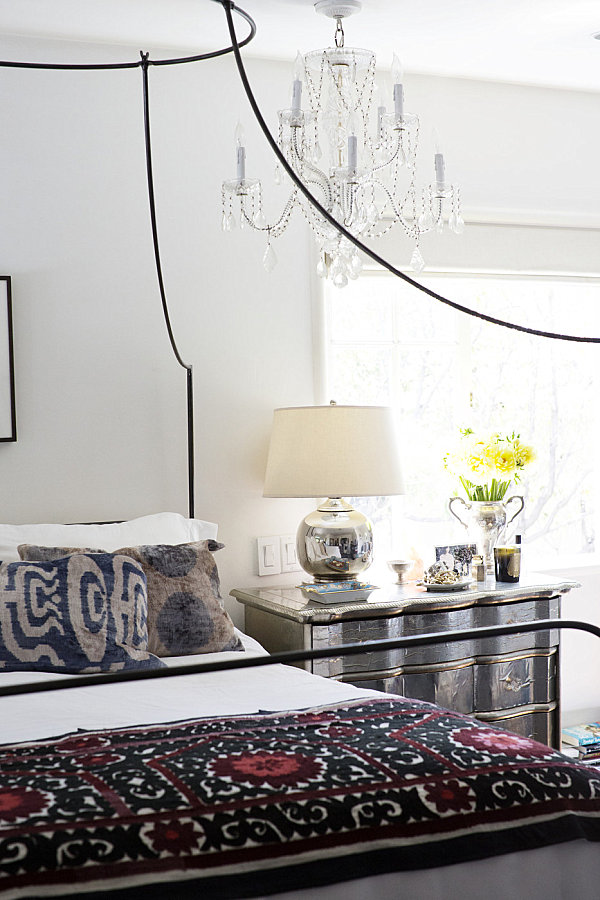 I'll keep you all posted on my bedroom makeover efforts… In the meantime, do you have any hints for achieving a truly decadent sleeping space? Share your thoughts by leaving a comment below…