When it comes to decorating, nothing sets the tone of a bedroom like a beautiful headboard. While stylish headboards can be quite expensive, a vibrant array of do-it-yourself options makes imaginative bedroom design a reality. Today we feature 25 of the best DIY headboard ideas for your inspiration.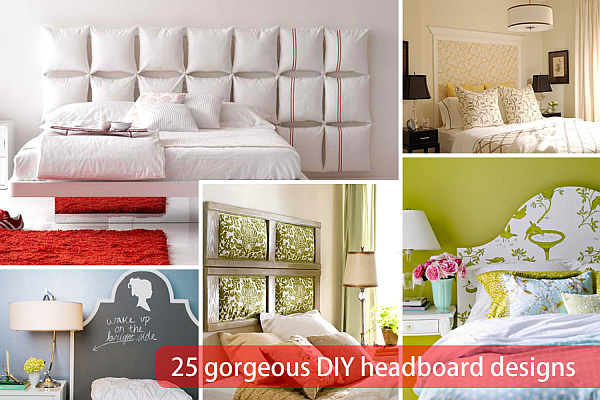 Modern Headboards
Pillow Headboard
What better way to celebrate the ritual of sleep than by constructing a headboard from pillows?! This next DIY idea creates a grid-like design by using puffy pillows in understated shades and patterns. There's simplicity in repetition, and this linear arrangement can't help but create a modern vibe. [from Olivieri via Trendir]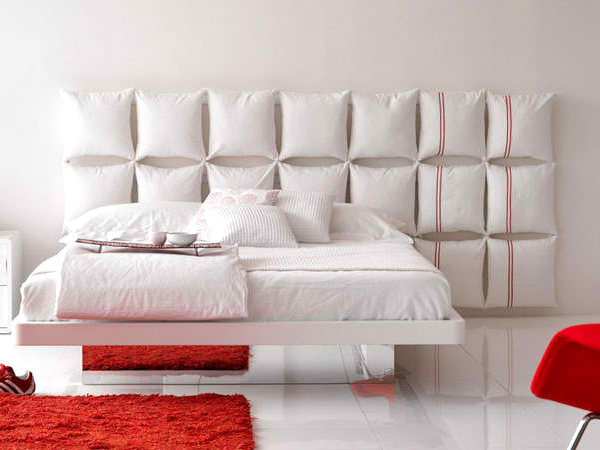 Canvas Headboard
For one more modern idea, mount a canvas or two behind the bed to create an artistic headboard alternative. The beauty of this project is the way you can customize color and pattern with the stroke of a brush. In the image below, shades of golden green create a warm glow. [from HGTV.com]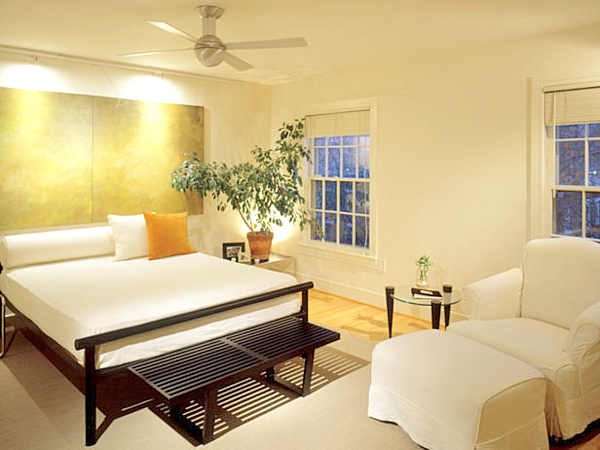 Plywood Headboard
There are times when simple equals modern, and this project takes chic simplicity to a new level. To make your own plywood headboard, take a trip to the local home supply store and purchase a few simple items: one large sheet of plywood, sandpaper, stain and sealer. Yes, it's that easy! When you've sanded, stained and sealed your headboard, set it behind the bed and enjoy the earthy statement it creates. [from Better Homes and Gardens]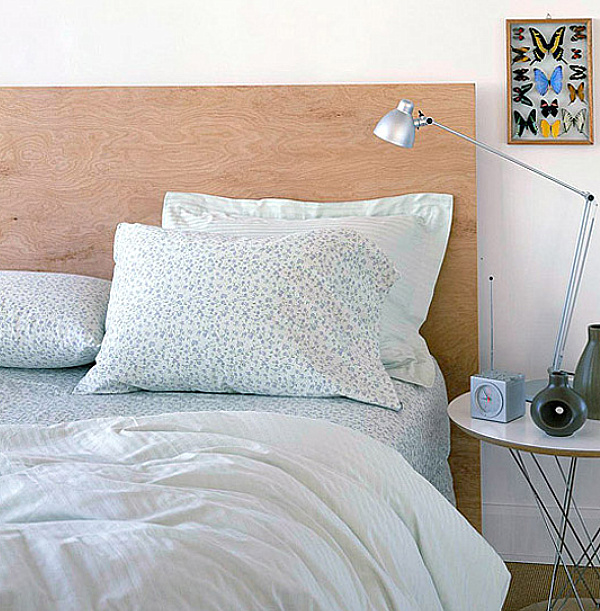 Wooden Slab Headboard
This next headboard couldn't be more unique! A large slab of wood becomes a one-of-a-kind backing for a bed featuring eclectic pillows. Are there other natural or found items that can become your ideal headboard? This image can't help but inspire endless possibilities… [design by Daniel Bodenmiller, from HGTV.com]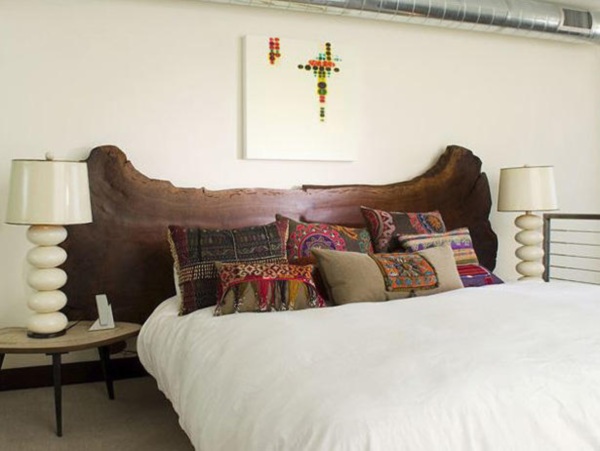 Wall Decal Headboard
Another modern headboard idea involves the use of decals. Wall decals are available from a variety of vendors, both online and retail. From whimsical and organic to geometric and contemporary, a myriad of styles suits every design sensibility. The decal below comes from Etsy shop ShaNickers Wall Decals. Purchase a decal designed specifically for headboards, or let inspiration take hold and create your own design by combining your favorite decal selections.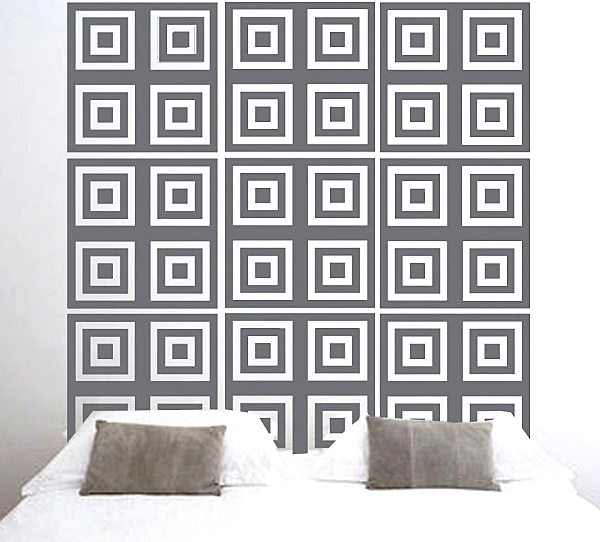 Upholstered Headboards
Upholstered Shutter Headboard
This last upholstered headboard project has a twist–the fabric and batting are placed inside of two shutter frames! Using metallic paint on the wood and striking fabric for the middle gives the headboard a contemporary feel. User-friendly supplies like a staple gun and hot glue keep the process simple. [from Better Homes and Gardens]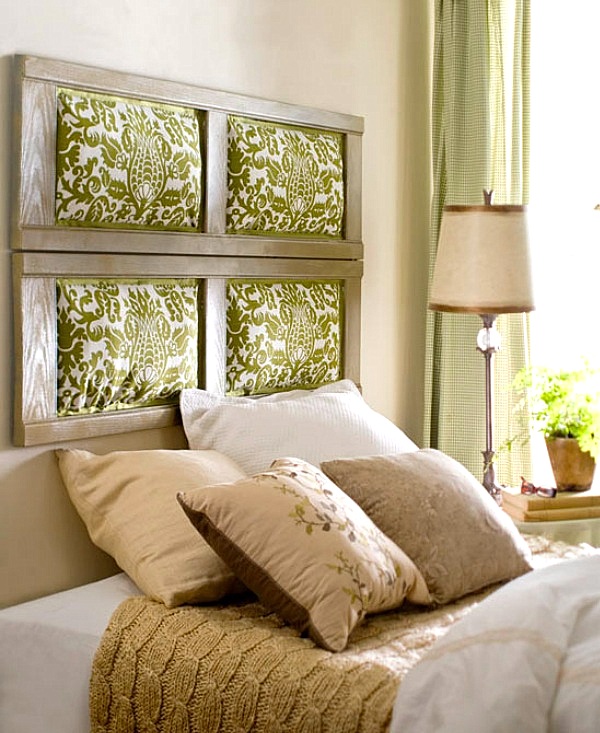 Fancy Upholstered Headboard
Upholstered headboards bring luxury to the bedroom. The curved outline of this first DIY idea adds elegance, while a bold color choice introduces a vivid palette. Fiberboard, foam board, muslin, decorative fabric and piping give this project its substance, and the finished product reveals a big payoff. [full tutorial at Better Homes and Gardens]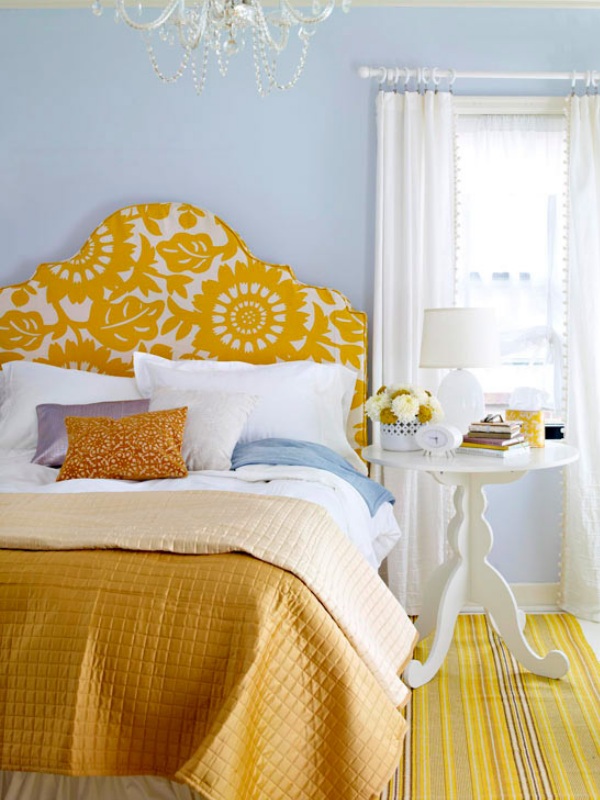 Tall Upholstered Headboard
This next headboard features a lattice pattern, although any fabric of choice will do. Add the help of plywood, foam and batting, and the project comes to life. The power is in the headboard's height, which draws the eye upward, making the room look taller. Don't forget the nail head trim! [full tutorial at HGTV.com]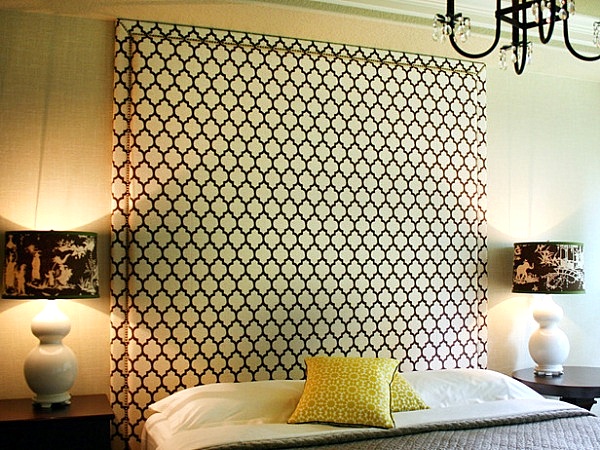 Rectangular Upholstered Headboards
Here are two more do-it-yourself headboard projects, each one unique yet similar in the low, rectangular design. The first idea (below, left) shows DIY enthusiasts how to refresh an upholstered headboard with new fabric. The second project (below, right) uses decorative molding to create a picture frame for the outline, then fills in the center with fabric-covered plywood. [both ideas from Sunset]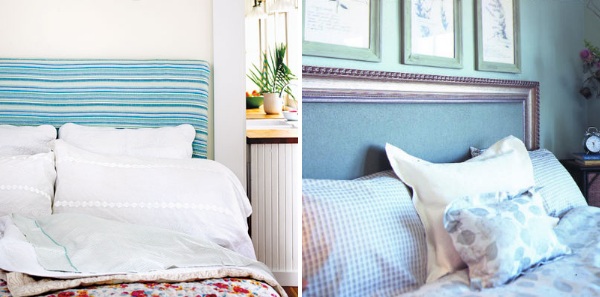 Painted Headboards
Chalkboard Paint Headboard
Having a headboard you can fill with daily messages is as easy as buying a can of chalkboard paint! Paint a headboard of your choice, or paint directly on the wall to create a headboard effect. Adding a border and visual detail helps the finished product stand out. [designed by Maureen Toribio, from HGTV.com]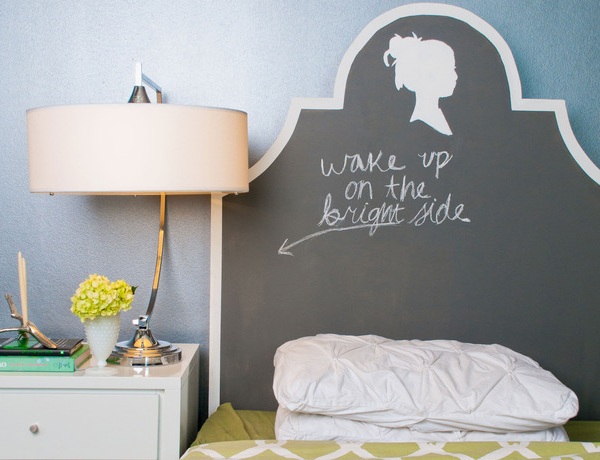 Stenciled Headboards
Stencils add definition and polish to painted headboards. Make your own stencil, or choose from many designs for sale through a variety of vendors. The tall turquoise headboard below (left) can be created by painting a rectangle on the wall with the help of a carpenter's level and painter's tape to keep the edges straight. Adding stenciled details finishes the project. [full tutorial available at Elle Decor]
The painted white headboard (below, right) is a great reminder that a bold wall color can play a key role in defining the shape of a headboard design. For stencil specifics, visit Good Housekeeping.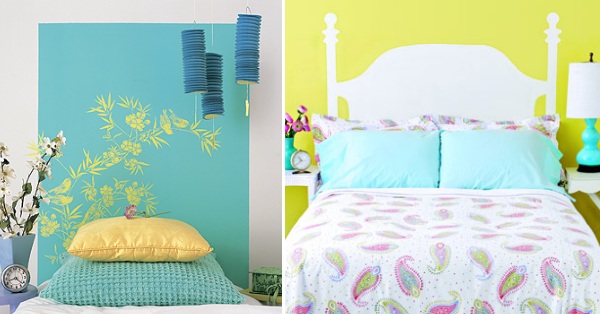 Using two shades of the same color when painting a headboard is both unexpected and visually interesting. Below (left), the light green stencil paint makes a monochromatic statement against the pear green wall color. Featured on Simply Seleta, this project takes its inspiration from a Domino magazine image.
An even bigger time-saver? Paint the outline of the headboard and let the wall color underneath fill in the middle! Below (right), a brown border gets the job done. In fact, the headboard is actually a decal, another option for achieving the stencil look without having to buy painting supplies. [available at Blik, image from House & Home]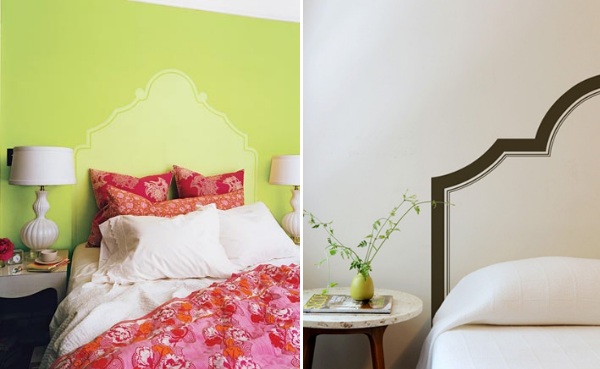 Wallpaper Headboards
Wallpaper Cutout Headboards
The projects below involve applying wallpaper directly to the wall to create the illusion of a headboard. You may think the effect would be flat, but the patterned paper adds alluring texture. The beauty of this blue headboard from MarthaStewart.com (below, left) is the way the lines of the pattern are followed in the cutting process. A curved, scroll-like edge is the result, bringing intricate detail to the bedroom. The yellow headboard (below, right) has a simple rounded top, but the curved slope and flat edge add interest. [full tutorial on Etsy]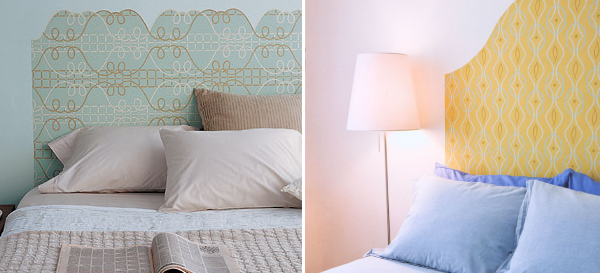 Framed Wallpaper Headboards
A framed border creates dimension in the headboards below. This blue headboard is made from a large picture frame filled with cut wallpaper. The result is stunning! [from Better Homes and Gardens]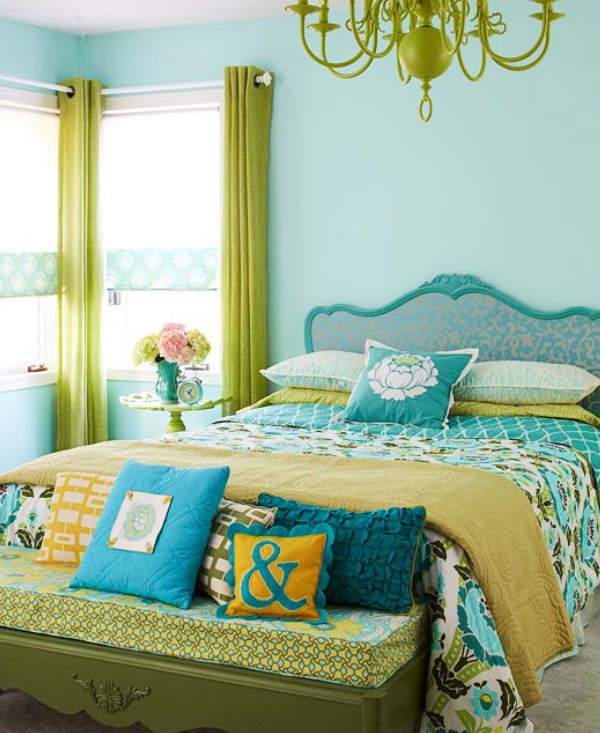 If you prefer angles to curves, try framing wallpaper in white painted trim, as shown below. Accent the top with crown molding for architectural detail. [from House & Home]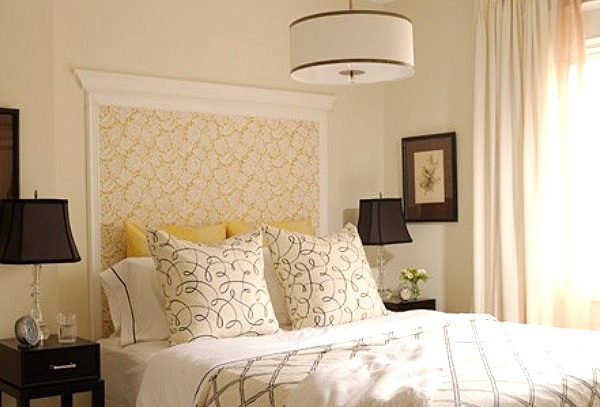 Wallpapered Headboards
An alternative to crafting a wallpaper headboard is wallpapering the headboard itself! Trace the outline of your headboard of choice, cut the wallpaper to fit it perfectly, then cover the headboard in its new coat. Choose a whimsical wallpaper for a fun effect! [from Better Homes and Gardens]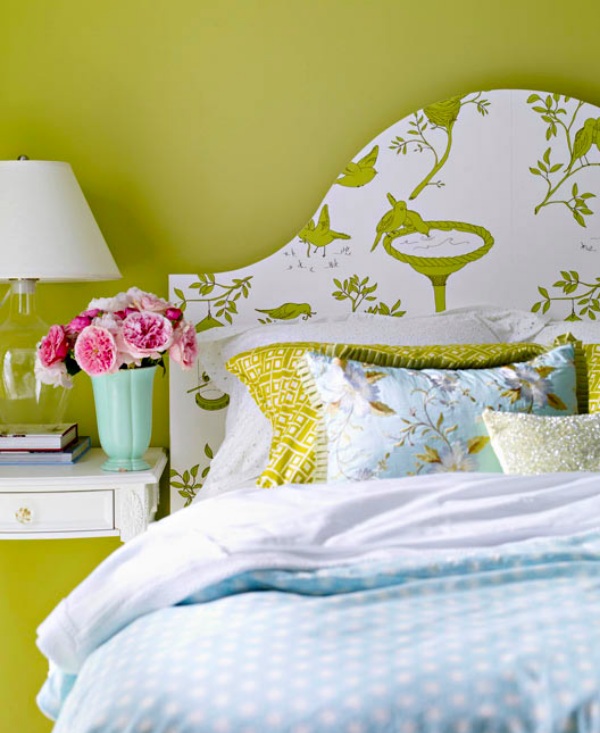 Fancy Headboards Made From Everyday Items
Starched Fabric Headboard
This zigzag headboard has a similar effect as the wallpaper headboards above, but the supply of choice is fabric stiffened with starch. With the help of an iron and an eye-catching pattern, the results are crisp and clean! [full tutorial at Metal & Mud]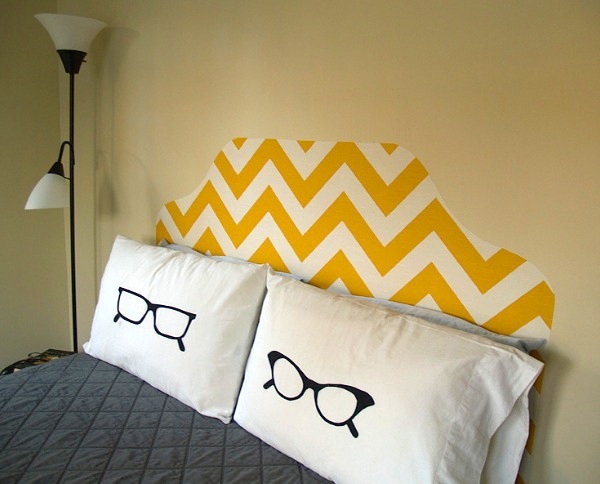 Metal Headboard
As it turns out, corrugated metal roofing can add a surprisingly charming touch! The proper cutting tool and a little imagination make this project take flight. [from HGTV.com]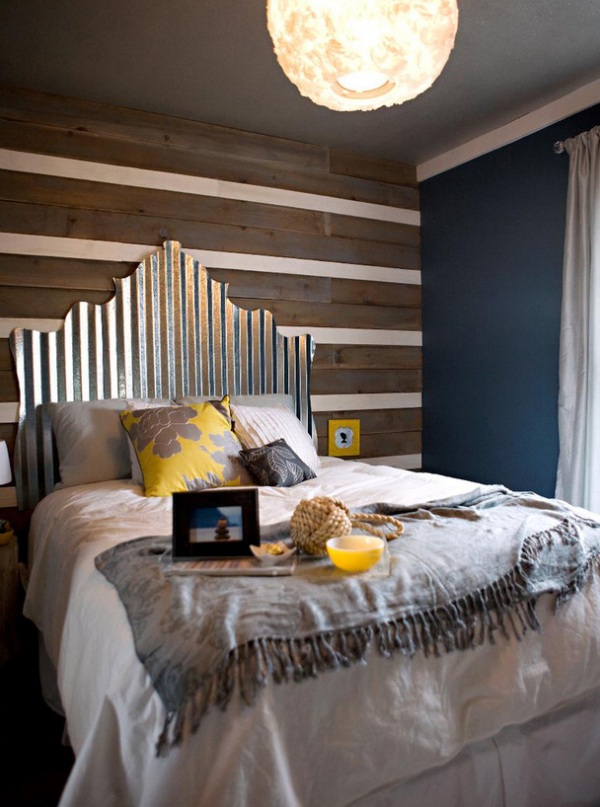 Mantle and Mirror Headboards
Who would have thought that a mantle could serve as a frame for an upholstered headboard? The white-edged headboard below (left) may look like a re-purposed fireplace, but it's really made of foam architectural trim! Designed by Sheri Sheridan, the mirrored headboard (below, right) is crafted of affordable IKEA tiles, creating a glossy shine. [both projects from Sunset]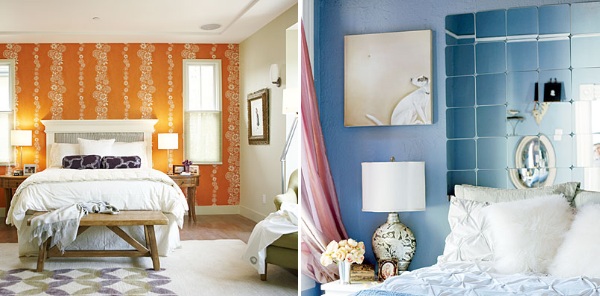 Plywood Headboard
We end with a headboard like no other! The magic ingredients are Luan (also spelled Lauan) plywood and metallic-sprayed painter's tape. Staining the plywood adds contrast, and using the tape to create a geometric pattern adds a retro yet modern vibe. [designed by Kara Paslay, from HGTV.com]