It happens all the time. A person is faced with the task of decorating a room. Stress and indecision follow. The result: space that takes itself way too seriously. Why not let the laughter in?! Today we take a look at some amazing interiors that make room for humor. And thank goodness for that! The design world is in need of a little lightening up.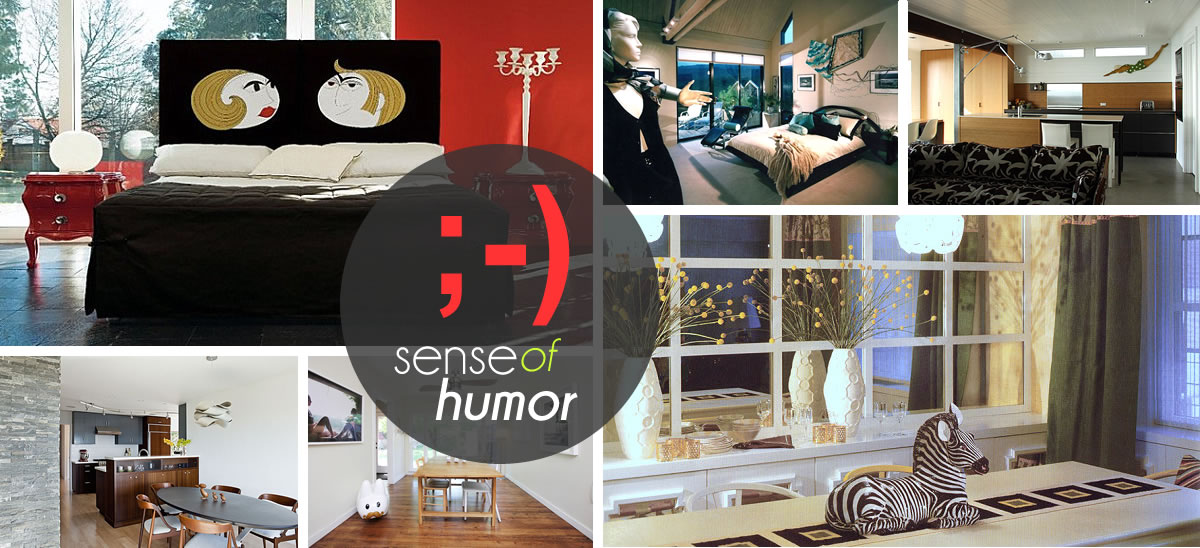 That's why we love designers like Jonathan Adler, who create amazing pieces that can't help but make us smile. Infusing our spaces with playful items is one way to get the job done. Other strategies: adding a dash of the unexpected, letting your true personality emerge through your decor and relying on the charm of animals. Yes, we're serious! Check out the humor-filled interiors below, then let us know what you think in the comments section at the end of the post…
Human Touches
When was the last time another person made you laugh? How about a representation of a person? That's right–people are people wherever you go. Unless they're not real people at all. The rooms below get their humor from unexpected representations of human beings. Like the cartoon faces that grace the surface of the headboard below. Are you smiling yet? [from Lea Bassani Design]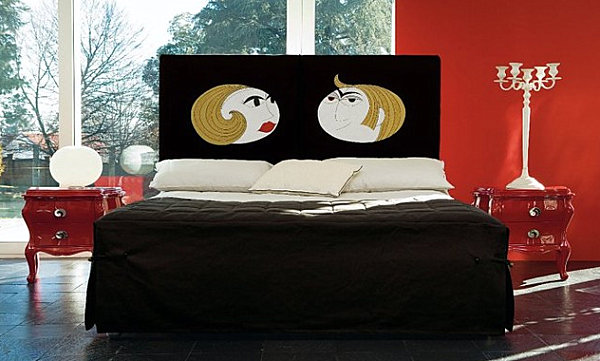 Go ahead–dive right in. It's a big kitchen, so why not? A little painted wooden wall art never hurt anyone, especially art of the swimmer variety… [from Henrybuilt]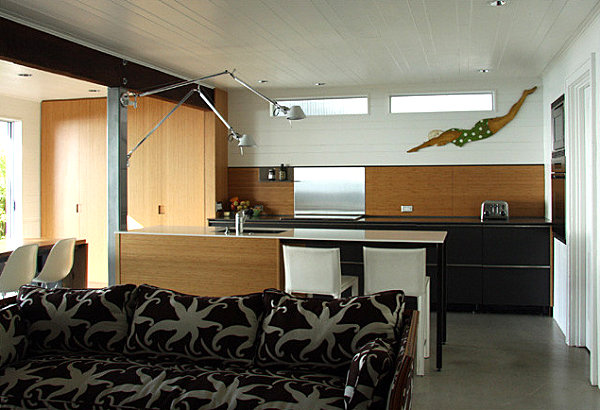 Does the kitchen below make you feel like you're on vacation? Us too! And that's exactly the vibe that designer Molly Luetkemeyer was going for in her home. One design element that helps create a relaxing atmosphere is the use of greenery. And if you look really closely, you'll notice a sprig of greenery emerging from a ceramic head at the left of the image. See it?! [from California Home + Design]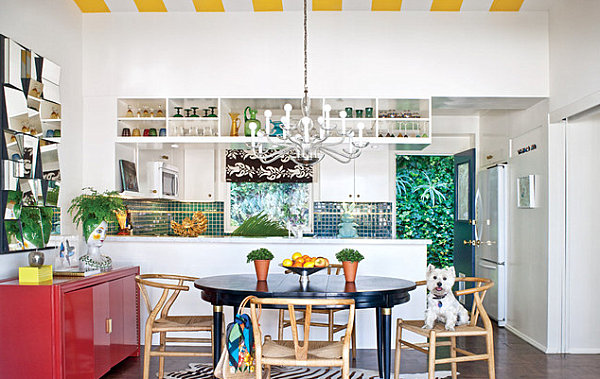 So many traditional elements in the space below…brass racks, subway tile, a pedestal sink…a figurine with a toilet paper head? And that's exactly why this space doesn't take itself too seriously! [from Peter S. Balsam Associates]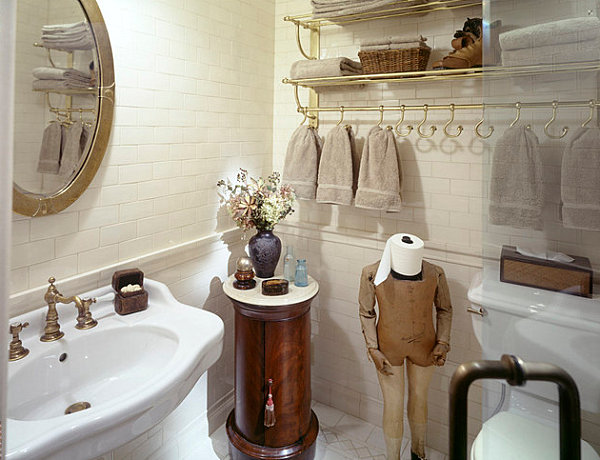 If only every room featured a mannequin motioning for us to enter! But the mannequin isn't the only playful element in this space. See those kites over the bed? They're a fun nod to the fact that this California home is adjacent to Windy Hill! [from D.P. Design]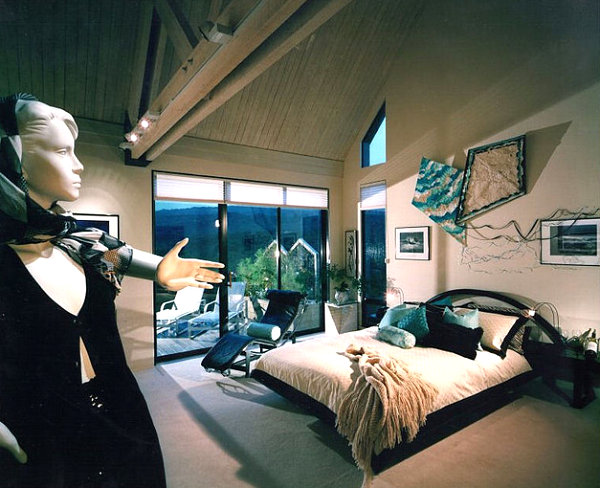 Here's another image that invites us to look a little closer. See that man on the lounge chair in the lower right-hand corner? As it turns out, that's not a man at all. Hmmm… More statues should wear human clothing! [from Spinnaker Development]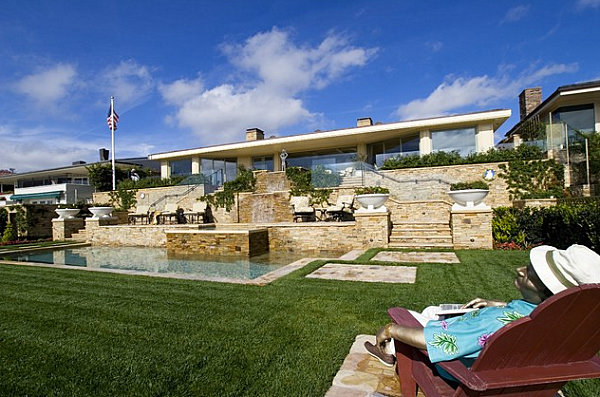 Animal Humor
So now we move from people to animals… Because nothing makes a person smile like a furry or feathered friend. And the modern wooden figurines on the table below remind us to make way for ducklings! Maybe these avian creatures are being guided by the light from the fabulous pendant fixture overhead… [from Koch Architects, Inc.]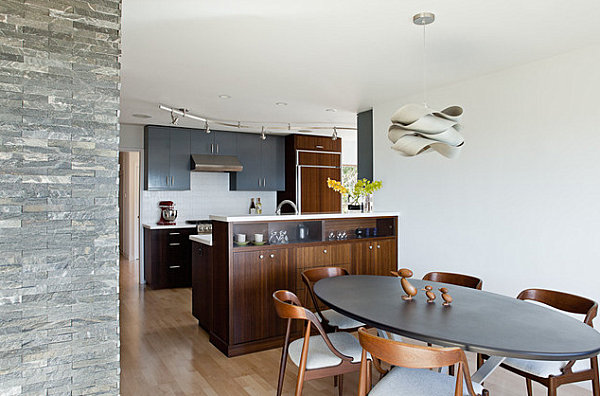 The ducks above seem to be in transit. The zebra below isn't going anywhere! Might as well enjoy his company, as he's likely to be a permanent dinner guest. We're not surprised that this space was designed by the always witty Jonathan Adler: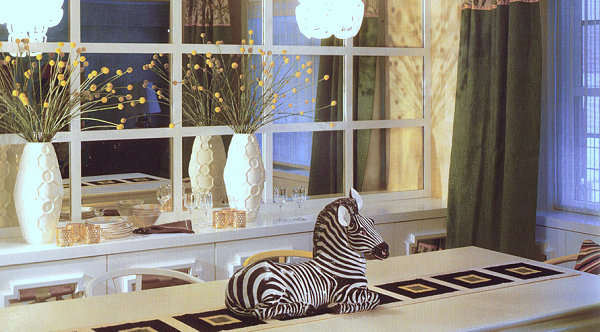 If a figurine on your dinner table isn't quite what you had in mind, you can always go with a sly animal on the wall. And who doesn't love a moose in uniform? This antlered friend seems to be in charge of the animal cluster pictured on the painting in the next featured space. [photo by Shannon Malone for Houzz]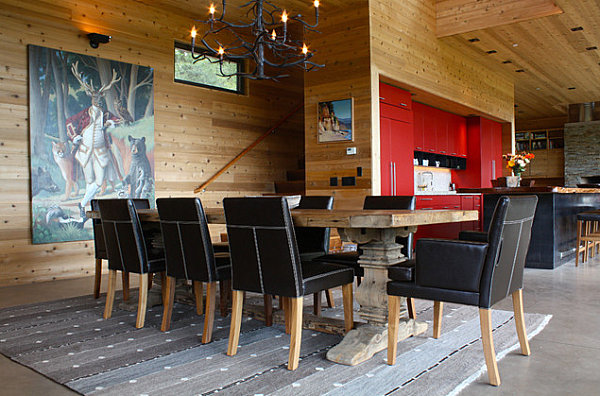 Speaking of being in charge, there's no denying that a cow rules this roost. Perhaps it's the black and white tub that gives us this impression. Or it could be the wall mural… [from PSC Bath]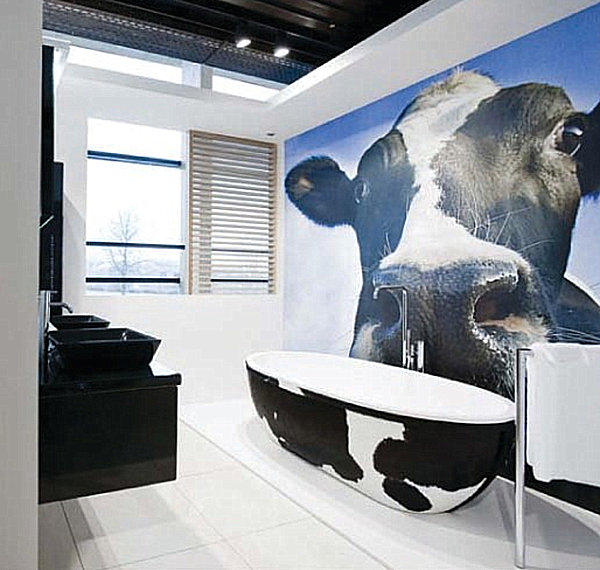 The creatures below (on table and floor) make a big statement. Oh how we love vinyl toys and the artful animal representations they inspire! These appear to be Labbits by Kidrobot, and they certainly add a fun and edgy element to an interior. [from Lindsay von Hagel via Houzz]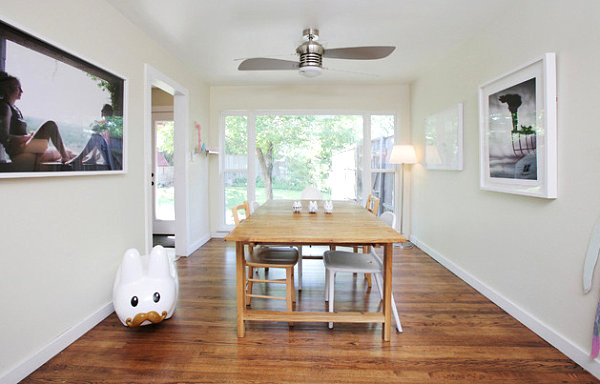 Unusual Structures
We now celebrate the beauty of unusual finds, be they furniture or…commodes? Yes, the Steampunk bathroom below wows with a series of striking copper pipes arranged in interesting formations. While the pipes that lead up to the light fixtures are purely decorative, we love their playful industrial look. [from Andre Rothblatt Architecture]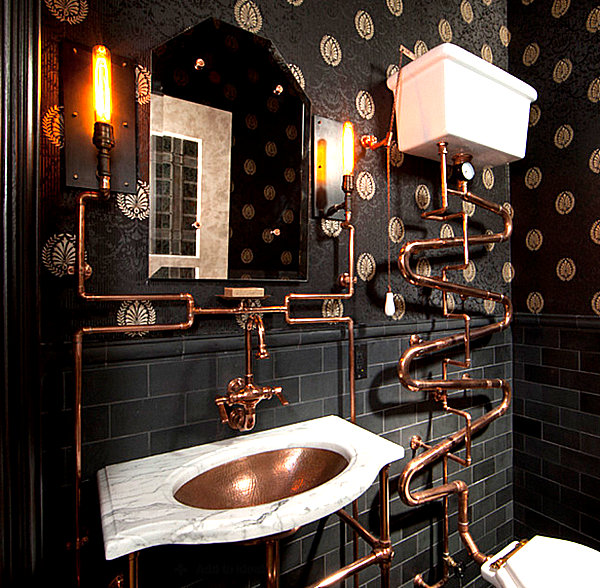 The stunning living space below features an amazing collection of unique finds, including furniture by Salvador Dali and Antonio Gaudi. These pieces add a surreal element to the room, beckoning us to take a closer look. And when we do, we can't help but smile! [photo by Andrew Garn and Annie Schlecter for Axis Mundi]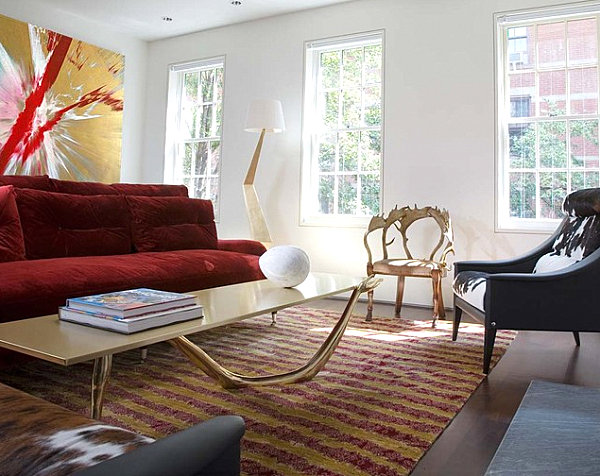 Come hither and have a seat! That's what the amazing chairs below seem to be saying. Sculptural seating isn't the only element that adds a sense of fun to this New York living space designed by Jonathan Adler. Vibrant patterns on artwork and chair also inject a dose of playfulness.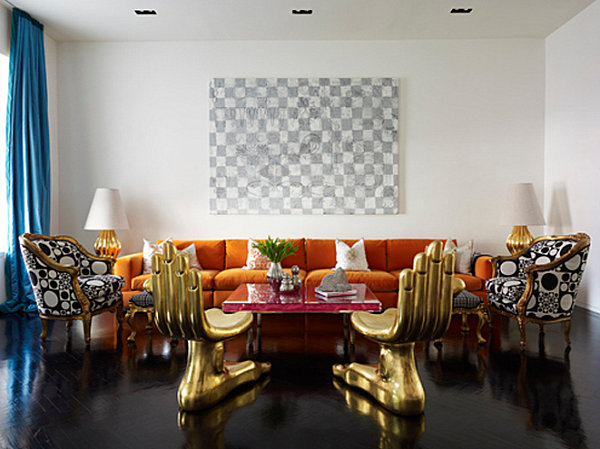 Speaking of vibrant patterns, the comic strip-style fabric below was specially designed and produced for Creazioni. As you can see, the chairs' bold outlines demand to be noticed. As does the bear behind them… [from Imagine Living]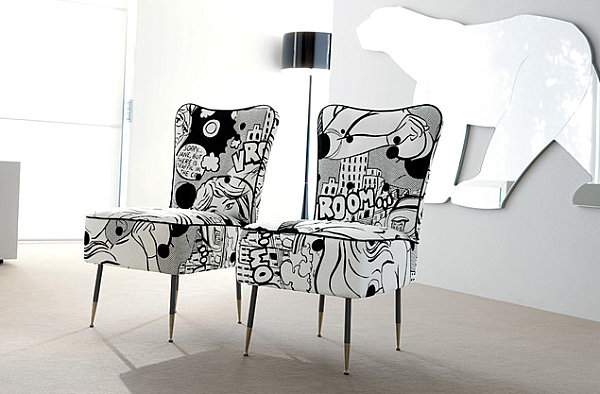 If you aren't yet familiar with the nostalgic furnishings and accessories of Jellio, you're in for a treat! From cupcake seats to Gummy Bear-inspired lights, Jellio products have a whimsical element that evokes the magic of childhood. And sweets!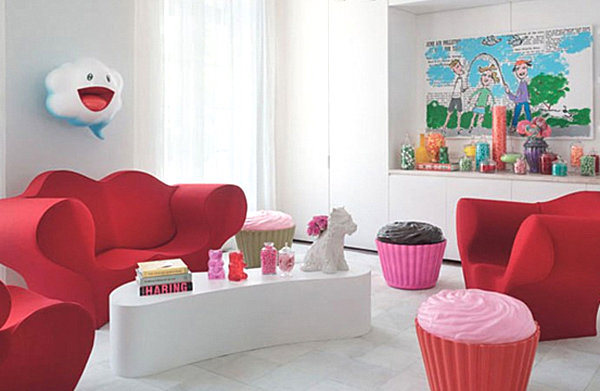 Playful Details
Now for the details… Finishing your space with a few humorous touches is the perfect icing on the cake. And Jonathan Adler is the king of cheeky details! Would anyone else think to hang a giant dollar coin over a mirrored bed? Or add a bright orange giraffe to the surface of a Saarinen table?…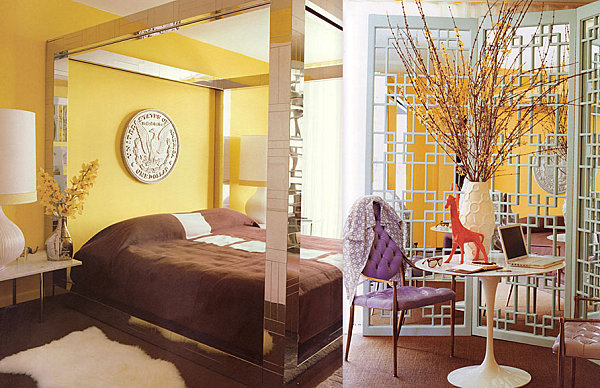 Below we see another space designed by Jonathan Adler. In fact, this home is referred to as the "Barbie Malibu Dream House." And we can certainly see why! In addition to the vibrant tones, there are silver pouffs, hot pink poodles, and a giant tuft of white feathers. Shall we keep going? Nah, you can see the magic for yourself: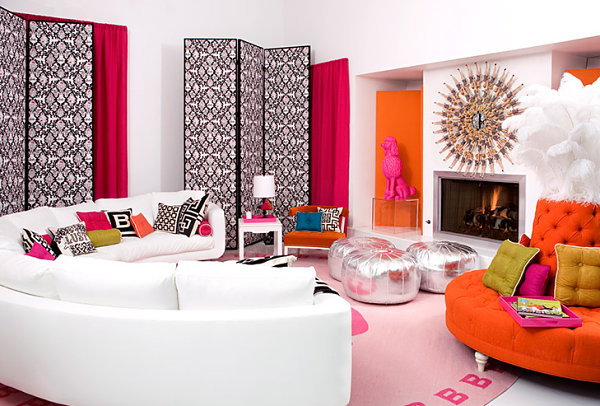 Perfect for the techie geek in your life… That's right–Ctrl-Alt-Del is no longer just for the keypad. Now these "computer keys" can grace your sofa with the help of Etsy shop FourEyesHandmade. Love their modern simplicity! [via GadgetSin.com]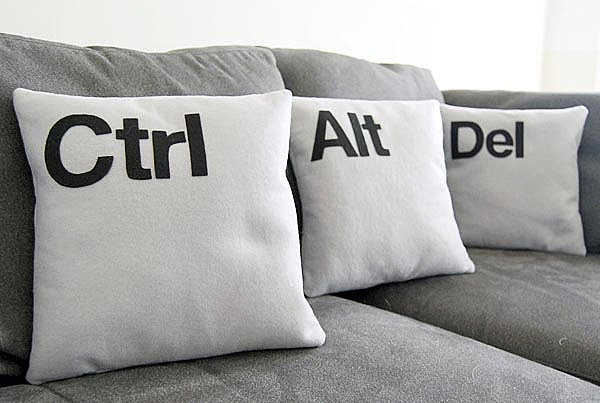 We end with a kitchen that is filled with unexpected details. And even more unexpected is the fact that these details are in the kitchen rather than a living space. A lime green bust, a skateboard and a pair of blue sculptural pieces can't help but catch the eye. On a side note, those log bar stools were custom designed by the home owners. A truly interesting space, don't you think?! [photo by Heather Merenda via Houzz]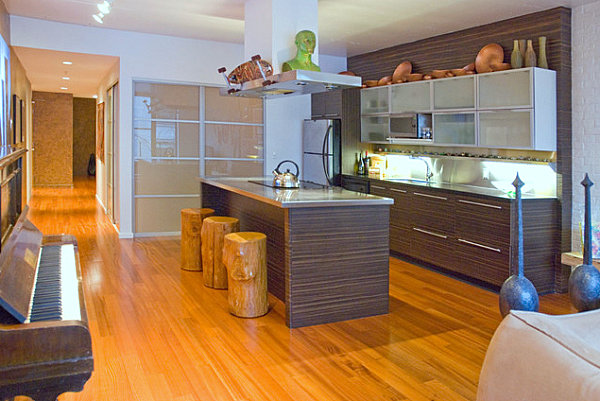 Hopefully the pics above have put a smile on your face. How do you infuse your home with touches of humor? Perhaps your space features a large pic of your favorite pet, or maybe you like to arrange your decor in playful configurations. Share your design ideas by leaving a comment below…