Ah, the hunt for the perfect modern shower curtain… It's not an easy one! At least, it hasn't been for me! What I'm looking for: an interesting selection that will also let the light in. My last place had a shower that featured translucent glass doors, and I must say that I got quite attached to the brightness of the space. Is there anything out there for me? Should I call off the hunt and embark on a DIY shower curtain project? Still deciding…
If you've asked yourself any of these questions, today's post is for you. We've rounded up a slew of shower curtain finds, from the vibrant and geometric to the simple and sleek. What is your shower curtain style? Check out the items below, then leave a comment at the end of today's post. Happy browsing!
Patterned Shower Curtains
If you're looking for an opportunity to add some pattern to your space, a colorful shower curtain with an eye-catching print is a great way to go! We start with some vivid selections by Trina Turk, like this Blue Peacock Shower Curtain from Macy's, complete with an abstract peacock feather design: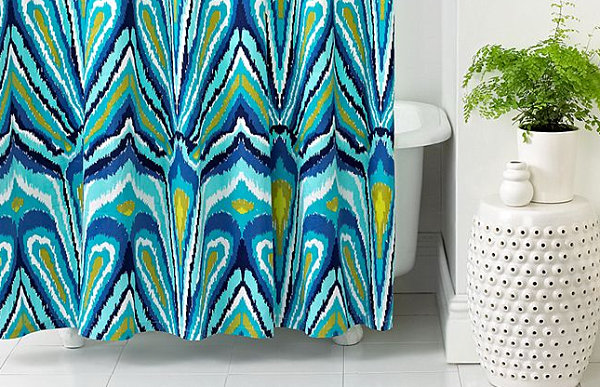 Or you can go with a 2-color theme in a geometric print, thanks to this Trina Turk Trellis Shower Curtain from Macy's. Turquoise blue and crisp white are the perfect complement to a light, bright space like the one pictured below: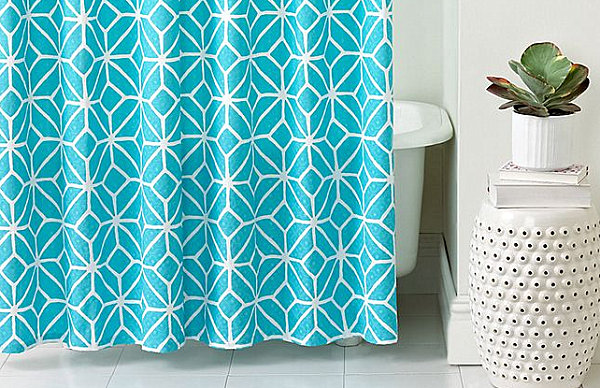 Modern organic shapes are a subtle way to add pattern to your powder room, especially when the pattern appears on a muted hue… This Marimekko Valmuska Almond Shower Curtain from Crate & Barrel features Erja Hirvi's 2008 design inspired by the underside of mushroom ("Valmuska") caps!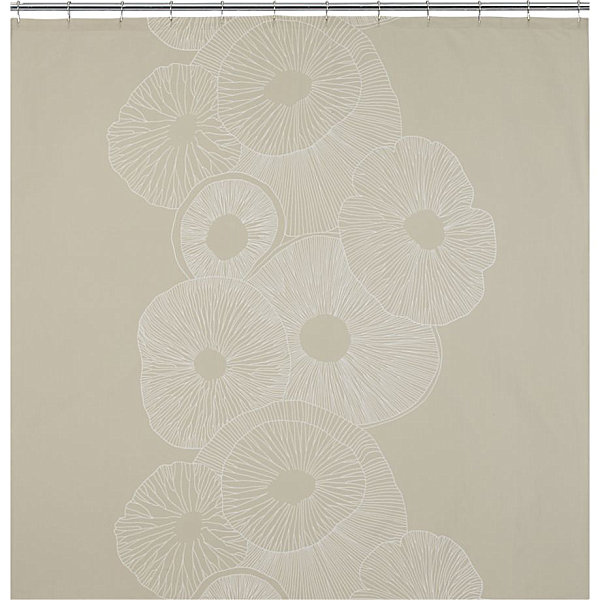 Organic design meets eco-friendly style with this Essential Home PEVA Shower Curtain in Forest from Sears. Not only is this item PVC-free, it combines a tree-motif print with the beauty of neutral colors. The result: a stunning silhouetted look that's perfect for the modern bath…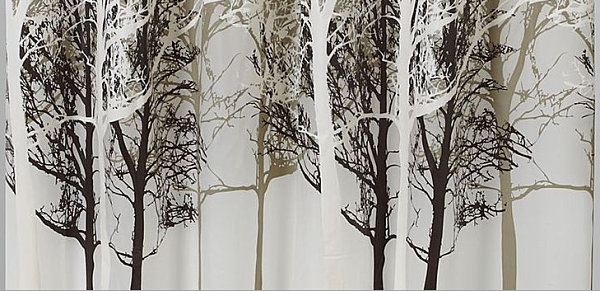 There's nothing subtle about this next selection, which combines the beauty of nature with the vibrancy of playful photography. The Sky Fabric Shower Curtain from Etsy shop R. Delean Designs features a photographic image on a softened polyester curtain. It will definitely be the centerpiece of your space…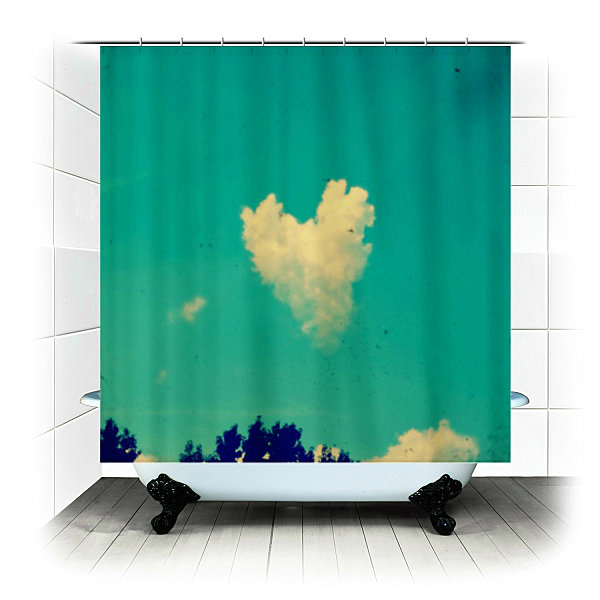 Color blocking meets wood blocking in the Color Blocked Shower Curtain from CB2. Boasting a design created by hand-carved wooden blocks, this item also features shades of red and orange. Yet the intricate pattern on a white background keeps these colors from taking over: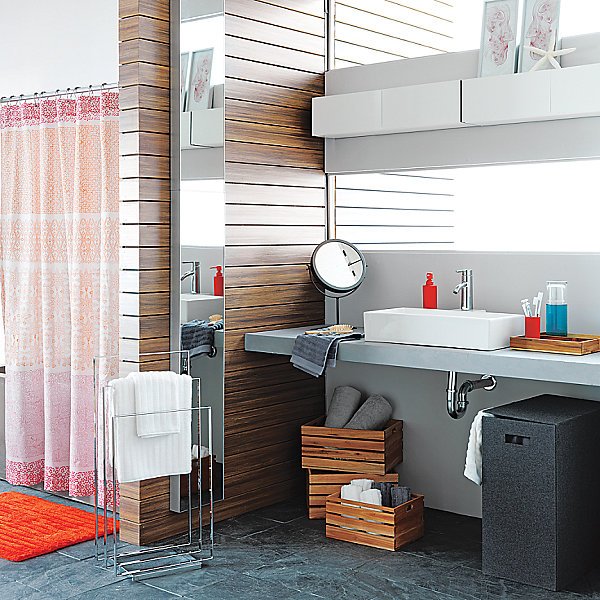 Is it me, or does this Martha Stewart Collection Segment Stripe Shower Curtain from Macy's have an unmistakably retro look? Which is why I love it! And did you say it's printed on polyester??? Retro indeed!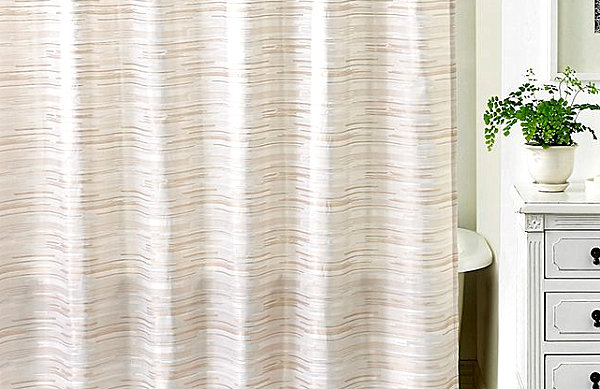 Speaking of retro, we're loving this Fish Scales Shower Curtain from Jonathan Adler, which showcases a slew of curves and dots in a pattern that has many looks–Deco included! Printed on duck canvas, this item is as durable as it is stylish!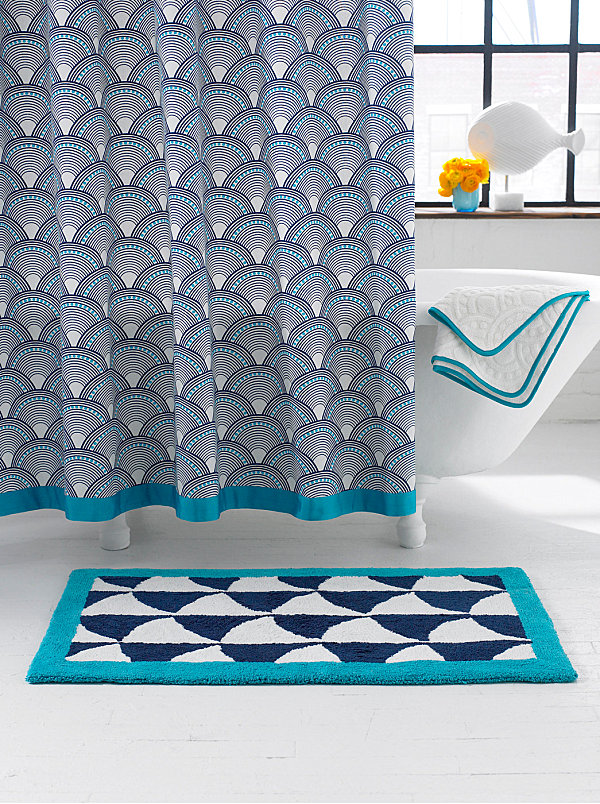 It's the Charlie Shower Curtain from Jonathan Adler! Pop-inspired curves and parallel lines blend seamlessly yet boldly in this piece that's sure to be a standout in your space. A chartreuse border adds a dose of color: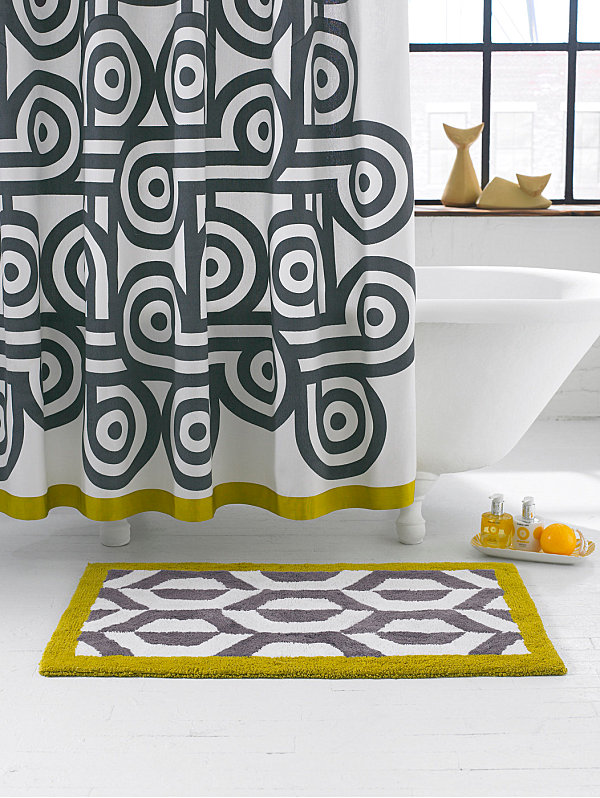 While we're on the topic of geometric patterns, we can't help but highlight the Maze Shower Curtain from CB2, complete with squiggles and waves that intertwine with style. Note how colorful accents in this bathroom are a nice complement to the neutral shades in the shower curtain…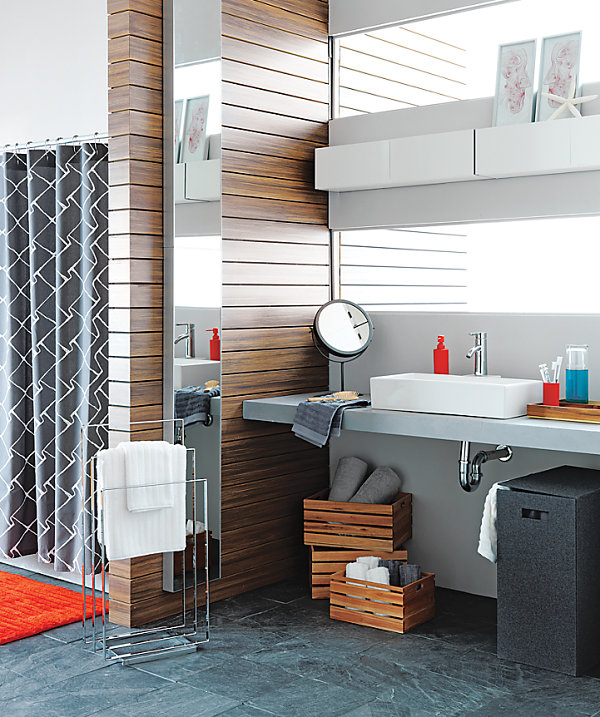 For another geometric piece in gray and white, check out the Shelby Shower Curtain from Pottery Barn. An abstract grid is the print of choice. Note: the item is a linen/cotton blend: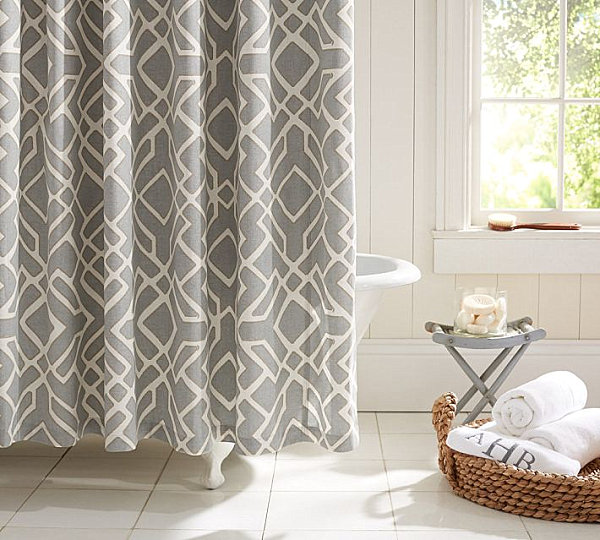 If your powder room features curiosity-inspired items such as vintage bottles and natural wonders, you'll love the Apothecary Shower Curtain from West Elm. Decked out in vintage pharmacy products, the curtain has a black and white botanical-style palette that will blend with any color scheme: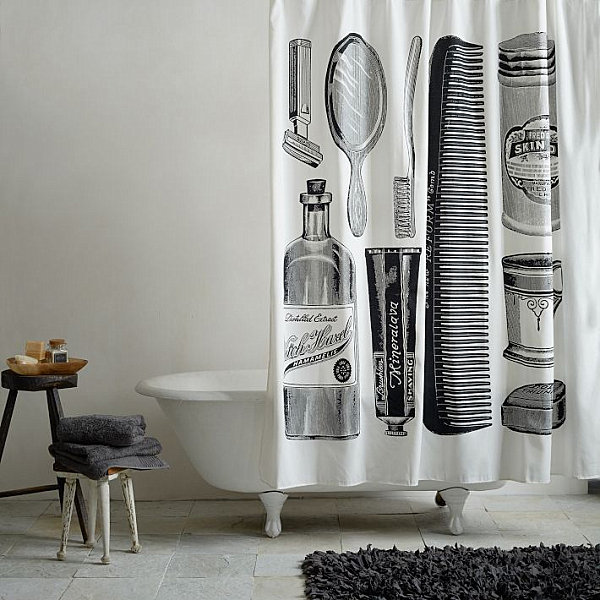 Our last featured patterned shower curtain is perfect for a child's space. That's because it's covered in playful owls, branches, leaves and acorns! The Give a Hoot Shower Curtain by Creative Bath Accessories from Macy's also has a great fall look that's perfect for the upcoming season…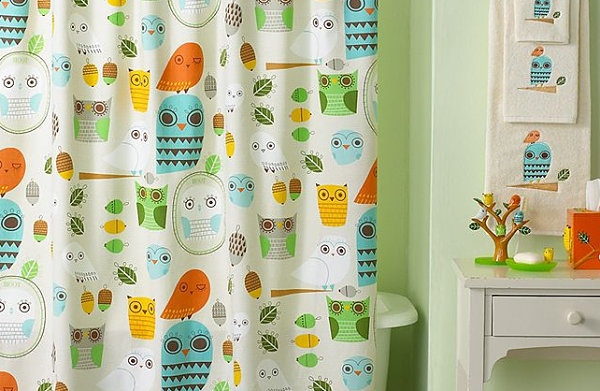 Solid Shower Curtains
We now turn our attention to solid shower curtains that work in modern spaces. I'm a big fan of shower curtains that let the natural light in. That's why I'm drawn to this Netty White Shower Curtain from CB2, which also features a white macramé lace top for a bit of fun detail…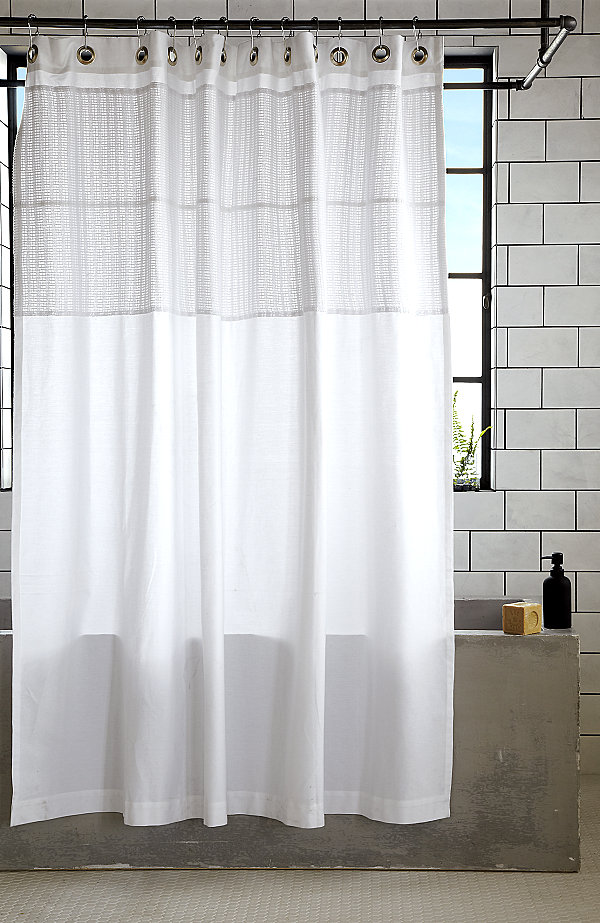 The Stonewashed Belgian Linen Shower Curtain from Restoration Hardware was created from Belgian flax, and the color is super refreshing, don't you think?! Even if it's not your hue of choice, note that this piece is available in a variety of soothing color options…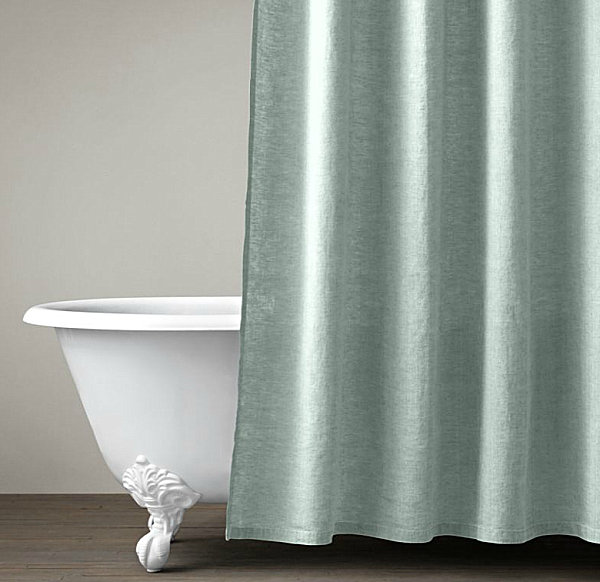 Elegance meets down-to-earth style with the Pintuck Shower Curtain in Slate from West Elm. Hand-stitched pintuck pleats add a fancy element that also looks wonderfully disheveled. Plus, this piece is 100% cotton, making it anything but stuffy!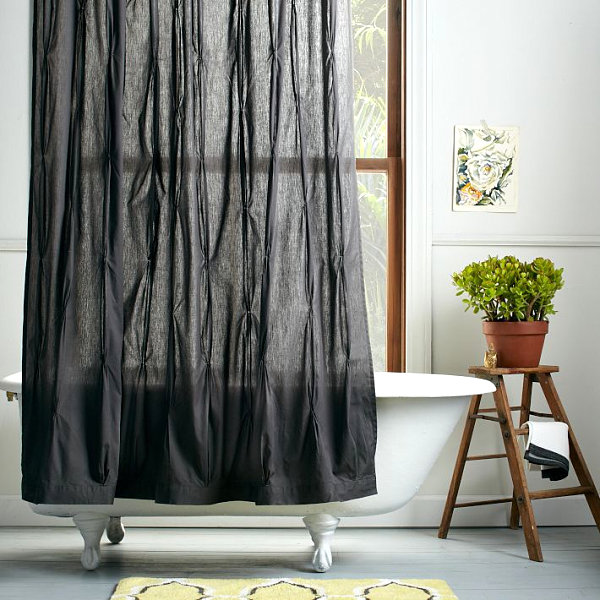 We end with a shower curtain that can't help but look a bit '80s. Since I'm a big fan of '80s design, I was drawn to this curtain like a kid to candy. Retro candy, that is! Introducing the Black Waffle Stripe Shower Curtain from Sears, featuring waffle weave textured stripes. And yes, this one is also available in a range of color options. But they probably won't look as '80s…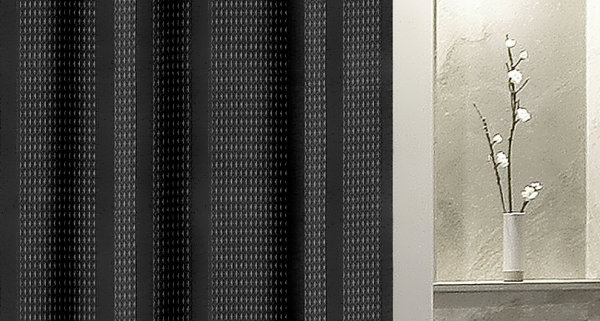 Tell us about your favorite shower curtain finds from today's post. Do you enjoy a patterned look? Or perhaps you enjoy the monochromatic effect achieved by a solid color! Share your thoughts by leaving a comment below…