At first glance, the role of a shower curtain is strictly functional. It keeps water off the floor, traps warmth and offers privacy as you get a moment to yourself. But if you look beyond the typical vinyl and cotton, your shower curtain has the potential to be a design masterpiece. With a few small updates, you can turn your everyday bathroom accessory into a beautiful display. Here are 10 DIY shower curtain ideas to strike up some inspiration.
Nautical Themes
A nautical themed curtain seems like a natural choice for bathroom decor. While nautical-inspired prints are easy to find in stores, nothing provides the freedom of customization like a DIY project. Try free-handing a design like the anchor pattern of this curtain by Attic Lace, or create a stencil out of cardboard. To avoid paint or ink from bleeding through, use a plastic curtain instead of fabric.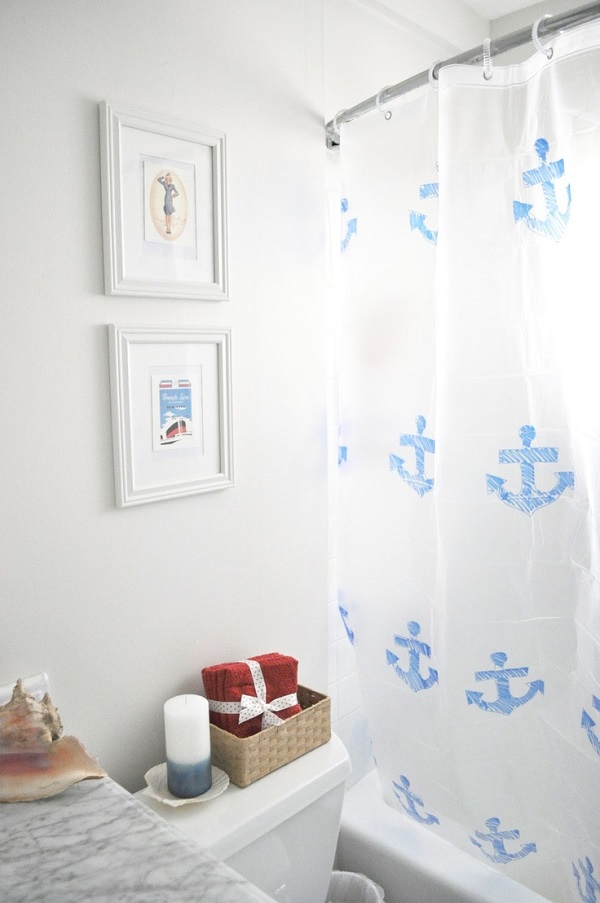 While your bathroom may not be on the ocean, this lifeguard-inspired shower curtain from The Wicker House may save your design from going under. The use of a sheet instead of a traditional curtain allows you to customize the length (which is perfect for hiding less than perfect bathtubs). For easy installation, evenly space grommets at the top for your hooks.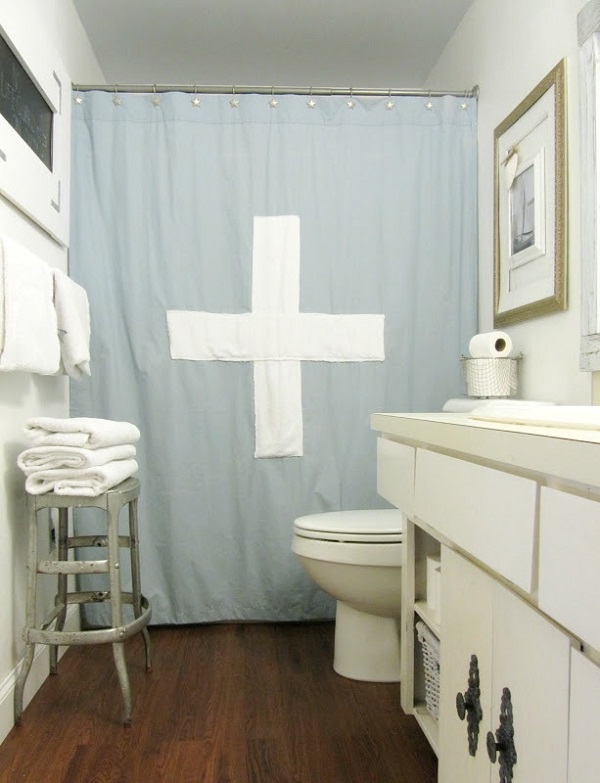 Patterns and Prints
A bright curtain can instantly give your bathroom a whole new look. Turn up the impact with a fun pattern like this bird motif matched with a coordinating floral trim. For a personalized version, use a print like florals or stripes. [image via Sew 4 Home]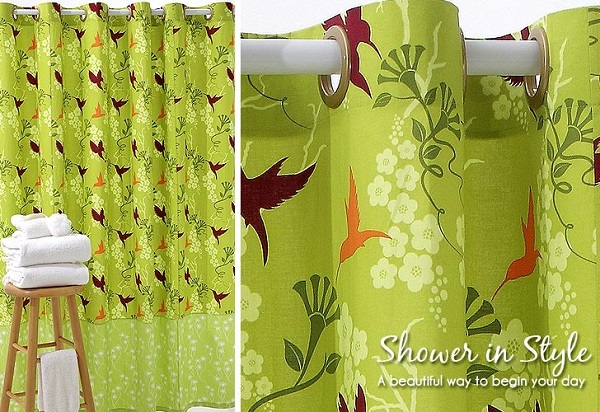 A youthful animal print will be right at home in a child's bathroom. The cool tone of this horse print shower curtain from How to Sew would work well against white or gray walls. When decorating the rest of the space, use the curtain as your focal point and choose accessories that build off the color scheme.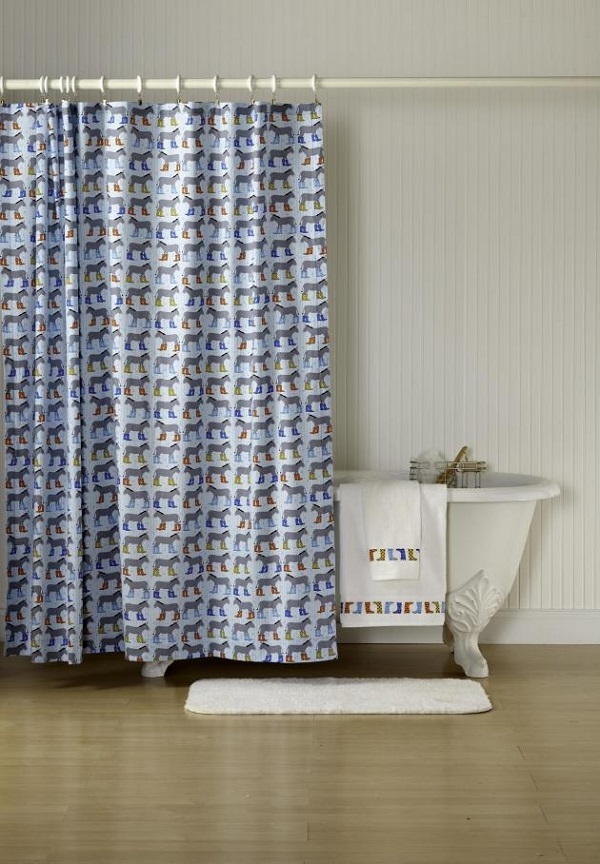 Drapery panels find a new home in this project from SAS Interiors. Perfect for DIYers with some sewing skills, simply stitch two panels together along one side. Install holes for hanging using a grommet kit. To create the illusion of higher ceilings, hang your curtain rod so that your shower curtain ends a few inches above the floor.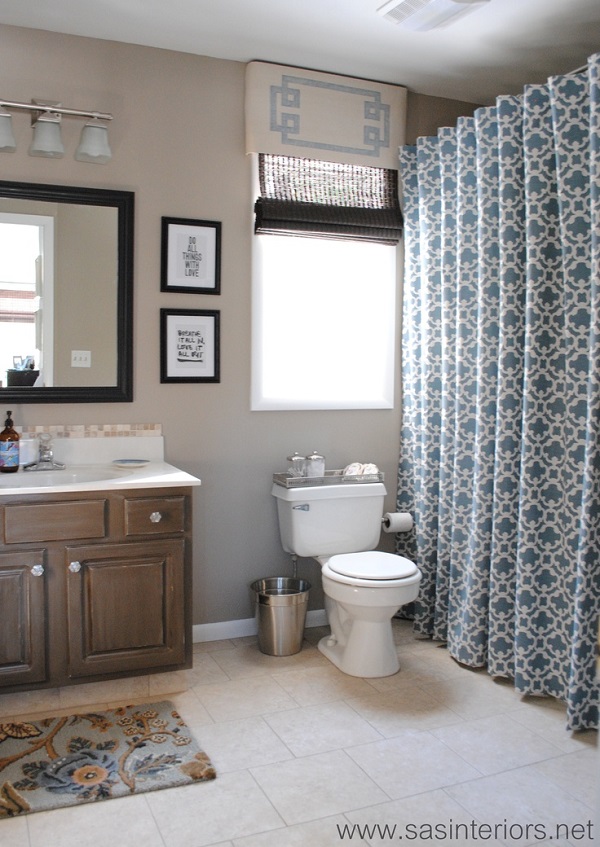 Repurposed Decor
No shower curtain is as simple yet stunning as this DIY from Kishani Perera. The project is quick- just hang a beaded room divider against a plain shower liner. For a posh look, stick to black beads. For a fun take, use a neon or multicolored divider.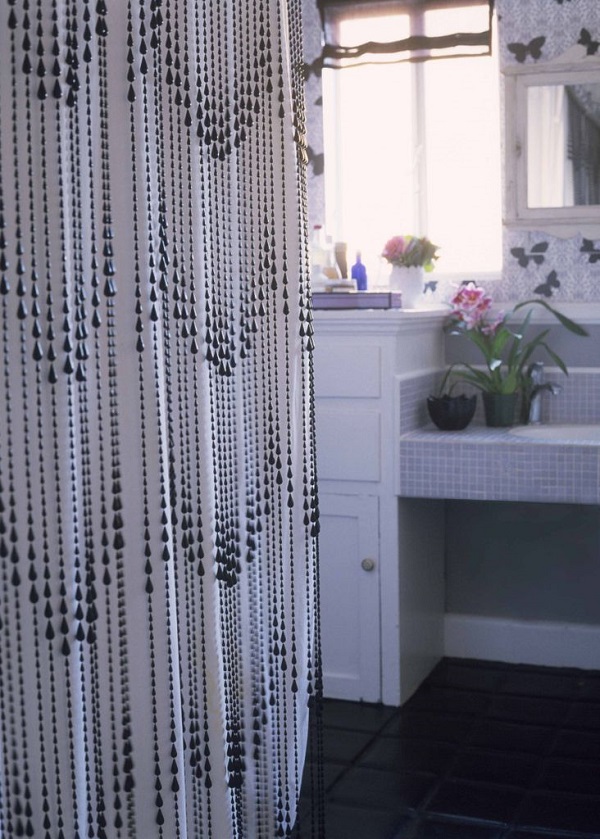 Ikea blanket
Your bathroom is probably the least likely place where texture takes center stage in the design. This knitted shower curtain from Lynne Knowlton turns that notion upside down. A cable knit blanket is transformed with a few grommets and hooks. Don't worry if you're not a knitter- buy a blanket from any home goods store. Be sure your finished curtain is long enough to sit outside the tub, or it will absorb water and take a long time to dry.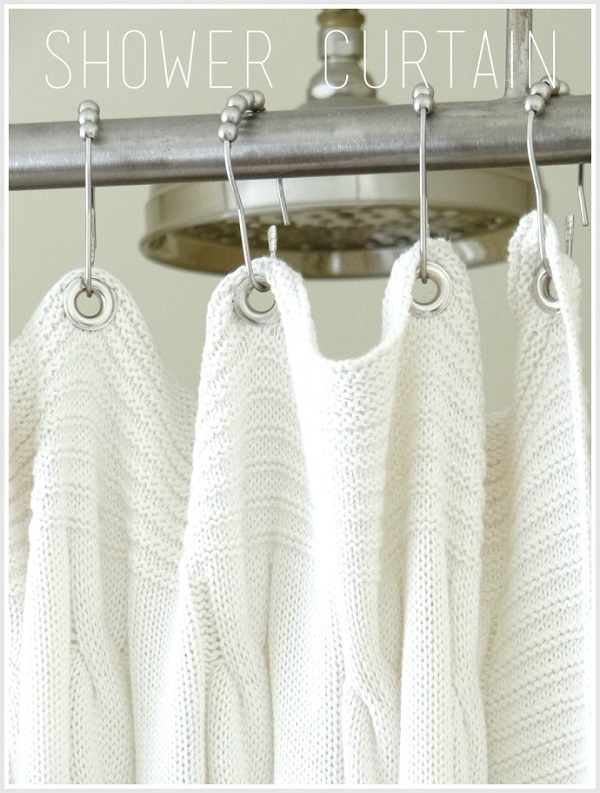 Unexpected Design
Calling all sports fans- this project is for you! If you or a loved one is a sports fanatic, draw some inspiration from a favorite jersey number and display it on your shower curtain. Thistlewood Farms shows how two ordinary numbers can revamp a plain sailcloth curtain. Coordinate the colors to match your favorite team.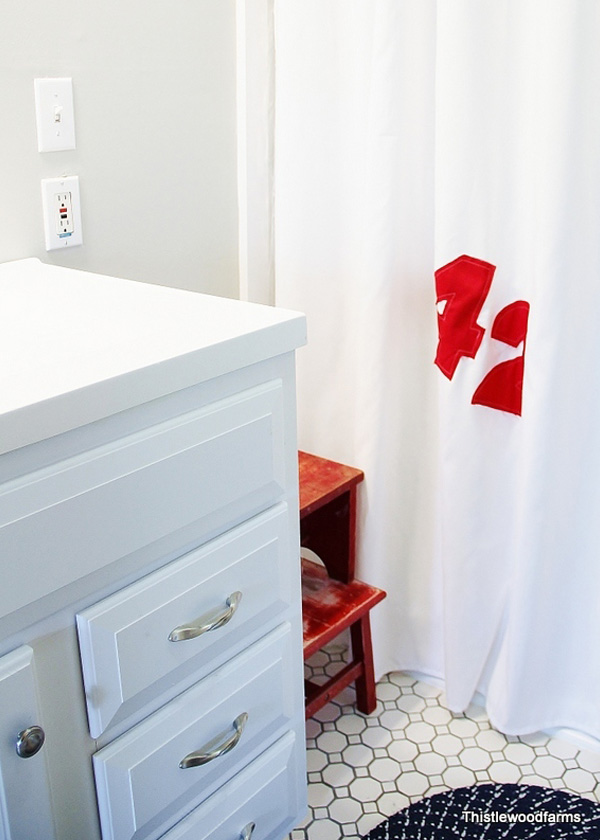 Dressmaker details are the standout element of this shower curtain from Canadian House and Home. While subtle, the navy blue and white striped ruffles add a dainty touch to an otherwise basic cotton sheet. To change up the project, attach white ruffles to a blue background for a more saturated effect.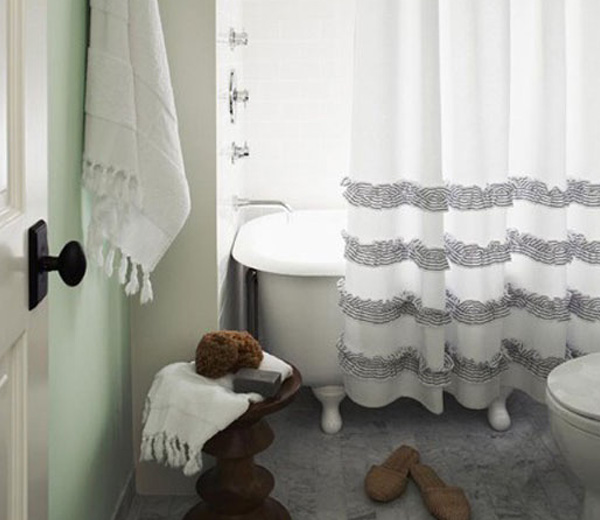 Ever wanted to remodel your bathroom but couldn't decide what color to use? This color-block shower curtain from Martha Stewart makes the decision easy- combine more than one! Bright shades like the magenta, orange and turquoise of this version are eye-catching. You could also take on a trend like ombre to pull the eye upward- start with your lightest shade at the the bottom and use the lightest shade at the top.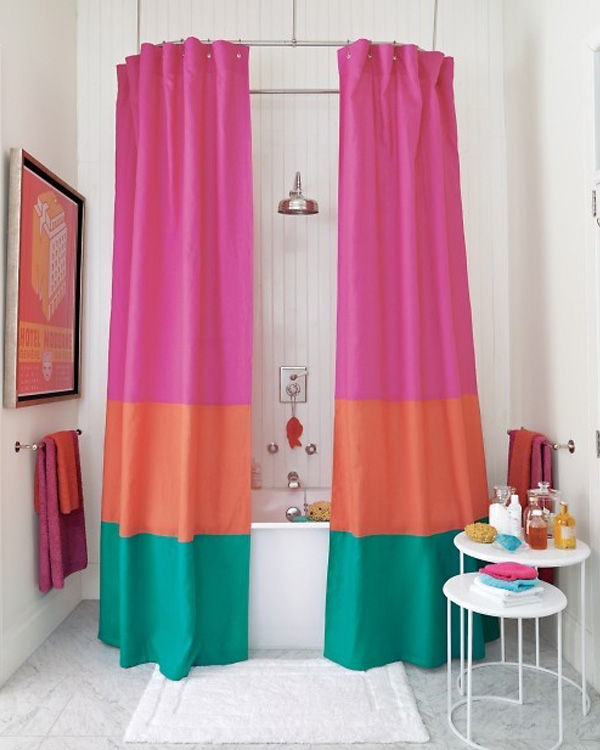 These DIYs prove that a small change in your bathroom can make a huge design impact. Feeling inspired? Tell us about your ideas in the comments below.