We at Decoist love showcasing the power of mineral decor. From the malachite craze that hit a few years back to the plethora of agate surfaces on today's countertops and fireplaces, there's clearly a renewed interest in these natural wonders. What does a mineral-loving room look like? While you may think jewel tones are the norm, you may be surprised at the range of styles and colors represented by mineral themes in interior design. [from RSVP Design Services]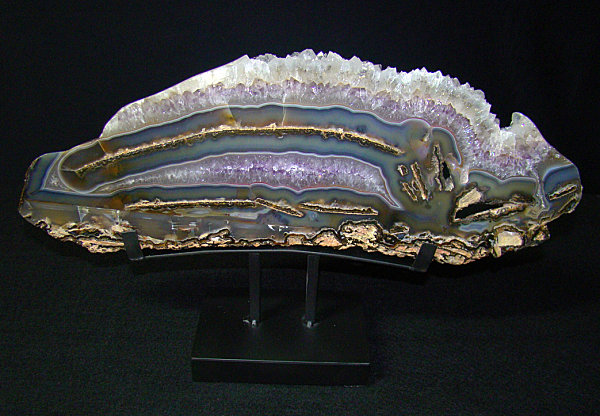 Minerals can help foster an eclectic, curiosity-inspired look, and they can even make a sparkly statement in a sleek, modern room. In fact, not only do mineral specimens take center stage in today's design world, they have inspired a range of products, from wallpaper and tiles to artwork and coasters. Check out the fabulous mineral finds below…
Mineral Surfaces
We begin with surfaces that showcase mineral design in all of its glory! Like this gorgeous marble tile with a mineralesque look from Rex Ceramiche Artistiche. In fact, many of today's most alluring mineral finds feature wavy bands that evoke the formations of specimens such as agate…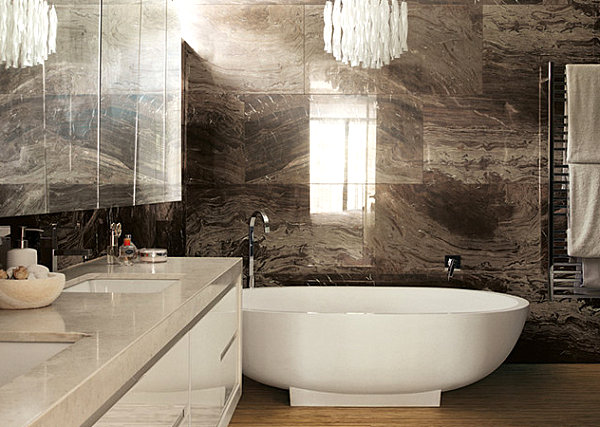 Since we began in the powder room, we thought we'd feature one more elegant bathroom space, this time featuring panels. Okay, so sandstone is technically a rock, but it's made from various minerals…And this wall is crafted from sandstone plates in two pieces: [from Exit Interior Design]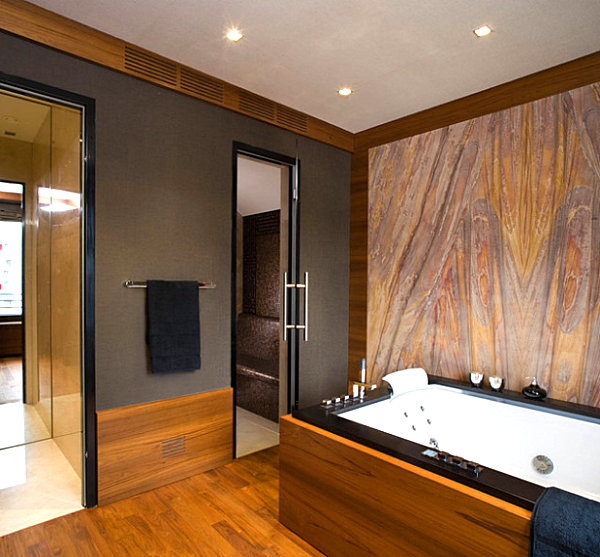 There's no denying that malachite is fabulous, and designers like Kelly Wearstler have helped elevate it to chic status. Yet malachite surfaces can be costly. Another option: use malachite wallpaper to embellish an accent wall, such as the selection below by Spoonflower: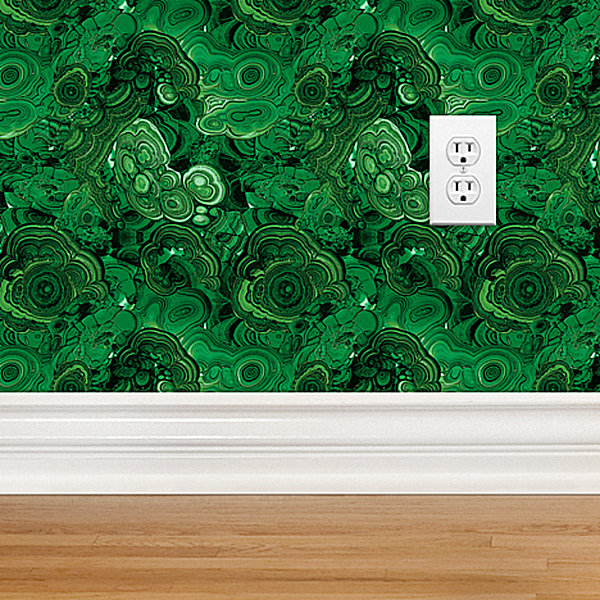 If you're lookig for a color with a bit more subtlety, check out this taupy Agate2 Wallpaper selection, also from Spoonflower. Note how wavy bands help add a sense of texture…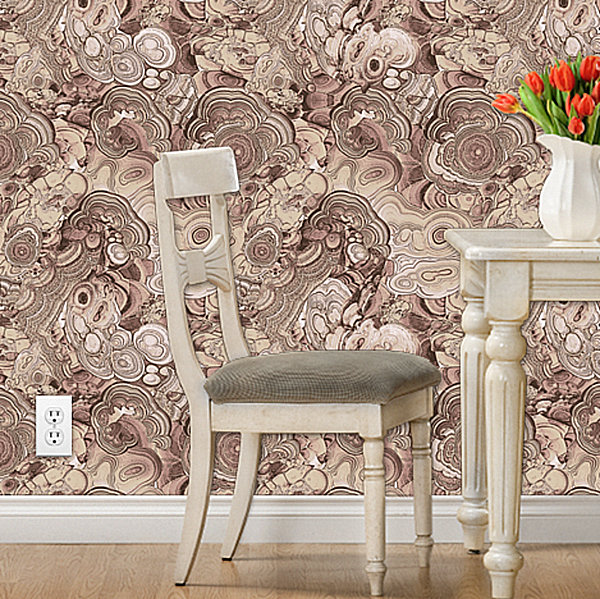 Speaking of agate, there is a current agate craze, thanks to amazing showpiece features like this agate stone fireplace. In fact, this item is a true work of art, serving as a centerpiece of the room while inviting inhabitants to take a much closer look. [from EMI Interior Design]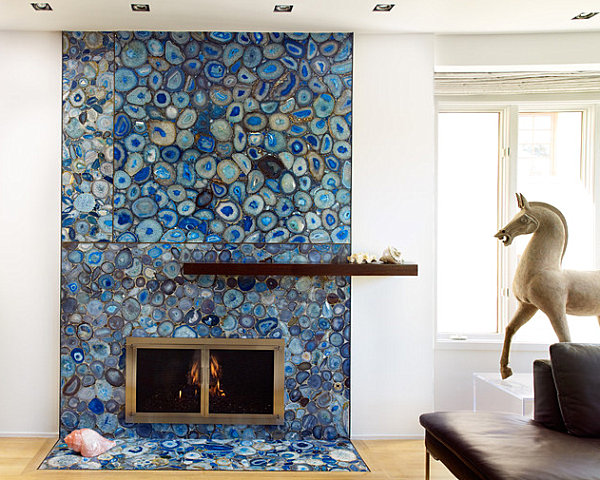 Agate surfaces come in a variety of colors, sometimes within the same product. In addition, agate products can be backlit for an extra glow. The fireplace below is filled with dramatic dark hues and lighter earthy tones. [photo by Chris Stark for Applegate Tran Interiors]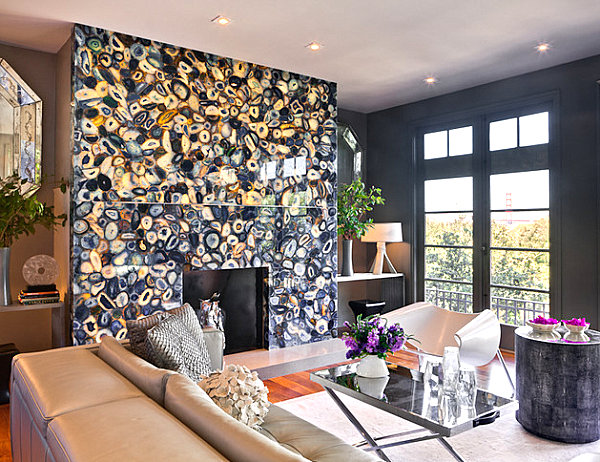 From agate to lapis… Some surfaces boast a blue tone that resembles the royal glow of lapis lazuli. Note how blue is a welcome hue in this modern kitchen. One mineral decor technique of choice: echo the shade of your featured mineral with another standout item, such as the pendant lighting below. [from MB Interiors]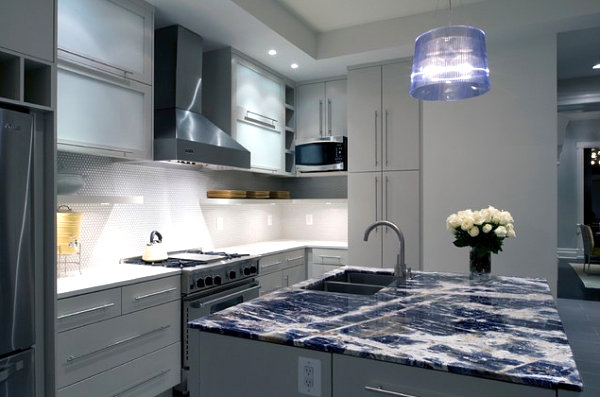 Just as many mineral-laden spaces have an undeniable rich elegance, others feature a sleek modernism. Take the kitchen below, complete with mirrored tiles and contemporary lighting. The kitchen bar, which appears to be onyx, couldn't be more fetching in this clean-lined setting. [from Forum Phi]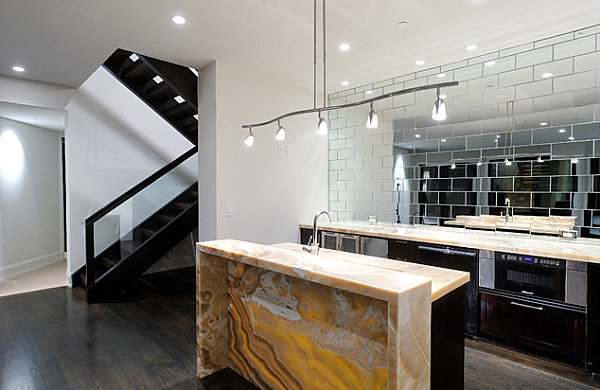 Don't forget the power of mineral furnishings. Once again, we see the polished sheen of agate, this time in the form of slick low coffee tables… [from Lucasso]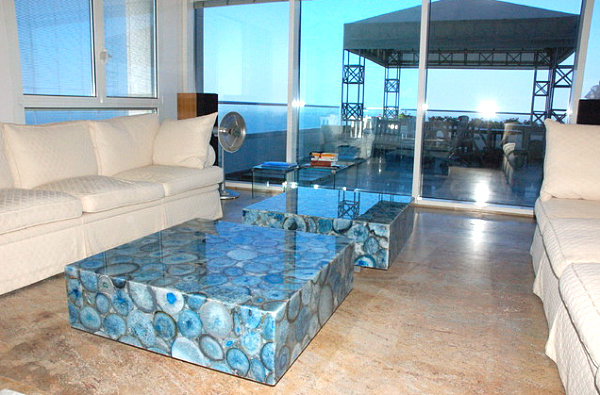 Mineral Accents
We now turn our attention to a range of mineral accents, from artwork to specimens. In fact, the amethyst specimens below appear to be the inspiration for this space, which features rich purple tones and surfaces that sparkle. [from Platinum Series by Mark Molthan]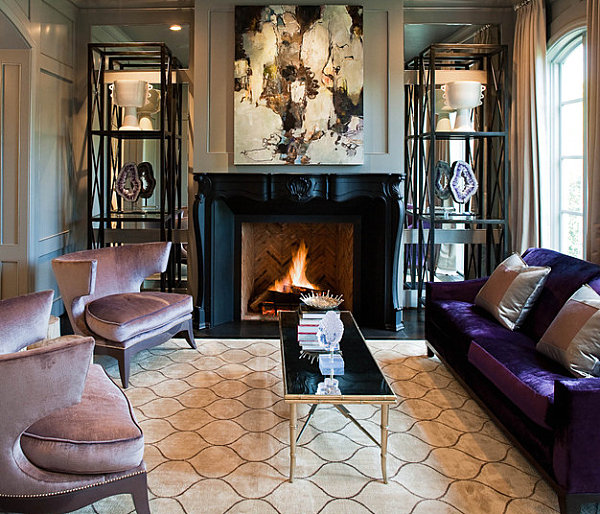 Got quartz? This eclectic space from Kim Armstrong Interior Design sure does! In fact, the quartz specimen in this space is as striking as the pendant light overhead, and its shimmering white tones nicely complement the crisp white trim in this family room.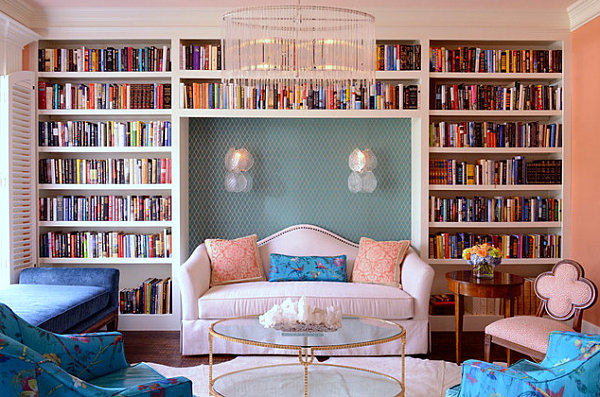 Mineral samples add interest to a space, evoking that magic of gathering your first rock collection as a kid. For science lovers, geodes are a natural choice for standout decor. Below we see a large geode on a fireplace mantel. [from Tilton Fenwick]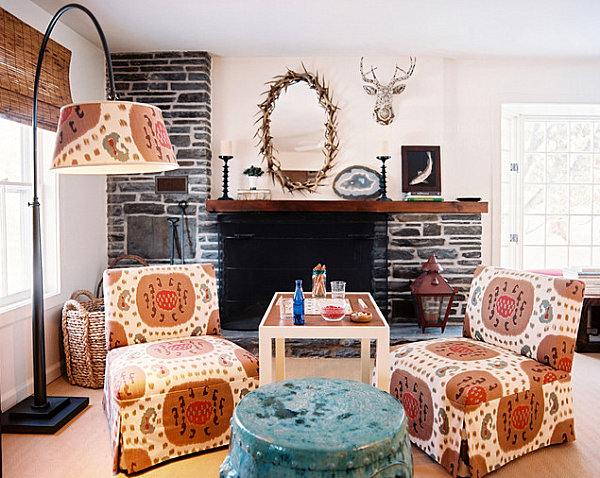 Even the smallest of touches can make the biggest of statements. Try placing a mineral sample–even a small one–on top of a stack of coffee table books. Like the perfect cake topper, this item will make your decor sparkle. [image from Tracey Ayton Photography for Twenty One Two Designs Inc.]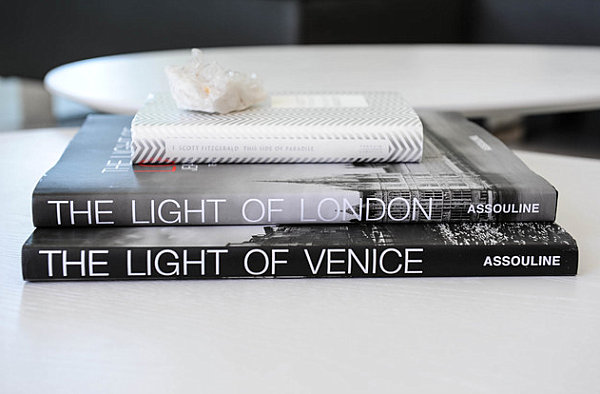 Agate coasters are another wonderful way to add a dash of mineral style to your space. If your coasters are going to be on display (and they should!), make sure to strategically select a color that complements your decor. The teal coasters below are the perfect match for a space that features yellow and lime green accents. [from DKOR Interiors]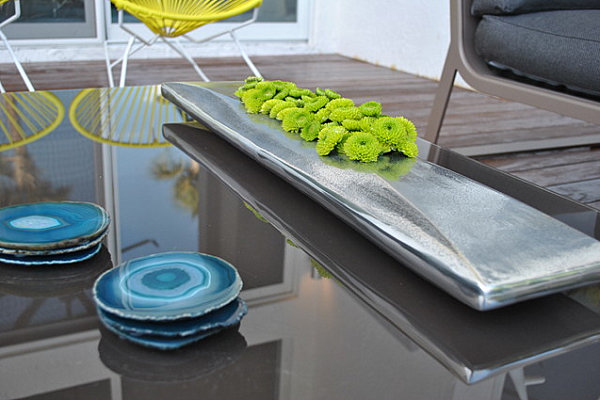 Speaking of teal, we're loving the refreshing hue of the living room below, which is enhanced by shades of blue and red. If you look closely, you will see artwork that celebrates the formation of minerals such as agate. In fact, agate-inspired artwork is another one of today's emerging decorating trends. [from CR Laine Furniture]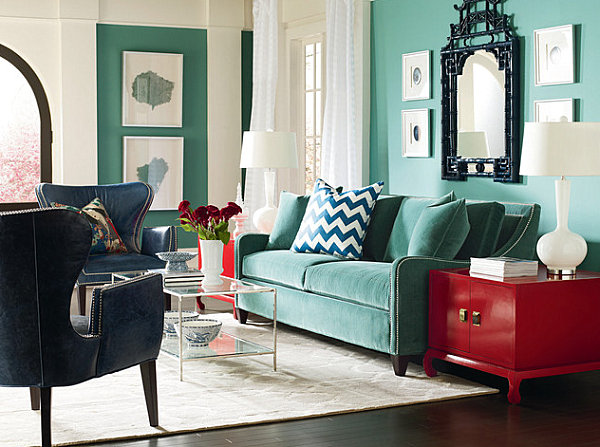 We end with modern artwork by Klari Reis, which features mineral-like formations such as agate and geodes. Note how the color palette and bold style of the piece below makes the perfect statement in this bedroom/office. [from Canard Vineyard]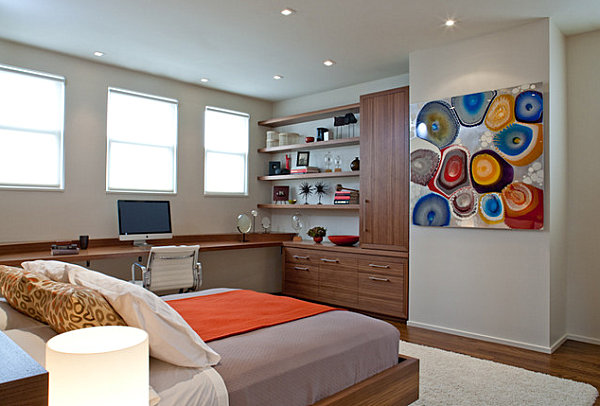 When it comes to mineral decor, do you have a favorite natural wonder? Malachite? Lapis? Quartz? Agate? Or perhaps you prefer more abstract items that echo mineral formations. Share your thoughts by leaving a comment below…
Liked the story? Share it with friends.