Today we celebrate the vibrant appeal of jewel tones! Emerald green, sapphire blue, ruby red, amethyst purple … and more! These hues are so rich, they inspire designers to create magnificent rooms, some of them opulent. In fact, while minimalist modern rooms can certainly feature jewel tones, more often than not, spaces painted in these hues are layered with treasures. It's almost as if the depth of the colors demands an equal depth of design intricacy!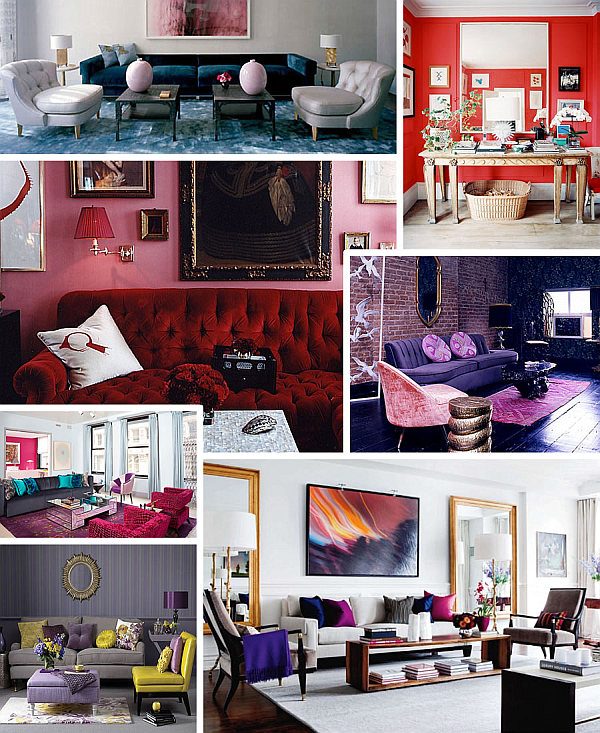 Keep in mind that jewel tones make a big statement. Play up these hues with other jewel tones to intensify the space, or stick with neutral shades to make your color of choice stand out. Use the images below for inspiration:
Emerald
Ah, the fresh green shade of emerald! Green reminds us of the natural world. Just like the plants that thrive outside of your window, the walls inside of your space can be full of life. Another bonus: green can serve as an elegant background for other vibrant colors, as shown in the room below, designed by Miles Redd. [from Angie Helm Interiors]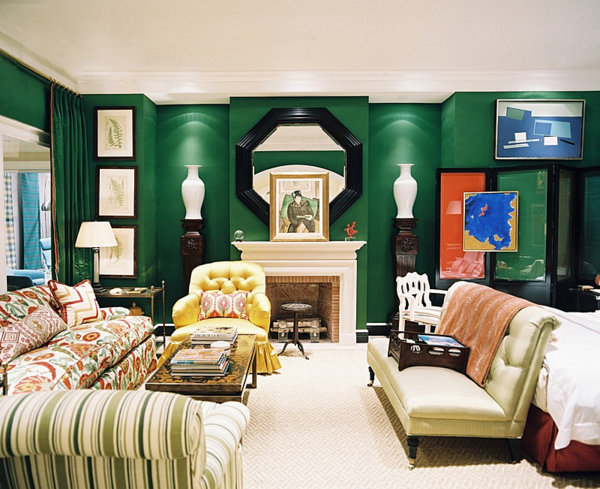 Some shades of emerald have a touch of blue in them! The butterfly-themed emerald green wallpaper in this next image is from the Eclectic Collection by de Gournay. [from Home and Decor]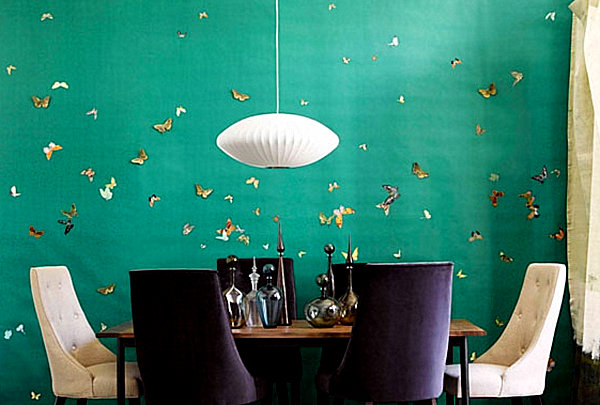 A color this rich can only benefit from the intensity of layering! In the green bedroom below, emerald lamps and verdant artwork beautify the space. [from Lonny Magazine]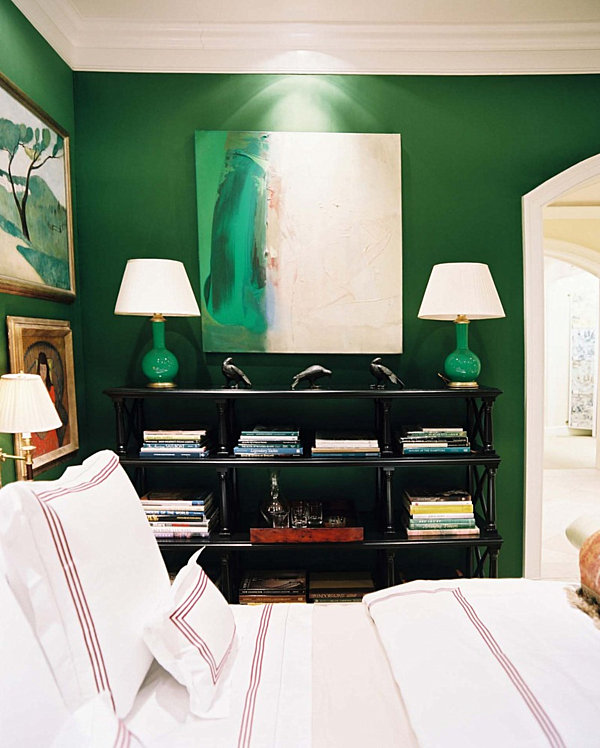 For the opposite effect, leave the walls white and go with one emerald feature, such as an iridescent bedspread. Also note the room's other jewel-toned accents, such as the magenta flowers and sapphire bowls. [from Habitually Chic]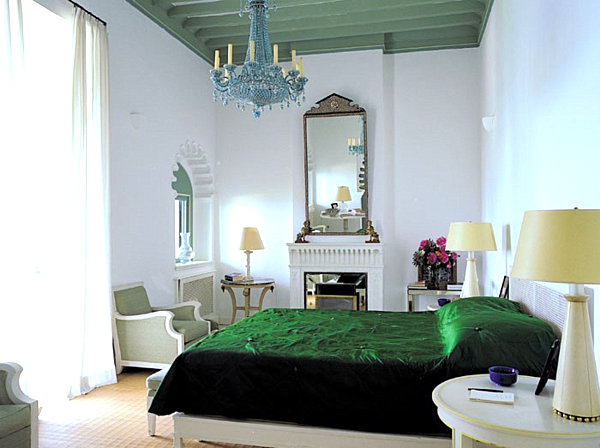 Sapphire
Speaking of sapphire, this deep shade of blue is calm and peaceful. Yet its rich nature evokes a sense of elegance. In the room below, a plush light blue rug and accents in eggplant and lavender set the stage for a stunning sapphire blue couch. [from David Collins Studio via Atelier Turner]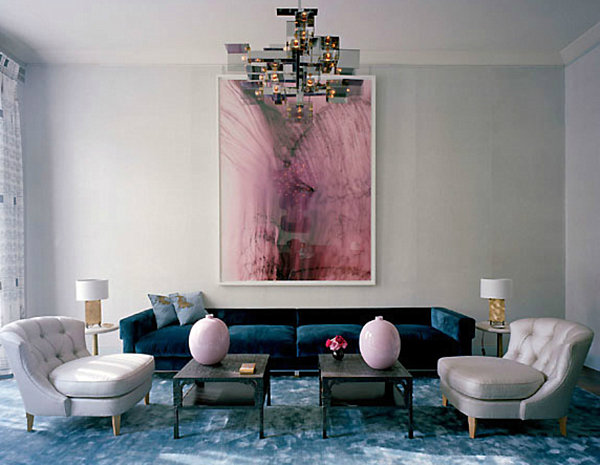 Then again, sometimes saturating a room with color can be just as effective! In this next image, various shades of sapphire blue appear on silk sheets, carpeting and walls. A printed image of curtains doubles as a regal headboard. [from House to Home]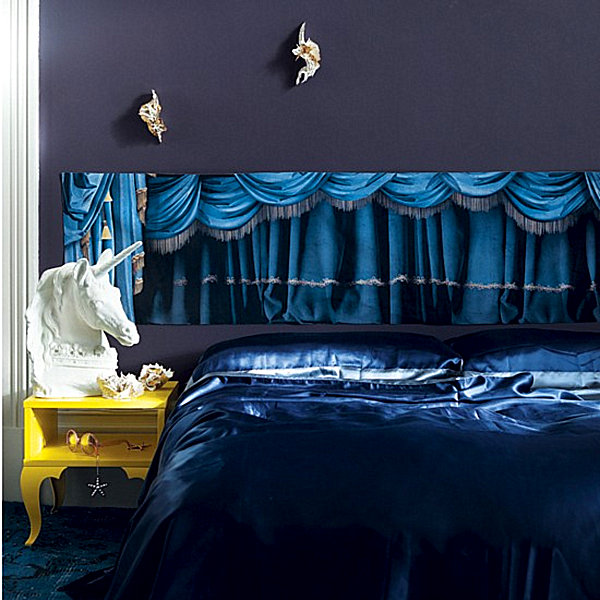 On a similar note, a royal shade of sapphire unifies curtains, bedding and furniture in this New York City loft bedroom. [from DIY Network]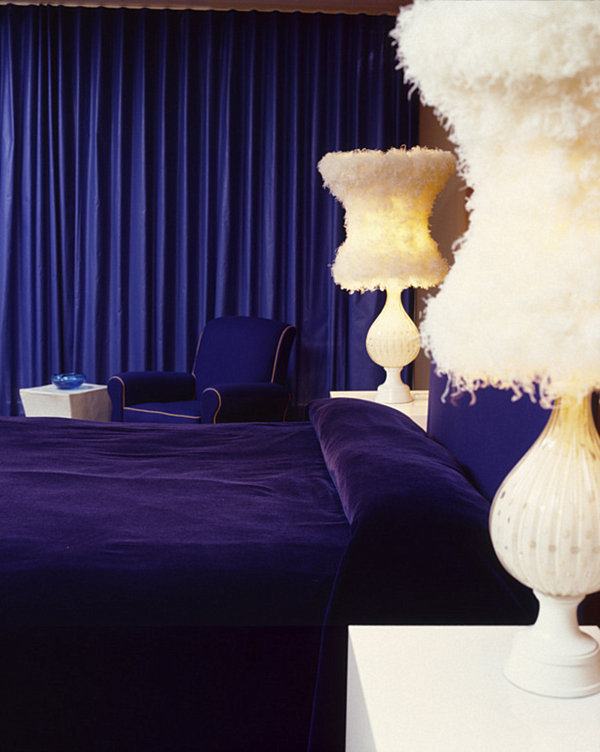 When it comes to a midnight shade of sapphire, go with white trim for a crisp contrast, as shown below in an elegant bathroom by designer Jamie Drake. [from DIY Network]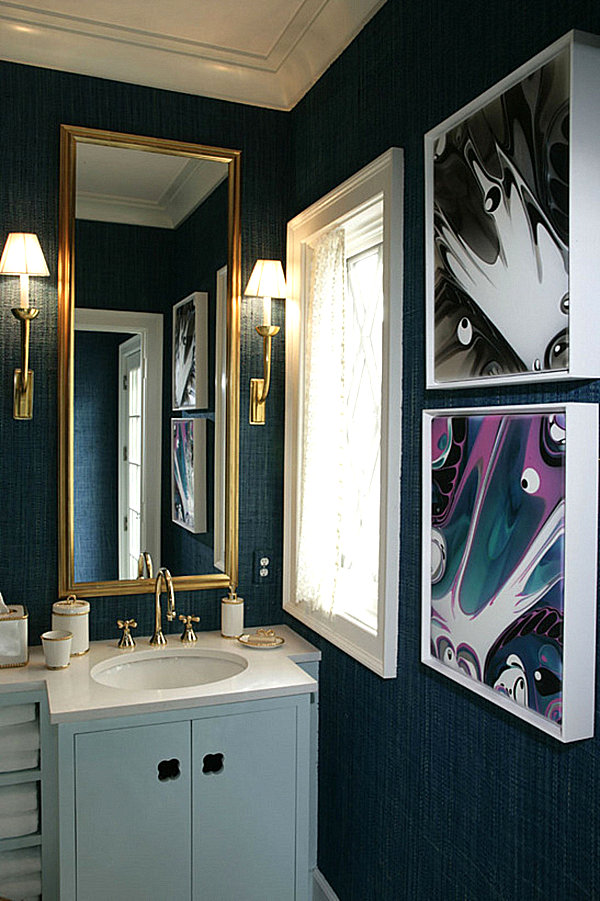 Ruby
Red is a dynamic, energizing color! Ruby red is bright, eye-catching, and can even veer into pink-ish territory. In the room below, light red walls are the perfect choice for a room with a ruby red sofa centerpiece! [from Miles Redd, LLC]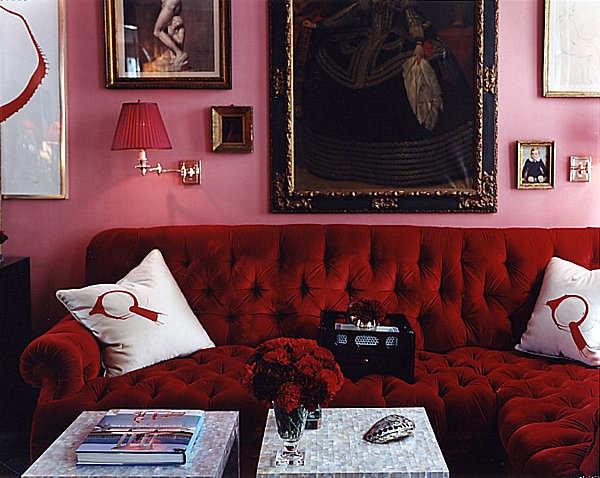 Not to mention, blue accents are striking against a ruby red palette. Note the blue and white lamp and vase in this next image. [from Miles Redd, LLC]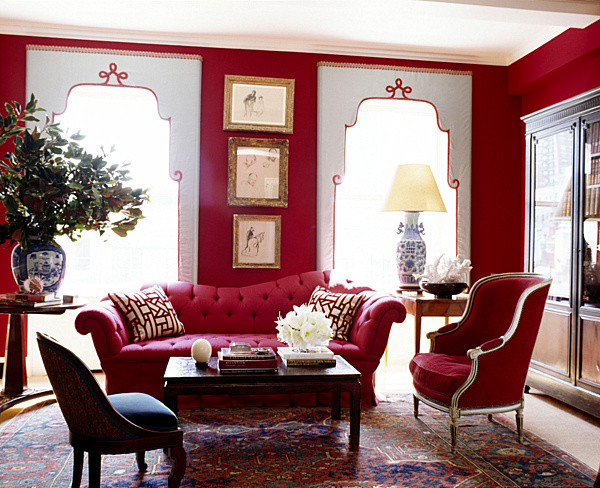 In another traditional space, ruby tones permeate the room. Yet the hue-on-hue result creates a layered effect rather than claustrophobia. Ornate furnishings add luxury to this interior. [from Writing on the Wall]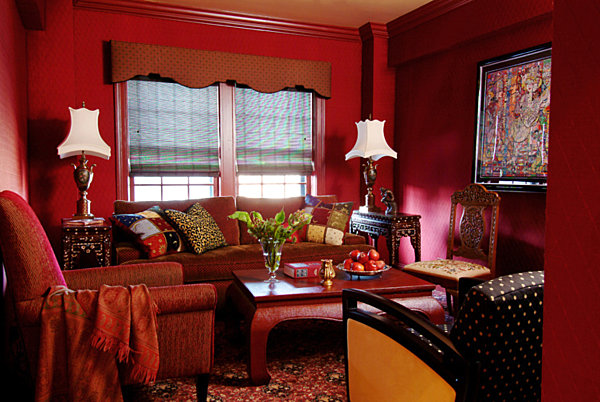 White trim and modern art give this next ruby red room a light and airy quality! Invigorating and contemporary, the space is alive with color. [from Lonny]
Amethyst
If you thought blue was royal, amethyst really conjures visions of kings and queens in lush fabrics! In the New York apartment designed by Rafael de Cárdenas, a purple sofa remains in classy territory thanks to dark patterned wallpaper and deep-hued lamps. Ebony flooring also contributes to the glamorous feel. [from Architecture at Large]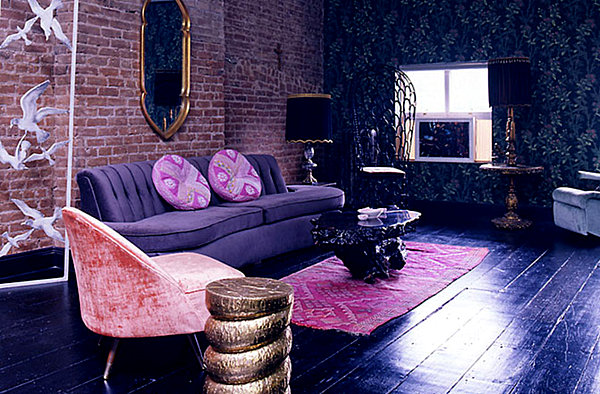 At times, purple can be overpowering. Are you inspired to paint the walls a shade of amethyst? Instead of covering the entire room in this vivid hue, consider going with lavender, then enhancing the space with deep purple accents. Decorated by Rafael de Cárdenas, the apartment of model Jessica Stam features an amethyst ottoman as eye-catching as a gemstone. [from Elle Decor]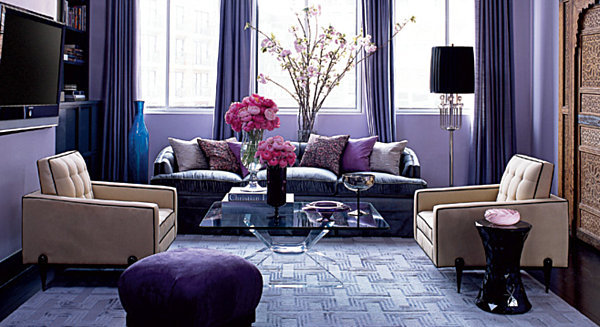 The bedroom of the same apartment showcases Hollywood Regency glamour, as well as a picture-perfect mix of dark and light amethyst tones. [from Architecture at Large]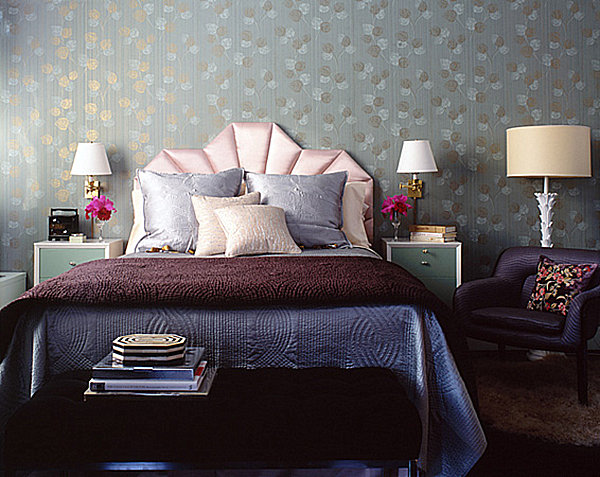 Topaz yellow is an ideal contrast to amethyst, as well as an equally vibrant jewel tone! Note how golden decor enhances the living room in this next image. [from Para Paints]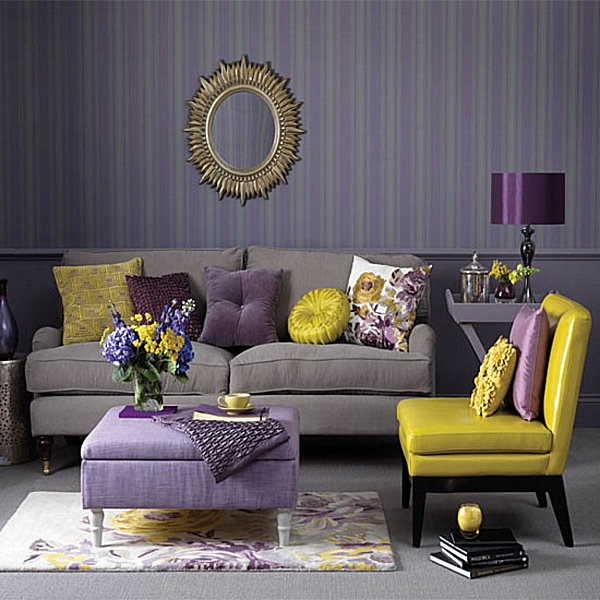 Jeweled Blitz
When it comes to jewel tones, traditional gemstones aren't the only inspiration! Teal, peacock blue and fuchsia are other signature jewel-influenced hues. Mix it up and let multiple shades shine, as shown in the New York apartment below, designed by Rafael de Cárdenas. [from Architecture at Large]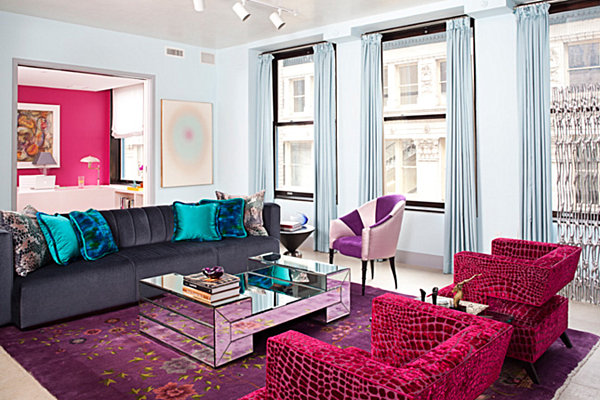 When keeping with cool shades like sapphire and amethyst, incorporate topaz yellow and gold as attention-grabbing warm accents. [from Strictly Simple Style]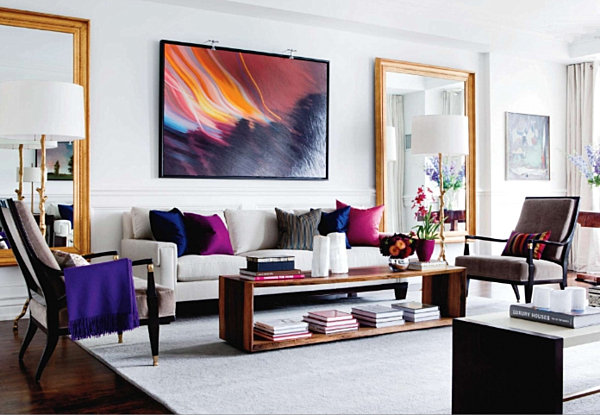 Speaking of topaz, this golden shade shines in artwork above a sapphire blue couch with coral pillows in the apartment below, designed by Zoe Feldman. [photo by Ricci Shryock, from The Glam Lamb]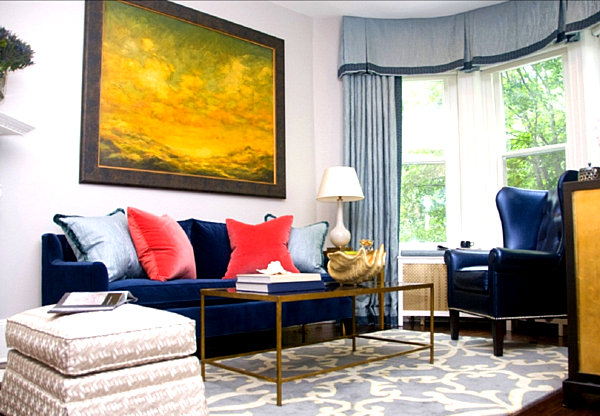 We end with a jewel-toned entryway. Sapphire walls and a ruby red door are enhanced by rich greenery. [from Miles Redd, LLC]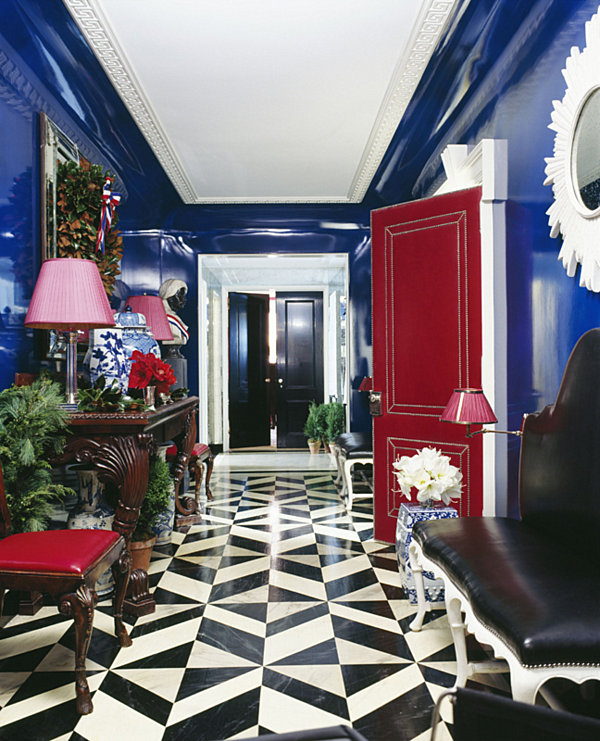 As you can see in the images above, incorporating jewel tones into your home is a delightful challenge. Walls in shades of gemstones can give a space a palatial air, inspiring beautiful decor. Whether you choose to paint the interior or keep things light while adding one or two jewel-toned showpieces, decorate with pride! When it comes to these vivid colors, it's better to be grand than demure.