Does decorating a nursery seem overwhelming at times? Blogs are filled with pictures of detailed spaces combining an array of elements, many of them handmade. How do you pick a style that you won't get tired of, especially when certain flourishes (like flag banners) seem to have already reached their popularity peak? How trendy is too trendy? Do you have time for a slew of DIY projects while simultaneously preparing for the birth of your child?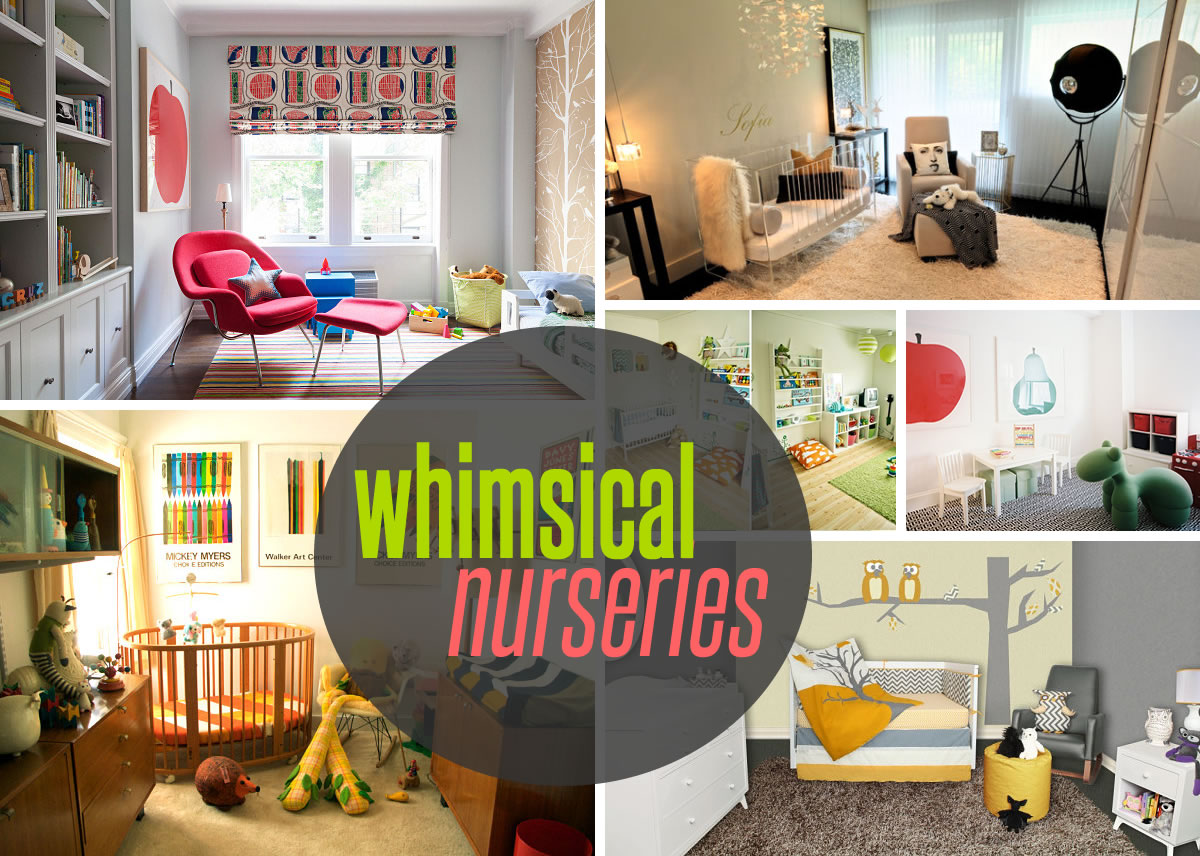 First of all, slow down. There's no one right way to decorate a nursery. If you're crafty and making things by hand for this special room is fun for you, go for it. But if you're pressed for time and have little room in your schedule for more than ordering items online, don't sweat it! And when it comes to the look of the space, there are a slew of styles to capture your attention. Today we round up five of our favorites. Go with what you love. Use items that are special to you. Don't hesitate to purchase items rather than make them. And most of all, inject a healthy dose of whimsy into your nursery. This is a magical space, after all…
Retro- and Vintage-Style Nurseries
We start with a nursery style that is a personal favorite of mine, precisely because it isn't the most popular. It's the retro look… and retro style can channel a variety of decades. Show me an '80s-style nursery and you can bet it's a true original. But for now, we head to the '5os, thanks to the stylish Midcentury Modern nursery below… [from Lonny]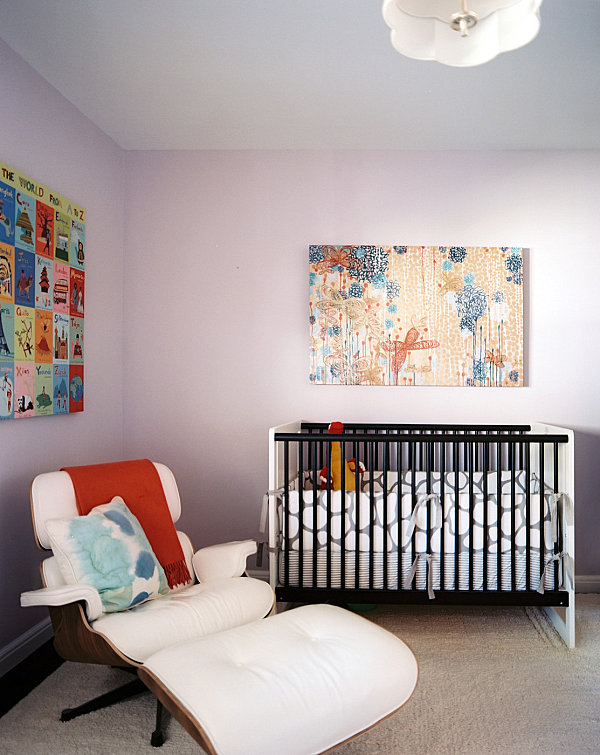 Next stop: the '70s. How original is this retro-fabulous nursery from Wary Meyers?! The vivid colors, the modern style. This is definitely the first 1970s-style nursery I've seen. Extra points for uniqueness…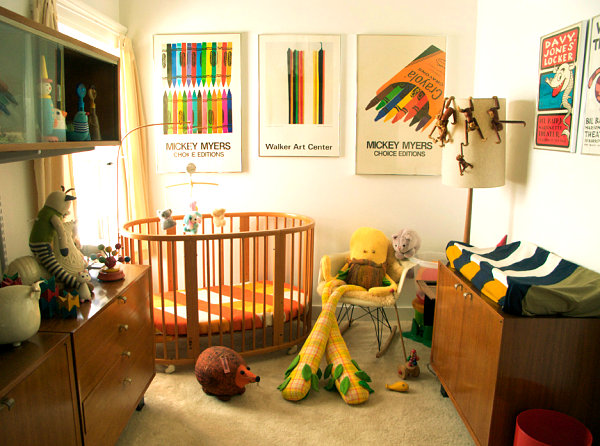 Then there's the style I like to call "vintage eclectic." Some of today's most interesting nurseries celebrate the whimsical look of antique toys, incorporating them into more modern decor. Below we see a nursery decked out in creative finds, from vintage toys to striking furnishings and colorful accents. [from Here Comes Baby]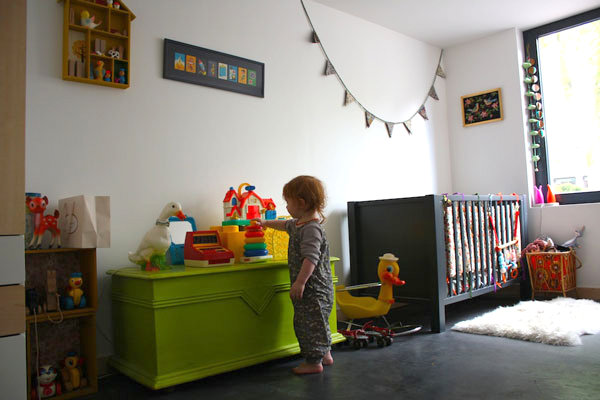 In another vintage eclectic space, we see old treasures mixed with new flourishes like a pom pom garland and puffy cloud wall art. A variety of fabrics and interesting smalls give this nursery an authentic layered look. [from Here Comes Baby]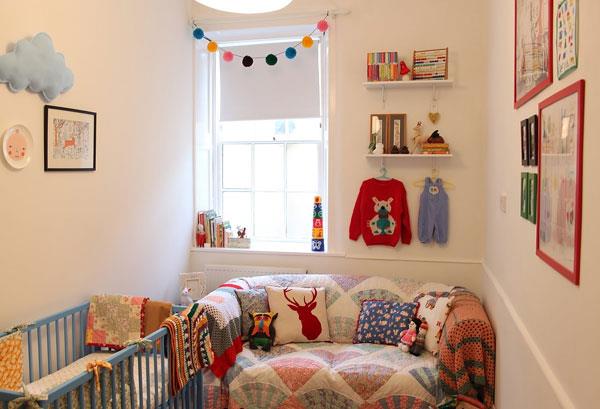 Scandinavian Nurseries
Next we head to the world of Scandinavian design, where details like white walls, wooden accents, colorful touches and vibrant fabrics combine to create decor perfection. First we see a bright space that shows how a crisp white background makes vivid accents truly stand out. We're loving the wall art, interesting toys and patterned dresser. [from Interior Design World]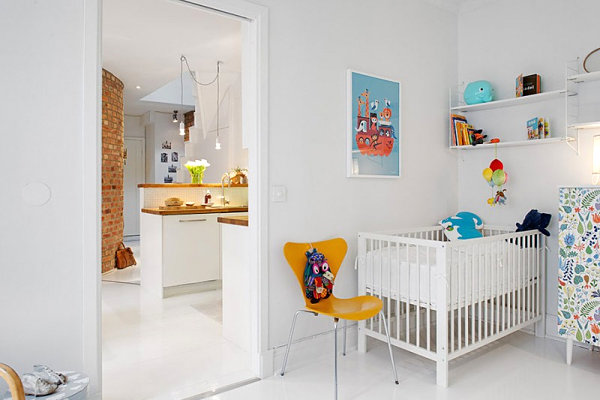 Wall shelves with patterned backgrounds, a hardwood floor and hanging paper lanterns are a few highlights from the Scandinavian-style nursery below. In fact, note how prints are mixed freely, creating an artistic vibe. [from Here Comes Baby]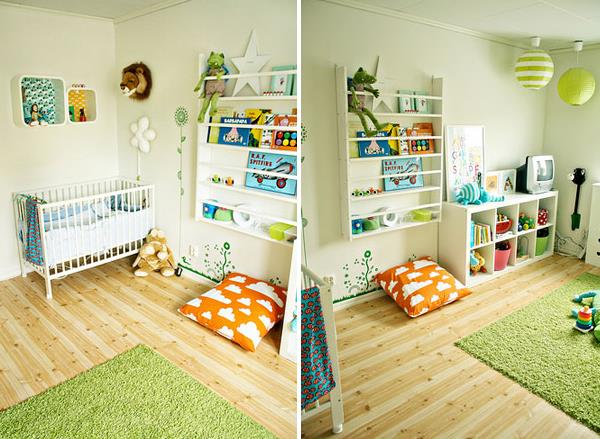 For amazing storage options and Scandinavian-style decor, you can always take your cues from IKEA. Let's just say I have more than a few IKEA furnishings in my home. And when it comes to organizing my nursery one day, you can bet we'll pay a few more visits to our local IKEA…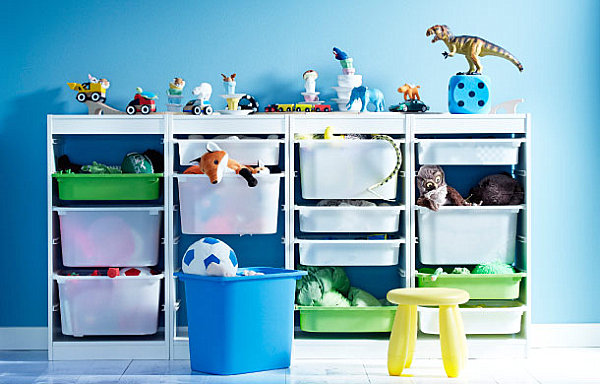 Bird-themed wallpaper is striking in this room filled with wooden details. Hardwood floors, wooden seating and wooden toys make a big statement, especially when red is used as a powerful accent color. [from Bambino Goodies]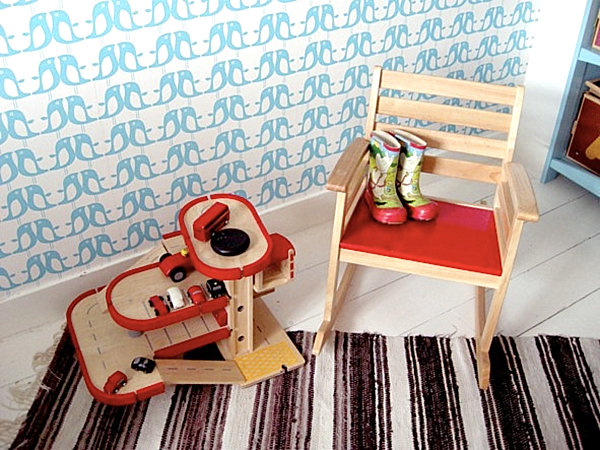 Modern Chic Nurseries
We now go a bit upscale… These modern chic nurseries combine the best of modern style with a dash of modern elegance. Often sleek rather than filled with baubles, they are a refreshing contrast to the plethora of crafty nurseries in the spotlight today. Two-toned draperies, delicious artwork and a contemporary rug are highlights in this sleek space (that also happens to be child-friendly). [from DKOR Interiors Inc.]
There are many things to love about this next modern chic nursery. For starters, the 3-D geometric artwork on the wall over the crib. This is inspiring me to create a DIY project involving a wooden panel and some colorful blocks… Then there's that bubble swing–the perfect size for a little person! Throw in some interesting lighting and you have a truly amazing space. [by Portico Design Group]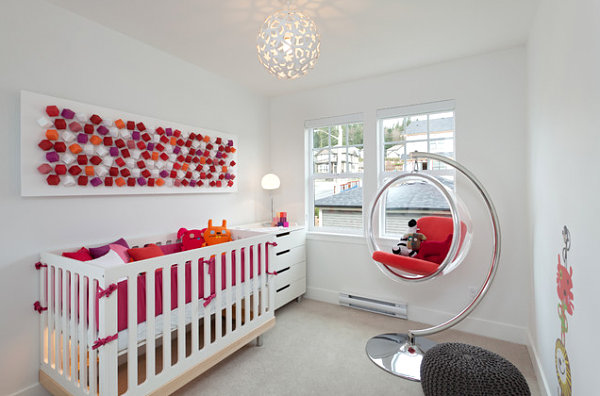 Ooh-la-la! Fuzzy surfaces, an acrylic crib, a wispy mobile and glossy details are a few highlights of the glamorous nursery below. A pillow with a face, cube-like pendant lighting, modern artwork… We just can't stop finding things we love about this black and white room! [from Shannon Rosati Interiors via Houzz]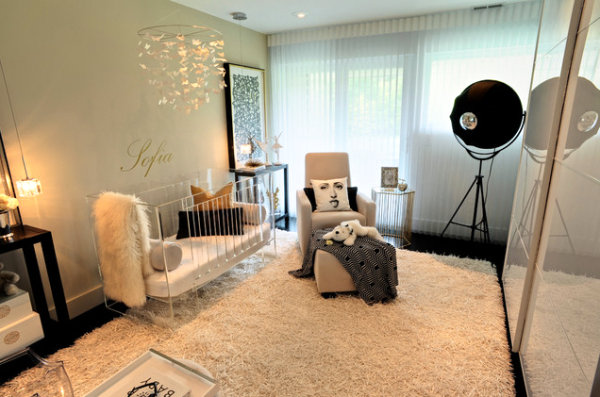 Trendy Nurseries
From the glam to the trendy. Not that there isn't overlap at times! The key to designing a trendy nursery is to truly pick items that you love. Trends come and go. Long after the geo-form mobiles and ombre dressers have left the spotlight, this decor might still be in your space. If it's as fabulous as the nursery below, it won't matter that new trends are already in the works, especially if you truly like what you see! [from Lonny]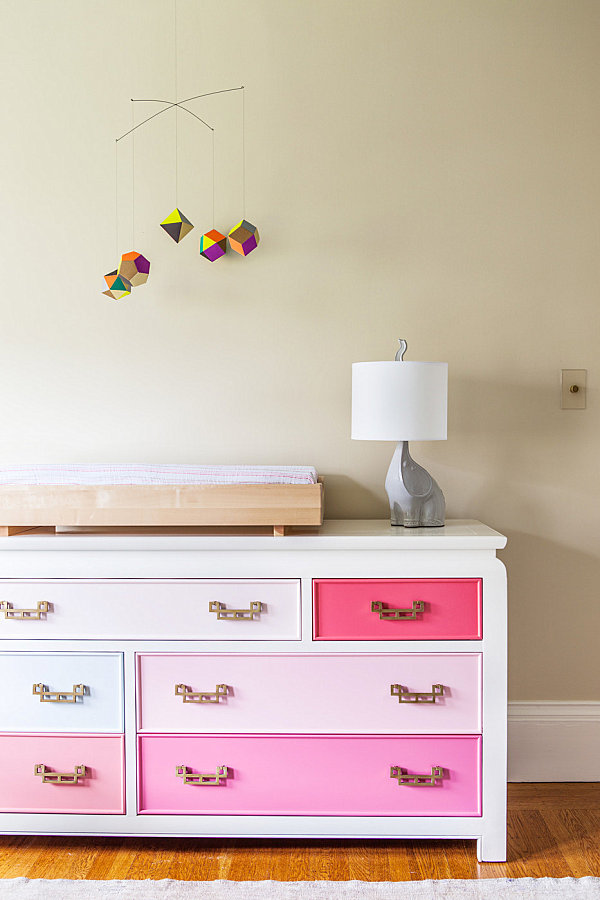 Another one of today's top trends: a tassel garland. It was only a matter of time before this decoration found its way into the nursery! For more information about crafting the garland, check out House to Home Blog…
Chevrons and owls and trees, oh my! Yes, owls and chevron patterns may have been around for years, but they still look crisp and fresh in this next nursery, which features the Nighty Night Owl Collection from Snuggleberry Baby: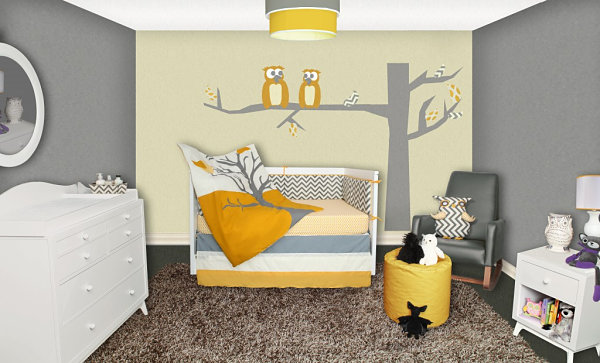 Bold Eclectic Nurseries
We end with a collection of nurseries that are bold and fabulous. They are colorful. They feature dramatic artwork. They incorporate a variety of modern elements. It's all about celebrating those special touches that make you smile and integrating them in a way that takes guts. The red womb chair and apple artwork below have officially caught our attention… [from Lonny]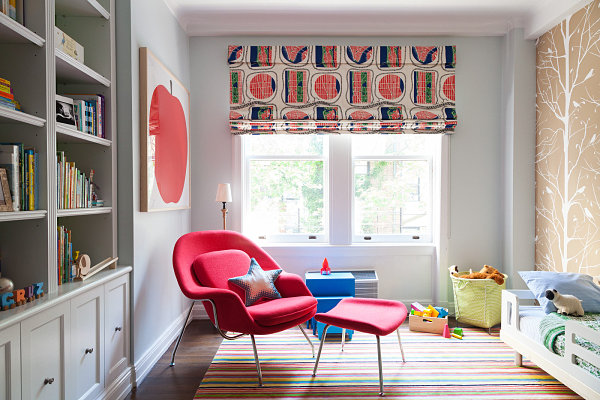 Speaking of apple artwork, we think we've found a duplicate! And it's joined by a pear. Greek key carpeting, animal-themed seating and other boldly outlined pieces highlight this space. Gorgeous! [from Lonny]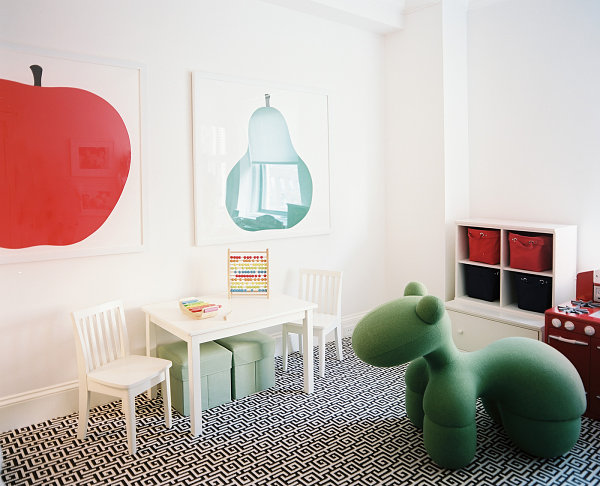 What's great about the bold eclectic nursery is the way it has the power to incorporate a variety of styles without seeming cluttered. Resist the urge to fill your space with lots of stuff. Instead, choose one or two strong items, like a striking chair and a piece of contemporary art. On a side note, could fruit artwork be a new nursery trend? Only time will tell!… [from Lonny]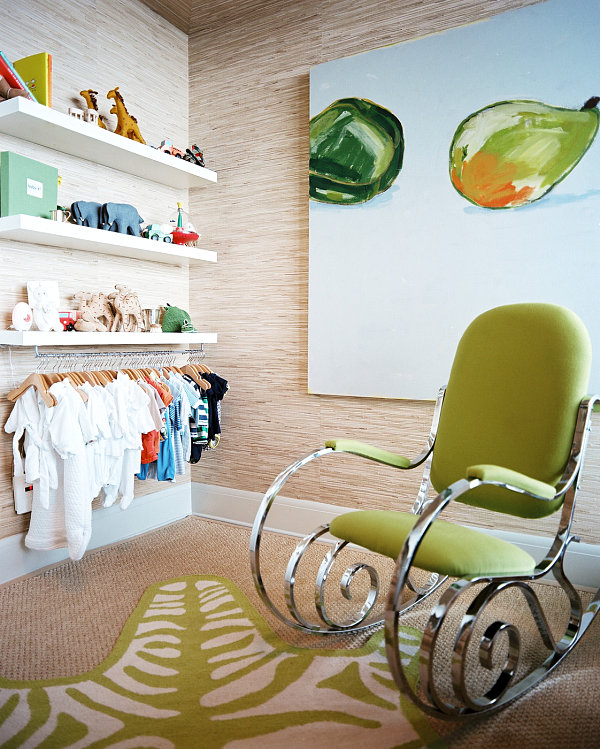 Now tell us about YOUR favorite nursery style! Is it a retro-style space? Maybe a Scandinavian nursery? Or maybe modern chic is right up your alley… Would you decorate your nursery in a trendy style? Or perhaps you would go bold! Is there an interesting nursery style we've missed? Share your thoughts by leaving a comment below…
Liked the story? Share it with friends.