I lived in a studio apartment for six years, and they were some of the best years of my life! For starters, I was thrilled to have my own place–a sanctuary of sorts. In fact, multiple people with roommates stopped by and told me they wished they had a space of their own just like my apartment, even if it meant downsizing. Also, I really enjoyed the challenge of decorating the compact space. Not to mention, living is a small place meant that I had to regularly clean out drawers and closets to keep my interior from becoming cluttered. This resulted in me living simply yet meaningfully. Everything I had counted, and when it came time to move, I was grateful not to be overwhelmed with stuff.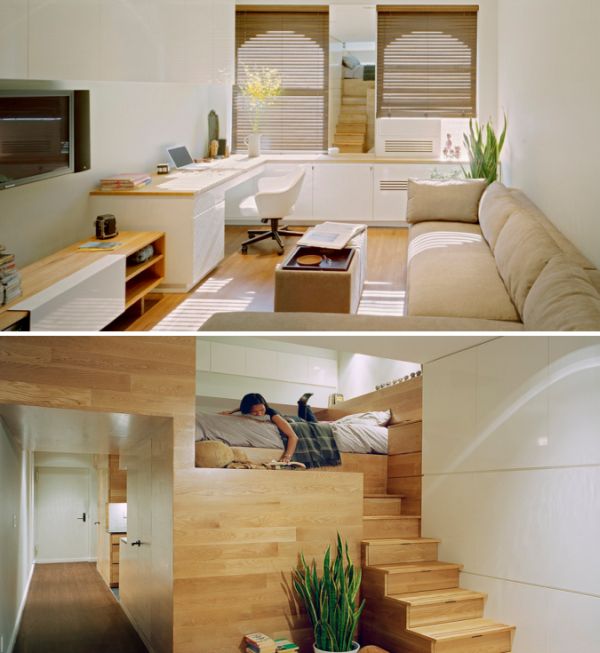 If you live in a studio apartment, you're in good company. Great company, in fact. Some of the world's most exciting cities (hello, New York) are filled with studios, and people scramble to find them. There's nothing like being in an amazing location, even if it means living in a smaller dwelling. And let's face it–just because you're short on space doesn't mean you have to be short on style! Today we explore how to maximize the room you have…
One-Room Studio Apartments
We begin with one-room studio apartments, which can be tricky to decorate. After all, when your bed is in the living room, it can be difficult to delineate separate areas. But maybe not as difficult as you think… Some spaces, like the apartment below, proudly include the bed without attempting to hide it from view. And you know what? It works! [from Chris A. Dorsey via Houzz]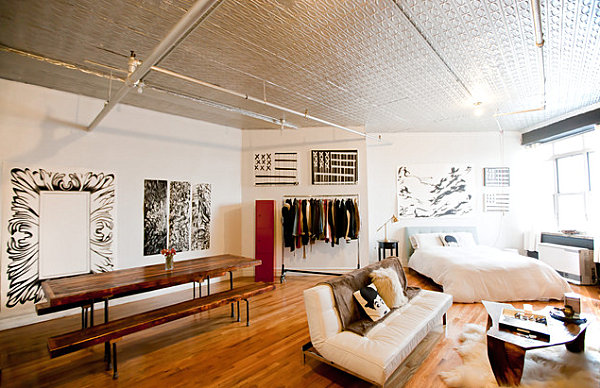 Note how eclectic decor helps the bed below to truly blend into the space. While an assortment of styles and furnishings are represented, a funky look is created, and a unifying color palette ties it all together. [from Chris A. Dorsey via Houzz]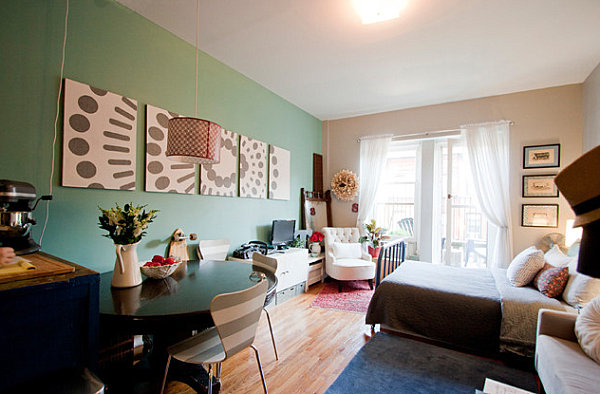 You can always use a shelf as a divider, as shown with the floor-to-ceiling shelving in the Los Angeles garage conversion below. Note how even though you can still see the bed, a little bit of separation makes a big difference… [from Urban Oasis]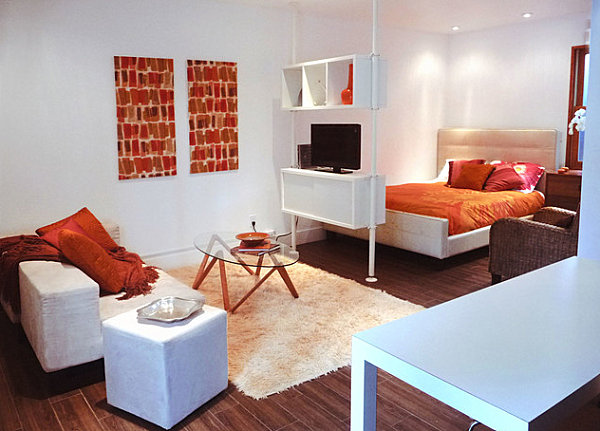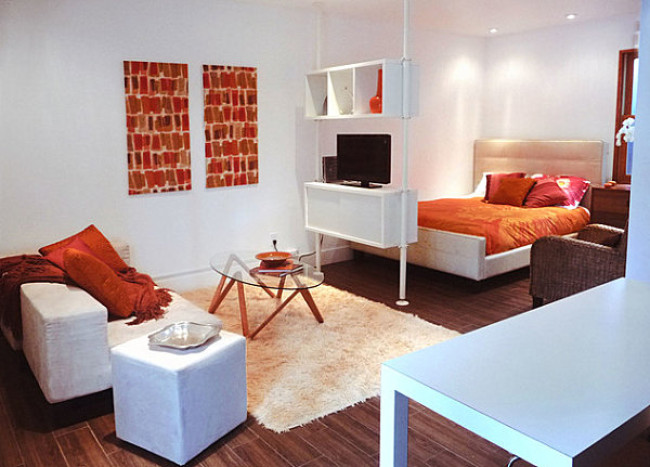 Don't forget about the power of strategically arranging furniture. After all, furniture can naturally divide a space, as shown by the sofa in the next featured image… [from Hammond Design]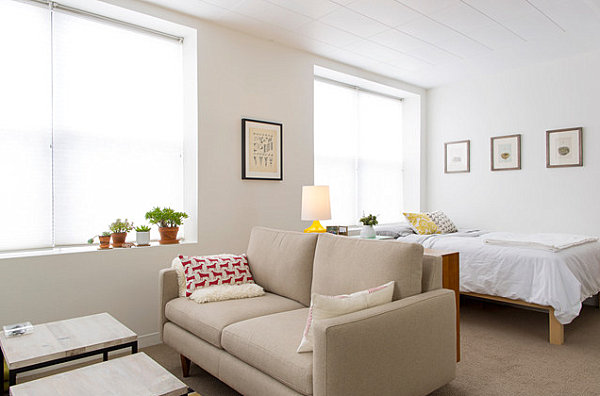 Then there are those who enlist the help of an interior designer to maximize space. Below we see a Brooklyn Heights studio featuring a wall nook that was built out to add a sense of cozy privacy to the sleeping area. [from General Assembly]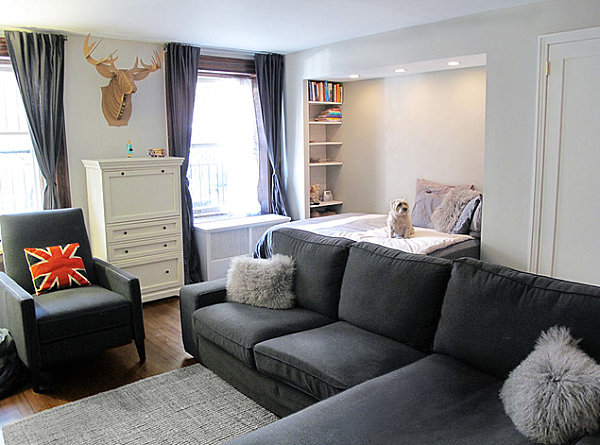 Or you can go…up! Some studios incorporate loft-style sleeping spaces. When the bed is off the ground, there's plenty of room for furniture below. In the next space, note the clever use of a ladder behind the desk, which makes it possible for a ceiling fan to cool the sleeping area on the warmest of nights. [from Stilettos and Boots]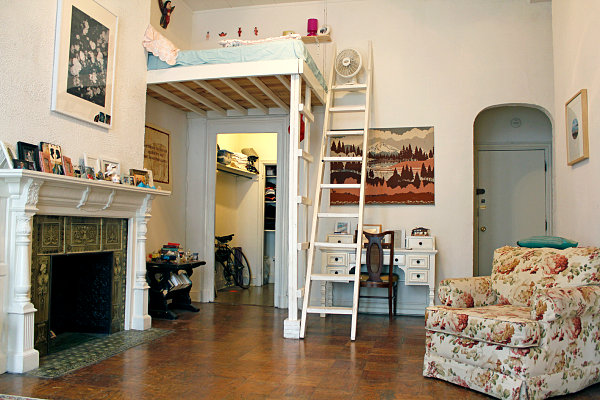 If you're really pressed for space, you can purchase dual-purpose furniture. For example, the plush upholstered bed below makes a decadent sofa when placed against the wall… [from Greeson & Fast Design]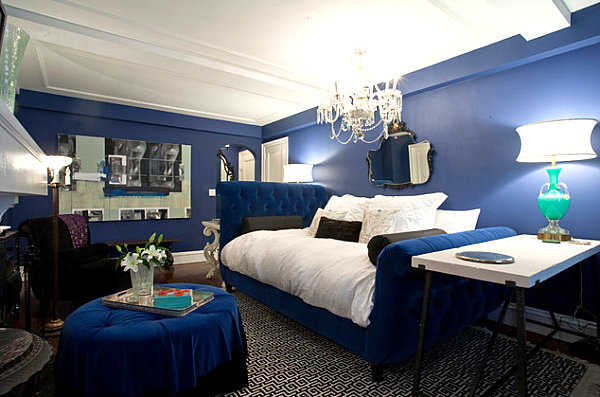 We see a similar effect this next clean-lined space, thanks to a corner sofa that we're guessing pulls out to become a comfy bed. [from Interiornity]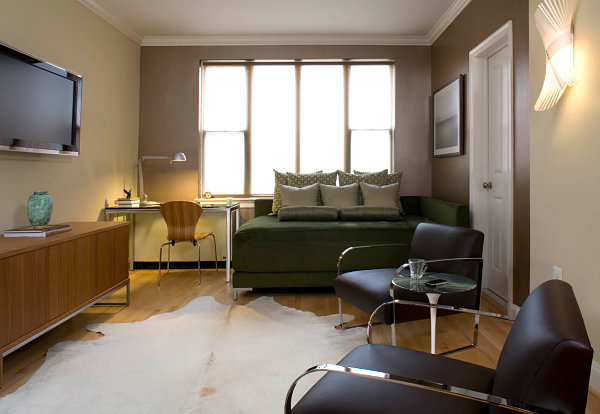 We're now lucky to get a picture "tour" of a San Francisco urban space, thanks to the trio of images that follows. Mirrored panels help create a sense of depth to this studio bedroom, while space-saving furnishings like a bed with an attached table add both substance and style. [from Susan Diana Harris]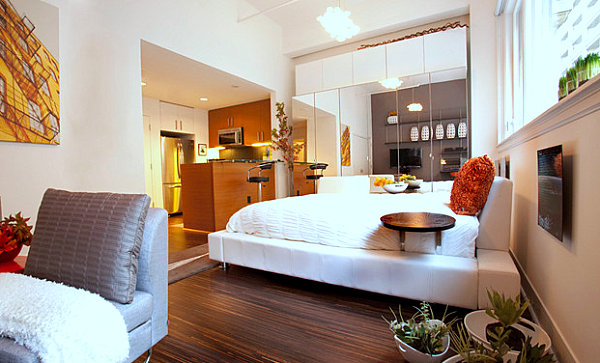 We now see a view of the living room, which incorporates two comfy chairs that also serve as room dividers. A vivid side table helps create a true vignette, while an off-center rug is an unexpected flourish…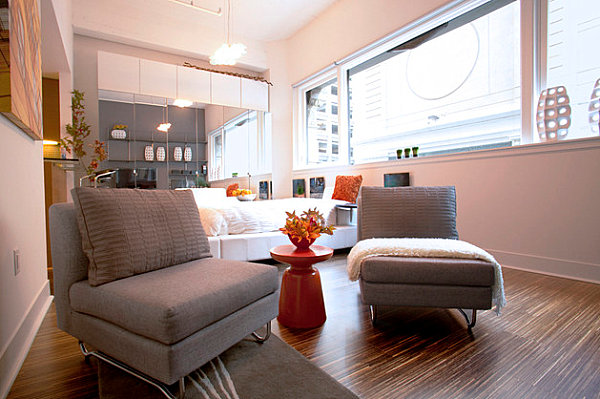 In the next view of the space, we see the living area from the bedroom… Note how the use of an accent wall helps punctuate the living area, visually separating it from the bedroom while adding color.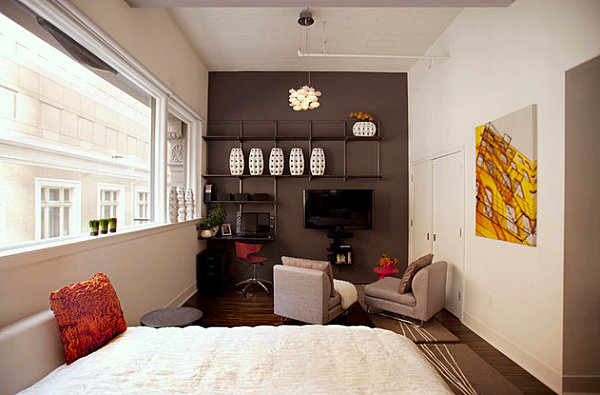 No room for a bed any way you look at it? Try the Murphy bed approach… When the bed pulls down from the wall, you can easily fold it back up when you need space during the day! [photo by Muffy Kibbey for Building Lab, Inc.]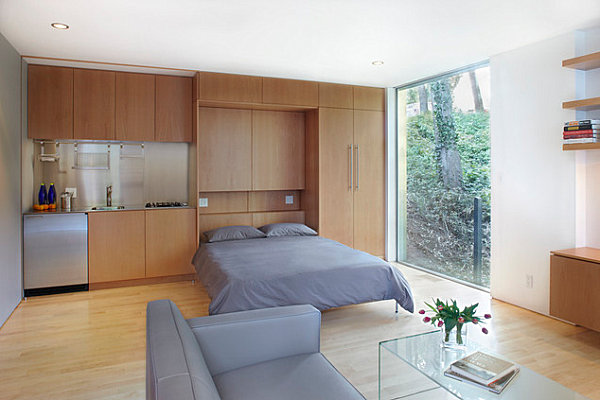 Or you can go modular with an unfolding living room! When folded up, the blue cabinets below appear to be just that–nothing but cabinets. But they easily transform to reveal a bed, as well as an office desk (which you can see if you look very closely at the far right of the unit). [from Normal Projects]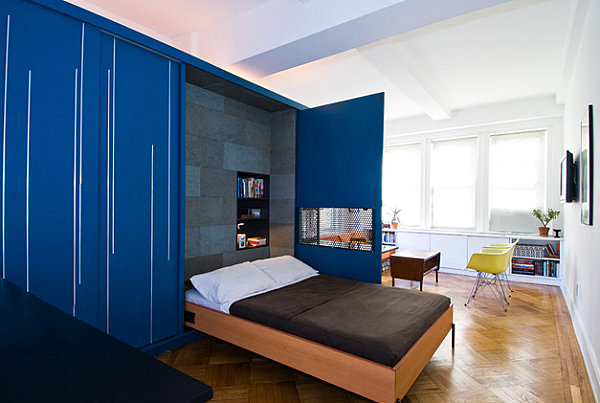 Studio Apartments with Separate Bedrooms
Some studio apartments have the added benefit of a separate sleeping area. Let's take a look at how these spaces are created! Below we see a living room that easily incorporates a desk. Yes, it's a living room/office! And if you look closely, you can see a bedroom in this East Village studio apartment. What ties it all together? A unified color scheme that combines shades of white and wooden tones. [from Jordan Parnass Digital Architecture]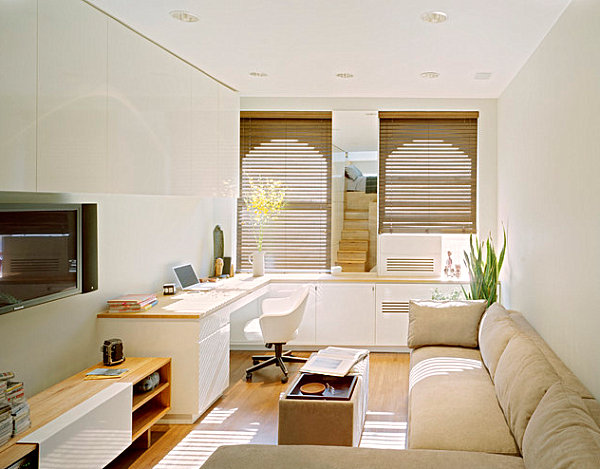 There may not be a bedroom door in this open, airy studio apartment, but a dividing wall creates a sense of privacy. Not to mention, a sleek contemporary look seamlessly connects each separate space. [from Porter Davis Real Estate Brokerage LLC]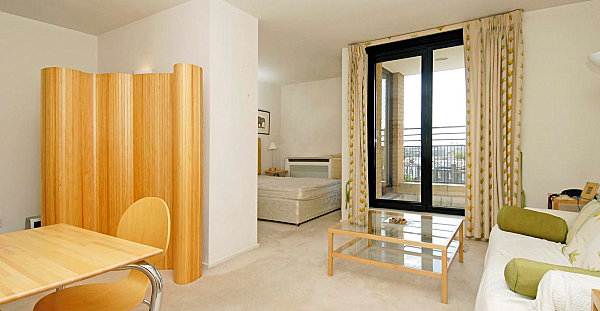 Some studios feature sliding doors that section off the bedroom area. When the doors are shut, privacy is the priority. Yet when a spacious feel is desired, the doors can slide open to showcase every room in the apartment. [from Studio Garneau]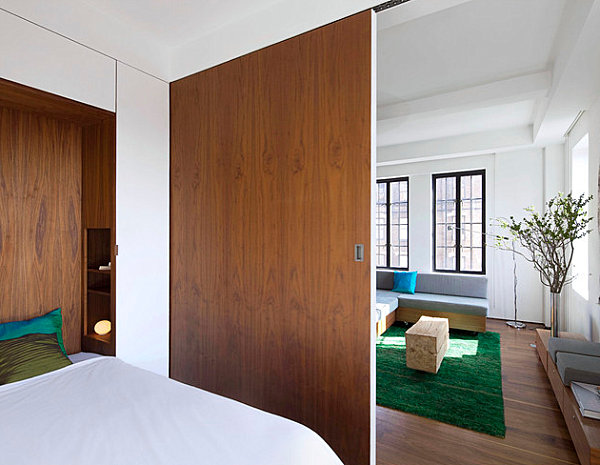 Doors are handy when mobile, but so is furniture and shelving! In fact, the studio apartment below features furniture on castors, as well as movable partitions and shelving. A clean-lined, fully functional interior is the result! [from Freespace Design LLC]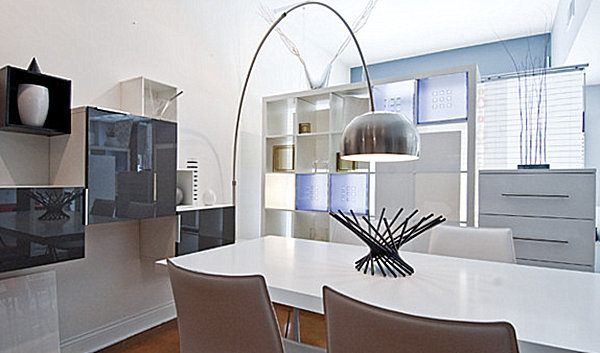 We end with a vibrant space in shades of green. This time, a divider in a shade of acid chartreuse separates the living and dining areas. Why not add a little artistry to your studio with a radiant pop of color? [from DickOatts]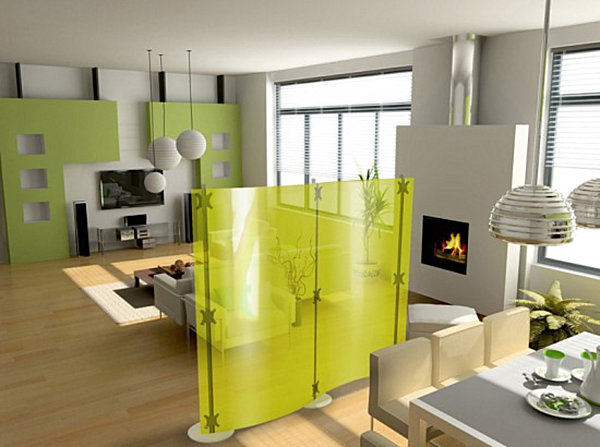 Do you have a favorite space or decorating technique from today's post? Do you live in a studio apartment? Perhaps you have a few decorating tips for a small space… Share your thoughts by leaving a comment below!