Creating a teen or a tween bedroom is a particularly hard task. Since kids tend to outgrow their interests and fascinations at a fast pace, it is important to pick themes and colors that offer ample flexibility. The job tends to be a touch harder when working with teen girls whose choices often are as fickle as their moods! One of the best ways to go about this task is by opting for a neutral backdrop in the girls' bedroom while allowing décor and accessories to bring in color. Accent fabrics present an easy and colorful choice in this regard.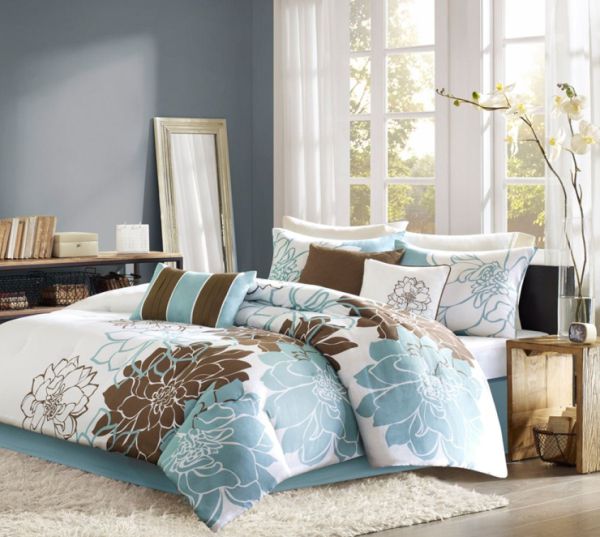 Bold and bright quilt covers, lovely comforters and matching pillow covers can alter the look of a bedroom in an instant. With contemporary homes opting for muted tones, a teen girls' bedroom can be brought to life with the right bedding and matching accessories. Easy to change with varying tastes and décor trends, bedding choices for girls' bedroom vary from the subtle to the brilliant. Available in an array of hues and styles, here are a few bedding inspirations for teenage girls' room that are elegant and effervescent!
Trendy Bedding Ideas For Teen Girls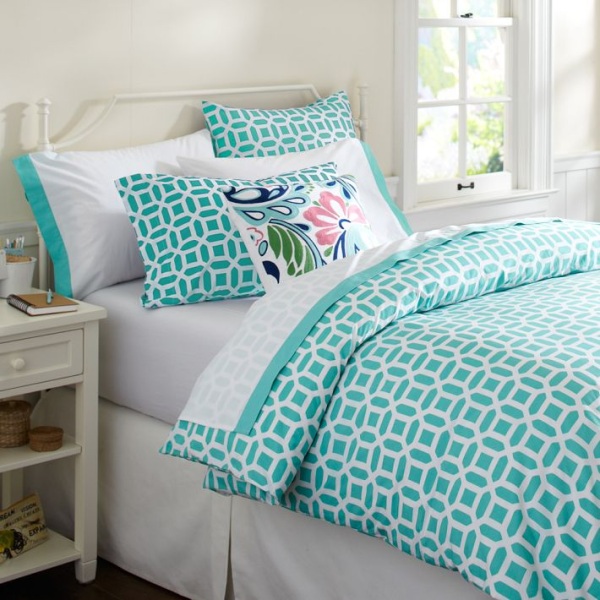 There is something innately beautiful about the varying shades of turquoise, aquamarine and teal. Unique geometric prints are also the flavor of the season with designers incorporating new patterns in audacious shades. This striking bedding seems to work particularly well in a room clad in pristine white.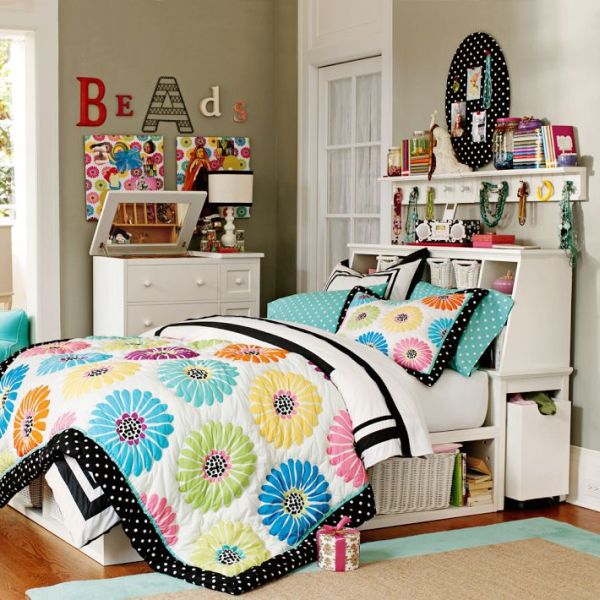 The black lining of the bedding brings refinement to the set in an understated fashion. Yet, it is the large, bright and bold flowery pattern that steals the show here. While the touch of feminine charm is undeniable, it is incorporated in a tasteful and restrained fashion. Perfect bedding set to lighten up girls' bedrooms that seem small and cramped.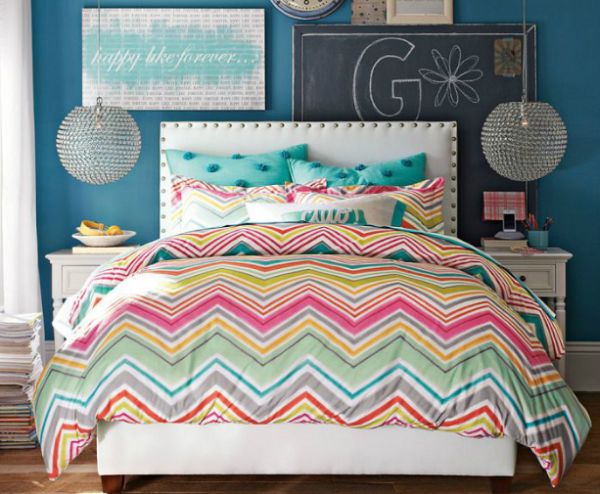 Add the delight of a brilliant rainbow to your teen girls' bedroom. This is one design that seems to cut across age groups despite sporting a dazzling array of intense colors. The zigzag pattern of the bedding gives any room the much needed visual contrast. In essence, here is a bedding design that is for all those still young at heart!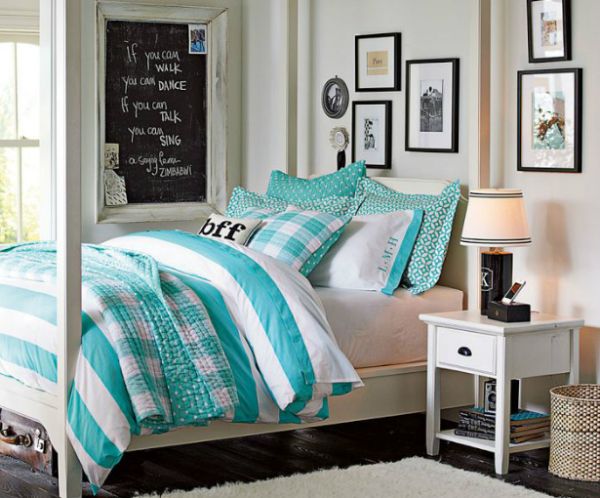 White and aquamarine stripes strike once again and this definitely seems to be one of the more popular color combinations for girls' bedroom. Soothing and tranquil, the bedding seems to bring along with it a touch of cool Mediterranean and the images of sun, sand and surf. Add a matching turquoise vase or two and you are all set with a beach-inspired look.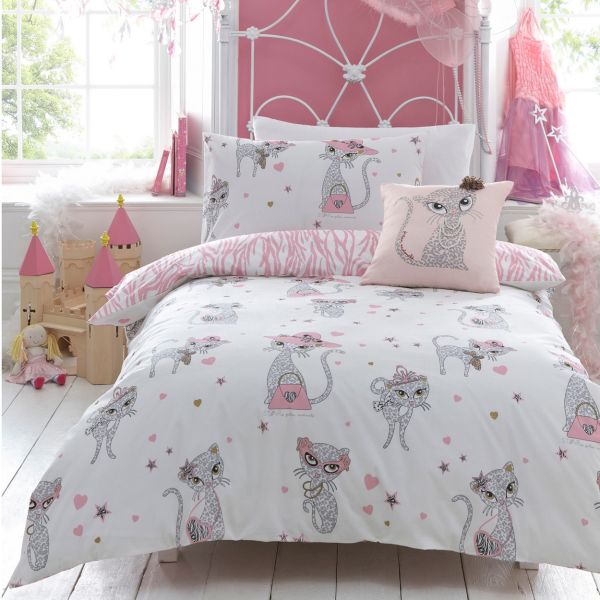 You would think that stars, hearts and glittering cats could be a touch childish for a teen girls' bedroom. Yet, Star by Julien Macdonald is a beautiful bedding set that is classy, playful and brings with it glitz, glamor and sophistication. Perfect for both tweens and teens, it works well with a Hollywood regency look or even a princess-themed girls' bedroom. A touch of gold, a streak of silver and some pretty pink work beautifully in tandem! You can get this Glitter Cats double bedding set from Debenhams along with matching Pink Audrey Cat Cushions.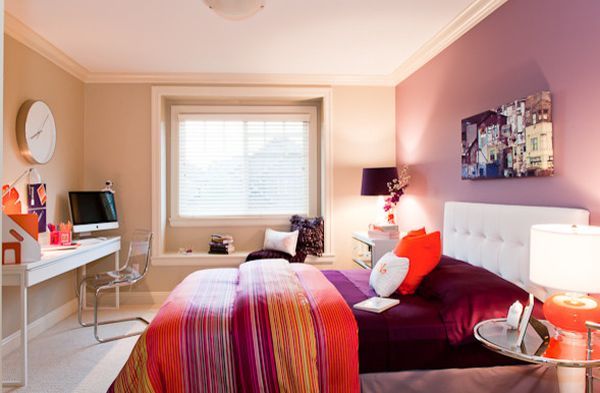 The spunky style of orange is for those who are willing to experiment with color without worrying a bit too much about subtle shades. A teen room is the perfect place to add this gorgeous hue. In essence, the bubbly and animated nature of orange reflects the highly opinionated world of most teens! Simple and sleek designs and a muted backdrop are the ideal bedrooms to imbibe bedding sets laced with orange.
Colorful to the Core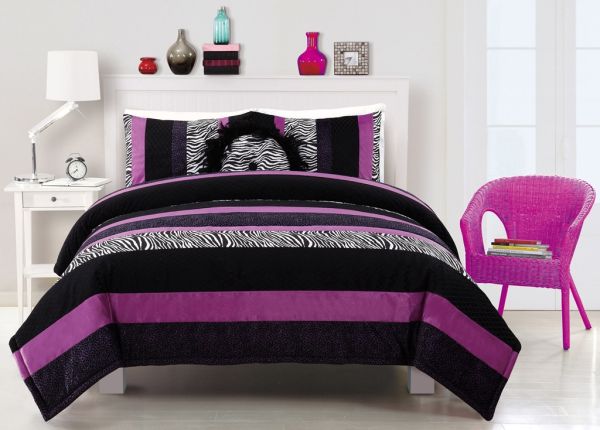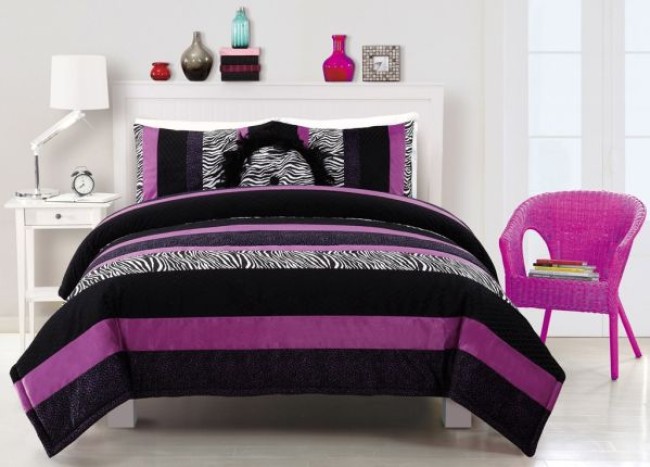 Purple is a color of royalty, luxury and opulence. It also remains one of the most preferred accent colors in modern bedrooms. Bold black and purple stripes combined with zebra print make this bedding ideal for those looking to infuse a Hollywood starlet appeal. Attractive and aesthetic, the bedding's design has a distinct combination of the classic and the contemporary.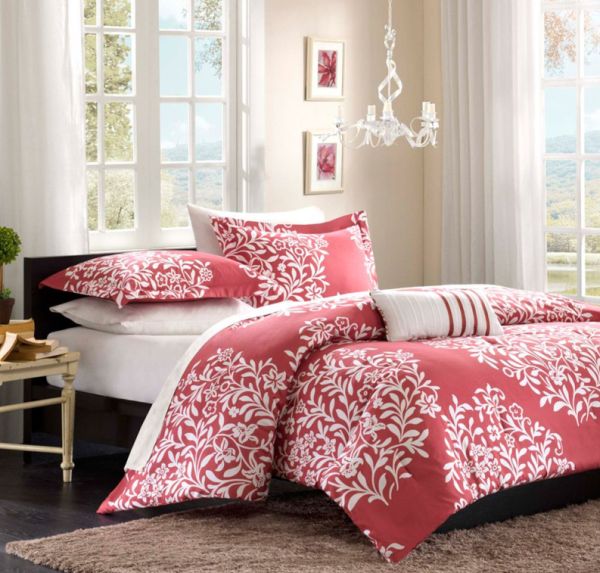 Most girls' bedding designs employ a pale and distinctly cute shade of pink. This bedding set reflects a more mature design and yet keeps it feminine to the core. A combination of refreshing Raspberry pink and a touch of dark fuchsia, the leaves and flowers pattern seem perfect for teens closer to adulthood.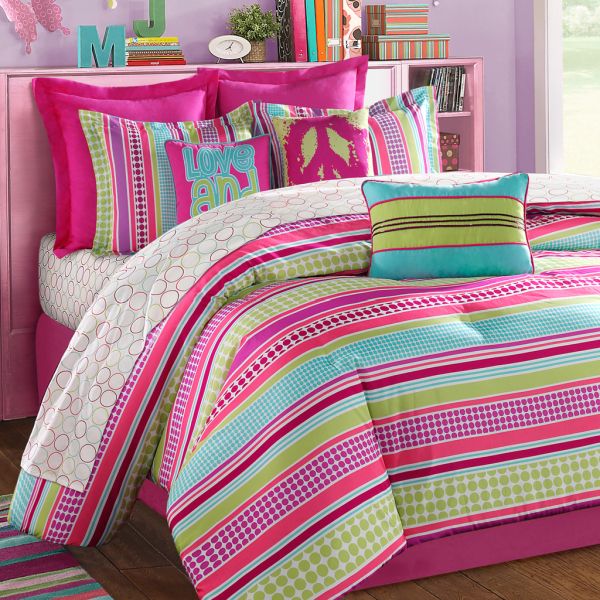 Varying shades of pink, purple, green and blue are brought together in a balanced fashion here. Despite the collection of colors on display, nothing seems to gaudy or out of line. This comfortable girls' bedding set seems stark and vivid even as it brings the modern style of diverse geometric prints.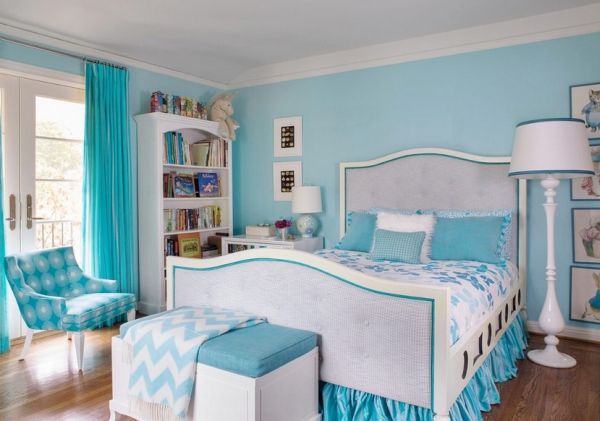 Not all teen rooms are colored with neutral tones and in case you are employing a distinct color scheme, it goes unsaid that you need to find matching bedding in similar shade. Bright and contrasting colors only work well in rooms with muted walls. A bedroom clad in blue like this one looks prettier when it repeats the same color throughout in varying degrees.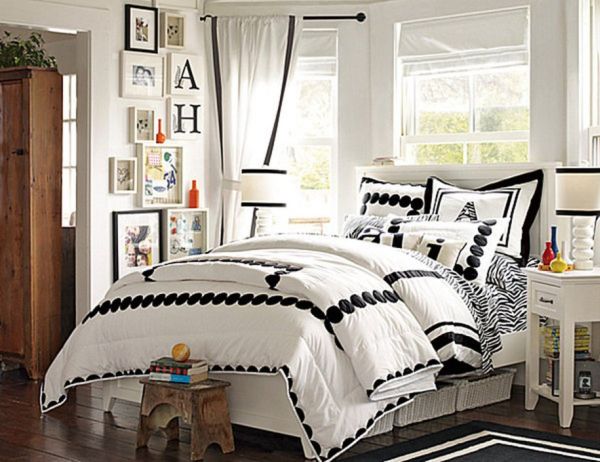 Black and white bedding sets are a wonderful choice for rooms that are compact as using one uniform tone reduces visual fragmentation. They can also be also added to a colorful teen bedroom that already seems a touch too bright. A simple combination of black and white along with a zebra stripe pattern also adds a dash of opulent Hollywood Regency.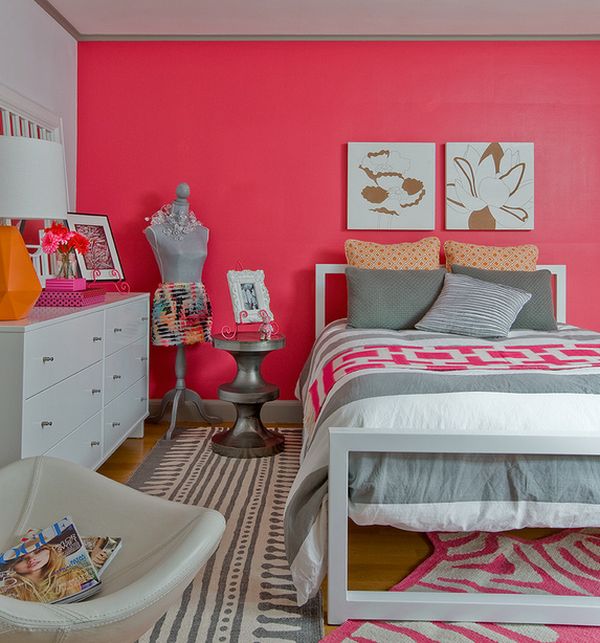 by Ana Donohue Interiors
Since the title 50 Shades of Grey made it to the top of best sellers list, grays have been all the rave. Stylish teen bedrooms are no exception to this new trend. Bedding that brings together hot pinks with stoic grays is a graceful option for a teen room. A matching rug and an accent wall highlight the color scheme further.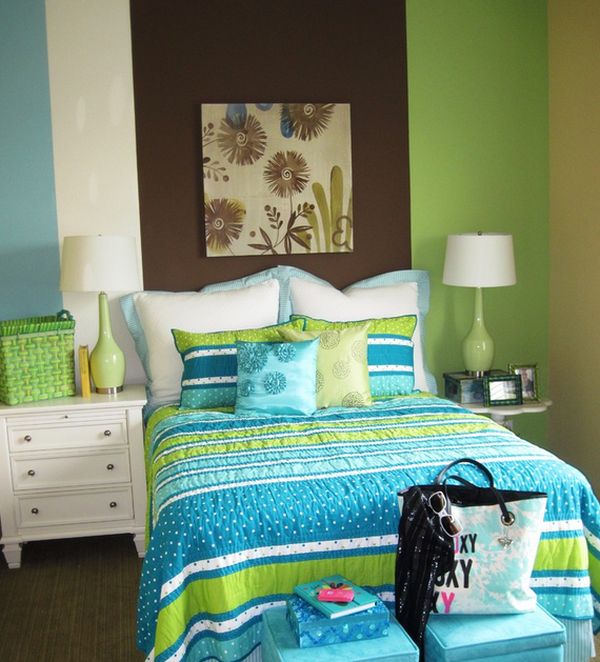 by Klang & Associates
Bedding plays a pivotal role in enhancing the appeal of this teen bedroom to a whole new level. Despite the table lamps, the accessories, it is the lime green and blue bedding that really breathes life into this room. Colorful and classy, here is a perfect example of how to decorate a teen bedroom in a complex, yet appealing color scheme.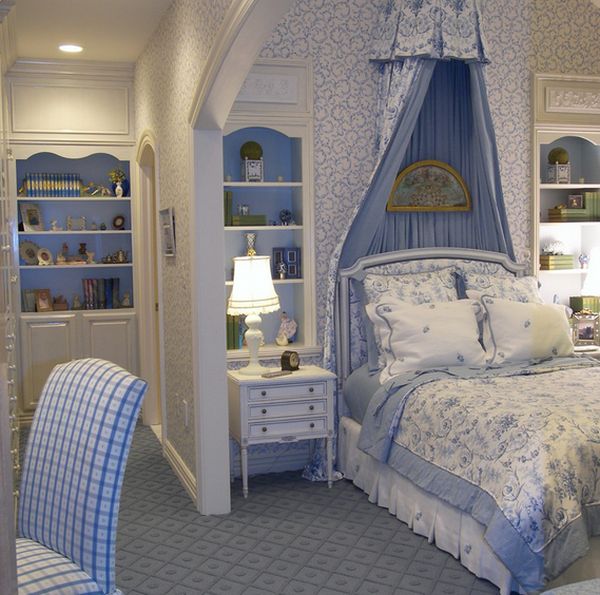 by Minion Gutierrez
Bedding need not always stand out and make its presence felt. This lavish teen bedroom uses bedding that seems like a natural extension of the walls and the flooring. Remember that both color and pattern of the bedding play an equally important role in painting a visual picture. While floral prints work in some rooms, dashing strikes fit in with a more semi-minimalist and urban theme.