Here at Decoist, we've enjoyed showcasing teen bedroom decor, and today we continue the fun by featuring colorful bedding for teenage girls. From floral duvets to geometric comforters, we're spotlighting fresh and modern patterns to help you create a unique room that is a true sanctuary! Not only have we rounded up the best and the brightest, we've included helpful links for product details and purchasing information.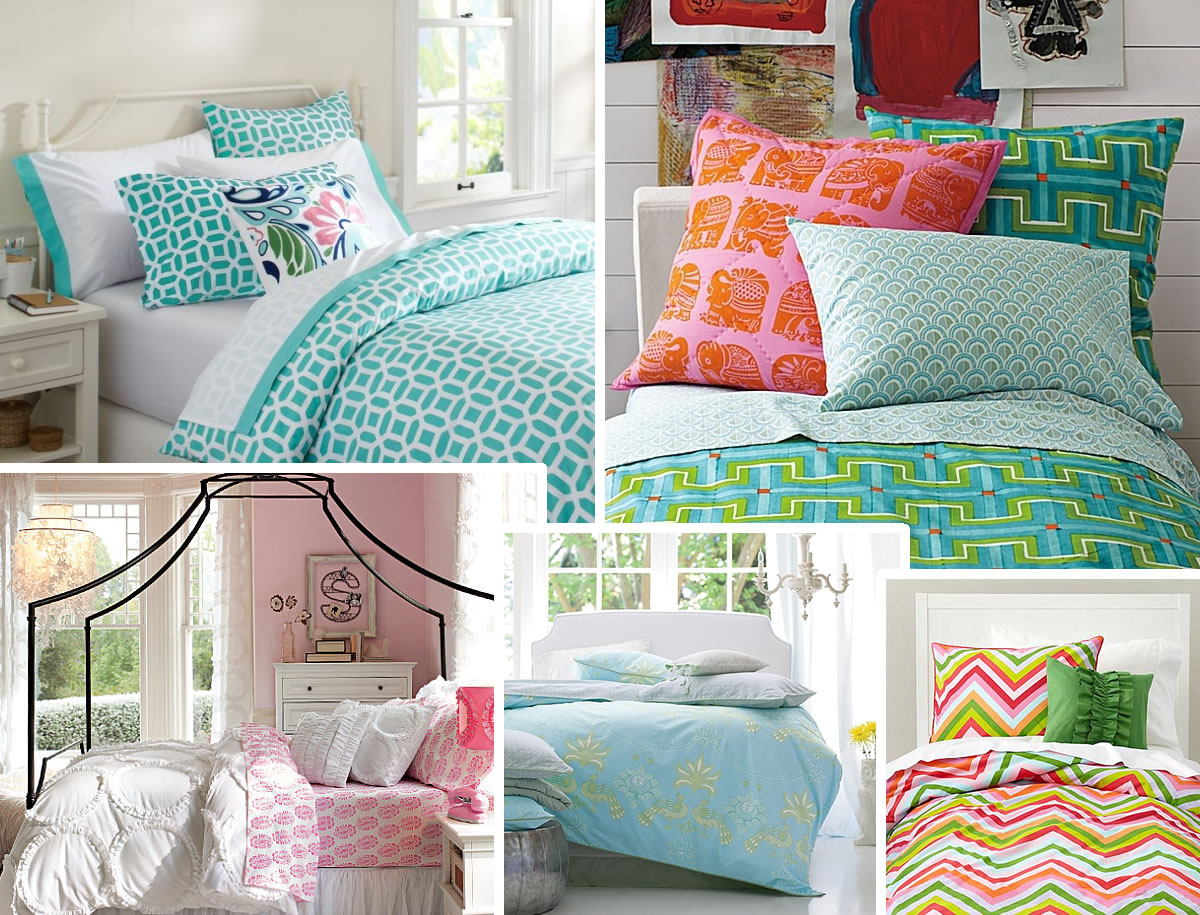 Because every teen has her own style, there's an array of patterns to browse. Let your bedding take center stage and set the tone for the entire room. Whether you're hunting for a feminine floral or a Hollywood Regency-style geometric print, we've got you covered!
Geometric Teen Bedding
Geometric bedding makes a strong statement, yet not an overly frilly one. Due to the Hollywood Regency revival that has renewed our interest in prints such as the Greek key and lattice, many of today's geometric finds are glamorous and elegant, perfect for the teen who is looking for a fun yet classy look! Take the Peyton Organic Duvet and Pillowcase collection, crafted of very soft organic cotton. A vivid color palette heightens the pattern of interlocking lines and curves. [from PB Teen]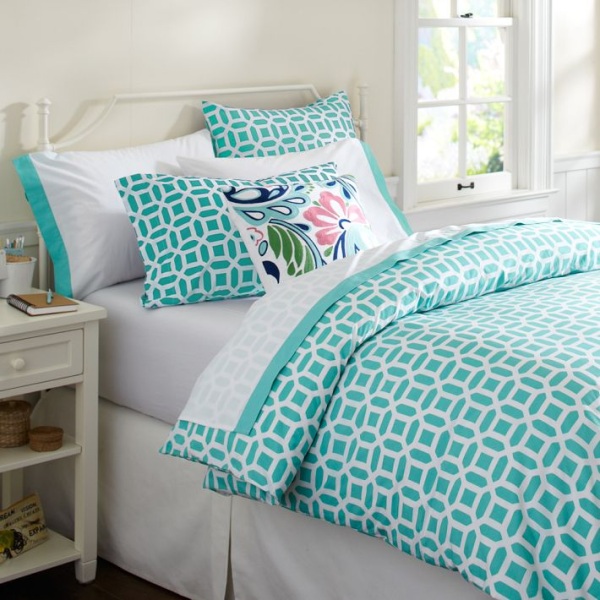 For a more subtle geometric, check out the Pink Color Frame Collection from Serena & Lily. Add the Juice Flag Sheet Set, and a triangle border enhances the edges of pillowcases and sheets, bringing a touch of contemporary style to a traditionally feminine color family.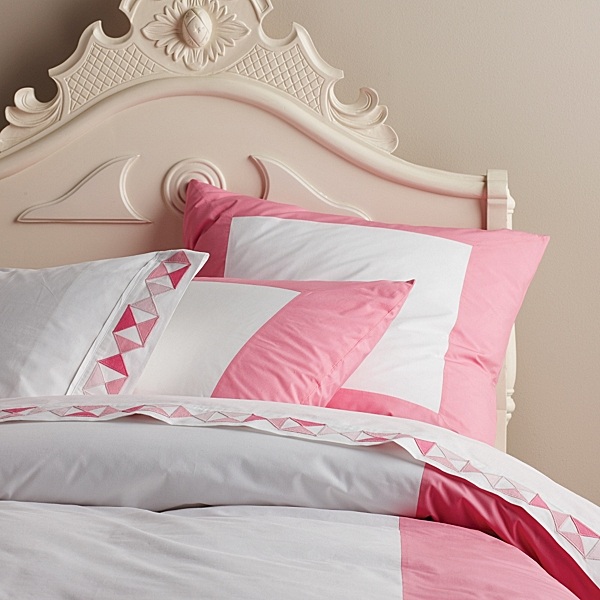 Va-va-voom! It's the Sally Collection from Serena & Lily! Shades of tangerine and strawberry enliven this pattern created through a block printing process. Not to mention, the vibrant hues open to door to a range of complementary colors, from soft pastels to the bold brights shown below: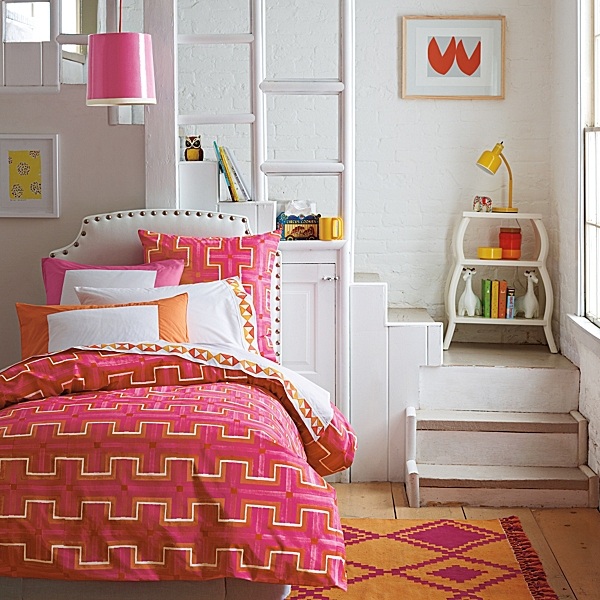 For a similar look, there's the Frankie Collection by Serena & Lily, which includes block-printed shades such as tangerine, lime green and turquoise. Like the Sally Collection above, this bedding is available in both twin and full/queen sizes.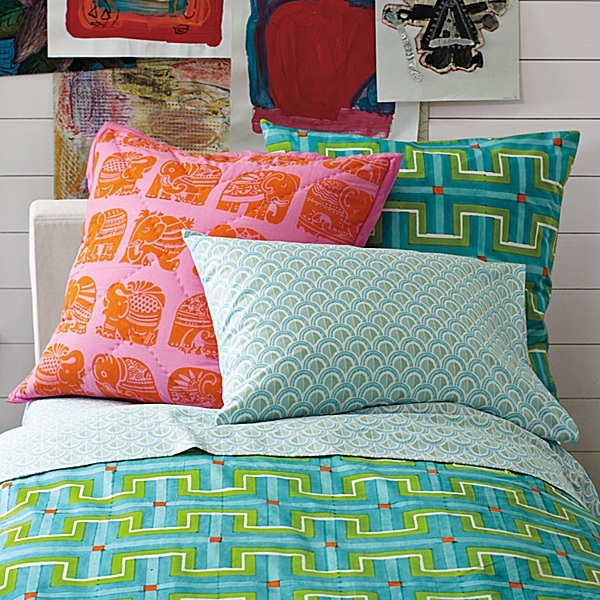 For a vibrant take on the chevron pattern craze, check out the Watermelon Stripe Duvet, available in twin bedding from Crate & Barrel's Land of Nod Collection. Since so many colors are represented, this print is perfect for the teen who has an eclectic style that welcomes many shades and hues.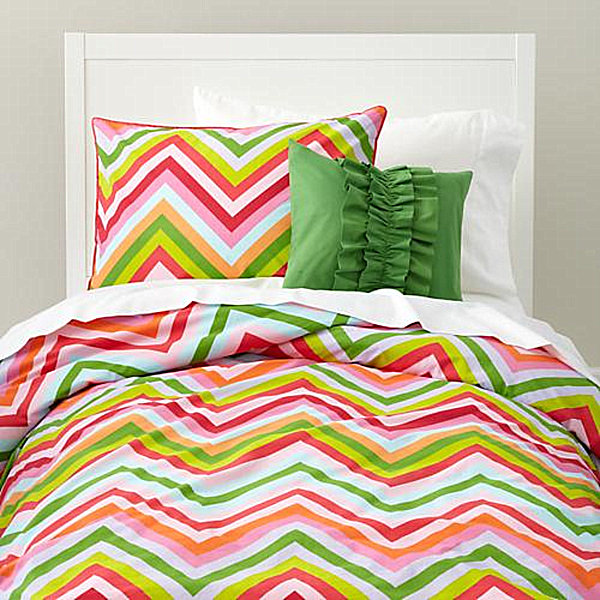 For the mature teen who yearns for a polished look, the Green Parish Duvet Cover by Jonathan Adler perfectly fits the bill! Although shown here with a powder blue upholstered bed, this pattern can also be paired with bright colors such as orange and hot pink.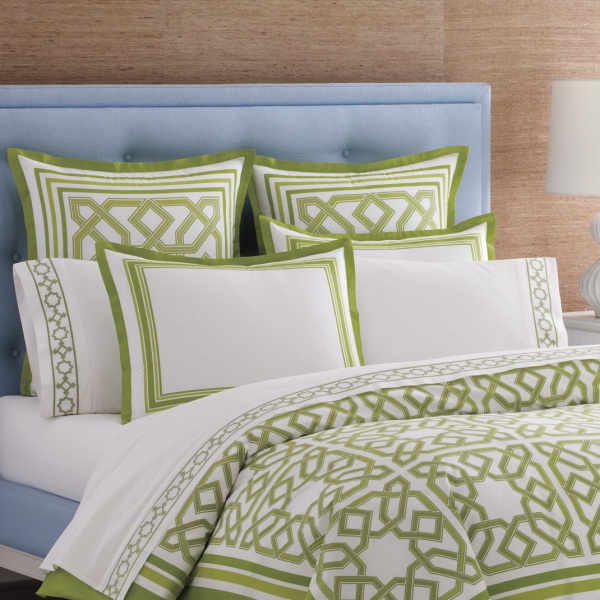 Speaking of pink, note how the Ruffle Rings Duvet Cover & Sham blends well with sheet sets in a variety of colors, including the rosy-hued. Below we see the Ruffle Maison Bedroom from PB Teen, which revels in the circular geometry featured on the white bedding.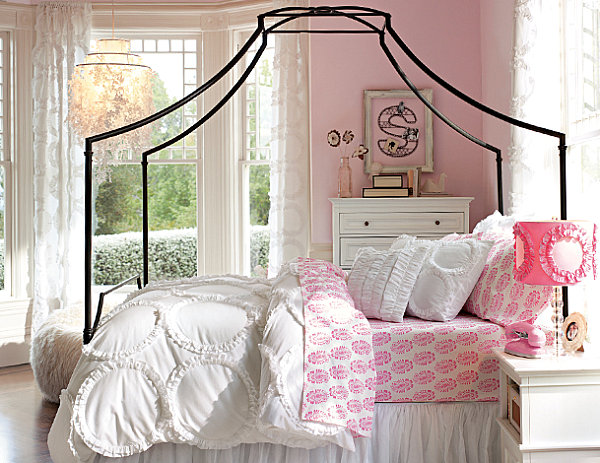 Black and white dots and lines reign in the Zebra Hampton bedroom, featured in a previous Decoist post on modern bedroom ideas for today's teenage girl. The Suite Dot Quilt & Sham from PB Teen is classy and understated, paving the way for bright artwork and accessories.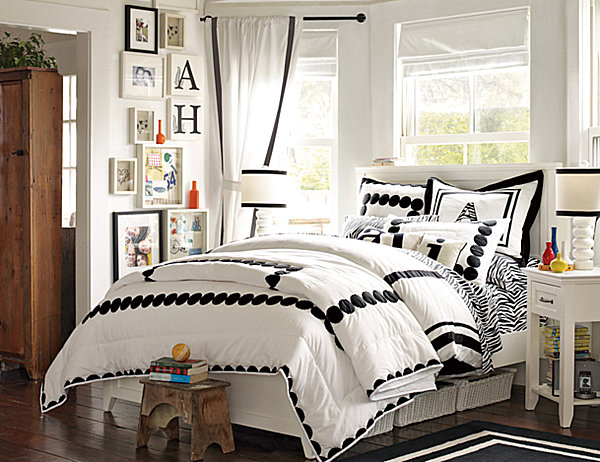 Teen Vogue offers a wonderful selection of stylish bedding, from the bold to the subtle. The pattern below is Lemon Drops, and it comes to life on the ruched comforter, shown below. [available at Macy's]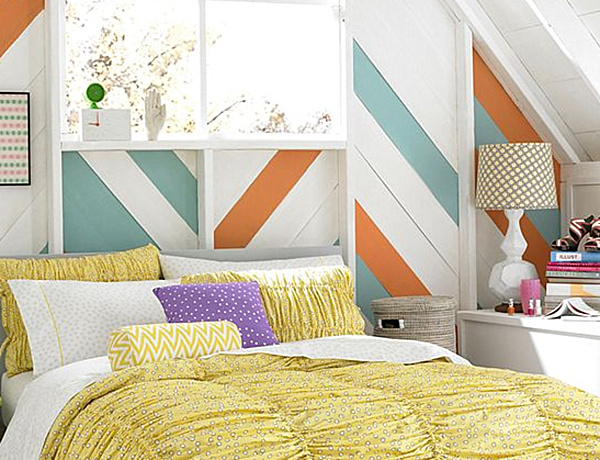 For an organic take on a circular motif, check out the Marimekko Pippurikera Wisteria Bed Linens from Crate & Barrel, featuring designer Annika Rimala's 1963 pattern Pippurikera (which means "pepper ball"). Youthful and intriguing, this bedding is a true work of art!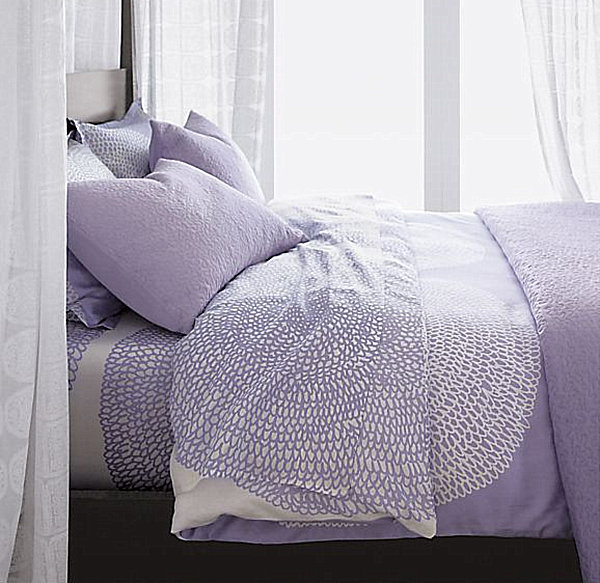 Floral Teen Bedding
We now move into the world of florals, but don't think that drab prints are today's selections of choice! How about Teen Vogue's peony pattern called Violet, which boldly announces its presence with large petals and radiant hues?! [available at Macy's]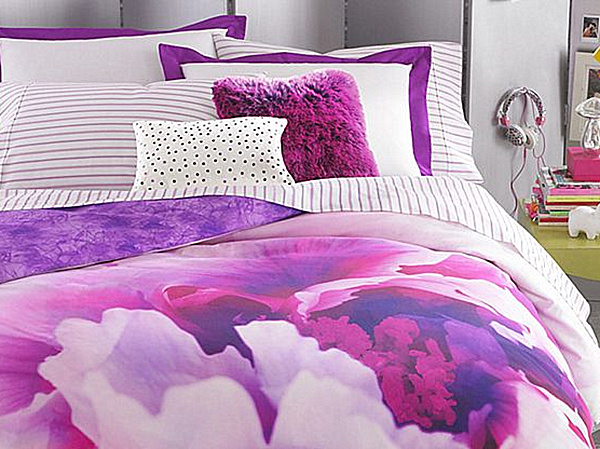 If you prefer hot pink over purple, there's always Teen Vogue's Flower Girl bedding. Below we see a Teen Vogue bedroom makeover, in which the pattern takes center stage. Yet rather than heading into girly territory, the floral is tempered with accents like a bright yellow chair and a chevron rug. For further product details, visit Teen Vogue.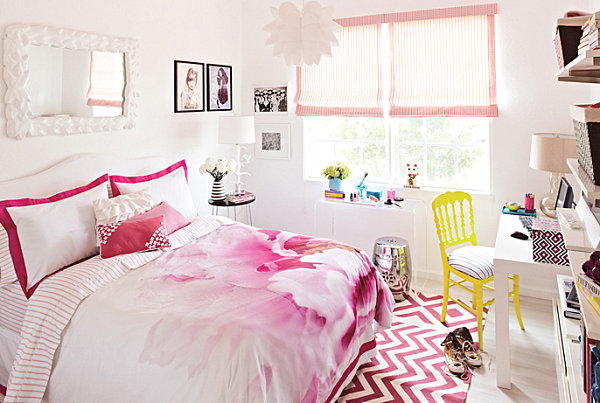 For an equally vibrant choice, there's Teen Vogue's Flora and Fauna bedding, which introduces green and brown into its pink and purple palette. Not only is this floral big and modern, it features an abstract paint design that overlaps leaves and petals. [available at Macy's]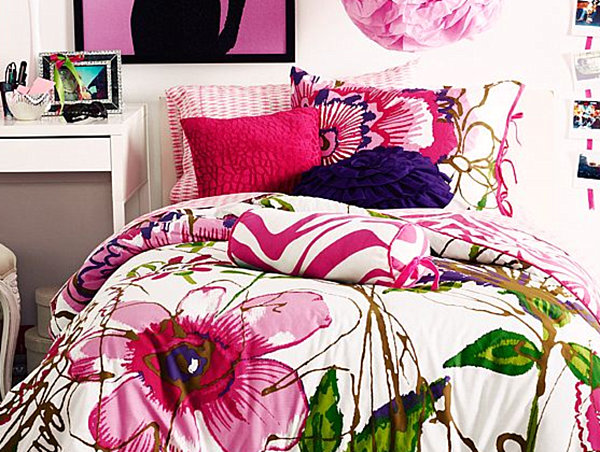 The teen with an appreciation of all things vintage will enjoy the Urban Garden Duvet Cover + Shams by West Elm, inspired by 1950s-style floral fabrics. Colors and lines come alive in this pattern to create a look that is both old-fashioned and modern.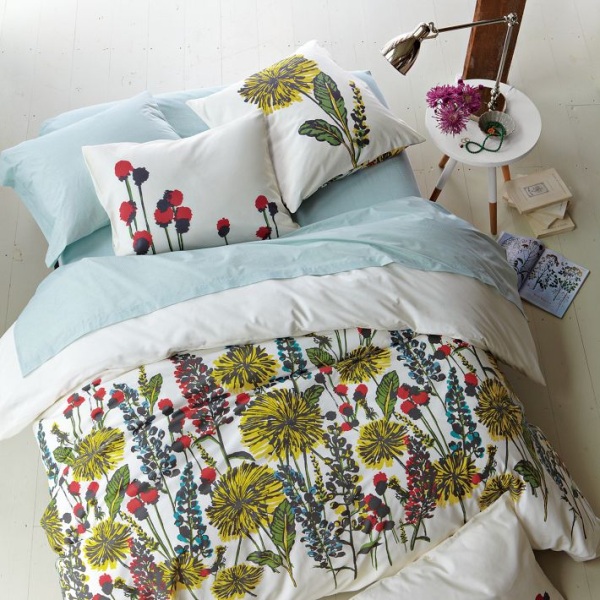 If you can't live at the beach, you can bring the water and waves home, as shown by the Crinkle Hibiscus Hampton Bedroom from PB Teen. Not only does the room feature the Crinkle Puff Quilt & Sham, it showcases a hibiscus floral in a bright aqua blue: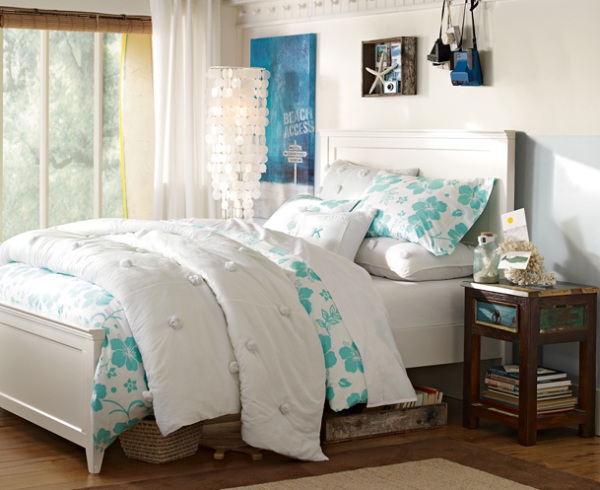 We end with a floral that veers into Chinoiserie territory with its peacocks and blooms. It's the Marina Collection from Serena & Lily! Shades of aqua and citrus are perfectly subdued, while the pattern's ornamental charm paves the way for elegant accessories like chandeliers and an upholstered headboard: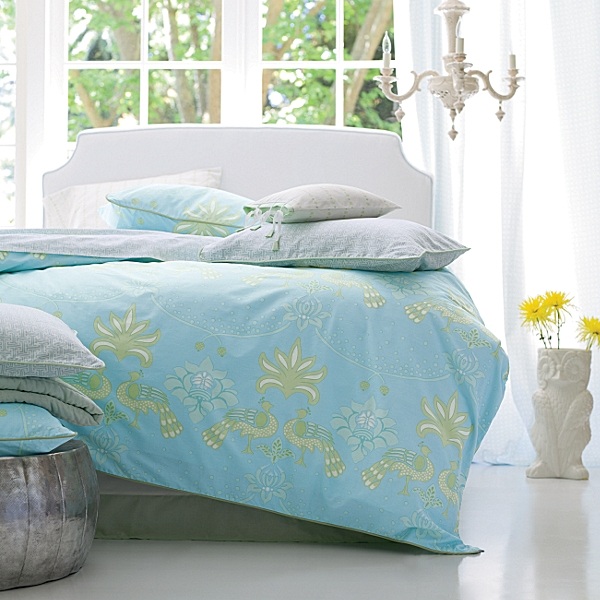 Bedding is often the centerpiece of a teen girl's bedroom. How do you pick a pattern that will grow better with age? Stick with colors that you're crazy about, and think about how the print fits into your overall style. If you prefer an eclectic look, avoid a pattern that boldly forces you into a theme. On the other hand, with today's mix-and-match mentality, not everything needs to blend seamlessly. Even the most powerful of bedding motifs can be enhanced by contrasting hues and styles. Enjoy creating a colorful haven!