What is it about sunrooms that instantly bring a smile to people's faces? Maybe it's the special way they welcome the outdoors inside with their expansive windows. In fact, many people fill these spaces with an array of plants that benefit from the abundance of light. But aside from windows and plants, how do homeowners and designers decorate these rare, alluring interiors?
Today we explore that very question …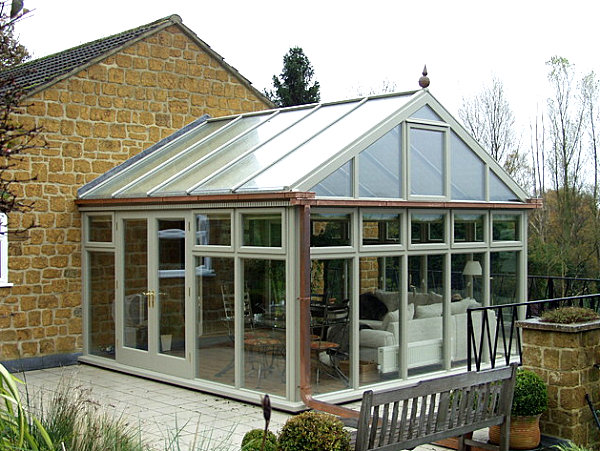 [from Britannia Joinery]
As you scan the rooms below, note the wide variety of styles represented. While there are many traditional sunrooms to view online, we've focused on the more modern spaces.
From updated elegance to the best of contemporary design, there's hardly a style that won't work in a sunny space. If you're lucky enough to have one of these rooms in your home, head to the comments section at the end of the post and let us know how you've decorated your light-filled interior. And if you don't have a sunroom of your own, don't fret. At the end of the piece, we'll share a few ideas for ways to bring this look home…
Elegant Sunrooms
We begin with sunrooms that celebrate elegance without being too formal. What do striped upholstery, topiaries, tiled floors and garden-style details have in common? You often find these charming features in sunrooms! But today's sunrooms also feature a slew of playful pieces, such as the zebra-pattern rug below. And we can't forget that fabulous chair for lounging… [image by Greg Hadley Photography for KohlMark Architects]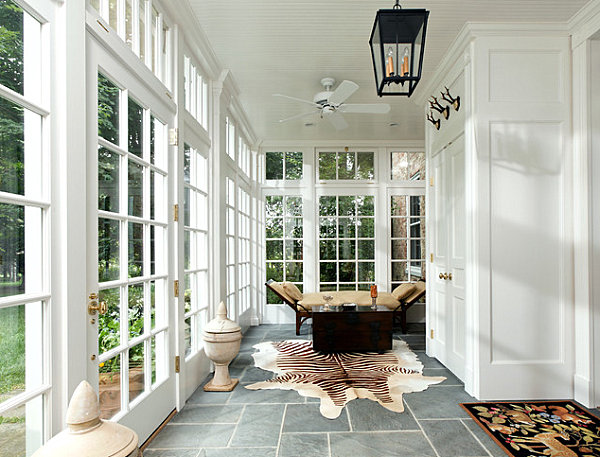 The sunroom below incorporates elegant details (a gilded mirror, a potted palm) with informal touches like comfy seating. A soothing shade of blue-green sets a relaxing tone. [from Soorikian Architecture]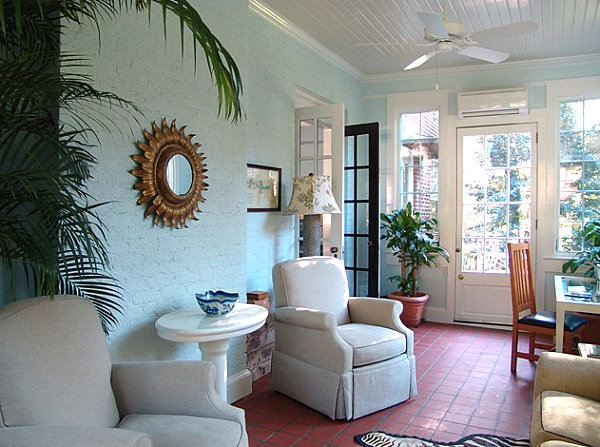 Time to turn up the charm! The space below has a true conservatory feel, thanks to an abundance of windows and special details like manicured greenery. In a spectacular interior like this, it's easy to take it over the top. Yet this sunroom is wonderfully laid back, thanks to clean-lined dining furniture and plenty of open space. [from The Couture Rooms]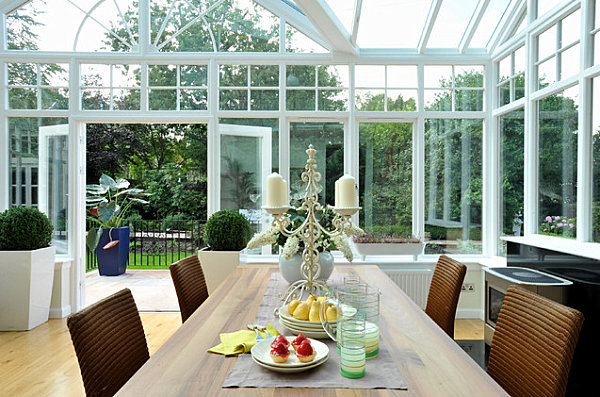 How sleek! The slate gray walls of the sunroom in the next featured image set a contemporary tone, as does modern lighting and sculptural artwork. These touches are a wonderful contrast to more formal elements such as mirrored furniture and tufted upholstered seating. Hollywood Regency meets modern–a unique look for a sunroom! [from Dwelling Designs]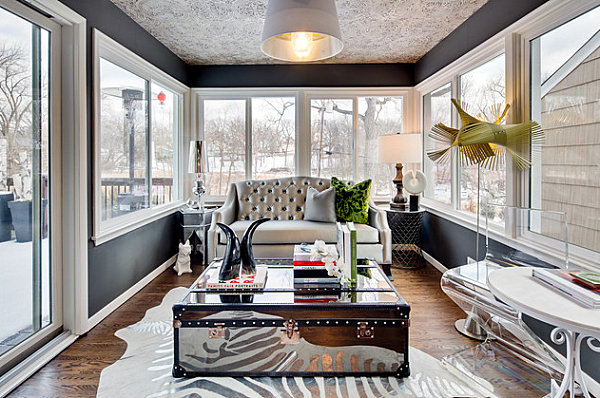 We're loving this truly elegant space from Linda McDougald Design, complete with ornate details. Flourishes like window arches and intricate lighting are brought down to earth, thanks to a neutral palette: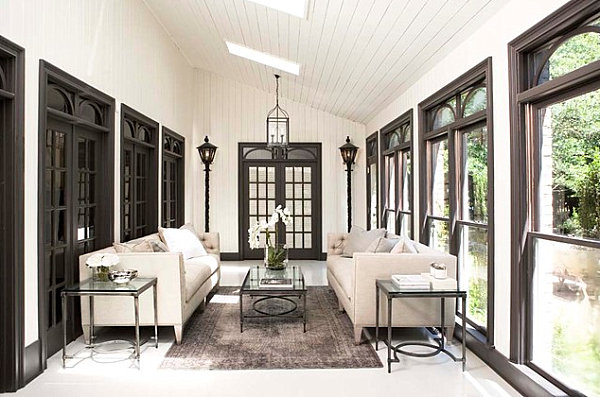 What do you get when you combine modern elegance with the rustic feel of a cabin? Our next featured sunroom! Wooden beams and animal-themed upholstery can't help but exude masculine, earthy style, while glamorous touches like tropical greenery and metallic accents add a sense of luxury. [from Esther Hershcovich via Houzz]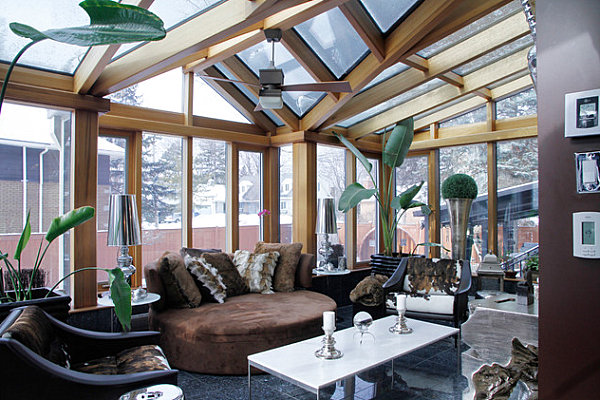 Sunrooms with Modern Style
We now shift our sunroom focus from the glamorous to the modern. The Sao Paolo space below is a contemporary eclectic space that makes great use of black and white stripes. Clean lines and tropical plants set a modern, lush tone. [from Marcelo Brito & Pedro Potaris]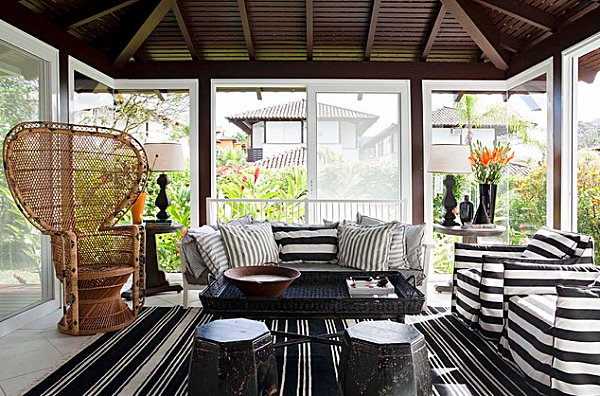 When you're surrounded by windows that showcase the green of the outdoors, sometimes the most effective thing you can do is to keep your space crisp and clean. The white paint and furnishings in the room below are the perfect backdrop to the vibrant greenery outdoors and the bright tones of the sofa pillows. Throw in some colorful fruit, and you have a perfect picture of summer! [from Fraerman Associates Architecture]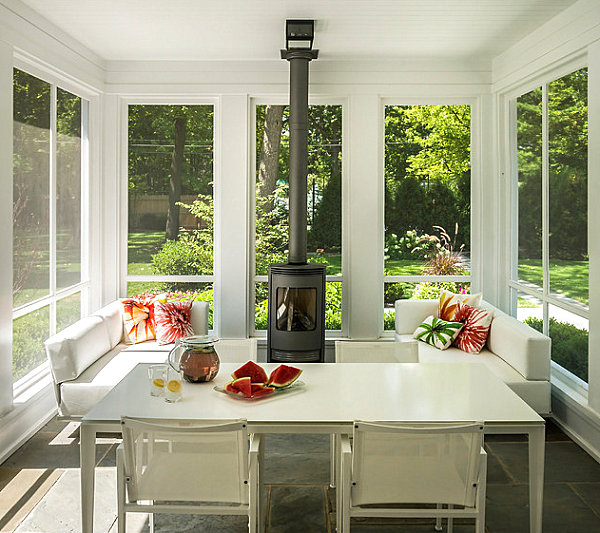 The next sunroom is equally refreshing with its floor-to-ceiling use of the color white. Would the room's topiaries stand out as strikingly against any other color? We think not! Also note the use of black and gray as a wonderful contrast in this space. [from Knibb]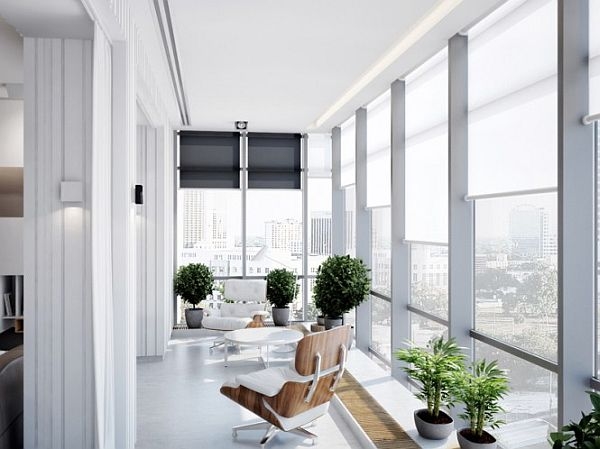 Modern decor abounds in the Austin, Texas sunroom below. Geometric-print pillows, an earthy rug and a coffee table from CB2 are a few of the many highlights that grace this bright space. [photo by Ryann Ford for Cuppett Architects]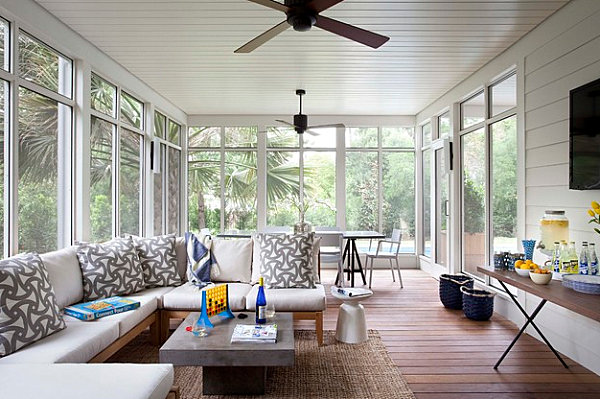 We can't help but be drawn to the modern eclectic look of the sunroom below, which also appears to be part library. Dark trim around the windows adds sophistication to the space, while special features like a sculptural coffee table add interest. [from Feldman Architecture]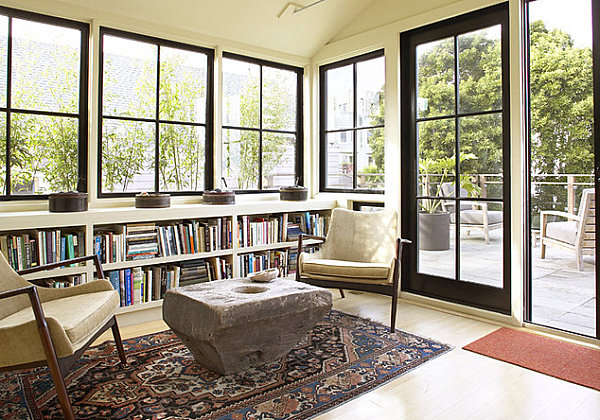 Don't forget about the power of retro decor when it cones to sunroom style ! In this Mid-Century modern room from Beacont, clean-lined furnishings, statement lighting and sunburst wall art put their unique stamp on the space. Remember that not all sunrooms have to be filled with plants that evoke the feel of an English garden! You can frame your space with decorative touches that truly reflect your style.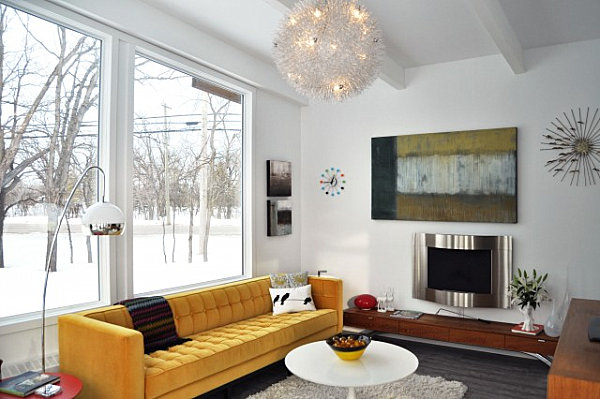 Special Sunroom Features
We end with a collection of sunroom features that make a big impact. Is your sunroom on the small side? Why not separate it from its adjoining room with some dramatic draperies? If you want the light to fill the rest of your interior, keep the curtains open. Craving some personal space? Close those draperies for a tent-like feel. Yes, your sunroom can be a cozy space, even if it boasts a spectacular view! [from Jean Alan at Alan Design Studio]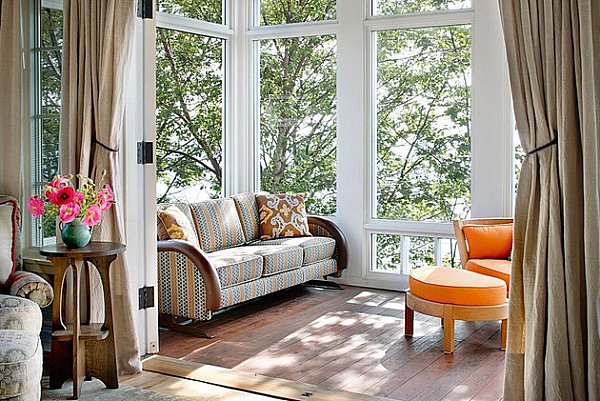 Want to make a big statement in your sunroom? Try painting the ceiling a striking color, such as the radiant apple green shown in this Rhode Island sunroom from Andrew Suvalsky Designs: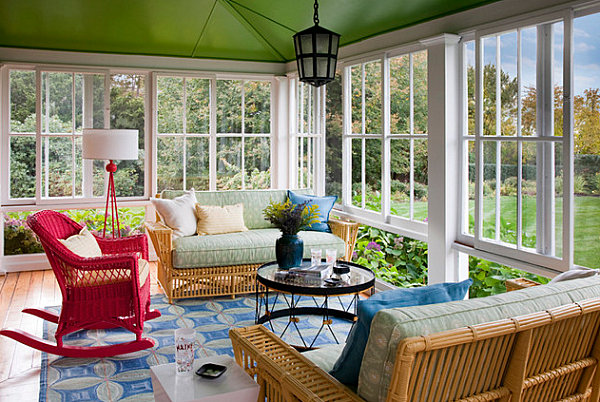 Don't hesitate to make the most of your sunroom by infusing it with furniture that you use each day…like a dining table and chairs! Why wouldn't you want to enjoy the fabulous view while enjoying your meals? Note how wooden window trim and bucket-style lighting give this space a rustic feel that mirrors the vibe set by the tall trees outside. [from Webber + Studio, Architects]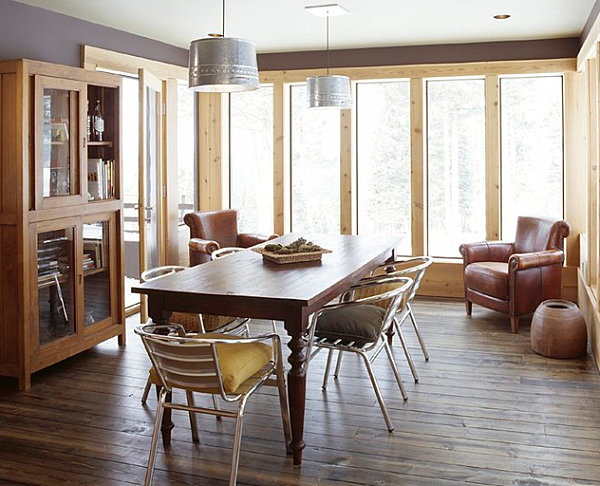 A sunroom that doubles as a music room… Now that's a fabulous idea! Let nature inspire you as you play beautiful tunes on the piano. That's what the inhabitants of this beautiful space by Crisp Architects opted to do…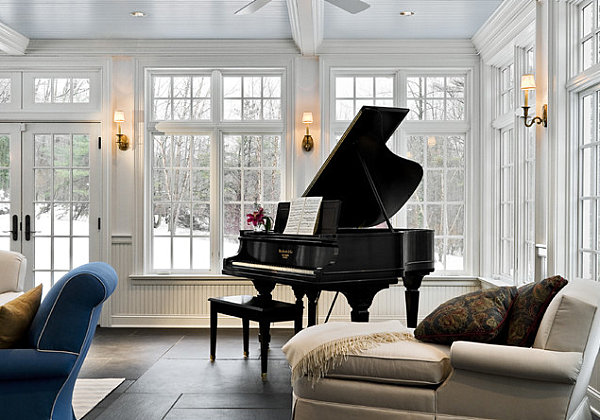 Our final featured sunroom is also a pool lounge. And it's truly spectacular, thanks to a large oval window, modern lighting, premium lounge chairs, and of course, that relaxing pool… In fact, this room designed by Uglyanitsa Alexander truly brings decadence and luxury home–in a chic modern way! [from Olpos.com]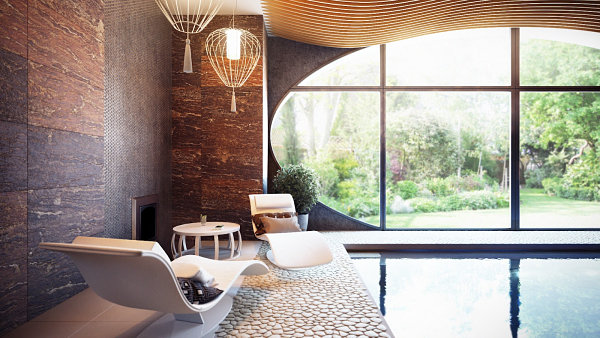 Don't have a sunroom of your own? No worries! You can create a similar look by arranging seating around your favorite window to enjoy a view of the outdoors. Include plenty of plants for a greenhouse-style feel. And keep the windows free from heavy draperies so the sunlight can truly shine in. If you are lucky enough to have a sunroom in your home, let us know how you've decorated your space. Share your thoughts by leaving a comment below…