Looking for an easy way to update the boudoir? How about a new duvet cover or comforter?! Whether you're hoping to spot the perfect summer bedding find or you're searching for an item that will make a wonderful transition to the fall bedding realm, we've got you covered! Today we've rounded up 17 fabulous options, including helpful links for purchasing information. Who knows? You just might see something you can't live without…
On that note, make sure you pick something you can live with! Whether it's a favorite color or a striking pattern that first catches your eye, remember that a duvet or comforter really sets the tone for the bedroom. So you've gotta love it! If you do see something you love in the selections below, make sure you tell us about it in the comments section at the end of the post. Happy shopping!
Solid Bedding Options
We kick things off with some solid selections that celebrate the power of one strong color statement. The Nomad Coverlet + Shams set in Slate from West Elm offers the best of both worlds. One side features a rich shade of gray with quilt-style details. Yet there's a contrasting pattern on the flip side for variety, as shown below: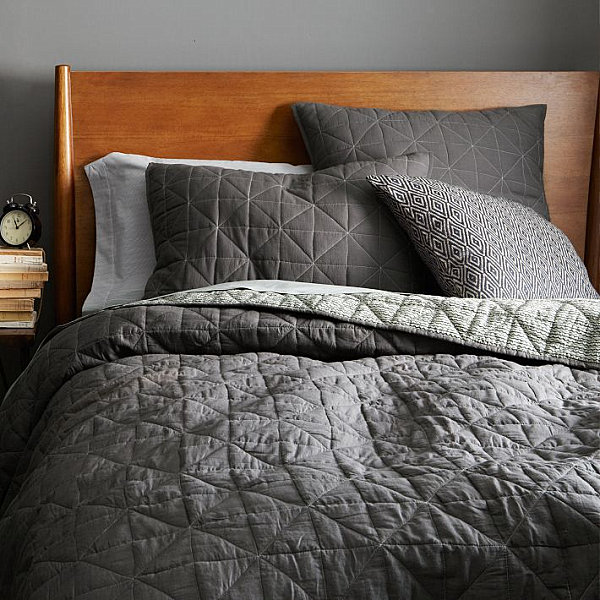 There's just something about jade green. So if you're going to showcase one color, why not make it special? These Jade Bed Linens from Crate & Barrel are 100% cotton. They feature trellis-style stitching, and they are perfect for combining with printed sheets. Or you could bring on the color blocking style by going with another solid in a contrasting hue!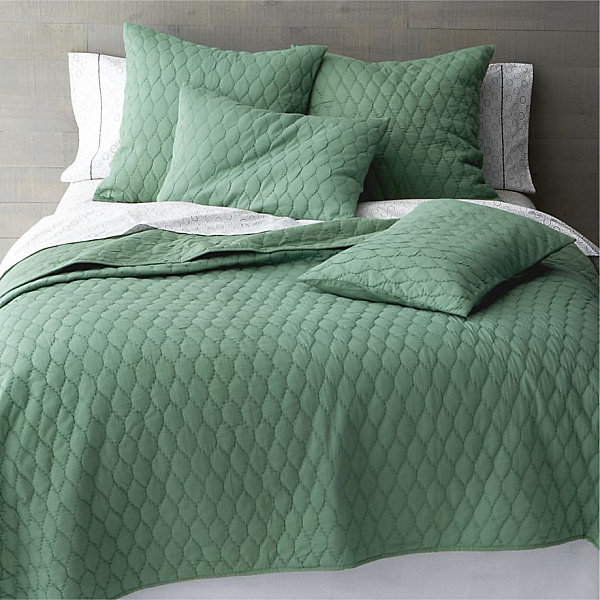 Ready to get fancy? It's hard not to admire the ornate style of this Gianna Bedding in Venetian Blue from Z Gallerie. In fact, the ruching creates a chevron effect that puts a modern spin on this selection. You might think it's fussy, but when you find out this bedding is 100% cotton, you'll quickly see that comfort is of the utmost importance!
Sometimes you just have to go bold with an unexpected color choice for bedding. And for the record, purple isn't just for kids' rooms. This Solid Purple Brushed Twill Bedding from Lacoste is available through Macy's, and it showcases a vibe that is both preppy and sporty!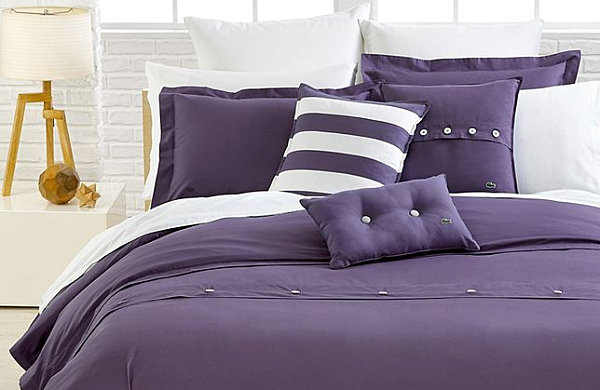 Striped Bedding
From solids to stripes…because nothing says "summer style" like vertical or horizontal lines, especially when a crisp shade of white is involved. Note: these stripes are special. In fact this Offset Striped Layered Bed Set from West Elm has a truly eclectic look, thanks to the unique combination of thin stripes and geometric blocks. Included in the set are patterned cotton sheets, along with a graphic duvet cover and shams. In fact, we recently featured this selection in our post on summer decor!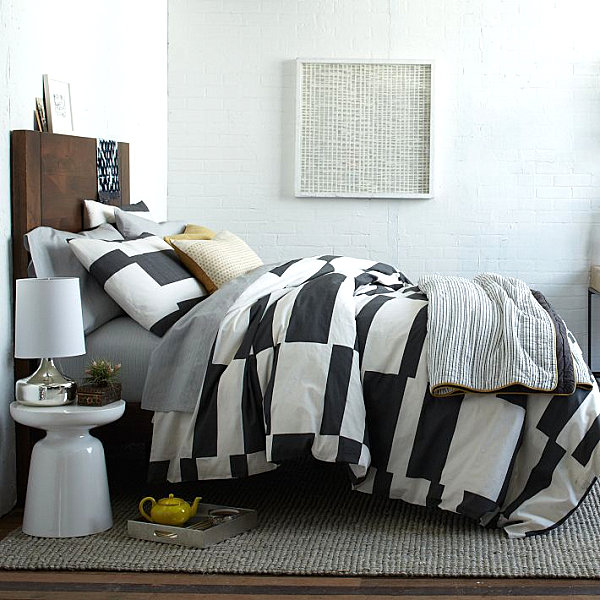 Don't you just want to dive into this Hampton Stripe Bedding in Aquamarine from Z Gallerie? Crisp white and swimming pool blue combine in a refreshing 100% cotton creation: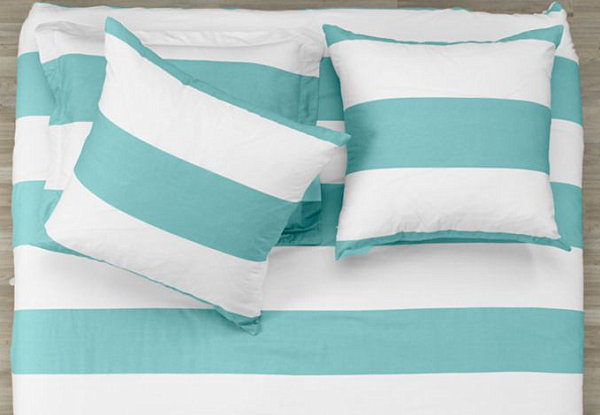 Desert shades of yellow, sand and green take center stage in the Sedona Green Bed Linens from Crate & Barrel. Plenty of texture on the bedding's polyester top is contrasted by a cotton flipside that maximizes comfort. Plus, the varying widths of the stripes make this piece oh so modern…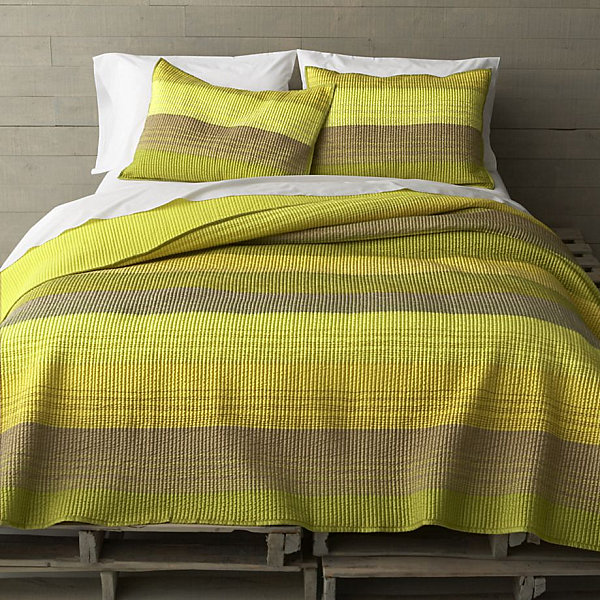 The next selection is actually from PB Teen, but we think this Brooklyn Stripe Duvet Cover + Sham could work for any age. The power of neutral stripes is heightened by the strong contrast between dark and light. Plus, horizontal stripes create a contemporary feel, don't you think?!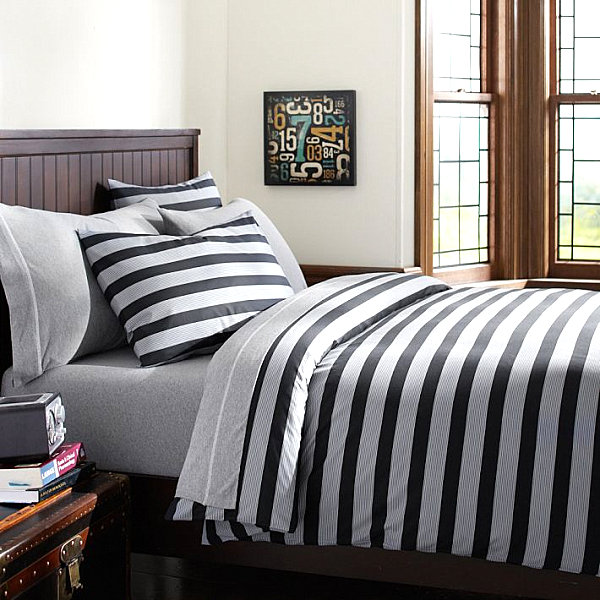 Patterned Bedding Finds
We end our roundup with a collection of patterned bedding finds. Because sometimes it's interesting to add a print to the mix! And if you're not up for an entire patterned comforter, try adding pattern through sheets. The Sand/Navy Canyon Sheet Set from Serena & Lily is inspired by the shape of a feather.  The sheets are shown here with the Navy Border Frame Duvet and Shams, also from Serena & Lily.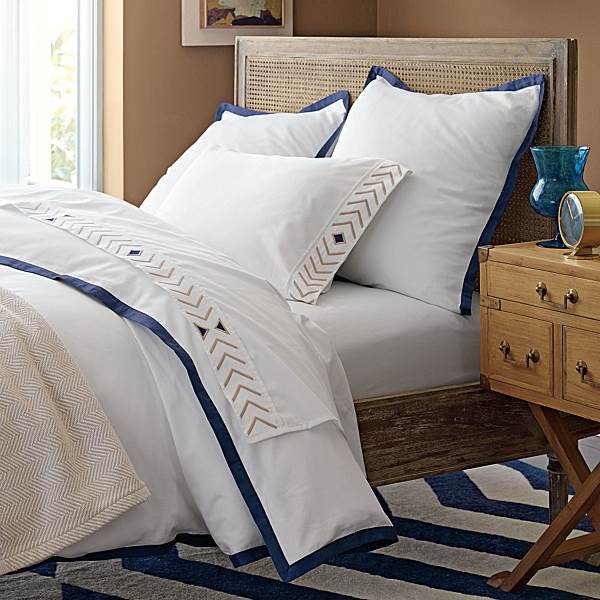 Another kids' choice with grown-up appeal is the Lilac Color Frame Duvet and Shams from Serena & Lily. The lavender bordering is irresistible, but we have to admit that we're drawn to the geometry of the Kite Sheet Set, which features a touch of coral.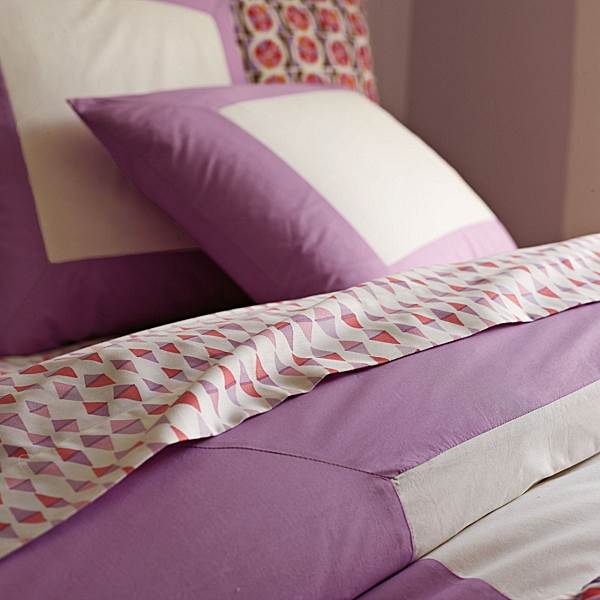 Ready to go vintage? This time we shine the spotlight on Art Deco style, thanks to the round forms showcased below. The Deep Coral Deco Dot Sheet Set from Serena & Lily includes a border that lines this bedding with the charm of a string of pearls. The sheets are shown here with the Coral Lamu Duvet & Sham in all of its scaled glory…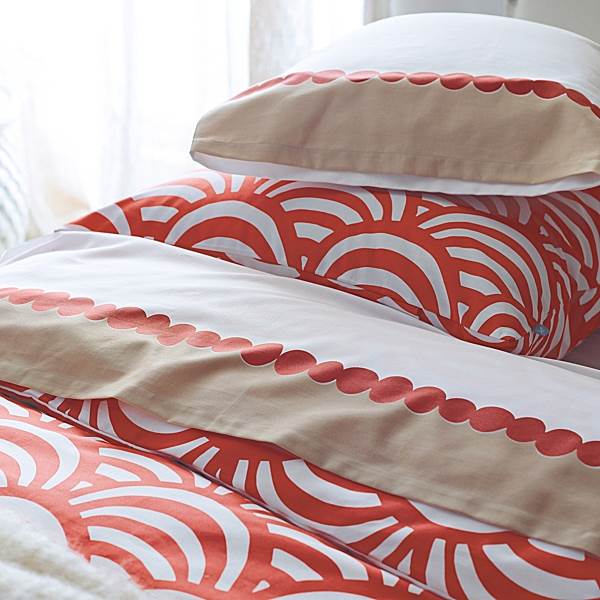 From scales to honeycombs… Nature is a great source of inspiration, isn't it? These D'abeille Bed Linens from CB2 feature a honeycomb pattern that stretches vertically across this duvet cover and sham set. This selection is perfect for those who want a touch of patterning without going overboard!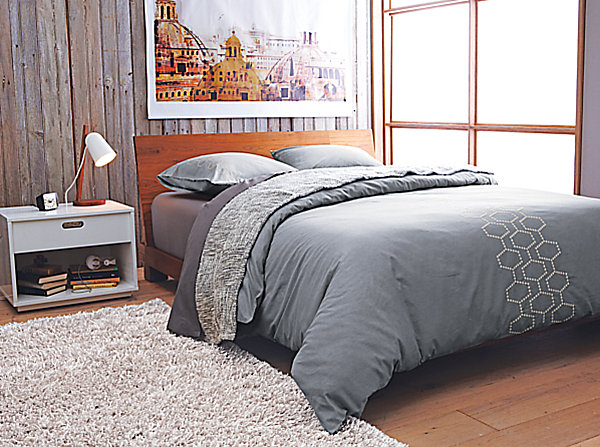 Interlocking forms cover the Grey Parish Duvet Cover from Jonathan Adler. A white background makes the pattern truly stand out, yet the soft grey shade keeps it in check. With a 400 thread count, this 100% cotton percale item is the ultimate in refreshing, crisp comfort!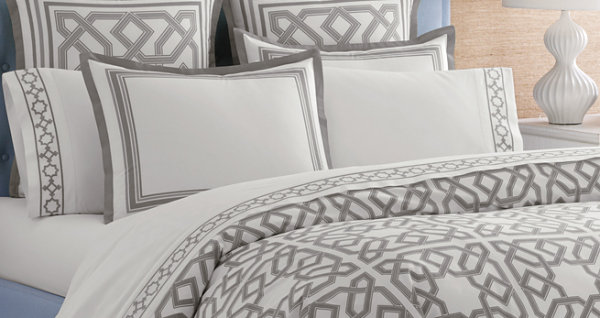 For a not-so-subtle pattern, check out Peyton Duvet Cover + Sham, another fabulous selection from PB Teen! Did we mention we've always been drawn to the combination of vivid Kelly green and bright white? Not to mention, the shams can be personalized for a special touch…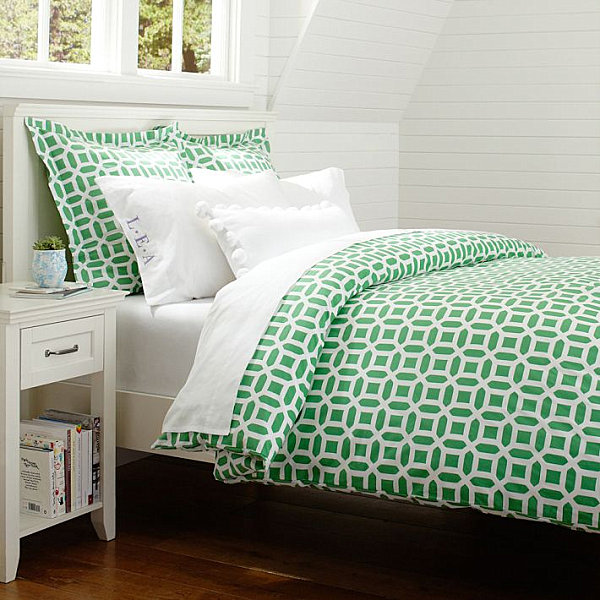 Bring on the brightness! A vibrant orange color and bold diamond pattern set the tone for the Gio Duvet Cover from Jonathan Adler. How great does this duvet cover look with the Zig Zag sheet set?! In fact, the diamond motif can even veer into tribal territory with the right decor accessories…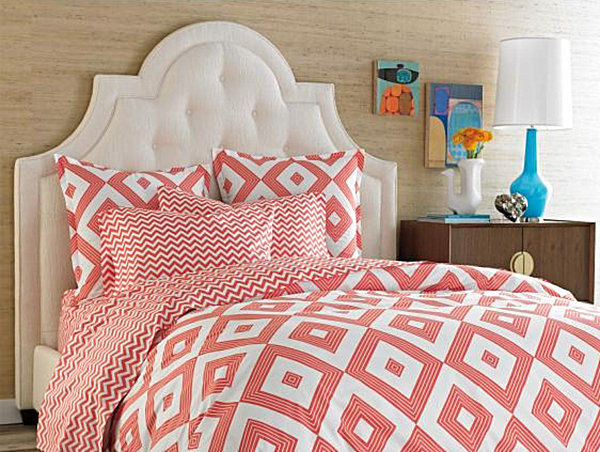 We remain in orange territory as we showcase the Crazy Talk Bed Linens from CB2, created by Chicago-based designer Noël Ashby. In fact, this energetic pattern is inspired by the hum of conversation. We're inspired by the modern flow of the print!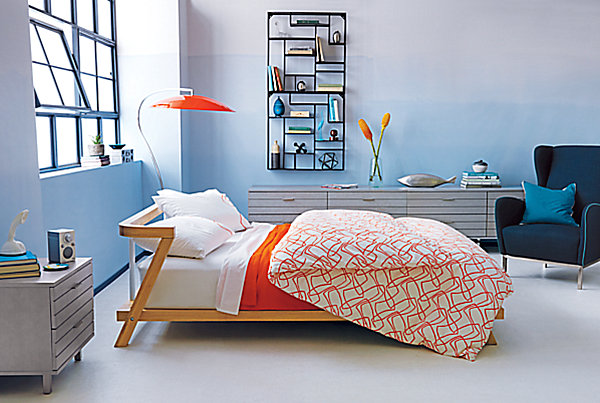 Our final featured bedding brings a touch of lavender to the boudoir. The Stitch Bed Linens from Crate & Barrel seamlessly combine lines and zigzag blocks. The result is an unusual pattern that makes a big statement yet remains soothing at the same time. And if you're wondering about the comfort of this bedding, note that it's 100% cotton!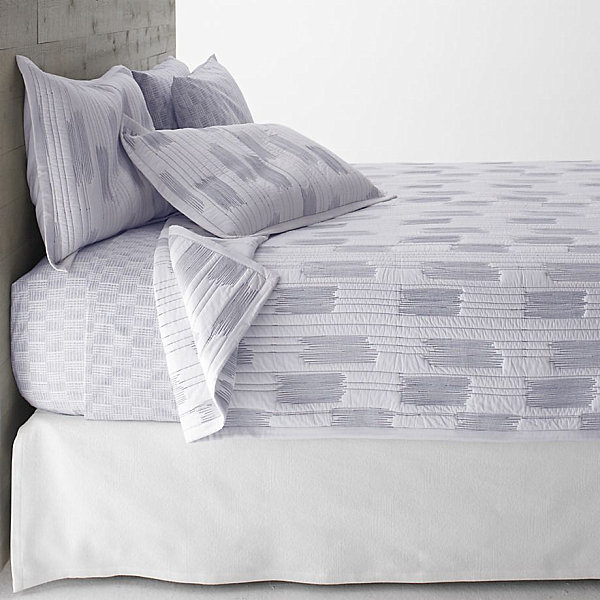 Did anything special catch your eye?! Tell us about your favorite bedding finds by leaving a comment below…