With the first day of summer hitting at the end of last week, we're already a few days into the new season. If you're looking to refresh your decor, now is a great time to add some summer style to your interior! We'll help you take the first steps. In fact, today we present tips for bringing summer style home, from paint color ideas to simple accents that can add a beachy touch to the room of your choice.
When all is said and done, one big question remains: Do you remove the summery touches at the end of August, or do you leave them up year-round?! That's entirely up to you. In fact, browse the images below, then tell us what you think at the end of the post!…
Colors of the Sea
We start with one of our favorite summer style tips: Decorate your space with the colors of the sea. Does this mean you have to repaint the interior of your home? Not necessarily. Check out the blue accents in the room below. In fact, this image shows the power of decorative smalls, from pillows and tabletop lamps to the artwork that hangs on the wall. [from Stony Run Home]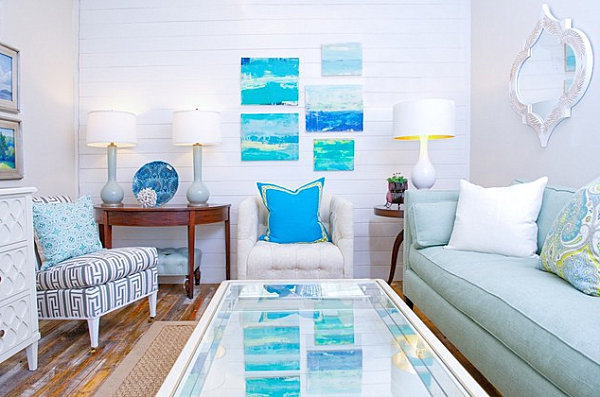 Of course, if you're looking for a paint refresher, it never hurts to go beachy. The blue-gray tone of the bathroom in the next featured space is elegant and understated, yet wonderfully crisp, especially when combined with white trim and details such as fish-themed artwork. [photo by Randy O'Rourke for Frank Shirley Architects]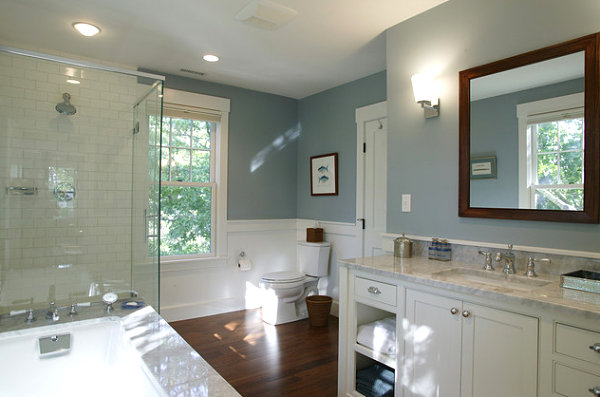 Don't hesitate to go darker for a nautical effect. Below we see navy blue grasscloth wallpaper from Thibaut in this striking room with white trim. [photo by Mark Mroz for Michael Robert Construction]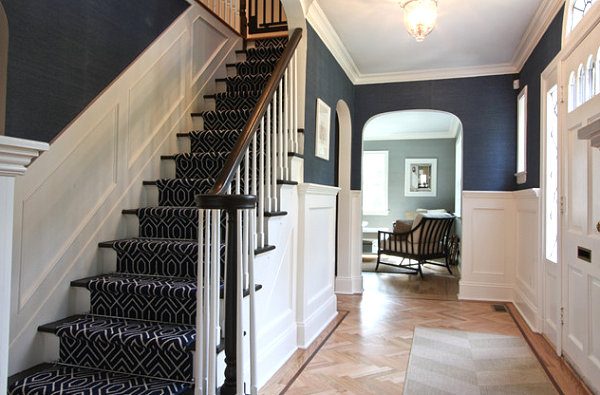 Stripes
Speaking of nautical, if you're looking for an easy way to add summer style to your abode, you can't go wrong with stripes. They make such a big statement, yet they're undeniably classy. In the next featured image, we see a Stripe Duvet Cover + Shams in White/Navy from West Elm: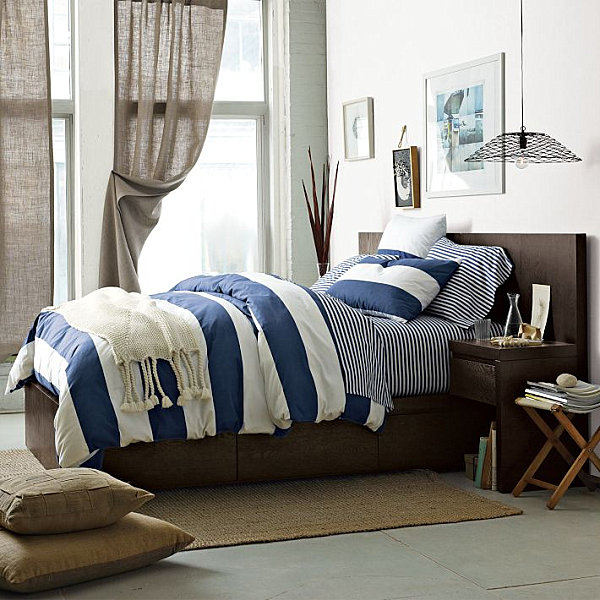 Who says stripes must always be navy? While white is often one color of choice, the other shade frequently varies. We think you'll agree that the light blue and white striped pillows below are no less beachy than the dark blue and white duvet above. [from John McDonald Company]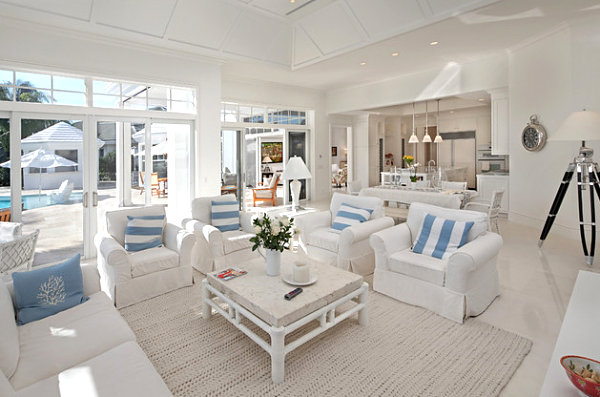 And don't forget about the classic combination of black and white, which is always elegant. Check out the use of black and white on the rugs and chair of the living room in the next featured space… [from Lindsay von Hagel]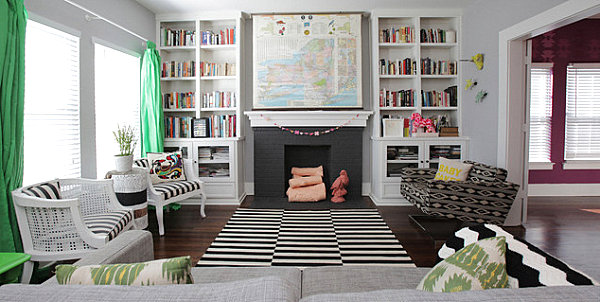 Tropical Foliage
Another great way to add summer style to your abode is through tropical foliage. Yes, the bold leaves of tropical plants never fail to evoke the glamour of an exotic getaway. And believe it or not, the powder room is often the destination of choice for this greenery. [from Brandon Barre Photography]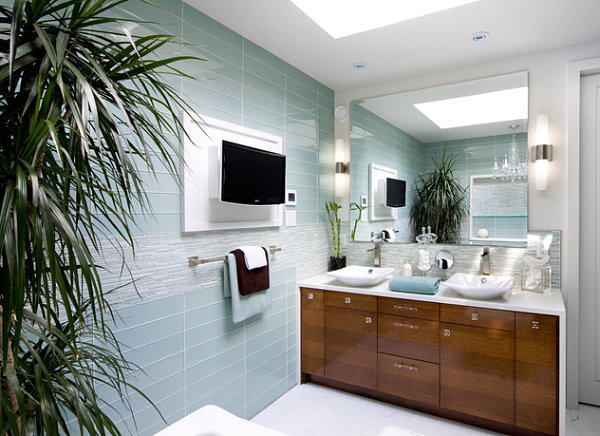 You can go with a potted plant, or you can add a couple of cut stems and leaves to a clear glass vase for a refreshing tropical touch. [from Heffel Balagno Design Consultants]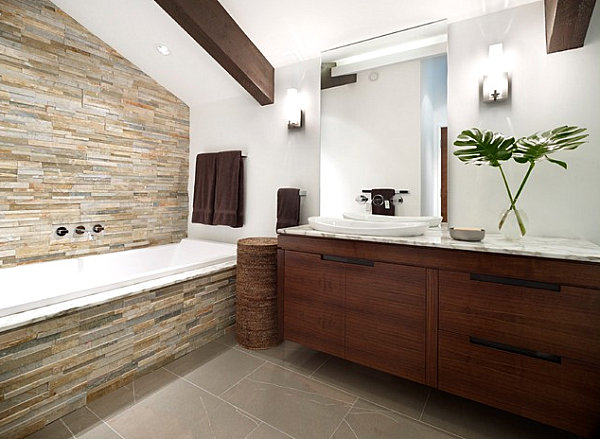 Don't underestimate the power of tropical foliage in the dining room. In fact, sometimes a striking dose of green is just what a room needs, even a room with no other verdant accents. Note the use of tropical leaves as a dining table centerpiece in the beachy space below. [from Traditional Home via Coastal Shore Creations]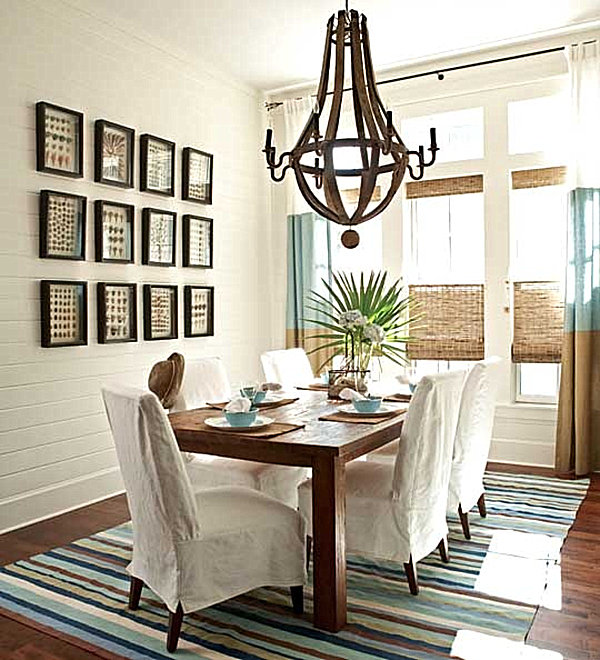 We're loving the monochromatic statement created by green leaves in a green vase in the next featured space. This living room is big on color, and big on tropical style! [photo by Travis Rowan for Natalie Younger Interior Design]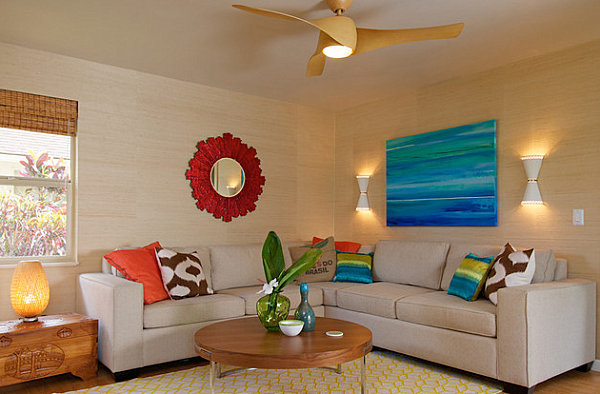 Beachy Touches
We can't deny the power of beachy touches! Coral, sea fan, shells and other earthy statements can create a big impact, especially when grouped in a vignette. Below we see wooden shelving featuring the Spa Stripe Beach Towel from West Elm, as well as an assortment of other beachy finds…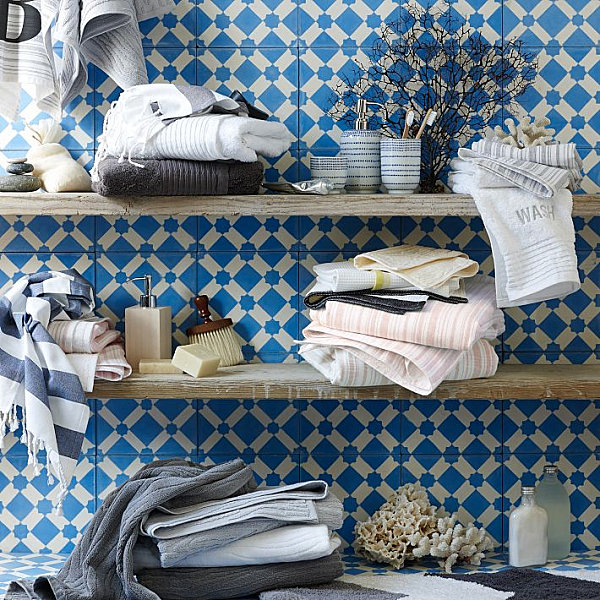 Another beachy touch? Tropical furniture in the form of wicker and rattan. And why wouldn't you want to evoke the serenity of a beach vacation?! Throw in tropical fabric in green and white, and it's hard to resist the summery style… [from Nat Rea Photography for Kate Jackson Design]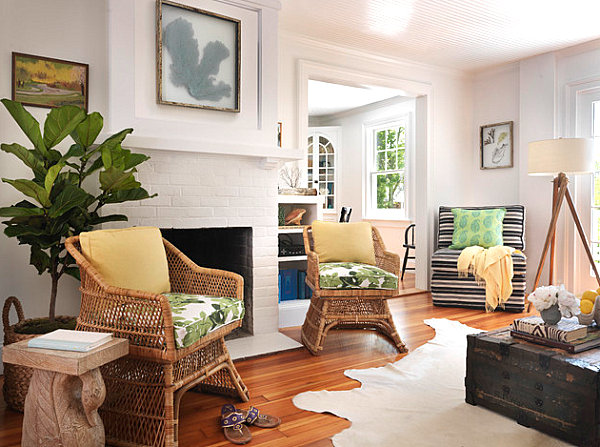 Sometimes the little things can say a lot! Like this Swedish Dream Sea Salt Soap from West Elm, complete with beachy packaging featuring an anchor, as well as a crisp blue and white color motif: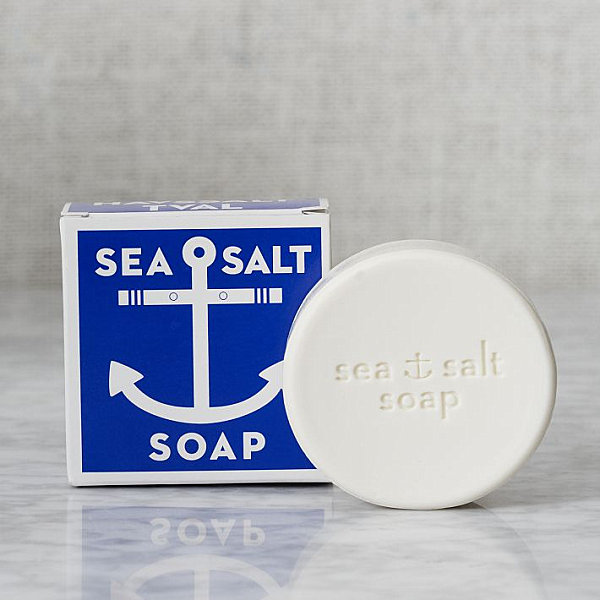 Never underestimate the power of botanical artwork with a seashell theme. In fact, when it comes to beach features such as shells, sometimes the best way to display them is in a grouping that makes an impact. [from Lorrie Browne Interiors]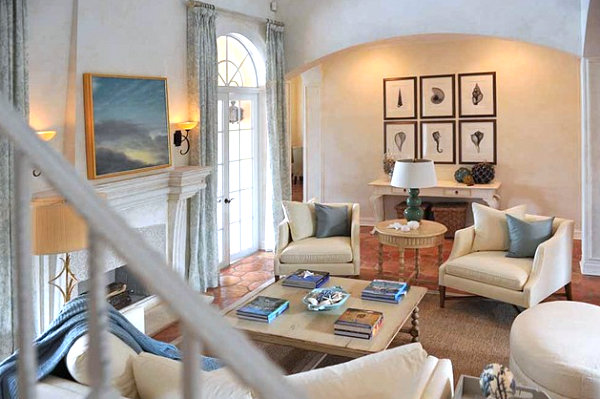 Outdoor Flourishes
We end with a powerful way to create a summery statement: through an inviting outdoor space! After all, in many parts of the world, summer is a season for enjoying warmer weather. It makes sense that you'd want to spend some time lounging (and even entertaining) outdoors. Next we see a palm- and bamboo-surrounded patio for enjoying a quiet summer evening. [from Debra Yates Great Space, Inc.]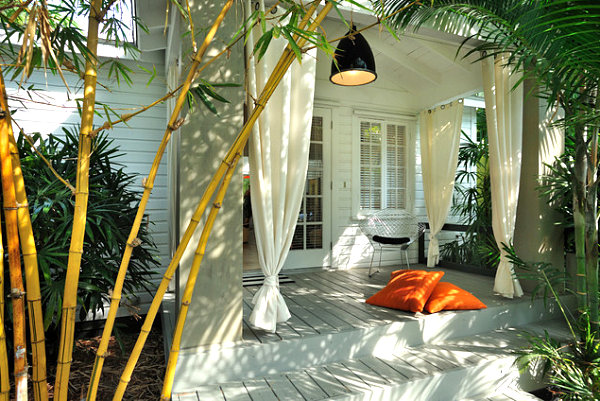 Don't forget about the possibility of dining outdoors… Now may be the time to purchase a table with plenty of surface space for enjoying a meal with friends. [from Shades of Green Landscape Architecture]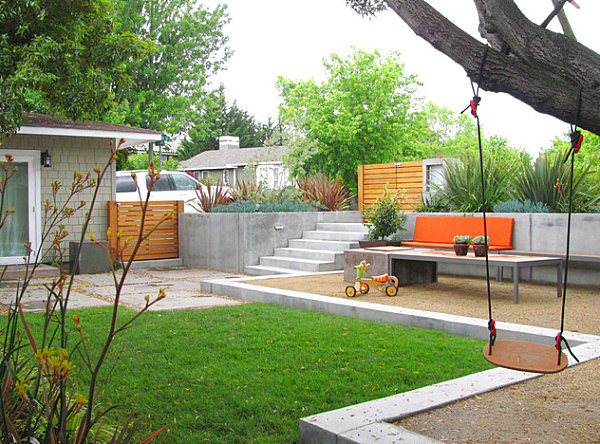 Our final photo celebrates a summery statement that can't help but add a festive touch to any outdoor space: globe lighting! Hang those lights, and let them usher in a new season of mild nights and time spent outdoors with friends. [photo by Bruce Damonte for Nick Noyes Architecture]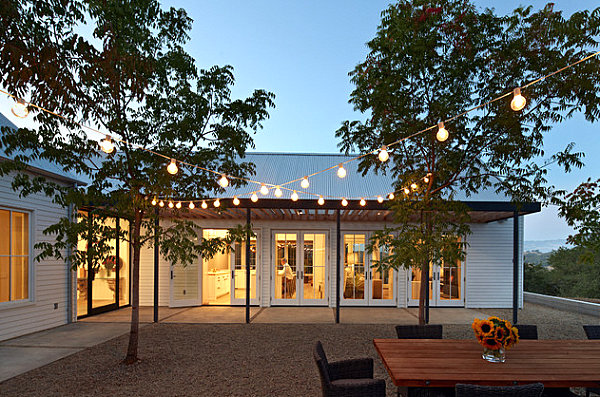 And now one final question: Would you leave your seasonal summer decor on display year-round, or are you a person who prefers to replace it with style statements for the new season? Some people love to be surrounded by reminders of warm weather as summer nights give way to crisp, cool days. Share your thoughts by leaving a comment below…
Liked the story? Share it with friends.