There's nothing more fun than welcoming summer by browsing the season's most alluring finds! Today we spotlight summer decor from some of our favorite retailers. What are today's most popular summer trends? Bright colors stripes, and bird motifs, to name a few! Even more appealing is the variety of both indoor and outdoor finds.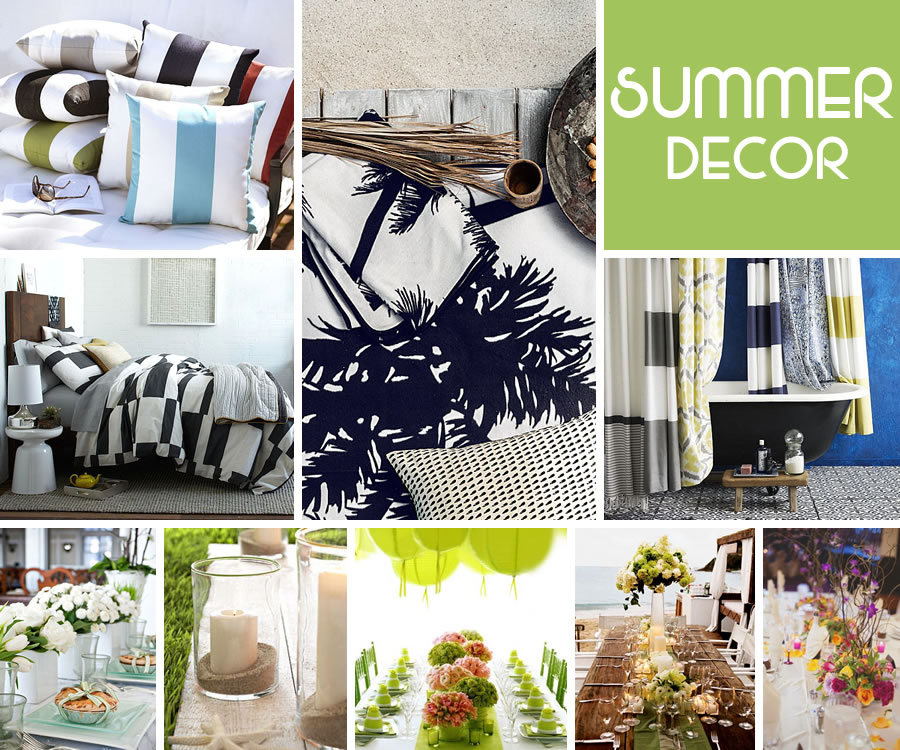 Why is summer a good time to update your decor? For one thing, many people have more time in the summer, thanks to holidays, vacations and other diversions. In addition, people often enjoy entertaining in the summer, thanks to warmer weather that makes outdoor dining a reality. They assess their tabletop decor and entertaining pieces, filling in the gaps as needed. Whether you're planning on entertaining this season or you're simply looking for a way to refresh your space, we think you'll enjoy the fun finds below…
Indoor Summer Decor
We begin with indoor decor for summer–pieces that pop with their vibrant colors or seasonal motifs. It's hard not to be drawn to this Paisley Multi-Print Bedding from Zara Home. With its blues and violets, this selection is the perfect complement to colors such as sunny yellow: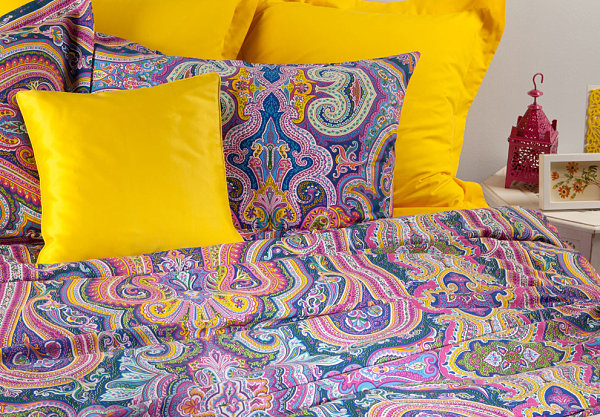 Bird is the word! The Alexander Coverlet from Jonathan Adler blends orange and purply fuchsia with a retro hippie style to create a bedding display that is crisp and ornate at the same time.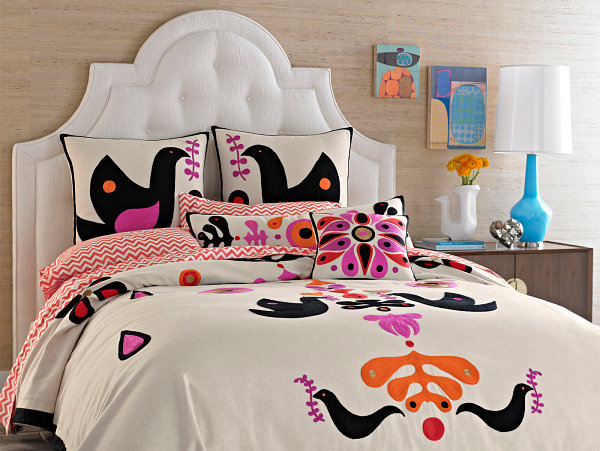 There's just something summery about stripes. Horizontal or vertical, we'll take 'em! Which is why we're drawn to the Offset Stripe Layered Bed Set from West Elm, which combines geometric blocks and pinstripes in a set that includes a duvet, sheets, pillowcases and shams!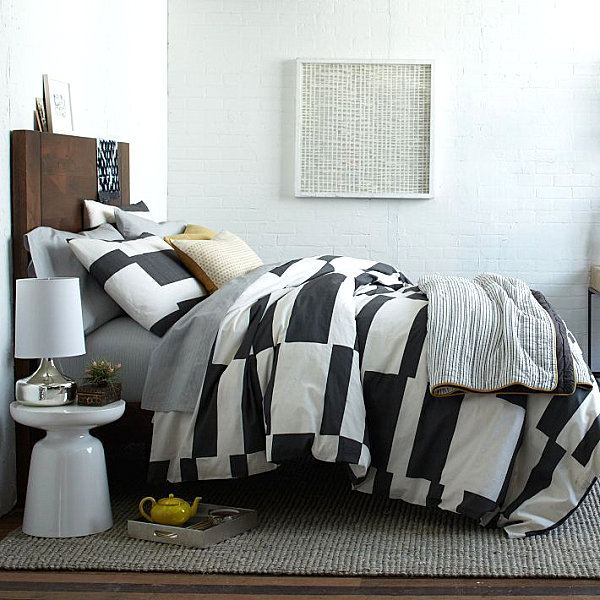 Did you see our post on refreshing shower curtain designs? If you did, you may recognize the striped selections below. And we couldn't help but spotlight them again! After all, these Stripe Shower Curtains are the perfect way to add summer style to your powder room, especially if you choose shades such as navy and citron…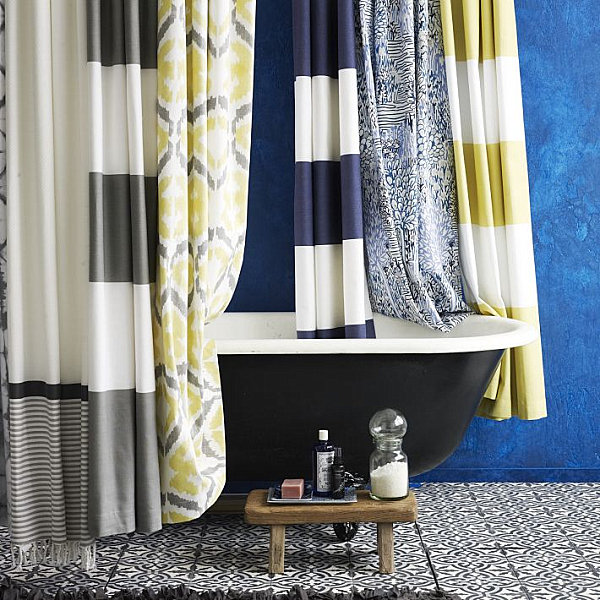 It's time to go wild! And you don't even have to leave the house, especially if you purchase this Jungle-Print Rug from Zara Home! The ultimate in tropical style, the design celebrates wildlife–especially birds. And with a rainbow of colors included in the mix, it's hard to imagine a hue that wouldn't blend well with this piece.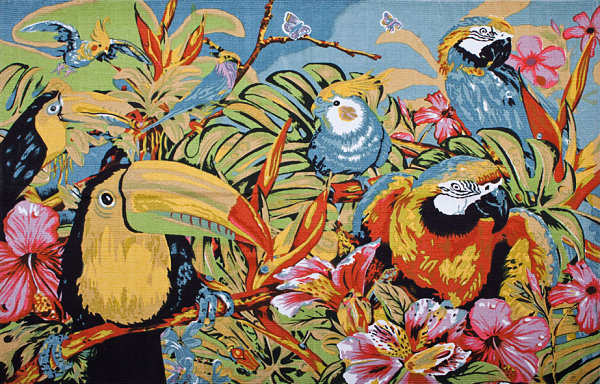 Speaking of rainbow colors, this Floral Watercolor + Birch Wall Art from West Elm transitions from red to purple with a spectrum of shades in between. Printed on birch wood, the art piece is playful, vibrant and classy–all at the same time!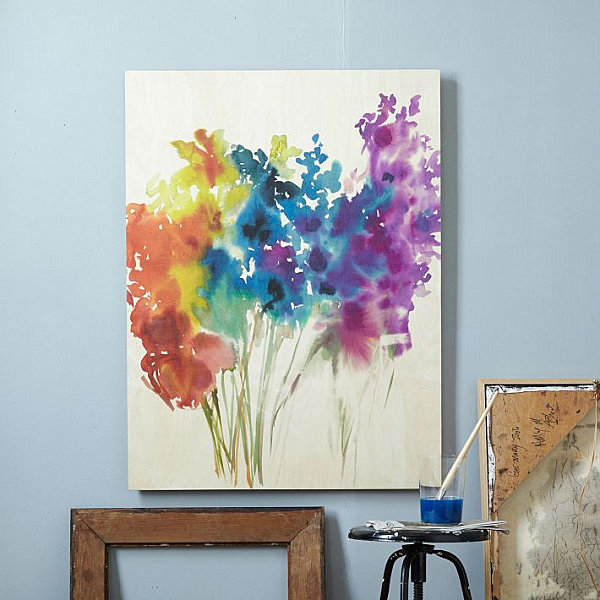 One of this season's hottest trends is flamingos. Yes, they're back. And no, they're not just for the '80s! The new batch of flamingo designs proves there's something both retro and modern about these birds. Which is why the Framed Bird Wall Art – Flamingo from West Elm is such a hit. Inspired by Audubon wildlife paintings, this piece will add a radiant dose of color to your space!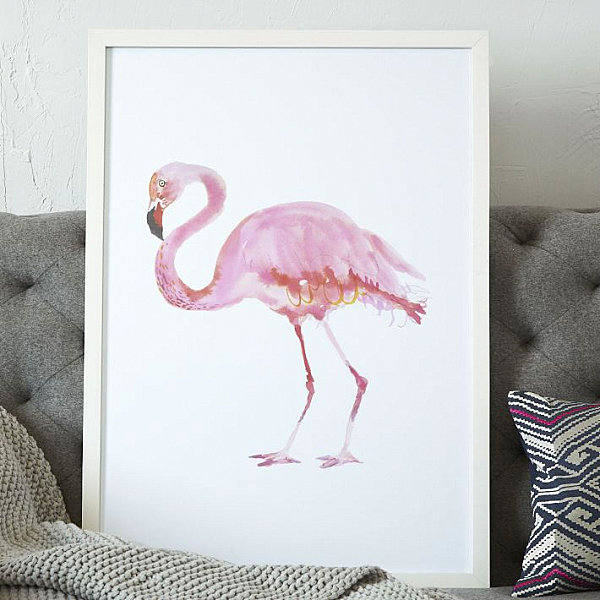 Speaking of color, check out these vivid finds from Jonathan Adler, which channel the past through the lens of the present. Below we see the Santorini Alexandra Vase and the Alexander Square Decorative Pillow, both of which are true conversation pieces: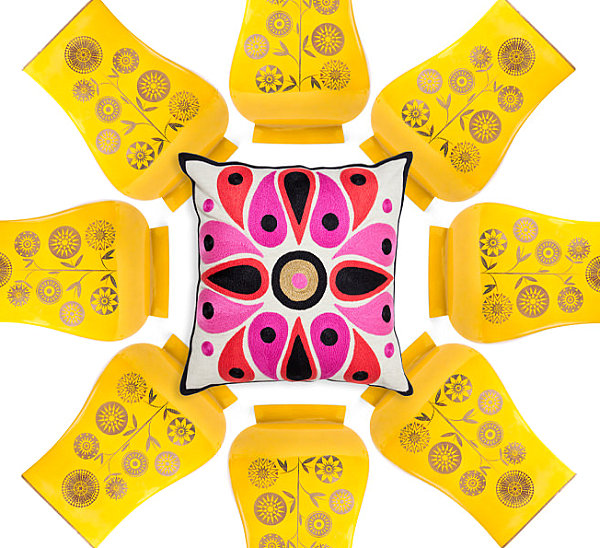 Also from Jonathan Adler, the porcelain bowls below feature accents of real gold! The Large Santorini Bon Bon Bowl and Medium Santorini Bon Bon Bowl can be ordered online or in the Jonathan Adler store. Can't you see them as part of the centerpiece for your next summer fete?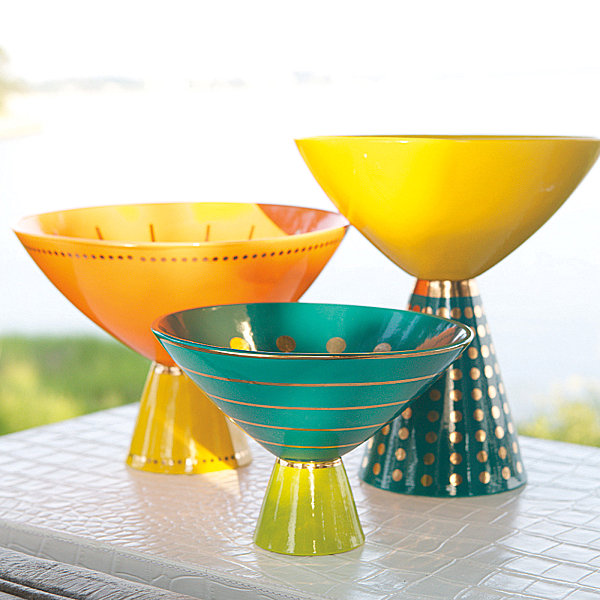 It's hard to ignore the crisp blues and whites of the summery finds featured at Zara Home. We spotted the Wave Vase (shown at the top left of the shelf below), and we were instantly smitten. Maybe it's the color of the piece, which evokes the blue hue of a swimming pool. Or perhaps we thought we should buy one item with the word "wave" in the title to remind us of a relaxing day at the beach…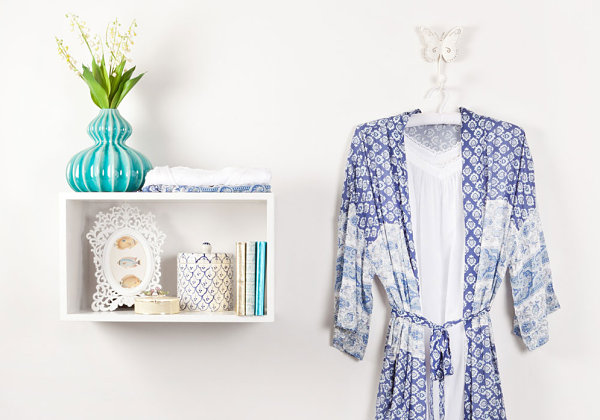 Outdoor Summer Decor
Ready to head outdoors? Luckily the folks at CB2 are here to make sure you are! Below we see the Acapulco Black/Blue Lounge Chair and the Ixtapa Yellow/Aqua Lounge Chair, both of which showcase Mid-Century style with a twist. And that twist comes in the form of colorful PVC cord handwoven over a powdercoated steel tube frame: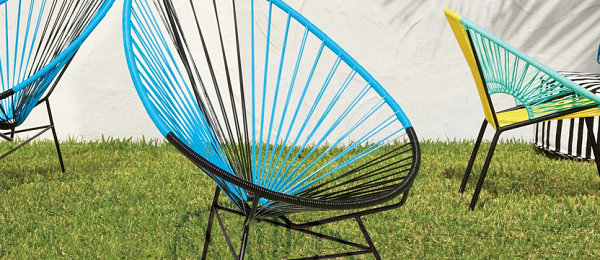 If you're worried about your outdoor furnishings holding up in the elements, check out the Abbott Zinc Top Rectangular Coffee Table from Pottery Barn. A tabletop of galvanized zinc is perfect for outdoor entertaining, while a solid wooden base adds an earthy, substantial feel.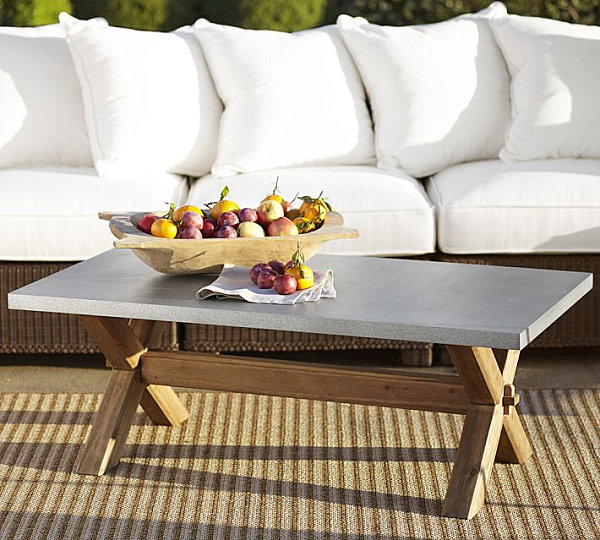 Once again, we celebrate the power of stripes, this time with the Hermosa Stripe Indoor/Outdoor Pillow from Pottery Barn. The item's rosy tones remind us of a summer sunset. Or a piece of coral…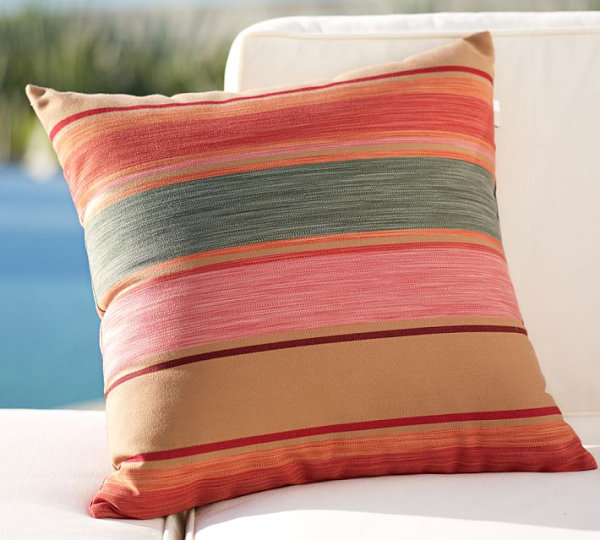 While we're on the subject of stripes, we can't help but showcase the Sunbrella Awning Stripe Indoor/Outdoor Pillow from Pottery Barn, which comes in an array of colors, as shown below. But these pillows are much more than pretty. Note that they're helpfully resistant to outdoor perils such as mold, mildew and fading!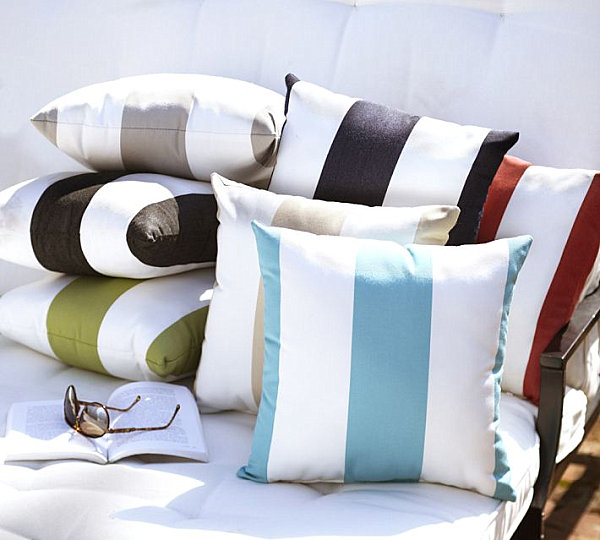 Sometimes it's fun to head into the great outdoors away from the comfort of your yard. That's right–it's picnic time! Dine in style with this Picnic Blanket from H&M Home, crafted of polyester fleece with a water repellent backing. We're loving the radiant blooms and the way they evoke both tropical and retro style…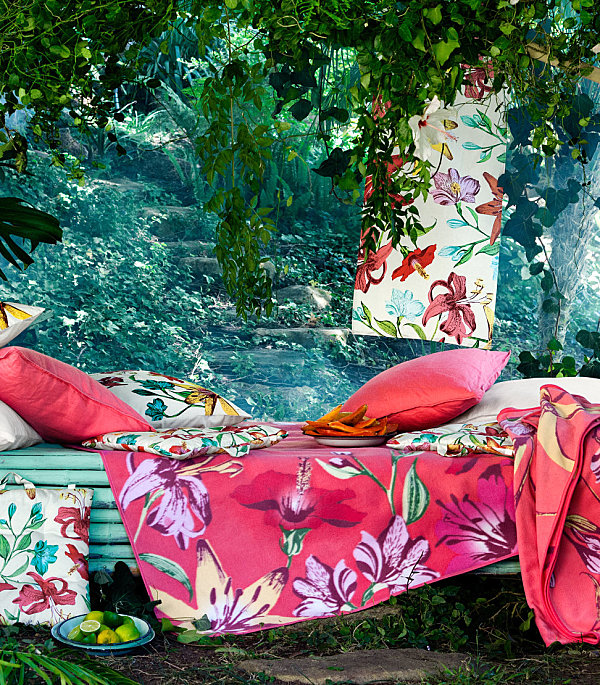 Another fun find is this fleece blanket with a palm tree motif from H&M. Anyone else think the pattern evokes '70s/'80s style? And what's more perfect for summer than palm trees?!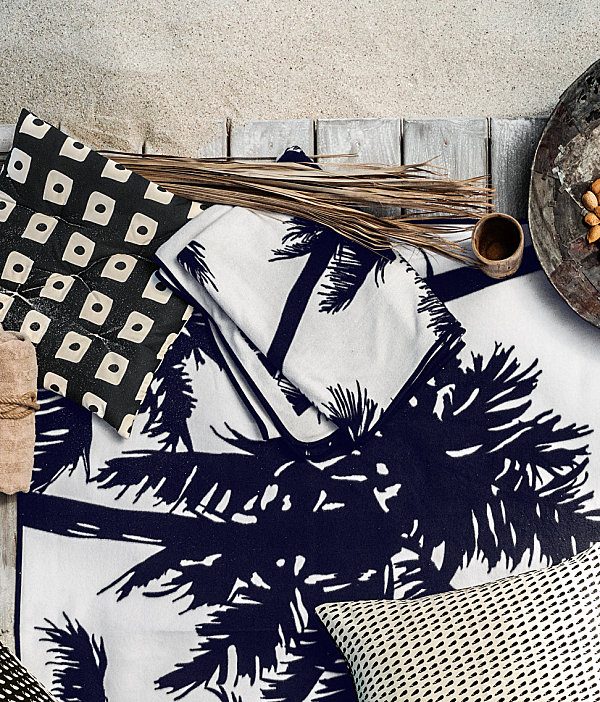 Don't forget about your summer plant life! The Kronos Planter and Raised Planters from CB2 (pictured at the right in the image below) boast a clean-lined construction that will bring modern style to your indoor or outdoor space. In fact, it's quite rare to find modern planters for this price. Fill them with the greenery of your choice, and don't be afraid to throw in a bit of color!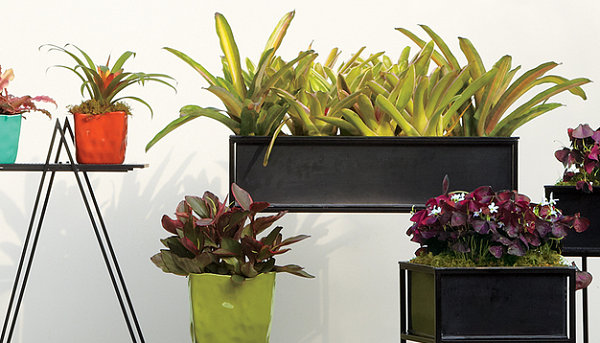 We end with a little something that is sure to put the icing on the cake. Yes, we're talking about globe lights. Nothing captures the whimsical magic of summer quite like these shining orbs, especially if you happen to be entertaining outdoors. These Globe String Lights from Pottery Barn are the perfect touch for your seasonal endeavors…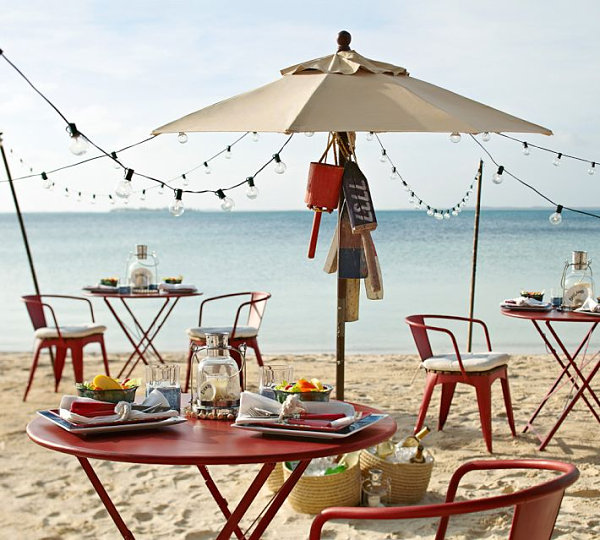 Tell us about your favorite summer finds! Are there trends you're enjoying this season? Share your thoughts by leaving a comment below…