It's hard not to love the Craftsman style, isn't it?! There's something warm and inviting about a Craftsman home that celebrates simple forms and a true appreciation for the building materials. These structures, which began appearing shortly after the turn of the 20th century, boasted a signature set of features, from tapered columns and linear window detailing to front porches and exposed rafters under the eaves.
Today we take a peek inside the Craftsman home to explore the many options for decorating these fabulous spaces. While some of today's featured homes are new (and built in the Craftsman style), others are beautifully restored Craftsman houses that thoughtfully reflect the history of the original structure. And when it comes to the decor, you'll see a range of styles, from traditional accents to bright, modern updates. How would you decorate a Craftsman-style home? Don't forget to leave a comment at the end of the post…
Craftsman-Style Living Spaces
We begin with a view of a Craftsman home from Dorothy Howard Architect. Note the window detailing, as well as the exposed rafters. We're also loving the use of sage green and burgundy on the facade…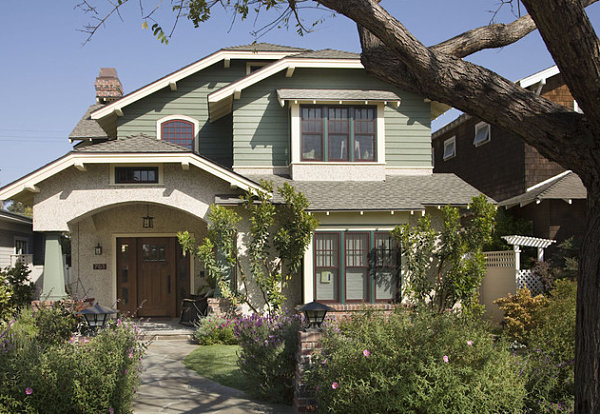 How would you begin decorating the interior of a space like this? And what do these homes look like inside anyway?… There's no one right answer for either question, but let's take a peek in one Craftsman-style home… Note the use of wooden detailing, which creates a warm glow in the space. Some Craftsman homes use glass (and stained glass) as a decorative accent, as shown below. [from Melaragno Residential Design]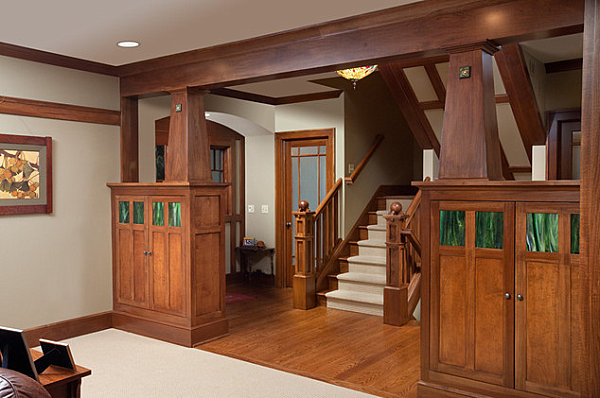 Then there's the lighting, which often mirrors the linear motifs of the home's exterior. Below we see pendant and sconce lighting that casts a golden glow… [from Houzz]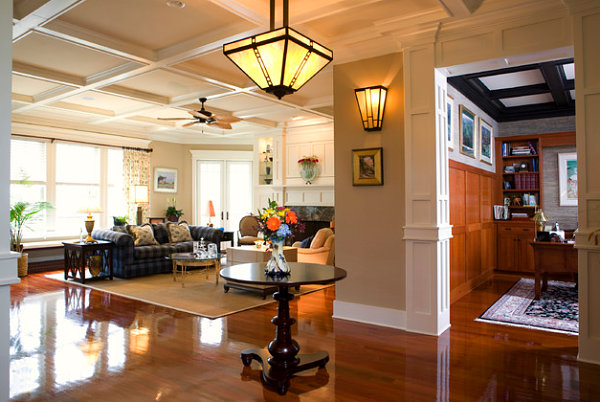 While the interiors of many Craftsman homes focus on warm, earthy colors, others opt for a light and bright approach. In the next featured image, we see a balance of wooden accents and vivid hues in shades of white and blue. [from Annette English & Associates]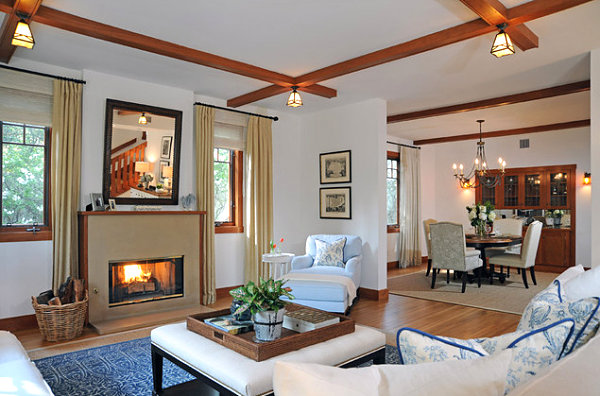 It's always fun when a historical home goes modern! Which is why we're loving the slate gray walls, white trim and "retr0 meets contemporary" look of the space below, featured on Apartment Therapy: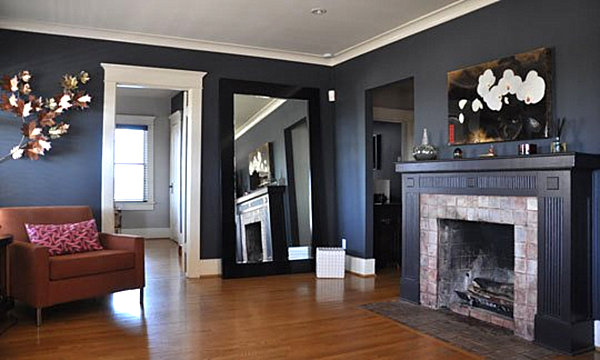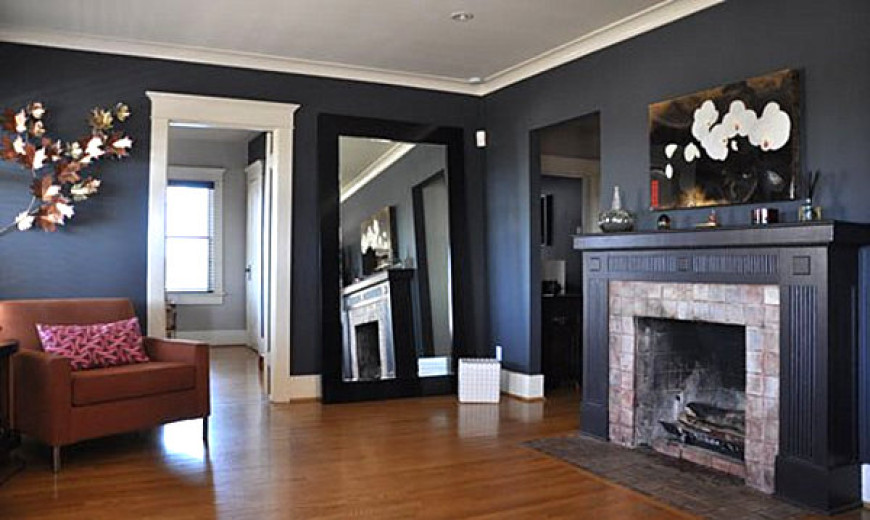 Speaking of gray, this next contemporary Craftsman-style living room includes modern pendant lighting, white wooden accents and contemporary art. The resulting look comfy and trimmed yet sophisticated and modern. [from Olson Architects]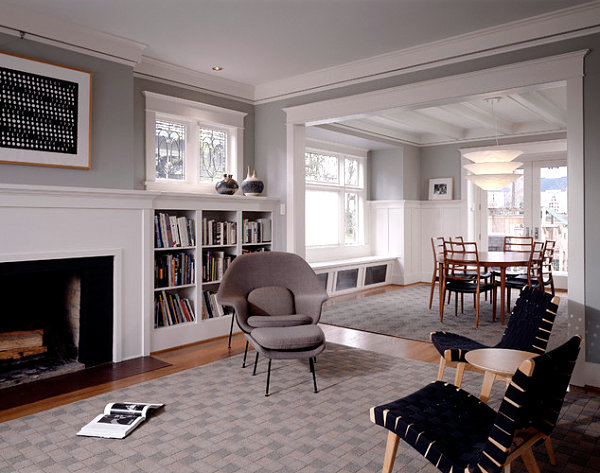 Craftsman-Style Kitchens and Dining Rooms
We now turn our attention from living spaces to kitchens and dining rooms. But before we head inside, let's take another look at a fabulous Craftsman exterior. This home from Moore Architects showcases a gorgeous front porch featuring thick tapered columns and white railing. [image by Hoachlander Davis Photography]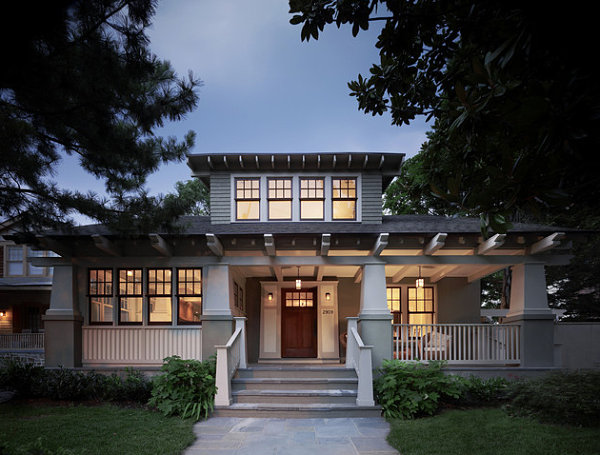 With an image of a Craftsman home fresh in our minds, we now explore the realm of culinary and dining spaces. Is there a way to decorate these interiors while honoring the look of a Craftsman exterior? Of course! Once again, we see wooden accents, this time in the form of doors, drawers, cabinetry and a kitchen island. Modern touches combine with traditional statements to create a warm, inviting space. [from The Kitchen Source]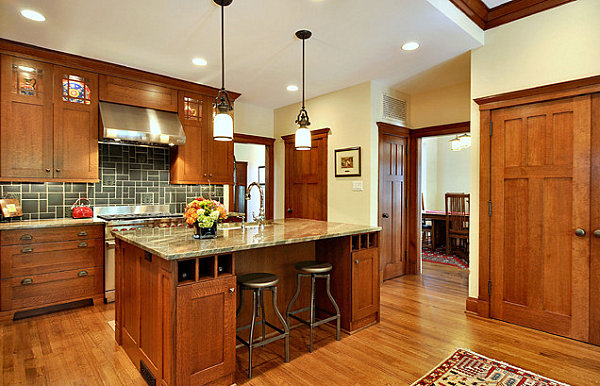 Next we see an award-winning historical kitchen from W.B. Builders, complete with the warm glow of wooden detailing…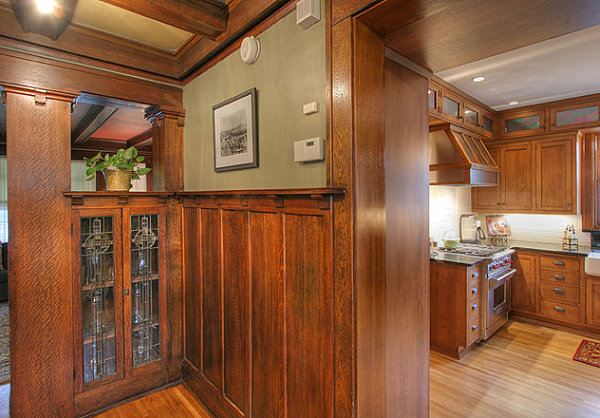 Sometimes the Craftsman kitchen can take on a more modern, bistro look, as shown below. A tile backsplash, white walls and dark countertops contribute to the style, while a wooden island and traditional bar stools remind us of the home's Craftsman roots. [from Sandoraz]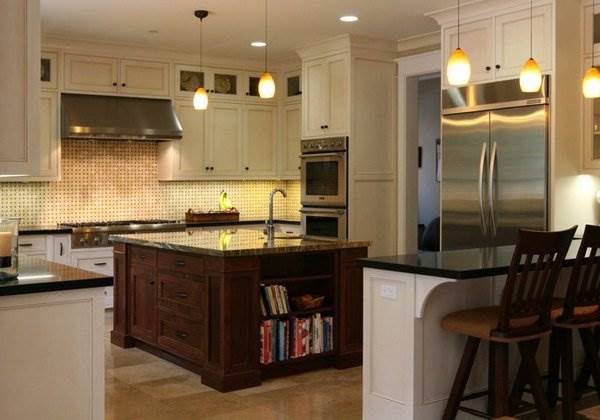 Next we head into the dining room–a beautifully maintained space filled with Craftsman delights, from the lighting that hangs overhead to the gold, green and brown color combo. Vases of flowers grace many a Craftsman interior. Did you catch the Art Nouveau piece in the lower right corner of the image? There even appears to be a foliage-themed mural on the ceiling–gorgeous! [photo by Alan Karchmer for Gardner Mohr Architects LLC ]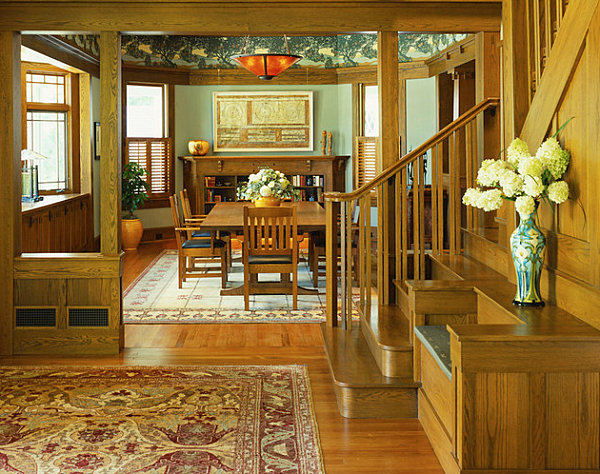 We now take things in a more modern direction with a light gray dining space, complete with white trim. Anyone noticing a theme here? More traditional Craftsman homes seem to revel in earth-toned colors, while the modern spaces often introduce bright hues and cool tones. [from Denoxa]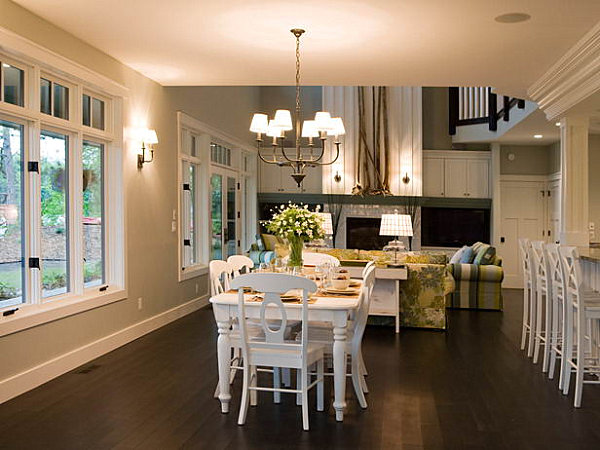 Speaking of modern, check out the contemporary pendant light below… Wallpaper and a collection of sleek vases make this space a true standout. A blend of warm and cool tones creates balance. [from Sarah Greenman]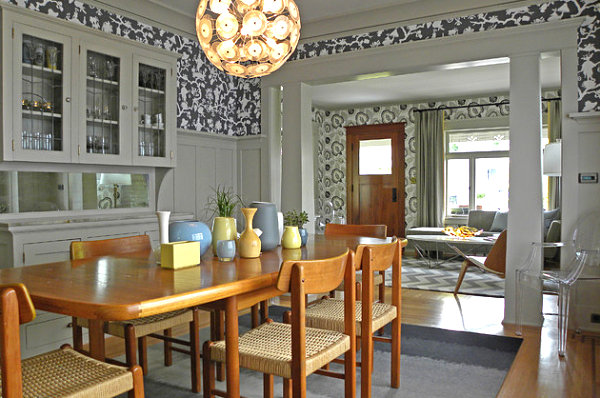 Remember that gray and white living room above? Check out the dining room of the same renovated space, featured on Apartment Therapy. This 1912 restored Craftsman home is filled with contemporary and vintage treasures, and the dining room is no exception…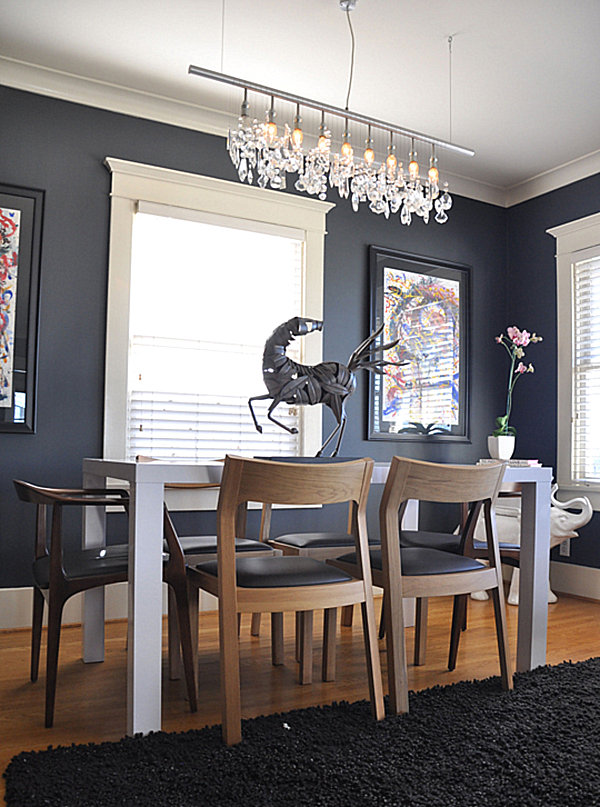 Craftsman-Style Bedrooms
We end with a series of Craftsman-style bedrooms that bring serene style home. But first we have a look at one more Craftsman house, which is covered in the gray and white combo we've featured repeatedly today!… [from Supple Homes, Inc.]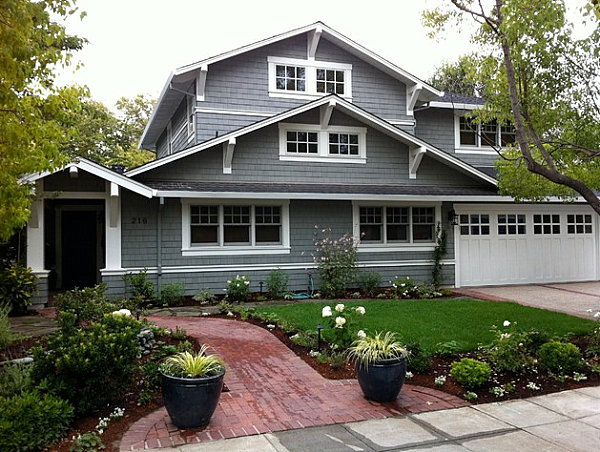 Sometimes clean and simple is the way to go. Wooden furnishings take center stage in the room below, as does a gorgeous shade of beige that appears on both wall and comforter. [from Tour Factory]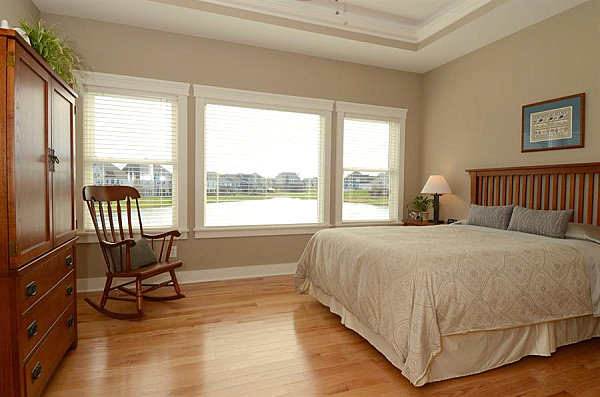 You don't have to live in a Craftsman home to get a touch of modern Craftsman style in your bedroom, thanks to Contemporary Cable Furniture from Vermont Woods Studios, shown in the next featured image. We're especially drawn to the Arts and Crafts look of the bed: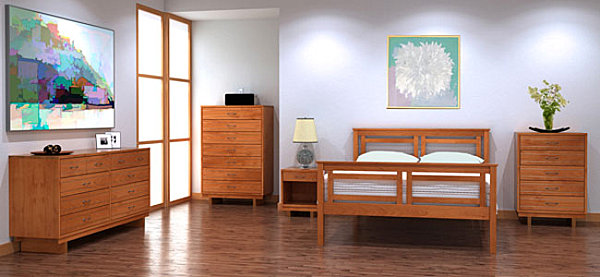 We now progress to a brighter space, complete with wooden beam and door accents. Yet refreshing whites and blues add an air of crisp sophistication, don't you think? [from Annette English & Associates]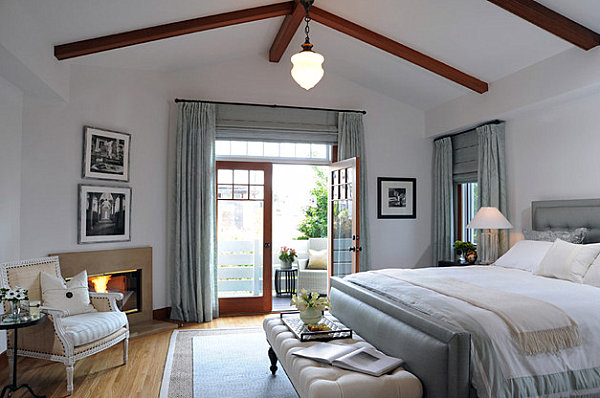 In one more shot from the above-mention renovated 1912 Craftsman-style home, we see the power of gray and white, as well as contemporary flourishes. Note the modern artwork, as well as the acrylic lamp on the beside table… [from Apartment Therapy]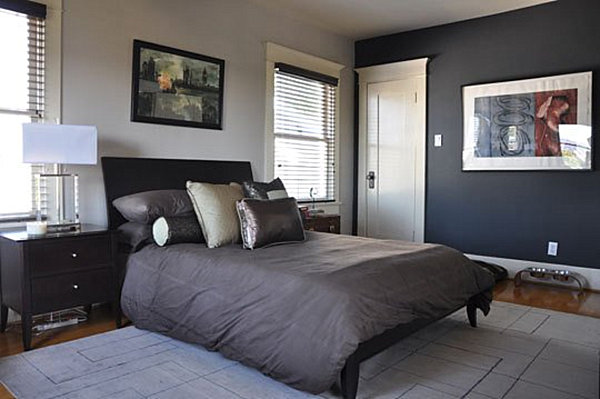 Our last featured image is a reminder of the power of modern flourishes in a Craftsman space. Since many of these homes feature linear details on windows and doors, don't hesitate to throw contemporary touches into the mix. Even your front porch can introduce a blend of traditional and modern styles, as shown with the gray planters below. Welcome your guests in style, and give them a sneak preview of what will greet them when they enter your space. [from Cottage Home]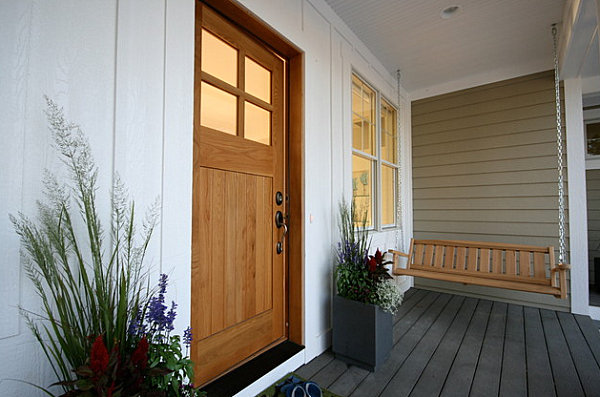 Now we want to hear from you! If you purchased a Craftsman home, would you go back to its roots and furnish it with period pieces, or would you give it a fresh, modern twist? Share your thoughts by leaving a comment below…
Liked the story? Share it with friends.