While bistro kitchens often revel in 19th century French charm, an increasing number of these spaces introduce more modern elements, such as contemporary tile and industrial lighting fixtures. Even though no strict set of rules apply when designing a bistro kitchen, certain qualities regularly appear, such as vintage-style seating and marble accents. Today we take a look at bistro kitchen decor and discover ways to incorporate this quaint, crisp style into the modern home.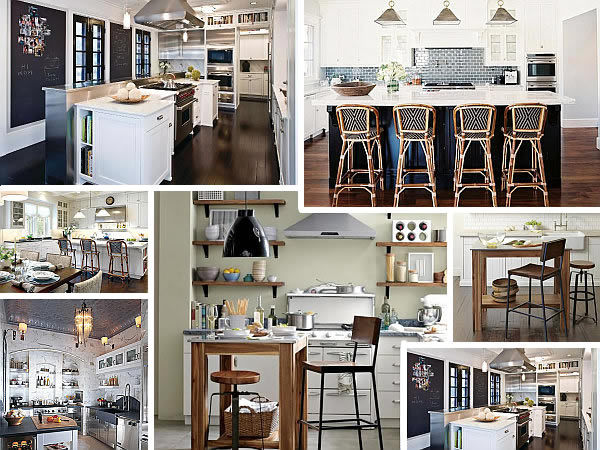 A Black and White Color Scheme
An overwhelming number of bistro kitchens feature a black and white color scheme, often realized through airy white walls, with black accents such as cabinets, counter tops and tile. In the room below, a black kitchen island and a gray subway tile backsplash complement clean white cabinets and counter top surfaces. [from Design in Bloom]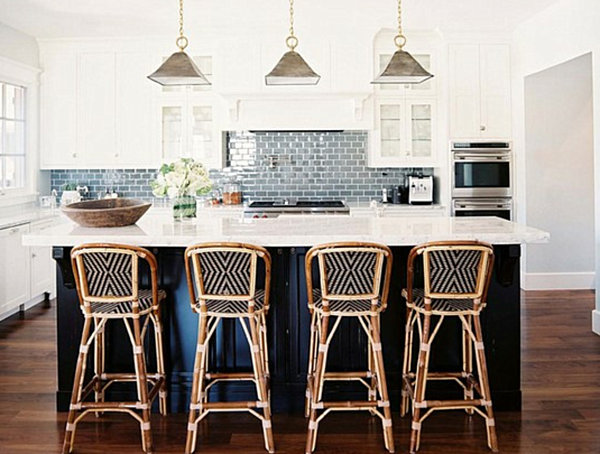 In this ultra modern take on a bistro kitchen, white grid tile is the backdrop for black cabinets, furniture and pendant lighting. [from Kitchen Building]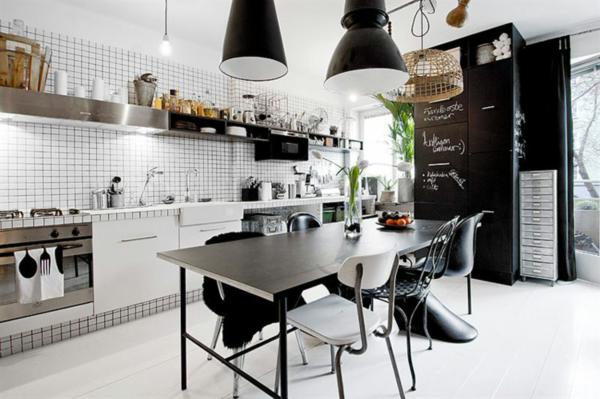 Does the popularity of black and white motifs mean that color should be avoided? Absolutely not! Many bistro kitchens feature bright red walls, or hues such as yellow and minty blue. Have fun and be true to your style!
Marble Surfaces
There's just something about marble! In fact, this building material lends an upscale vibe to the spaces it inhabits. In the rustic modern bistro kitchen below, a marble backsplash and counter top keep the room from looking too primitive. [from DigsDigs]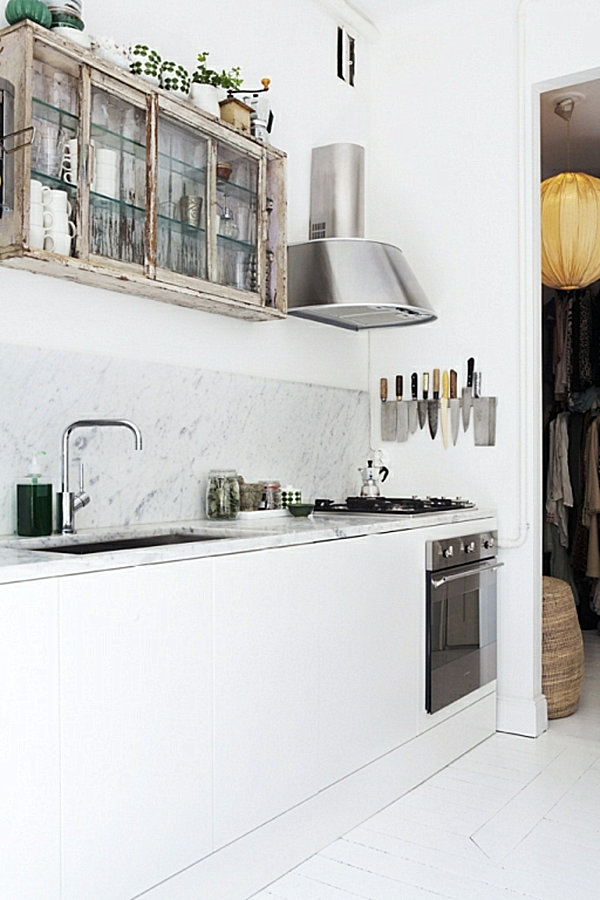 In fact, white marble with grey veins is one of the most popular selections for bistro kitchens, as shown in this collection of items from Crate & Barrel. Note the French Kitchen Island, with its topping of white Carrera marble: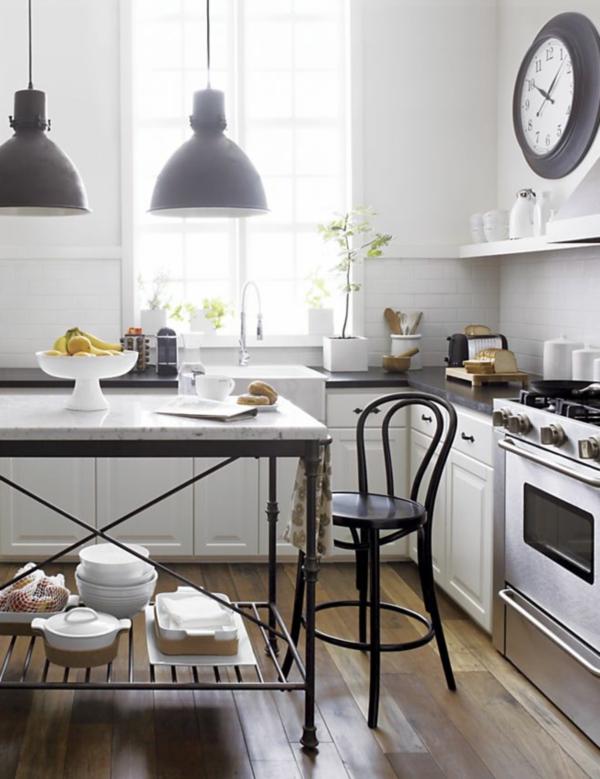 Café Flooring
Picture your favorite neighborhood café. Is the floor hardwood? Perhaps a black and white tile? It's no wonder so many bistro kitchens feature restaurant-style flooring. In the Norwegian kitchen below, checkered tile enhances the black and white bistro elements of the space. [from European Chic]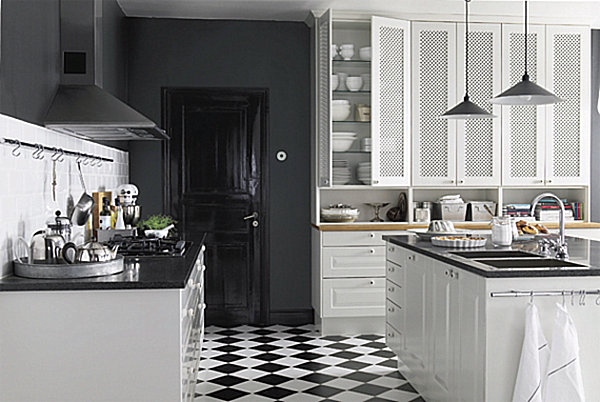 In fact, black and white flooring can instantly say "bistro," conjuring images of a Parisian eatery and setting the stage for other kitchen features to truly shine. [from Matters of Style]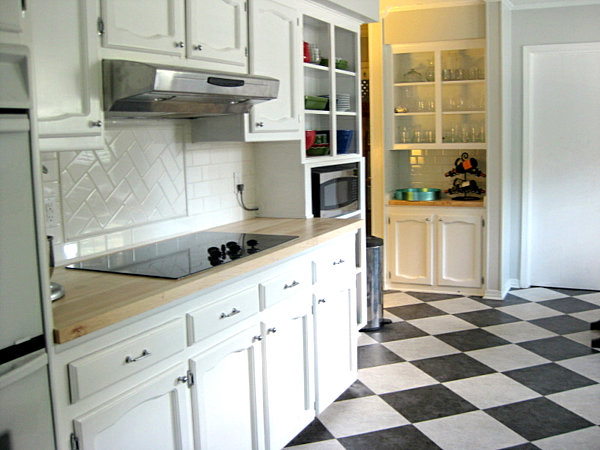 Another extremely popular bistro kitchen flooring choice is hardwood. Below we see the the Rustic Kitchen Square Table, which looks both earthy and modern resting on dark wooden planks. [from West Elm]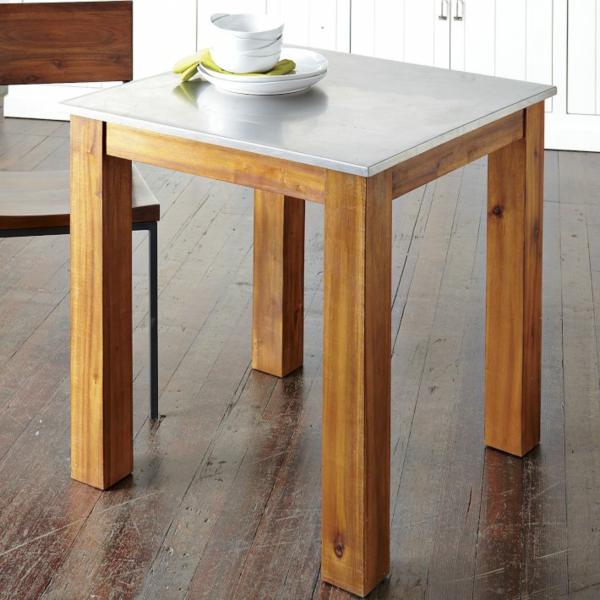 Chalkboards
What better way to create a French café effect than to hang a chalkboard on the wall? For a dose of fun, list the week's menu items! Also note the chandelier–bistro kitchens often feature an antique or two, whether they be new or reproduction. The image below comes from a previous Decoist post on chalkboard paint ideas. [image from Pottery Barn]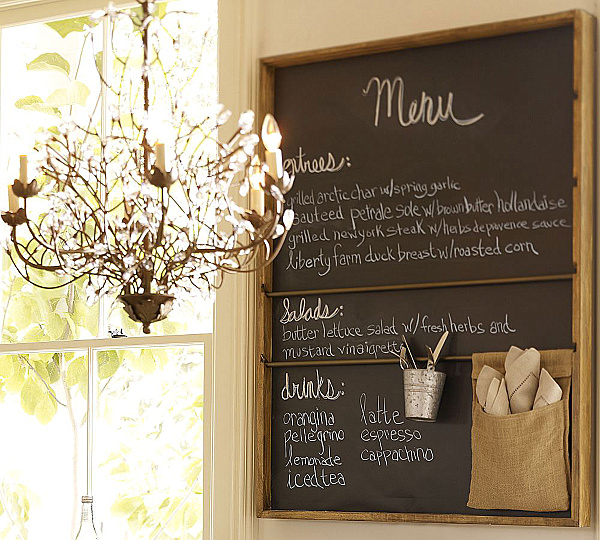 Another image from the Decoist chalkboard paint article, the kitchen below shows how blackboard paint can be used to create a backsplash, which doubles as an artistic statement. [from Apartment Therapy]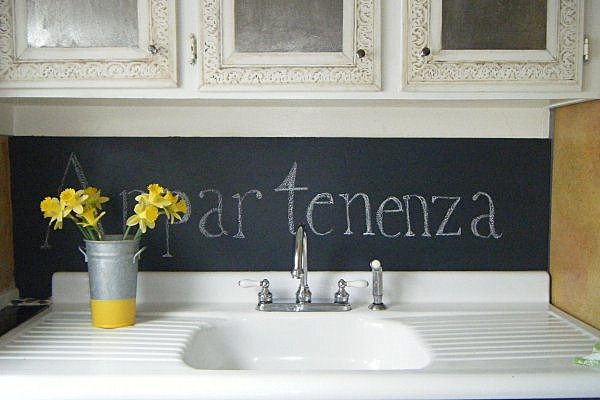 If chalkboard paint is appealing to you, try using it to cover an entire wall! Not only will it enhance the bistro look, it provides a canvas for artwork and organization.
Vintage-Style Artwork
We can't forget about the power of vintage posters! In fact, many a bistro kitchen features French food poster art, some truly antique and others reproduction. Not only do food-themed vintage posters whet the appetite in a room where eating is celebrated, they add an authentic bistro feel, as shown in this image from a Toronto crêperie. [from Spotlight Toronto]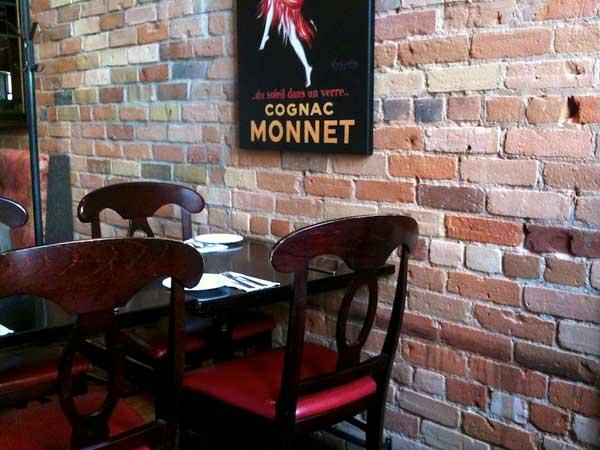 If purchasing an original is out of your budget or time frame, there are plenty of new bistro-themed prints to choose from. For example, Elegant Bistro 1 is a charming fine art print by Debbie DeWitt: [from Fine Art America]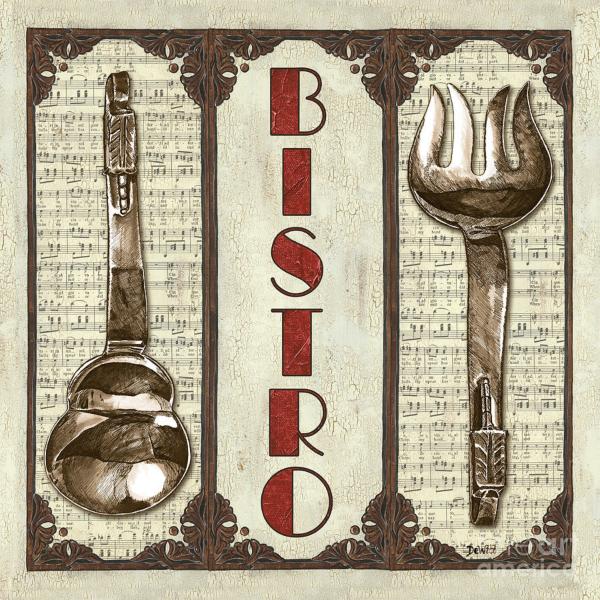 Stainless Steel Appliances
Stainless steel is modern and industrial. Not only does it update a space with a clean look, it mimics the feel of a restaurant kitchen, meshing well with both contemporary and vintage decor. In the space below, stainless steel cabinetry and appliances are a nice counterpart to an antique ceiling. [from Designwali]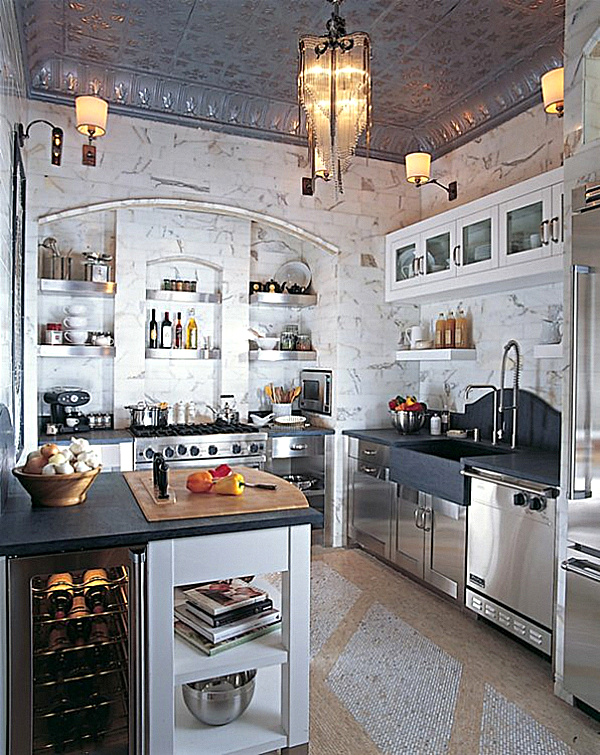 This next modern bistro kitchen makes wonderful use of stainless steel features. Designed by architect Robert Miller for a professional chef, the space also includes slate panels for chalkboard writing, French doors, dark wooden flooring, high wraparound glass cabinets, and a raised bistro bar. [from Builder]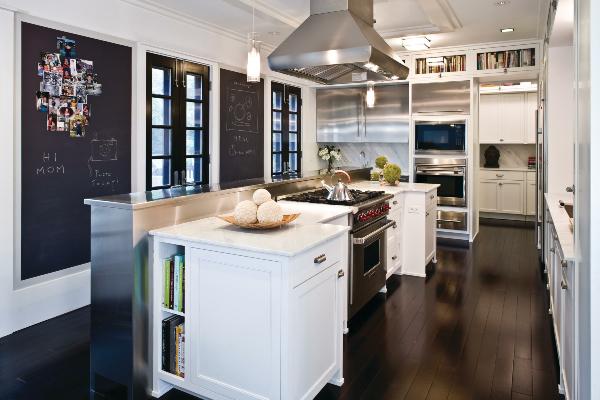 Subway Tile
Cost effective and classic, subway tile is the perfect addition to a bistro kitchen. Below, the tile serves as a clean backdrop for a Rustic Kitchen Island with a stainless steel top, an homage to the zinc-topped tables of Parisian bistros. [from West Elm]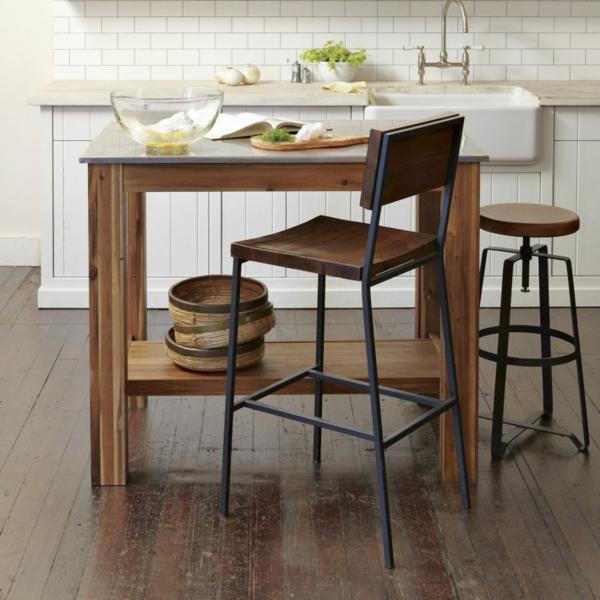 Rather than serving as a flooring supply, subway tile is frequently used as a wall or backsplash material, appreciated for its modern yet classic look. [from West Elm]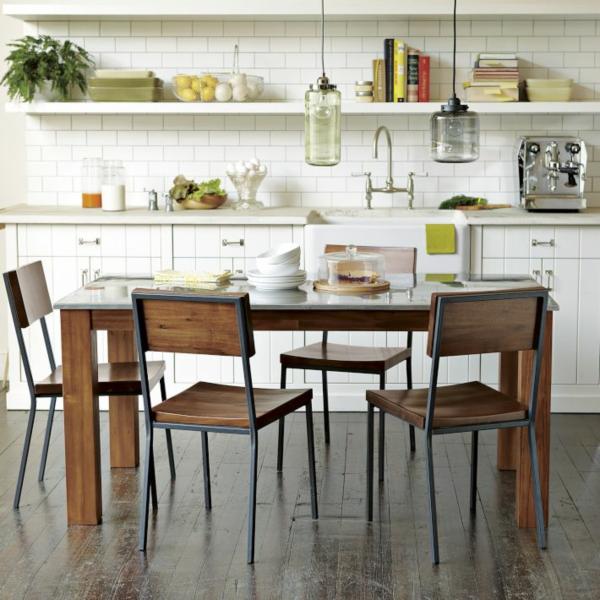 Pendant Lighting
Nothing says "restaurant" like prominent pendant lighting. Not only does it shed light on a space, it adds height, drawing the eye upward with dramatic flair. [from Maddie's Nest]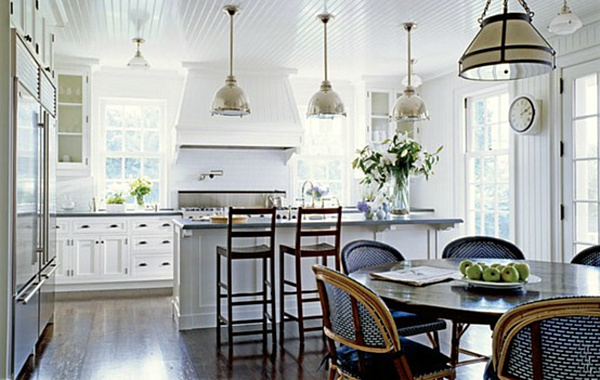 The pendant lighting below is clean-lined and contemporary, the perfect addition to a modern kitchen space. It spotlights the Rustic Kitchen Island from West Elm, adding illumination to a functional work area: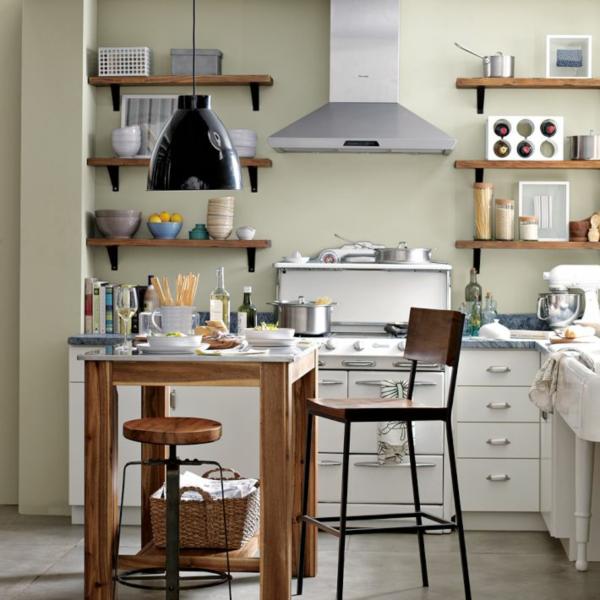 Bistro Chairs
Perhaps the single most popular bistro kitchen feature, bistro seating really brings the Parisian café look home! Below we see Crate & Barrel's French Kitchen Table with its cast steel and aluminum base, along with its polished Carrera marble top. The real star of the room is the Vienna Side Chair, a reproduction of the classic bentwood chair. The original was designed by Michael Thonet in 1859, and this update is produced in one of the original Thonet factories. Note the black lacquer finish on this amazing set of seats!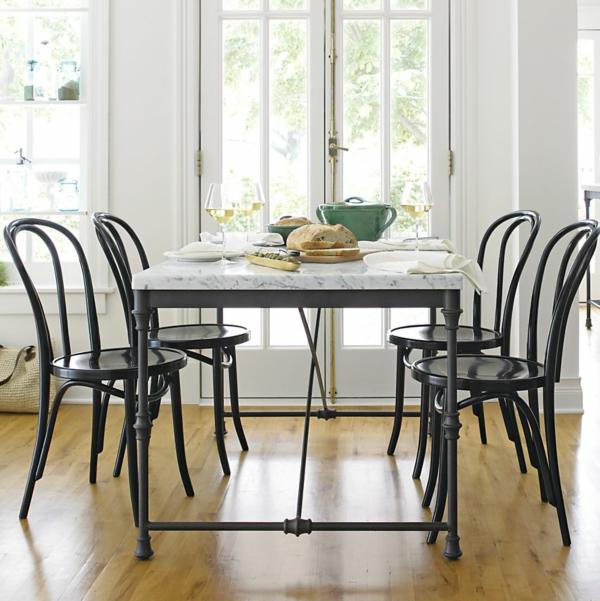 In fact, bentwood chairs often appear as stools, as shown by the Vienna White Barstool below, displayed in a set of two with the French Kitchen Island. [from Crate & Barrel]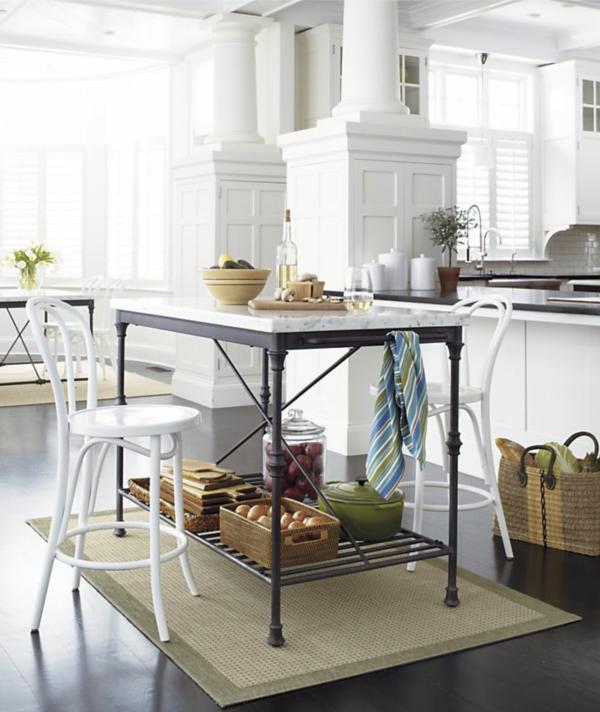 These French Café Chairs are without a doubt based on Michael Thonet's steam-bent wood chairs. From the Factory Zinc & Cast Iron collection, these classic pieces conjure images of 19th century Paris. [from Restoration Hardware]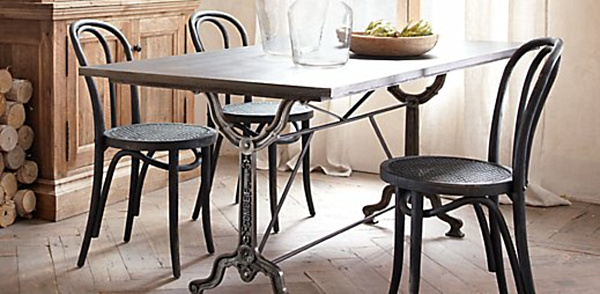 Bar stools
Top it all off with a couple of stools! A bar and its seating add to the restaurant-like ambiance of a bistro kitchen, especially when the stools feature an unexpected twist. Take the diamond pattern on the woven seating below, a well-loved take on bistro chairs. These pieces are traditional, yet they bring a splash of bold patterning to the space. [from Farm6.Static via Design in Bloom]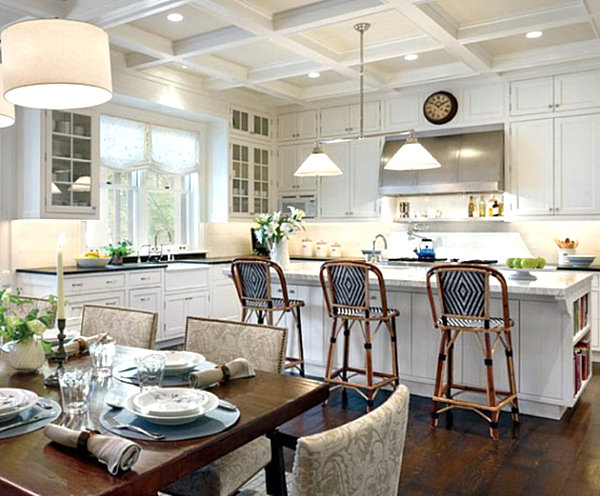 Or go industrial… For a look that is both warm and mechanical, check out the Turner Barstools, crafted of sheet and tubular metal with an oxidized black iron finish. Below they are shown with the French Kitchen Island and Emmett Pendant Lamp. [from Crate & Barrel]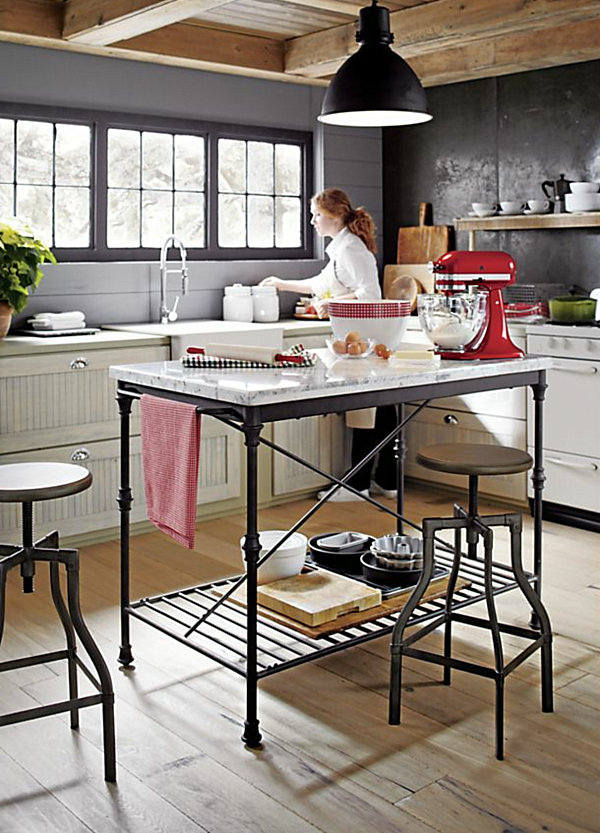 Talk about unexpected! This next set of stools look fresh from the factory! Notice how they balance the more traditional elements of the space, such as arched windows and ornate vases. [from DigsDigs]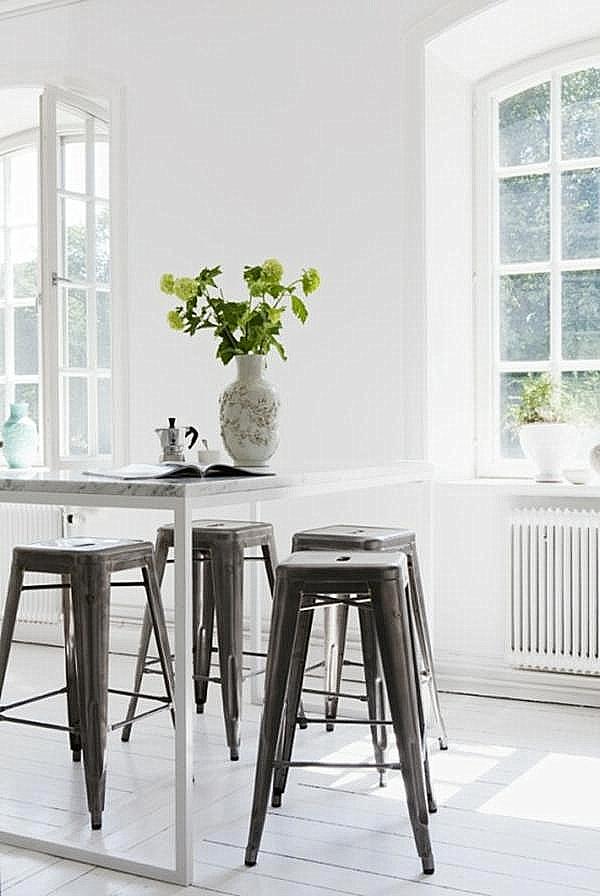 While you may assume that a bistro kitchen makeover is a strain on the pocketbook, think again. If you're not in a place to remodel, don't forget the power of a few decorative items to transform a space. For example, if marble counter tops are out of range, purchase a marble cutting board, and use it as a tray to hold items like olive oil and a pepper grinder. In addition, a prominently-displayed marble mortar and pestle can add elegance to your kitchen.
If stainless steel appliances are a no-go, display shiny cooking items, such as metal colanders, chrome-finish blenders and tea kettles. A rug with a tile pattern can achieve the look of a checkered floor, and the addition of a French-style food poster can make a bistro statement. A collection of cake domes can also create a gourmet kitchen effect. Top it all off with a white bowl of lemons or a potted herb, and your bistro-style kitchen is ready for entertaining!