With a warm breeze in the air and the promise of summer days to come, we at Decoist are on a bit of an entertaining kick! In fact, earlier this week we spotlighted stylish serving pieces for summer entertaining, and today we showcase the magic that results when good design meets good food. Yes, we're talking about the art of entertaining!
In fact, all of today's featured goodies and spreads take a designer approach to food styling, and we're sure you'll find inspiration in the images that follow. From rainbow ruffles that deck the walls and party tables for special desserts and lavender whipped cream that matches the tabletop decor, there's something special that happens when the host of a party pays attention to the display as well as the menu. Enjoy the colorful ideas that follow, and let them prompt you to throw your own summer fete! Bon appetit!
Party Tables
We begin with one of the most impressive ways that interior design has merged with the art of entertaining in recent years: the party table! Yes, while once an endeavor that was left to the professionals, the creation of party tables has become a DIY phenomenon, and a slew of blogs are devoted to perfecting this art form! One such blog is Hostess with the Mostess, which showcases amazing party tables like the Ruffled Rainbow Dessert Table below. We're loving the ombre paper rosette backdrop as much as the display of decadent treats! [designed by Paiges of Style]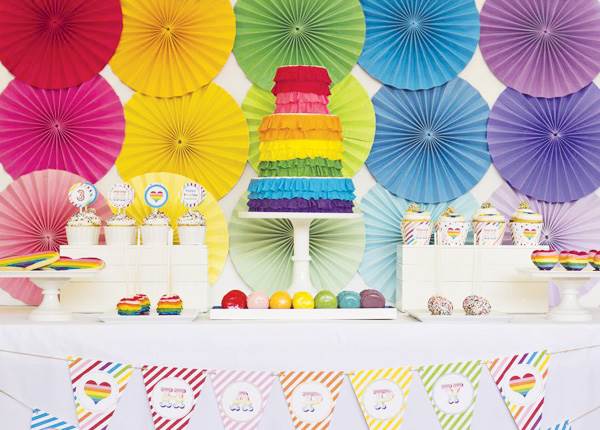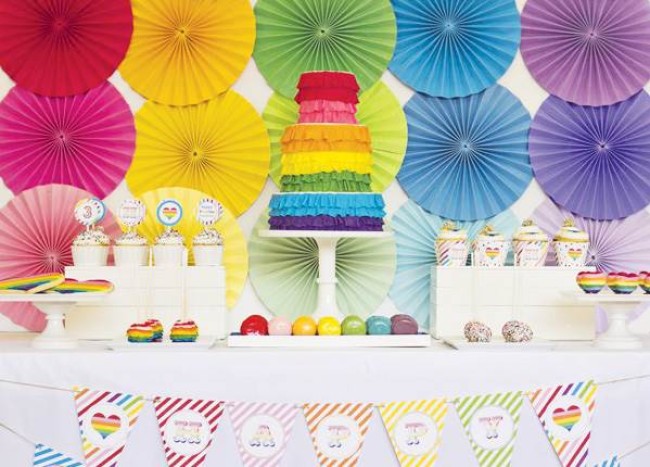 Also from Hostess with the Mostess is the Chic & Rustic Cheese Tasting Table below, styled by All the Frills. Fresh fruit, gourmet cheese and French rolls are a few of the highlights, along with fresh rosemary and a blackboard background that evokes a true bistro feel.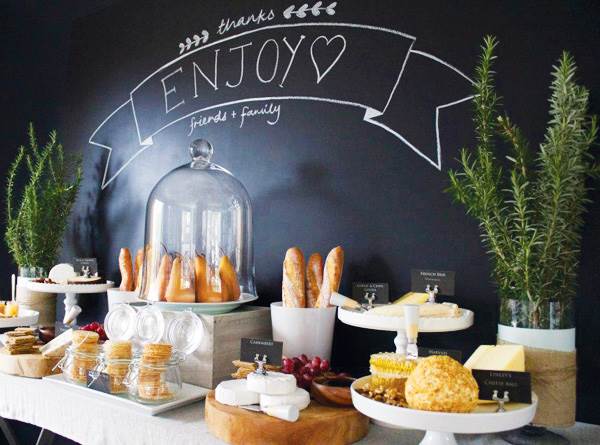 We now move to a party table featuring softer hues in the gold and pink families. In fact, a wonderful vintage vibe is created by these rich yet delicate colors, and shades of gold and champagne are the perfect transitional hues that lead the eye from the pinks to the browns. A truffle cake, a macaroon topiary and apothecary jars filled with flowers are other design highlights. [table by Eclat Event Design; photo by Nancy Aidee Photography via Araya Artisan Chocolate]
While a table that is perfectly color coordinated is undeniably alluring, we at Decoist are also drawn to party tables that eclectically mix elements such as colorful desserts, earth-toned nibbles and radiant fresh fruit. Yes, we're talking about the Colorful Chevron Dessert Table below! Created for the birthday party of two siblings, this amazing spread features eye-catching goodies like a cake and wrapped chocolate bars, both decorated with designs inspired by the chevron pattern and Aztec prints. Check out all of the details at Sweet Designs. [party designed by Frame & Bow]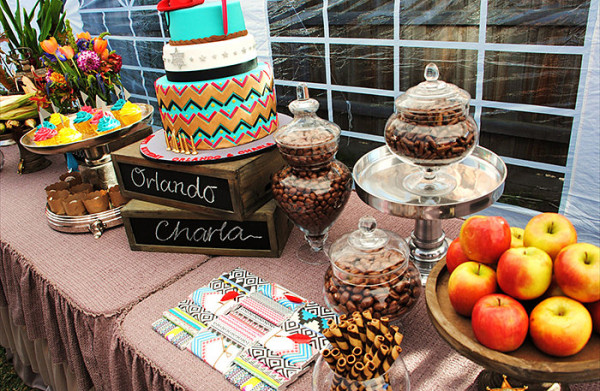 Delicious Bites
While grand displays of decadence are clearly amazing, we can't forget about the joy of a delicious, beautifully styled dish, especially when everything, from tablecloth to utensils, has been carefully laid out. This gorgeous photo from Canelle et Vanille includes fresh tomatoes, as well as an assortment of gingham and pastel accents, including refreshing aqua plates…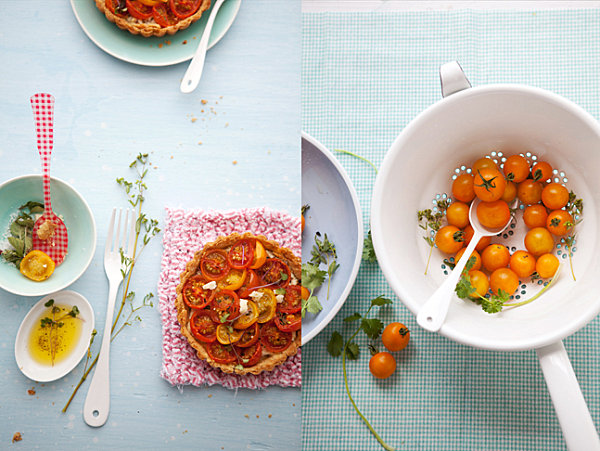 Speaking of beautiful styling, if you're into food and design, you can't miss the blog of visual multi-disciplinary designer, prop stylist and photographer Dietlind Wolf! Below we see fresh radishes and assorted greens displayed on dish, napkin and tablecloth in shades of lavender, robin's egg blue and soft pink. Sometimes the key to letting the food speak for itself is knowing just how to offset it. Talk about creating a picture with edibles and color!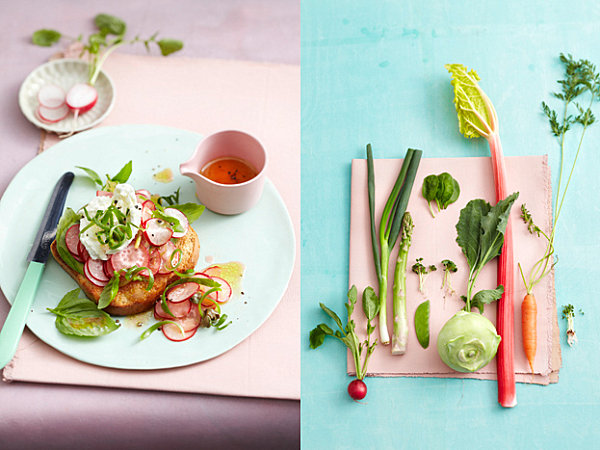 Feeling like a fiesta? Check out the black bean tacos with mango and avocado salsa shown in the next featured image. In this display from Love and Lemons, the yellow-orange hue of the mangoes pops against a tablecloth of hot pink papel picado, cut into festive designs. Can you imagine how amazing the drinks look when garnished by the paisley pink umbrellas below?…
Design-Worthy Desserts
We finish with a series of designer desserts that are sure to end the night on a sweet note. We couldn't resist the image and recipe below from Camille Styles, which uses tabletop pieces, texture and color to create a treat that may as well be a work of art. This layered chocolate and lavender-vanilla bean panna cotta is captivating precisely because of its layers, as well as the purple hue achieved by a whipped cream that's colored with culinary lavender. Got lavender napkins or plates? Even better! Check out the full recipe at CamilleStyles.com.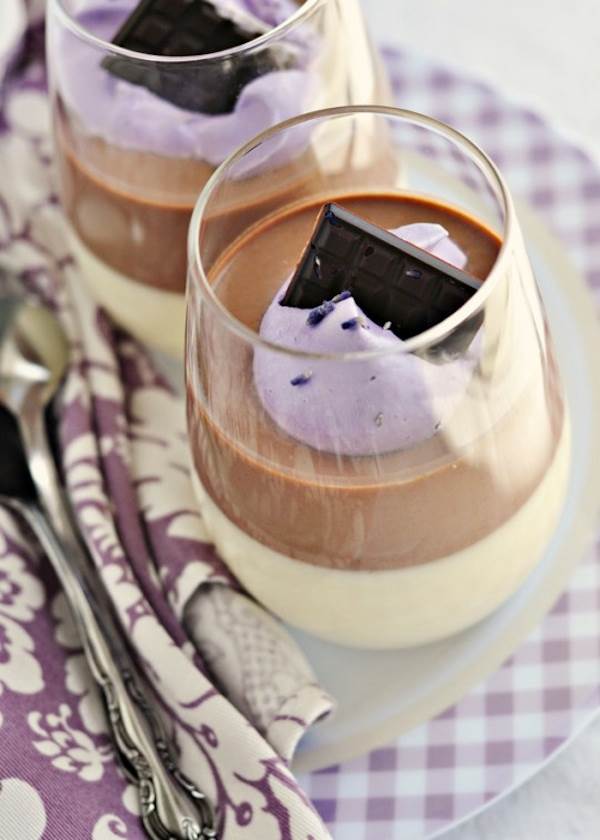 Next we have a DIY project that will add a whimsical, industrial twist to your next dessert spread. It's a Cupcake Stand DIY project from Lowe's, created with satin nickel cup pulls, among other supplies (such as spray paint in an avocado hue). We're loving how the green of the stand plays off the pinks and reds of the sweets. Perfect for pastel treats!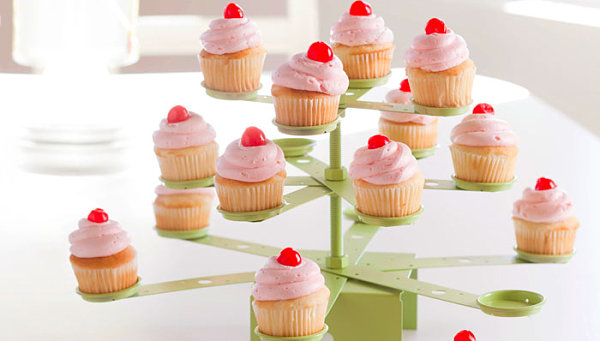 Are you a fan of Mid-Century modern design? So are we! And so is Soiree, a wedding and event coordination company that created the Mid-Century Modern Dinner Party below. The delicious frozen treats below are beautifully accented by retro-style bands that surround each small glass. An abundance of rich wooden tones also set a vintage tone. [image by Andrea Hubbell Photography via Modern Mindy]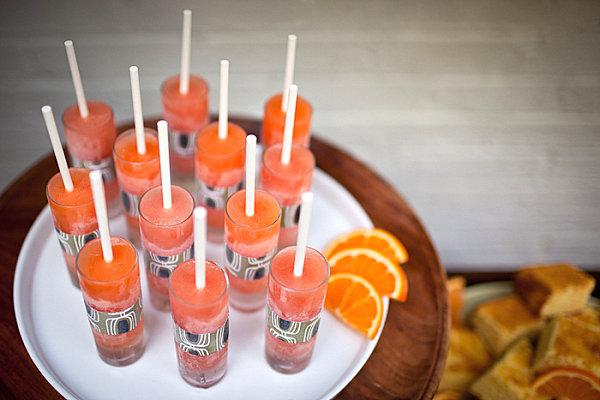 Did you enjoy a taste of foodie fun?! Tell us about your summer entertaining plans. Is there a housewarming party in store for you? Are you hosting a special event for a friend or a loved one? Which of the images above inspired you in your entertaining endeavors? We'd love to hear from you! Share your thoughts by leaving a comment below…