Have you opened your pantry lately? If not, is it because you're afraid of what you'll find when you take a good look? If you need help in the food storage and organization department, there's no need to fear. Nowadays stylish food storage is easier to find than you might think! Maybe it's because I'm moving in a couple of weeks, but lately all I can think about is storage for my new place. Sleek, clean-lined storage that gives a space a fresh and tidy feel. After all, there's nothing like a well-organized countertop or pantry! [from Crate & Barrel]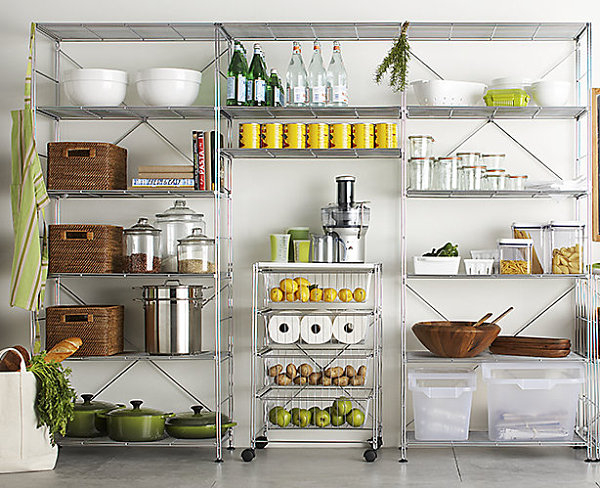 Today we showcase a wide range of modern food storage options. We're not talking about ornate containers that add a fancy element to the room. No, we're talking about pieces that are as practical as they are eye-catching. And the reason they're eye-catching is because of their function as well as their style! In fact, some of the containers featured below are basic, classic designs that are memorable precisely because of their simplicity. If you have a modern kitchen, this post is for you! Enjoy browsing the selections below…
Clear Food Storage Containers
We begin with clear food storage containers that show their contents precisely because of their translucency. Like this Set of 12 Storage Bowls with Clear Lids from Crate & Barrel. Not only are the lids are BPA-free, these pieces are stackable and portable, making them great for leftovers and other ingredients: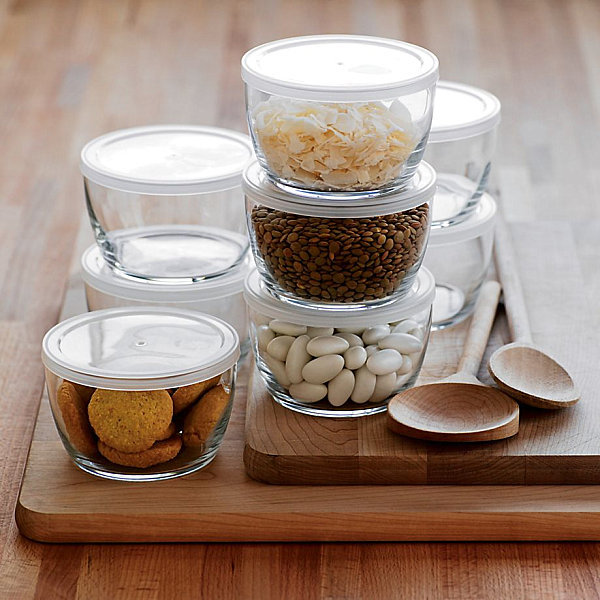 Clear containers come in all shapes and sizes and are valued for their ability to show their contents. While glass is the material of choice (since plastic can leach chemicals), the material of the lid varies. These Wood + Glass Storage Jars from West Elm have lime-washed wood tops. Made in Thailand, they are ideal for items like sugar, flour, nuts and sweets. Their tall, narrow form gives them a unique shape that makes them display-worthy as well as stylish!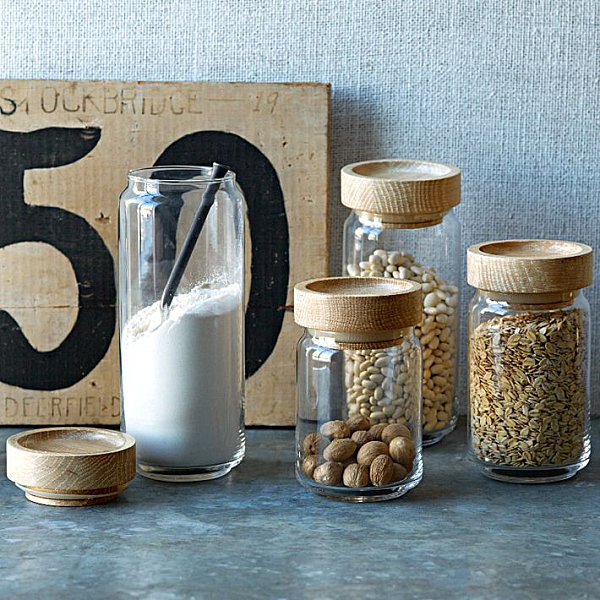 Metal lids can look modern, as well as retro! These Glass Canisters from Williams-Sonoma are crafted of thick hand-blown glass and stainless steel. They are airtight, and thanks to a wide opening, the inside contents are easy to retrieve. As the image below reveals, they have a fun vintage vibe that can't be denied…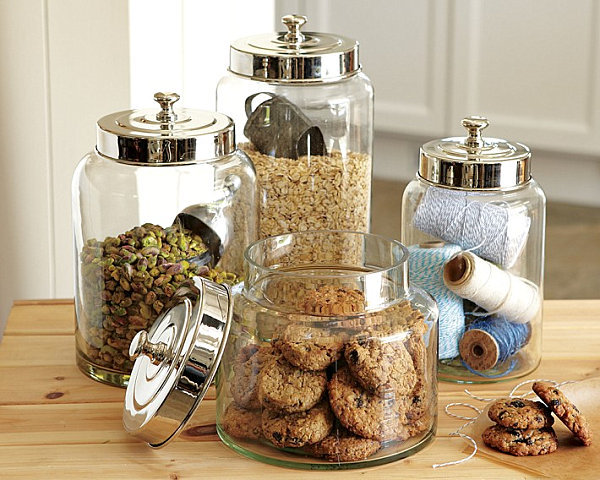 Sometimes an all-glass construction is just what you need. There's power in the consistency of materials, as well as the clean look that results. These Heritage Hill Glass Jars with Lids from Crate & Barrel utilize a design that has been in production since the '40s. Not only can they be used to serve beverages (especially at parties and gatherings), they are available in a variety of sizes for all of your food storage needs…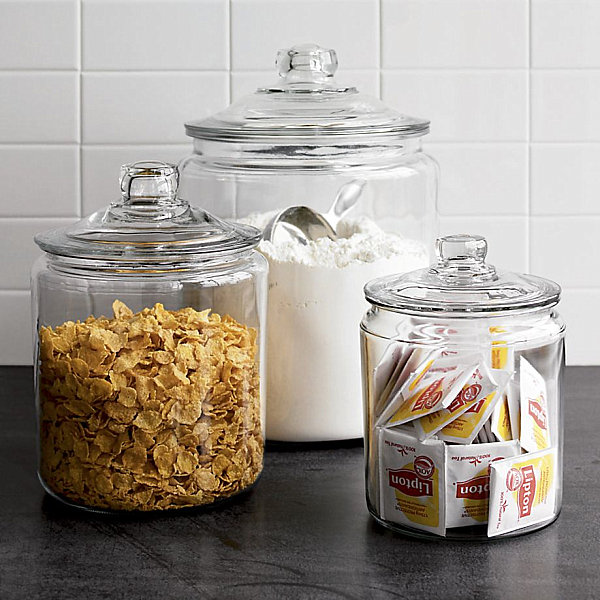 What do you get when you combine an all-glass form with a little help from a metal locking lever and a rubber ring? An airtight seal! We love the classic design of the Le Parfait Terrine Canning Jars from Sur La Table. Perfect for food preservation due to a mounted lid and secure closure, they are also great for storing everyday ingredients. Did we mention that they make great containers for foodie gifts?…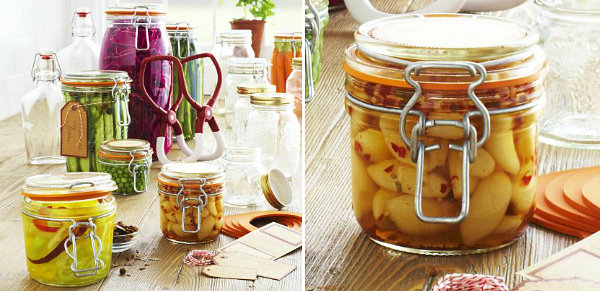 Opaque Food Storage Containers
We now move on to food storage containers that stylishly hide their contents and bring a dose of color to your space. These White Enamel Canisters from West Elm have a retro modern look, thanks to a construction of powder-coated stainless steel. They are easy to clean, and they are great for items like utensils (and other odds and ends in the kitchen)!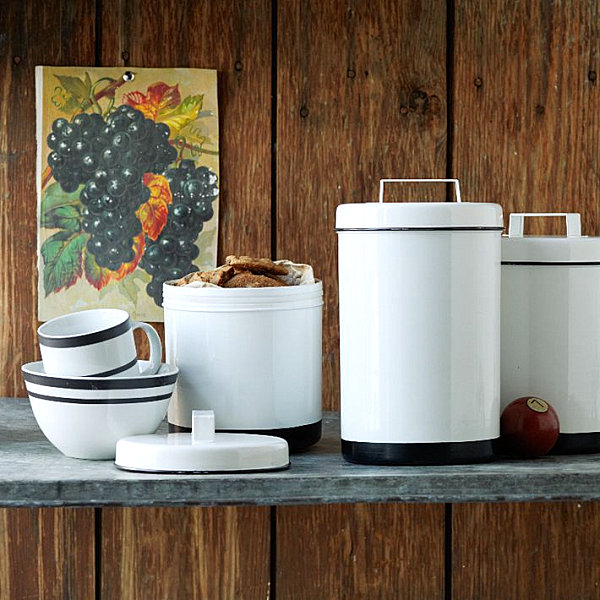 Oh, how we love the cherry red color and classic style of the Le Creuset Enameled Stoneware Canisters from Williams-Sonoma… Yes, they feature Le Creuset's famous nonporous, stain-resistant and crack-resistant enamel! They are perfect great for dry goods of all types, thanks to their availability in small, medium and large. Buy them individually or in a set of three!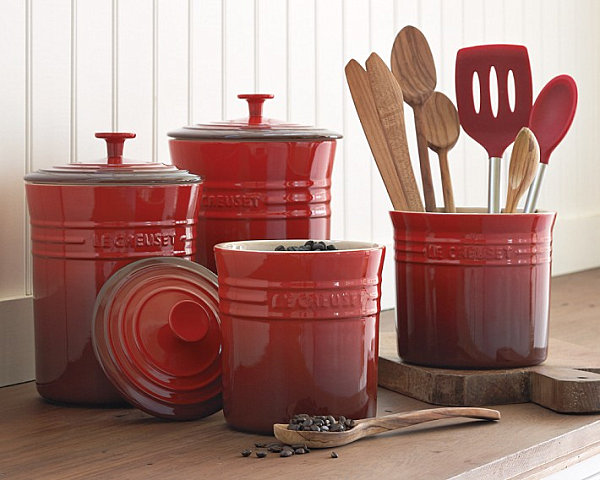 The Dipped Canisters below feature a cocoa design that shows off the curves of each piece! Thanks to a background of ivory, a striking contrast is created on this glazed stoneware. Throw in some cork lids, and you have containers that are ideal for dry goods, as well as perfect for adding an element of good design to your kitchen! [from West Elm]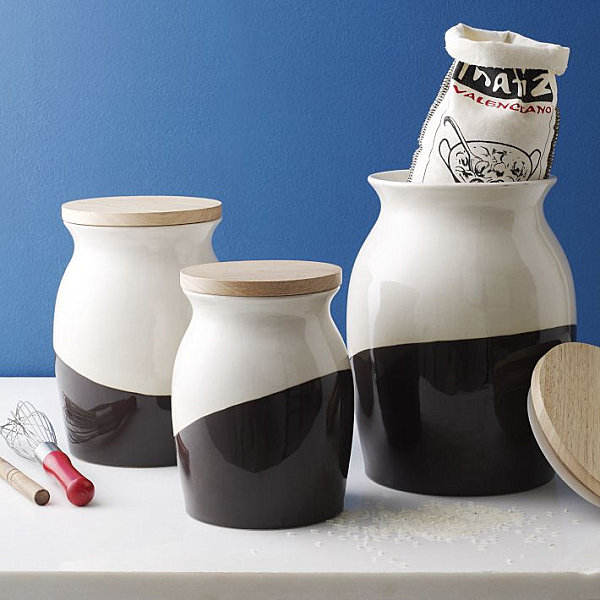 Why not dial the organization up a notch and throw in some labels? The result is a look that is stylish, modern, and even a tad industrial! These Labeled Kitchen Storage Containers from West Elm are crafted of porcelain with a cream glaze finish. Like many of the stylish receptacles featured in today's post, they come in small, medium and large sizes for your convenience…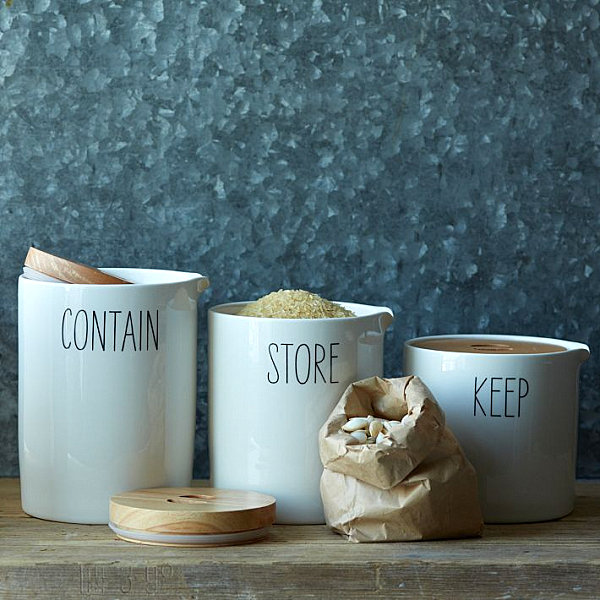 Which food storage option above is your favorite? Do you prefer a container that you can see through, or one that stylishly hides its contents? Share your thoughts by leaving a comment below…