It's pantry time! Why is this area of the home always the last to get organized? Maybe it's because people assume it won't be as much fun to arrange and adjust. All of that changes today! We've rounded up the best pantry design ideas we could find as inspiration. But first things first. Begin by cleaning out your pantry. Toss items that are no longer edible, and move newer foods to the back so the older stash is eaten before it expires.
Now it's time for the fun! Is your pantry in need of a complete redo? Whether you're looking to totally redesign this storage area of the home or you're simply searching for a way to organize it, use the tips below to get started. And remember, even the pantry can be aesthetically pleasing!
Be Realistic
Does your pantry look like the one below? Neither does ours… While you may not have enough space to display your food artfully, you can take a hint from this pic and strive for a general sense of tidiness! Let's call it realistic tidiness. Read on for more tips… [from Daily Clutter]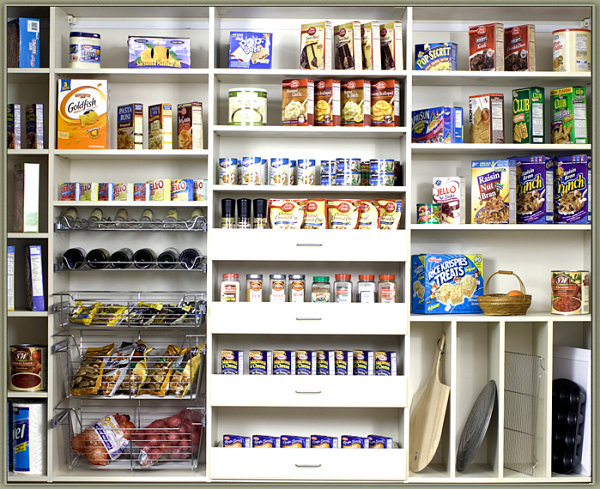 Consider Pantry Visibility
Start by assessing your space. Is your pantry an open one? Can the contents be viewed from the kitchen? If so, you may need to take special care in making your arrangement of edibles pleasing to the eye. [from California Closets]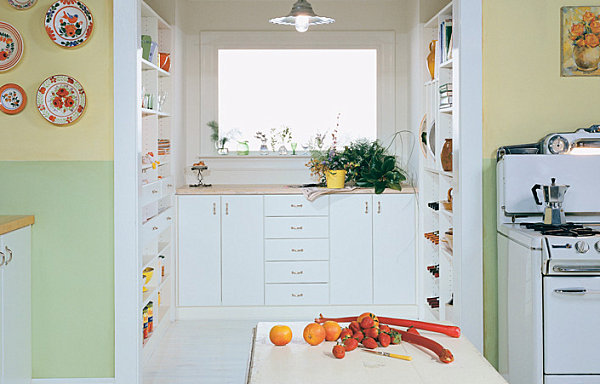 If your pantry is behind closed doors, you have a little more leeway, as clutter won't be as easily noticed. [from Turan Designs via Houzz]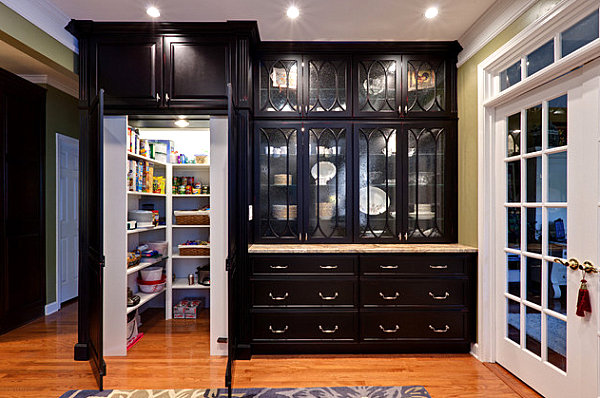 It's All About the Shelving System
To maximize your storage space, consider investing in a good shelving system, especially if your pantry doesn't already have functional built-in shelves. Some people prefer to have custom shelving built. Others take a more DIY approach. For example, many companies, such as elfa, specialize in adjustable shelving that can easily conform to your space. For example, the White elfa Walk-In Pantry features ventilated shelves and handy baskets. Install it yourself! [from The Container Store]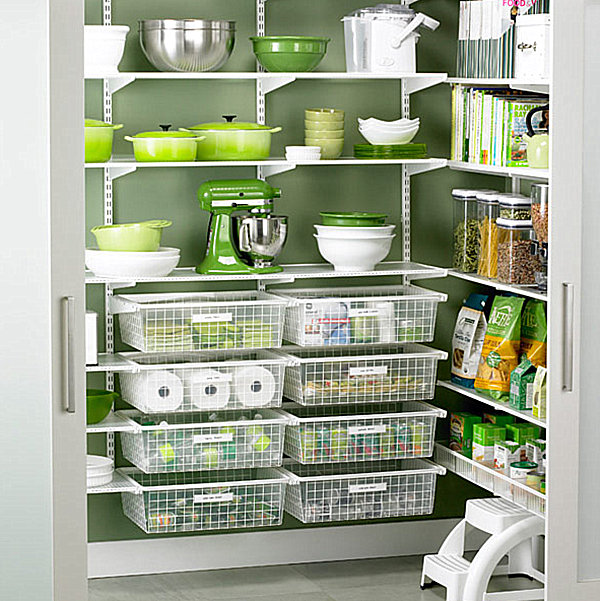 Below we see a similar shelving system, this time with a touch of wooden flair. The Driftwood & White elfa Walk-In Pantry includes wire baskets that serve as drawers. [from The Container Store]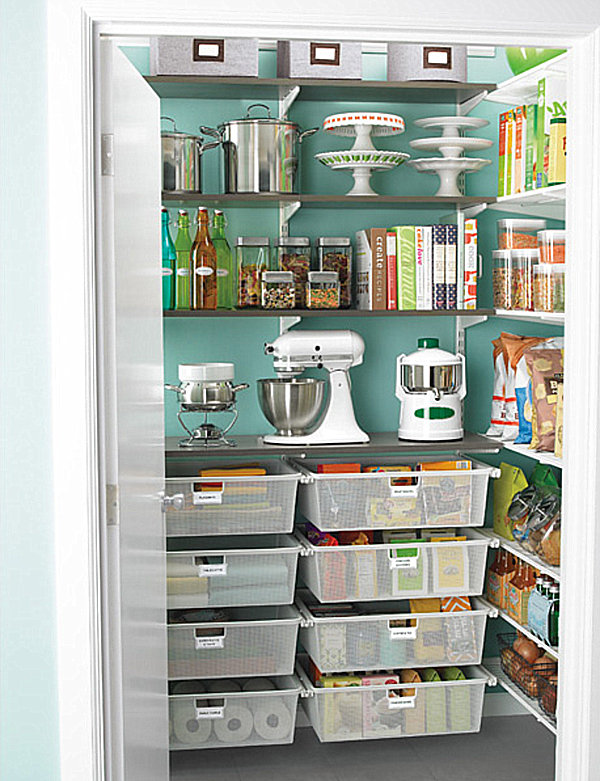 Variety Is Key
Variety is key when it comes to shelving. Aim for a range of shelf sizes, and remember that many first-rate shelving systems incorporate drawers. If seeing the contents of the drawer is important to you, go for wire baskets or similar options that provide visibility. [from Elite Closets]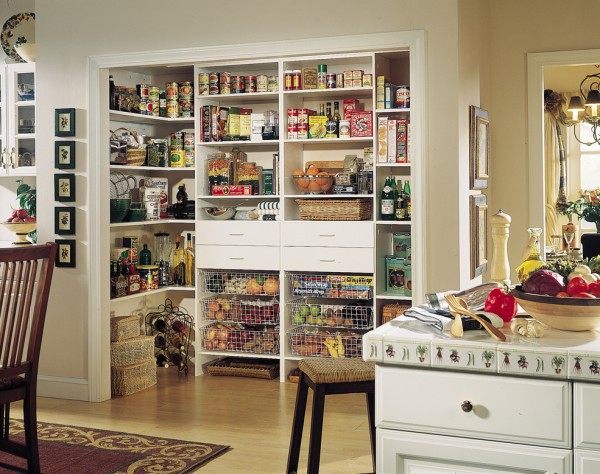 Pantry variety also means storing a range of items. Don't forget to make room for the wine! The White Reach-In Pantry below has a built-in wine rack, as well as a place to stash trays and baking sheets. Containing these items in the pantry frees up room in cabinets and on counter tops. [from Todd Adler Construction]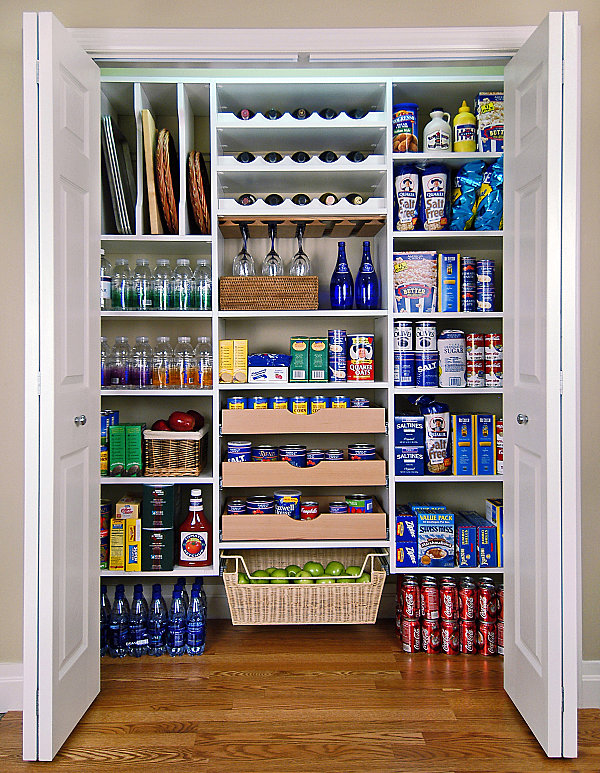 Accommodate canned goods and spices with compact shelving, like the wall-mounted side rack below. Handy storage for smaller containers ensures that petite bottles and jars don't get lost behind larger food items. [from Elite Closets]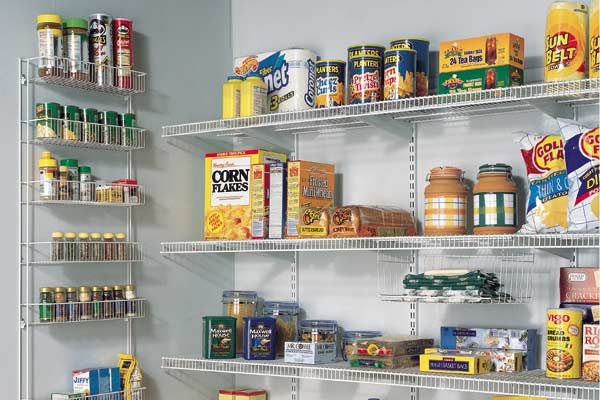 Be True to Your Style
Yes, the pantry can make a stylish statement! If standard wire shelving isn't your thing, explore other options. Like metal drawers with horizontal bars. Note how the silver tone of the metal below blends with the drawer pulls and the overall fresh, clean-lined feel of the space. [from Elite Closets]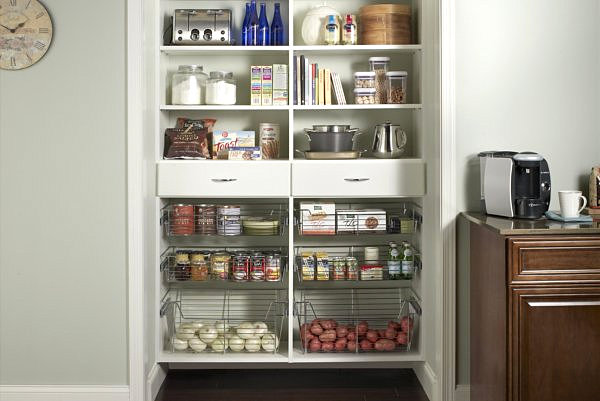 Utilize Every Inch of Space
When room is tight, you have to get creative! Mount shelving on the back of the pantry door. Narrow items such as bottles of dressing and sauce are easily contained by compact shelves. [from Shelterness]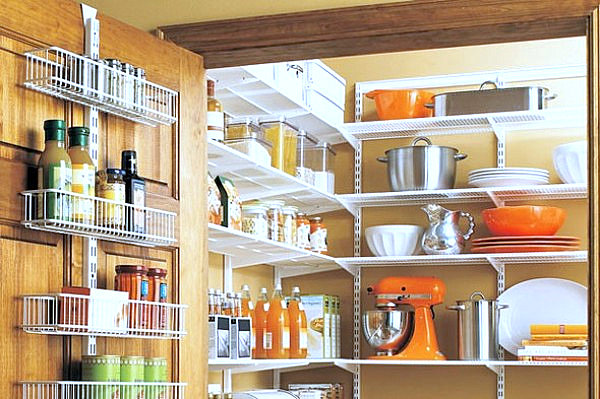 Decorate, Decorate, Decorate
Who says you can't decorate a pantry?! Paint the walls. Wallpaper. Add a pendant light. Why shouldn't food storage be fun? Beautifying the space will encourage you to keep it tidy. [from Houzz and Charmean Neithart Interiors]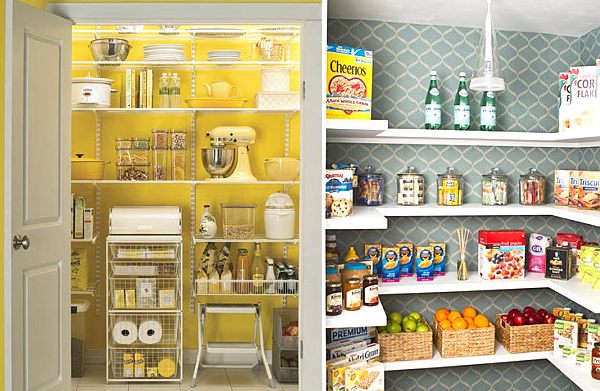 View storage containers and labels as a chance to accessorize! For example, Diane of In My Own Style transformed a coat closet into a pantry, decking it out with neatly appointed baskets and canisters. Some of the decorative touches can be viewed below: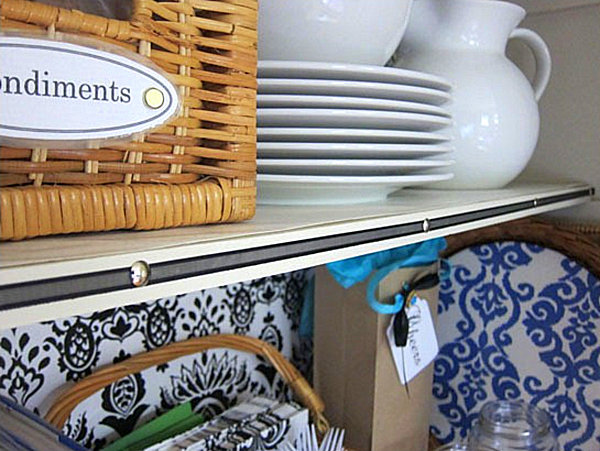 Do you have a pantry system that works well for you? Leave a comment below and let us know how you store and organize your food products. Do you keep items such as wine, trays and other small appliances in the pantry, or is it strictly for food? Which of the ideas above is your favorite? Happy organizing!