Who says that a home office must be all work and no play?! Quite the contrary! In fact, when it comes to home office spaces, the most memorable of these rooms inject a dose of creativity, reflecting the personalities of their occupants. From colorful spaces that demand a second look to elegant modern rooms that are as chic as they are practical, today's featured interiors are sure to make an impression!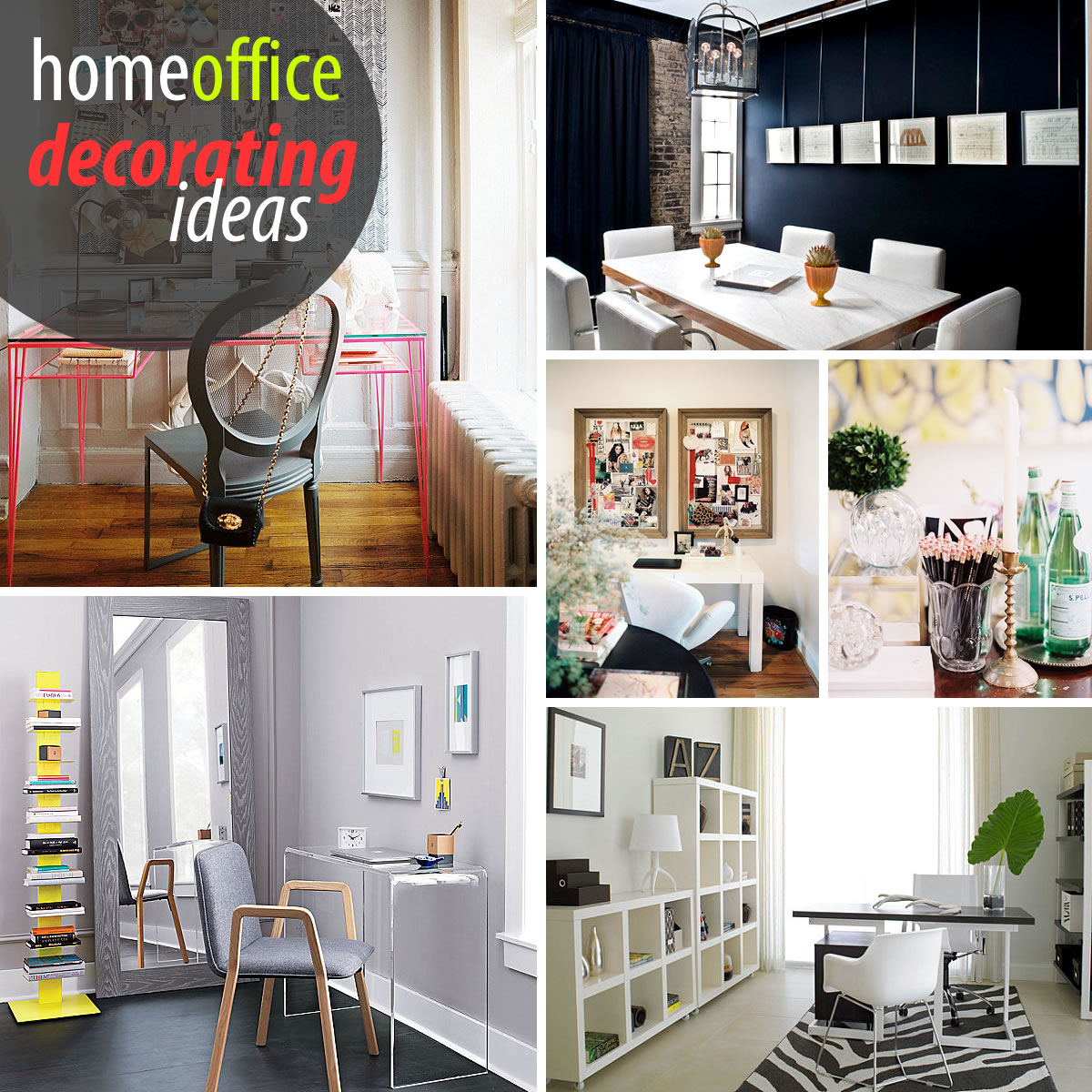 We've packed this post with decorating ideas for your home office–as you browse the images below, note the details big and small. Sometimes that one interesting touch in the background can be the catalyst for your next design project. Also pay attention to the way that you work best at home. If you're the creative type, chances are you need a space that helps you focus yet one that inspires you. What better way to motivate than by surrounding yourself with good design?…
Colorful Touches
We begin with a series of colorful spaces that put the "pow" in "powerful." Why shouldn't your home office have a hefty dose of vibrancy? It will stimulate your creativity and keep you on your toes… Check out the colorful plastic chairs in our first featured office. We might try and argue that they steal the show in this space, but then we would be ignoring those fabulous lattice bookshelves filled with colorful reading material… [from Imagine Living]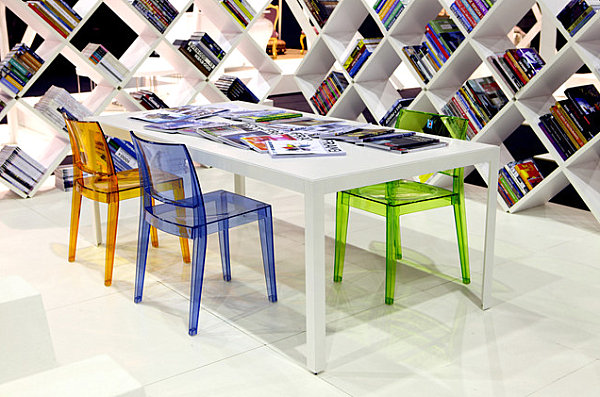 Neutrals such as black and white are the perfect background for radiant pops of color, such as the neon pink desk below. Try waking up your space with a couple of strong statements and watch as the room takes on a life of its own. [from Lonny]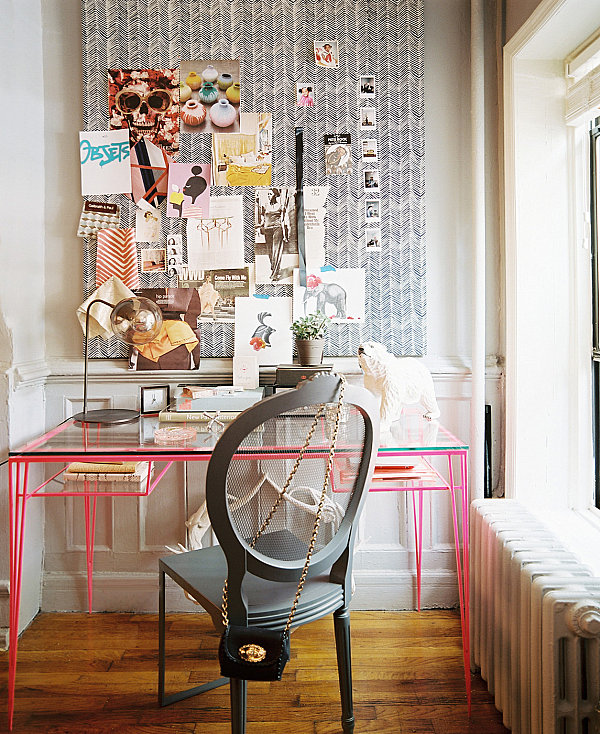 Speaking of hefty doses of color, check out the vibrant bookshelf and bright artwork in the office below… Not only does this image show off the plexi form of the Peekaboo Clear Console from CB2 (shown here as a desk), it's a testament to the power of gray as a stylish backdrop to bright shades like yellow and blue.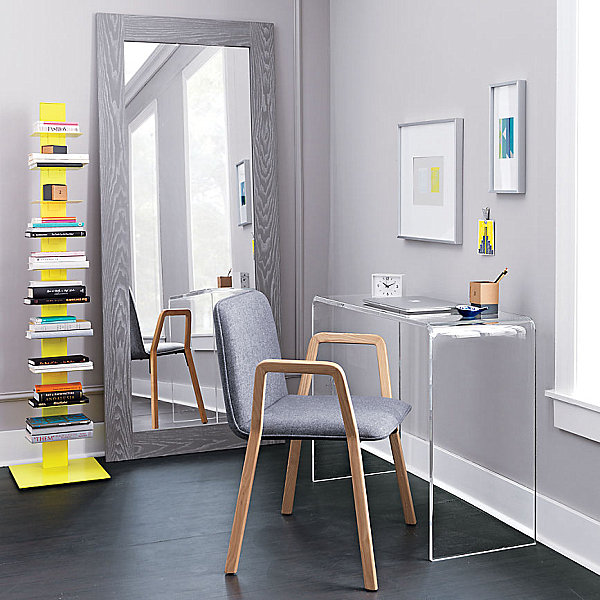 We're loving the vibrant framed bulletin boards in this next home office designed by Nicole Lanteri. In fact, they are a clever way to "frame" this space in a fiery shade of orange, don't you think?! [from On My Agenda]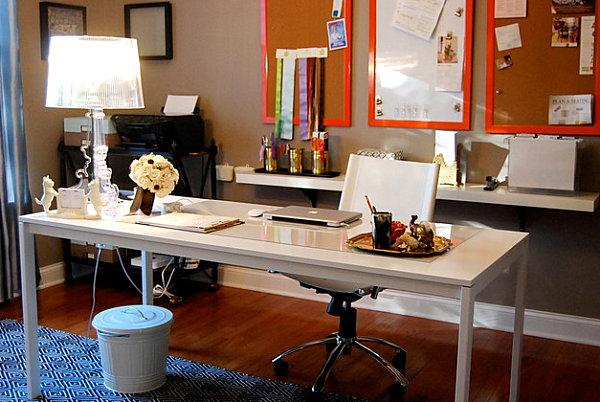 A little inspiration goes a long way! In fact, the inspiration boards below are the perfect way to fill the mind with imagery and ignite the creative spark. What type of work do you use your home office space for? Why not gather a little bit of fuel for the fire by surrounding yourself with images that keep you focused and energized? Especially if they're colorful… [from Lonny]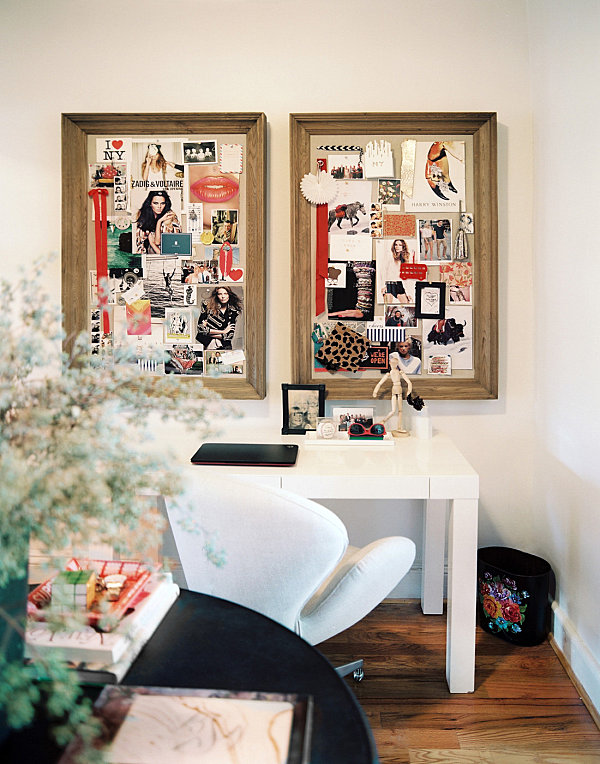 Or you could put a colorful exclamation point on your space with the help of a vivid rug! The image below showcases the Tesso Desk from CB2 with all of its sleek chrome-plated steel. Now back to that rug… Not only does it tie the various elements of this eclectic space together, it sets the stage for other vibrant accents like an orange desk chair and bench.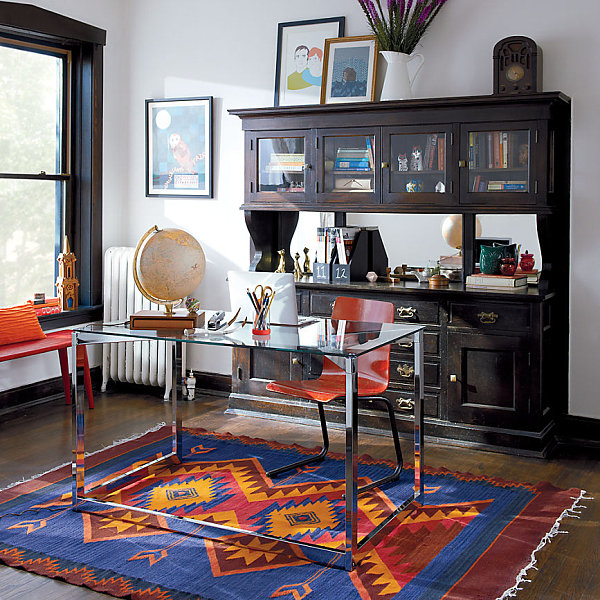 Modern Escapes
Sometimes you just want to get away from it all… And believe it or not, elevating your home office to a tier of chic sophistication can actually empower you to do your best work. Not only will you rise to the occasion, you just might find a new level of focus. [from Causa Design Group]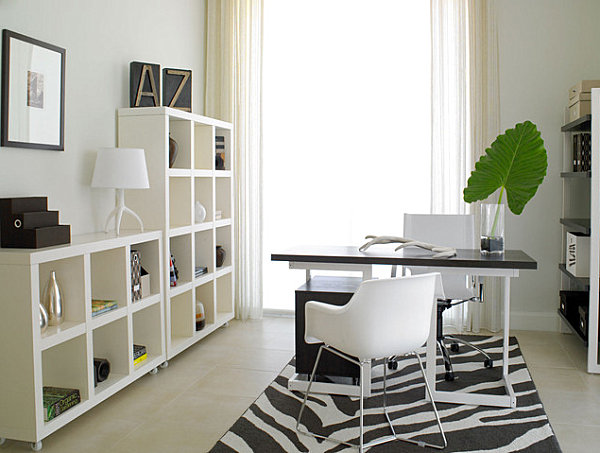 Some people prefer filling their home offices with an assortment of interesting finds. In fact, the sleek eclectic space below from Dominic Fusco Studios has been recognized for its innovative design. And it exemplifies layered style at its finest. From the modern sculptural wall art to the floral painting and vivid hues, this office is a showroom in itself.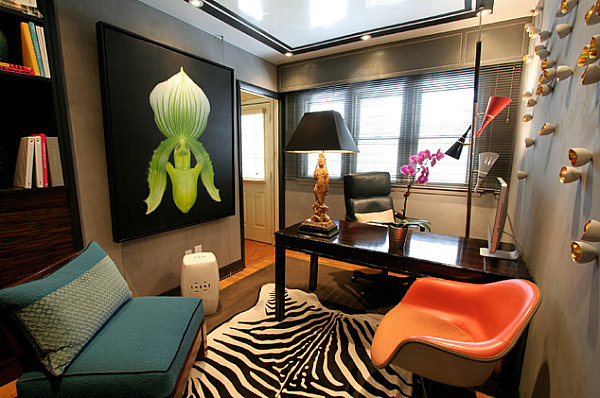 There's nothing like the glow of glossy cabinetry. In fact, the shelving, compartments and built-in desks below add modern flair to this room. Modern flair with a slew of interesting touches, that is! Thanks to the clever use of wall space, clutter is kept to a minimum. Which is perfect, since there's a tile floor to show off! [from LS Interiors Group]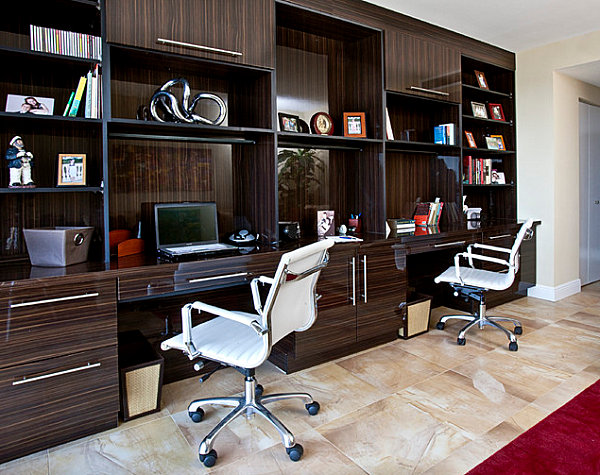 What do you get when you combine chrome, reflective surfaces and Mid-Century Modern style in a display of elegance? A home office that is rich in both function and modern eclectic flair. Not to mention, a tranquil space that that soothes and inspires… [from Lonny]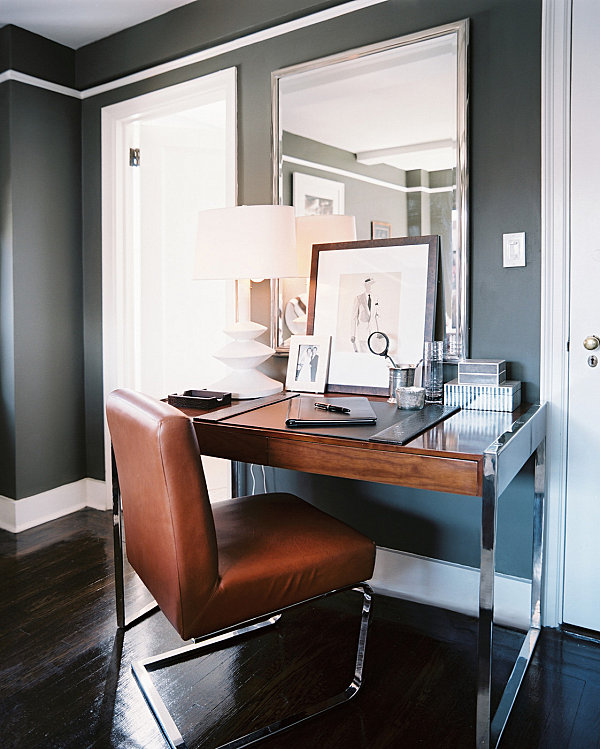 Unique Details
We now take a moment to showcase a collection of office spaces that incorporate unique details in a creative way. Sometimes it's the little things that make a big difference. In the image below, we see glass orbs, bottled water, a weathered candlestick, topiary-style greenery and a container of black pencils. Note how combining the practical with the decorative in a clever way equals design perfection. [from Lonny]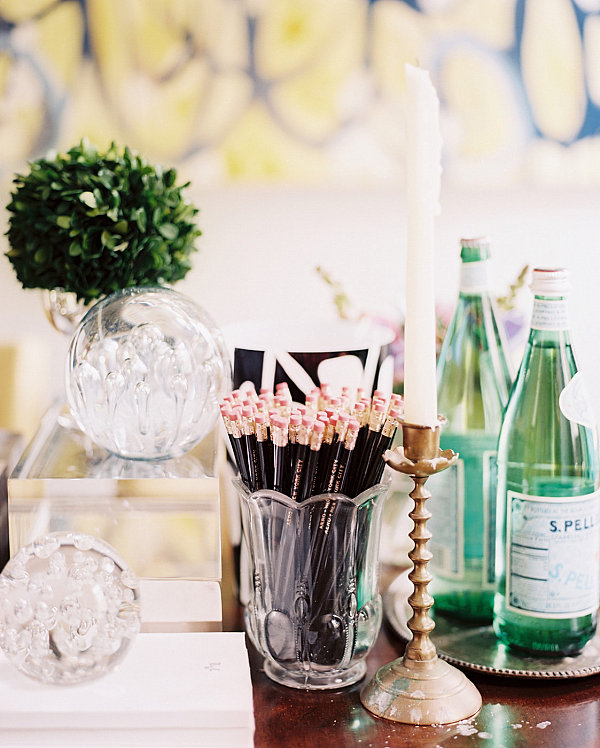 Speaking of design perfection, it's hard to know what to admire first when it comes to the home office below. Is it the pendant lighting that resembles a whimsical sea creature? Is it the sculpture of the human form that rests on the corner of the desk? Perhaps it's the cushy ottoman/seating that creates the perfect "thinking corner." Throw in modern artwork and desk chairs, and it's clear that every detail was given careful consideration in this cleverly designed space. [from Ted Maines Interiors]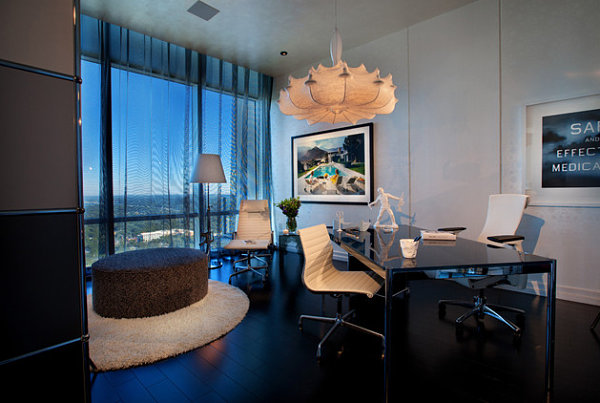 When you look at the space below, you may first notice the interesting greenery that rests in mustard-toned compotes, or perhaps you're drawn to the deep, rich color of the walls and curtains. But if you look a little closer, you may discover that the table is adorned with Carrara marble, a truly unique choice for an office. And we'll let you in on a little secret: the walls are upholstered in menswear fabric! [from Kenneth Brown Design]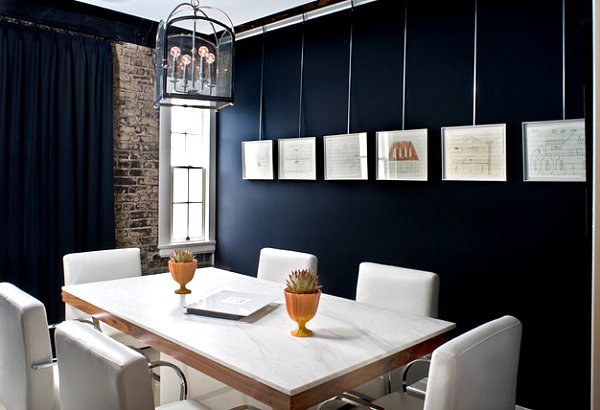 The friendly, modern office in the next featured image is actually a family space. We're loving the pops of vintage-y aqua that grace the room on details from wall calender to retro-style seating. Metal task lamps and a dark drum pendant light are other highlights of the space. [from Residents Understood]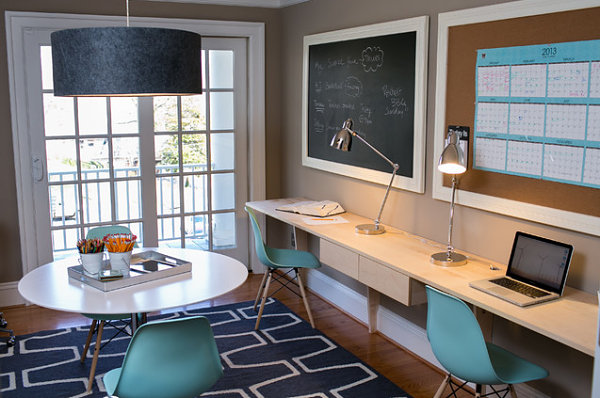 We couldn't discuss unique work spaces without profiling the office of designer Jamie Mears. A disco ball hangs from the ceiling, a geometric mural graces the wall, and interesting artwork can be found throughout the room. Not to mention, we're loving the mix of patterns. And the return of teal, of course! [from Lonny]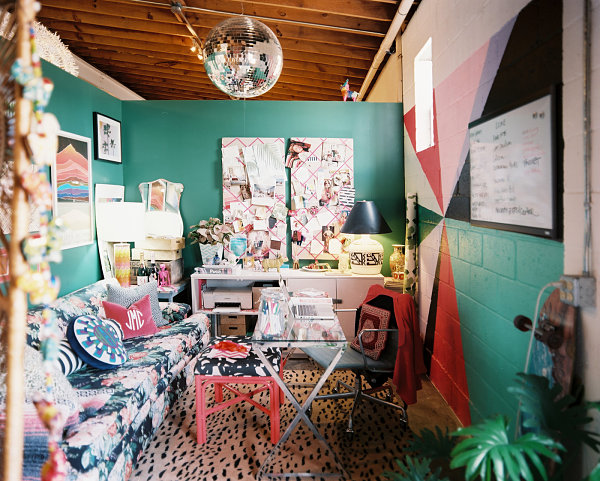 Industrial Spaces
We end with a trio of industrial spaces that bring the minimalist style home. Check out the hanging bulb-style lights below, which have an artistic appearance when showcased in front of their dark background. A rusted metal letter adds an interesting touch, along with a walnut and white marble desk. That's the second featured office space that includes a white marble desk–a new trend, perhaps?… [from Ben Hanisch]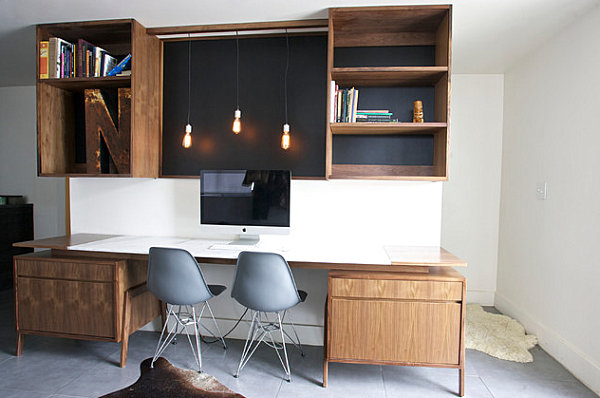 Check out the Go-Cart Carbon Console Table from CB2, shown below. Throw in a metal file cabinet and a few colorful touches, and you have a truly interesting vignette that celebrates vintage industrial office style with a modern twist: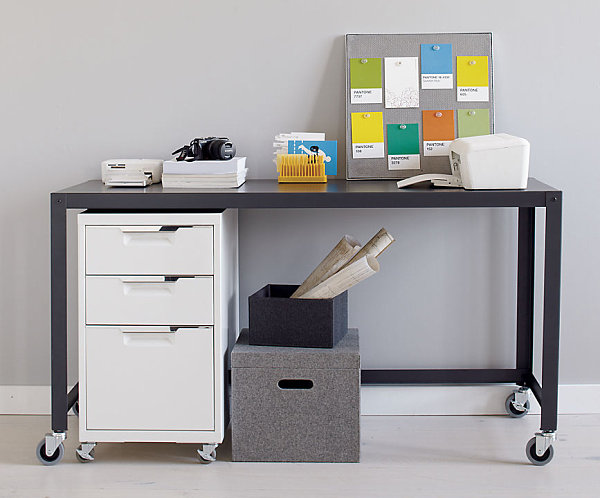 Ready to see a home office that makes a grand statement?! High ceilings, wooden architectural details and white accents create a light and airy feel, while industrial touches like tasks lamps and metallic swivel chairs ground the space. [from CSS Architecture]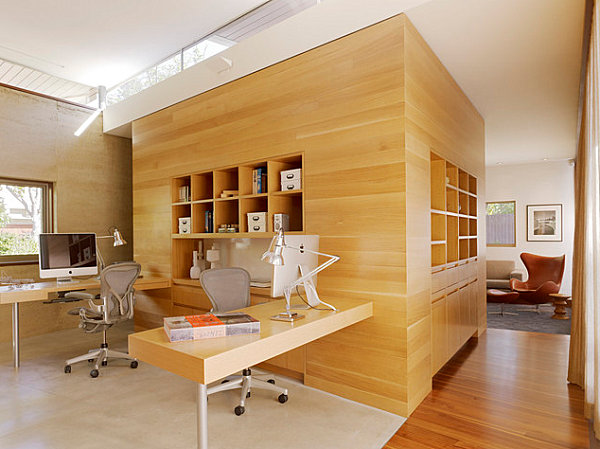 Do you have a home office that inspires you to do your best work? What special details and unique touches make this space memorable? Share your thoughts and ideas by leaving a comment below…