Sapphire blue, amethyst purple, emerald green and ruby red… These are four amazing jewel tones that make the perfect backdrop to a decadent bedroom. And just what makes a bedroom decadent? Those little indulgent touches that are completely unnecessary. But perfectly luxurious! What's interesting about decadent bedrooms featuring jewel tones is the range of accent colors and decorative touches that complete the space.
As you browse the images below, note how the details come together to create a room with a luxurious feel. Pay special attention to hues that complement the main jewel tones, as well as any artwork, textiles, lighting and collectibles that fill the space. Maybe you'll get a little jewel-toned inspiration of your own…
Sapphire Blue Bedrooms
We begin with sapphire blue, a shade than can range from vivid royal azure to deep midnight. In the space below, sapphire blue draperies and artwork pop against a lighter blue backdrop. What's wonderfully striking is the unexpected combination of sapphire and coral. It pays to be unique, doesn't it?! [from Blount Design]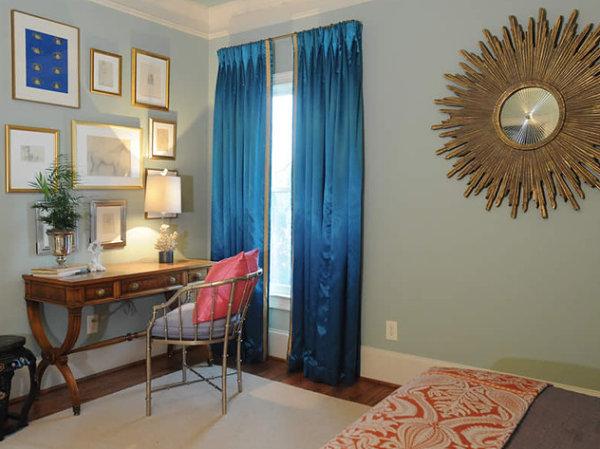 This next sapphire blue space also accents with orange. Sapphire pillows, draperies, a side table, and even the trim on the artwork combine to create an overall jewel-toned presence, while a rusty shade of orange enhances the room with a complementary color. [from Denise McGaha Interiors]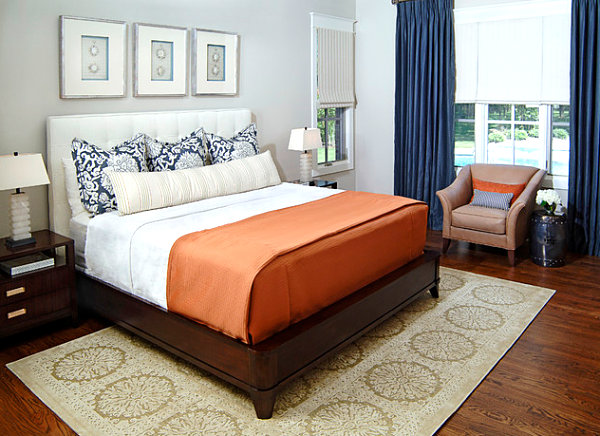 We're loving the deep midnight shade of the space below, as well as the way that bed pillows in the same hue help reinforce this decadent color. Other luxurious touches? A vase of orange flowers, artwork inspired by the sea, and shiny chrome lamps that add reflection to this crisp space. [from Martha O'Hara Interiors]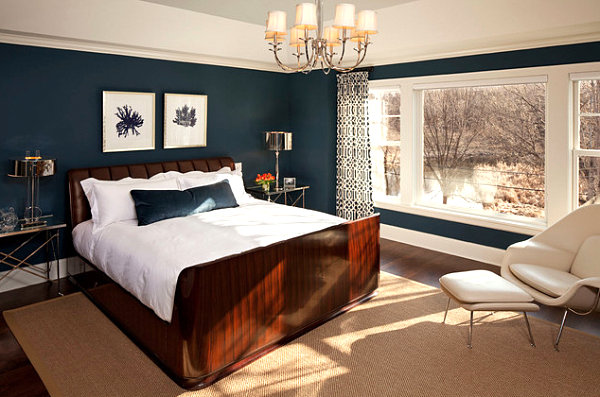 A Greek key pattern borders our next decadent room, which features a plush upholstered headboard and an ottoman in the deepest shade of sapphire. Note how bright golden yellow is the accent color of choice in this space by Tracy Murdock Design & Management: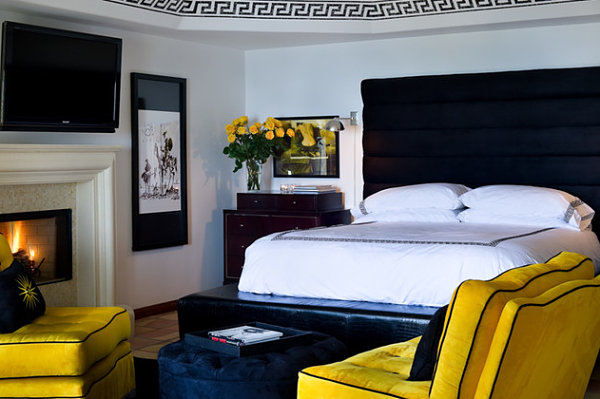 Amethyst Purple Bedrooms
Ready for some amethyst? Yes, purple isn't just for little girls' rooms! Amethyst is a royal color that can look lavender at times and even eggplant at others. Think about all the shades in an amethyst ring as the facets shine in the sunlight! Two more decadent touches: ornate wallpaper and a tufted upholstered headboard. The space below features both of them, as well as the clever use of charcoal gray as a rich accent color. [from Housetohome]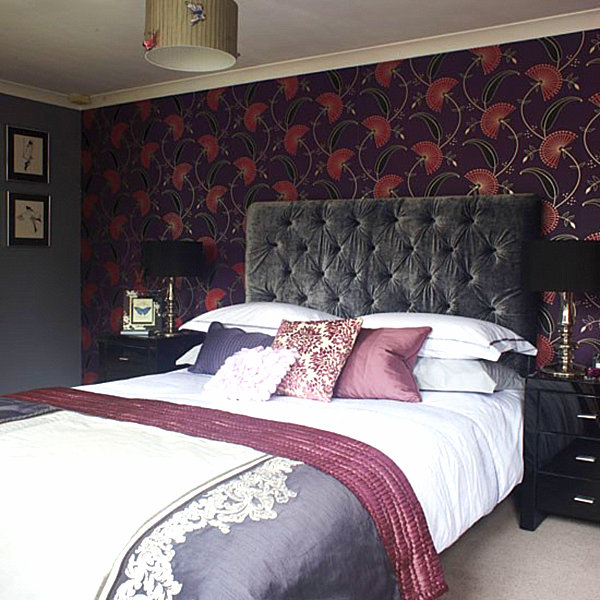 Speaking of gray, the next room is bathed in this hue, setting the backdrop for pops of purple on bedding and throw pillows. [from Fringe Design via Houzz]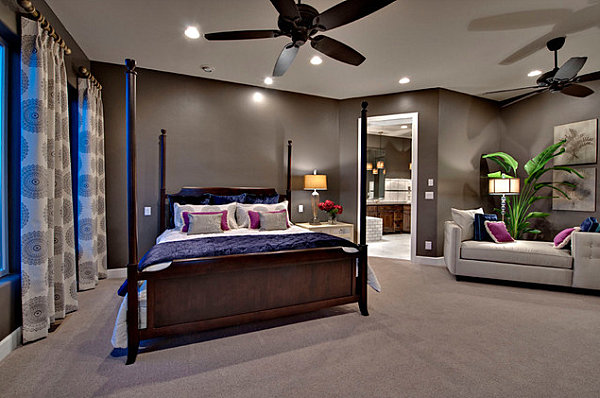 The lightest shades of amethyst can be found in the space below. A four-poster bed with interesting detailing and bedside lamps in a coppery hue are the perfect complements to the room's amethyst details. Once again, gray is present, this time in the form of draperies. [from Lonny]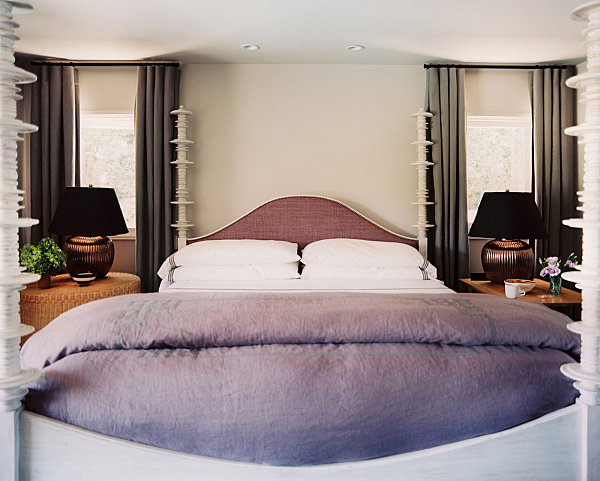 In this next "traditional meets eclectic" space, the lightest shade of lavender anchors the room, while pops of amethyst are dazzling against the soft hue of the walls. Note how the bedside lamps have jewel-like cuts that resemble the most beautiful of rings (or earrings, since there's a pair)! Soft draperies in a blue-gray take on aquamarine are a lovely counterpart to the purple shades that surround them. [from Lonny]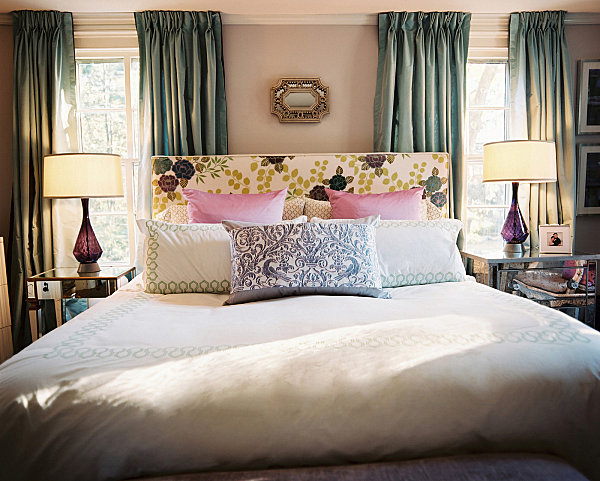 Emerald Green Bedrooms
We now shine the spotlight on emerald green, Pantone's 2013 Color of the Year. Ruby red accents, wallpaper on the ceiling, and Mid-Century modern-style wall sculptures are wonderfully unexpected details that add decadence to the room below. Ocean botanical artwork and a lamp that channels the swirls of a mineral are other unique details. [from Lonny]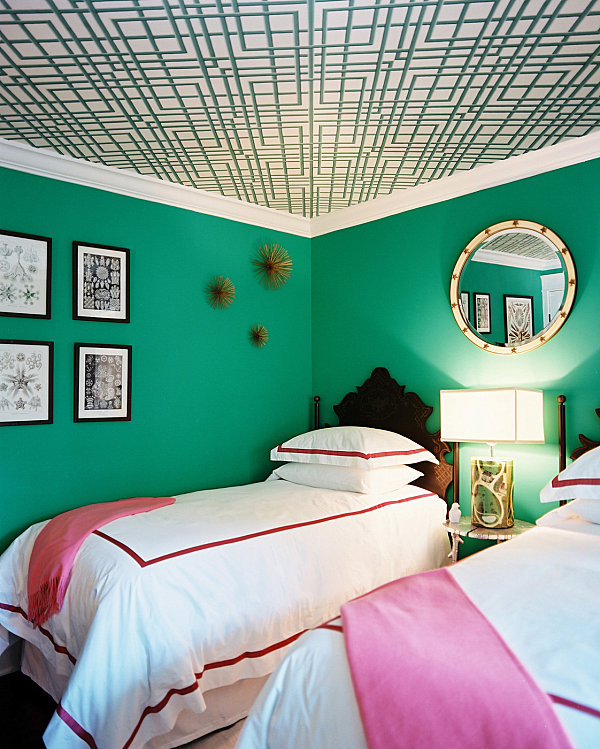 Emerald green walls + sapphire blue bedding + amethyst purple flowers = jewel-toned perfection! Check out the gorgeous space below… [from Bungalow 1a]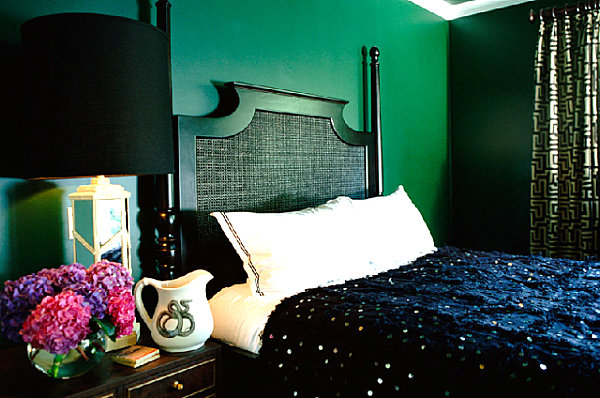 There's nothing like a couple of eye-catching pops of color in an elegant space, especially if they come in a shade of emerald green. Crisp, refreshing and decadent! Other special touches in this room include an ornate chandelier, lamps that appear to be Lucite, and a headboard that makes a bold statement. [from Edwin Pepper Interiors]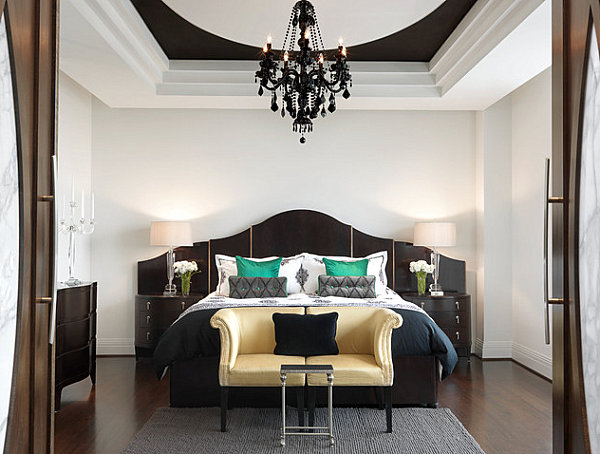 Sometimes there's decadence in simplicity, especially if each piece is carefully chosen. The emerald green guest room below includes a DIY headboard crafted from a mantel, as well as a collection of unique thrift store finds. Check out all of the details at Vintage Revivals: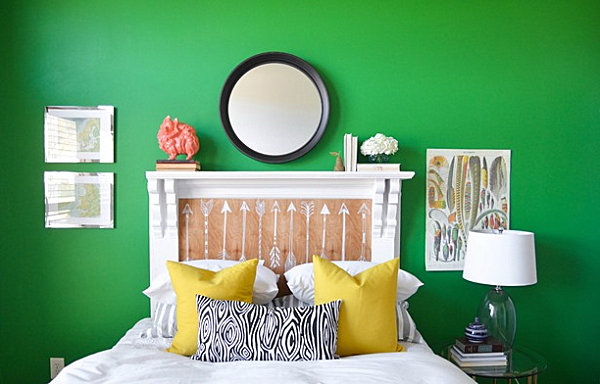 Ruby Red Bedrooms
We end with a series of rooms that feature rich ruby red tones, which can range from deep red to true red to a bold rosy shade that is sure to make a statement. In the French Hollywood Regency-style bedroom below, a tufted headboard in ruby sets the decadent tone for the entire space. [from Lonny]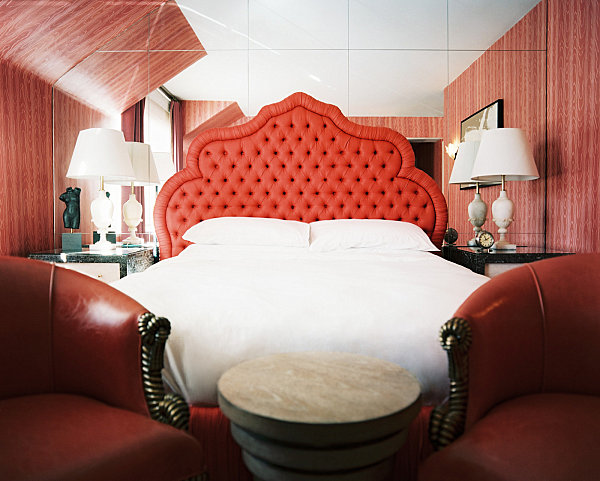 Inspired by old Hollywood, the ruby red and white space in the next featured image includes special touches like rich textiles, high-gloss white moldings and reflective surfaces. Add quilted walls, a patterned ceiling and a gleaming floor, and the ultimate in decadence is achieved. [from DKOR Interiors]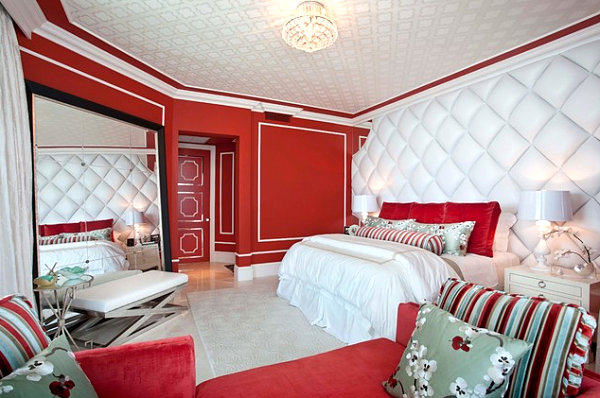 Hotel-style bedding in ruby red trim is the powerful pop of color that this cream and white space needs. An assortment of textures and light shades create a clean look in this space that incorporates simple modern details in a luxurious way. [from Lonny]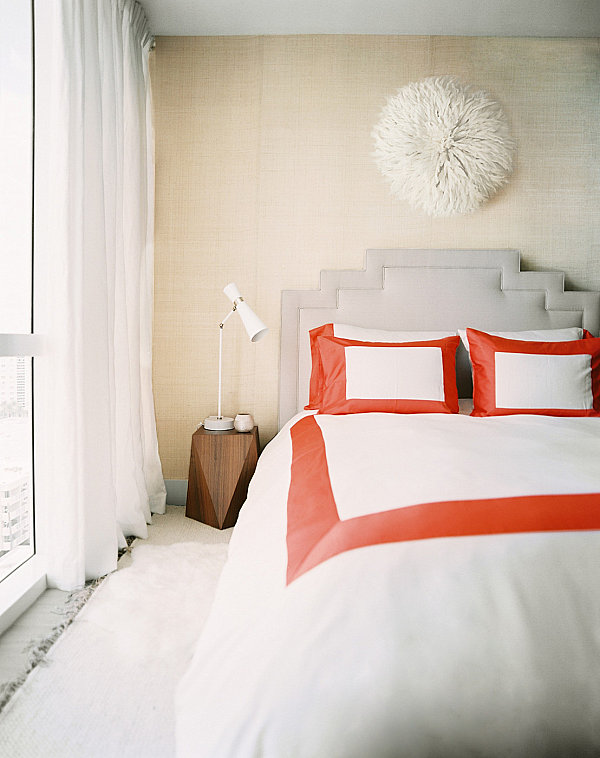 Love the ruby touches in the room below! Modern artwork features our color of choice, as does a bedside vase that shines like a jewel. Decadent accent pieces such as a bench in patterned upholstery and lamps that appear to be Lucite help to cement the decadent vibe. [from Denise McGaha Interiors]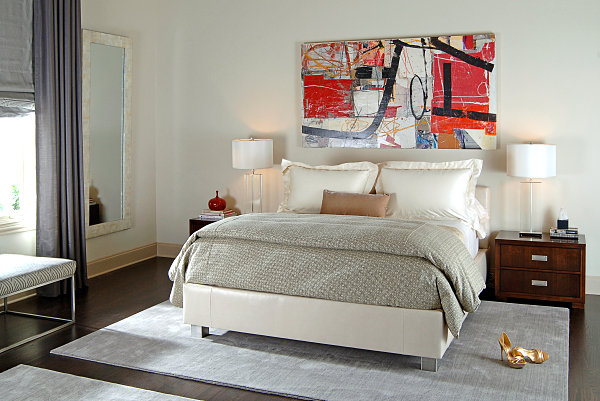 We end by showcasing the power of rosy ruby red in a teal space, another stellar jewel-toned combination. Note: teal works fabulously well in jewel-toned rooms. Check out the decor in this space by Lisa Sherry Interieurs! Interesting artwork, layered rugs and a tufted headboard with ornate trim are other highlights. [from Lonny]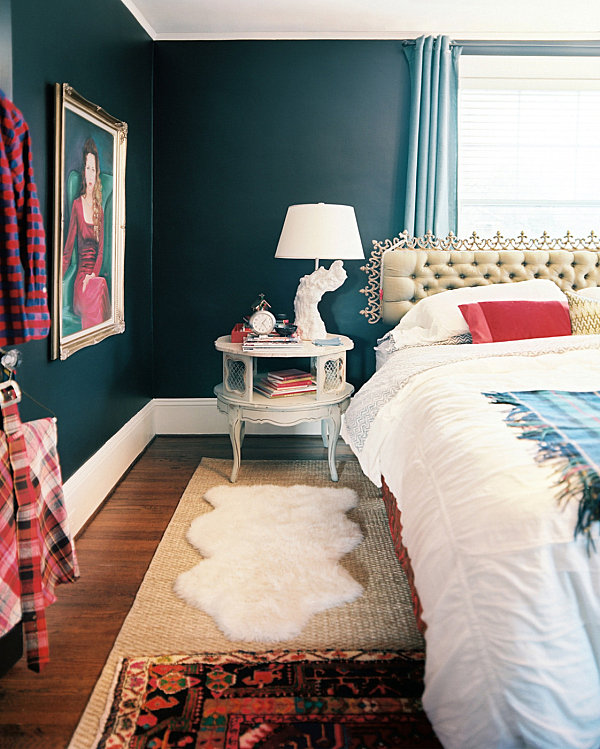 Did you pick up any decadent details from today's featured rooms? What about glamorous lighting, elegant draperies and rich wallpaper? What were some of your faves? Share your thoughts by leaving a comment below…
Liked the story? Share it with friends.