Today at Decoist, we explore the wonder of countertops. Better yet, affordable countertops! If you're making a series of updates in your home and find that your budget is quickly diminishing, you may need to take a look at cost-effective possibilities, especially if you are spending money on other highlights such as flooring. But don't think that budgetary countertop decisions will automatically lead you to cheap solutions.
In fact, a range of stylish possibilities awaits you. This post is dedicated to taking a second look at building materials that may quickly be passed over. As it turns out, new options and good design often combine to create amazing results. Check out the images below, as well as our profiles on three tried and true countertop favorites…
Cultured Marble Countertops
We begin with cultured marble. There's a lot to love about this material. For one thing, this manmade option is low-maintenance and easy to clean. It can even be crafted to have the look of true marble, as shown in the image below. At an affordable price, of course. [from Mark Johnson Custom Homes]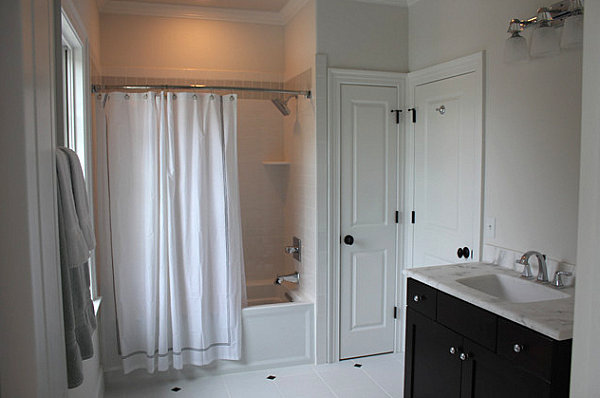 However, cultured marble doesn't have to have a marbleized look. Some selections are solid shades, or the swirling is so subtle that the overall effect is one-hued. While some types of cultured marble clearly look outdated, others be surprisingly modern, as shown in the contemporary space below. [from Rossington Architecture]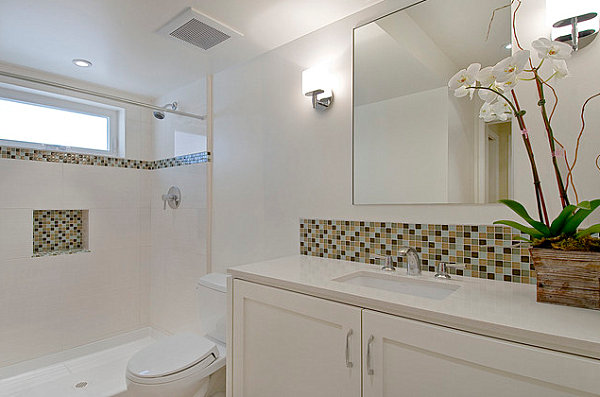 This pure white cultured marble has a clean, crisp look that is a stirring contrast to the dark wood of the cabinets. In fact, it gleams like the surface of the tub and reinforces white as an accent color in this gray bathroom that gets plenty of natural light. [from Clawson Architects]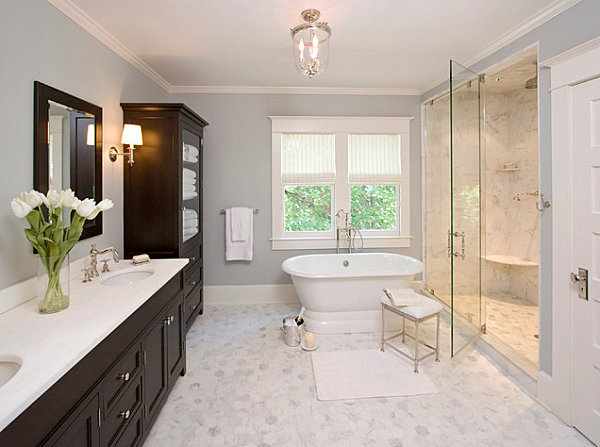 Don't think that all cultured marble is white. In fact, the selection below proves that this material can go sleek, modern, and even a little bit industrial. An abundance of gray tones creates an undeniably contemporary look in the next featured space. Other metallic accents in the kitchen (such as fixtures and the faucet) tie it all together. [from CR Home Design]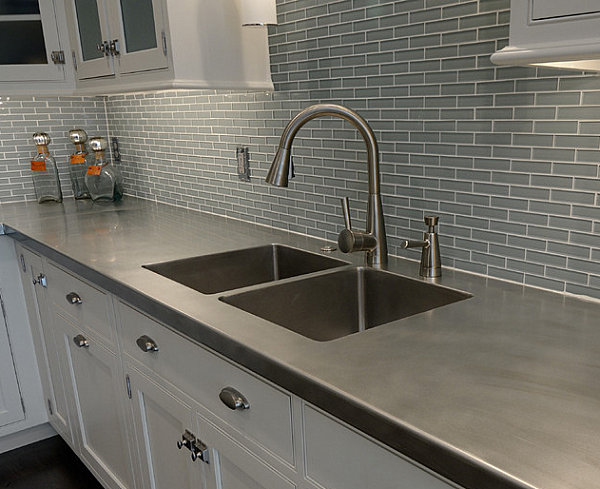 Tile Countertops
Think tile is just for the shower? Think again! In fact, ceramic and porcelain tile are inexpensive options that can add plenty of color and durability to your counter. To keep stains and bacteria from invading the grout, consider sealing it, or explore the option of using an epoxy or acrylic grout. It's worth the effort! Below we see aqua tile countertops, as well as a scalloped tile backsplash. This kitchen has loads of personality, don't you think?! [from Norberry Tile via Houzz]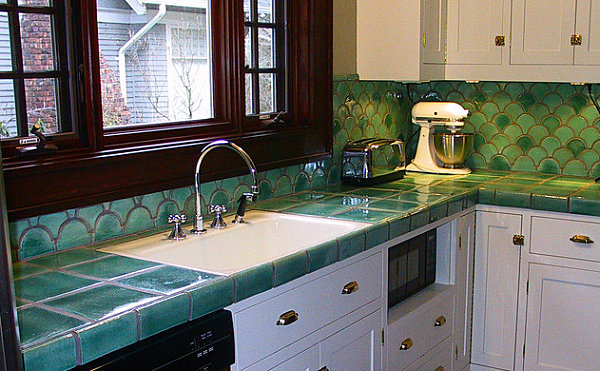 Speaking of personality, the yellow space below continues the room's ceramic wall tile motif on the kitchen island. The result: a unified interior with plenty of sunny style. [from David Howell Design]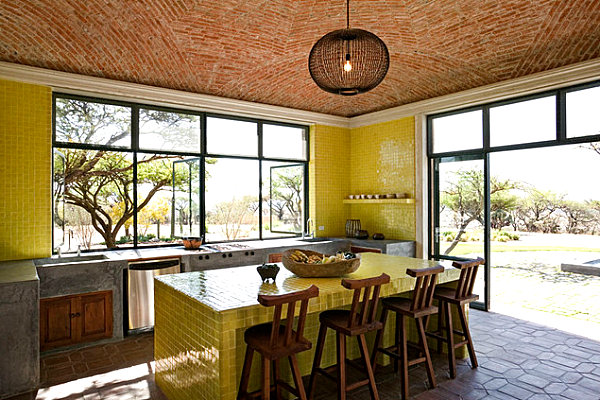 Tile can also create a clean, grid-like look, as shown in the white kitchen below. Modern touches such as chrome kitchen supplies and interesting canisters help to complete the contemporary linear effect. It's hard to imagine this space without the tile countertops… [from The Kitchn]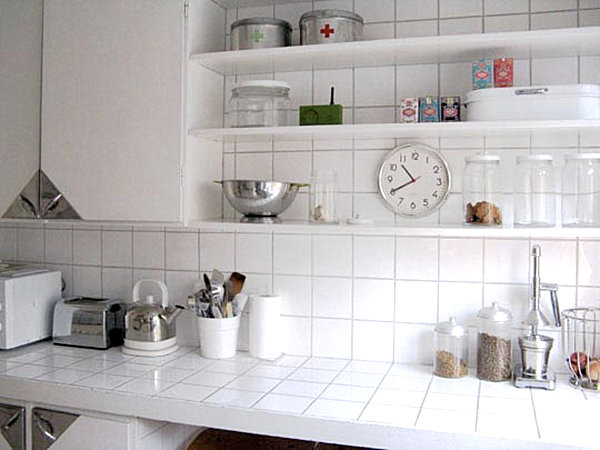 Laminate Countertops
Sometimes laminate gets a bad rap, especially when it sets out to mimic other materials, or when it channels the speckled counters of a doctor's office. But guess what? There are some amazing laminate options that are undeniably stylish! Super affordable and easy to clean, laminate has its benefits. While it may not always be as durable as more expensive options, with a little care, this material can go a long way! Below we see a modern laminate countertop in an eco-friendly home. [from FiveDot Design/Build]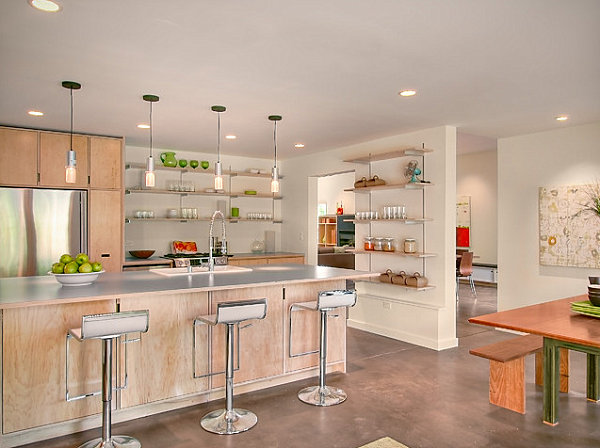 One fun laminate trend involves exposing the edges of the countertop! In fact, we see this very technique in the next image, which features laminate on apple plywood. The result is earthy, modern and industrial. [from BAAN Design]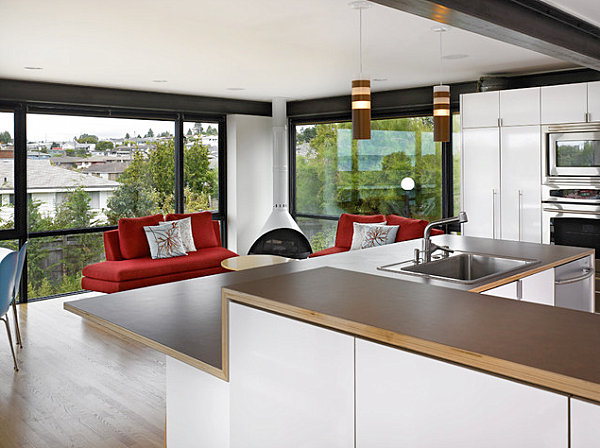 Laminate can also be chic, as shown with the black selection below. Sometimes keeping it simple is the way to go. It's hard to argue with a slick, solid surface that makes a big statement. [from Todd Davis Architecture]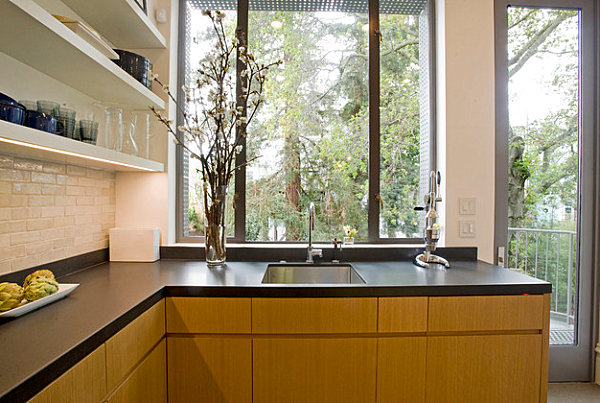 Then again, a little bit of visual texture can have clear benefits! Our final image features laminate with a series of lines that create a modern look without going overboard. The pattern is simple yet eye-catching, and the dark colors help to add a sophisticated contemporary vibe to the space. A few sleek accessories complete the look. [from Formica Corporation via Comfortable Home Design]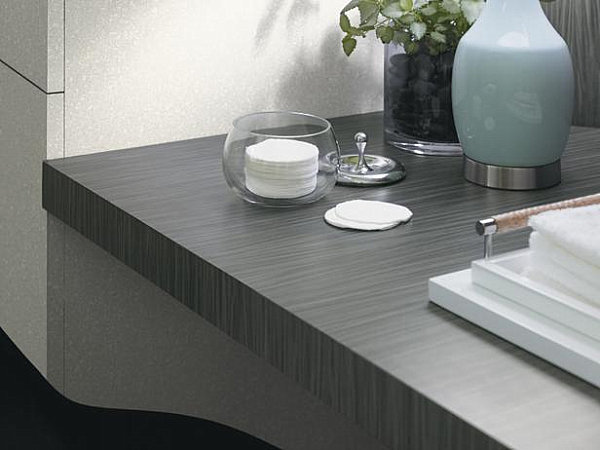 Do you have cultured marble, tile or laminate countertops in your home? Tell us what you love about these materials, as well as any possible drawbacks that need to be considered before selecting one of them for a surface-top space. Share your thoughts by leaving a comment below…
Liked the story? Share it with friends.