Did you ever notice how the simplest of metallic details can add modern shine to a room? This is particularly true in the kitchen, where many appliances and accessories are available in materials such as stainless steel and chrome. Some kitchens bathe themselves in metal, while others stick with a few key accents to make a shiny statement. Today we explore the many ways that metal can enhance your culinary space.
As you browse the pictures below, check out the details. All of them. Sometimes a small accessory on the counter or a kitchen island canister can enhance a room in the largest of ways. In other words, whether you're planning a kitchen remodel or looking to add a small punch of shiny style, there's plenty of culinary inspiration for you below…
Stainless Steel Surfaces
There's nothing like a kitchen fully decked out in stainless steel. That's why our first batch of images features an array of metallic surfaces, from cabinetry to drawers. The space below keeps things modern with glass and stainless steel lining the sides of the room. [from FORMA Design]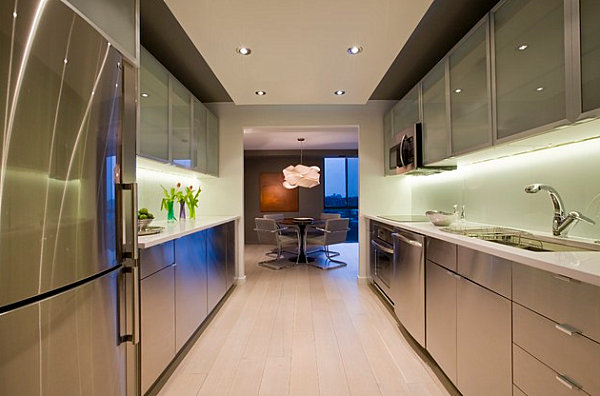 Our next featured space has a true industrial vibe, thanks to floor-to-ceiling stainless steel. Note how the gleaming metallic surfaces in this kitchen are a striking contrast to stone walls with a weathered look. [from Port + Quarter]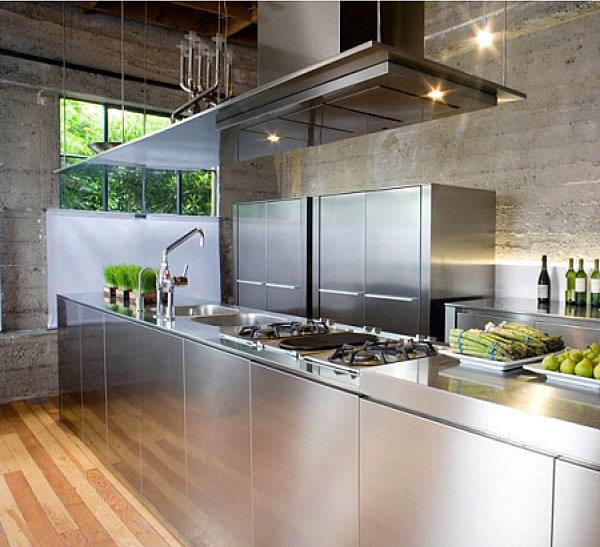 Stainless steel cabinets and drawers shine in the space below, especially since they pop against the wooden, brick and marble surfaces that surround them. Once again, we see metal and glass cabinets overhead, which are a nice contrast to the room's solid metal drawers. [from AMI Design]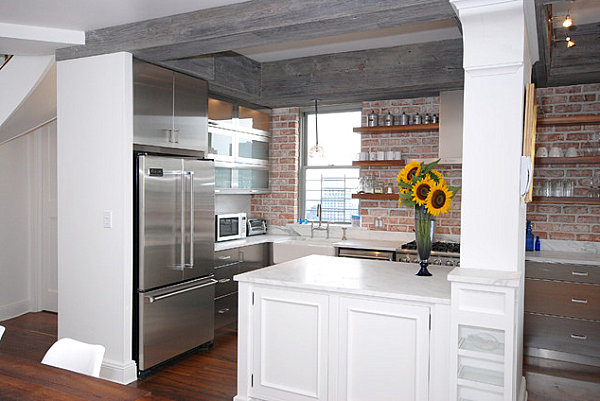 Another way to add stainless steel? Put it on the countertops! It's unexpected, and it creates a clean, shiny surface, especially when juxtaposed with white cabinetry. Note how the metal countertops in the next image blend seamlessly with the room's stainless steel oven. [from StainlessLiving.com]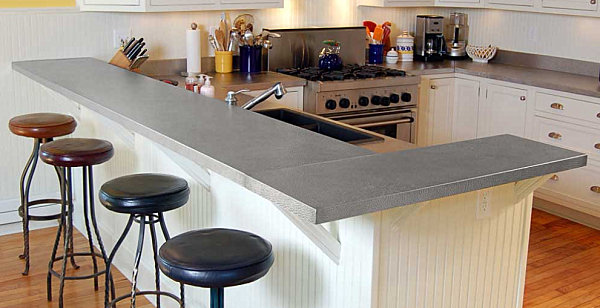 Many homeowners choose to add metallic shine through a stainless steel backsplash, especially over the oven. It's easy to clean, and it's an effective way to add a modern reflective surface to your culinary space. [from Blue Sound Constuction]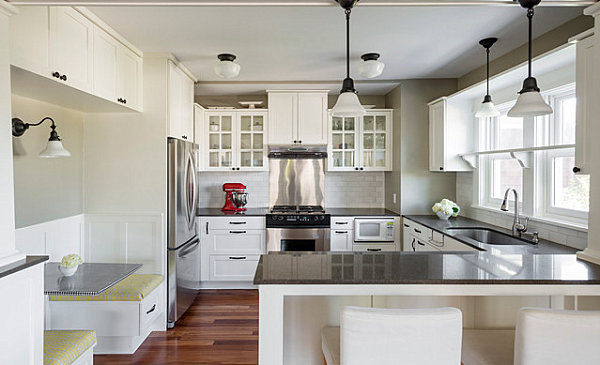 Metal Furnishings
We now move into the realm of metal furnishings and features, as they are an easy way to add metallic surfaces to your space without remodeling. We begin with a stainless steel kitchen island in a room created by Eminent Interior Design. Not only does a Parsons-style construction give this piece a clean-lined modern look, the shiny surface is a wonderful contrast to the wooden features of the room.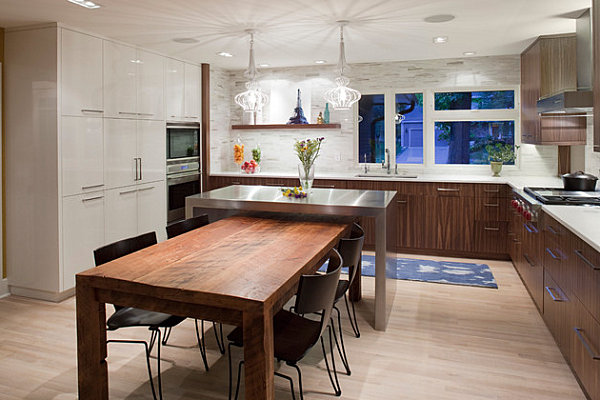 Below we see a stainless steel kitchen island, as well as a modern table with a stainless steel base. These pieces are the shiny focal points in a room featuring an abundance of wooden surfaces, from flooring to cabinetry. [from Eminent Interior Design]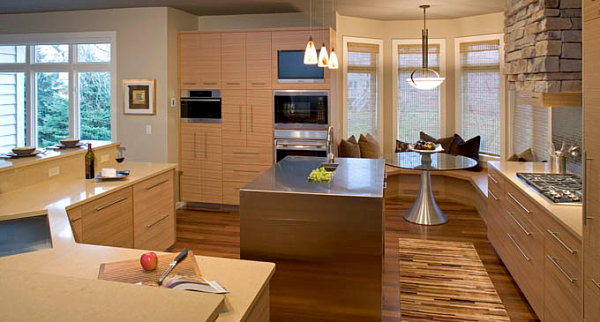 Yes, even stainless steel chairs get the job done. In fact, the selections below appear to be a classic design from Emeco. Note how they fit beautifully into this contemporary bistro kitchen, adding a vibe that is part retro, part industrial. [photo by Becky Peckham via Adventures of the Uncommon Common Law]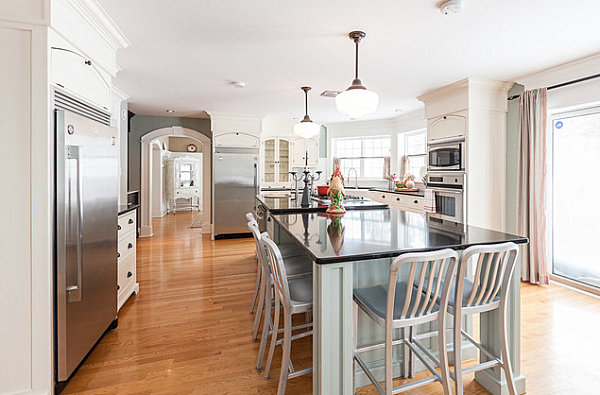 Metallic Accents
Sometimes it's all about the accent pieces… That's right–little things mean a lot! Below we see a stainless steel sink with a chrome faucet from ExpressDecor.com. Striking, shiny and modern, don't you think?!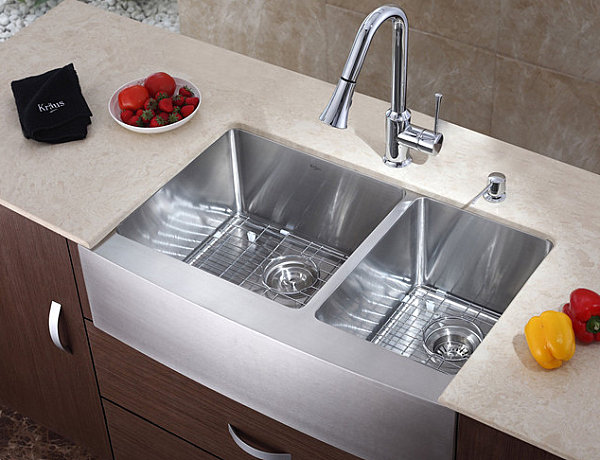 Metallic lighting is a great way to make a reflective statement. The brushed finish on the industrial lighting below is perfect for this small earthy space. Also note how the pendant lighting elevates the style of this abode, proving that a couple of powerful accents can make all the difference. [from Thomas Lawton Architect]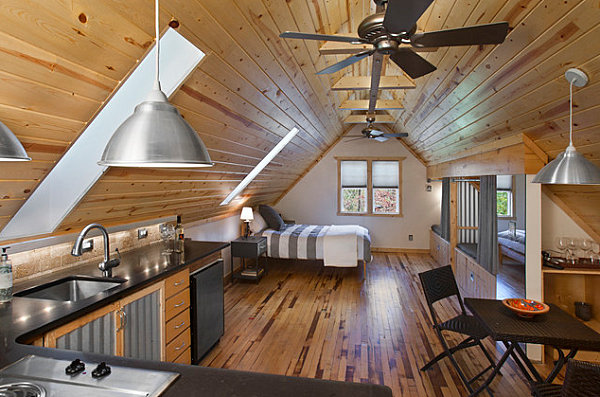 Speaking of industrial lighting, the selections in the next featured room are perfect for this modern bistro kitchen. Note how they pick up the shine of the room's stainless steel appliances. In addition, the curved domes of the lighting add a charming element to the space, keeping the look from seeming too mechanical. [from Great Neighborhood Homes]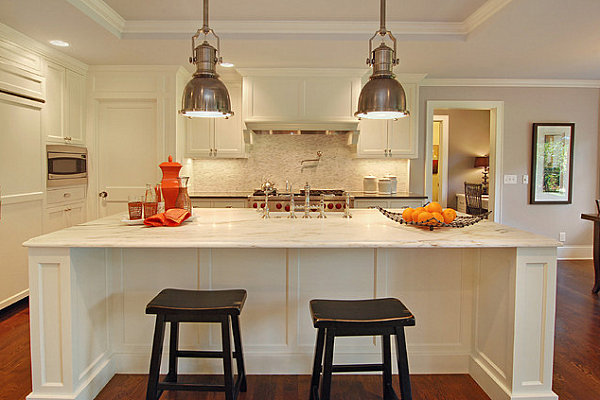 Who says metallic shine always has to be about silver? We couldn't help but throw in one warm-toned selection–a trio of globe-like copper pendant lights. The copper hue is unexpected in a space that features other silver elements. Yet these pendant lights hardly look out of place, as they mirror the warmth of the wooden cabinetry. [from Housetohome]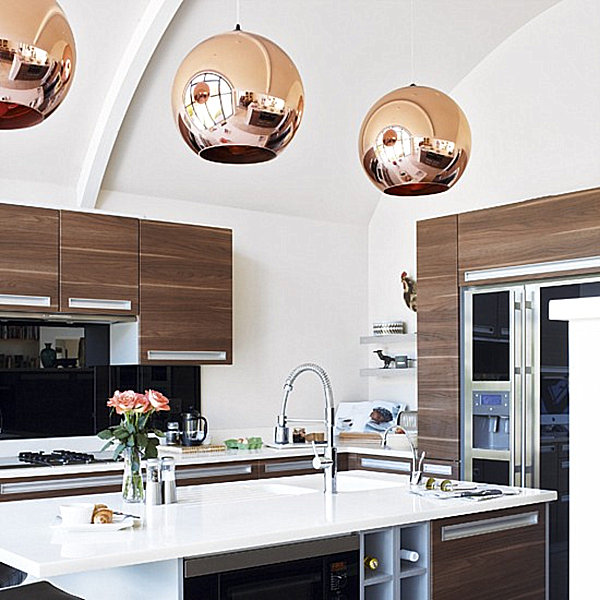 We now move on to small shiny statements, like this series of six canisters… Not only do they create a sense of symmetry by lining each side of the stove, they achieve a modern look, thanks to their tall cylindrical shape and the repetition of form. [from Fougeron Architecture]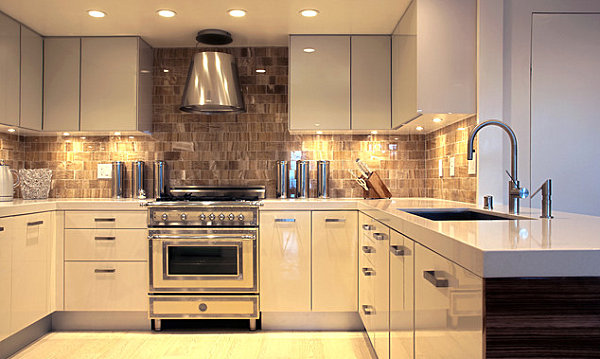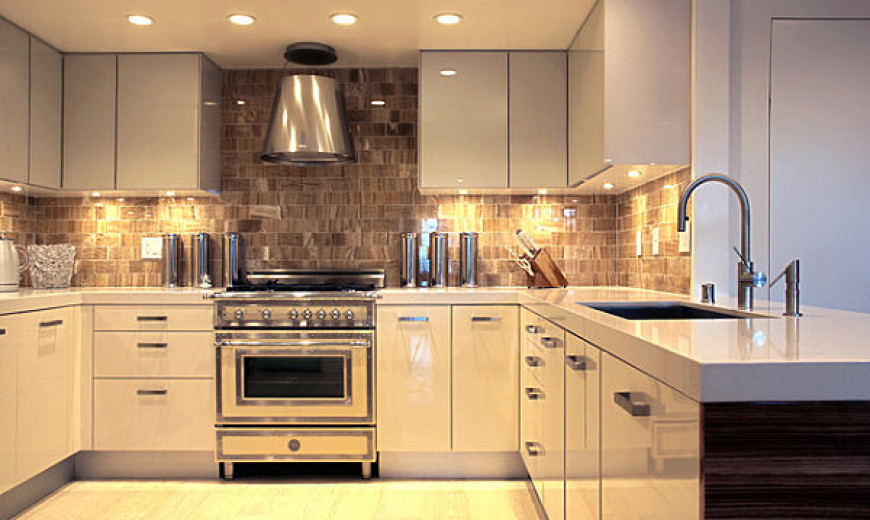 Metallic touches can add a true retro effect to a culinary space. Below we see metal canisters, as well as a stainless steel quilted backsplash from StainlessLiving.com. The silver tone of these pieces picks up the metal tone of vintage touches like the edges of the diner-style table.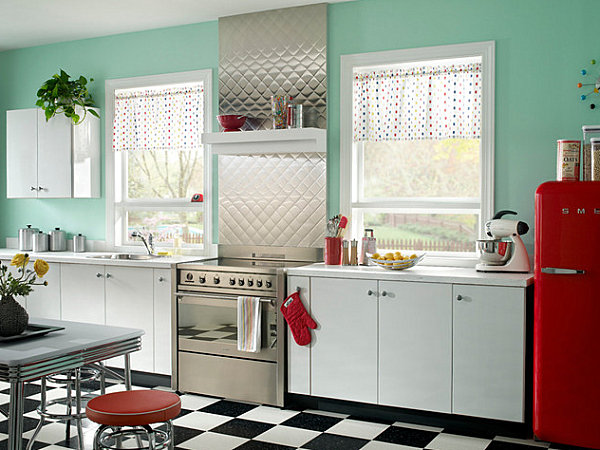 Speaking of canisters, we're loving the labeled metallic canisters in the space below. Labels such as "cinnamon" and "vanilla" make the containers' contents crystal clear. In addition, this trio of canisters prove that a little bit of style can go a long way. [from Nouvelle Cuisine]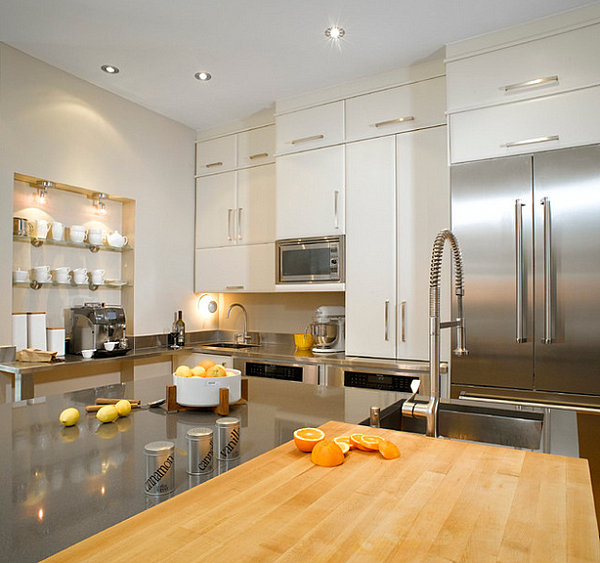 Note the sparse look of the kitchen below. Also notice how one stainless steel canister filled with cooking utensils can make a big impact, especially when it's featured on a clean counter that's not overrun with decorative elements. [from Eminent Interior Design]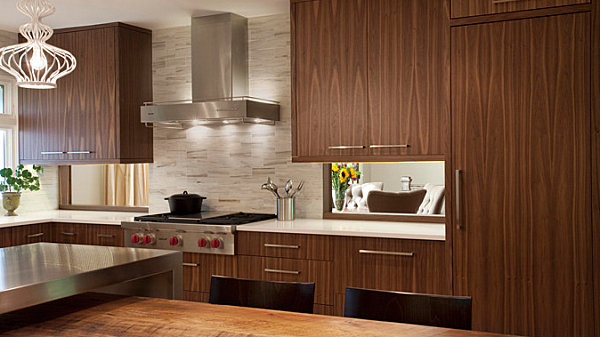 We end with a space that reminds us to look inside of our own cabinets. That's right–you may have a few metallic practical kitchen elements of your own. For example, the kitchen below from Natalie Fuglestveit Interior Design features a shiny accent in the form of a tea kettle that rests on the stove. We hope these homeowners kept the kettle out on that stove well after the last cup of tea was served.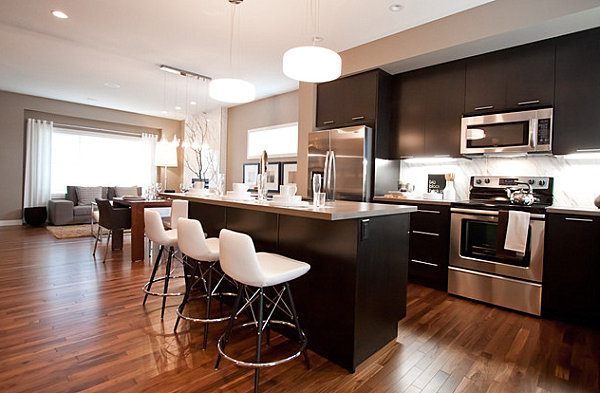 Have you added metallic style to your culinary space? Did you undertake a major remodel, or did you purchase a shiny accent or two? Share your design words of wisdom by leaving a comment below…