Why do so many people love the color red when it comes to interior design? There's a street in my hometown that many people drive to access a popular area of the city. When you travel the street in the evening and glance at the houses that are all lit up inside, you can see that nearly every one of them features a red entryway. Why red? Perhaps it's the bold nature of the color that screams "look at me," combined with the fact that red is just plain classy.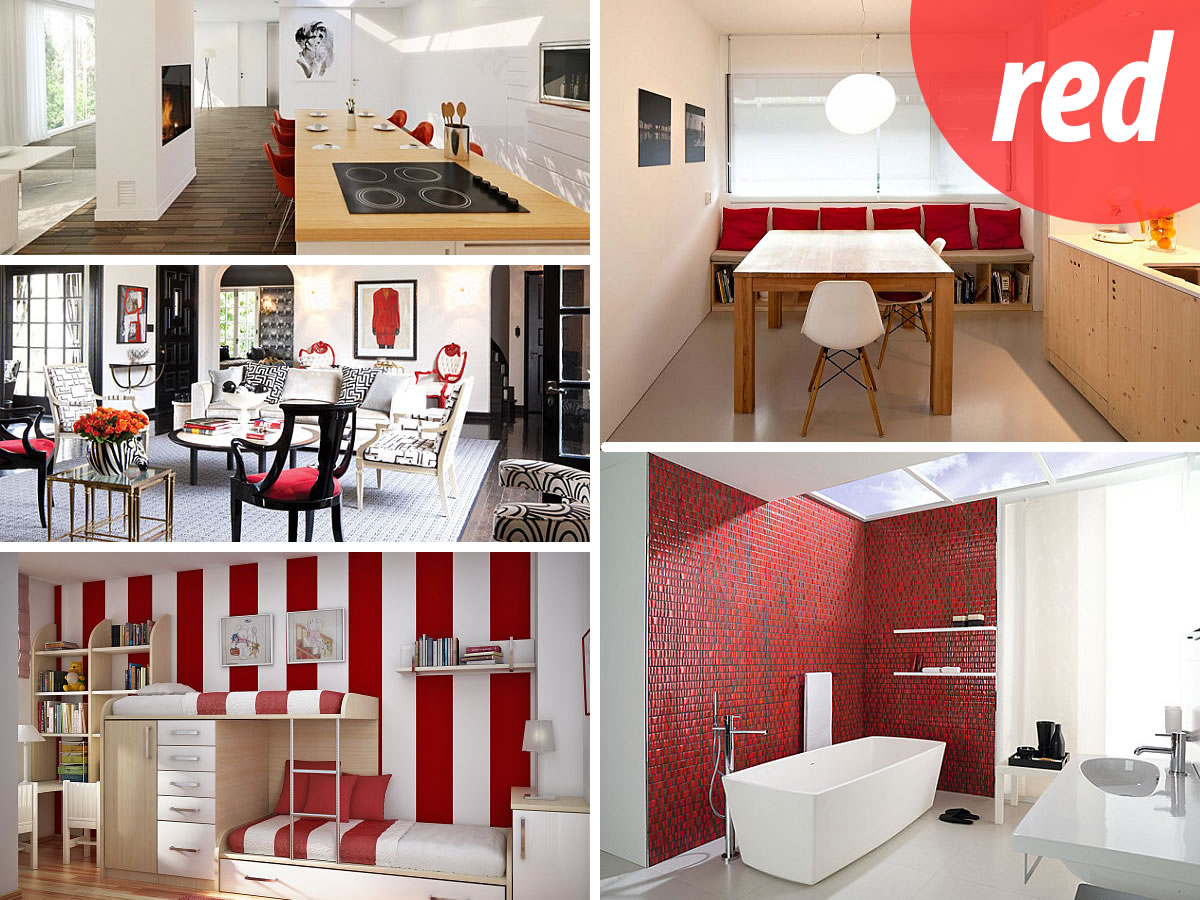 Red is also a powerful color, often calling to mind emotions such as love and passion, as well as evoking fire, courage, energy and much more! Then there are the many shades of red, from red-orange and true red to blood red and brick. When it comes to interior design, many people choose to use red as an accent color. After all, if you're looking to make a big impression, it's hard to find a bolder shade. Yet some people enjoy painting the whole room red–why not make a giant statement at home? Today we take a look at popular decorating strategies that involve the use of this unforgettable hue…
Mix Red with Crisp Shades of White
One sure-fire way to emphasize red in your home? Mix it with crisp shades of white. In fact, the space below is primarily white, with accents of both red and black. The result: a sophisticated, elegant space with Deco-style touches such as the scalloped fabric from Schumacher that adorns the chair in the lower right corner of the image. [Designed by Tamara Kaye-Honey, photo by Grey Crawford for California Home + Design]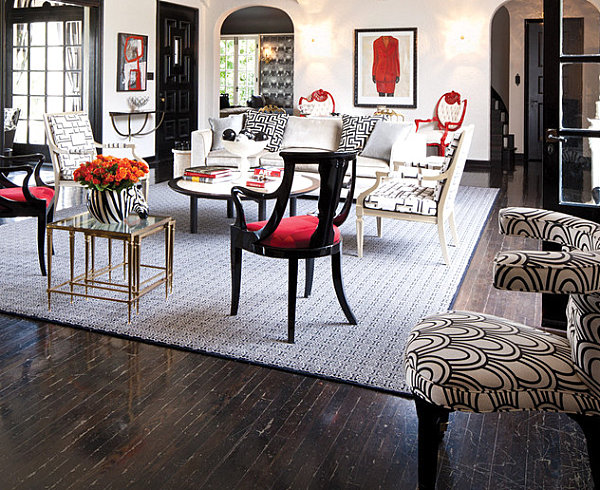 The red and white living room below combines an interesting wall border with vivid chairs and other red decorative elements. When red is involved, you don't need a ton of other accent colors. That's why white and neutrals such as gray work so well with this hue. [from Decorativ]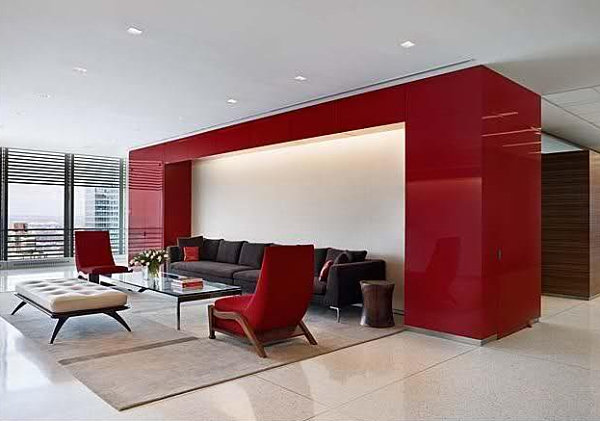 Red and white can evoke a vintage feel, as shown in the kitchen below. Chrome and stainless steel detailing create a diner-style vibe, which is enhanced by modern touches such as new appliances. [from The Ottoman Empire]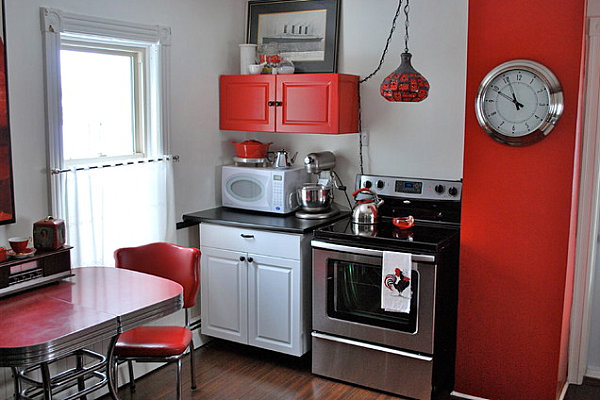 Va-va-voom! Red can be undeniably modern, especially when used unexpectedly (but fabulously) in spaces like the powder room. Red tile makes a vibrant statement in this next featured bathroom. Why it pops: it's surrounded by white walls, flooring and features. [from Famosa Tile]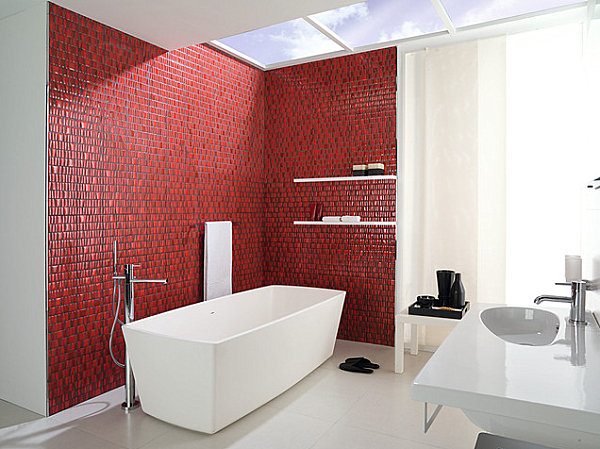 Ah, the sophistication of red, black and white. Nothing reveals this chic effect like the bedroom below, complete with wallpaper in a scroll motif and crisp white textiles. [from homedit]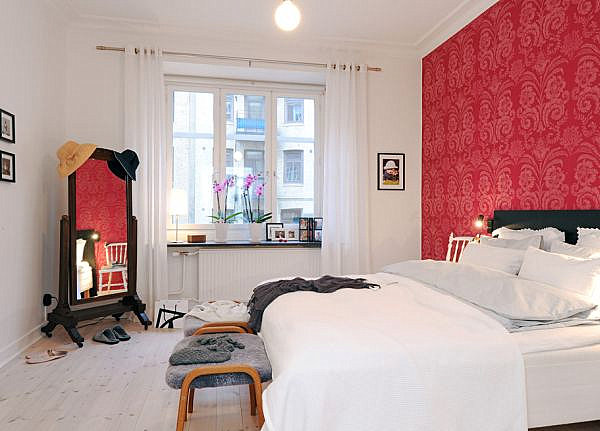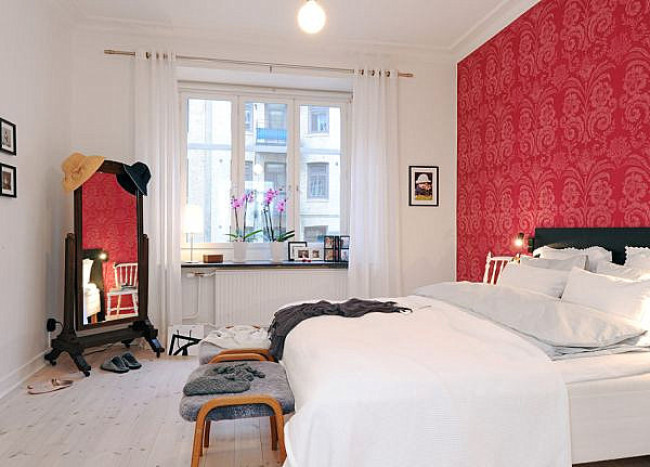 Then there's the playful appeal of red and white stripes. Why do you think so many children's birthday parties use them to evoke a whimsical, vintage-y circus feel? Below we see bold red and crisp white vertical lines in a child's bedroom. It's interesting to see how the stripes can be used in combination with modern furniture to create a contemporary vibe rather than a theme-y one. [from OnArchitectureSite.com]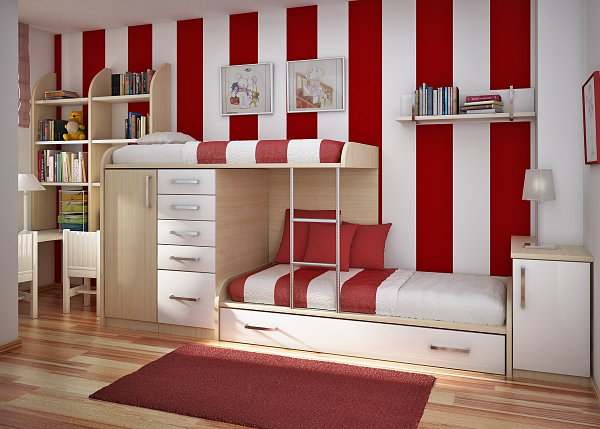 Make One Bold Statement
We now take a moment to honor the power of the red accent statement. Because when it comes to red, a little goes a long way. That's why it's possible to say a lot with one gesture, such as the accent wall in the modern powder room below. [from Benjamin Moore Color Chats]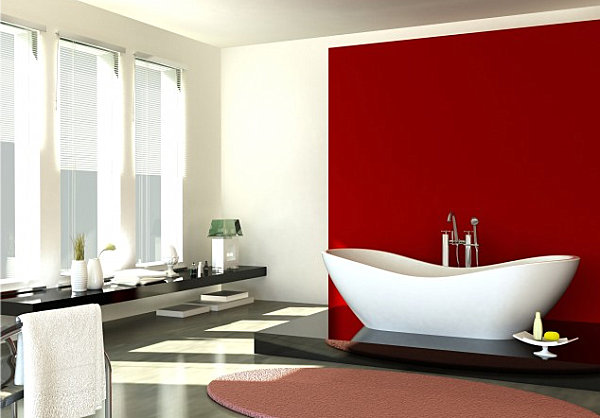 Is there anything more elegant or eye-catching than a red door? Why do you think Elizabeth Arden named a perfume after this statement?! In the next image, we see a red door in a crisp white kitchen. A circular window adds even more personality… [from Troy Spurlin Interiors]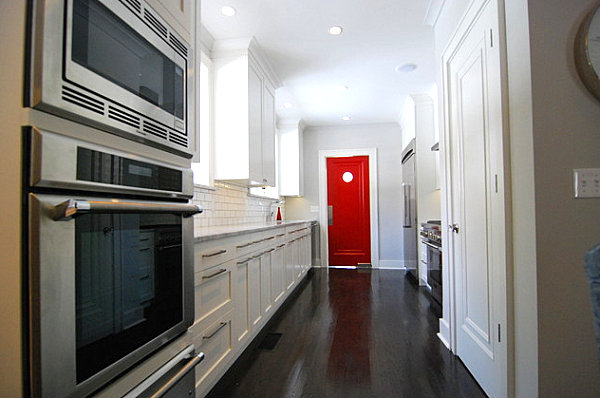 We now turn our attention to a shade of brick red, which is used to beautifully cover a portion of the brick wall below. A trio of floral photographs pops against this deep, powerful shade. [from Andrayani.com]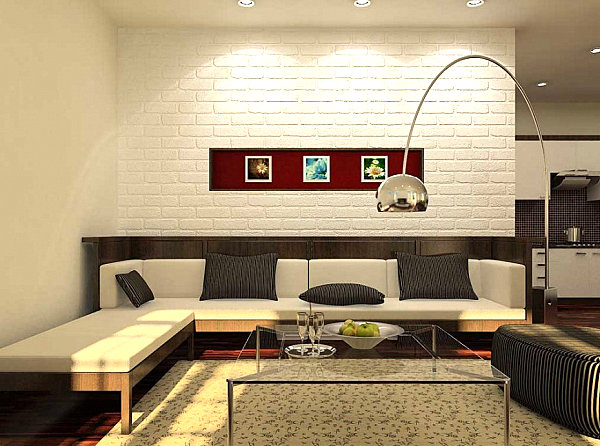 Anyone else noticing the continuous combination of red and white? The dining room in the next featured image is no exception. Red chairs are the perfect complement to white walls and a table in a light shade of wood. [from Paseoner]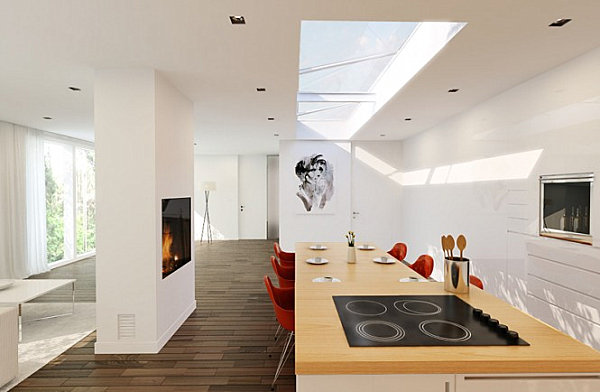 From chairs to pillows… We now see six red pillows pop against a bench in shades of white and beige. White and natural wood surround this statement, making it all the more powerful. [from iidudu]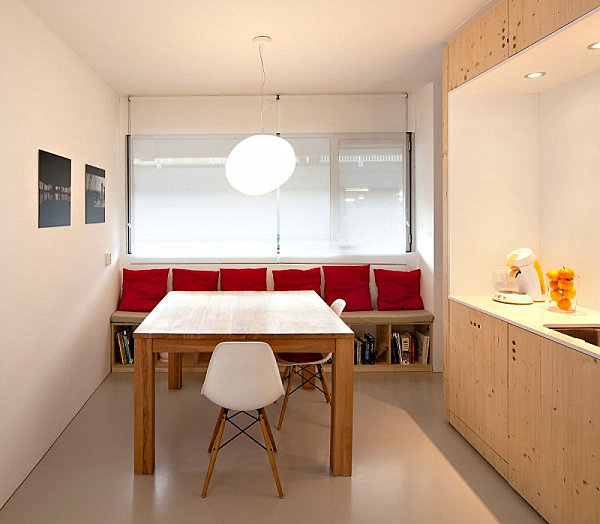 Red and maroon are combined on the artistic sofa below. Add lamp shades that match the deep red shade, as well as a bold piece of kiss-themed artwork, and a fun, flirty and modern space is created. Talk about unforgettable! [from ajchomefinder via Trendir]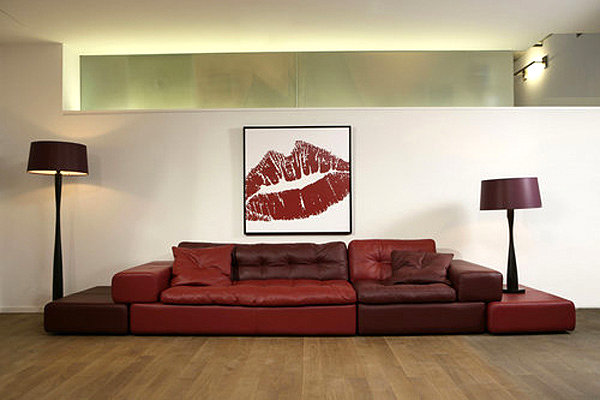 Who says red only goes with neutrals? Try combining it with other bright hues, such as turquoise. Note how this strategically integrates both shades by keeping draperies and bedding soothing in bright white. [from Luxe Studio]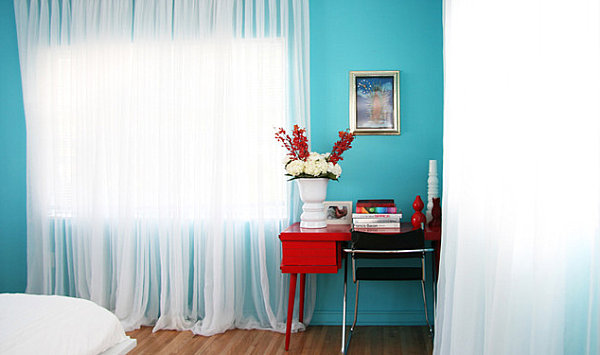 Go Glossy
Ever notice how today's glossiest spaces often feature shades of red? The IKEA cabinets below shimmer and shine in a modern kitchen filled with reflective surfaces. The result: a sleek, contemporary room that would enhance any culinary experience (and take the edge off any kitchen-related chore). [from David Churchill Architectural Photographer]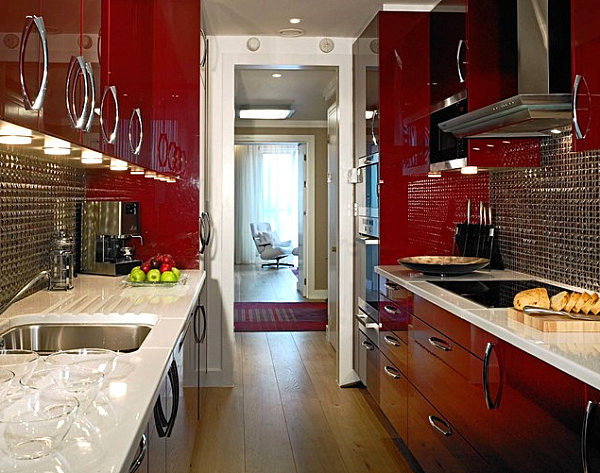 Glossy red packs a powerful punch in the open kitchen of the next featured space, a floating home filled with contemporary style. Note how dark countertops are included, yet warm wood works well with both the glossy red and the deep black shades, thanks to a backsplash of stainless steel. [from Dyna Contracting]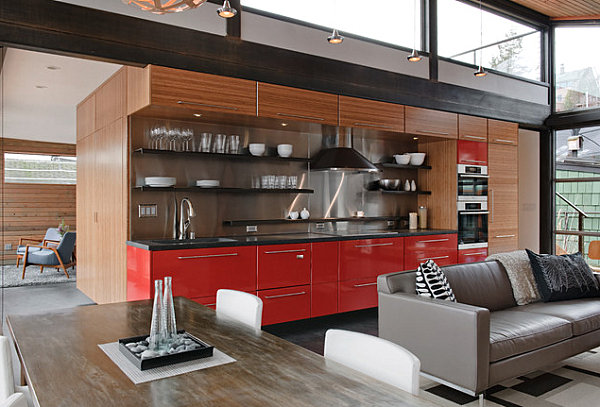 The kitchen below looks good enough to eat. We think the shiny candy-like surfaces of the red and white cabinetry have a little something to do with that… [from Bhuto.com]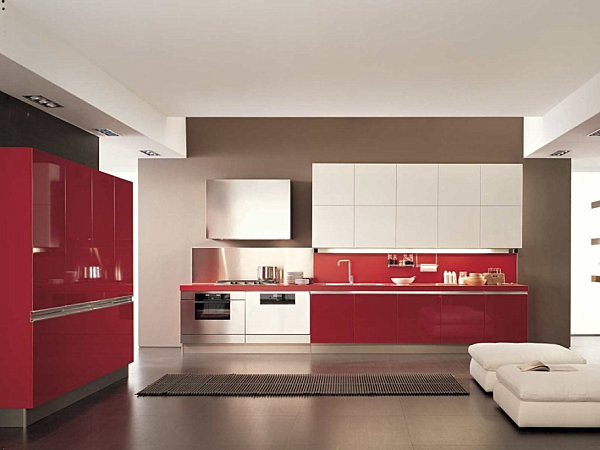 We're loving the red kitchen backsplash below, which appears to be made of vertically-oriented subway tile. Once again, warm wood makes an appearance, as well as crisp white and a slew of metallic accents. [from Klopf Architecture]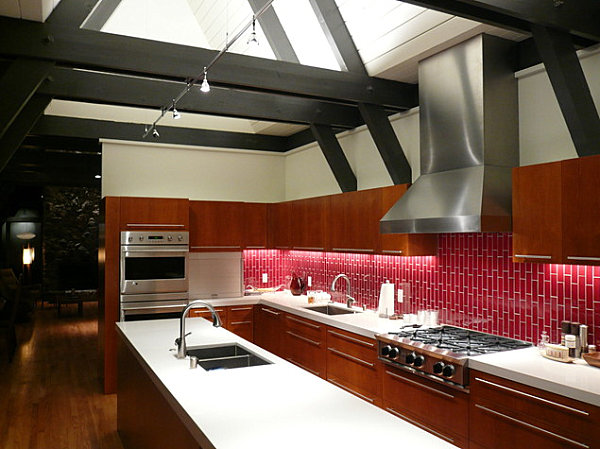 Who says the gloss always has to come from a hard surface? The chairs below feature glossy red upholstery that is the perfect complement to shiny chrome arms and legs. [from Nicole Lanteri via On My Agenda]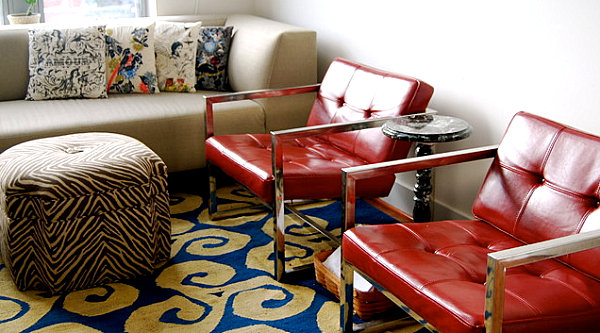 The room below is unique in the fact that the glossy doors you see are not in the kitchen. That's right–these are wardrobe doors, and they create a sleek look in this contemporary boudoir. [from Harelooms Ltd.]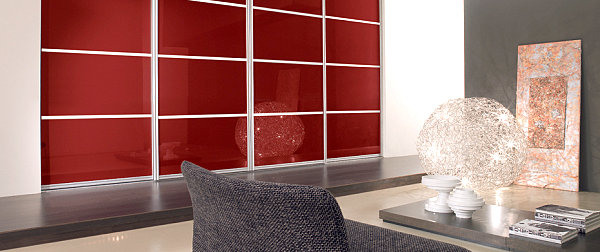 We end with an outdoor space that celebrates the power of glossy red. The modern swimming pool below features an eye-catching border or fire red. The only thing shinier than the tile itself is the sheen of the tile when covered by a thin veil of water. Refreshing and enticing… [from Da Vida Pools]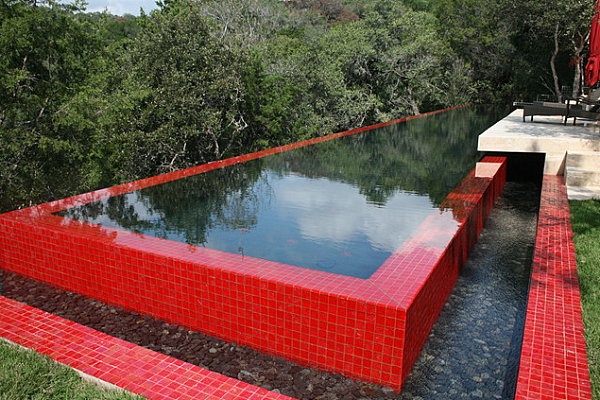 Tell us about your favorite shade of red. Do you enjoy shades of fire or orange-y red, or do you prefer deep reds such as burgundy and brick? Share your thoughts by leaving a comment below…
Liked the story? Share it with friends.