Spring is in the air, and the warm breeze is inspiring many to freshen up their homes! For some, a good spring cleaning is all it takes. For others, changing up the decor is in order. One great way to add a punch of style is by updating your space with a new side table. These pieces are often on the small side, making them an easy and fun addition to your interior (or exterior, for that matter).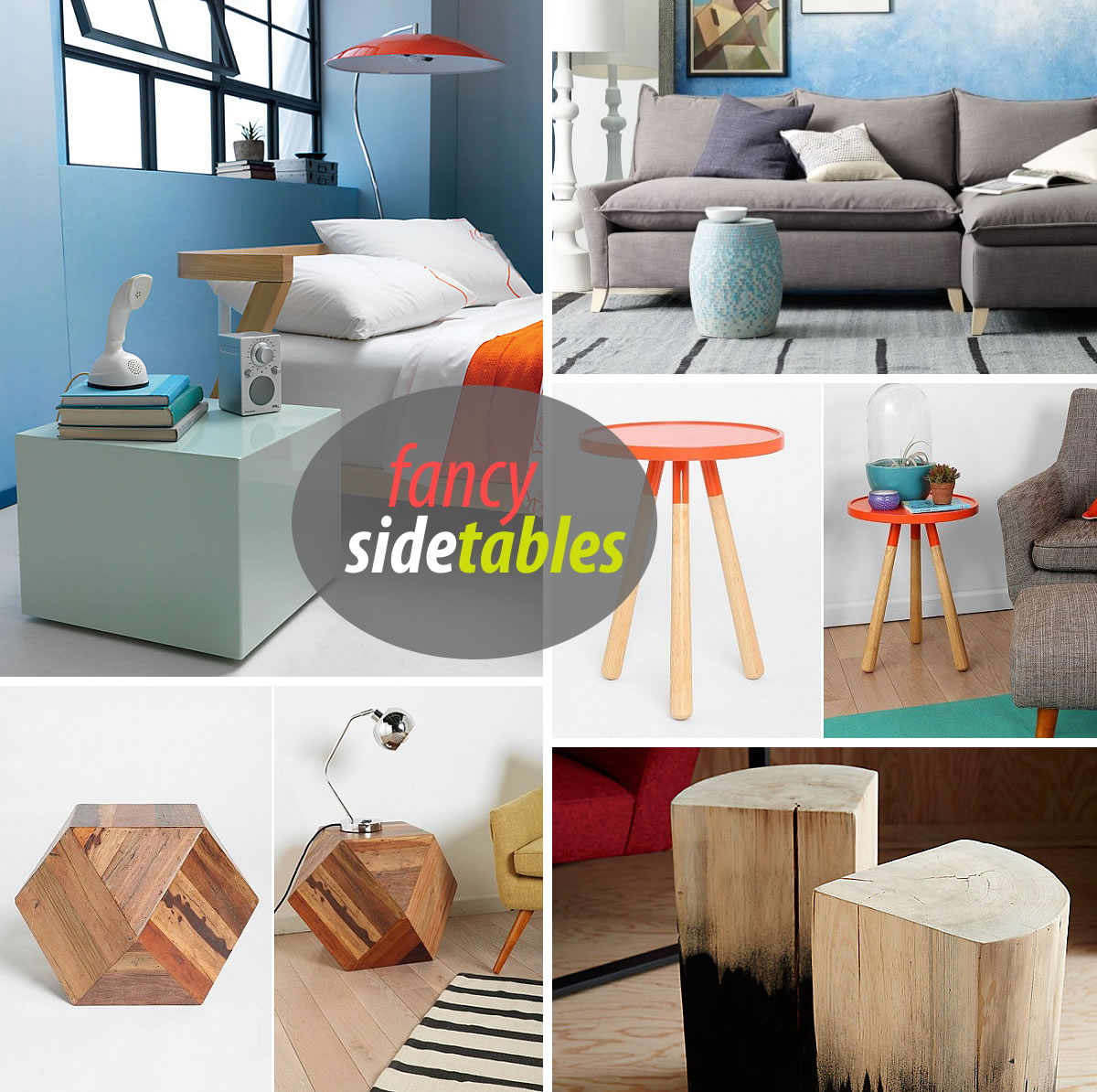 What's new for 2013? Plenty! From colorful paint-dipped finds to outdoor selections covered in woven cord, there's a style for every preference. And a look for every space. We've rounded up the best of the best, showcasing innovative design, as well as an interesting use of form, color and texture. Enjoy browsing, and maybe you'll find a little something you can't live without…
Round Side Tables
We begin with a collection of round side tables that are as unique as they are geometrically interesting. This Huron Side Table from West Elm consists of all-weather cord woven around an aluminum frame. Lightweight for easy transportation and great for porches and decks, this piece is also rust-resistant. Love the tinted glass top!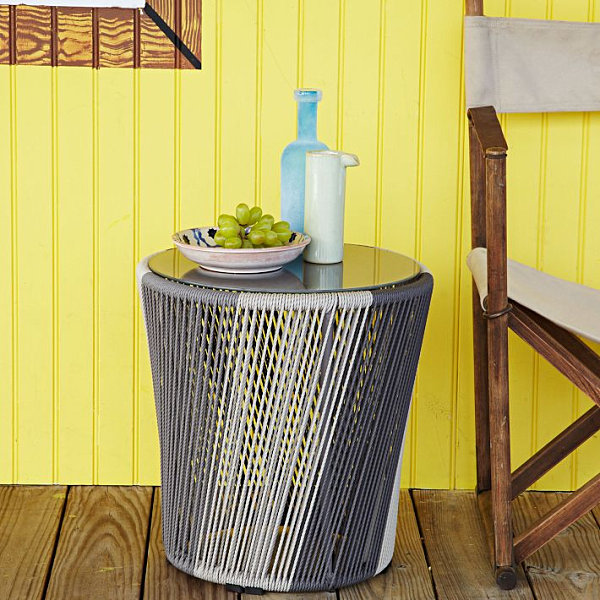 Ready for something with a cylinder-like shape and a pixelated look? The Mosaic Tiled Drum Side Table from West Elm consists of strategically placed glass tiles. A concrete and metal base makes this indoor/outdoor piece sturdy, and the clever use of tile adds the perfect splash of color: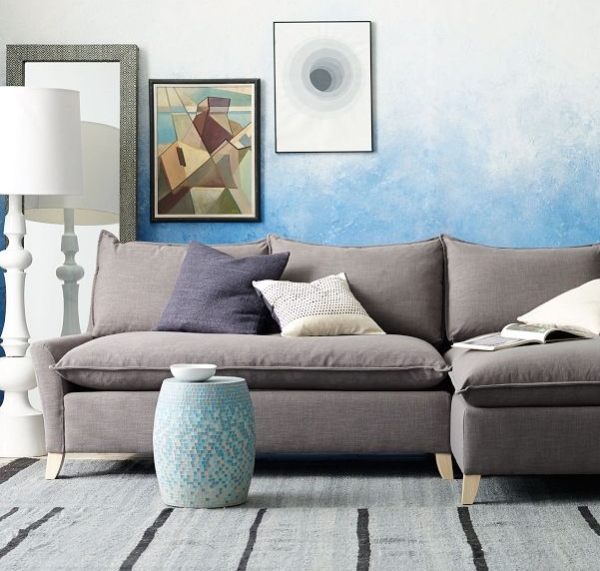 The next table looks as if it's been dipped in a vat of bright orange paint. Which is why we're huge fans! The Tripod Table from Urban Outfitters is compact yet hardy, thanks to a wooden base and a rubber tabletop. Don't be afraid to place other vibrant items on this showpiece, as seen below with the interesting containers in shades of blue…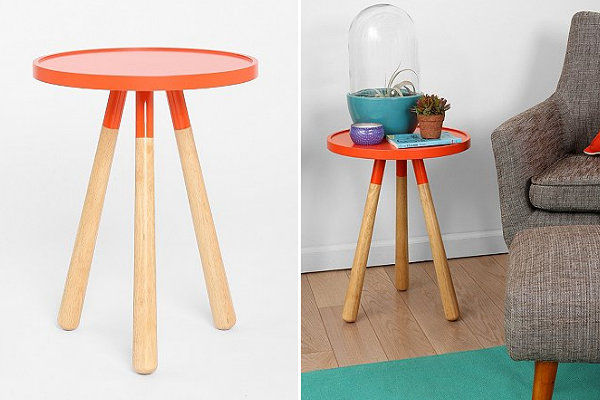 Square Side Tables
It's hip to be square! The tables below prove that fact… The beauty of the square table is its ability to combine with other square tables to form new structures as needed. The Ditto Cube from Crate & Barrel consists of a poplar frame, birch veneer and engineered wood shelves. Buy multiples and stack them for shelving, or cluster them for a coffee table effect. This piece is available in a "saddle" wooden finish, as well as the white and mustard hues shown below: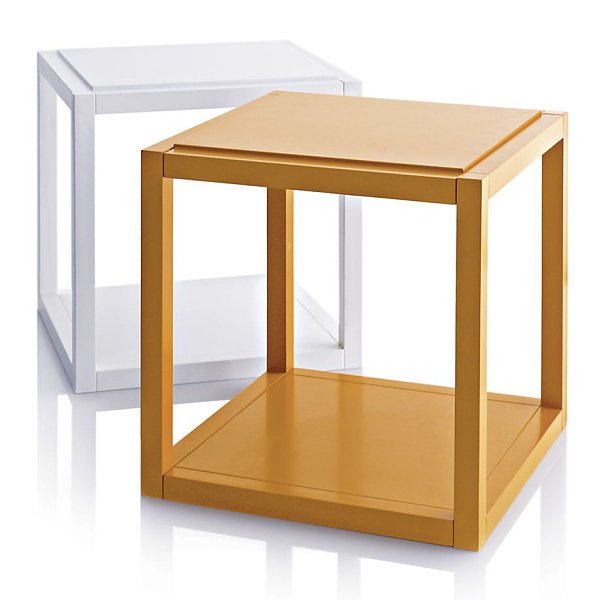 We love this next piece so much that we've featured it in two previous Decoist posts: one highlighting space-saving furniture ideas and another on new colorful furniture finds. Third time is a charm for this spring find! The City Slicker Mint Side Table from CB2 is a perfect cube covered in hi-gloss mint lacquer. Use it as a side table or a nightstand, or group 2-4 to form a coffee table that looks good enough to eat!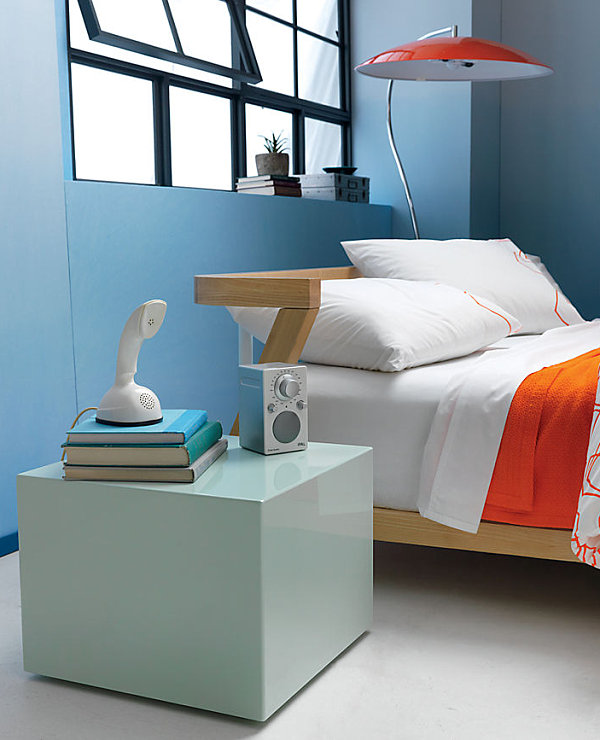 Hello gorgeous! Let's hear it for acrylic! The On the Rocks Side Table in Yellow is designed by Alexandra Von Furstenberg, and we can't help but admire the clean outline created by a vivid yellow-gold hue. As with the items above, this piece can be combined with others to maximize the effect, but we think it's just as dazzling on its own as a pedestal, side table or nightstand. [from The Conran Shop]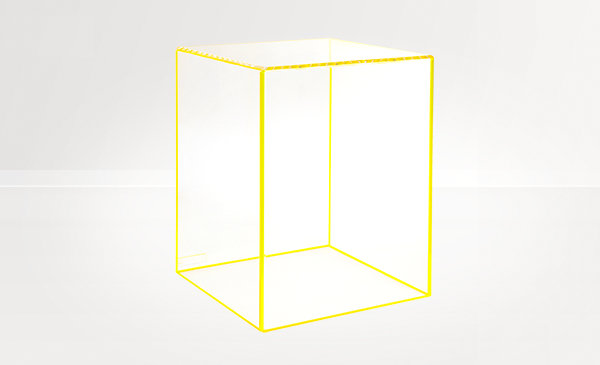 Speaking of nightstands, the Audrey Nightstand combines metal and wood for a look that reflects a true industrial style. The materials of choice: a delustered iron frame and eco-friendly acacia wood drawer. The result: design perfection! [from CB2]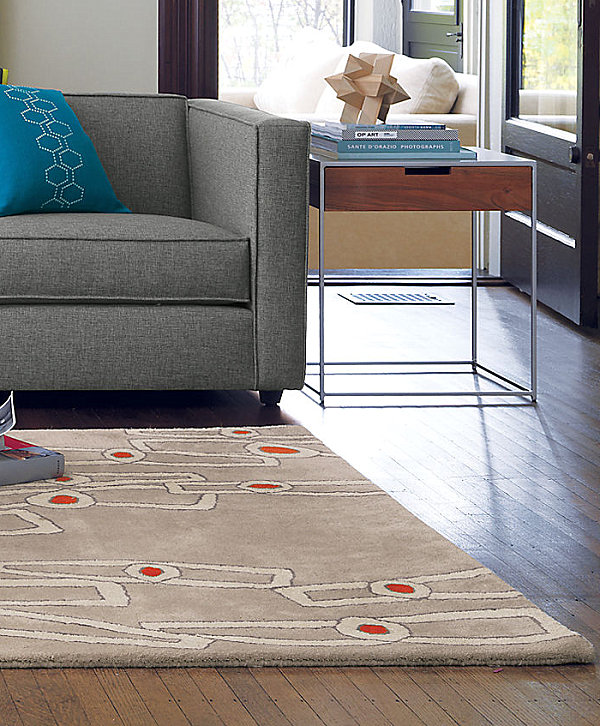 Ready to relive the glory of a classic? Who says all spring purchases must be pastel- or candy-colored?! Go with a color that's always in style. The B117 Table Black was originally designed by Thonet in 1934. The use of tubular steel is innovative and sleek. Not to mention, this low table is the ideal strong statement to accompany a chic sofa or contemporary bed. [from The Conran Shop]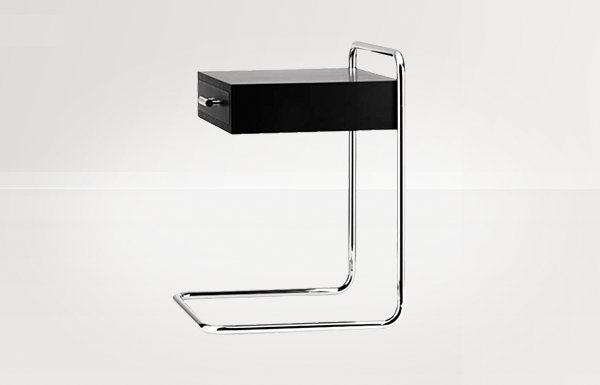 Uniquely Shaped Side Tables
We end this post with a collection of side tables that celebrate innovative design and unique forms. The Salvaged Table designed by One of a Finds is crafted of wood reclaimed from the waters of Northern Ontario. Old-growth pine is kiln-dried and hand-cut into quarter-rounds. A natural finish shows off wood grain and beautiful imperfections. And you've gotta love the matte black faded ombré effect! [from CB2]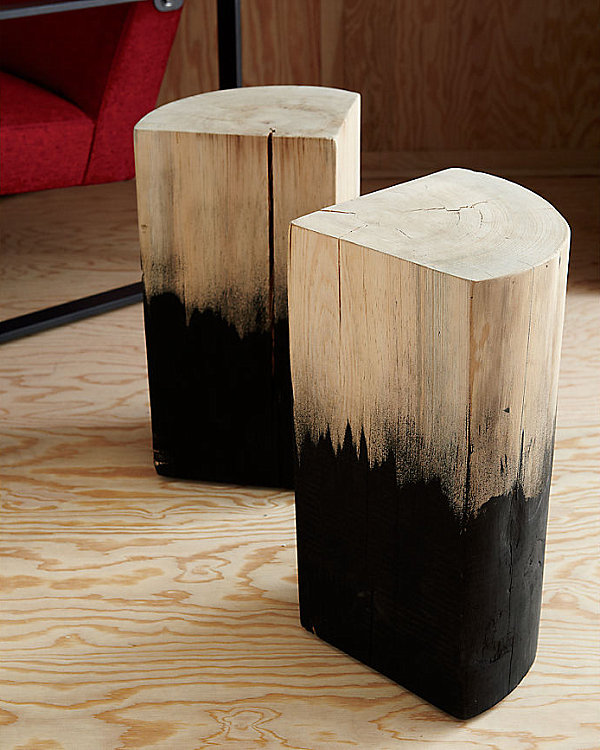 Get ready to celebrate the power of the geo form! The Faceted Woodblock Side Table from Urban Outfitters is crafted of paneled salvaged wood. With the look of a 3-D puzzle piece, this item is sure to start a few conversations in your space. Resist the urge to paint every facet a different color–or go with it!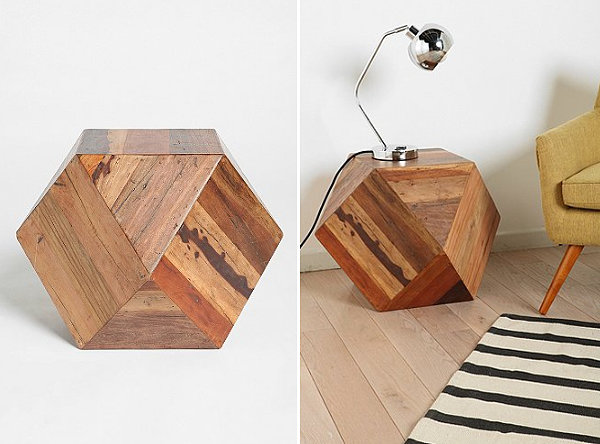 Hexagons rule in this Set of 2 Stixx Night Tables from Z Gallerie. There's just something elegant about the metal frames and their glamorous gold finish. Vertical lines connect the top and bottom forms, and a glass top seals the deal. Perfect for modern and traditional spaces alike…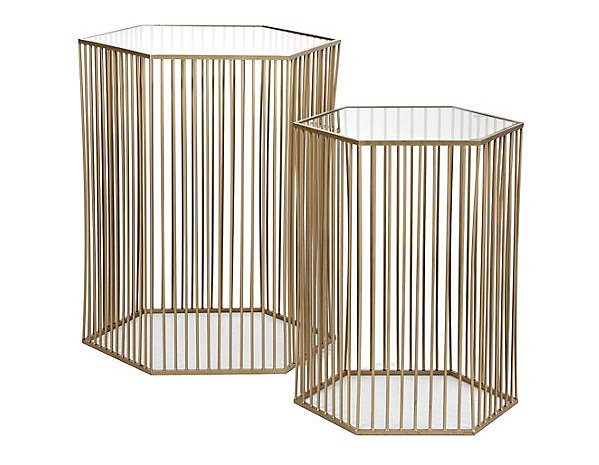 We end with a selection that is part furnishing, part art piece. You're sure to give a hoot about this Owl Garden Side Table! A refreshing shade of light blue is the perfect dose of spring color, and the owl's flat-top head ensures that this table can hold anything your heart desires. Although it's going to be hard to top that peacock blue phone below… [from Urban Outfitters]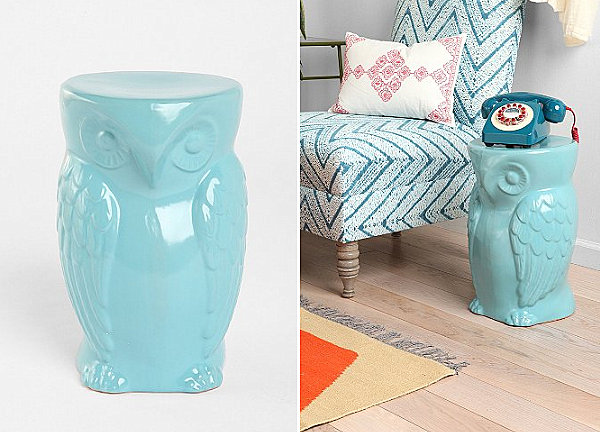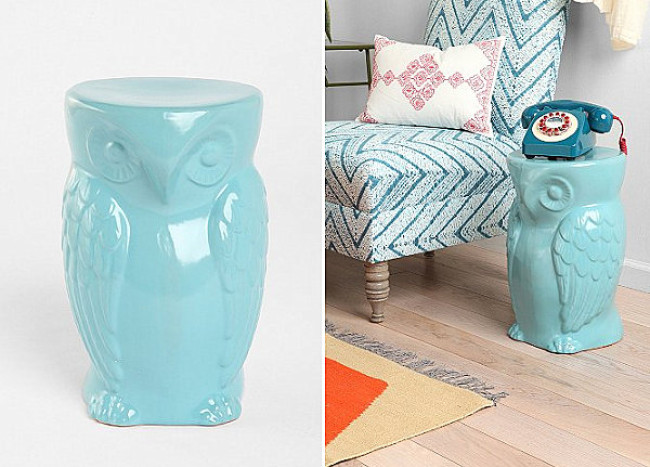 Which of the above spring table finds is your favorite? Do you prefer circles, squares, or something a little more unconventional? Share your thoughts by leaving a comment below…