Compact living. It's not just for those who live in tiny apartments! In fact, whether a family resides in a one-bedroom rental or a three-bedroom house, chances are its members will claim to need more space, especially in the realm of storage. Therefore, it's no surprise that a slew of new space-saving furniture selections are now available.
Today's post highlights the perks of strategic furniture selection. Just because your place is small doesn't mean it has to be cramped. Modular furniture, compact furniture and dual-purpose furnishings are a few of the space-saving solutions that have caught our eye. We present a range of unique pieces, as well as some tips for making the most of your square footage!
Space-Saving Living Room Furniture
We begin in the living room, which is often the hub of the home. Don't assume that compact living equals boring furniture! In fact, this showstopping configuration from Tetran blends seating, storage and style in a square-shaped arrangement that puts you face to face with your guests. Maximum seating in a limited amount of space…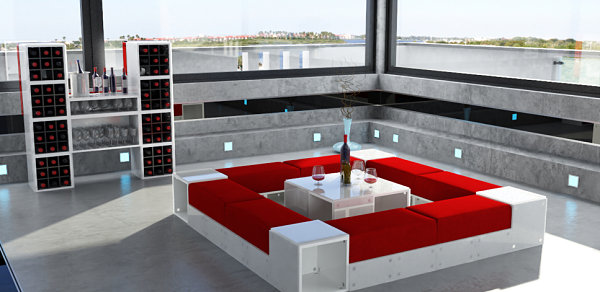 Looking for a new space-saving strategy? Make the most of your corners! Today's wide array of L-shaped sectional seating options gets the job done. The Baxter Sectional from West Elm represents modular seating at its finest. This sofa can easily morph into various configurations, and you can either order individual pieces or purchase the entire set!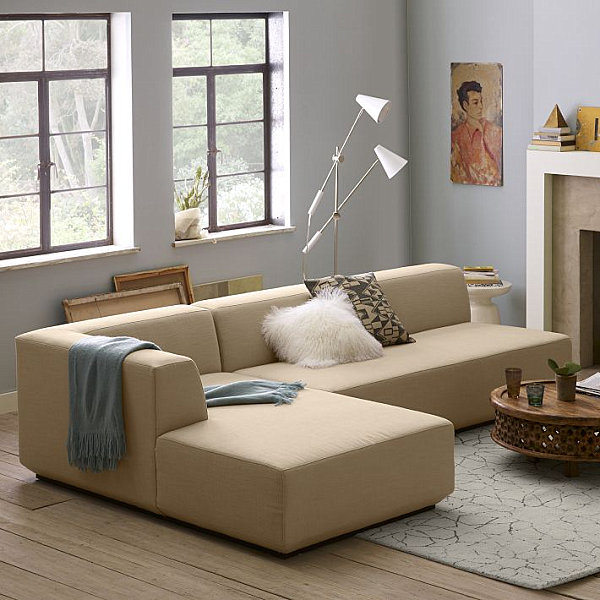 Looking for another stunning sofa option? The compact uno kiwi right arm sofa from CB2 is striking in both shape and color. This vivid piece can combine with the uno kiwi left arm sofa, or you can display it as is for a luxe chaise lounge feel: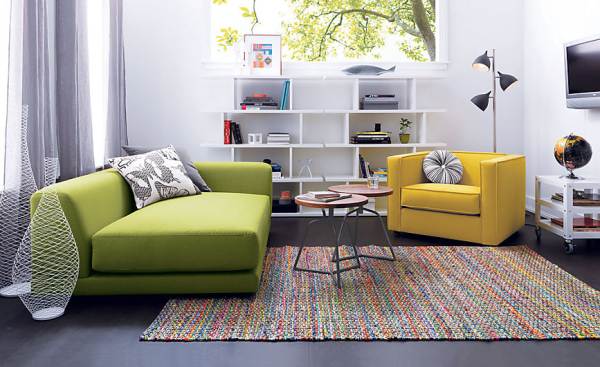 One of our favorite new items from CB2 is the city slicker mint side table, shown below. Why are we so excited about this piece? Perhaps its the refreshing hi-gloss lacquer, or the way you can combine two of these pastel gems to create a modular coffee table option. For those with extra-small spaces, this item can clearly stand on its own in the middle of a room, as shown in the next image: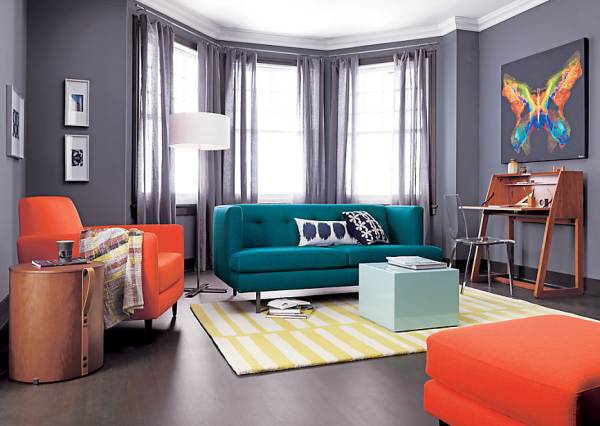 Below we see a close-up of the mint side table, as well as the dot acacia side table-stool from CB2. With an acacia wooden top, this seating option serves a dual purpose: stool or table. In fact, you can bunch two together for a coffee table like no other!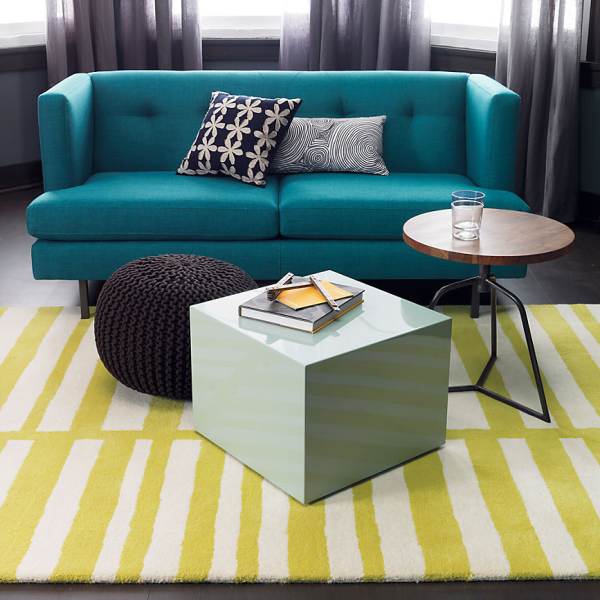 Storage, compact design and mobility perfectly combine in the Industrial Metal TV Cart from West Elm. Raw steel and glass are the materials of choice. This piece is stunningly perfect for small living spaces. The best part: you can wheel it out of the way to create more room if need be!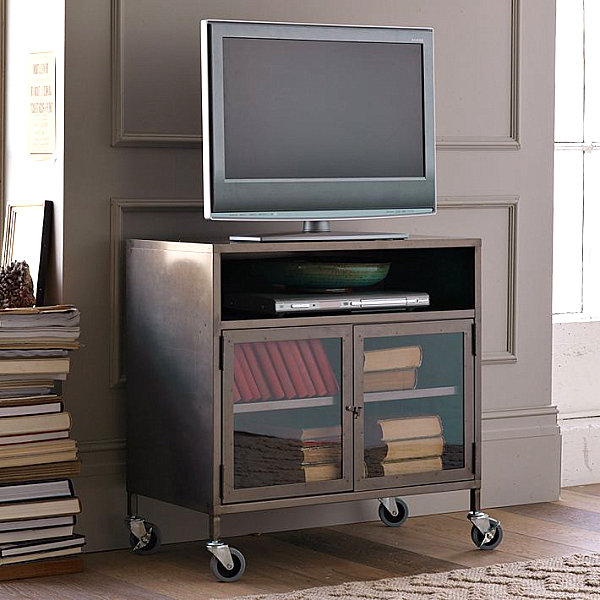 We end our living room section with an important space-saving reminder: scale down! Yes, it's as easy as selecting pieces that don't overwhelm your space. Many Mid-Century modern (and Mid-Century modern-style] selections are naturally compact, and they pack a powerful punch, as shown by the chairs below. [from Birdhouse Interior Design]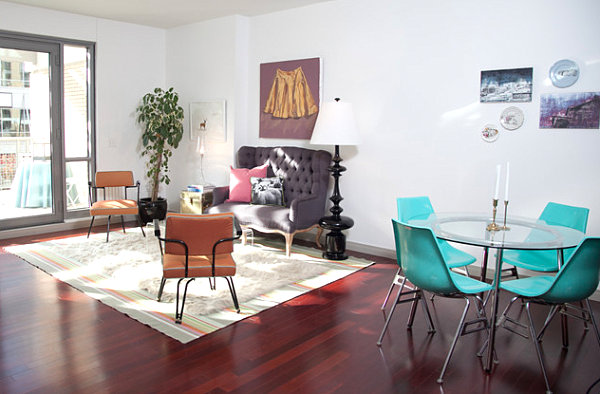 Space-Saving Kitchen and Dining Solutions
With bulky counters and cabinets built into many kitchen spaces, it can be difficult to maximize space in this room. One popular strategy involves making wise table choices, especially when kitchen and dining spaces are combined. Below we see a stunning number from Tetran. While it's not the smallest of tables, the innovation lies in the design. The table portion of the item is compact, while shelves, drawers and extra surface space are built in on each end of the piece. Stash those wine bottles and cooking utensils with ease!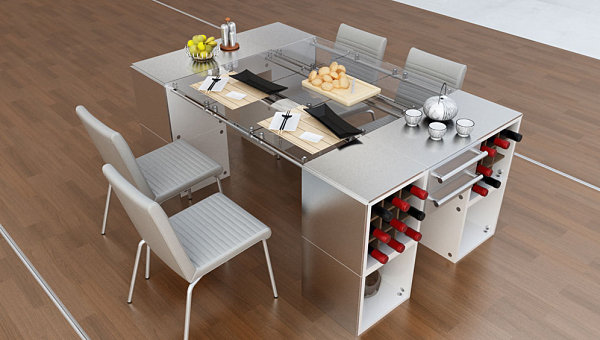 One compact design idea: choose a table that extends from the wall! Not only does the piece below make a stylish statement with its unusual craftsmanship, its narrow form leaves plenty of space in the room for other furnishings. Not to mention, clear acrylic chairs create the illusion of space. [from Toronto Interior Design Group]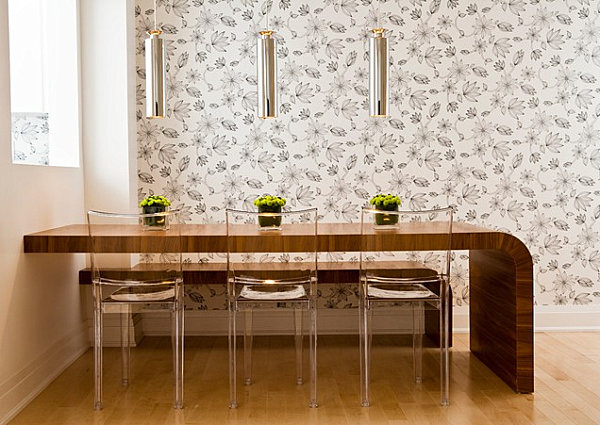 If you're not looking to permanently fill the space, you can always purchase a table that can be stashed away as needed. The Span White Gateleg Dining Table folds up for easy storage, yet when unpacked, the piece is substantially fabulous. A lean form makes it ideal for console table duty in between dinner parties, while a white lacquer finish adds sparkle: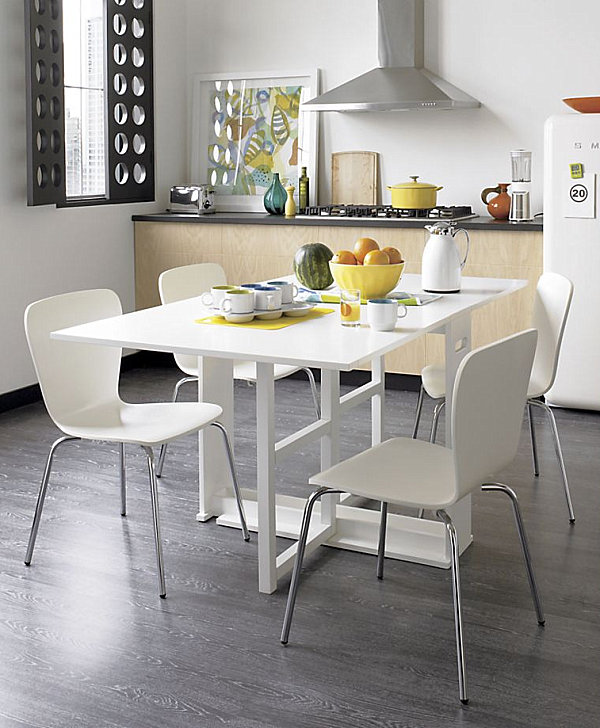 Round tables are naturally space-saving, as bulky corners are eliminated. The Pearse 60″ Round Dining Table below is from Crate & Barrel: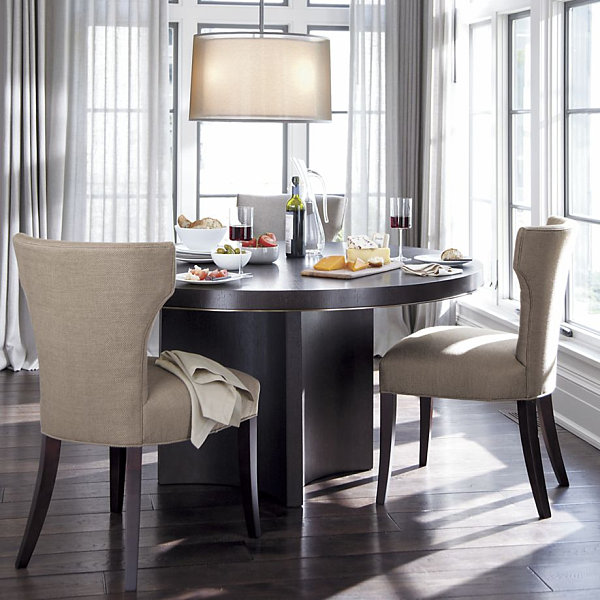 Once again, mobility saves the day! The Design Workshop Metal Top Bar + Counter from West Elm is eye-catching with its distinct blackened-steel top. Yet, this piece has the benefit of wheels, which allow it to be moved to the side in order to create extra space. Use it as an island when it's time to prepare the food, then stash it against the wall to open up the kitchen.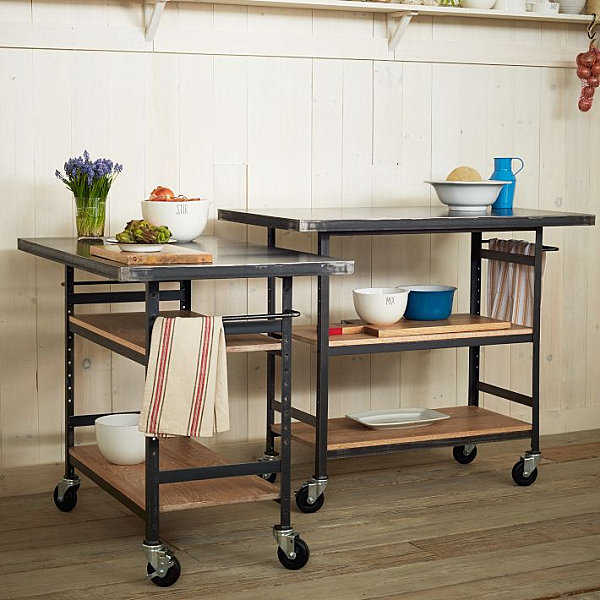 Space-Saving Bedroom Furniture
Bedrooms can be tricky spaces. Not only must they hold a bed and clothing, they are often used to store items that would add clutter to other parts of the home. Good thing companies like Tetran make it easy for this space to be functional and stylish with their innovative, storage-maximizing designs: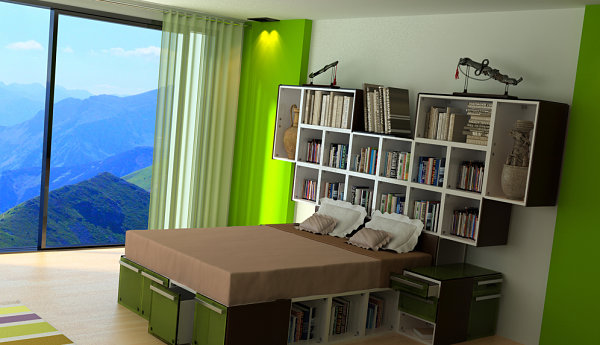 In another Tetran creation, a bed frame doubles as a geometrically interesting bookshelf: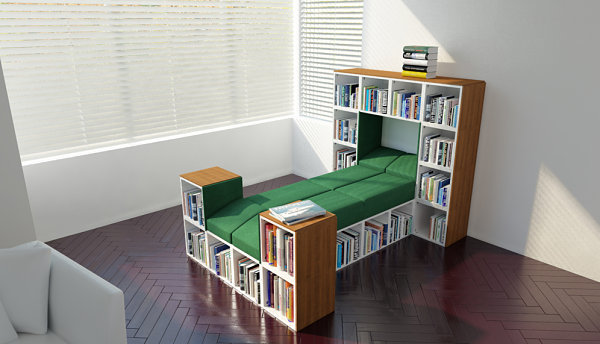 Challenged with a small bedroom? Go with small furniture! This Mid-Century 3-Drawer Dresser from West Elm is stunning with its wooden construction and antique bronze-finished knobs. Clean-lined design at its finest…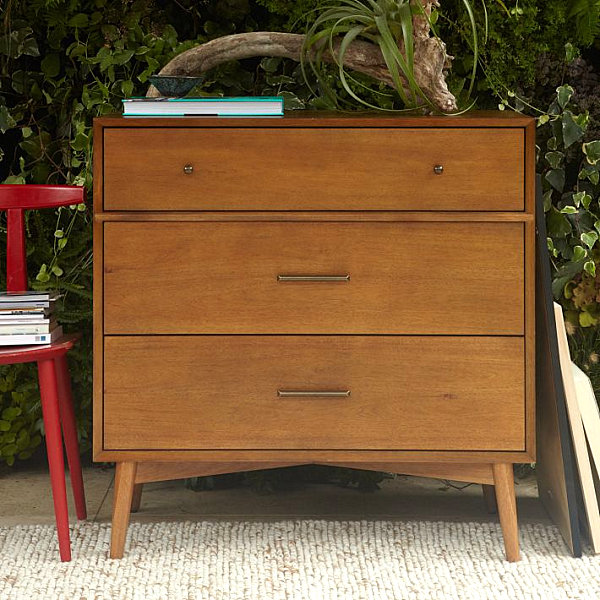 Another space-saving strategy? Select wall-mounted dressers! Not only does hanging furniture on the wall free up room underneath, it creates a spacious feel that does wonders for the eye and the soul. [from Murphy & Co Design]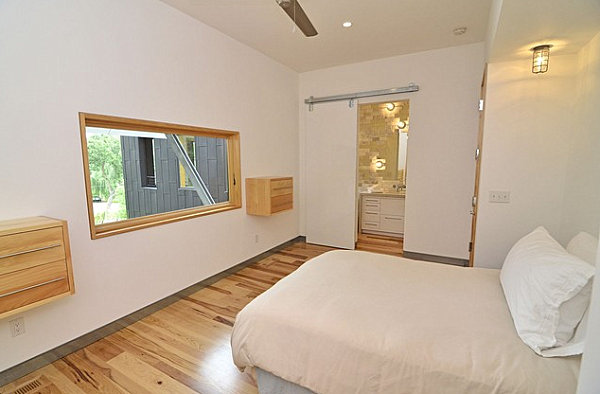 When confronted with a small space, don't hesitate to get creative with the furniture arrangement. Below we see two beds lined up near the window of a charming room. The result: a unique layout and an open feel. [from Smith & Vansant Architects]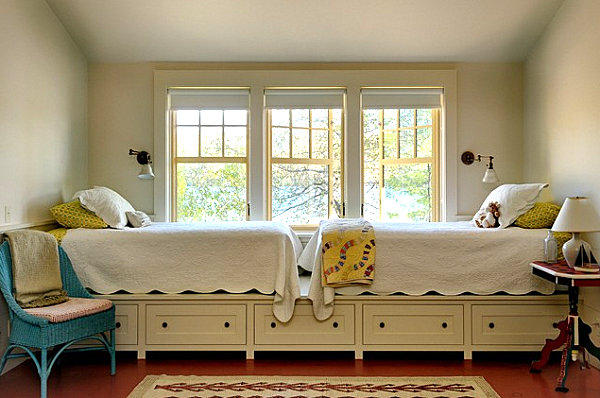 If you literally have no room for a sleeping space, rely on a hideaway bed to solve your design dilemma. Many of these selections fold down from the wall, temporarily grounding themselves for a good night sleep, then tidily returning to their upright position for the day. [from Valet Custom Cabinets & Closets]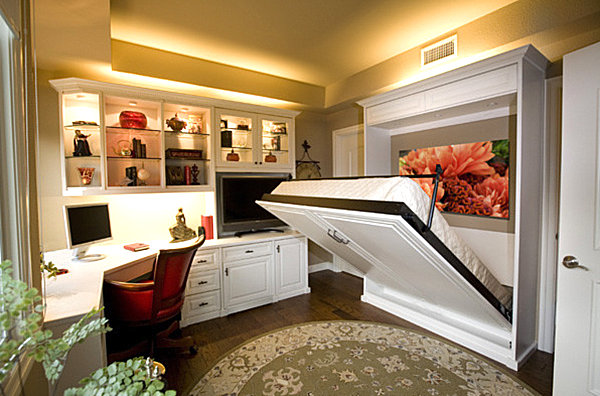 Space-Saving Office Solutions
The office is a place of work and focus. And who can focus when surrounded by clutter? If this room is compact, organization and space-saving tactics are of the utmost importance. Our first office combines the best of bedroom and work space design. In another stunning configuration from Tetran, multi-functional furniture design meets storage, sleeping and working requirements.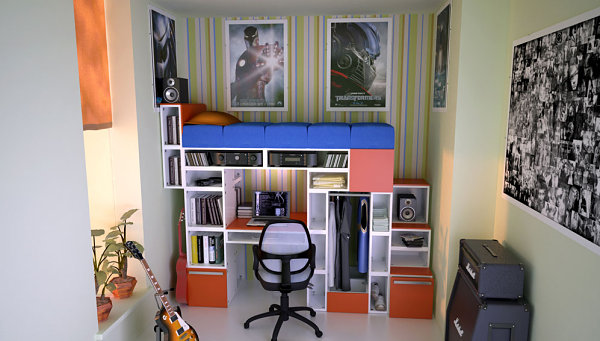 Once again, we return to the wonder of furniture on wheels–this time it's a desk! The go-cart white desk from CB2 is crafted of metal, and the wheels lock to prevent unnecessary rolling. Not to mention, the piece is available in shades of bright orange and carbon so you can find a color that best meets the needs of your space.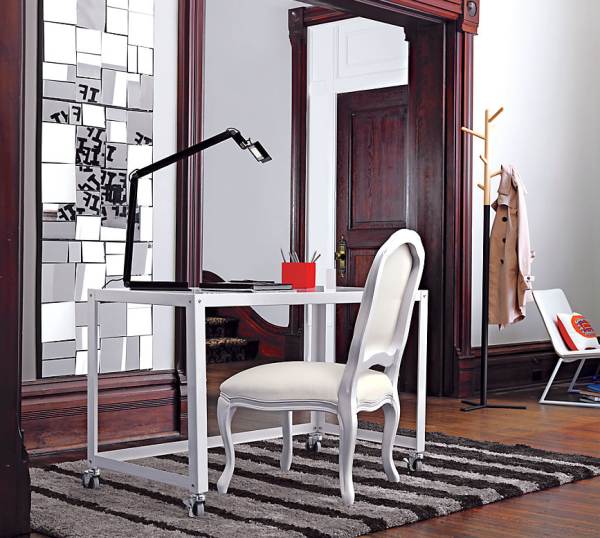 Below we see the desk in orange, but this time it's hardly displayed in an office. The image reminds us that an office can easily merge with a living space if executed with style. A neatly organized surface and an unforgettable color make the desk a natural fit for this modern room:
We end with the Entity desk by DVO, designed by Antonio Morello. Perfect for corners, this compact work space has a handy L-shaped design, as well as built-in drawers for storage. [from Architonic]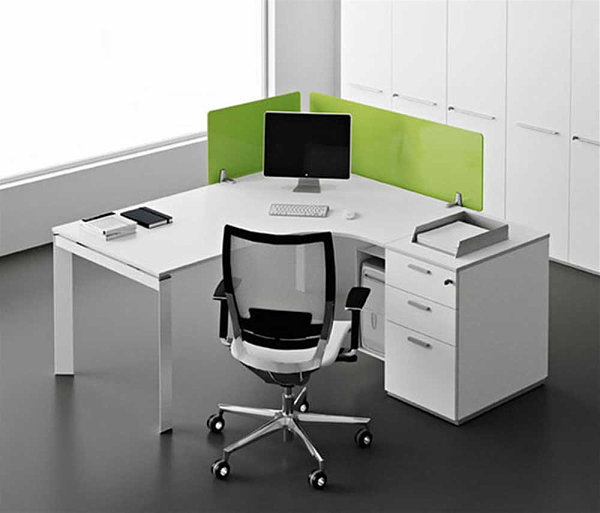 When selecting space-saving furniture, make sure you love the design. Just because a piece must be functional doesn't mean it shouldn't speak to you on a creative level. Do you have a tip for stylish compact living? Share your thoughts by leaving a comment below…