Is there a hint of spring in the air where you live? Even if the snow is still piled high, it's hard to ignore the vivid colors that are popping up all over in the spring collections of many a retailer. In fact, this season it's all about color. As forecast for the color trends of 2013, mustard yellow is a hugely popular shade. Also of note: vibrant blues and plenty of gray. In fact, as you'll see in the images below, gray can serve as the ideal neutral backdrop for the boldest of colors.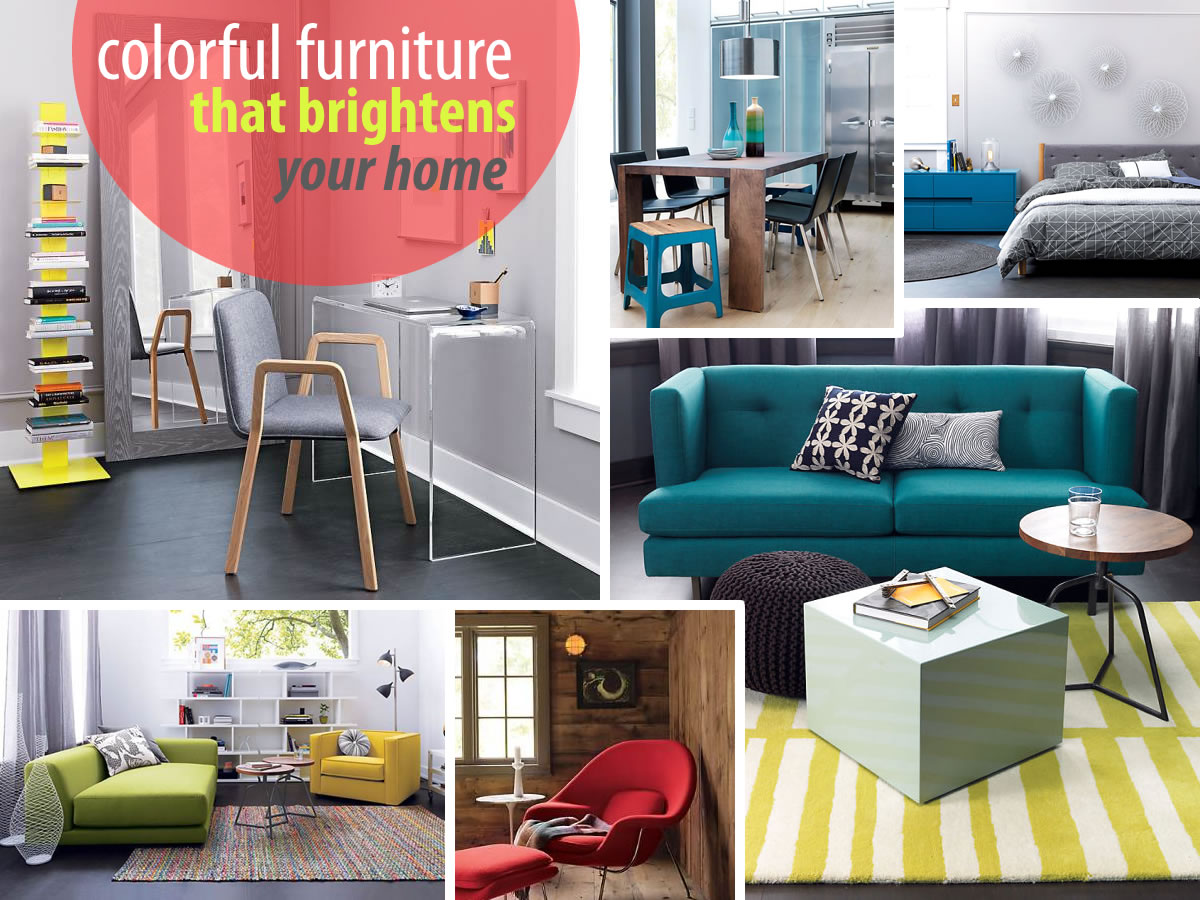 Today we focus on new furniture finds that exemplify the radiance of true color power. Not only will we point you to the hottest hues, we'll let you know where you can buy each piece in case you're in a shopping mood. Put on your sunglasses, because some of these colors really pop! If your interior needs a pick me up, today's blog post could help guide you on your quest to find this season's best and brightest. Happy browsing…
Colorful Seating
We begin with the Avec Peacock Apartment Sofa, a new piece that's packed with '50s style. Retro arms and gunmetal stiletto legs are standout features. Below we see the piece showcased with another favorite: the City Slicker Mint Side Table, shown here as a compact coffee table. [from CB2]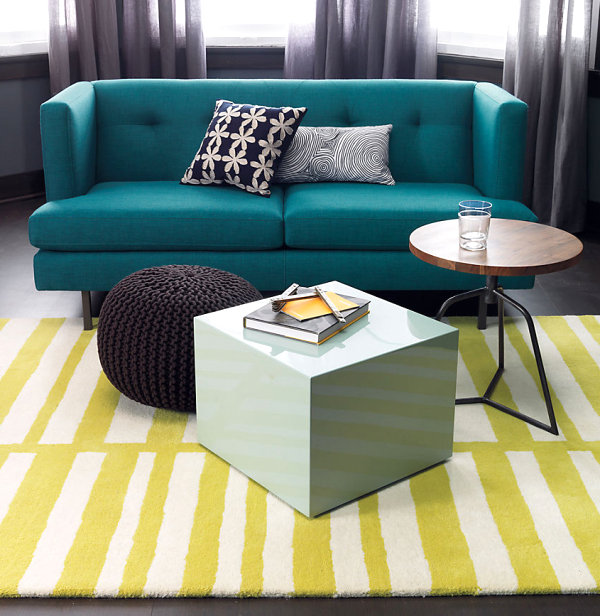 For a blue piece with a dash of gray, check out the True Modern Hamlin 1 Arm Sectional, designed by Edgar Blazona. Sleek legs and a clean-lined form give this piece its modern allure. [from AllModern]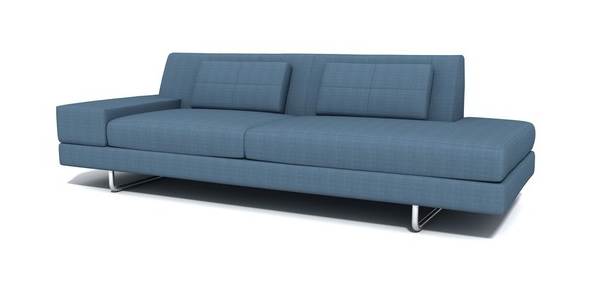 As promised, mustard yellow has proven to be a scene-stealing hue in today's post. Below we have the TrueModern Circa Standard Sofa, also designed by Edgar Blazona. The Mid-Century modern style of this piece can't be denied, nor can its unforgettable shade. [from AllModern]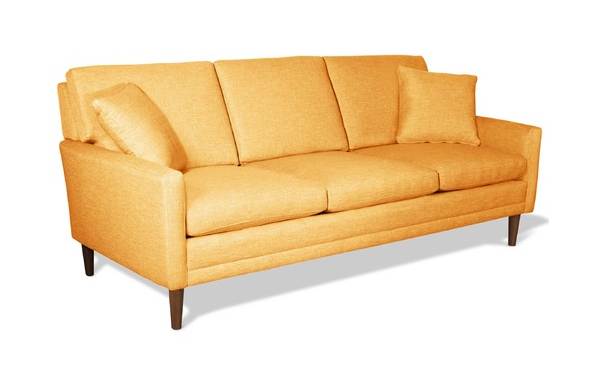 Sometimes just a dash of color is all you need, as shown by the IKEA PS 2012 sofa, which features a hearty does of bright blue trim. In fact, this bold detail creates quite a contrast with the light beige upholstery: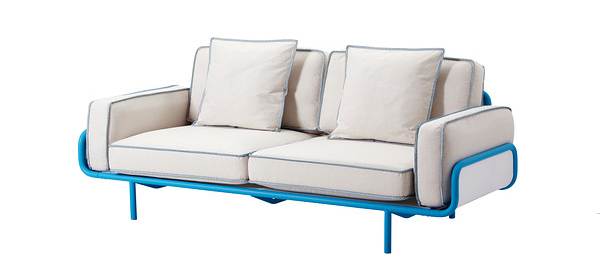 Citrus tones are all the rage! Don't hesitate to combine them, as shown by the coupling of the Uno Kiwi Right Arm Sofa and Club Lemongrass Chair below. Both pieces are new releases from CB2: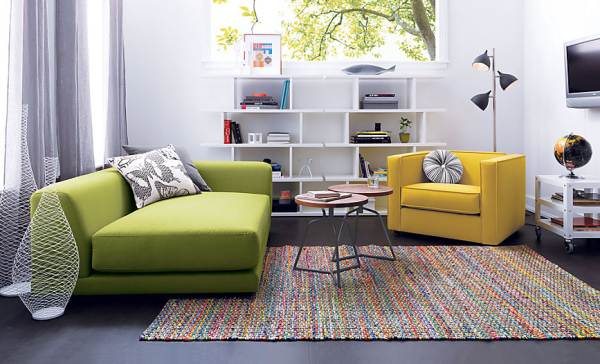 The power of mustard just can't be denied. Below we see the Grayson Chair, shown in citron. Striking legs with a dark Deco-style finish serve as a wonderful contrast to the fabric of this barrel chair, and clean lines give the piece a truly modern spin. [from Crate & Barrel]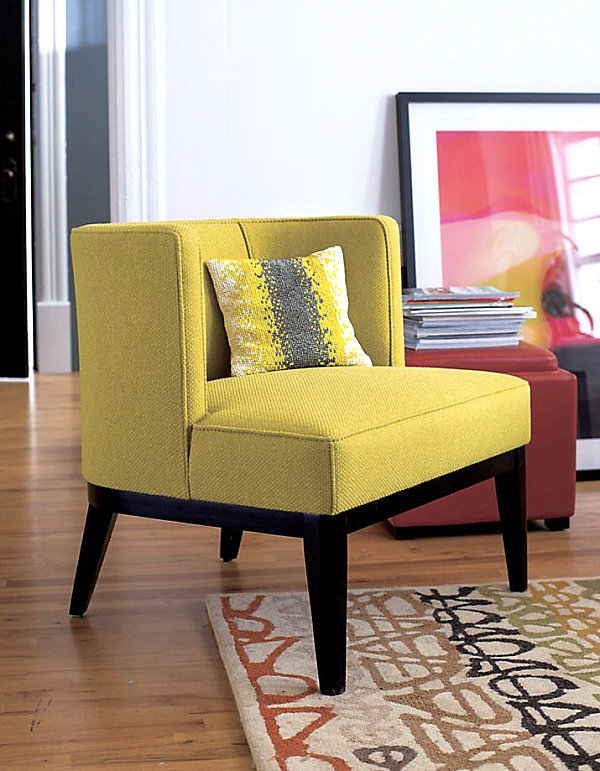 For another bright upholstered piece, check out the Max Accent Chair in Nomad Flame, complete with a bold chevron pattern featuring mango and fuchsia hues. [from Z Gallerie]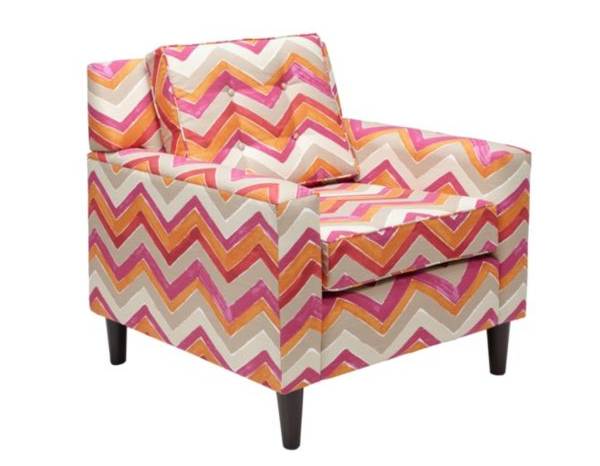 We now spotlight an iconic piece of furniture: the renowned Womb Chair from Eero Saarinen, available at Design Within Reach. A bold red color guarantees that this item will be the focal point of any room, even the most rustic of spaces: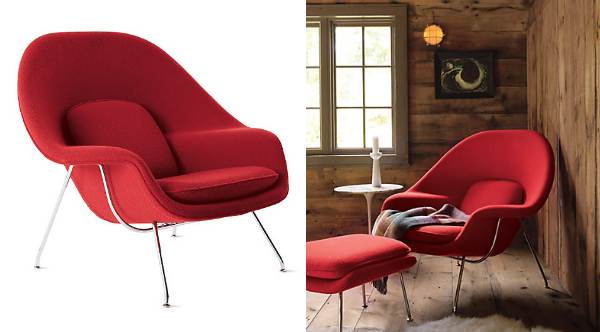 Once again yellow saves the day. The Sonny Bench consists of bent beechwood and a plywood seat. A lacquer finish provides just the right finishing touch. Note how the piece is perfect for gray-blue spaces, as shown in the image below. [from Crate & Barrel]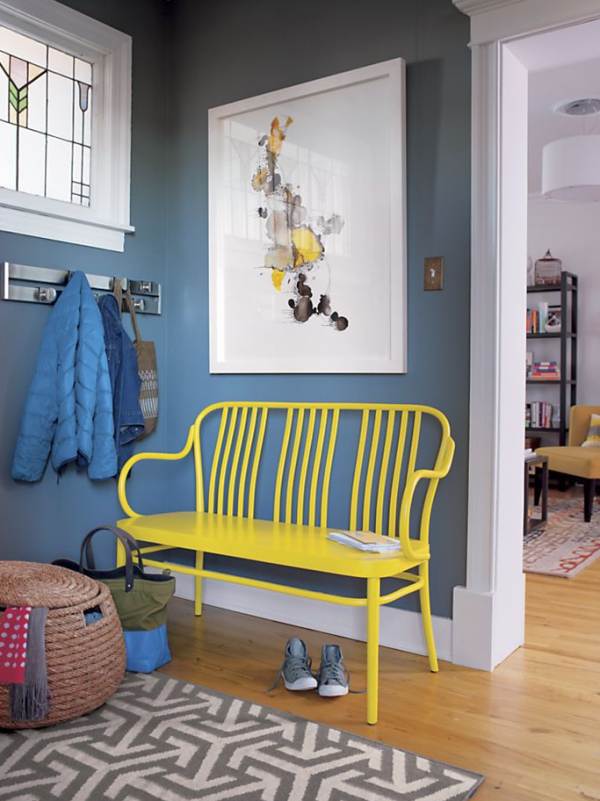 Looking for some rosy seating for around the table? It's back to red with this Vienna Beet Side Chair. A classic bentwood design makes this cafe-style piece perfect for a bistro kitchen. Plus, this chair is also available in apple green and sky blue, along with classic black and white.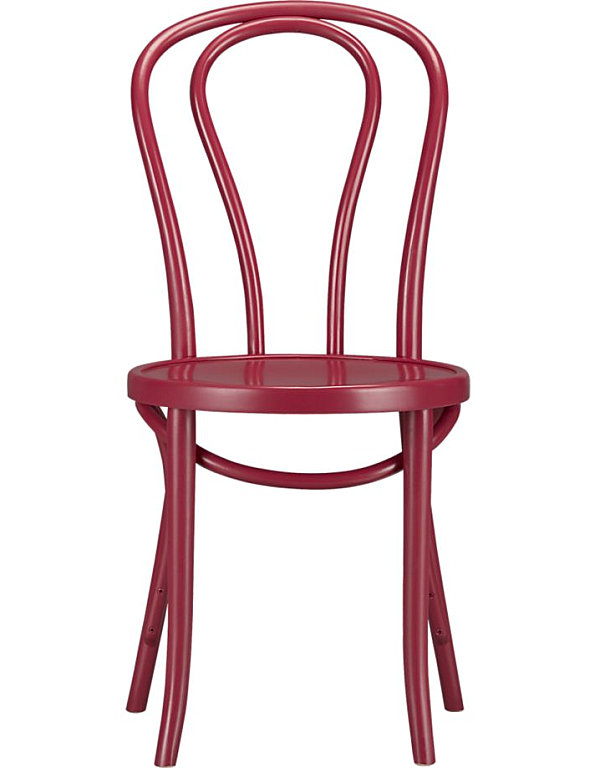 Sometimes one small statement is all you need! The Palmer Stool in lemon adds a sunny touch to a room, packing a powerful punch as guest seating or even as a side table. We love the link-themed design. [from Z Gallerie]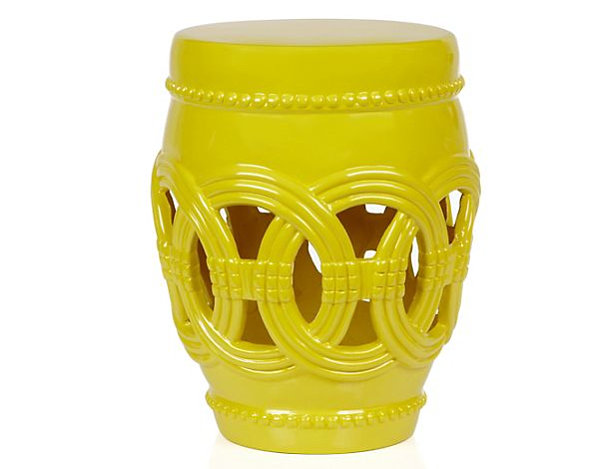 The Hitch Peacock Blue Stool is crafted of wood and metal. The piece can be used as seating, but it can also pull creative double duty as a nightstand, or even be placed side by side with a clone of itself for a coffee table effect. [from CB2]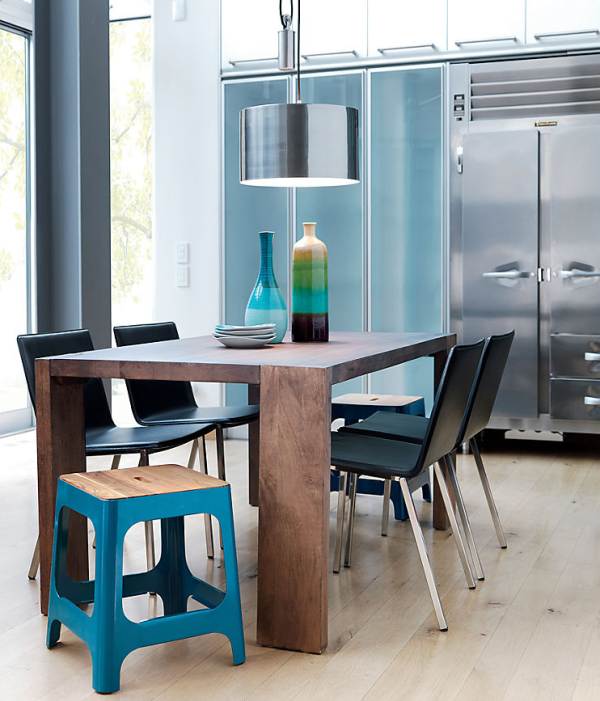 The Nelson Pedestal Stool provides the perfect pop of color for any modern space. Designed by George Nelson, the item features a polyester upholstered seat pad. Not to mention, this piece is compact enough that you can stash in the closet when it's not in use. But then again, why would you want to hide it?! [from Design Within Reach]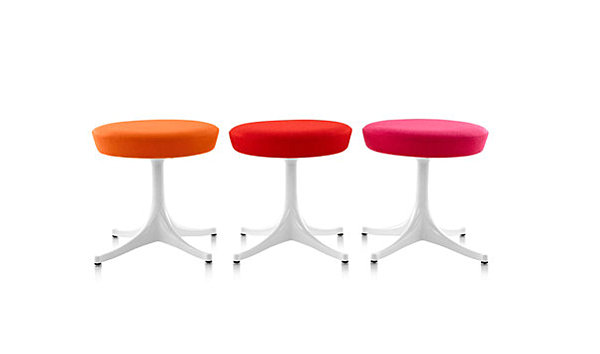 Don't forget about the outdoors. This IKEA PS 2012 Easy Chair is constructed of steel with a polyester powder coating. In fact, this piece is sure to be the star of your patio: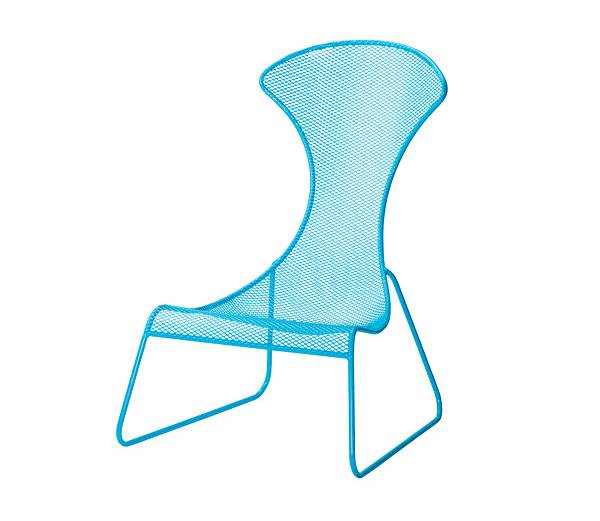 Colorful Tables, Shelves and Dressers
As mentioned, blue has been a hot furniture color this season, particularly at retailers such as CB2. Below we see the Latitude Slate Blue/Grey Low Dresser, which boasts four drawers, as well as an engineered wood construction with a hi-gloss finish. [from CB2]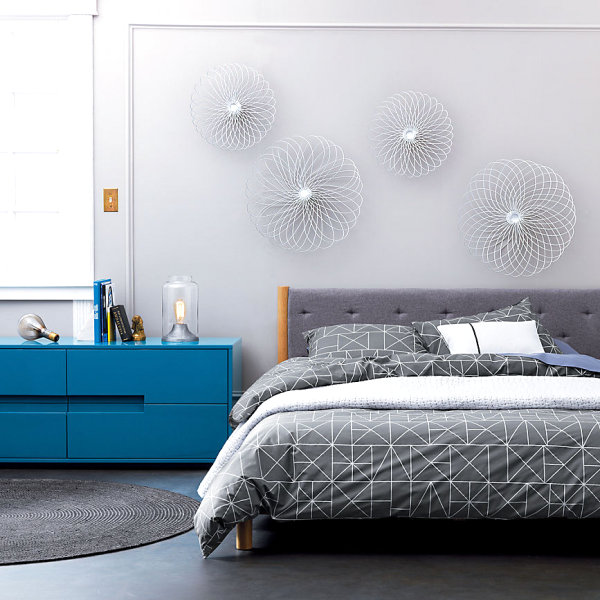 The Herman Miller Select Eames Wire Base Low Table is influenced by Japanese forms, and the piece reinforces the principles of simplicity, serenity and restraint. With a look both retro and industrial, the design of this table is heightened by the vivid primary colors of red, blue and yellow. [from Design Within Reach]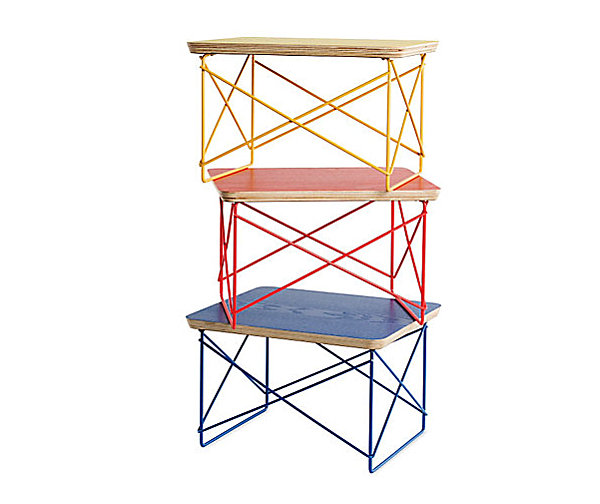 It's hard to resist the Sledge Acrylic Coffee Table in Pink from Alexandra Von Furstenberg. Triangular legs are a standout feature, as is the radiant neon hue of this unforgettable piece!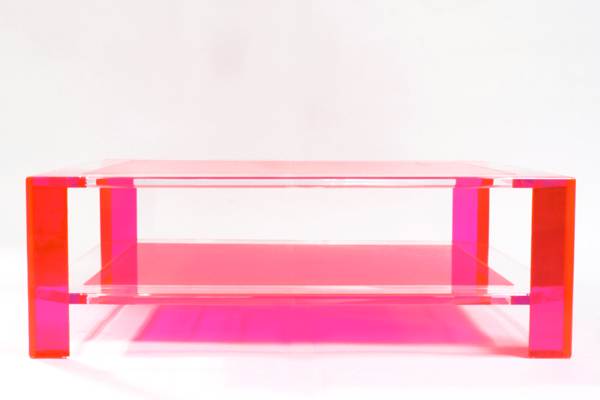 Looking for a little pop of color that serves a big purpose? Check out the Array Yellow Bookcase, designed by Bruno Rainaldi. Stack books on their sides and let them shine on this lightweight laser-cut steel piece with a bright yellow finish. [from CB2]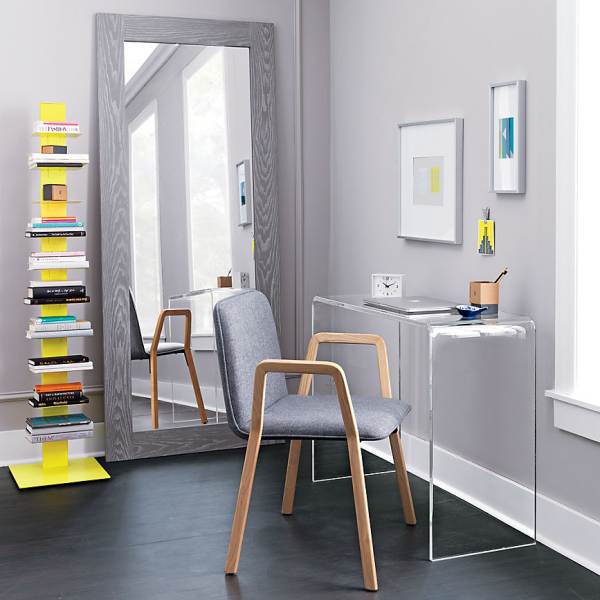 There's no question that yellow and blue seem to steal the show when it comes to today's top hues, along with a hearty dose of bold rosy shades. What do you think of this season's selections? Any color favorites? Share your thoughts by leaving a comment below…