While most of us spend an insane amount of time decorating our home and planning for more efficient interiors, it is often that lonely little corner space that goes unnoticed. Many among us pretty much resign to the fact that there is very little we could do about it and tend to either place a decorative art piece or something quite inconsequential there. Yet, there are plenty of wall shelf designs that can turn the boring corner into an exciting display or storage option.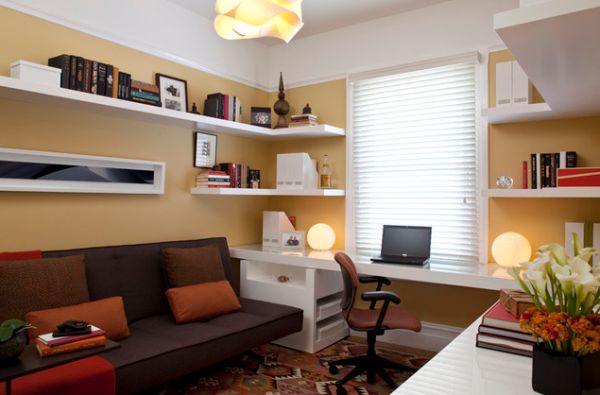 by Jennifer Gustafson Interior Design
All you need to do is look towards your own kitchen for some inspiration! It is amazing to see how that tricky corner in the kitchen is laced with ergonomic shelves, yet we do not do the same when it concerns our bedroom or the living space. Here are a few ideas that will hopefully inspire you to incorporate some cool corner wall shelves –
Revamp the Forgotten Corner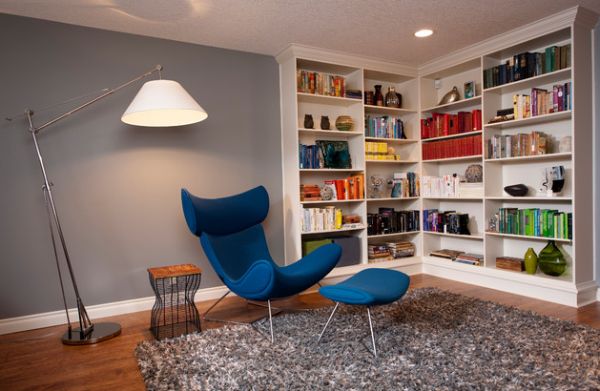 by FORM Interiors
A home library is something that most of us think about, but never really act upon. A small and quiet reading room is a wonderful addition to any house and you can use an elaborate L-shaped bookshelf in the corner to turn it into a modest home library. Add some plush seating, smart lighting and a few accessories and you are pretty much set.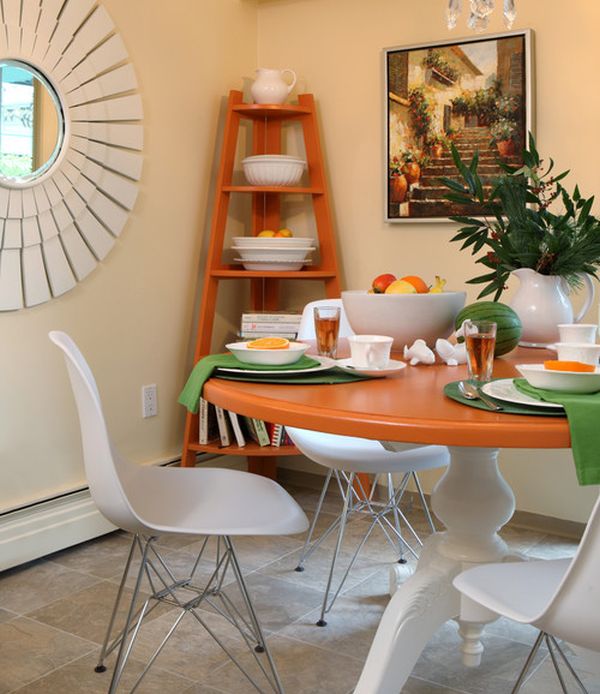 by Maria Killam
Whether it is the dining area or your living space, there is always a forgotten and neglected corner. A smart shelf like the one above can instantly turn any such corner into an exciting display that showcases creative design. Since picking and placing such shelves takes very little actual work, all you need to do is pick something that suits your existing theme in terms of design and color. The one here is perfect in case you are opting for an 'Oriental touch'!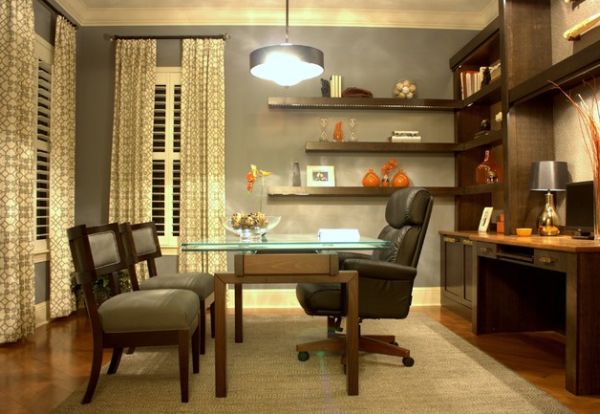 by Shari Misturak
The above home office was designed specifically for a baseball enthusiast. While the entire room appears to be pretty common in design, the floating shelves in the corner are 'illuminated' to proudly display the owner's baseball memorabilia. Now, this is what we call utilizing the corner space to the hilt. You can use similar illuminated corner shelves to showcase your own prized possessions.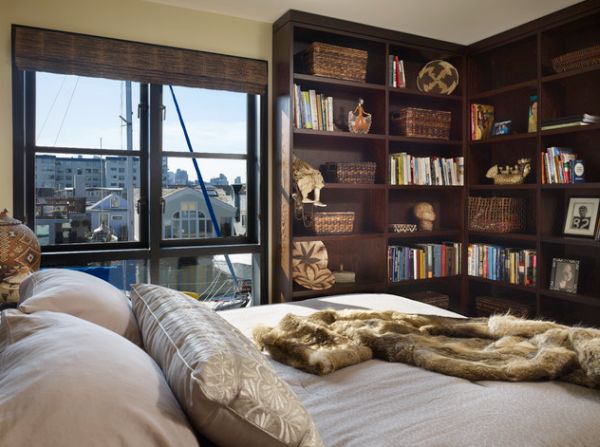 by Designs Northwest Architects
A bedroom is the perfect place to put in a snazzy corner shelf that will act both as a display unit and also as a place to stack up all the books. Most modern bedrooms leave the corner spaces untouched (sometimes to bring in the minimalist feel), but if you are one for blending in form with functionality, then this design works best. A particularly effective space-saving solution for small apartment homes!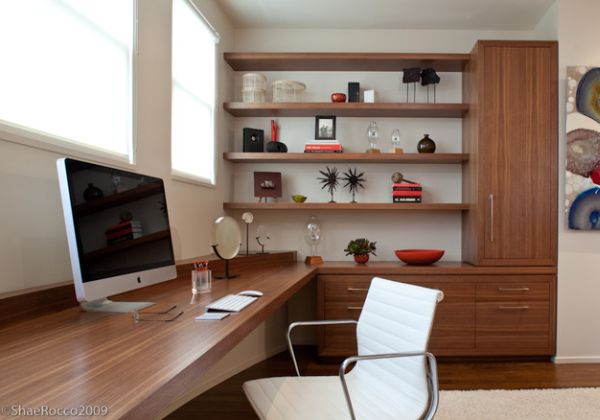 by Jennifer Gustafson Interior Design
Extend the space above your home office work station by integrating a few floating shelves in the corner. Even if you do sport a window with a view on one side of the room, you can always use up the space on the adjacent wall. Smart and saving up on leg room, floating shelves make an ideal corner shelving option.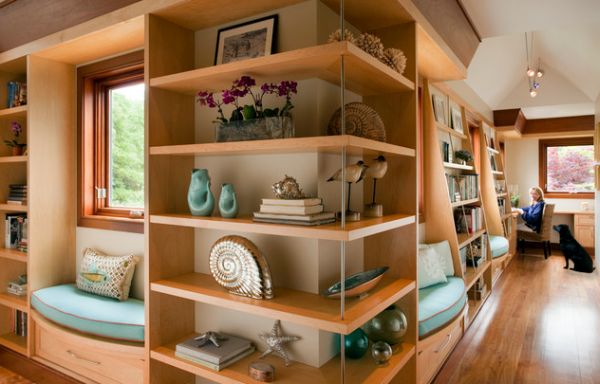 by Siemasko + Verbridge
Outside corner shelves make for lovely additions to any living room or lounge area. They are easy to incorporate and can be classy extensions of your existing shelves as well. While small apartment homes might have a bit of difficulty fitting them in, if you do sport a spacious house then they also fill up the ample space in a meaningful manner.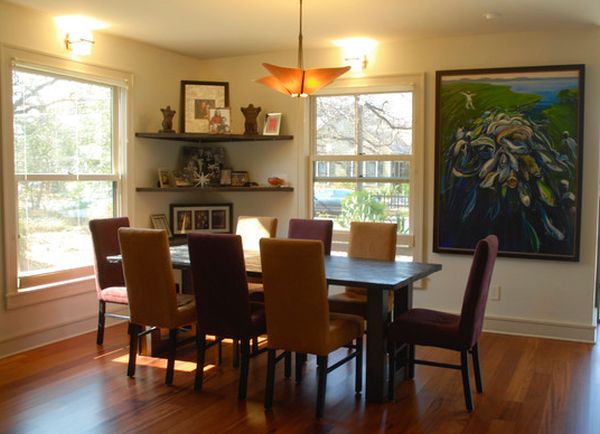 by Kara Mosher
Curved shelves in the corner make for an aesthetic addition as they add a geometric design that is different from all the squares and rectangles. Even triangular shelves snugly fit into the corner offer a whole new look to the room. Apart from lighting up the vacant corner, they also provide for additional display area.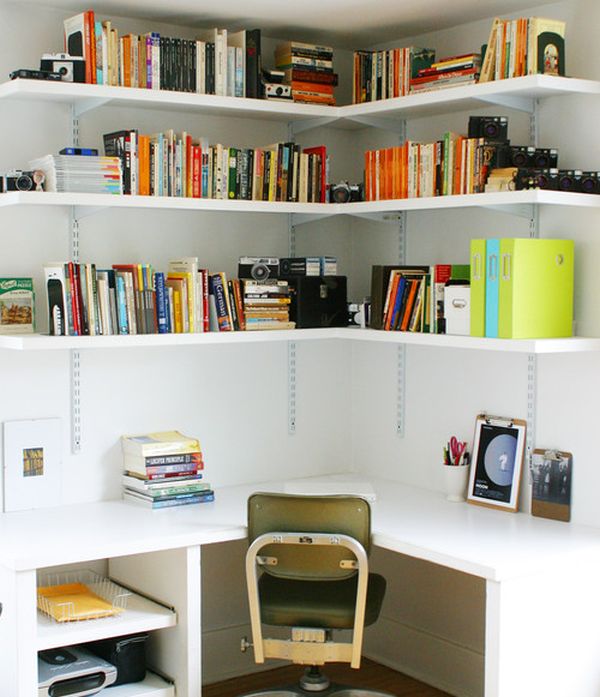 by Keep Smiling Home
Adding a home work station in the lonely little corner is a sensible little way of saving up on space. This works great in apartments and homes where you are struggling to find some extra room. You can this resourcefulness a step higher by adding floating corner shelves above the home work station. It's a simple way to tuck away all the office mess!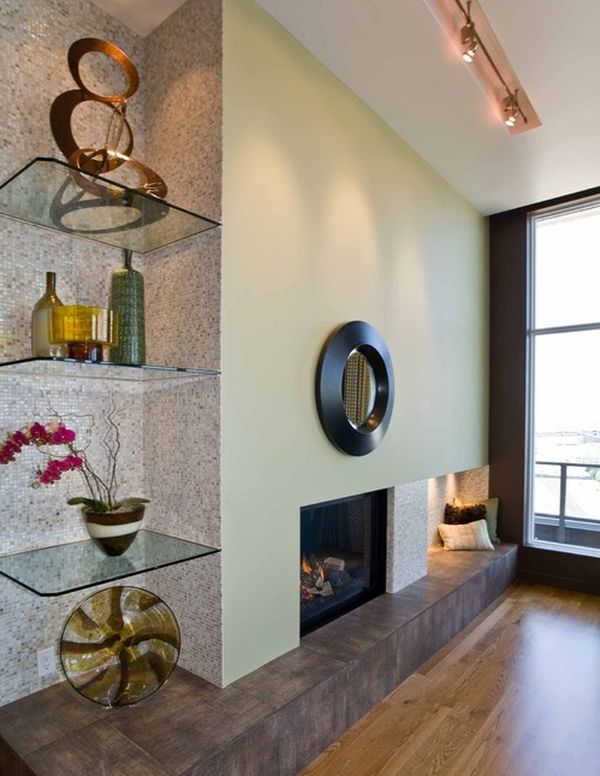 by Angela Todd Designs
Glass is a material that is becoming quickly popular as most modern architects and designers are employing it extensively in designing various structures. With contemporary homes sporting large floor-to-ceiling glass windows, it makes sens to add floating glass shelves to the corner. Glass shelves bring along with them a sense of 'light and airy' appeal along with a different textural element.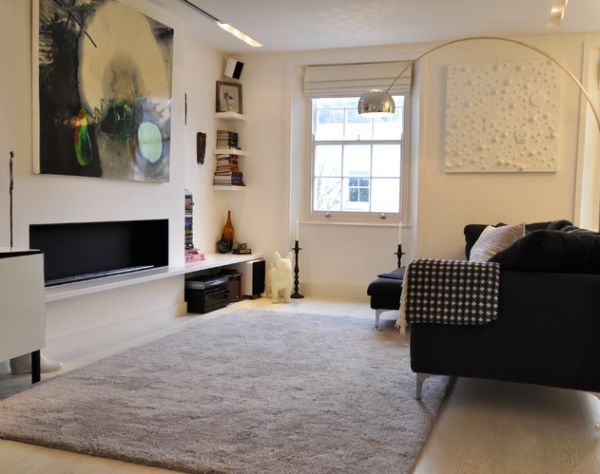 by Kia Designs
Just because you are going in for a minimalist or even a semi-minimalist look does not mean that you are compelled to cut down on the shelf space. This living room sports compact floating shelves in the corner that are stylish, ergonomic and add a touch visual contrast to the place. A nice way to stack up your favorite titles indeed!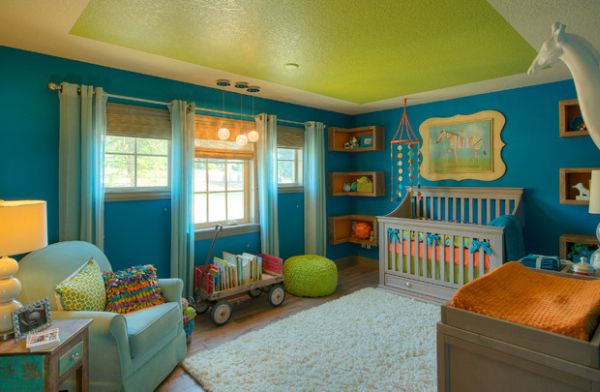 by Vidabelo Interior Design
Here is a perfect example of how every room in your home can sport unique and inimitable corner shelves that vary from one another. Box-shaped shelves next to the crib in this nursery stand out from the rest of the room with ease. They make for visually appealing and stimulating additions as your little one will be engrossed with the goodies that they hold.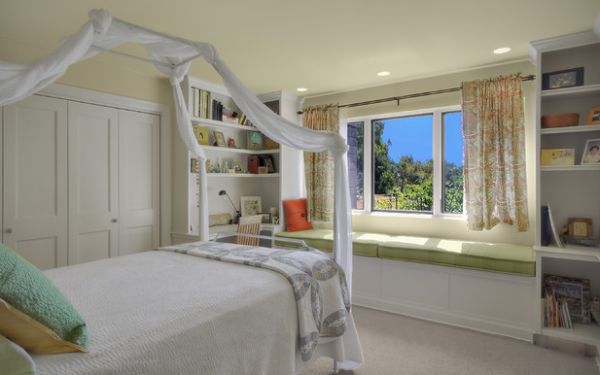 by RW Anderson Homes
Adding a sitting area next to the window in the bedroom gives us a chance to take in the many sights and sounds outside. This bedroom goes a step further with a corner bookshelf that comes with some desk space as well. This offers a connected and compact area where one can jot down their ideas and enjoy a few reflective moments through the day.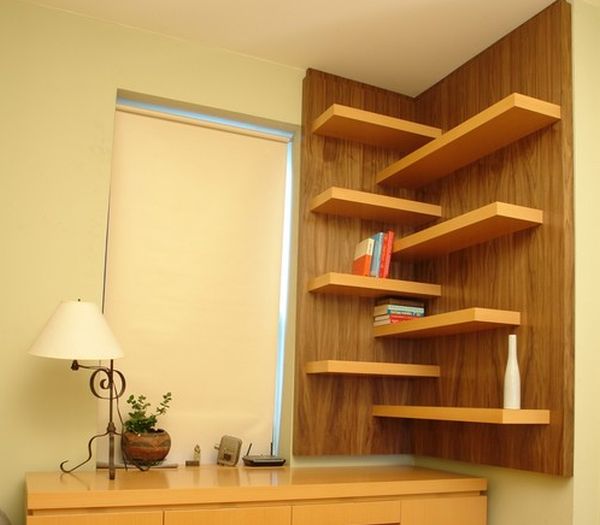 by CustomMade
These custom crafted floating walnut shelves bring a contemporary twist to any room that they grace. The floating shelves offer ample display or storage space where you put away all your books and accessories. By altering the number of shelves and spacing between them one can pretty much obtain a different look every single time.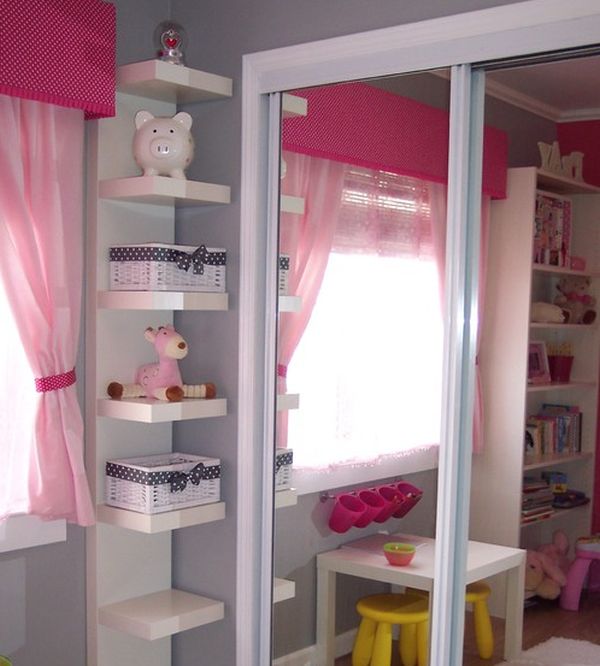 by Alina Druga Interiors
Kids' bedrooms can also be a great place to put some corner shelves. When it comes to kids, no matter how big the room is, there will always be a necessity for more storage space. Even small floating corner shelves like these can help in hiding away all the mess. Cute baskets and smart boxes that conceal the clutter can take up this shelf space, in the case of the beautiful girls' bedroom above.