Storing books and other decorative objects may seem like a practical matter, but shelving has transcended the mundane and entered the realm of creativity. Who says a bookshelf can't be a canvas for an eye-catching arrangement of reading materials and vases? And what if the shelf itself were a work of art?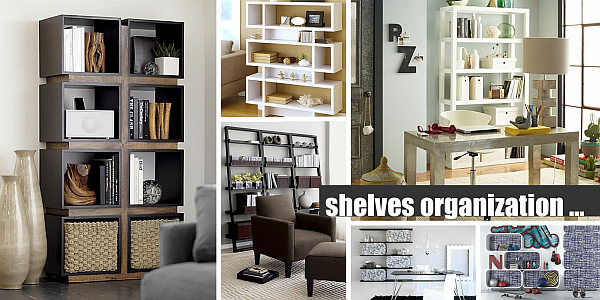 An array of modern options awaits you, from the simple and clean-lined to the whimsically modular. Whether the room calls for a wall-mounted shelf or a free standing piece, a variety of colors and designs are available. Enjoy perusing the shelving finds below–storage has never been so stunning!
Freestanding Shelves
We begin with the versatile Ushanki Ushanki shelf lamps from Ukranian design house decorkuznetsov. These lighting and shelf combos come in three different sizes, and they are ideal for bedside placement. Not to mention, these pieces are as artistic as they are useful. [from UrbanPeek]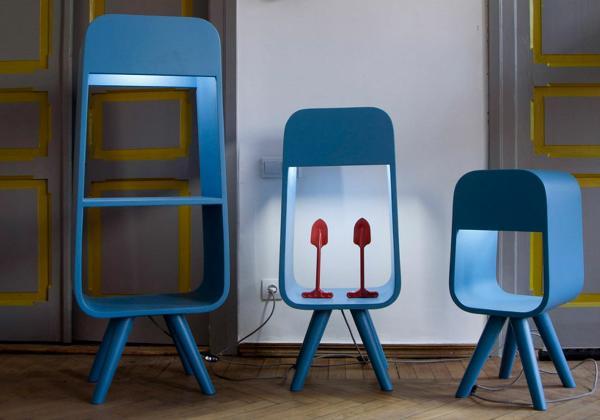 Another cleverly functional option comes from Enrico Zanolla Design Studio. These freestanding bookshelves have inset rectangular openings, as well as front panels that are perfect for concealing additional items. [from N Design and Style]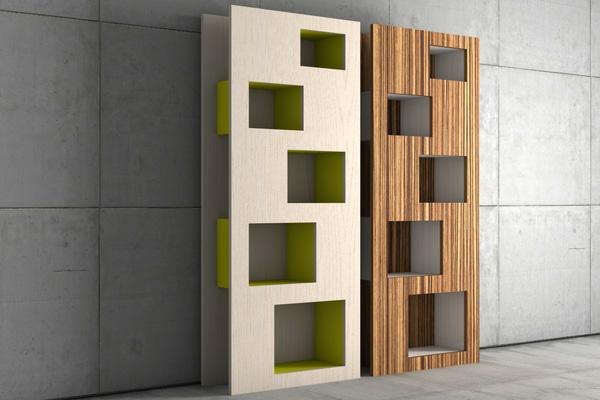 Isn't it great when one piece of furniture serves two distinct purposes? The Diego Room Divider is part partition, part display shelf. Eight wooden cube compartments are perfect for delightful vignettes, and open shelving ensures items are visible from both sides. [from Crate&Barrel]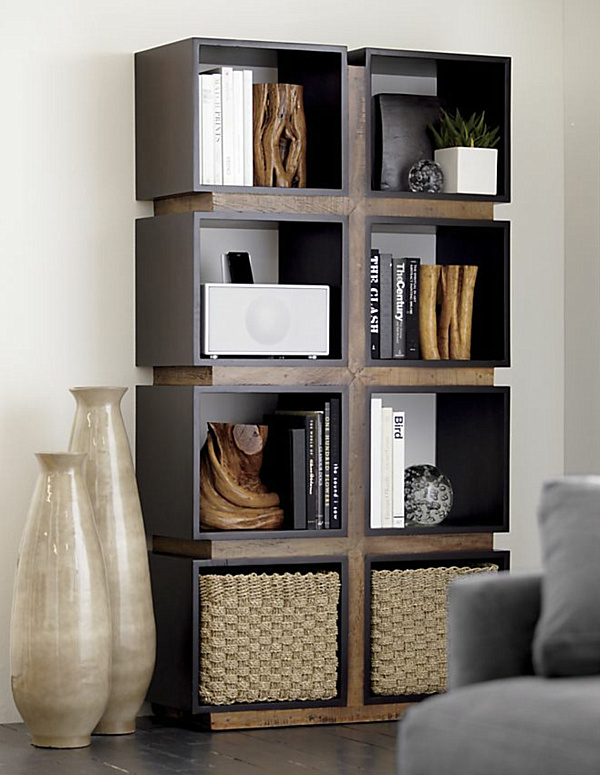 Another open shelving possibility involves segmented sections in glossy white. Designed by Mark Daniel, the 3.14 White Bookcase can also be used as a room divider. [from CB2]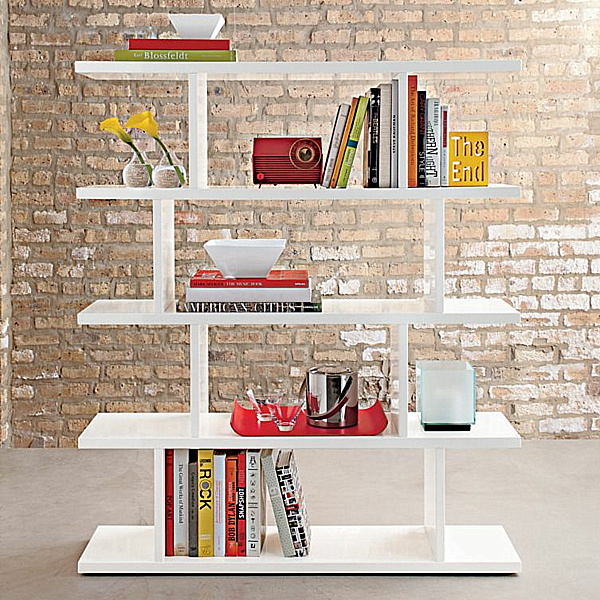 The next few shelving selections come from furniture design company Faktura. The form of the TWIG bookshelf mirrors the outline of a branch and uses the power of gravity to hold items in place. The results are wonderfully geometric and undeniably effective: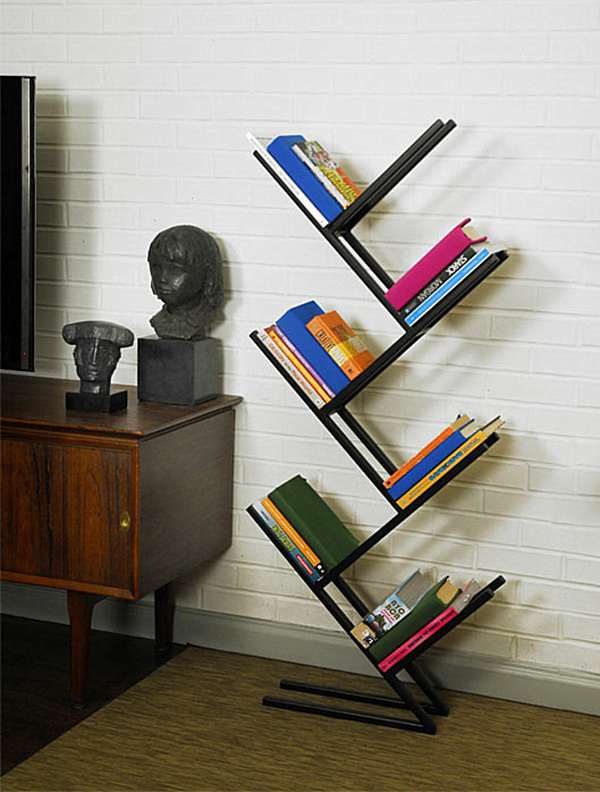 The angular fun continues with the V bookcase, which features slanted shelving ideal for steep stacking. [from Faktura]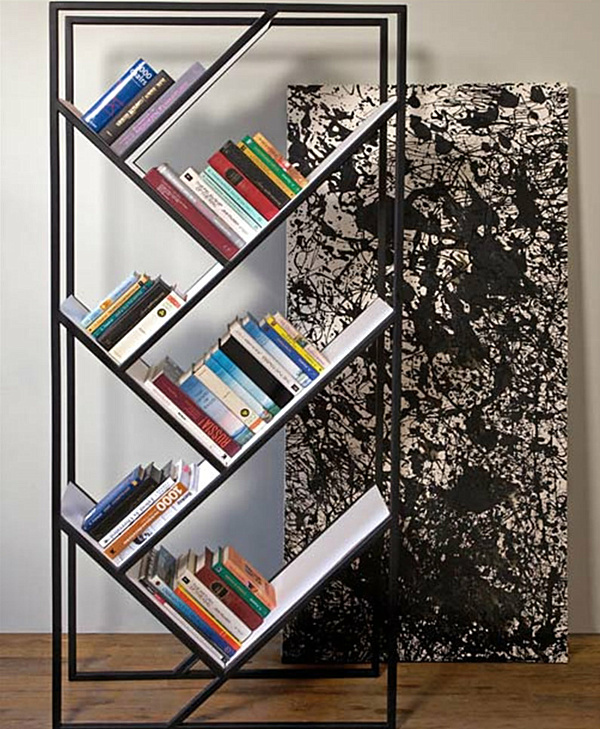 Eliminate the need for book ends with the SCALA bookcase. Each of the piece's shelves also serves as a book support, and the half-length platforms create a dramatic effect. [from Faktura]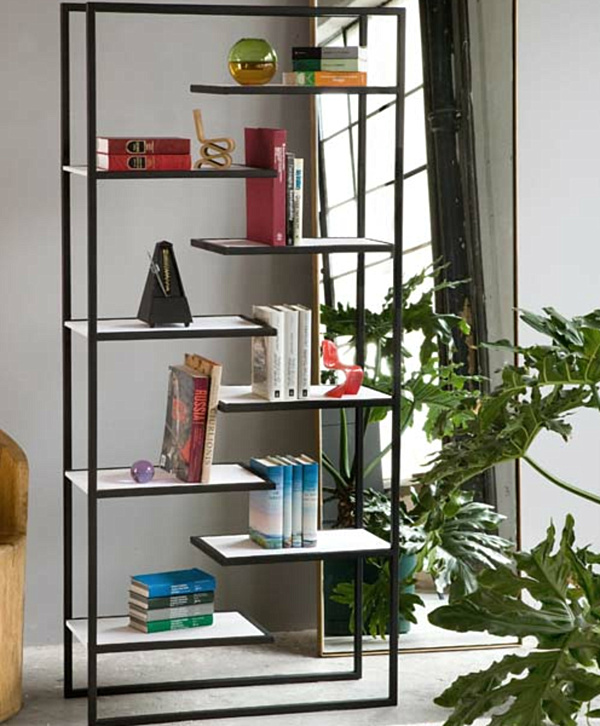 Keep it simple with the Elevate Walnut 68″ Bookcase, which provides a maze style resulting from fragmented shelving, and an open system that allows the piece to double as a partition. [from Crate&Barrel]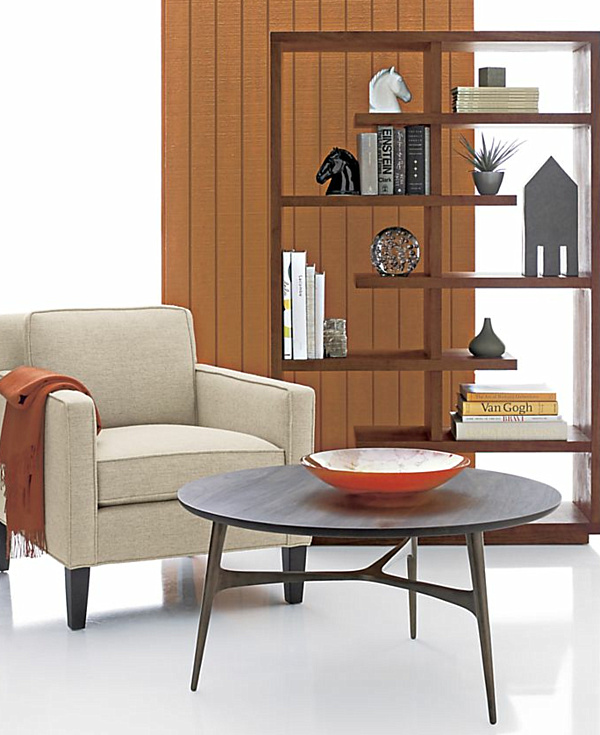 Long rectangles and vertical lines create the stylish compartments of the Hokku Designs Cielo Three-Tier Bookcase. With Mid-Century Modern flair and a matte white finish, the piece is the crisp focal point of any space. [from AllModern]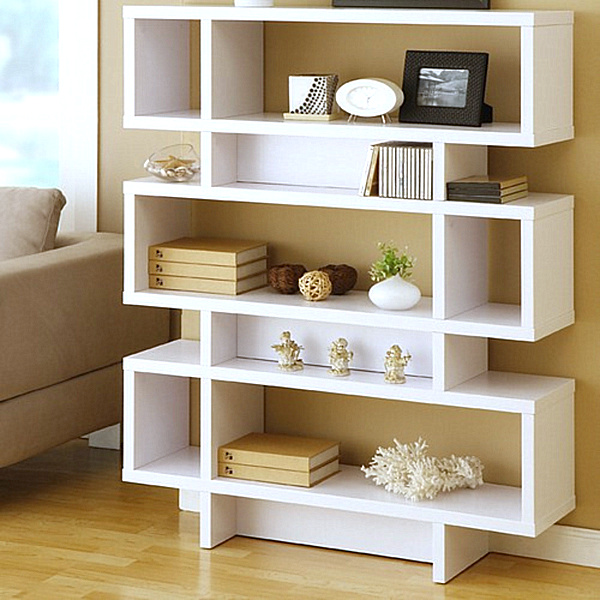 Add movement to the room with the Sloane Espresso Leaning Bookcases. Mahogany wood and a ladder-style design allow the piece to merge well with antiques, yet clean lines make this item truly modern. [from Crate&Barrel]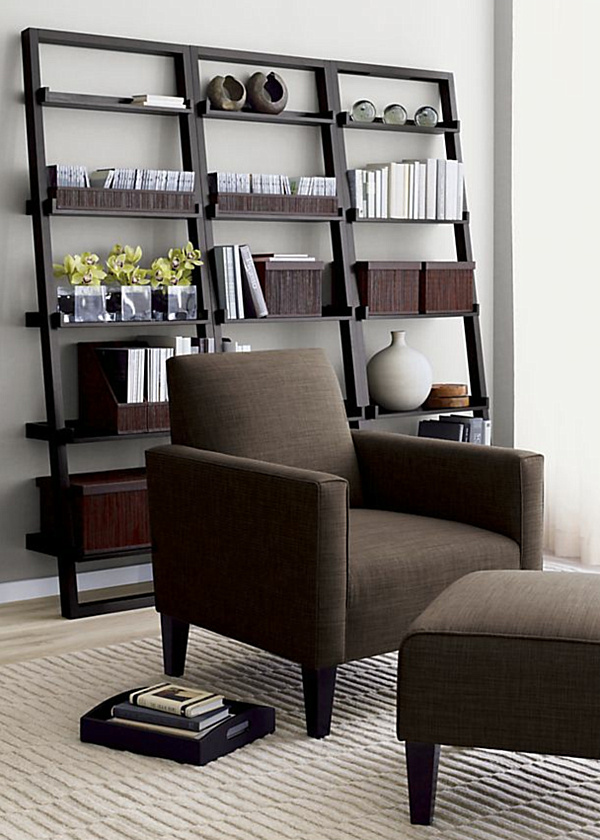 For a metal take on shelving, try the Hancock Clover Bookcase. Not only do X crossbars give the piece true substance, try purchasing two or more and arranging them side by side. [from CB2]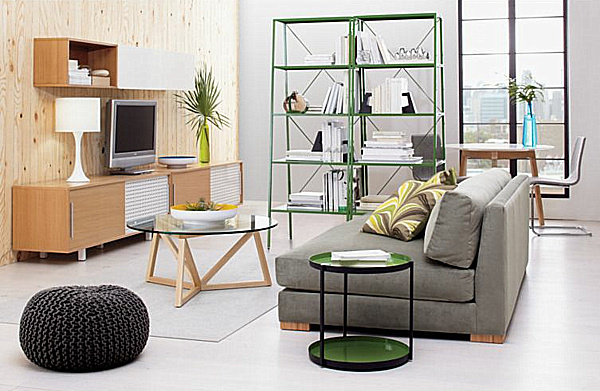 Mango wood and powder-coated iron combine to form the Whitewashed Wood and Metal Shelves, shown below. Caster feet make the piece easily mobile and add an industrial vibe. [from West Elm]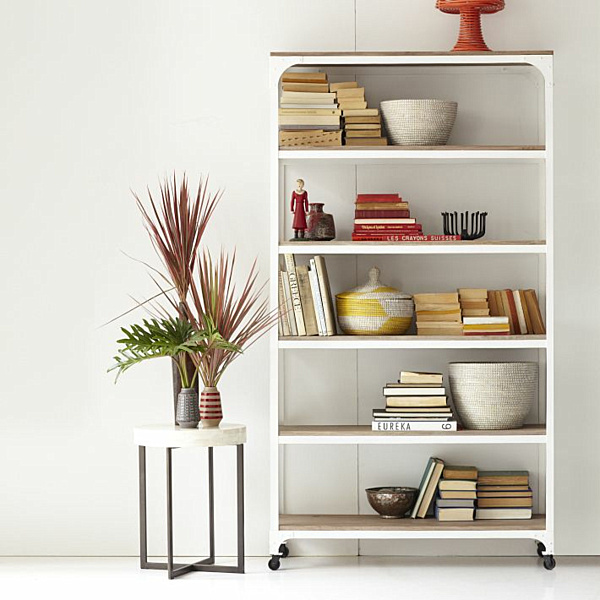 The classic Parsons Tower features thick, clean lines and a sturdy composition, making the piece as solid as it is stylish. [from West Elm]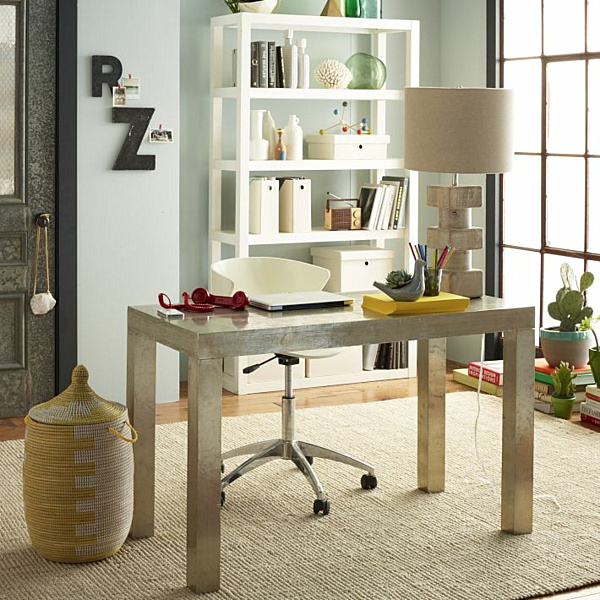 Wall-Mounted Shelves
Mounted shelving utilizes wall support, which opens a range of possibilities for creatively leaning decorative items, such as framed pictures. Not to mention, the contrast of a wooden or painted shelf against a bright wall color adds intrigue to a room, as shown in the Spine Wall Shelf below. [from West Elm]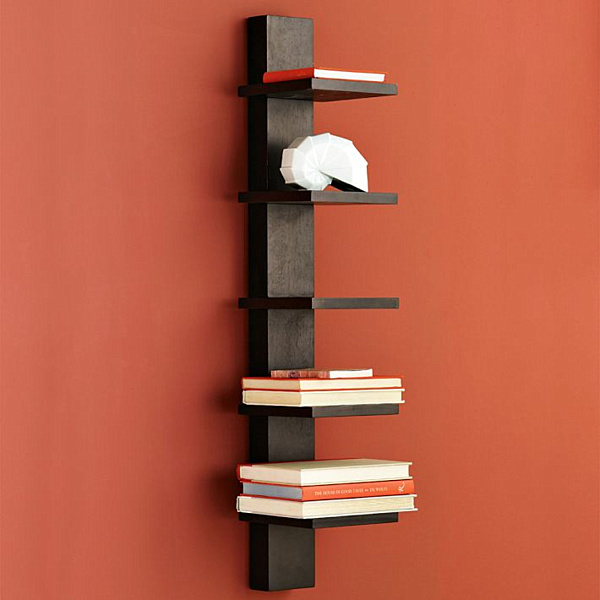 The Alcove Wall Shelf is crafted from sheet metal and steel arranged in a Mondrian-style grid. [from CB2]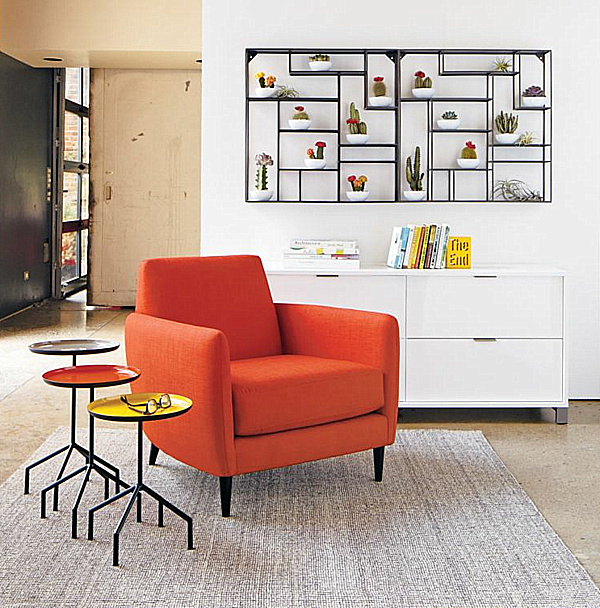 The Wall-Mounted Bookcase, shown below (at the far left), can make a powerful statement on its own, or it can be creatively combined with an assortment of other wooden modern shelving options. [from West Elm]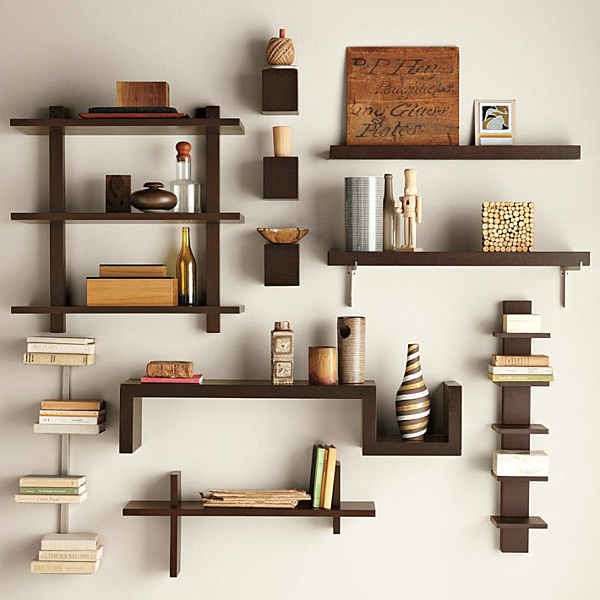 A hi-gloss finish, vertical cubbies and six fixed shelves give the Red Wall Bookshelf tons of character. Nonetheless, when paired with a duplicate, the item makes a wonderfully lengthy statement on wall or floor. [from CB2]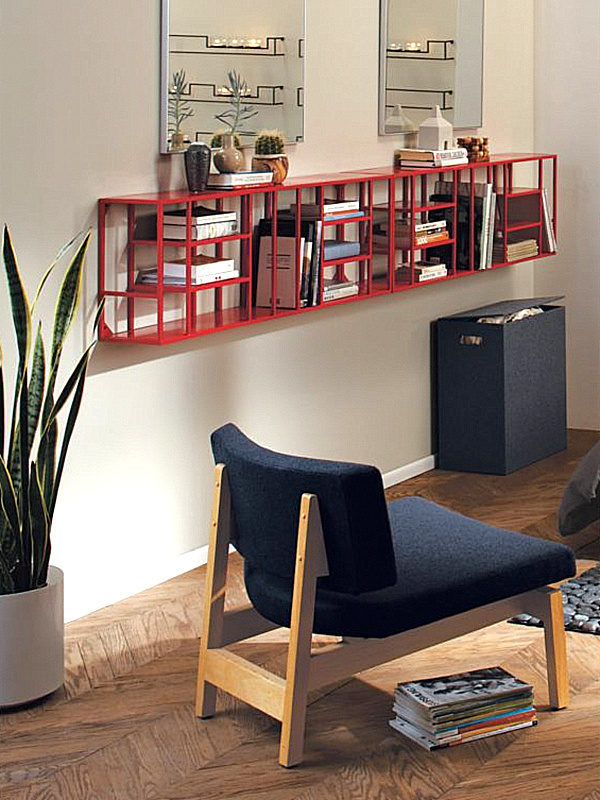 Modular Shelving
Modular shelves provide flexibility of arrangement and often allow for the creation of original compositions. Take the 6-Piece Cubist Modular Wall Shelf Set, a grouping crafted of sheet metal with iron rods. Six different sizes create variety and interest. [from CB2]
For a vibrant grid effect, try Qubicles by Quirky, sold in sets of 3 cubes. Purchase several sets to create a colorful wall arrangement: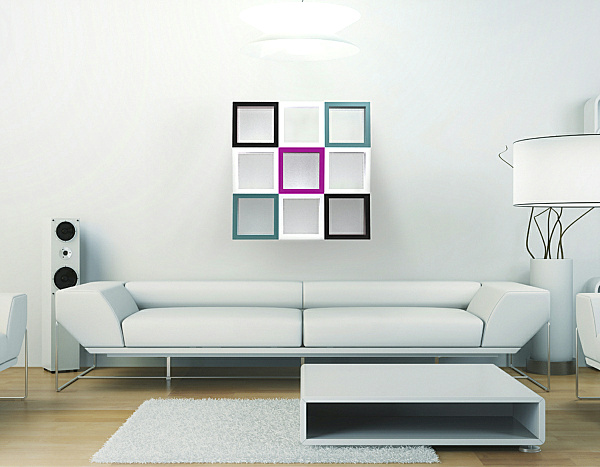 LagoLINEA offers a combination of cubes and lines for a wall shelving option that doubles as a work of art. [from LAGO via Home Design Inspiration]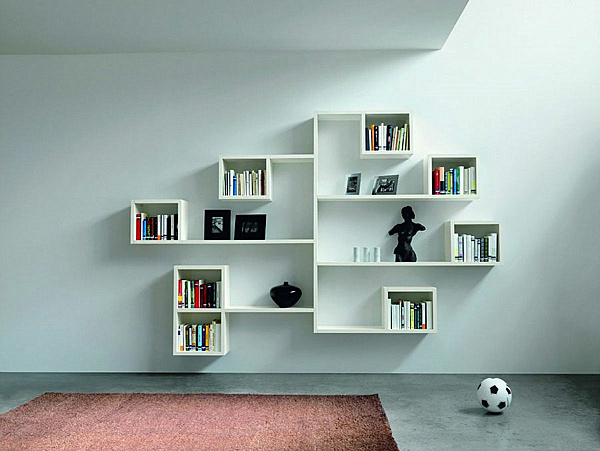 Speaking of art, it's hard to find another word that aptly describes the IVY modular shelving system shown below. [from parislowitz.com]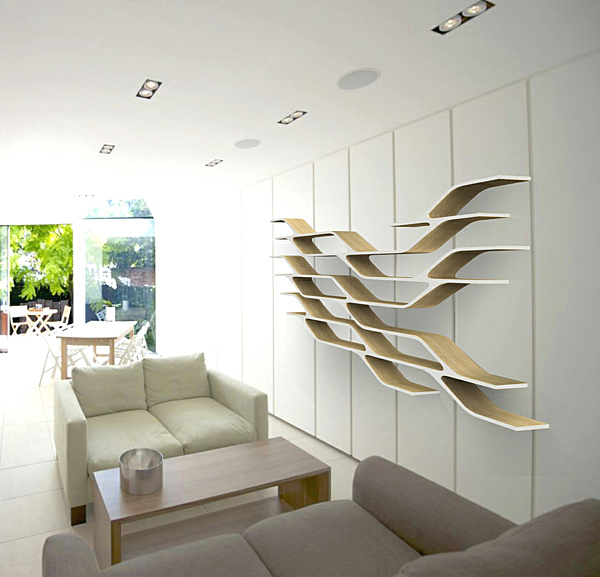 Display boxes with rounded edges form the Cocoon modular wall shelving system by Paola Navone. An array of patters suits any style, from the dainty to the bold. [from Ideal Form Team]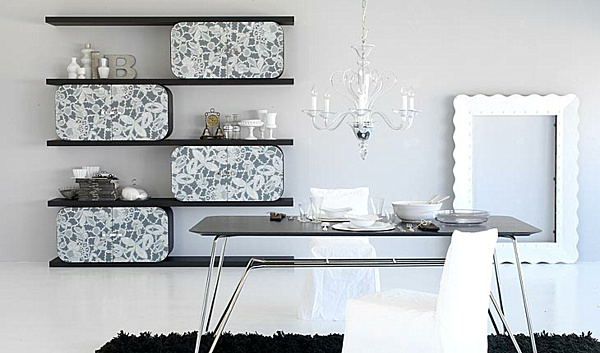 Cocoon shelving may also display a pattern on the inside of the compartments, as shown in the blue and white selections below. [from Ideal Form Team]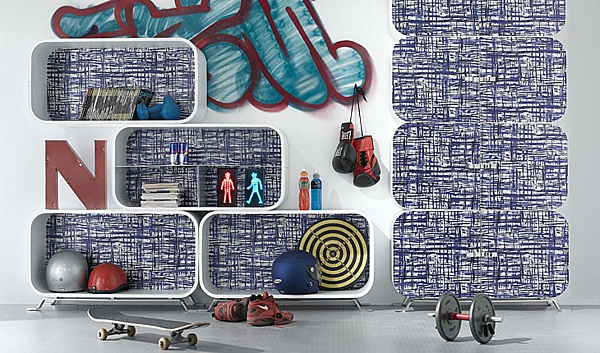 A combination of cabinetry and shelving can provide concealed storage and ample display space. [from IKEA]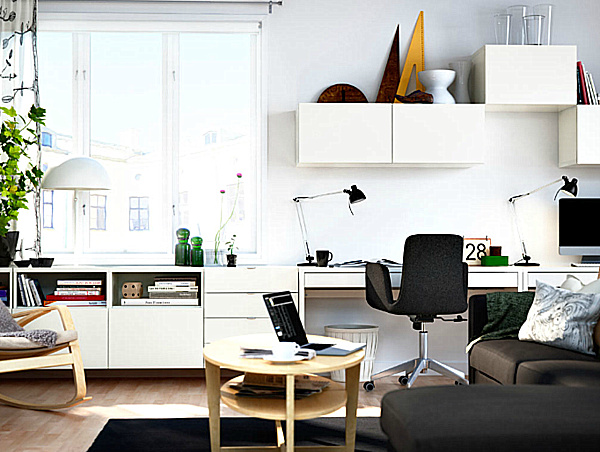 We end with the Hillside modular shelving system, a visually intriguing option that offers a blast of colorful modern innovation. [from Arflex]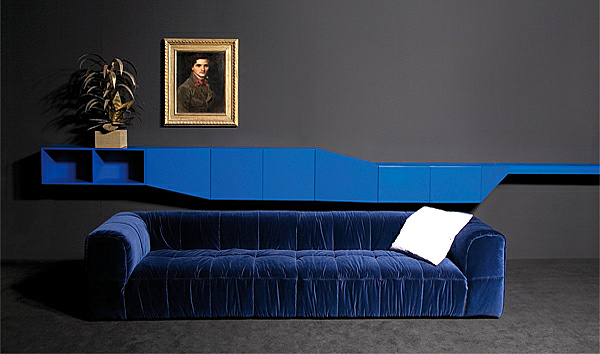 When selecting shelving, it's important to note the needs of your space. If a room divider is desired, choose open freestanding shelves that offer a view from both sides, an ideal feature of any partition. If space is tight, consider mounting shelves on the wall to keep floor space clear. To create your own design, go with modular shelving that allows for a variety of arrangement options. Remember to personalize your new piece by artfully displaying books and decor on the shelves!