It's no secret that we at Decoist love a good party, especially when spring is the reason to celebrate! In fact we recently showcased a slew of irresistible spring decor finds, as well as spring party ideas for festive entertaining. Today we zone in on the spring party table, because creating a memorable one is an art form in itself! [Spring table by Lo Bjurulf from Agent Bauer]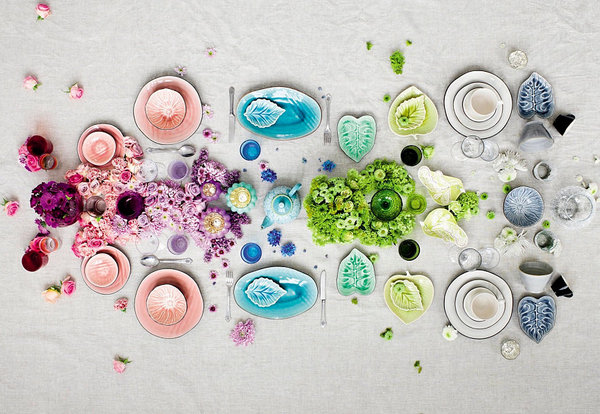 Some of the selections below are professionally created–let them inspire you with their gorgeous presentation and polished allure. Others represent the best in at-home entertaining and can easily be duplicated for your next festive endeavor. Enjoy browsing, and don't forget to let us know which table is your favorite at the end of the post…
Dessert Party Tables for Spring
We begin with a set of party tables that set the bar pretty high… Don't be intimidated! You too can create a dessert buffet that represents spring's finest colors and motifs. Simply taper these ideas up or down to fit the size of your group (although it's hard to imagine you'd need to add more goodies to your table). Below we see an old fashioned candy shop dessert table, designed for a bat mitzvah. A key to this colorful spread: nostalgic pieces such as rock candy and barber poles! [from Amy Atlas Events]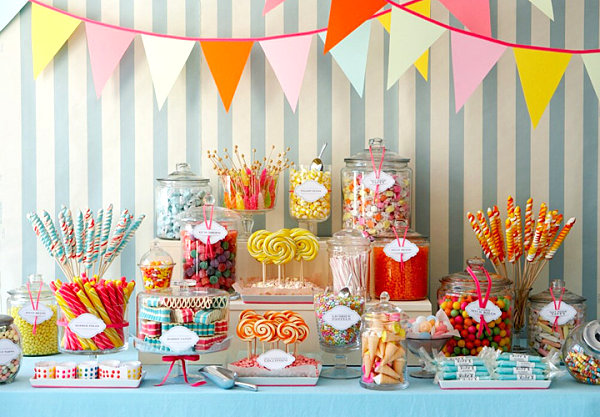 Although these tables focus on the presentation of sweets, keep in mind that you can recreate the look with savory foods as well. This Green Dessert Table from A Party Style features a range of goodies, such as vanilla cupcakes, key lime pies, margarita cupcakes and kiwi shortcake shooters. Note how minty ribbon adds a soothing dose of color.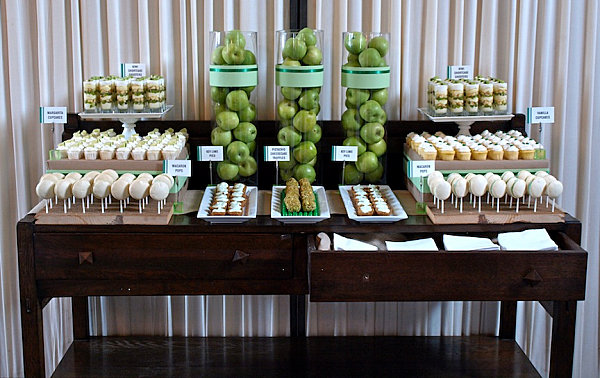 A common theme that unites the tables above and below: green apple-filled vases! Yet the next table also features vibrant doses of hot pink. Yes, this Modern Pink & Green Dessert Table from Sugar Style Events is a mixture of shades, including chocolate brown. Brownies, meringues, gummy watermelons, and rock and ribbon candies are a few of the many treats. Note how the color scheme is set by a bright tablecloth and a textured runner. [photo by Esther JuLee Photography]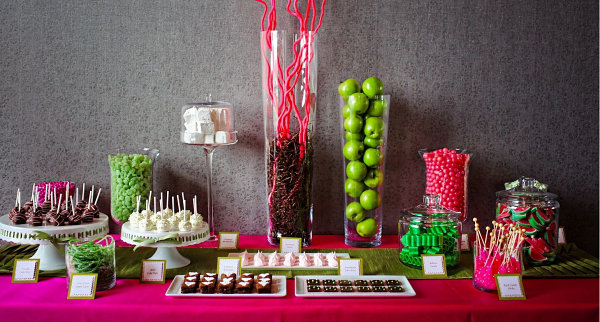 Spring Entertaining at Home
The next set of tables represents home entertaining at its best. From intimate gatherings with friends around the dining room table to events that celebrate life's joyful moments, we've got your covered… Check out the party table below from Style Me Pretty. It's actually an Easter tablescape, but this classic design can work throughout the spring. Lavender and white flowers are an ideal complement to crisp, elegant dishware. In fact, the centerpiece consists of a trio of bloom-filled mason jars.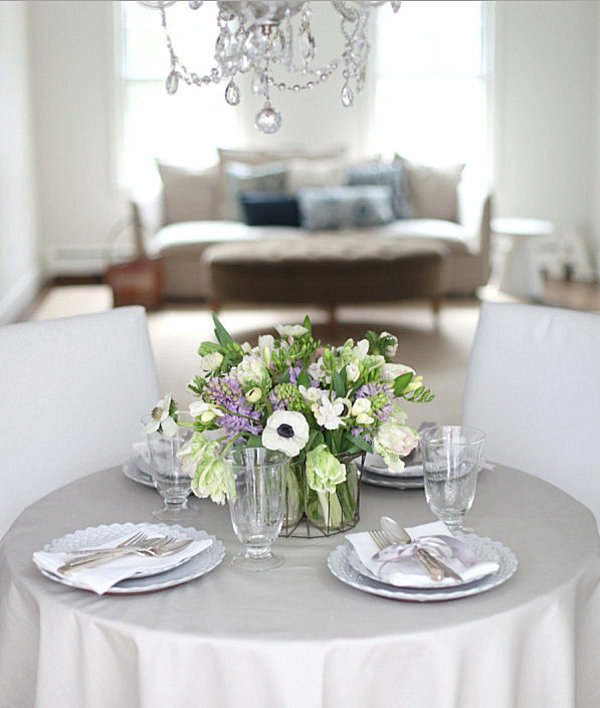 If you don't have a chandelier hanging overhead, don't sweat it. It's really the tissue pom-poms in this next image that steal the show! Once again we see a lime green and hot pink color scheme, which carries through to the centerpiece flowers. The blooms below fill pitchers that are stacked on cake stands at varying heights. [from HGTV.com]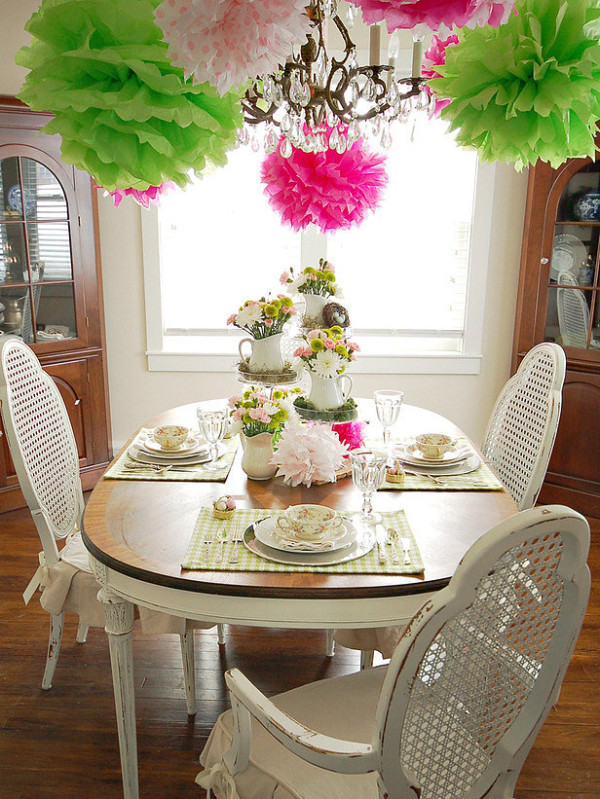 This next party table is set for a truly festive event: a vintage-meets-Parisian bridal shower! We love the way French details are incorporated in an understated way. Let's face it–it can be far too easy to veer into over-the-top territory when it comes to themes. We also admire the way thoughtful details help set the tone. For example, the bride-to-be loves gold and plans on spending her honeymoon in France. So event designer, hostess and photographer Julie Harmsen made sure there were classy doses of gold (and Parisian style) on this table. [from Ruffled]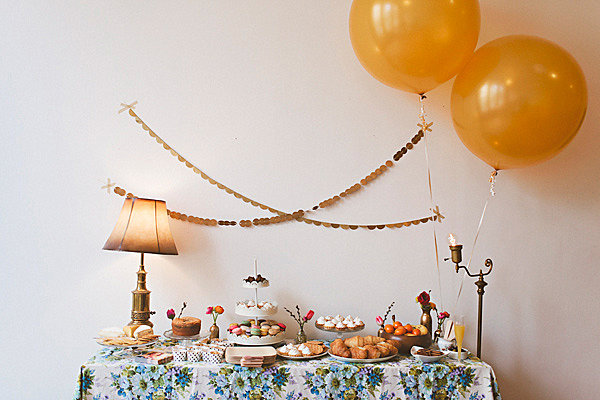 Outdoor Spring Fêtes
Our last group of spring party tables are the showpieces of outdoor events, such as weddings. And boy, are they gorgeous! Let's learn from the pros, then create our own works of beauty! We begin with a fun backyard bash that combines shades of green, brown and white. In fact, an emerald and white palette creates a crisp look that is echoed by floral arrangements featuring tulips. Wooden baskets and fresh breads help contribute to the color scheme, as well as the tasty elements of this event! [design by Brian Patrick Flynn; photo courtesy of HGTV via One King's Lane]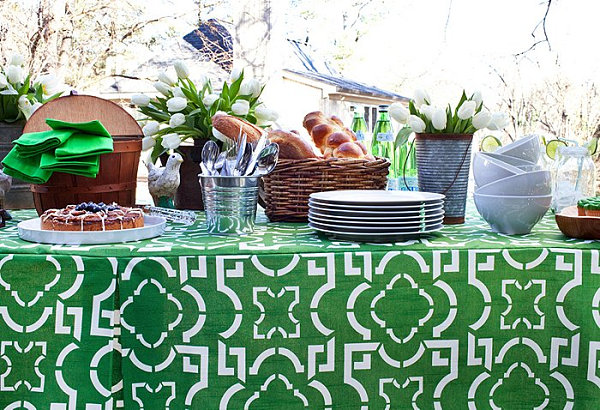 Below we see a wedding table that can easily be adapted for a spring gathering. A vintage glass compote and tins in soft shades are filled with an assortment of blossoms, including yellow and peach roses. Mercury glass votive candles add sparkle, along with a sequined chevron tablecloth. [event design and planning by Nancy Park of So Happi Together; photography by The Image Is Found via 100 Layer Cake]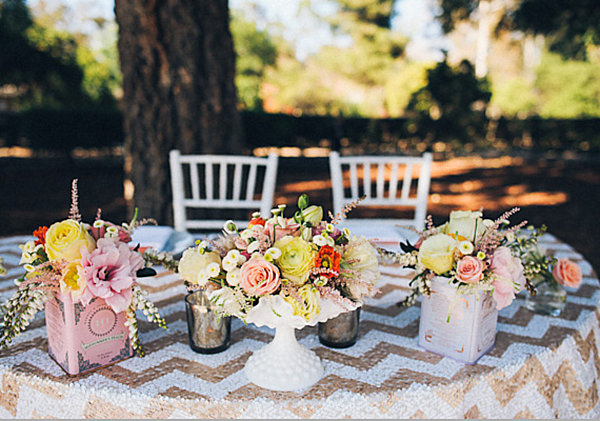 We end with a long table from a palm springs desert wedding. Our favorite detail: the neon salmon napkins that grace each place setting. When the color is this radiant, you need little else to set the tone. Simple wooden folding chairs and white table linens do the trick. [photo by EPLove via Ruffled]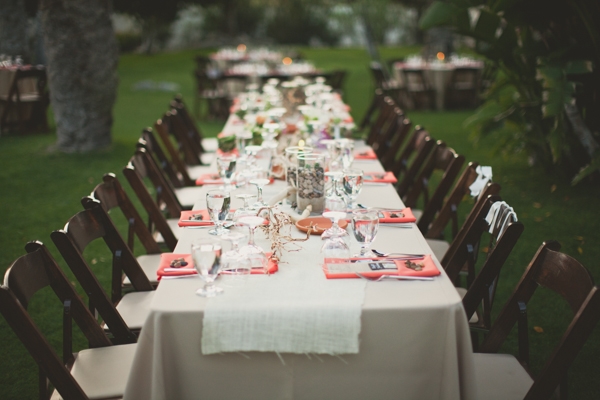 Which of the ten party tables above caught your eye? Do you have a favorite? A group of favorites? A preferred style? Share your thoughts by leaving a comment below…