Celebs like Rihanna and Helen Mirren to Katy Perry and Miley Cyrus are sporting the Union Jack – and this has become cool once again. This is not just a trend relegated to the fickle world of fashion. Even home décor and modern interiors work well with the 'Union Jack theme'. From furniture and décor to art work and accessories, pretty much everything and anything in the motif can be incorporated into every contemporary home.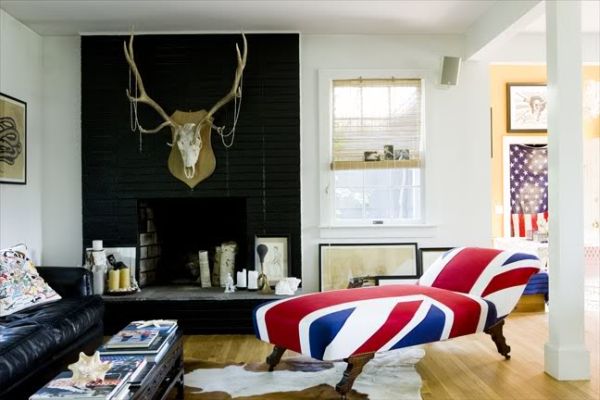 Classic or contemporary, modern or eclectic – a change in the hues and a twist in the design make the Union Jack design an evergreen addition to your home. Here is a collection of interiors that will hopefully inspire you to turn towards this royal addition.
Union Jack Design Inspirations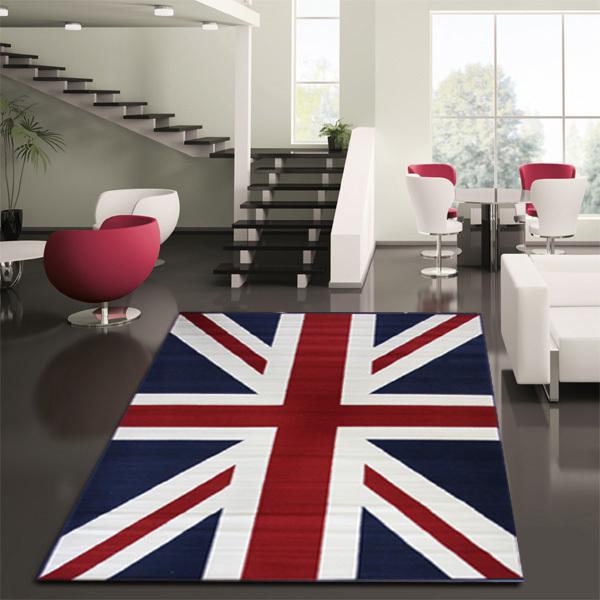 While most have a perception that colors like red and blue do not go well with contemporary or even a semi-minimalist style, that is far from the truth. A bold Union Jack rug brings in a beautiful contrast when placed against a white backdrop.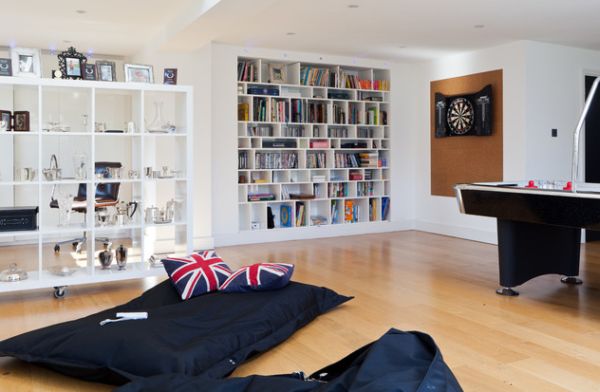 by Boutique Homes
Putting together a family room that offers both relaxation and fun is all about the perfect blend of comfort and excitement. A home library along with games like darts and air hockey offer plenty to do here. Stylish 'chill bags' with Union Jack pillows on top provide a place for relaxation and quiet reflection as you catch with a book or two.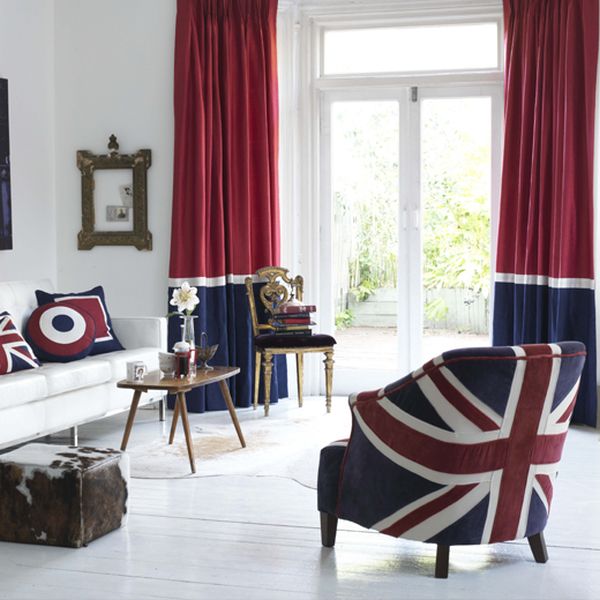 This lovely living space does a lot more than just add the red, blue and white in the form of a Union Jack chair along with pillow cushions. Drapes in matching red and blue ensure that there is a 'British' theme throughout!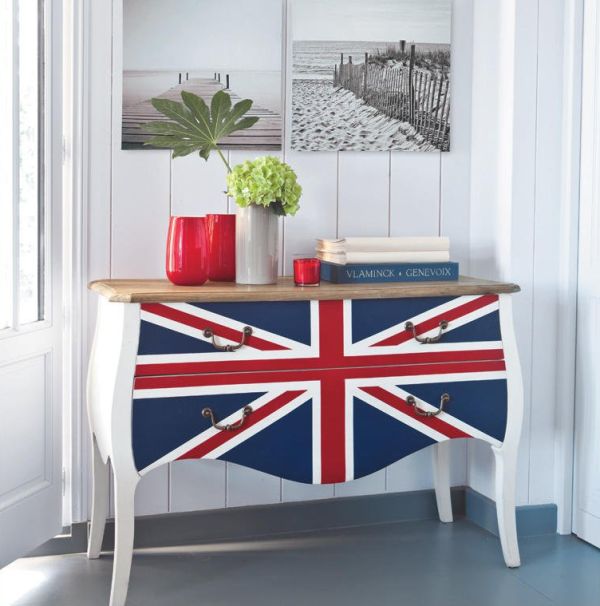 Here is a dresser that will well work with most home environments as it adds in an eclectic element to the interiors. The stylish curves, simple color combination and the flamboyant appearance make it the focal point of the room no matter where it is placed. Perfect way to add some color to an otherwise largely neutral bedroom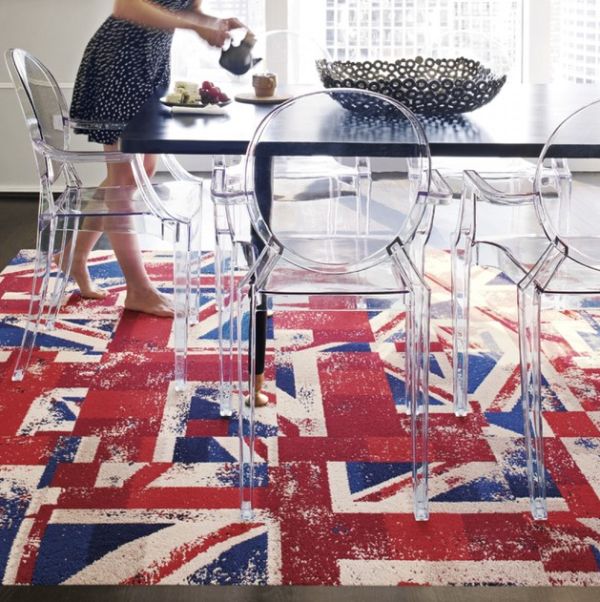 by FLOR
A bold and even 'daring' representation of the Union Jack, this interesting rug in the dining area is sure set to become a conversation starter whenever you have guests over for dinner. Unlike most other décor and accessories here, this one portrays the well known Union Jack pattern in a fresh and creative manner. This is a winner when it comes to ingenious inspiration!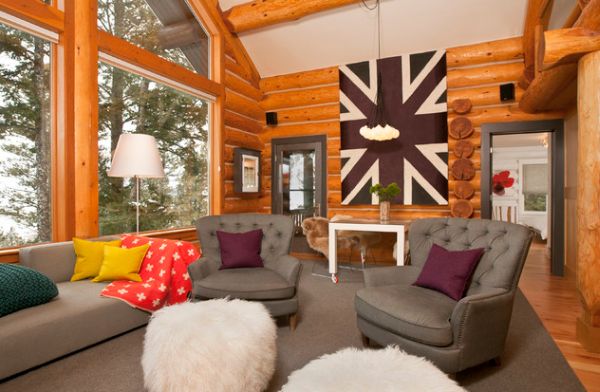 It is not very often that you find a log cabin that is this modern. A balanced use of wood, glass in the form of large windows and plush décor welcome you here. Adding to this laid-back setting is the addition of the Union Jack on the wall in earthen tones. Stylish and improvised wall art that does not disturb the existing ambiance.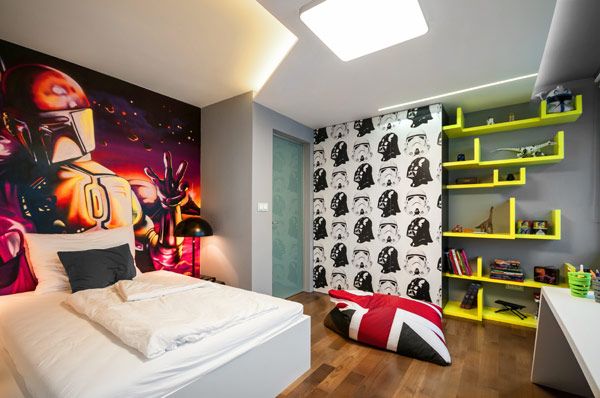 Bean bags are both a fun and ergonomic addition to any home. These outdoor bean bags from The Range will complement your outdoor furniture and bring a burst of colour to your outside space. An extra large outdoor bean bag offers plush seating and is a cool idea for both your interiors and patio area. Trendy and tasteful, the Union Jack chill out bag is all about relaxing in chic contemporary style. The best part is that you can bring home one of these Bean bags in the UK from The Range for £72.99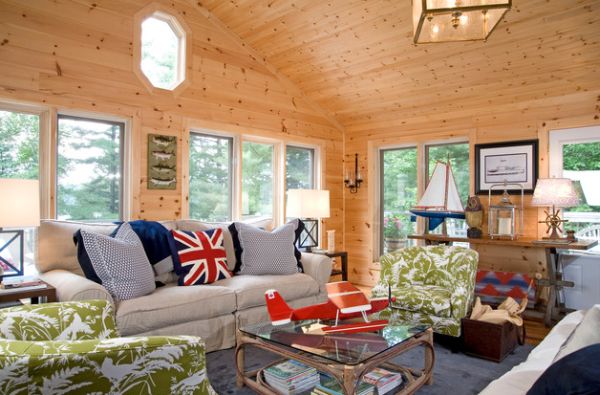 by Kelly Baron
Union Jack pillows are an 'evergreen' hit and they seem to be pretty much in fashion every time we look around. Since cushions have always been a popular choice when it comes to adding a touch of color to even living rooms in a neutral color palette, they blend in seamlessly everywhere.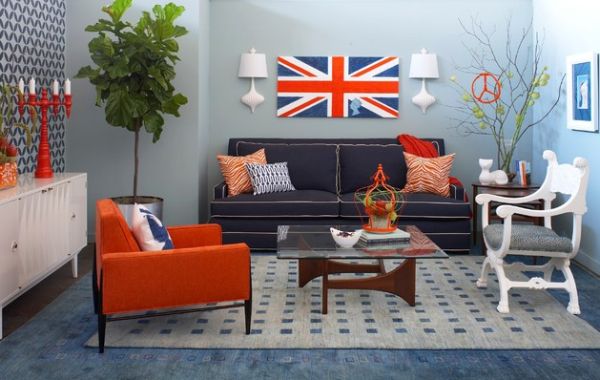 by Cynthia Mason Interiors
Bringing back the 60s and the 70s is all the rage currently and retro is once again a theme that is 'in'. This eclectic living room takes this concept to the hilt by using both colors and furnishings that take you back in time. The theme is still primarily English in its nature and if you had any doubts about the 'British Invasion' angle here then the Union Jack on the wall makes it amply clear.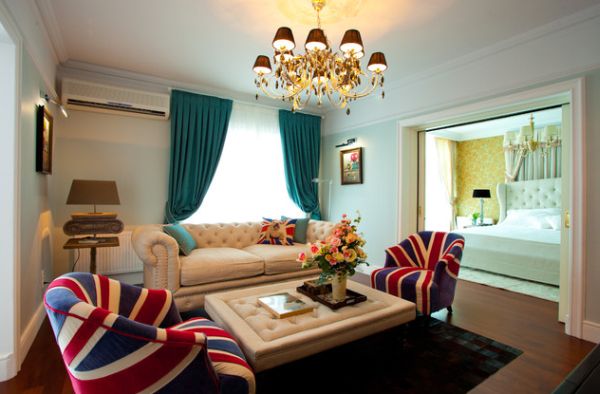 by Simutin Design
Adding a couple of single seat sofas that are draped in Union Jack colors is not the easiest thing to accomplish. Yet, this warm and inviting living room tells you how to do it in sophisticated style. A large sofa and center table in cream offer the perfect contrast in softer tones, while gorgeous drapes complete the room elegantly.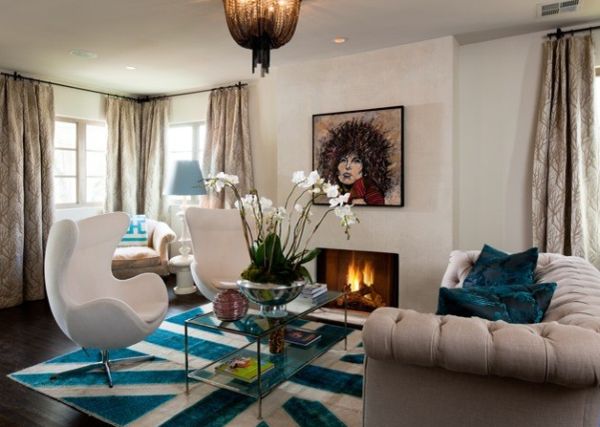 Pristine white backdrop, chic chairs and a modern fireplace make this living room a treat for the sore eyes. While most Union Jack rugs simply sport the flag, this one uses white and a shade of turquoise blue. The result is a refined and rich environment that is ideal for the sleek urban home. Another sublime variation of the Union Jack!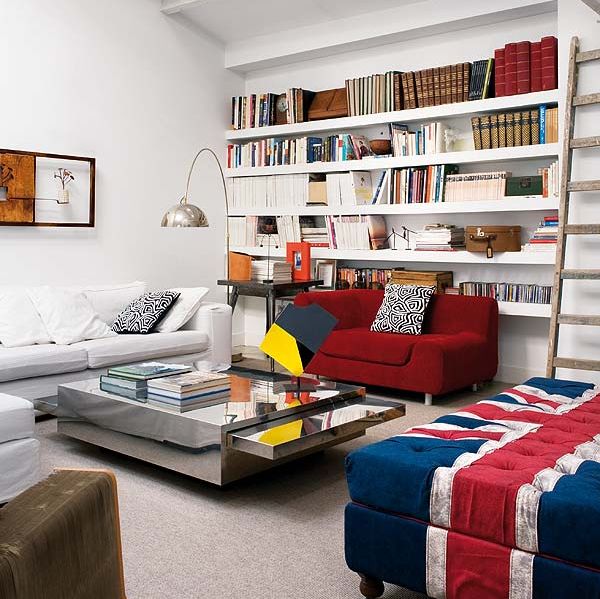 For many of us lazy folk who are not very high on cleaning up our homes, an ottoman with storage space is a gift from the decor gods. It looks stylish, offers an ideal seating space and we can quickly stuff away all the mess with ease! A striking ottoman in union Jack hues is a nice addition to a home library that is clad largely in white. The one here works well even when placed along with couple of cozy sofa sets in white and red.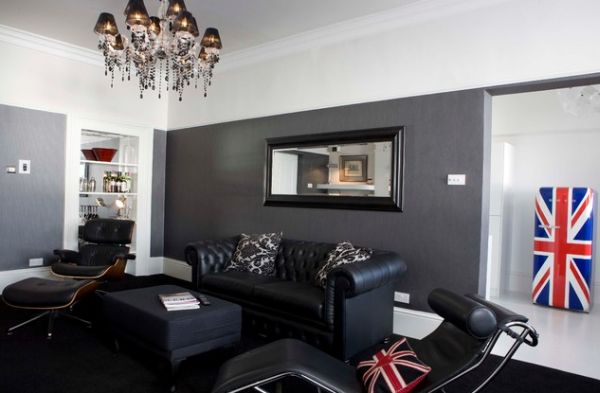 by Boutique Homes
A retro refrigerator with Union Jack art on top of it is a creative addition to any ergonomic contemporary kitchen where most surfaces are sleek, glazed and in neutral colors. The 'all black' living room here works well along with an 'all white' kitchen in the backdrop. The only additions breaking away from this trend are the refrigerator and a pillow on the chaise lounge that sport blue, white and red. Exquisite and exceptional use of the British theme!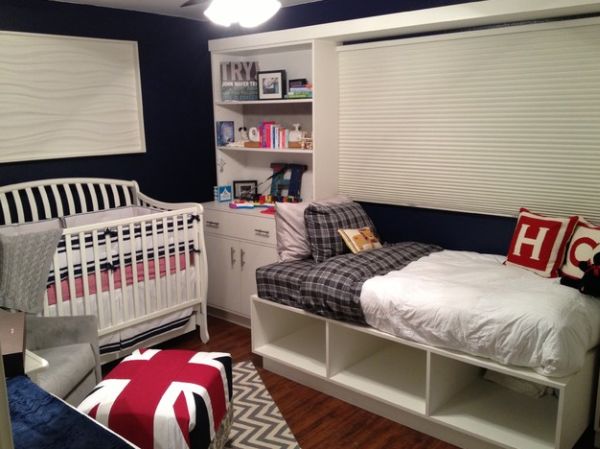 by Carroll Consulting
If you are British, then the sense of patriotism might as well be installed when they are young; really young! A toddler nursery with a seat sporting the Union Jack mights sound a bit odd. But bright colors used smartly are great for kids' nursery designs and this colorful chair is bound to get plenty of attention from your tiny tot.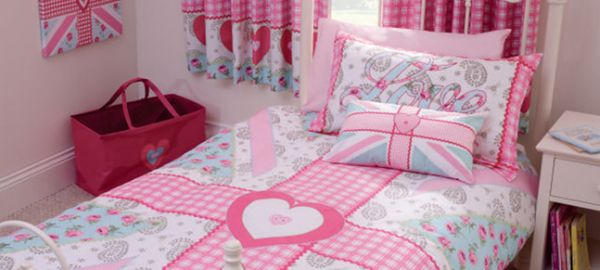 We were told that the girls are feeling a bit left out in all of this. So why not throw in the Union Jack pillows in girls' bedroom as well? The red and blue do not work all that well, you say? Well, then let us simply turn that to pink with pillows and cushions that sport the same design but in a far more 'Disney princess' friendly colors. Cute and classy at the same time!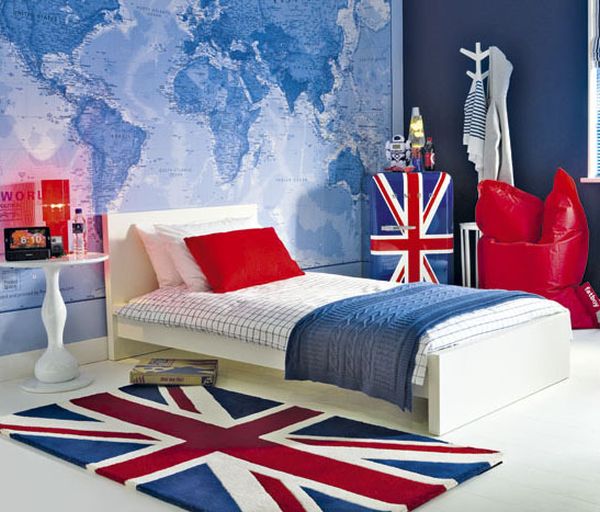 The British theme can be at times brought in with proper use of the Union Jack colors along with one or two accessories that sport the design. A large rug and a small refrigerator along with a touch of nautical flavor are used to craft this boys' bedroom. Playful and colorful to the core, it proves beyond doubt that the Union jack works beautifully in vivacious settings.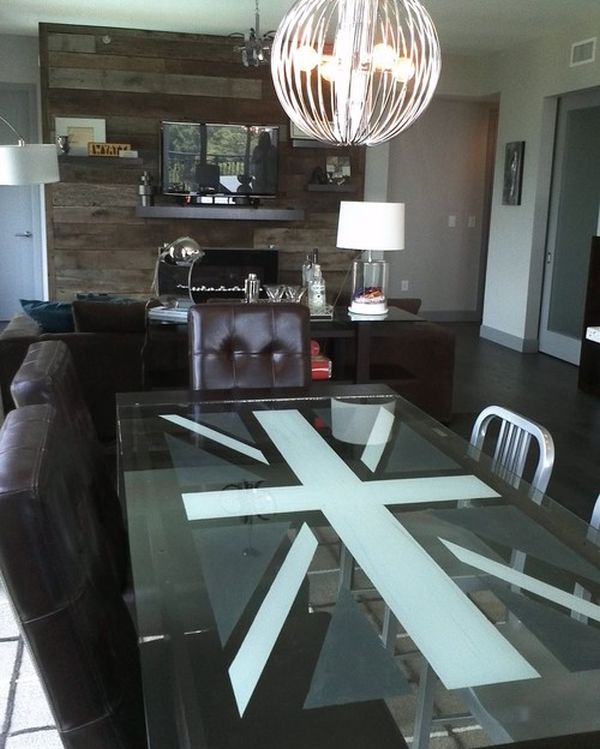 by John Rogers Renovations
A furniture addition that is far more are than the many Union Jack cushions and pillows, this glass dining table is both modern and exclusive. Since glass is such an integral and at times overwhelming part of contemporary residences, this table fit in effortlessly. An inventive way to add the Union Jack without the bright colors that come with it!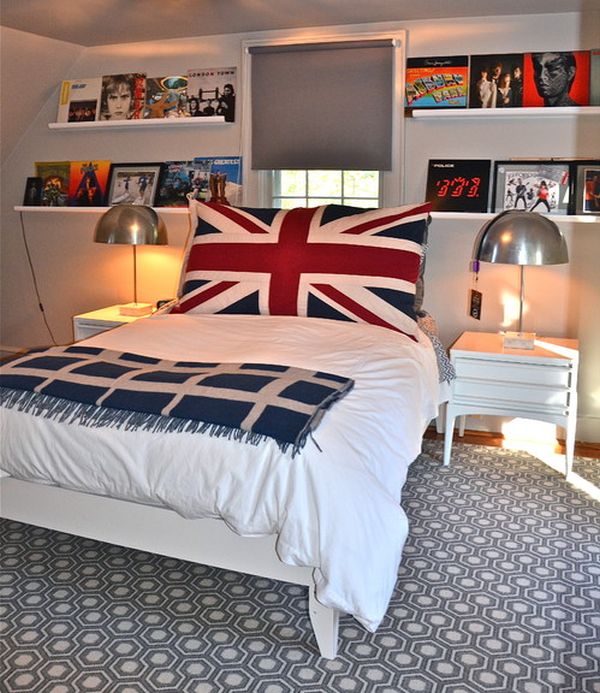 by d2 Interieurs
Small cushions with Union Jack motif work great for couches and in the living room. But when it comes to the bedroom, this large pillow is a more prudent choice. If the remainder of the bedroom employs white or neutral hues, then it adds a splash of much needed color. The best part is that unlike the fancier decor, you can alter it at any moment without worrying too much about cost or major overhauls!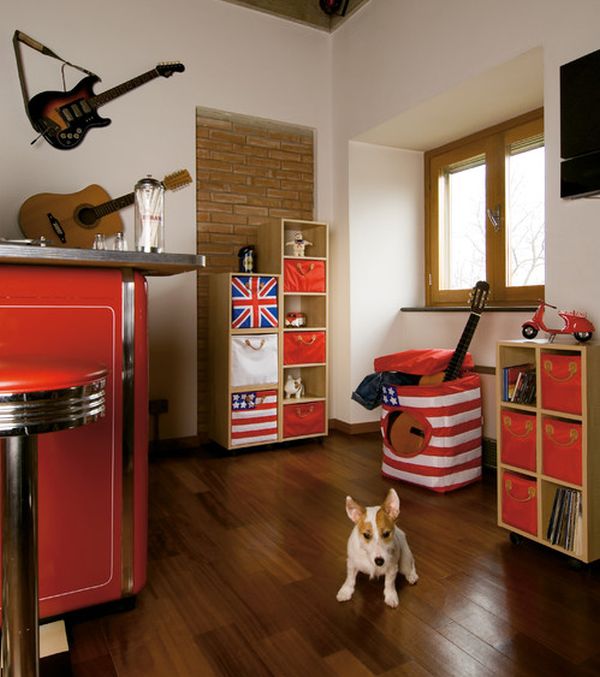 by Lazzari USA
Designed to be the 'idea hub' for a music lover, this room employs unique Union Jack fabric bins as part of the colorful storage units. There is an obvious American presence here as well and one can use different number of such units depending on aesthetic and functional requirements.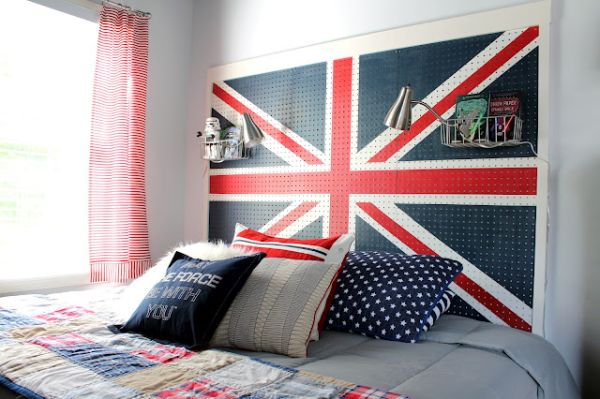 Contemporary bedrooms sport a wide variety of headboards that vary from the tufted to those that are LED back-lit. here is a headboard that not only proudly bears the Union Jack, but also has a couple of bed lights and small shelves for storage! Visually and functionally perfect, it steals the spotlight with ease.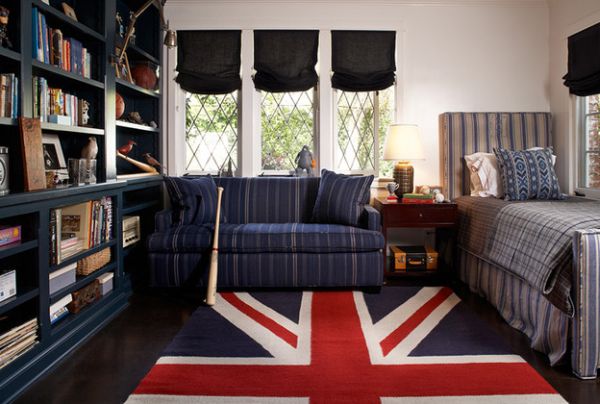 by Tim Barber LTD Architecture & Interior Design
We come across plenty of boys' bedrooms that are laced in dark, navy blue tones. This along with the popularity of a 'nautical theme' assures easy integration of a Union Jack rug, like the one seen above. With the couch and open cabinets sporting a matching shade of blue, the rug becomes a natural extension of the existing decor.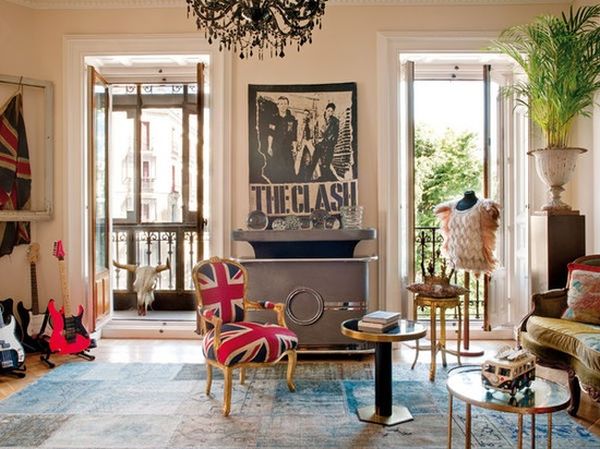 This is a room that is definitely for those who prefer a more classic theme from the past. The almost 'Victorian' styled chair with the Union Jack stands smack in the middle of the room and takes your mind back to the glory days of British Royalty. A perfect setup for those who might wish to highlight their antique collection!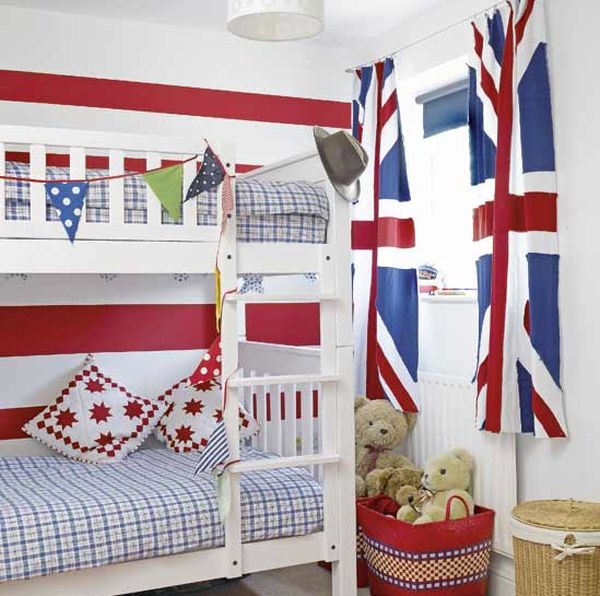 Bunk beds, some soft toys in a basket and a few storage units to tuck away the mess tell us that this is a typical boys' bedroom. yet with a simple addition of Union jack curtains (which seem to be used far more rarely than say couches and pillows), the entire space looks special and striking. A simple yet thoughtful addition that fits in with the color scheme of the room.