There is a certain sense of cool and composed grace that comes naturally with interiors that sport a Nordic theme. Scandinavian apartments seem to typify this trend by employing design elements that are contemporary and yet offer a classic and timeless touch. This beautiful attic apartment in Stockholm is a wonderful example of a relaxed home that looks sophisticated without trying too hard.
A lesson in how to design small apartment spaces, the uniform white backdrop, décor in neutral colors, a touch of natural freshness and ample ventilation help create this stylish and inviting hub. Being an attic apartment, the home obviously offers gorgeous, unabated views of the historic city and the bustling neighborhood. Rounded windows that are borrowed from an era gone by and modern skylights combine to offer the best of both worlds.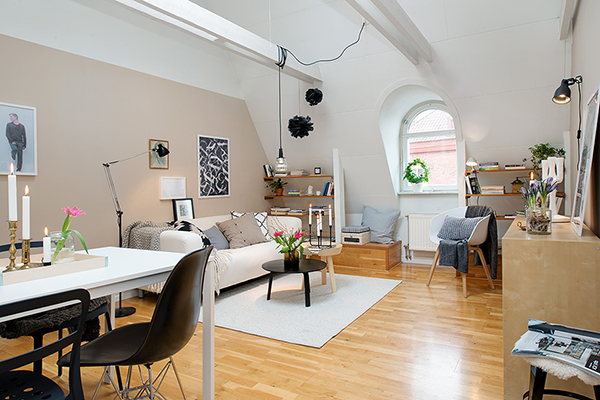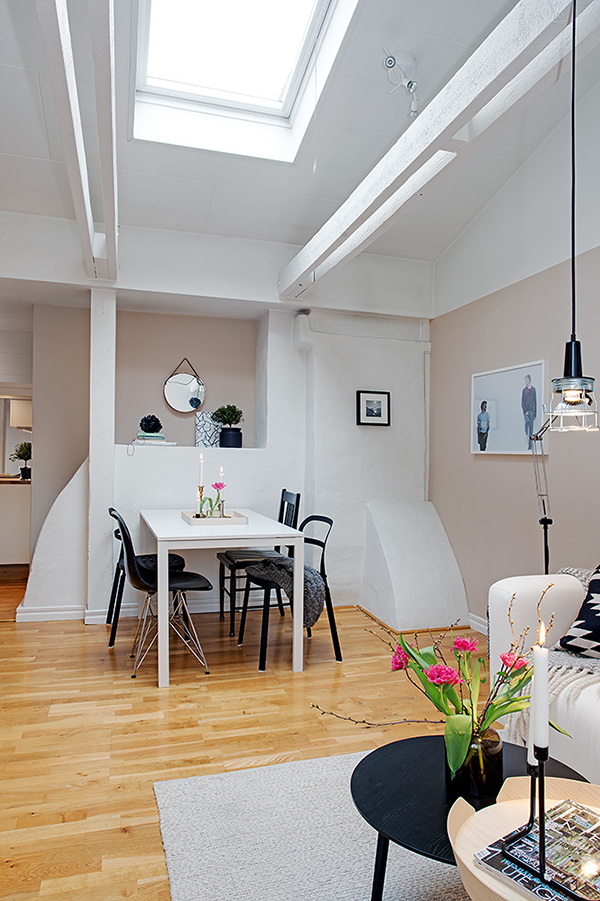 A lovely couch in white greets you as you step into the hall along with a compact dining area and smart storage spaces. An ergonomic kitchen, a small home office, a quiet nook next to the window that allows you to dine while taking in the views of the city and a small bedroom complete the apartment. Space is indeed a premium here, but the apartment does not attempt to incorporate a minimalist style and sticks to the more laid-back Scandinavian approach.
A collection of striking pendant lights and smart use of candles further accentuates the unconventional and exquisite appeal of the apartment. A Sloped ceiling and the small corridors only add to the inimitable charm of the place. Polished with a rare sense of poise and style!
So for those of you who'd like to either move to Sweden (you can read more about Alex' trip in Stockholm and learn more why he loved it) or just buy this apartment as an investment, it's for sale on Alvhem Mäkleri och Interiör's official website.