With Easter just around the corner, we thought we'd inspire you with one more post on seasonal decor… This time the focus is on centerpieces! Spring-y, colorful Easter centerpieces that will be the apple of your eye when you sit down to dinner with your family to celebrate the holiday. These arrangements are charming and unusual at the same time.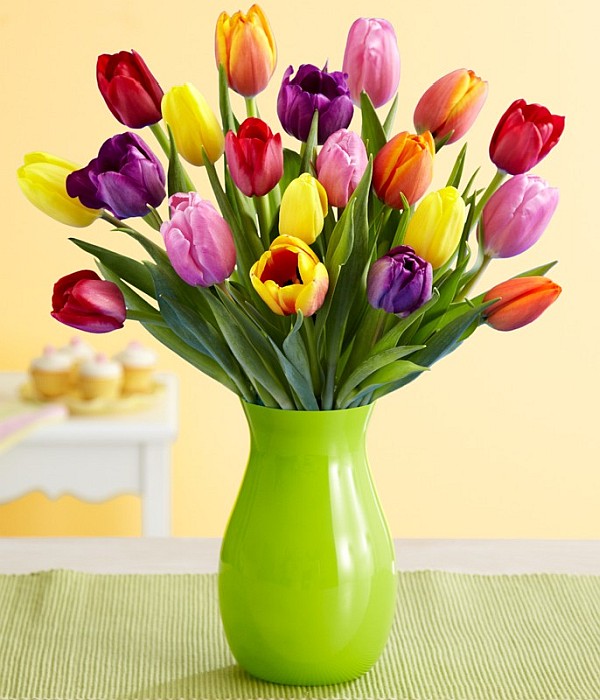 While rounding up the best and the brightest, we noticed three trends: floral arrangements in delicate compotes, tall branches in modern vases, and unusual rectangular arrangements that make a powerful statement. Scan the images below for inspiration, and see if something special catches your eye. There's still time to bring the colors of spring to your Easter table!
Compotes Filled with Blooms
We begin with a series of blossom-filed compotes that feature large bouquets at the top and a slender stem of glassware at the bottom. The vibrant arrangement below is part of a "turquoise Easter wedding inspiration" piece from Ruffled. Note the interplay between sunny yellow and rich turquoise blue, especially when contrasted with crisp white. [photo by Pure 7 Studios via Ruffled]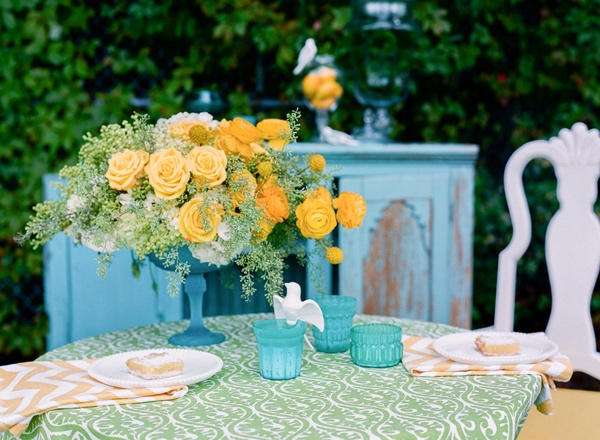 The milk glass compote below is filled with roses and other blossoms. The result: a delicate blend of soft shades anchored by vintage glassware. Picture this arrangement on a white tablecloth with a few lightly dyed Easter eggs resting nearby… [from The Byrd Collective]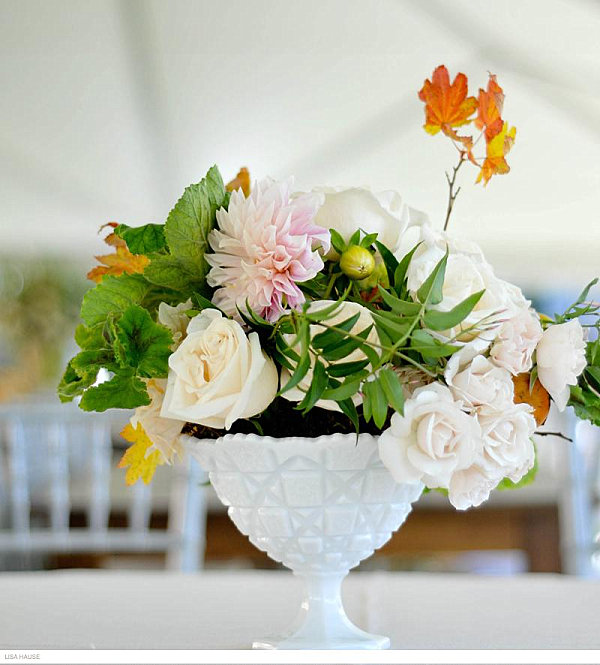 Also from The Byrd Collective, this next compote features a bundle of peonies. The fullness of the flowers is a wonderful contrast to the petite form of the compote. A single rosy bloom stands out among a sea of white peonies…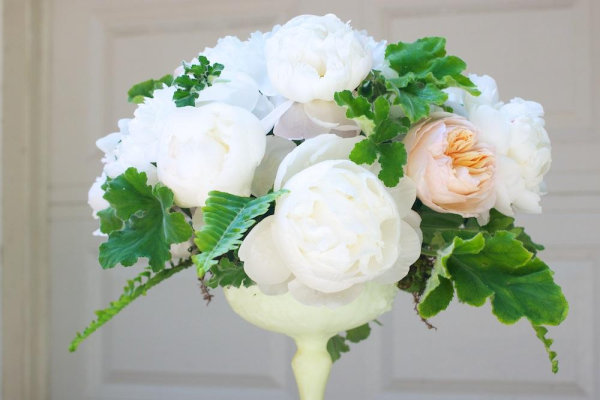 This Egg Dish Centerpiece from BHG.com is easy to make, and the payoff is huge! Place dyed eggs in a clear compote, then fill in gaps with delphinium and pom-pom mums. Talk about a floral statement with an Easter theme!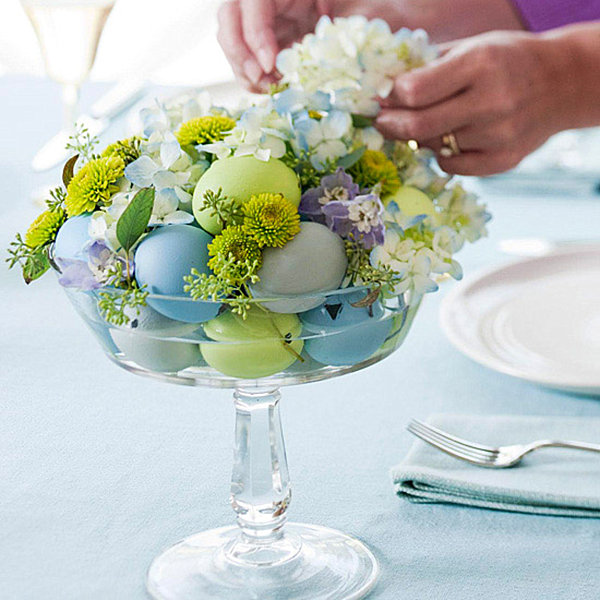 Branches of Blossoms
Another spring floral trend: branches of blooms! And they don't even have to be real. Below we see Talia Vases and Quince Branches from Crate & Barrel. The branches are faux, so you don't need to worry about water. Not to mention, the vibrant orange hue is an unusual choice for Easter, which makes it truly unique. Note how this fiery hue is a beautiful complement to the soft blues and greens of the vases.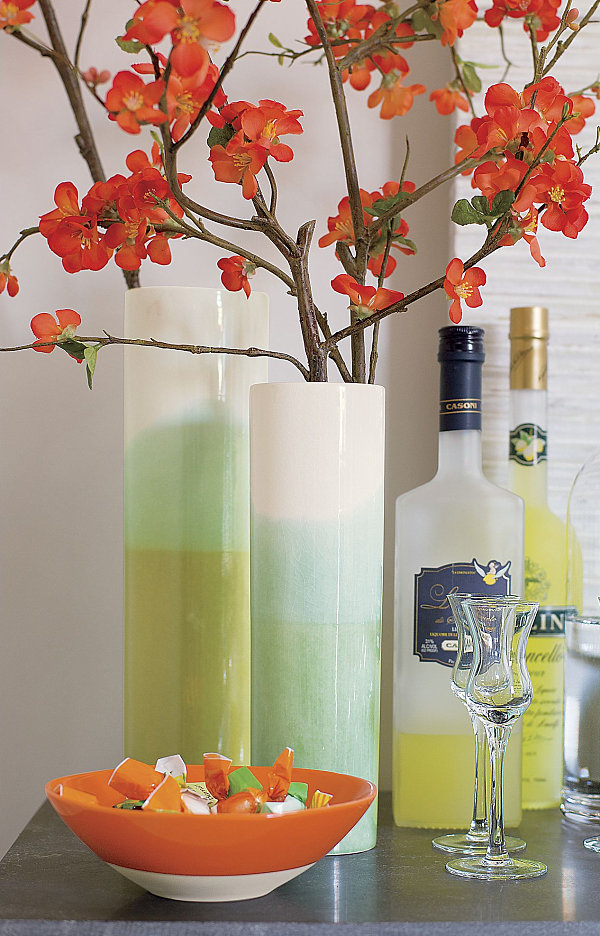 This next arrangement from HGTV.com consists of cherry blossom branches in a column vase. Inspired by Japanese paintings, this display is enhanced by bark strips that dress up the vase. No fresh cherry blossoms where you live? Magnolia branches will do just fine…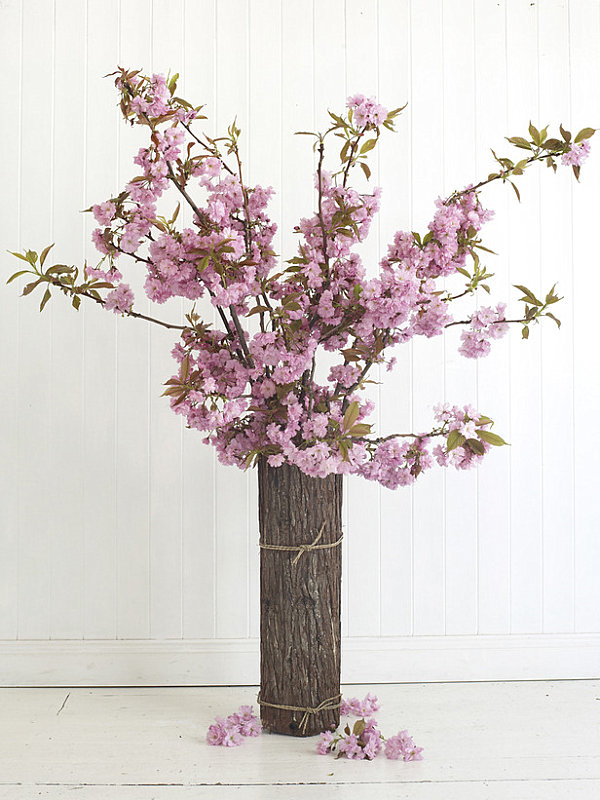 This arrangement from One King's Lane cleverly uses branches to add an element of height to a pitcher filled with flowers in brilliant shades of spring. The branches also add an element of drama, don't you think?!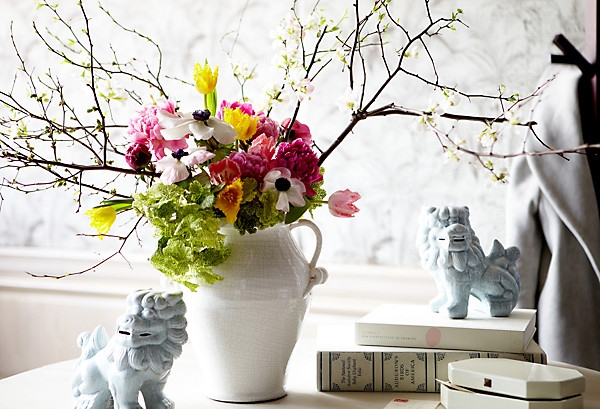 Vibrant, Modern and Rectangular
Our last featured floral arrangements have a bit of the unexpected in them! Like this rectangular Southwestern-style collection of berry-toned blossoms from 100 Layer Cake. A tribal patterned runner and turquoise stones add to the vivid effect. The use of saturated pastels juxtaposed with a strong shade of blue gives this look its power. [photo by N. Barrett Photography]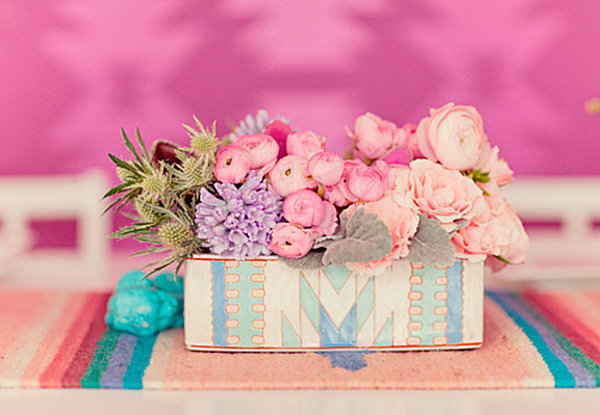 If you're a fan of yellow, this next one's for you! A combination of miniature daisies and yellow craspedia (aka billy balls) shines in a wooden rectangular planter that's painted a golden shade of yellow and distressed. The yellow-on-yellow effect is quite striking, and the white of the mini daisies adds variety. [photo by Tyler Branch and flowers by Floral Occasions via 100 Layer Cake]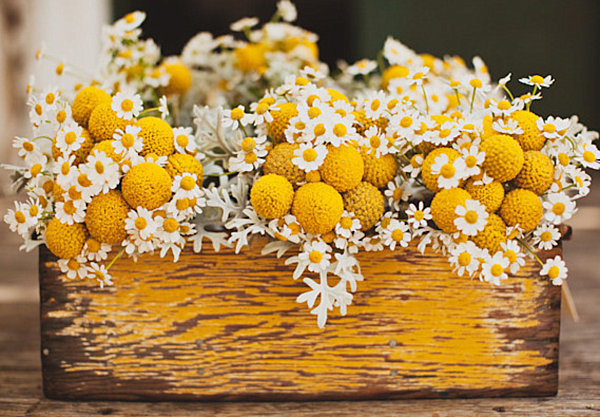 We end with an arrangement from Ovando, complete with salmon-colored roses, lime green pom-pom mums and yellow calla lillies. Once again, we have a rectangular form, but this time, modern pottery on each side of the blooms creates a contemporary yet charming vignette: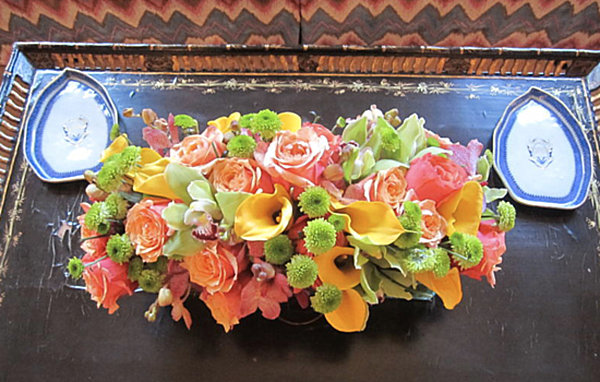 We at Decoist wish you and yours the happiest of Easters. However you celebrate, may this Sunday be filled with peace, joy, and time with the people you care about!