Your home is your haven. Yet the tasks involved in keeping it clean and functional can seem overwhelming at times. Wouldn't it be great if you had a little help with the chores?
Thanks to a recent onslaught of smart appliances, home life could get quite a bit easier in the near future. Especially if you're able to activate the dishwasher from your smartphone while you're at the office!
At the Consumer Electronic Show (CES) in Las Vegas earlier this year, an array of smart products made their debut. Not only did these items attract attention for their innovative capabilities, they provided a glimpse into the future of appliances. Groundbreaking and even controversial, the products also make it clear that our smartphones may be more involved in day-to-day home duties than we thought. Today we explore the wonder of the smart home, as showcased at CES 2013 in Las Vegas. Read on for all the details…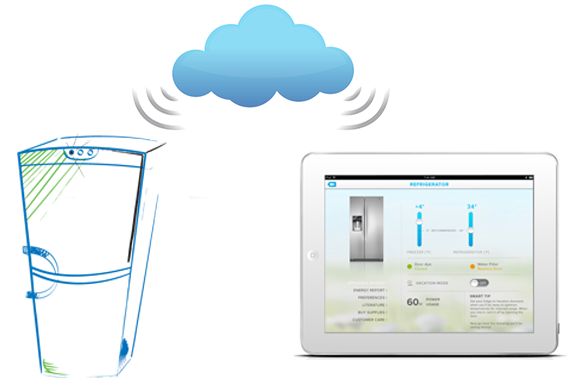 Smart Appliances
Let's start with the concept of smart appliances. Picture your home kitchen. When you want to activate an appliance, you must manually turn the switch. But what if you could activate your oven, dishwasher and refrigerator from your smartphone?
LG's Smart Home Service system
One compelling example of smart home technology is LG's Smart Home Service system, which makes use of two smartphone apps: SmartShare and SmartControl. With the simple touch of your smartphone to the Near Field Communications (NFC) tag on an LG smart appliance, the products are registered and synced into the apps. Not to mention, these apps make it possible for the appliances to be activated away from the home. Yes, that includes controlling your smart vacuum from your office!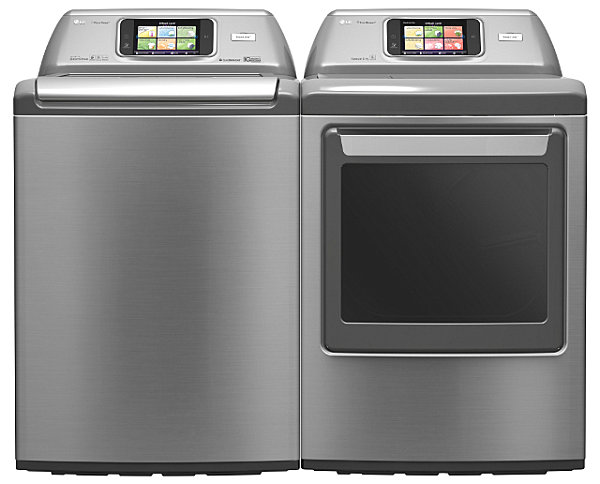 Other appliances in the mix: the smart refrigerator, washing machine and oven. Below we see LG USA Senior Vice President of Marketing Mr. James Fishler introducing the LG lineup at CES 2013.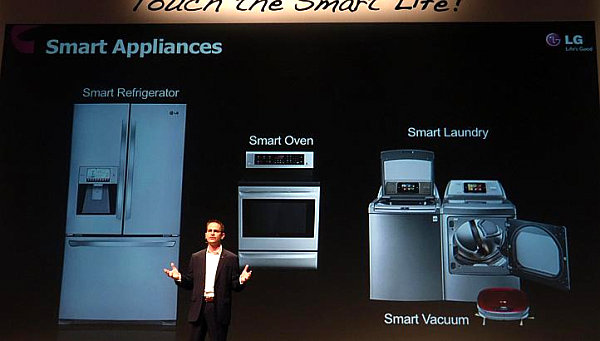 LG Smart Oven
Next we see LG's smart oven. In addition to the capabilities mentioned above, the oven and its app technology make it possible for consumers to enjoy a recipe bank, complete with more than 1,000 selections! This bank is duplicated on LG's smart refrigerator, and its benefits are undeniable. For example, with with your smartphone, you can select a recipe and program the oven to meet the food's specific cooking needs. All from the comfort of your couch! [from Talk Android]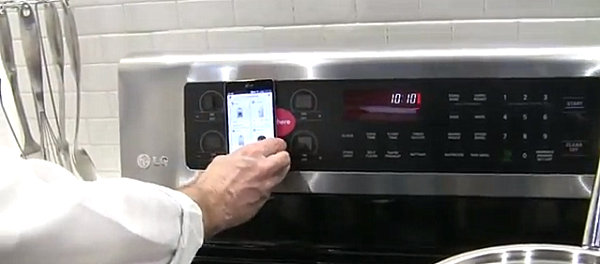 LG Smart Fridge
Let's turn our attention to refrigerators. We begin with LG's smart fridge, noted above for its accompanying recipe bank app technology. In addition, a state-of-the-art air filtration system keeps food fresh, while the fridge's ability to monitor conditions and make changes accordingly ensures that items are preserved for as long as possible. [from Pocket-lint]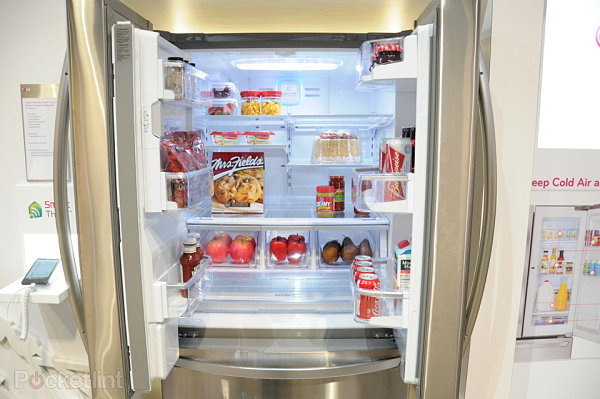 Below we see a view of the fridge's monitoring system, courtesy of a built-in screen that also allows consumers to interact with the appliance. [from Pocket-lint]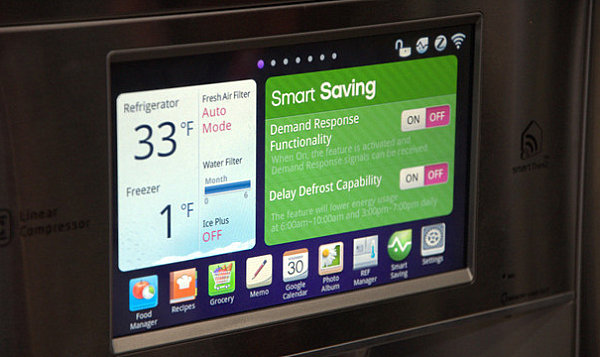 A favorite feature? The fridge's ability to display a Google calendar on screen! Does Jimmy have soccer practice today? Now it's easy to find out… [from Pocket-lint]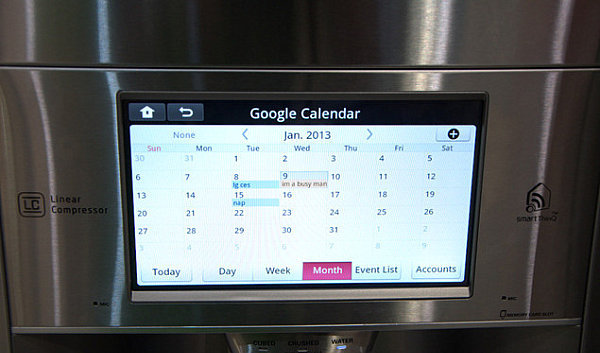 Samsung Smart Fridge: T9000 Four-Door Refrigerator
One refrigerator that has garnered quite a bit of attention at CES is Samsung's smart fridge, also known as the T9000 Four-Door Refrigerator. When you sit back and ponder your need for a smart fridge, do you begin to chuckle? So did Mat Honan and the folks at Wired.
"When Samsung presented its new lineup of gear at CES 2013, it showed off a smart refrigerator with a built-in tablet that ran apps like Epicurious and Evernote. And oh, how we laughed. Evernote in a refrigerator? That's preposterous! And then we saw it. And, you know what? Actually, it's pretty great." — Mat Honan
Have a look below, courtesy of The Verge: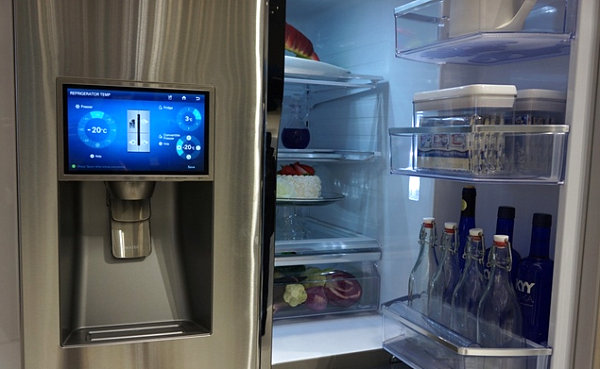 From an inventory app that allows you to itemize ingredients to an app that leads you to specific recipes based on the items in your fridge, this amazing product empowers you to keep track of the food you have, maintain an ongoing grocery list, and much more. Plus, we can't forget about the perks of a four-door refrigerator with three compartments, each of which can be set to an individual temperature. [from iJailbreak]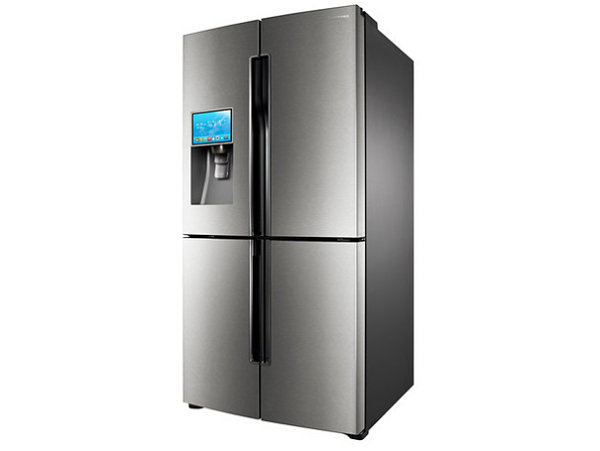 Smart Fridge Concepts
Let's get back to the basic concept of a smart fridge. The question remains —
Do we need a machine that can perform tasks such as generating healthy recipes based on the ingredients in the inside?
Some say consumers would not have the patience to catalog the contents of their refrigerators at this level, but others argue that the many benefits offered by the smart fridge can't be denied. Why shouldn't food management veer into smart territory?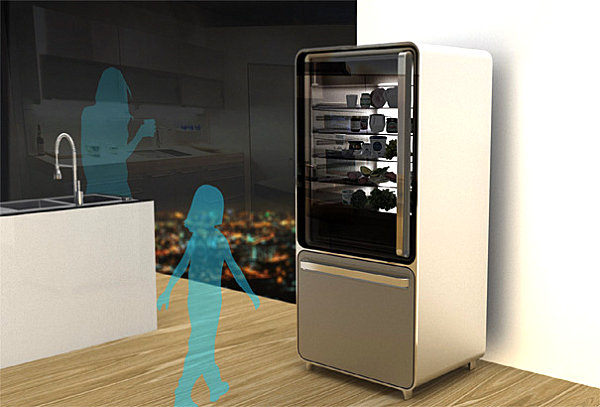 Yet who can resist the appeal of a touch interface door, or a displayed menu that makes it it easy for you to select exactly what to prepare. After all, when you have a list of required ingredients, as well as step-by-step instructions for assembling the meal, making dinner is a snap. In the fridge below by Yanko Design, electrochromic windows change the see-through glass to an opaque screen with the simple push of a button.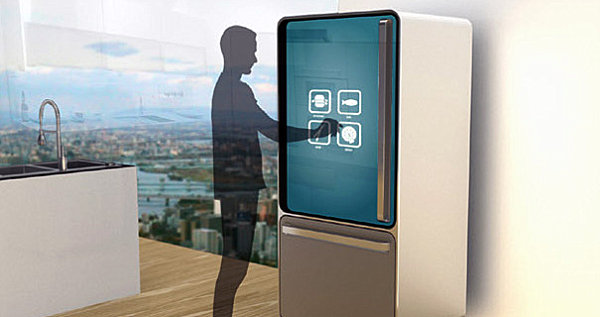 Energy Management
Exciting developments are also affecting the world of energy management. For example, in November of 2011, energy efficiency company Serious Energy acquired Agilewaves, and Agilewaves then launched the Building Optimization System (BOS) which makes the management of a building's resource consumption possible through a website.
Temperature, moisture, and electricity are just three of the components that can be monitored, and information can be broken down via room, floor and appliance. Not to mention, the dashboard can coordinate with control systems to perform feats such as dimming lights and adjusting the heating and cooling. [from GigaOm]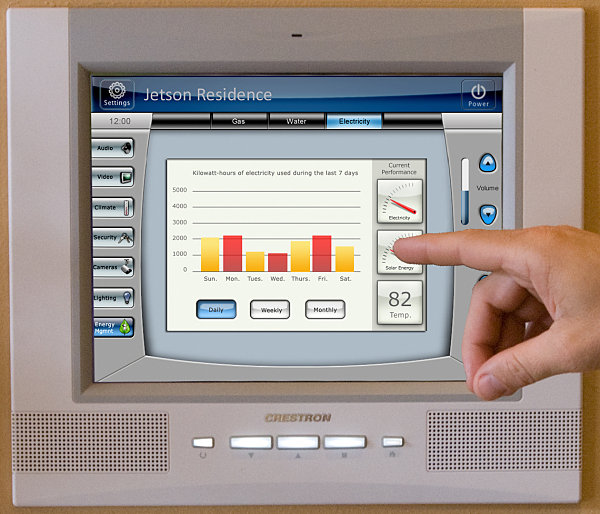 Nest Smart Thermostat
We couldn't discuss energy management without profiling the Nest thermostat, a "learning" thermostat that programs itself over time. Each time you set it, Nest registers information, eventually using your habits to your advantage. For example, Nest will remember when you typically wake up, and it will conserve energy when you are away. Another highlight: you can adjust this thermostat from anywhere using your smartphone!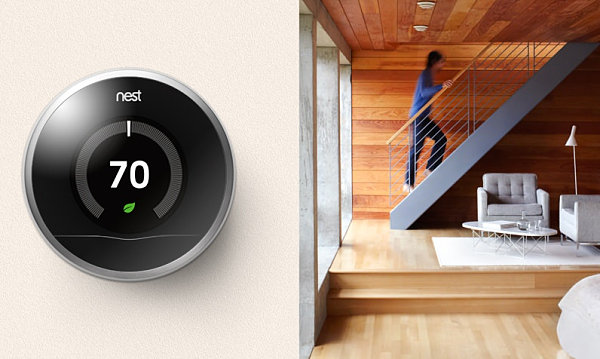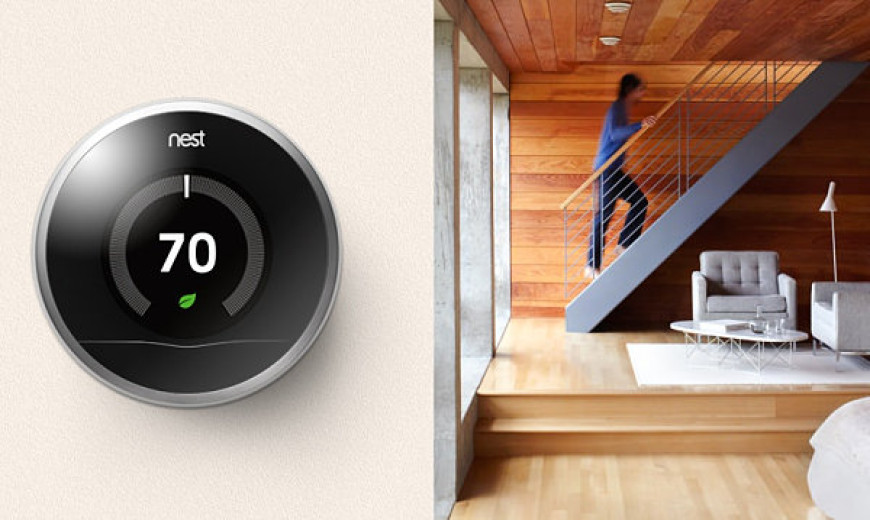 WeMo Light Switch by Belkin
Energy management can also include something as simple as a smart switch. Take the WeMo Light Switch by Belkin, introduced at CES 2013… Combine it with an iOS device, WiFi router, and the wiring of your home, and you can regulate your lights from anywhere, thanks to the WeMo app! We find this development to be quite illuminating… [from Engadget]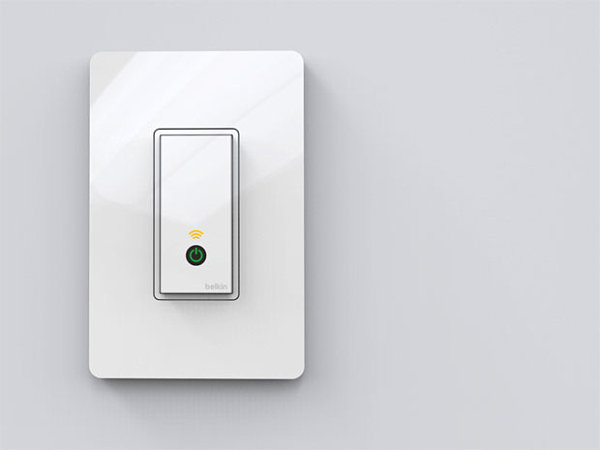 In fact, this light switch is an extension of the WeMo items that debuted at CES 2012, including WeMo Switch, which plugs into an outlet of your choice. Then whatever you plug into WeMo Switch can be turned on and off with the help of an app on your phone: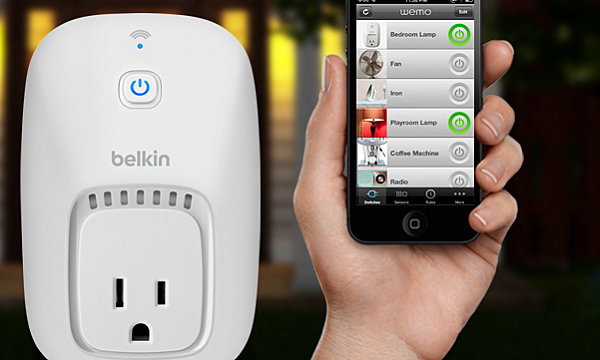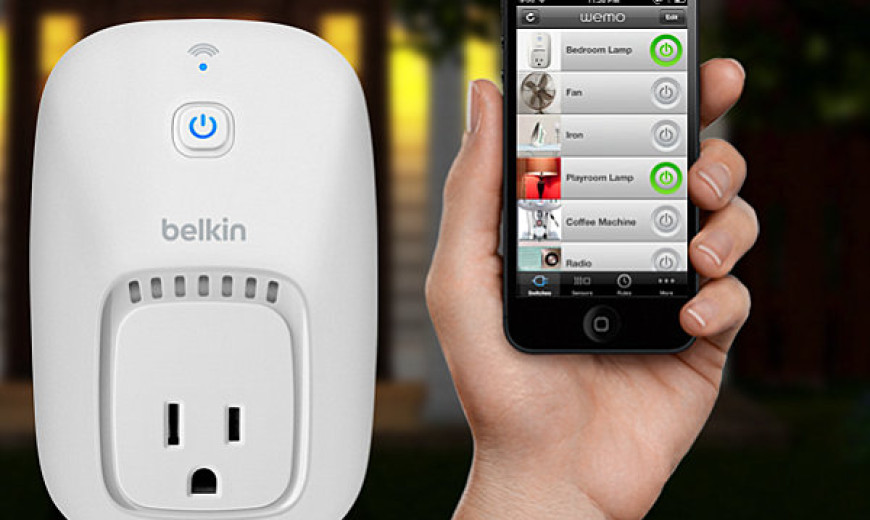 The lamp, the heater, the iron… As reiterated in the image below, a screen shot from the WeMo promotional video, "If you can plug it in, you can control it with WeMo."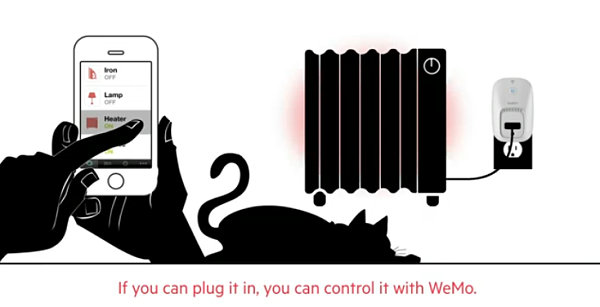 The Smallest of the Smart…
Smart Fork – they say
Sometimes it's the little things that matter… Are you ready for a smart fork?!
This handy utensil is designed to combat the dangers of eating a meal too quickly. The HAPIfork also comes with an online dashboard and mobile app that together make up the HAPILABS Suite. The dashboard allows you to set workout objectives, assess and manage data from the HAPIfork, and more. The mobile app enables you to track your health and fitness progress and keep record of your performance data, among other functions.
And the fork itself? With this connected utensil, you can eat at the right time and pace, as well as share information with your coach and the community. For more details, check out HAPILABS.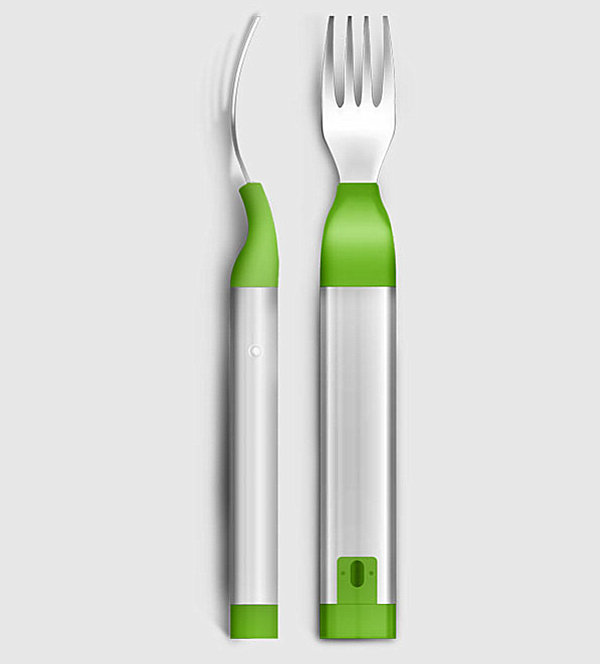 Smart Baby Monitor
We now revisit one last Belkin product: WeMo Baby, a highlight from 2012. This item converts your iPad, iPhone or iPod touch into a baby monitor with the help of the WeMo Baby app. With an upgrade through Evoz, WeMo Baby reveals its intelligent offerings, which include text and call notifications when your baby cries, as well as information on your baby's sleeping and crying patterns. [from Uncrate]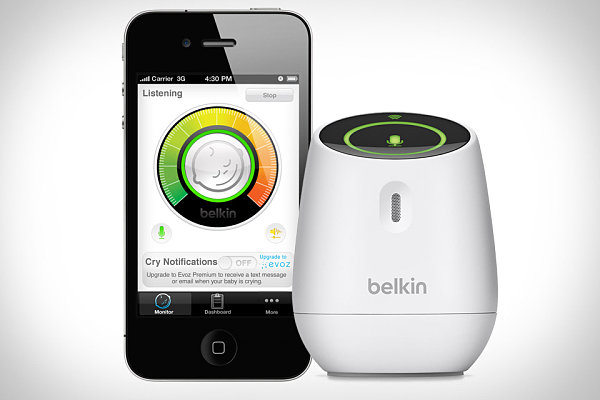 We end by asking a key question about the future of the smart home. After all, smart appliances are expensive, and they often require the input of detailed data. In fact, Sam Byford of The Verge suspiciously writes that activating your smart oven from your phone "could save literally seconds of time that would otherwise have been spent pressing a couple of the many buttons next to the NFC receiver."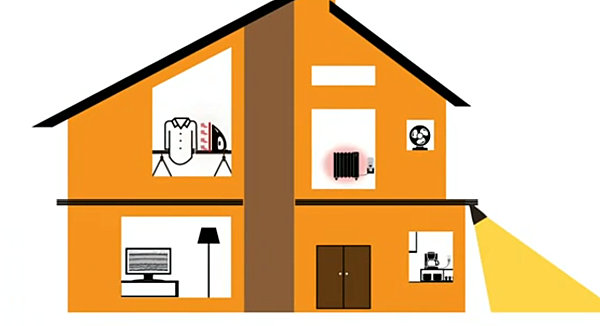 Is the introduction of yet another screen into the home "superfluous at best" as Byford suggests, or do smart appliances perform important roles that will revolutionize smart home technology?
Perhaps you'll see them in a different light when you're at the grocery store trying to remember the one ingredient you inadvertently left off your list, wishing your phone could answer that question for you in seconds based on its knowledge of the contents of your fridge.
Have your say in the comments below!