"Neon lights, shimmering neon lights, and at the fall of night, this [kitchen's] made of light"… Before you really start to wonder why I've taken liberty with the lyrics to a Kraftwerk song from 1978, let me explain myself! Today's post explores the vivid world of neon lighting in the kitchen. Some say this room is the heart of the home. So why not give it a fluorescent glow?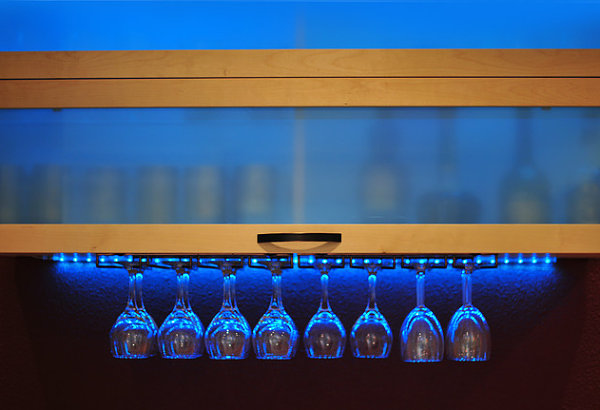 Blue is one of the most popular colors when it comes to neon kitchen lighting, as shown above in a space created by Ayelet Designs. This radiant hue is colorful without being tacky, mysterious without being spooky, and classy without being uptight. But don't think that all neon kitchens are limited to one shade. White, green and even red appear when you least expect them to! Check out the images below for ideas on how to incorporate "shimmering neon lights" into your kitchen…
Neon Lighting and the Kitchen Bar
We start by showcasing neon lighting that illuminates the bars and islands of the kitchen. In fact, many people relish the day when they can finally have a kitchen with an island. Who doesn't love a little extra space for food preparation? Which is why a bit of lighting under the surface does its part to spotlight the culinary bar below. [photo by Kallan MacLeod for Mal Corboy]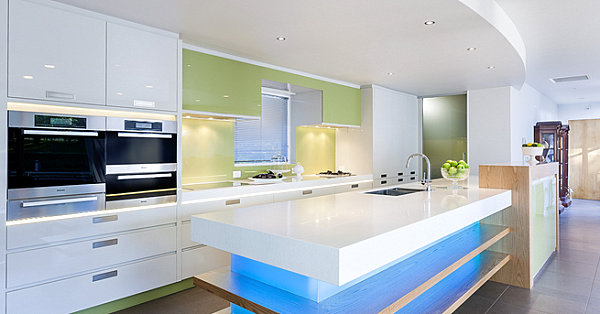 A little neon lighting goes a long way… In the next featured space, a kitchen bar is awash with the lightest of neon blues. This subtle statement is echoed by a blue glass bowl on a nearby shelf. [designed by the same Mal Corboy]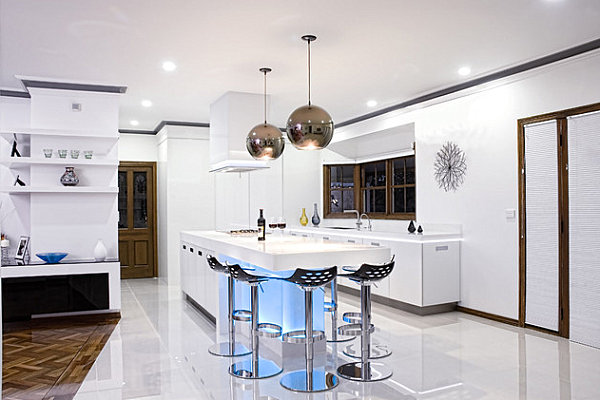 It's undeniably radiant when the sides of a kitchen bar or island are illuminated. But what about the bottom? That's exactly what you get in the kitchen bar below. This space is designed by Blueprint Designs, who put an emphasis on making this crucial room in the home a truly welcoming and social space. Red bar stools bathed in a pool of glowing white light is a great place to start…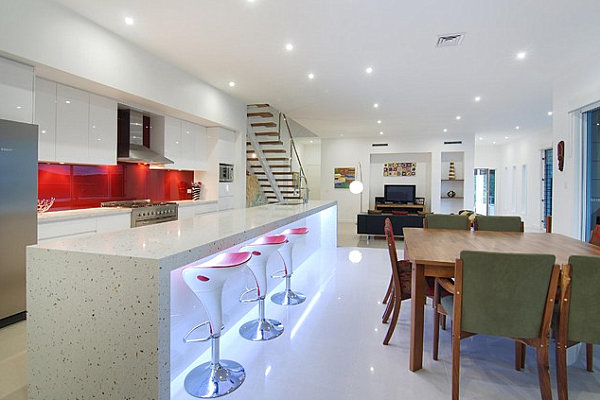 Neon Lighting Under Kitchen Cabinets
Neon lighting is also striking on the underside of cabinets, as shown in this 2011 award-winning kitchen designed by Mal Corboy. As you can see, blue is a fitting choice for the lighting, especially since it nicely complements azure evening views from the home's expansive windows and sliding doors…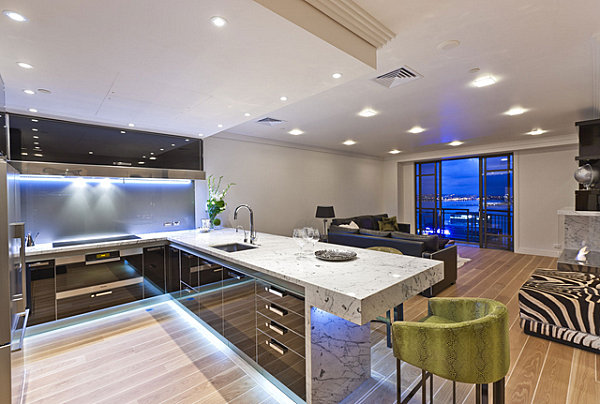 Blue-green is a perfect hue for the radiant space below. Lighting under kitchen cabinetry creates a fluorescent backsplash that helps set the color palette in the rest of the house. We're crazy about the interplay of aqua green lighting with the prominent red coffee table in the nearby living room. [from Laura U Interior Design]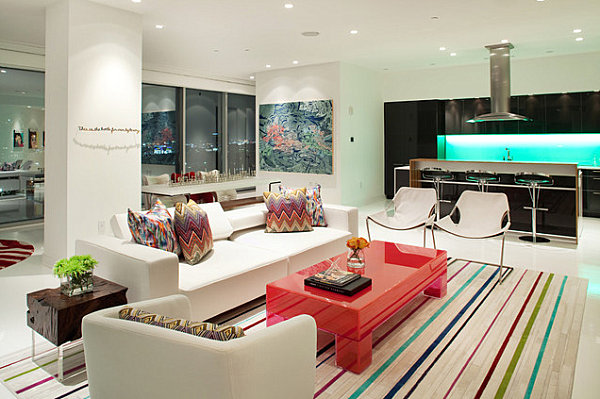 We can't take our eyes off the striped neon lighting the next image, which serves as a key feature in this kitchen designed by Toby Zack. White is an interesting choice for this ultra bright space. Sometimes monochromatic is the way to go, don't you think?! [photo by Dan Forer]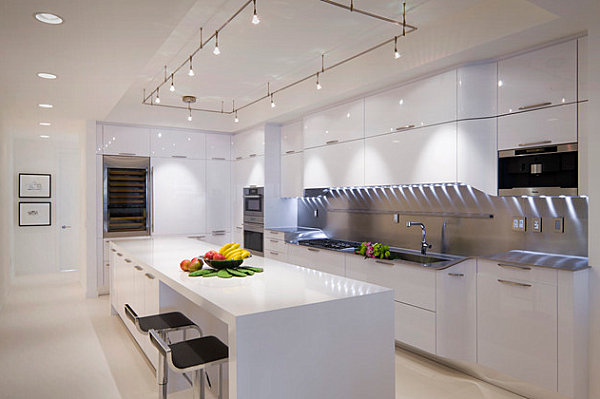 Neon Lighting Where You Least Expect It
We now turn our attention to neon lighting that shows up where you least expect it. In fact, sometimes the best way to include neon lighting in a room is to have it emanating from a nearby source. In the next image, neon lighting under the stairs adds life to this modern kitchen. Blue is the perfect choice for a space that is bathed in warm golden tones. [from 186 Lighting Design Group]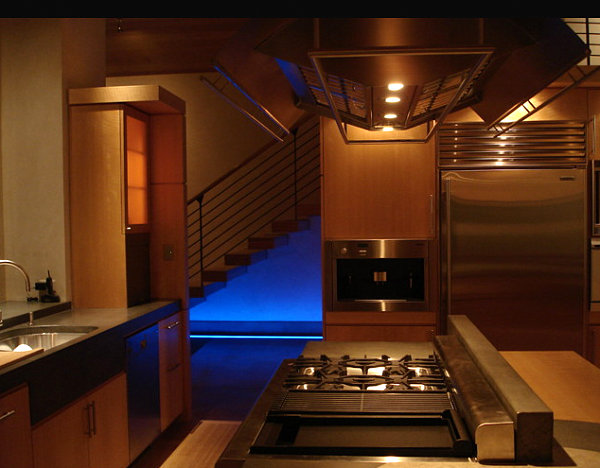 Cove lighting is hidden, seeming to shine from a mysterious source. This Toronto kitchen features a bit of cove lighting, which appears to come from the top of the cabinets, or possibly even the next room. The effect: a hidden treasure that happens to play a key design role in the kitchen at hand. [from Peter A. Sellar – Architectural Photographer]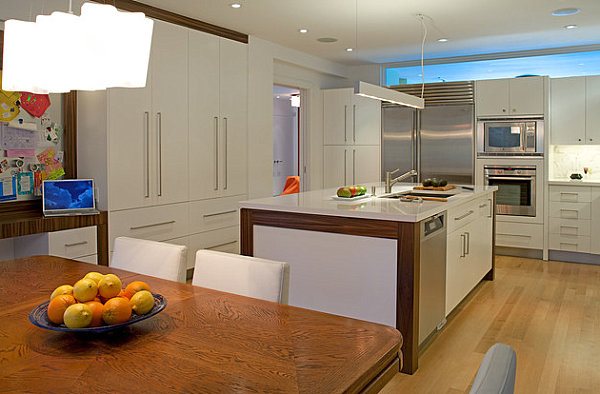 Neon Lighting from the Ceiling
Speaking of cove lighting, the blue lighting in this colorful kitchen featuring Mal Corboy cabinets is an important accent in key places. One such area: high on the wall near the ceiling. The effect: the creation of a blue outline that complements the pink cabinetry to create a uniquely colorful space. [from Mega Builders]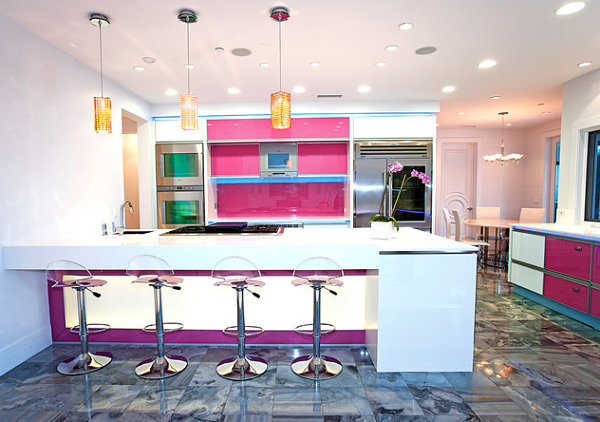 There's nothing like a little neon lighting on the ceiling! Not only do white and blue LED neon lights illuminate the kitchen in the next featured image, they appear in the dining area as ell. Note how white walls and cabinetry really allow the blue accents to shine in this modern space. [from Minimalisti]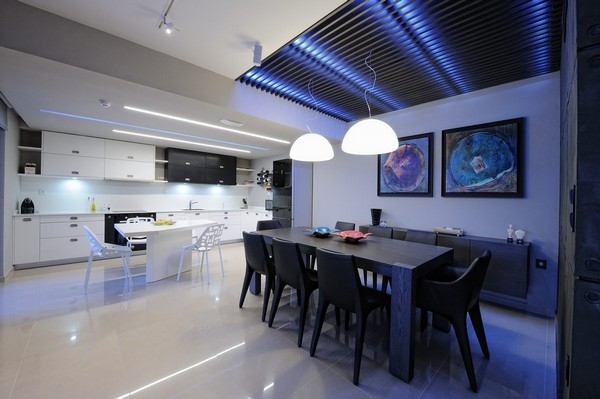 We end with a room that takes neon lighting to the next level. With cove lighting emanating from the ceiling! And not just any color–red. Red is radiant, bold and unforgettable. Would you expect anything less in this kitchen from K Cabinets, which boasts a powerful combination of bright red and earth tones?!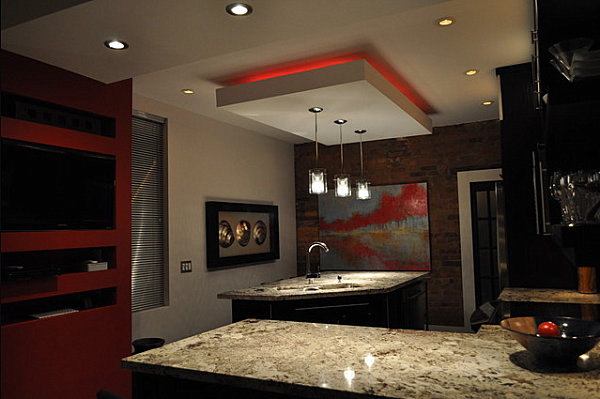 Interested in adding a little bit of neon to your kitchen? What color would you choose? Blue? White? Green? Red? Another hue? Share your thoughts by leaving a comment below…