What it is about Art Deco that draws us to its sleek style? Is it the abundance of geometric motifs? Is it the streamlined design of every elegant piece? Or perhaps it's the use of straight lines juxtaposed with curves… Whatever the reason, one thing is for sure: Art Deco pieces have a look that is truly distinct. And Art Deco style was unlike anything the world had seen before it first appeared in France in the 1920s.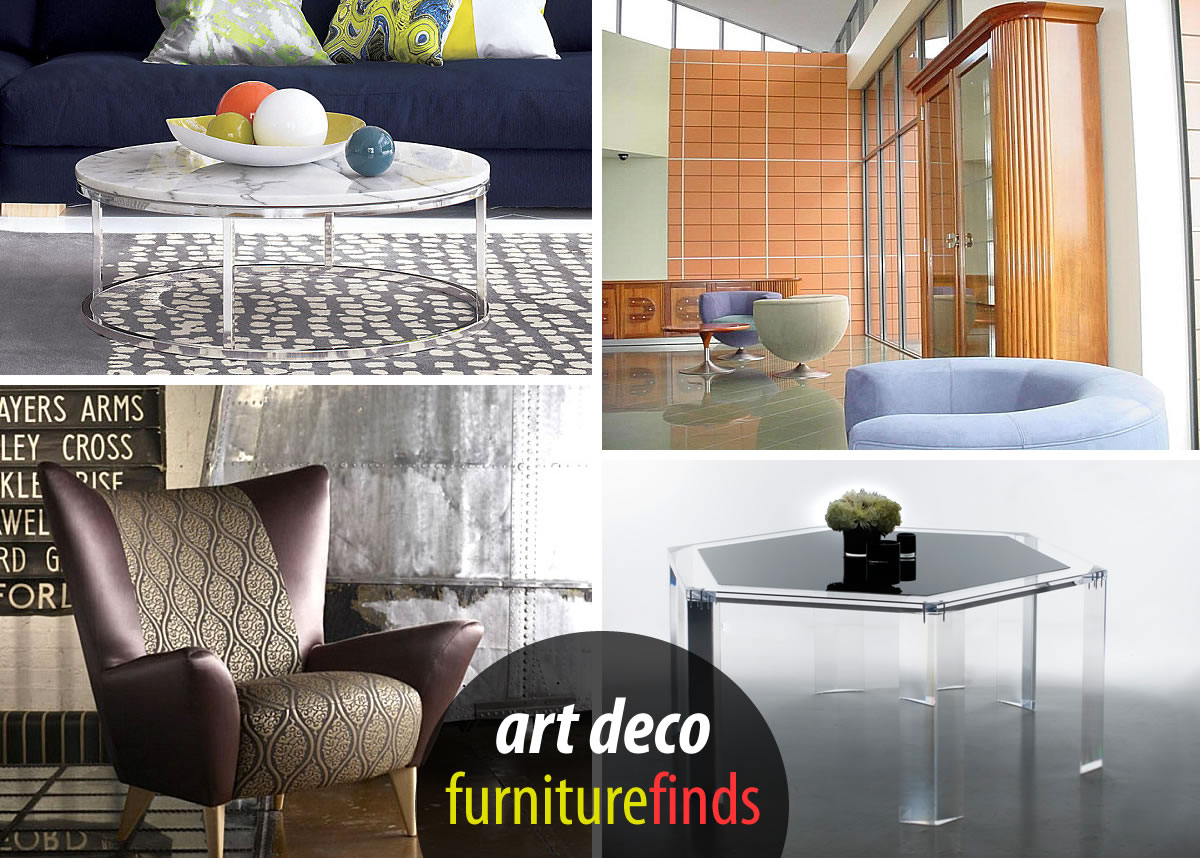 Clean-lined Mid-Century modern pieces continue to be amazingly popular, but fans of Art Deco are drawn to its look because of the way this design style combines both clean lines and undeniable elegance. Materials such as marble and chrome grace many an Art Deco furnishing, and the allure of motifs such as fans, rays and zigzags cannot be denied.
Art Deco is still alive and well, thanks to offerings from retailers such as Restoration Hardware and Timeless Interiors. Today we feature 20 new furnishings influenced by Art Deco style, as well as helpful links to purchasing information should you be in the shopping mood. Enjoy, indulge, and revel in the vintage flair…
Art Deco Seating
We begin with some Art Deco seating that will bring the '20s and '30s to your living room. Like this Contemporary Art Deco-Influenced Semi-Circle Lounge by Timeless Interiors, distinct in its streamlined design, curved form and eggplant hue: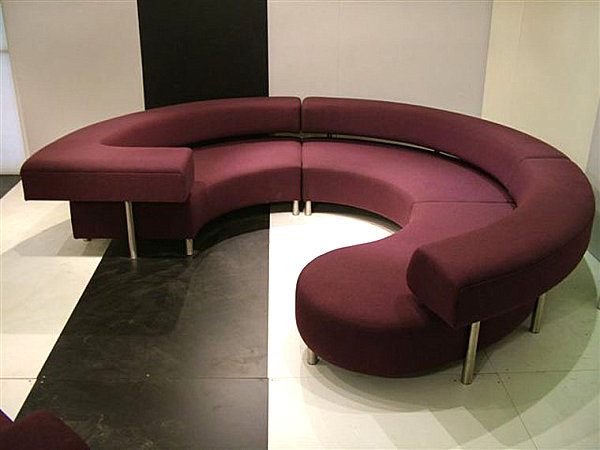 Also from Timeless Interiors, this Art Deco Style Lounge and Lounge Chair features chrome and timber detailing. Not to mention, it draws its Deco influence from various style-filled cities, such as New York, Manhattan, Chicago and Paris…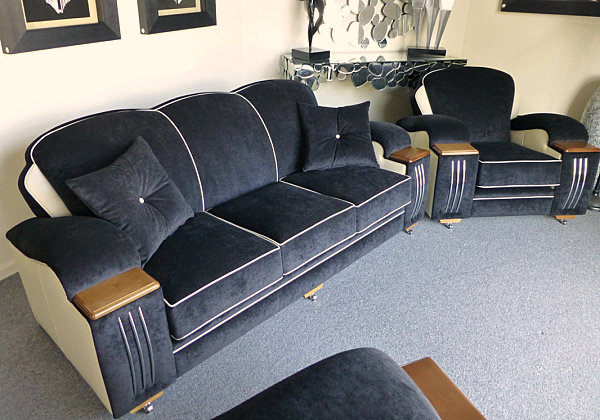 The angular form of this Modern Feature Chair with Art Deco Influences has an undeniably Deco look while also channeling Mid-Century style, thanks to its four tapered legs. [from Timeless Interiors]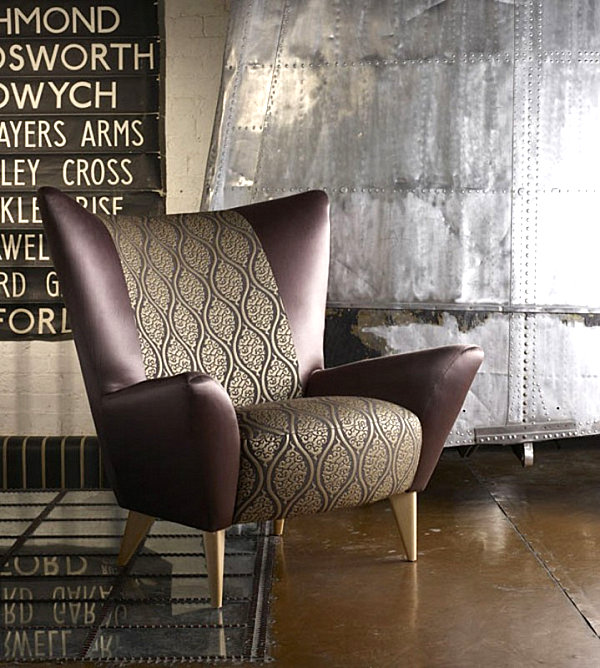 Like the look of these Art Deco Influenced Contemporary Tub Chairs? Maybe it's because their curved shape channels Deco style at its finest. We also love the way these pieces can take on a Hollywood Regency look, especially when paired with luxe geometric carpet. [from Timeless Interiors]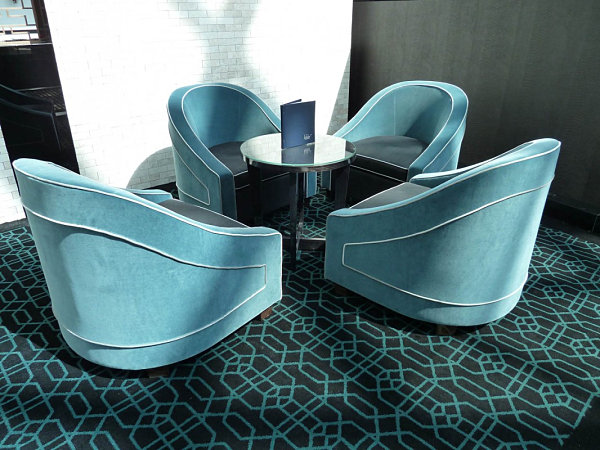 Art Deco Desks
What better way to add some elegance to your office than by incorporating an Art Deco desk? The Strand Mirrored Desk from Restoration Hardware is designed in the style of French Art Deco furnishings. Waterfall edges, dark metal trim and a mirrored surface create a signature Deco look for this elegant yet practical piece.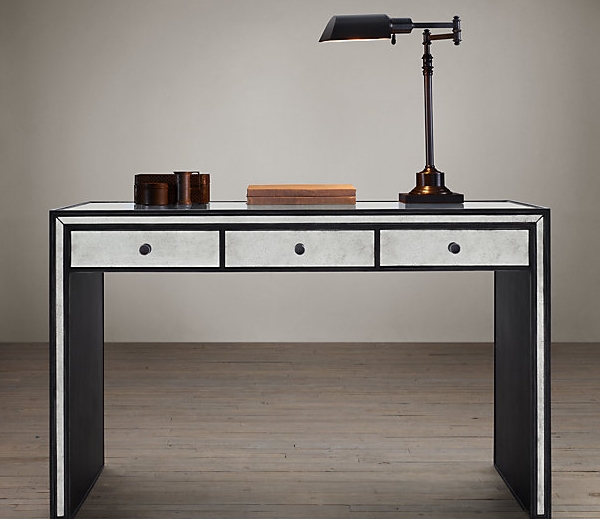 This Racketeer Acrylic Dining Table can also double as a desk. A hexagonal shape and dark/light contrast give this piece true vintage vibe, as well as an '80s Deco look!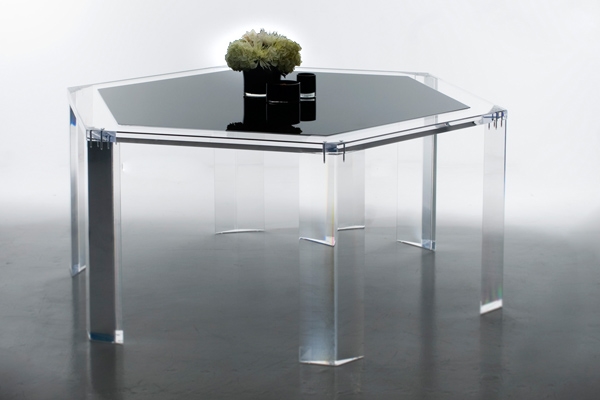 Our next featured desk has a look that can best be described as "Art Deco meets the future." The Luminous Acrylic Desk in Pink from Alexandra Von Furstenberg was inspired by Von Furstenberg's love of automobiles! Neon accents make this desk truly sensational, and in addition to pink, you can choose from a range of colors to find the shade that's right for your home.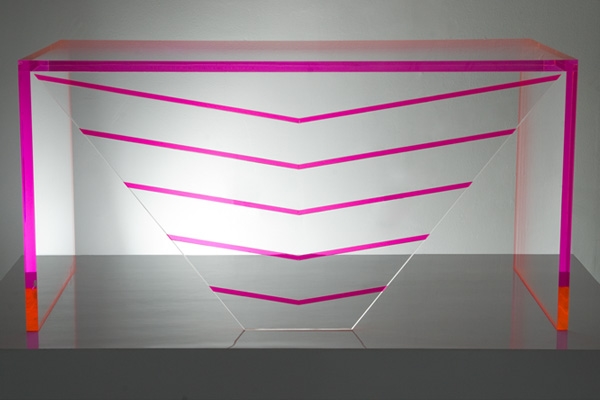 For one final AVF piece with geometric flair, check out the Axle Acrylic Desk, complete with a glass tabletop insert available in a range of colors. Not to mention, the acrylic frame can also be ordered in an array of hues. The result: a flawless crystalline look as monochromatic or colorful as your heart desires!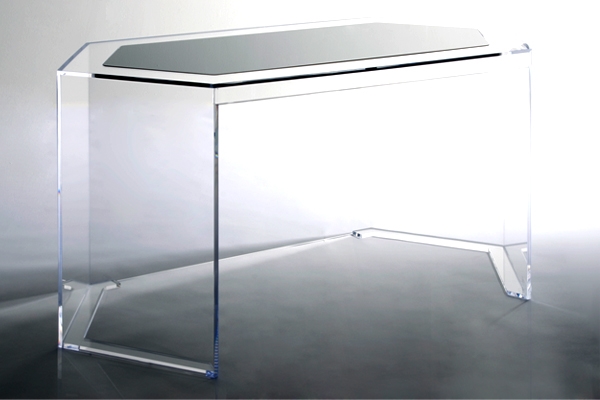 Art Deco Tables
Art Deco tables are the perfect way to go vintage in your interior. Are you looking to make a small Deco statement? Select a side table or a chic console. For a larger Art Deco effect, go with a substantial piece, such as the Strand Mirrored Cocktail Table from Restoration Hardware. Waterfall edges, an aged patina, and a clear contrast between the mirrored and the dark create a look that is both Deco and antique.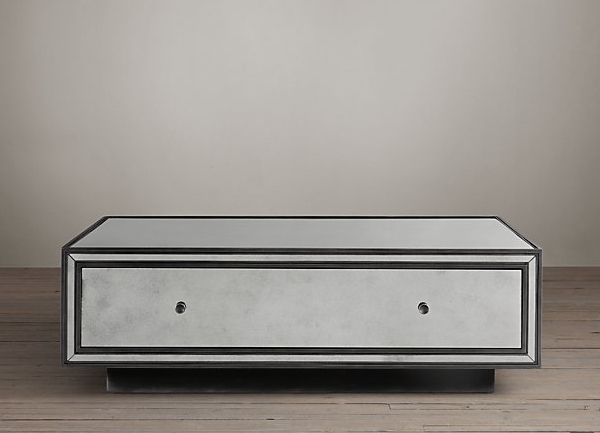 Next we spotlight the Strand Mirrored Console Table, also from Restoration Hardware. With a mirrored surface and burnished metal trim, this furnishing is available in two sizes for your convenience. We love the way its compact design is ultra dramatic, thanks to a striking juxtaposition of mirrored shine and dark outlines.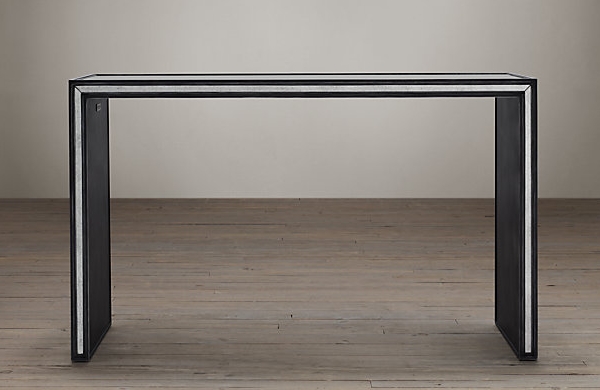 Marble and chrome are two signature Art Deco materials. Which is why we're loving this Smart Round Marble Top Coffee Table from CB2, with its chrome frame and Carrara-style marble surface. Not to mention, a streamlined look gives this piece a retro-meets-modern vibe: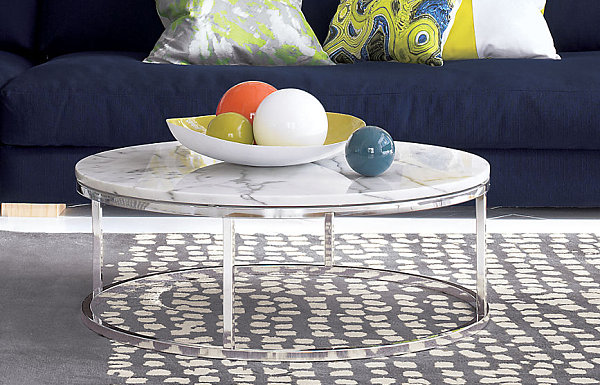 Another striking offering from CB2 is the Ernest Chrome Bar Cart, designed by Mash Studios. A geometric chrome form and mirror/glass discs add reflective shine to this unmistakably Deco-style piece: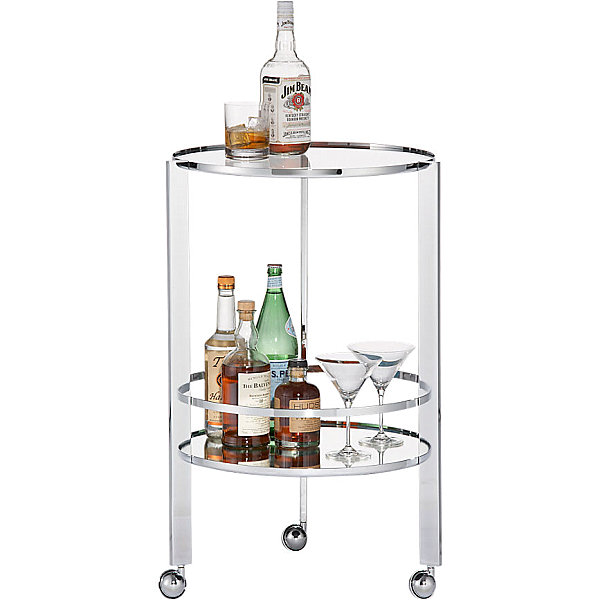 Circles and lines are clearly a Neo Deco trend, as our next featured piece also showcases this fabulous combination. The Fox Mirrored Side Table from West Elm is an Art Deco-inspired piece with a metal base, a mirrored disc surface, and an antique bronze finish that creates an aged look.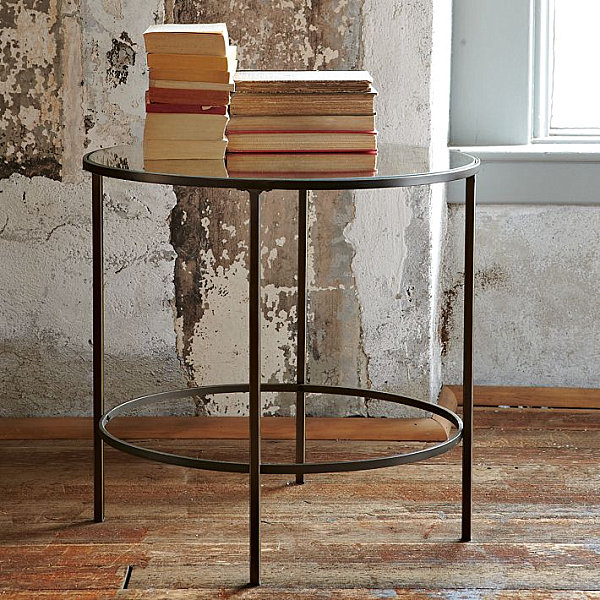 For a dash of Old Hollywood style with Deco geometry, check out the Faceted Mirrored Side Table from West Elm. An engineered wooden form and mirrored paneling create an angular glamour that is hard to resist…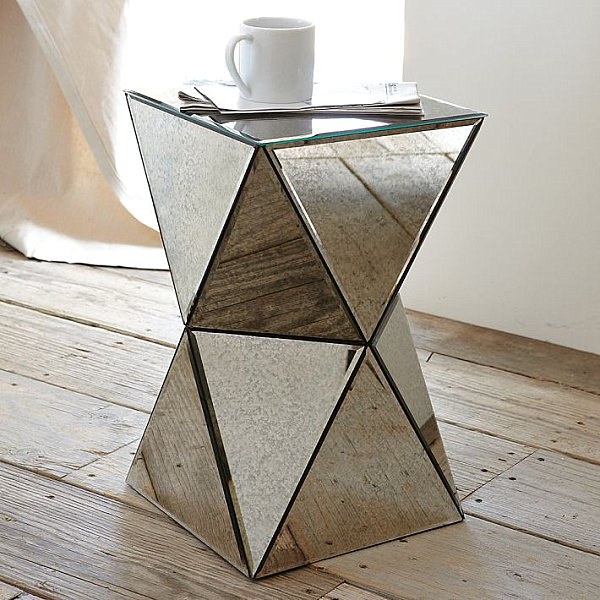 Art Deco Dressers and Cabinets
When antiquing for Art Deco finds, you are likely to come across a variety of Deco-era cabinets and dressers in golden wooden tones. Even new pieces that celebrate this vintage style channel the past. Like this Art Deco Style Bedroom Furniture from Timeless Interiors, which includes a chest of drawers and bedside cabinets featuring walnut veneers and marble tops. And you've gotta love the fan-shaped mirror, chair and headboard: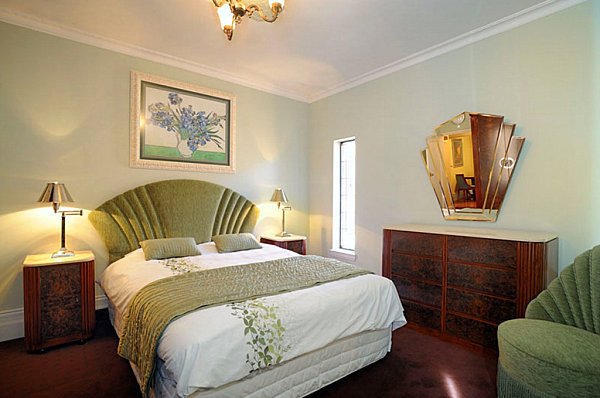 The Art Deco/Neo Classical Influenced Cabinet and Buffet from Timeless Interiors boasts curved sides and fluted timber features, creating powerful pieces that are also soft in their rounded edges: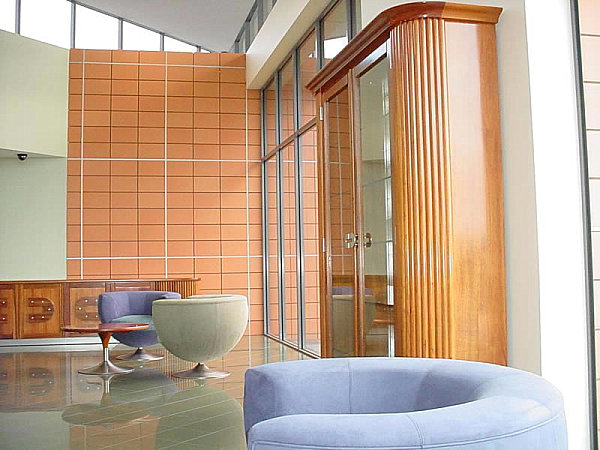 Art Deco Lighting
We couldn't celebrate Art Deco flair without including some key pieces of Deco-style lighting. Thanks to Restoration Hardware, a range of '20s-influenced selections can now illuminate your home. The 1920s Odeon Glass Fringe 3-Ring Chandelier features three concentric rings of glistening prisms, as well as an iron frame. Talk about a powerful combination of straight lines and rounded forms!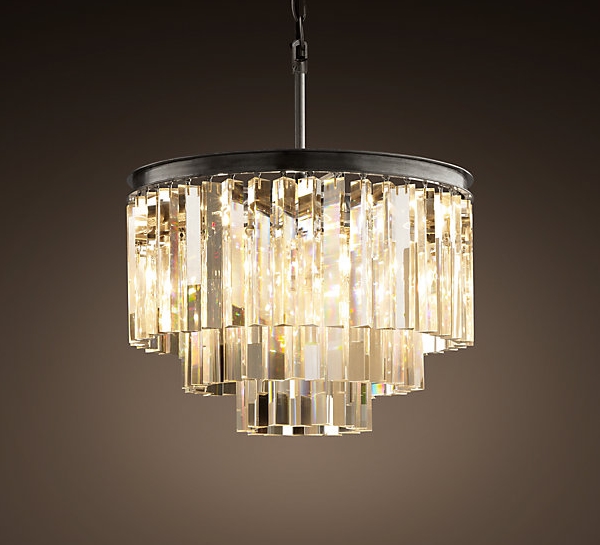 The 1920s Essex Crystal Rod Floor Lamp stands tall and proud, combining a radiant shade with dark outlining. A simple yet sturdy base grounds this Art Deco-style piece: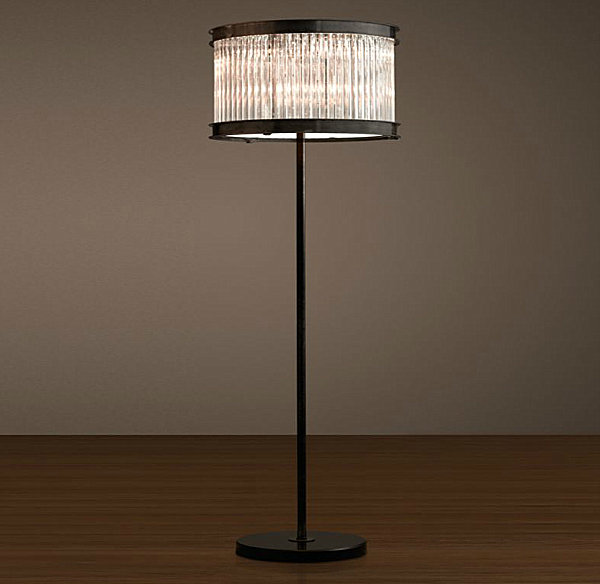 Don't forget the power of an Art Deco sconce, which adds instant elegance and vintage style to any wall it occupies. This Louver Wall Washer Sconce from Progress Lighting features three horizontal bands and plenty of streamlined style. [from LightingDirect.com]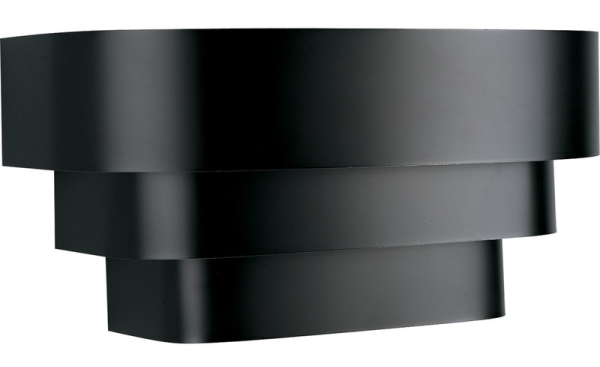 We end with the French Nautical Sconce from Restoration Hardware, complete with a construction featuring ribbed prismatic glass framed by aluminum. A reproduction of a French sconce, this piece channels the look of the running lights that graced many a yacht in the 1920s.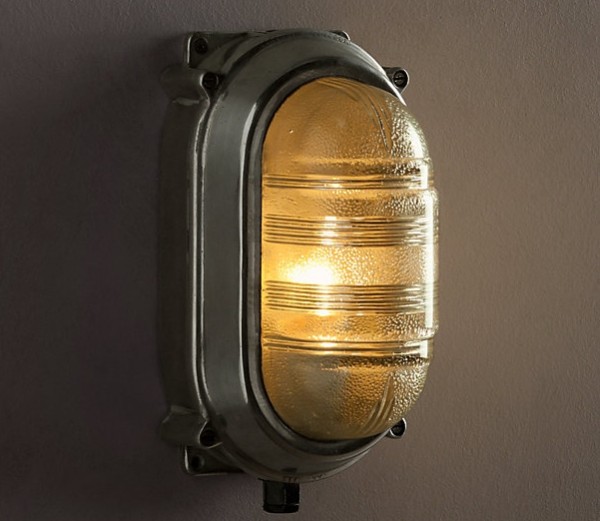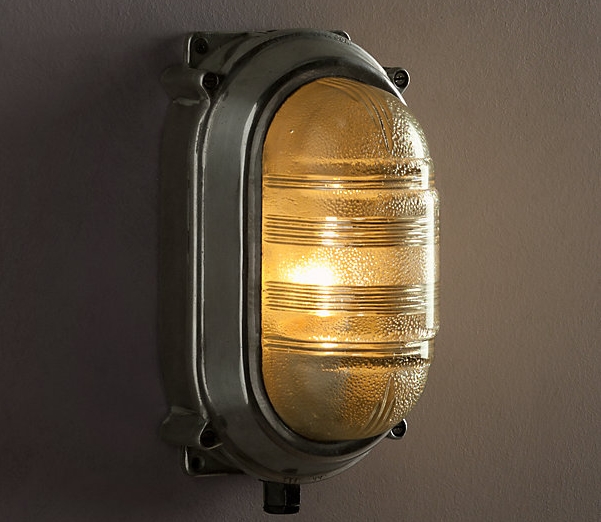 If you're a fan of Art Deco and you're hoping to track down some authentic vintage pieces, check out your local thrift stores and antique malls, as well as online shopping sources such as eBay, Etsy and 1stdibs. Also be aware that many 1980s furnishings and decor items have Art Deco flair, thanks to a Deco revival that occurred during the decade. It can be fun to mix pieces from the '80s with older items. Happy shopping!
.