The San Lorenzo Residence in Los Angeles is a stylish and elegant contemporary home that plays underplays its flowing interiors to accentuate the beauty of the encircling scenery. Conceptualized and brought to life by Mike Jacobs Architecture, the ideal family house is characterized by its extensive use of glass and peaceful demeanor. Created to ensure there is ample interaction between the interiors and the natural green setting outside, the residence is basically split into two L-shaped blocks.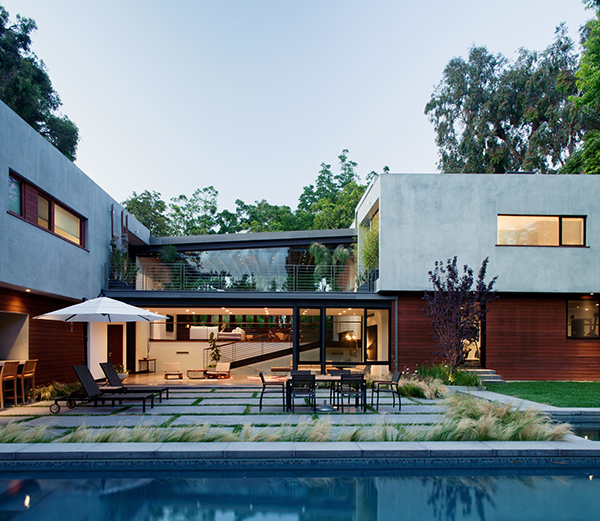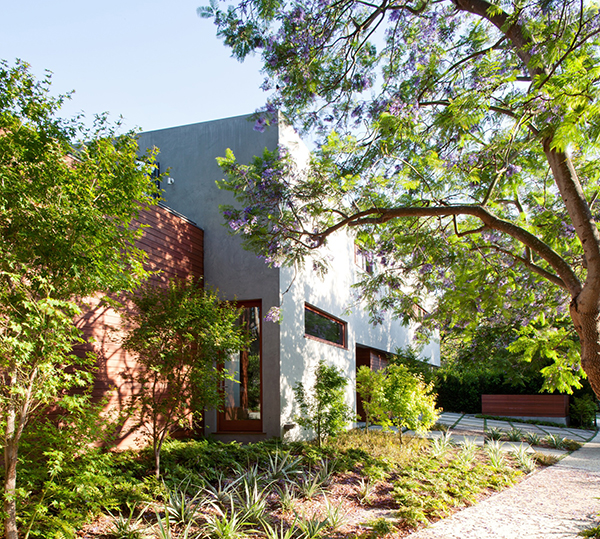 One of the blocks sports the living space, the lounge area and a gorgeous courtyard just outside, that is visually connected with the interior using large floor-to-ceiling glass windows. The other block consists of the bedrooms that offer a lot more privacy thanks to the use of cedar and stucco in a generous manner. Interiors are largely covered in wood and stone, with a beautiful and minimal staircase stealing the show in the living area.
The large open living space is central to the organization and performance of the house; the space of exchange. Pocket sliding doors open the south wall to the garden and north facing windows unfold to view the fairways create direct connections to the exterior.
The décor and furnishings also seem to be clad in matching grain of wood, while playful splash of vibrant colors sporadically offers a vivid contrast. A spacious backyard and refreshing pool allow you to enjoy some lovely evenings outside. With a topnotch golf course not too far away, the owners of the San Lorenzo Residence never need to go too far to brush up on their 'swing skills'.