Lofts are truly enchanting nooks! Maybe it's the way they maximize space or the fact that they seem like secret elevated hideaways… Either way, when a loft doubles as a bedroom, there is an extra incentive to make it special. The loft bed is the adult equivalent of the bunk bed. Nothing beats closing your eyes at the end of a long day and knowing you're on top of the world!
Today we feature 20 loft beds… And let's just say that no two are alike! From bunk-style beds to beds that were hauled up the steps to reach their high resting points, these sleeping options will inspire you with their innovation. Not to mention, they just might take you back to those days of playing in your childhood tree house, away from the cares of the world. Enjoy!
Loft Beds for Grownups
We start with loft beds that solve guest room dilemmas. What's the best way to accommodate a group? Use a stacked sleeping arrangement. Many of today's top guest room loft beds are custom built to perfectly fit their spaces. Check out the sleek sleeping options below! Yes, this room sleeps four… [from Robert Young Architects]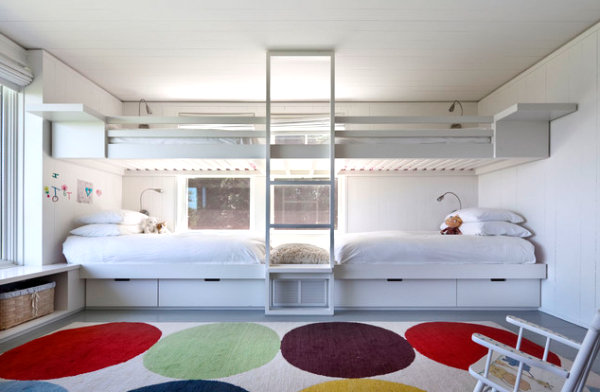 We move to modern rustic territory with these earthy loft beds that allow for maximum accommodation. Note how the earth tones of the bedding help to create a warm vibe in this space. [from Jaffa Group]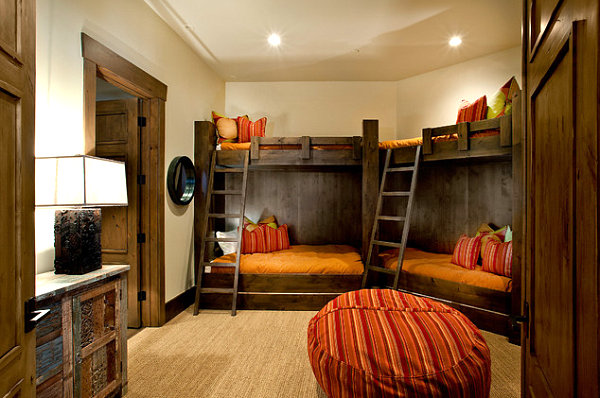 Don't forget that guard rails are a great idea, especially if kids will be using the guest room. We're guessing they'll want the top spot. Wouldn't you?! [from Alder & Tweed]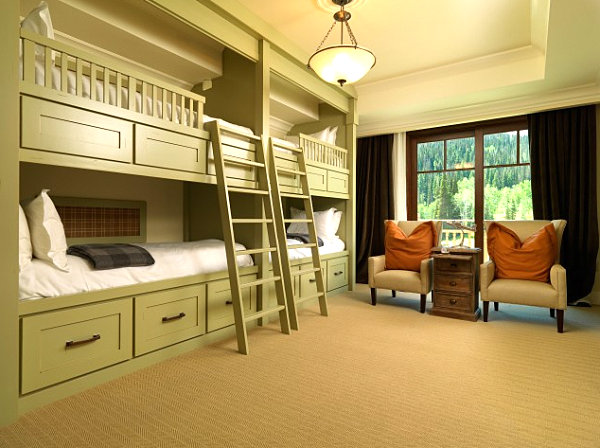 These contemporary loft beds are gorgeous, particularly the wooden finish and chic ladder that manages to be anything but kid-like. I don't know about you, but I'm ready to head to this Lake Michigan retreat for a little R&R! [from The Inman Company]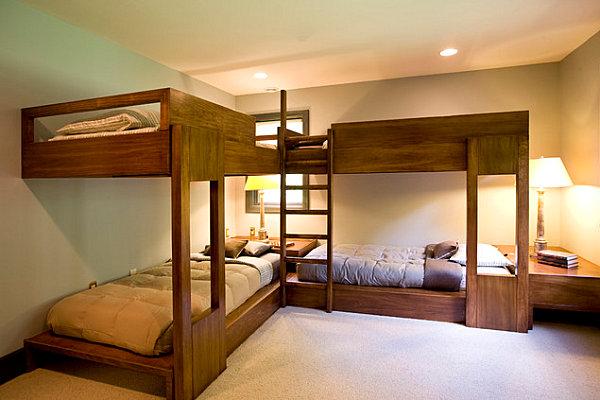 Modern is the word for this next loft sleeping arrangement. There's power in repetition, and the uniformity and symmetry of these nooks in undeniably appealing. Matching window treatments and sconces are highlights, as are the curtains that allow for maximum privacy. [by Diane Bergeron Interiors via Houzz]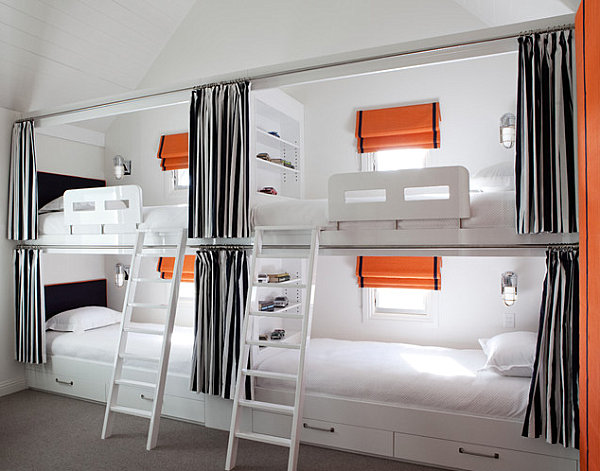 We now veer into home office territory… Loft beds are the perfect way to maximize space in an office that doubles as a guest room. The traditional room below offers storage, desk space and a place to sleep! [from Hamilton Snowber Architects]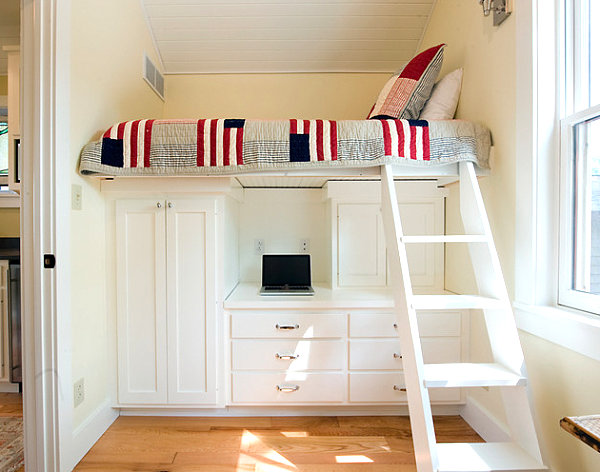 Many people take advantage of loft bed arrangements to include some comfy seating in the room. In the space below, a couch is the perfect place to chill out. The bed overhead is out of the way so daytime activities are anything but cramped. [via Houzz]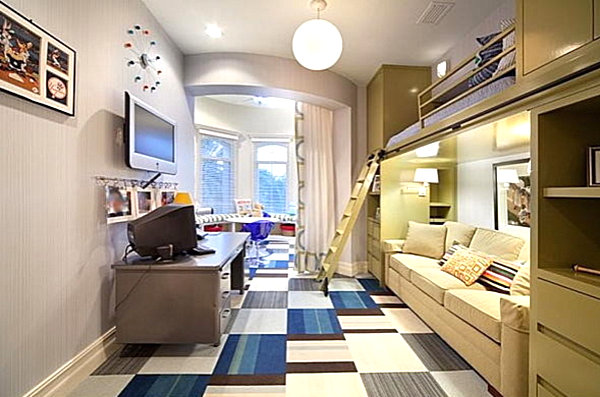 In fact, many young adults love the idea of loft sleeping, especially when it comes to dorm rooms. A couch, a bed and shelves… All of these items may not fit into your typical college dorm, yet with a little bit of loft power, everything has its own place. This is also a great option for the older teen or young adult still living at home! [from V.I.Photography & Design]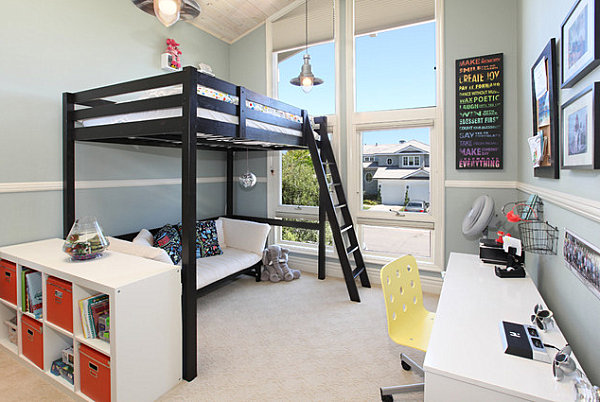 Masculine colors enhance the modern look of this black loft bed. Note the home office that perfectly fits underneath… Here we see another very popular loft sleeping configuration for dorm living. [from Allegro Limited]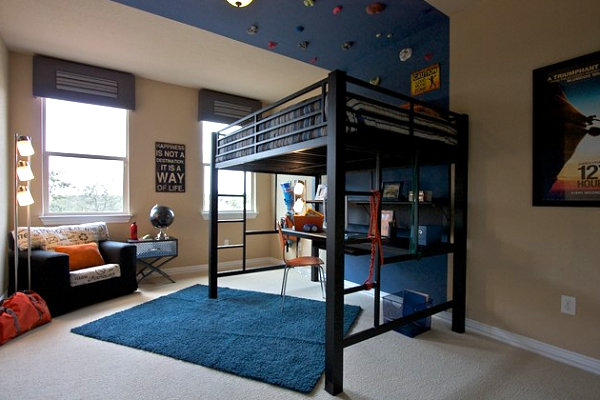 Add some chalkboard paint, and the room comes to life. Notes can be made on the wall right next to the desk, and the worries of the day can be forgotten once you climb that ladder and settle in for the night. This loft bed in green comes from Room & Board: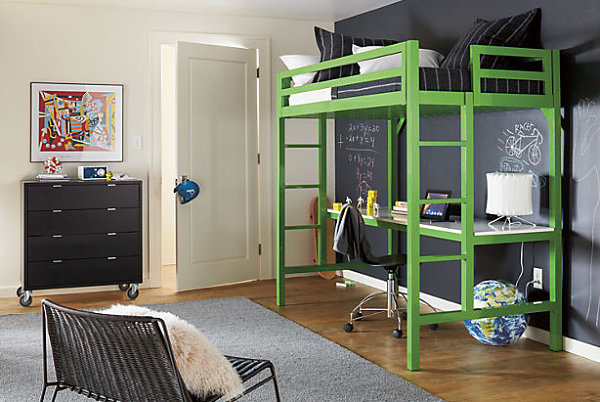 Our next featured contemporary space showcases the Moda Loft Bedroom in Mocha from Room & Board. Yes, you can buy the arrangement as a set! Perfect for dorm rooms, kids' rooms, and grown-up rooms, especially in studio apartments…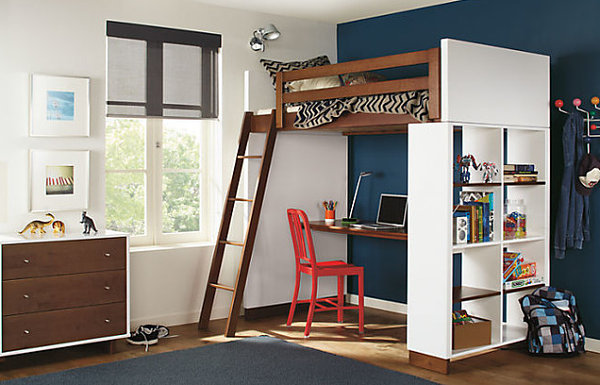 Below we see a true space-maximizing solution–the Bower Loft Bed from Room & Board! Try this arrangement in a guest room, and use the rest of the space to stash your books or other display-worthy items that don't quite fit into the rest of the house. There's no reason not to use the room to its fullest!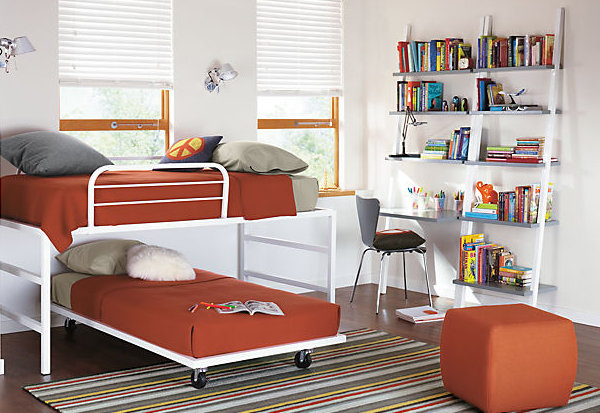 Modern Beds in Lofts
We now move from "loft beds" to beds that rest in lofts. Often smaller in space, the typical loft can be a challenge to decorate. Do you custom build the bed? Do you find a way to haul a mattress up the steps? Yes and yes! As we see in the next image, this East Village studio loft bedroom in New York features a built-in bed that perfectly matches the rest of the space. [from Jordan Parnass Digital Architecture]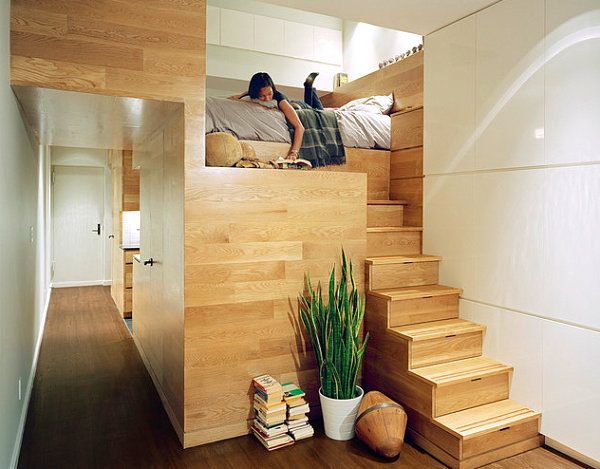 Yet hauling that mattress up the ladder can work as well! In fact, there's something kind of earthy and modern about a cozy loft with a crisp and simple bed. Note how an archway cleverly prevents sleepers from rolling out in the room below. [from Ira Lippke for the New York Times]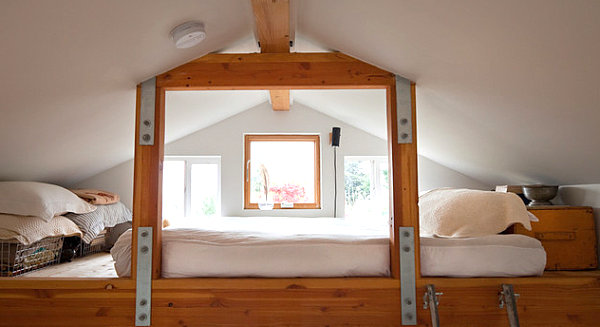 Check out the interplay of warm wood and bright white in the next loft bedroom. Classic white sheets keep it simple and chic in this Dublin fisherman's cottage. [from DMVF Architects]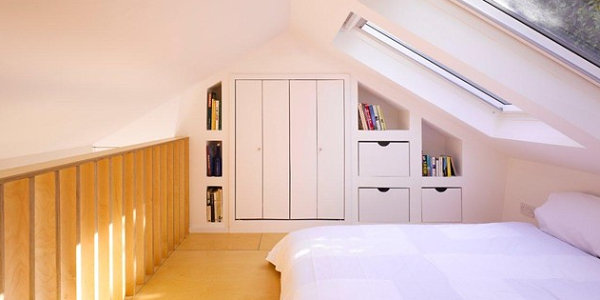 Is it a loft or a platform? Either way, you must climb the steps to get there, and there's plenty of room for storage underneath! Nothing like a bed that gets its own stage, especially when the stage is this stylish… [from Kia Designs]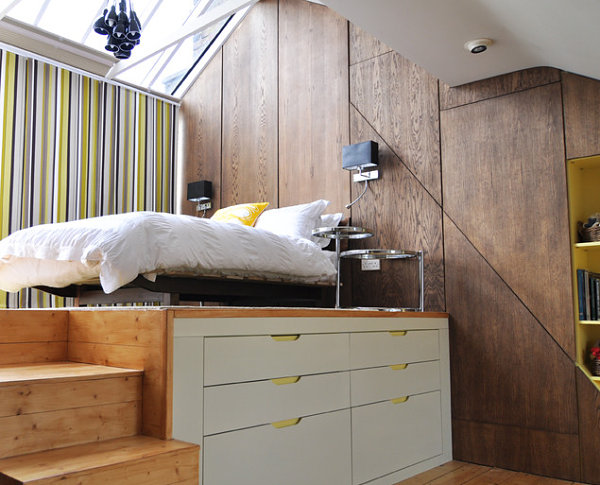 You can't go wrong when a loft is this well-appointed! We're loving the aqua panels that serve as railings in this high space. A low-to-the-ground upholstered bed with vivid accents is the perfect complement to this vibrant elevated area. [from Diego Alejandro Design]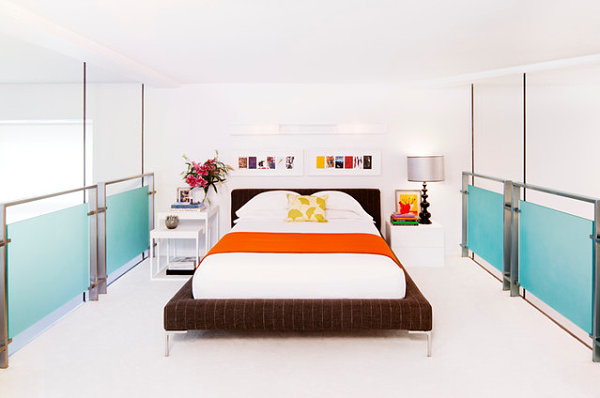 One trick for maximizing space in a loft bedroom? Use the railing as a bookshelf! Just make sure the books don't tumble to the ground below… [from Fabre de Marien]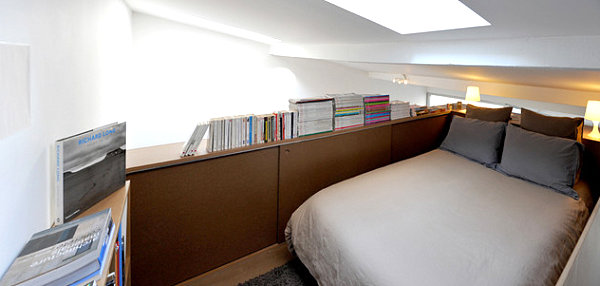 Many loft spaces can accommodate more than a bed. Like this bright orange chair, which sits in the corner and adds a burst of color that pops against the white walls! [via Houzz]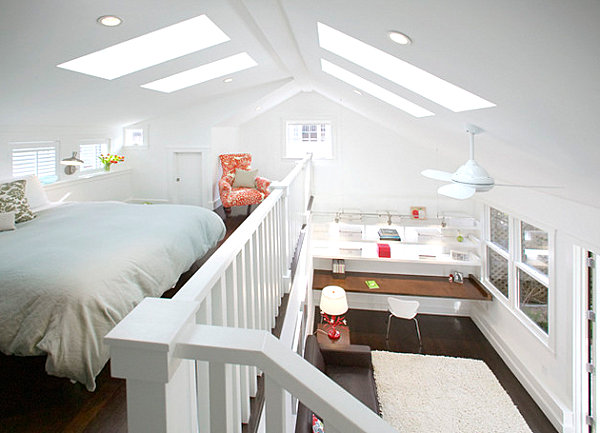 We end with a picture that proves you can definitely live large in a bedroom loft. Especially when your bed is upholstered in leather and you're surrounded by designer walls. And luxury bedding… [from Marco Dellatorre]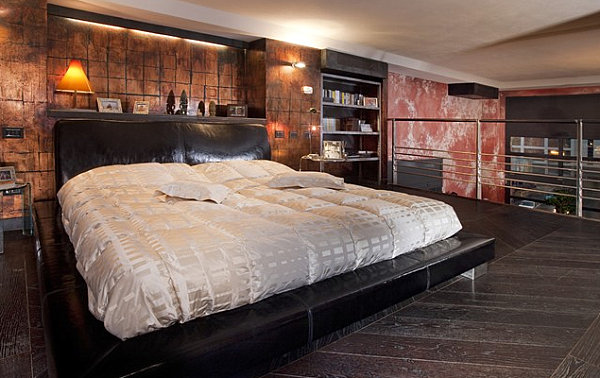 Tell us about your loft space! Do you have an overhead loft that serves as a bedroom? Or perhaps you've used a loft bed to your advantage in order to accommodate a desk or seating underneath. Share your experiences by leaving a comment below…