Chalkboards are no longer just for the classroom. In fact, it seems they are being used less and less in schools and more and more in the home! What started as a stylish answer to the question, "What if we could draw on the walls?" has blossomed into a full-fledged design craze. Is there a room in the house where chalkboard paint hasn't yet been tried? We ask that very question today as we explore the many ways that chalkboard paint, also known as blackboard paint, can add interest to your home.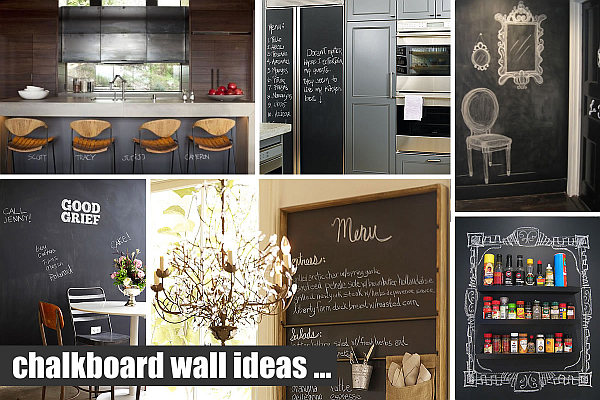 Chalkboard Paint in the Entryway
We start with the entryway, the first area that you and your guests see when arriving at your home. While many would agree that a list of "to-do" items scrolled on a wall may not be the most pleasant thing to view at a first glance, who says that chalkboard walls must only display lists? What about a cheeky message, as shown in the entryway below? In fact, this image was featured in a recent Decoist post on entryway design ideas. Read about it here.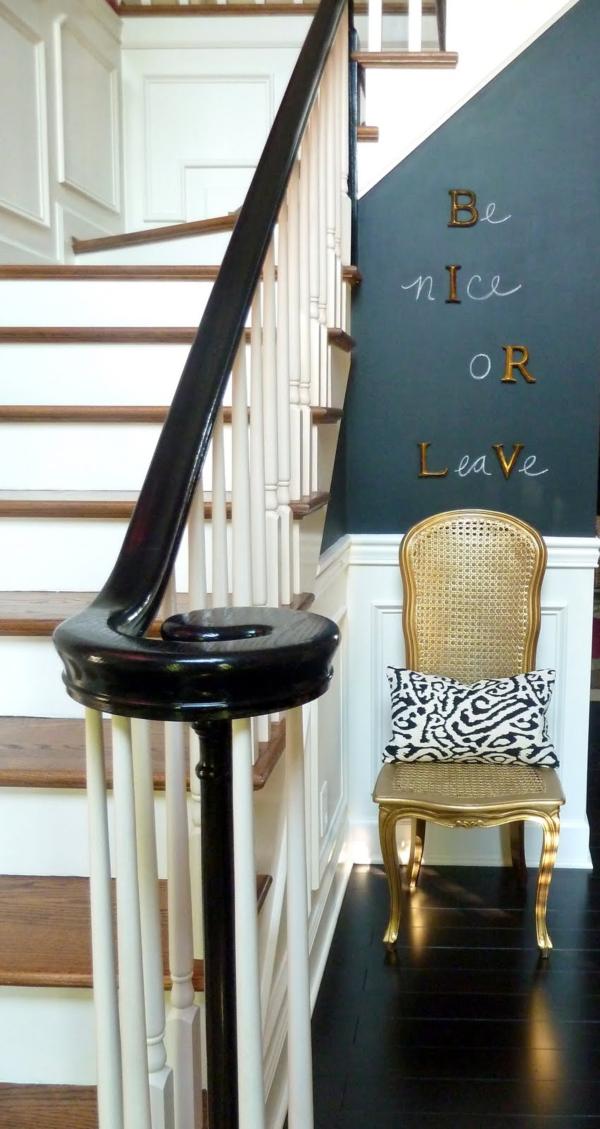 Chalk art can set a playfully elegant tone, as shown by a chair and mirror vignette drawn on the blackboard paint-covered walls of a café hallway. The image was created by Kristen F. Davis Designs: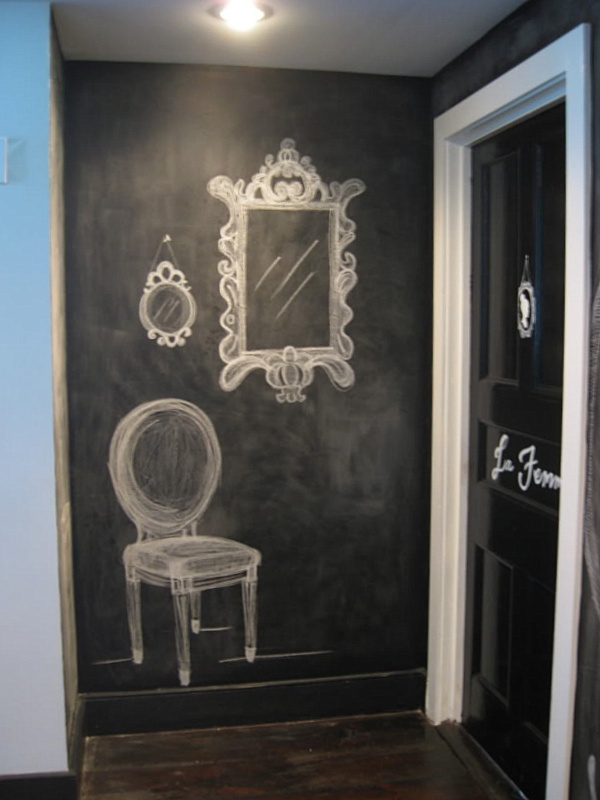 Chalkboard Paint in the Living Room
We've seen how chalkboard paint can set the stage for your home, especially when artistic words and images are drawn. But what about chalkboard paint in the living room? Believe it or not, the design possibilities in this space are endless. Take the room below, which uses chalkboard paint to create a canvas for a drawing of classical pillars. In fact, the architectural sketches create a wallpaper effect, adding dimension to the space. [full tutorial at House of Chic and Penoche]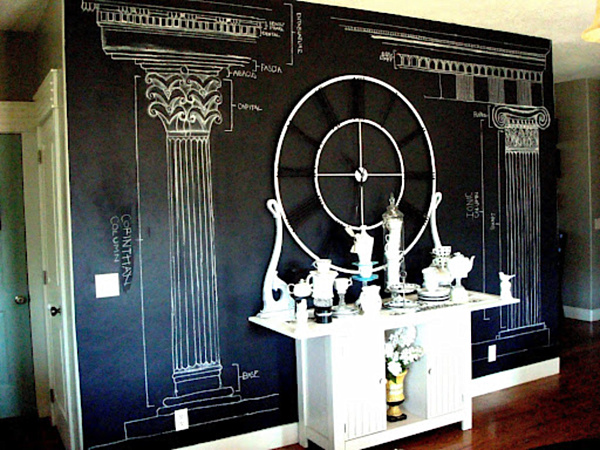 If covering an entire wall is not on your agenda, consider creating a framed wall chalkboard. Begin by painting a rectangle, then attaching a frame to the wall to create a border. Read the full DIY tutorial at Magic Is as Magic Does.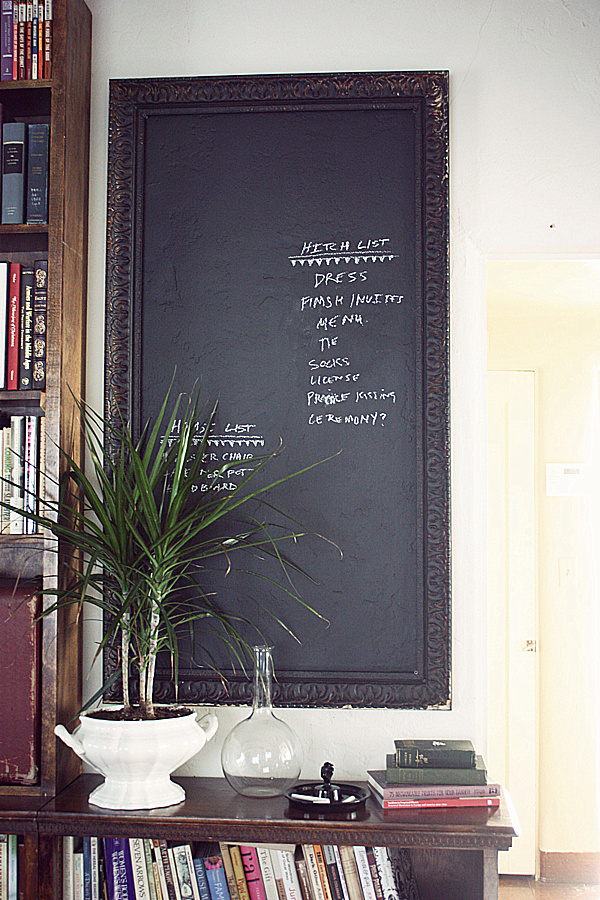 Chalkboard Paint in the Kitchen
The kitchen may very well be the ideal spot for chalkboard paint to work its magic. A room often packed full of lists and menus, the kitchen it a utilitarian space that requires a great deal of organization. Yet somehow listing ingredients on a chalkboard in this space creates the feel of a bistro rather than the mundane look of to-do notes. The refrigerator with chalkboard paint doors below is a helpful and inspiring feature in an image from Donna Griffith Photography for Style at Home Mag. [via Decorpad]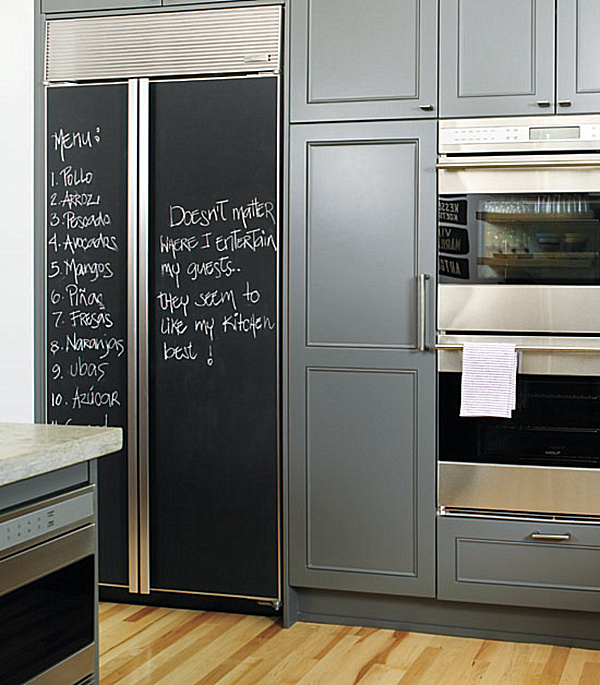 Who would have thought that chalk could be the main embellishment on a "shelf" to hold spices? [from Shelterness]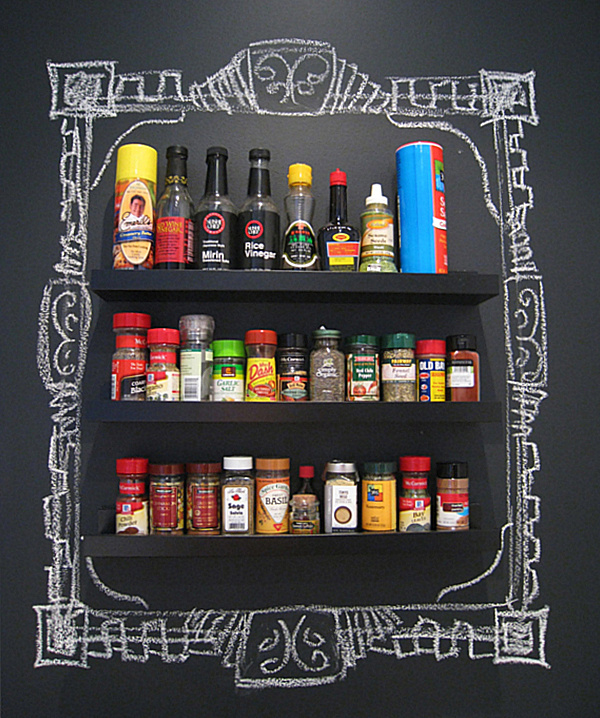 An increasingly popular chalkboard paint location is just above the sink. If you don't want to install tile for your backsplash, use the paint to create an ever-evolving artistic backdrop. Keep it simple with a word or two, or draw a pattern over the entire space. For more great blackboard backsplash ideas, check out Apartment Therapy.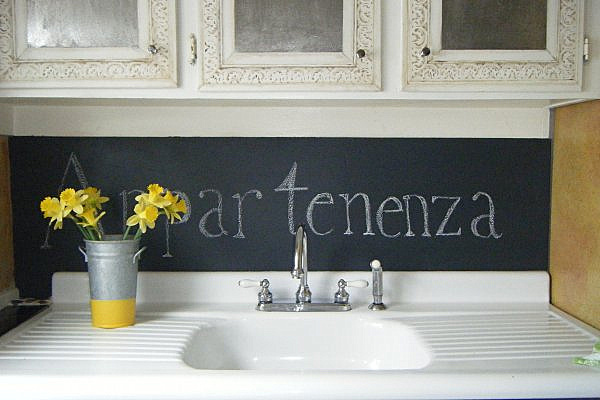 For a classic blackboard effect, turn your kitchen into a French café by creating an elegant framed chalkboard on your wall. This one never gets old, folks! [from Pottery Barn]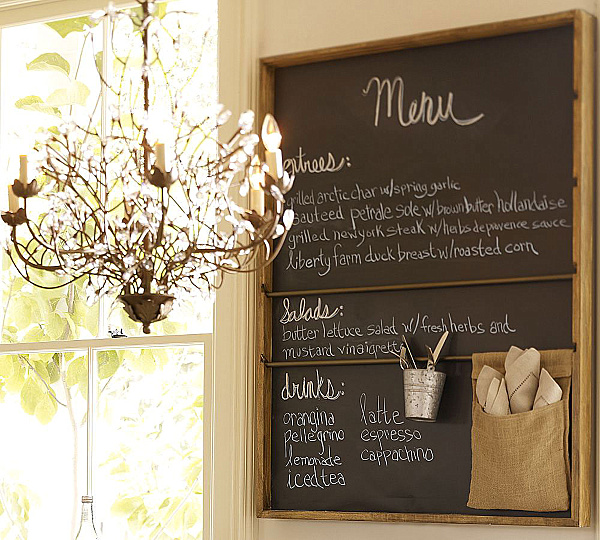 Chalkboard Paint in Dining Spaces
The chalkboard frenzy has even spread to dining areas, as shown by the lower portion of a breakfast bar in The Hillside House, a California home by SB architects. [from Contemporist]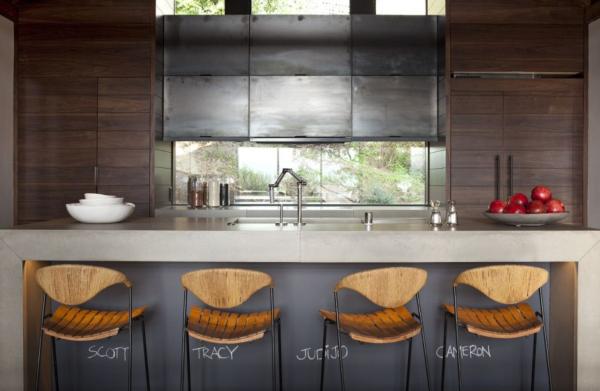 The dining room below features an entire wall covered in blackboard paint. While it may seem informal, the wall and its messages are a wonderful counterpart to the mismatched table and chairs. An urn of fresh flowers adds an air of elegance to the space. [from Rue]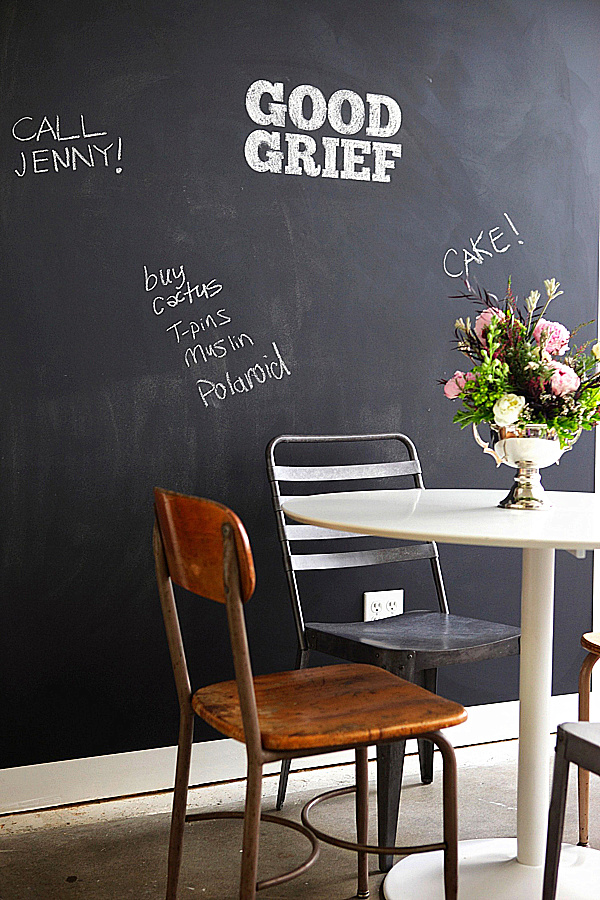 Chalkboard Paint in the Office
Ah, the office! Where task after task is completed, hopefully in style. An undeniably appropriate place for a little chalkboard paint, the walls of the work space can be fun as well as functional with the creative placement of chalk. [from The Cross Design & Decor via Decorpad]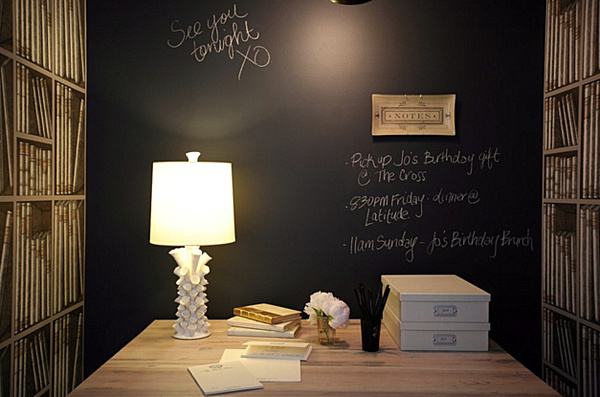 Take a break from paying the bills and create a mural on the walls of your home office. In the room below, designed by Buchanan Architecture, words and images reach the level of art. [from Rebecca Sherman's House Gardens People]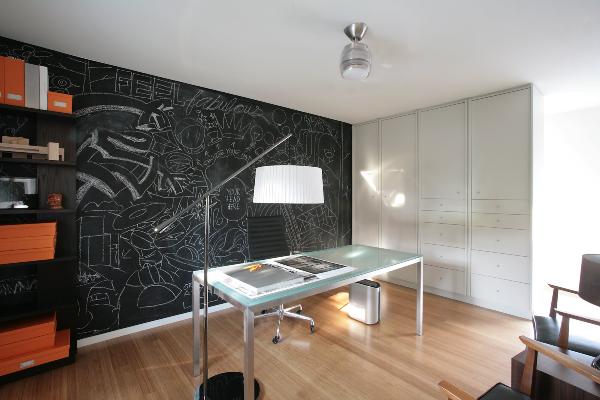 Chalkboard Paint in Children's Rooms
You'll be hard-pressed to find a design enthusiast who isn't the least bit taken with the chalkboard wall possibilities for a child's room. While some raise the concern that drawing on a chalkboard wall will teach children to draw on all the walls, perhaps having one "free wall" is a great way to set a boundary and encourage creativity. Quite honestly, an allergy to chalk dust raises a bigger concern. But making sure the area remains clean and well-swept eliminates chalky residue. And just look at the fabulous results in the room below, previously featured in a Decoist post about playroom ideas for kids: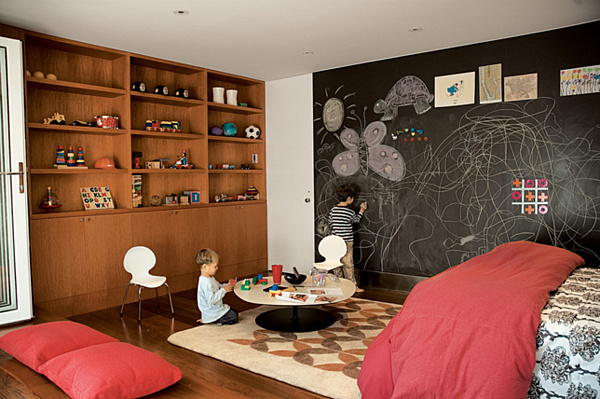 If an entire wall is out of the question, consider a portion of the space, such as an area just above a bench or window seat. [from Fit for a Kid]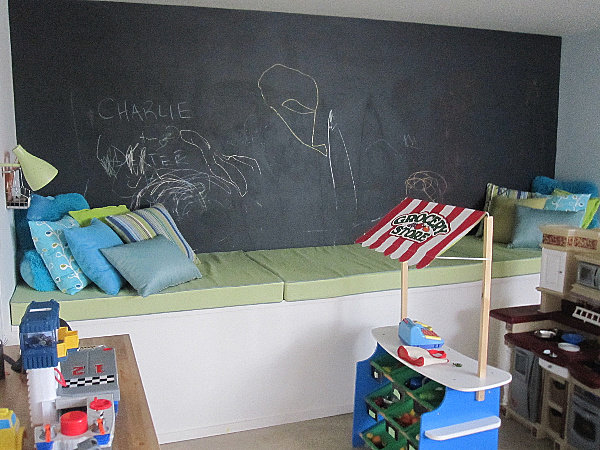 Chalkboard Paint in the Bedroom
Even grown-ups can enjoy the benefits of a chalkboard presence. The headboard below, featured in a previous Decoist post on DIY headboard projects, combines the elegance of a boldly-outlined headboard with the fun of a spontaneous message.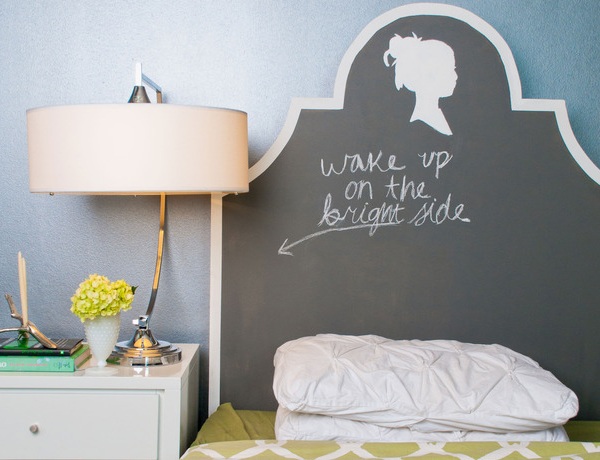 The loft bedroom makeover below features a room full of chalkboard paint! The beauty of it: if the space needs another work of art, you can just draw it on the wall! [from Life Unstyled]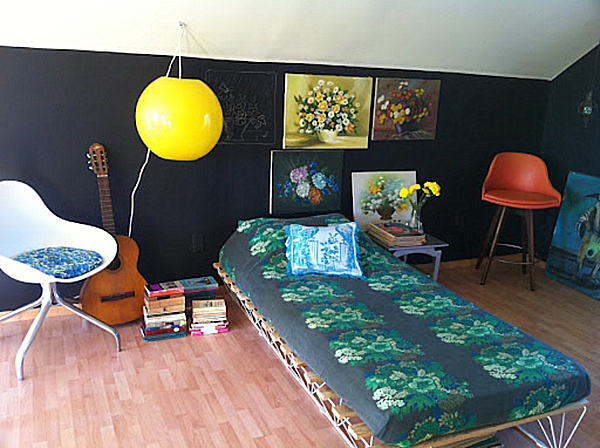 Chalkboard Paint on Closet Doors
Another popular chalkboard paint location is the door of a closet. For those who don't want to commit to a full wall of blackboard fun, closet doors provide the perfect amount of space for a dash of originality. Read the full tutorial at Cassie Marie Edwards.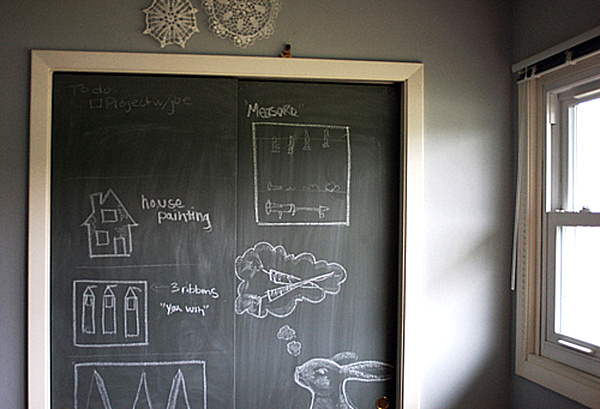 Chalkboard Paint in the Bathroom
Surely chalkboard paint hasn't found its way into the bathroom?! Oh, but it has! And why wouldn't it? People mischievously write on the walls of public bathrooms from time to time. This way the damage isn't permanent. Just make sure you wash your hands before reaching for the chalk… In the Philadelphia row house below, a powder room comes to life with the addition of a plus sign motif drawn with white chalk. Academic, artsy and unforgettable, this may just be the most unexpected delight of the entire home. For more details, check out Design Sponge.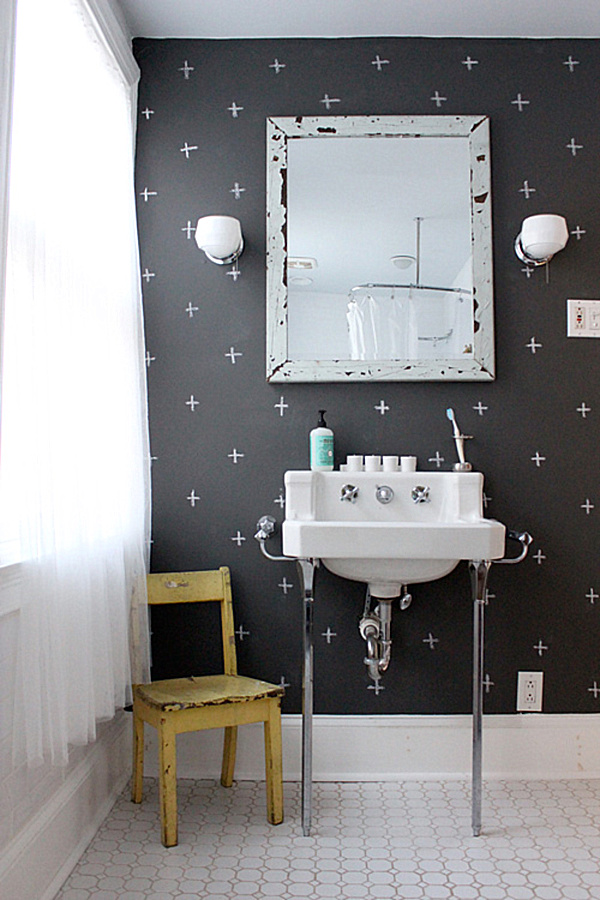 In this next space from Second Hand Rose, bathroom walls become the place for artwork, whimsical drawings and words of inspiration: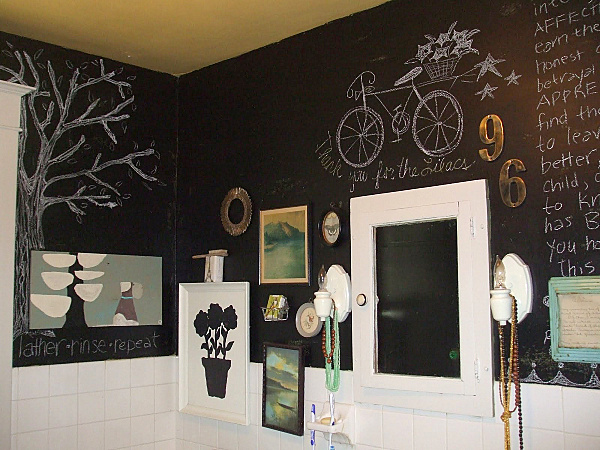 Chalkboard Paint in the Garden
We end with the amazing revelation that somehow chalkboard paint has managed to edge its way into the garden. In fact, in our humble opinion, there doesn't seem to be a region of the home (both inside and out) that remains untouched by the possibilities of blackboard-inspired design magic. Even a bit of chalkboard paint on the outside of a gardening pot brings unexpected artistry to a display of plants. Happy painting and drawing! [from Nook & Sea]