Is a houseboat a house that's a boat or a boat that's a house? While a true houseboat is mobile, many of today's most desirable properties are actually floating homes –dwellings on the water that are attached to a dock or otherwise permanently fixed to their locations.
Most of the properties in today's post are floating houses, although many people refer to these abodes as houseboats. Mobile or not, we think they're pretty fabulous!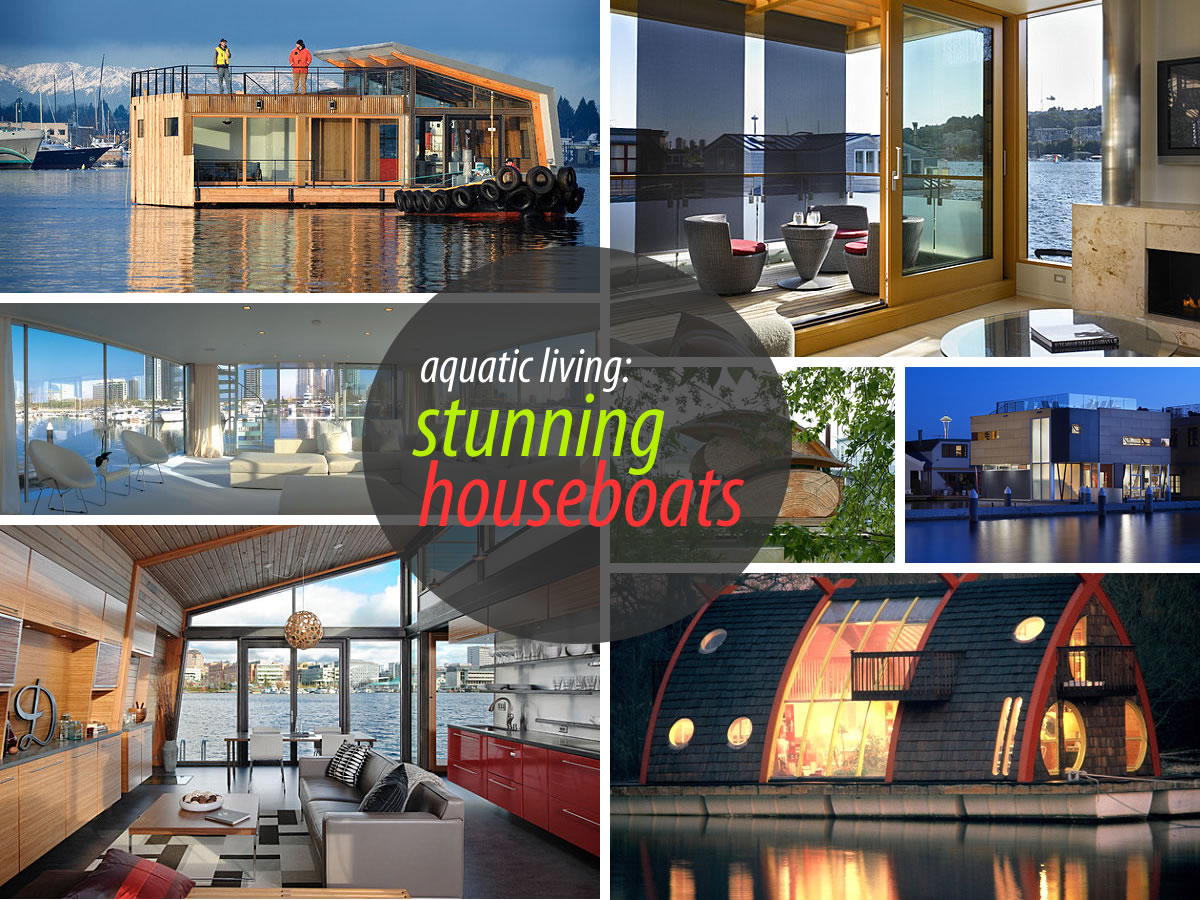 In fact, the modern floating home can be quite a showpiece–contemporary in style with sleek flourishes, yet somehow cozy at the same time. It's interesting how many of these homes are more modern than nautical when it comes to decor. And there's nothing like watching boats glide over the water from the comfort of your couch!
Let's take a look at some of the most stunning houseboats and floating homes, noting both their construction and their amazing interiors. Time to set sail…
Floating Homes in Seattle, Washington
One of the most popular areas for floating homes is Seattle, Washington. In fact, many of the most interesting modern aquatic dwellings can be found in this area, including this contemporary abode from Dan Nelson A.I.A. Designs Northwest Architects:
In living room, a glass overhead door opens to the water, making waterfront living a literal reality. Imagine watching your favorite movie on a weekend while sailboats drift by and the sound of rippling waves lulls you into a restful nap.
Below we get a view of the floating home's steel and wooden staircase, which rises to the second story behind a home office with porthole-style windows. A circular wall mural mirrors the shape of the windows and adds an artistic element to this industrial-modern space: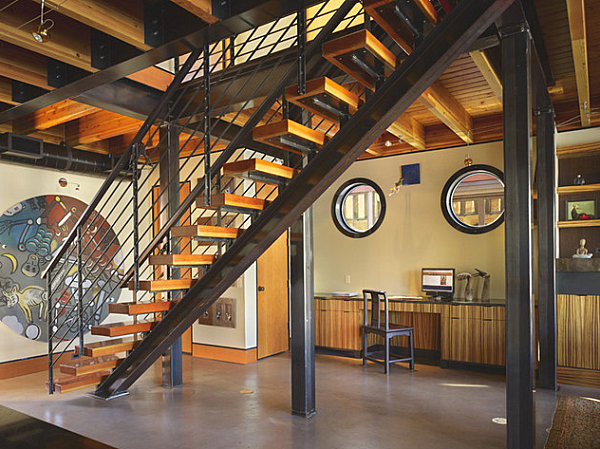 Glass tile and zebra wood cabinets are highlights in the kitchen, which includes an island/bar that encourages people to gather in the area and keep the cook company. Can you imagine the possibilities for entertaining are endless, especially when you consider an impeccable view combined with delicious food…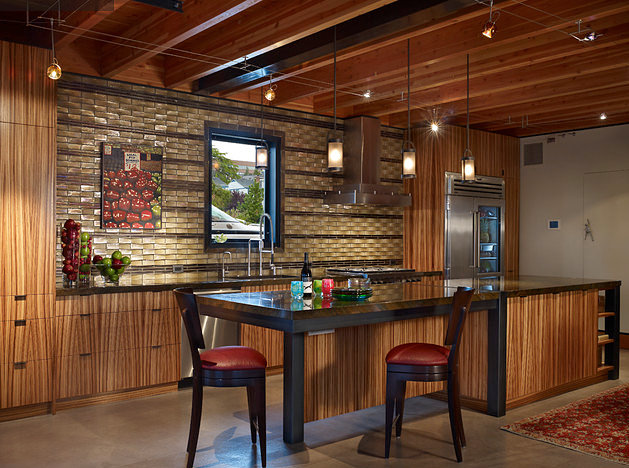 We now see a cozy guest bedroom featuring a series of beautiful built-in bookshelves that hold reading materials and earthy collectibles. This picture sums up the fun of living on a houseboat. There's something so appealing about having a nook of your own with a beautiful view as the ships sail by…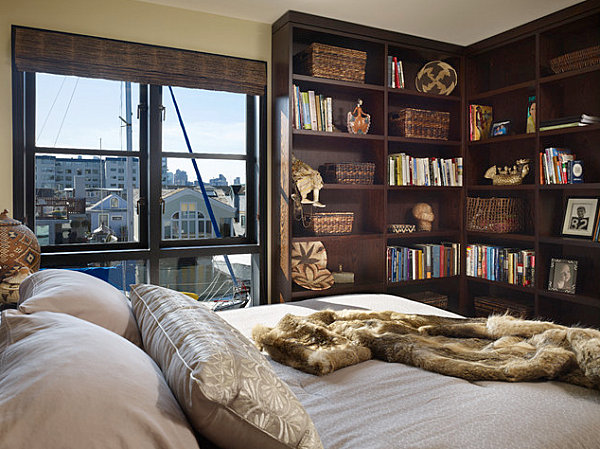 Next we see another amazing Seattle property from Vandeventer + Carlander Architects. Highlights include frosted glass windows and a rooftop deck where waterfront viewing is stylish and serene. [photography by Benjamin Benschneider]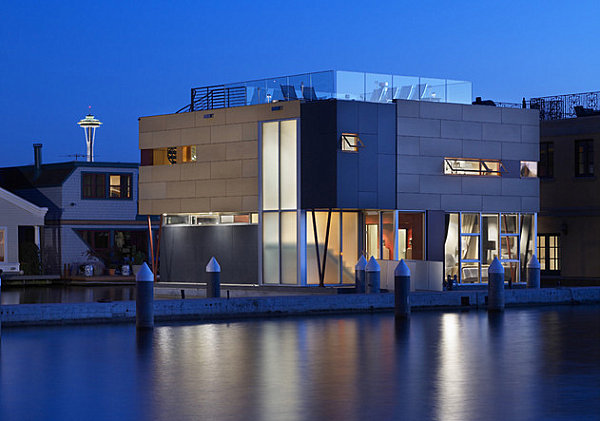 A spiral staircase connects the first and second floors of the property. Below we see the living area, which is shaded from the sun by translucent blinds that protect without blocking the amazing view: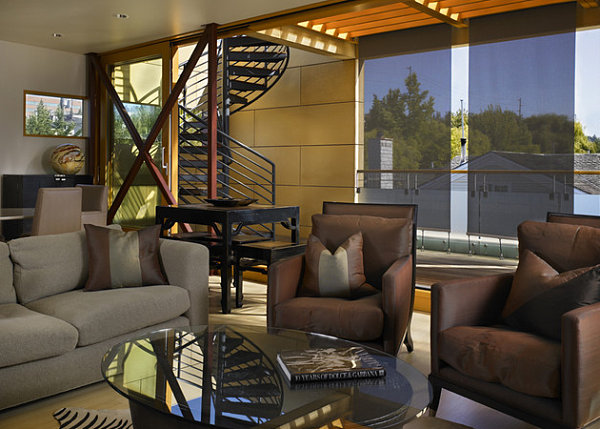 When you live on a houseboat, outdoor decks are as important to the square footage as interior spaces. Comfy clean-lined seating with cushions in red grace the deck of this floating home. Note the use of wood and metal in this house, both of which create a clearly modern feel. Yet the wood adds plenty of warmth, ensuring the space has a vibe that is comfortable as well as chic.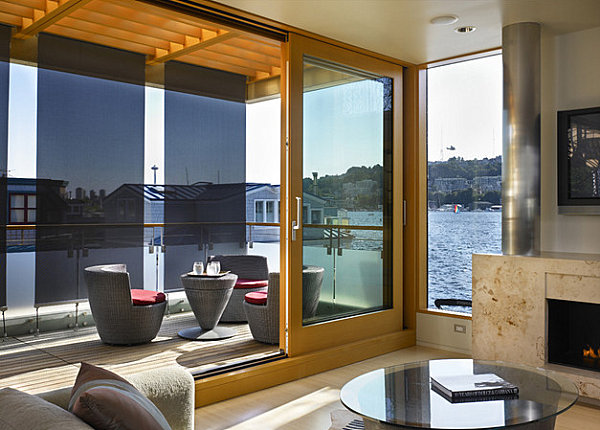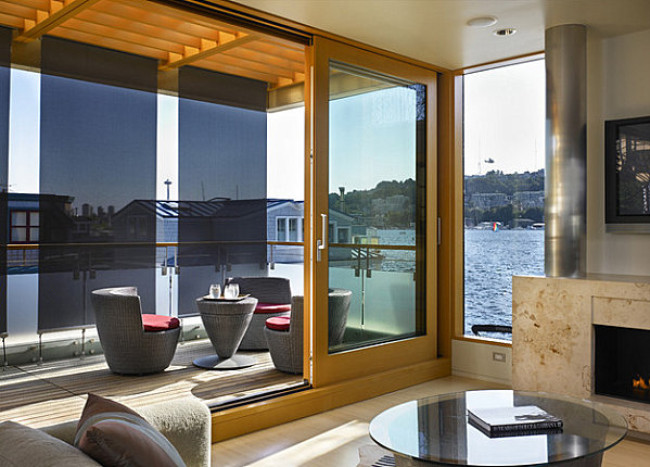 The next featured image showcases the kitchen. This is what living on the water is all about… Who wouldn't love to wake up to the sound of lapping water and a view of lazy sailboats passing by? A gleaming kitchen island/bar ensures there's plenty of seating for outdoor gazing.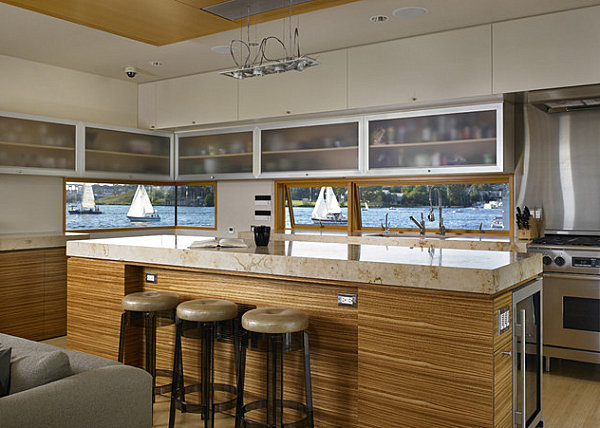 Our final Seattle property was created by architect Ryan Mankoski of Ninebark Studio in collaboration with Dyna Contracting. The original 19th Century log float was preserved as the home's foundation, while some logs were salvaged for the interior wood paneling. The exterior of the home is structural steel, glass and salvaged cedar.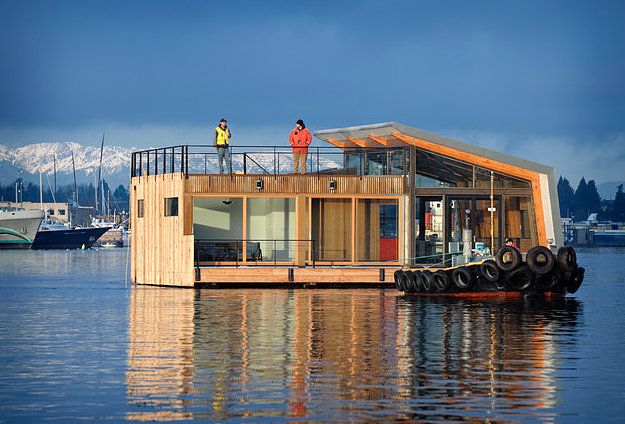 As we take a look at the living area, we see horizontal wooden paneling on the walls and ceiling, along with cabinetry in wood and lacquer. Open shelving in the kitchen zone allows dishware to be on display. An organic pendant light is an interesting focal point against a scenic wall of windows: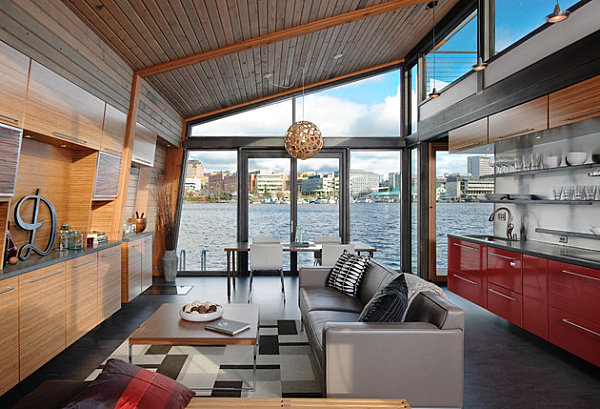 The property also boats a sleek contemporary bathroom with sliding glass panels, wooden drawers and shelving, and a contrasting countertop and backsplash in gray.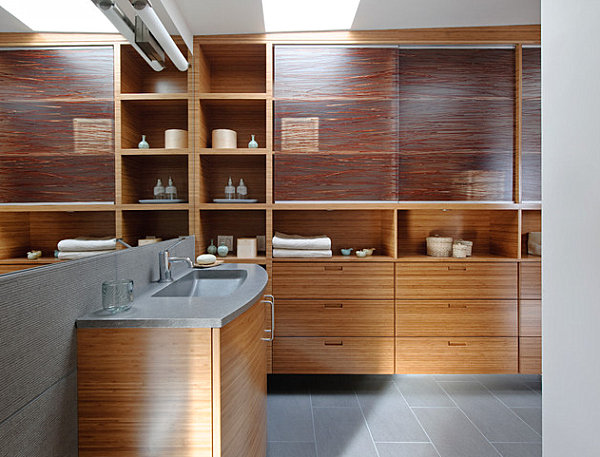 When it comes to the deck, who can resist an expansive view of sea, boats and waterfront properties? A helpful deck decor strategy: don't clutter the space with an abundance of chairs, especially if you want the deck space to mimic the serenity of the open water.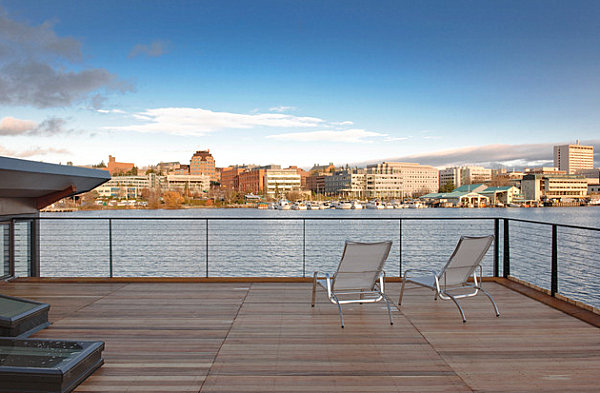 Portland, Oregon's Fennell Residence
We now travel to Portland, Oregon to visit the Fennell Residence, designed by Robert Harvey Oshatz Architect. Curved glue lam beams evoke the movement of water. In addition to being a home, this property is a true work of art: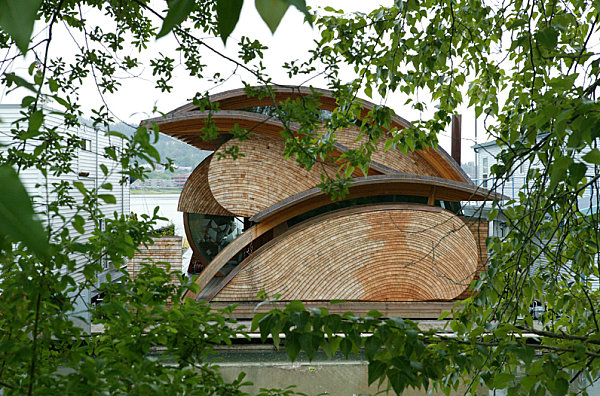 Two shots of the floating home's interior reveal a glass facade that provides an interesting view of the water outside. Note the wooden detailing that plunges horizontally and vertically across the rounded windows.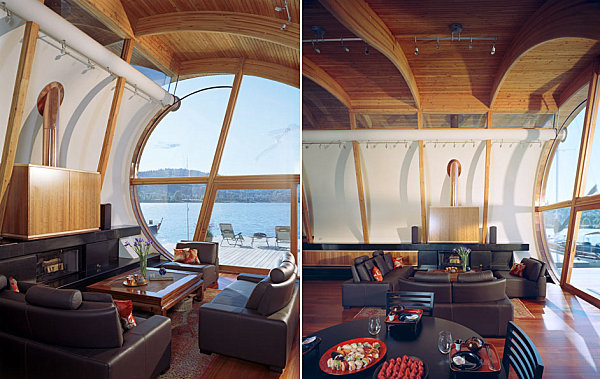 Next we see the dining area, which is beautifully framed by an arched window, as well as sweeping curves that glide across the ceiling. Dark furniture is a beautiful contrast to the golden wood that's showcased throughout this stunning property.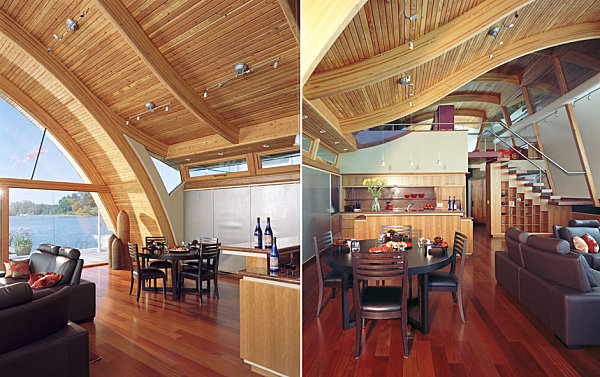 France's Odyssee Houseboat
Ready to head to France? We now find ourselves in Blain, Loire-Atlantique, where the reverse-shell design of the Odyssee houseboat makes a grand, Gothic-style statement. Designed by Eric Boucher, this piece sits on a bridge of 8 independent floats: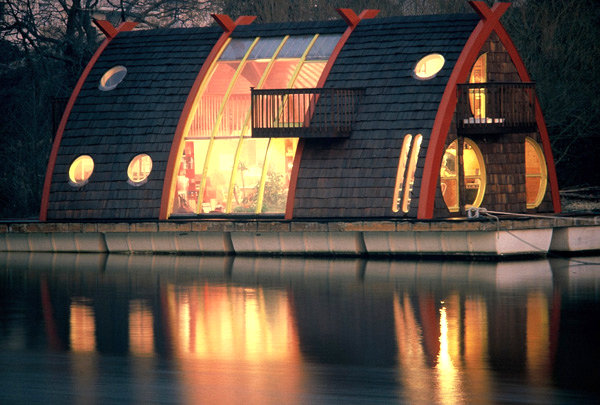 A view of the home's interior reveals an abundance of natural woodwork, including unique windows in a range of geometric shapes. We're partial to the circular window on the ground floor. A strategically placed houseplant adds privacy, as well as interest. Another perk: this place is solar-powered!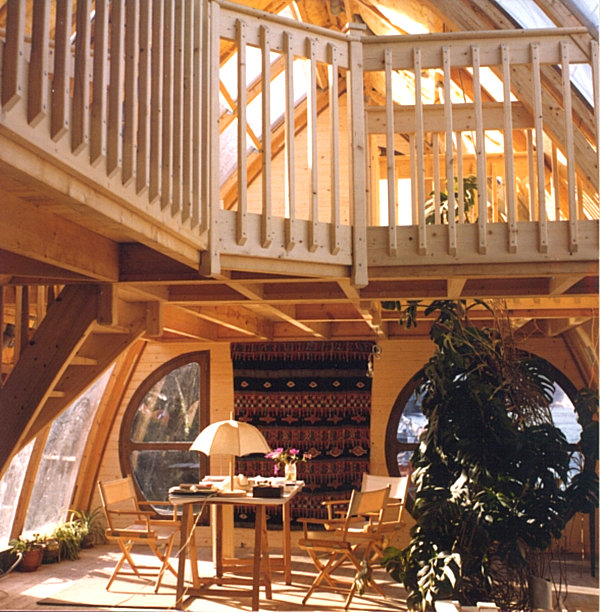 Sleek Glass Houseboat in Dubai
Our final property is an actual mobile houseboat designed by X-Architects! Constructed of stainless steel and glass, this Dubai residence has a built-in motor for those moments when you just want to cruise. The project was completed in collaboration with interior decorator architect and design consultant Leen Vandaele from Squisito. [from Upscale Hype]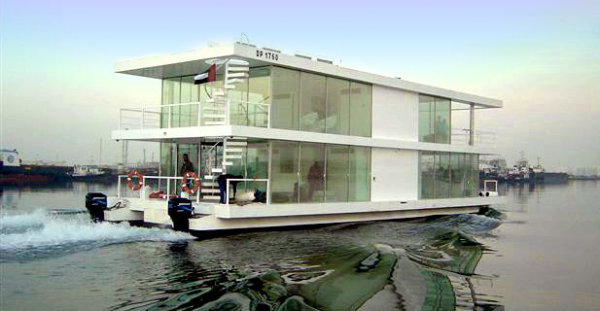 The houseboat's upper deck holds the dining and living areas, while the bedrooms and bathrooms can be found on the lower deck. Below we see an all-white living space that elegantly invites residents and guests to sit back and enjoy the view. We're guessing eating and drinking on these pristine sofas is discouraged.

We end with a shot of the dining area. Once again, an all-white palette is featured, as well as an overall minimalist vibe. Every detail counts, including a series of single roses in vases that stretch along the tabletop.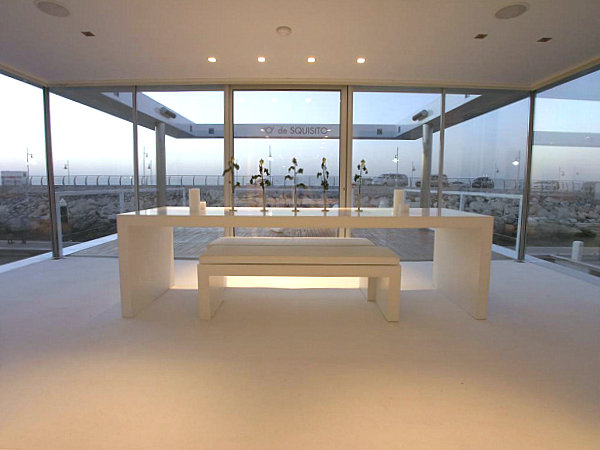 So here's the big question — Would you rather live in a floating home or a houseboat? Keep in mind that houseboats are typically not connected to a sewer, yet mobility certainly has its benefits.
Leave a comment below and tell us what you think.