You've decided on a paint color for your living room, dining room or bedroom. But then comes that pressing question… What accent color should you use? Perhaps you've always heard that red and yellow work well together, or maybe you have a favorite color duo but you're not quite sure how to pull it off.
Today we feature 5 amazing color combinations that would work well in any space. Scan the images below and see if we've selected one of your favorites. Or maybe there's a combo that you've never thought of before! Perhaps you'll purchase a sofa in a bold accent hue. Then again, as you'll see below, sometimes making a color statement is as simple as buying a vivid piece of tableware to pop against radiant walls or upholstery. Let the images that follow inspire you…
Lime Green and Cobalt Blue
We begin with an all-time color duo favorite: lime green and cobalt blue. Classy and elegant, this combination blends a verdant shade from nature with a rich azure hue. And as you can see in the elegant dining room below, you can always throw in a second accent shade, such as violet. [photo by Eric Piasecki, from Katie Ridder Homes]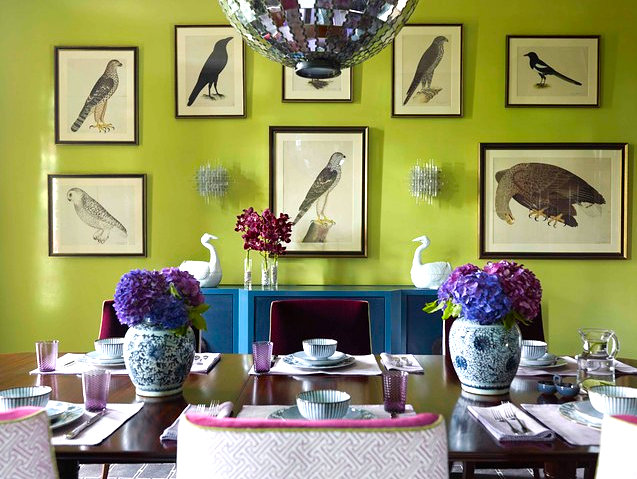 Wondering if lime green and cobalt can go modern? Absolutely! This kitchen intersperses stainless steel with a green backsplash and a cobalt island. We think you'll agree the results are delightfully unexpected. [from Red Pepper Kitchen + Bath]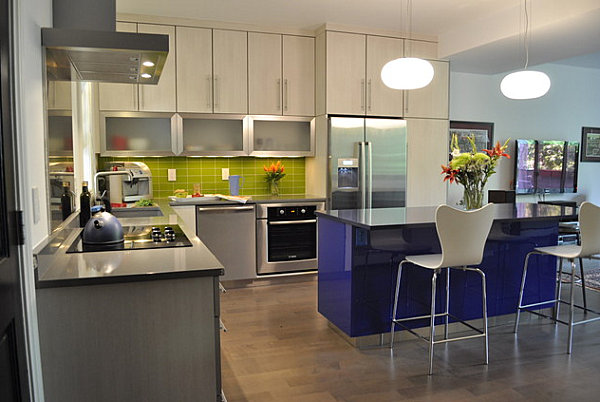 We now indulge in one exterior shot, simply because lime green and cobalt blue are often used in outdoor settings, especially poolside. And why not? The color duo is a striking one, and it reinforces two of natures most prevalent color families. Below we see lime umbrellas and cobalt pots holding chartreuse greenery. [from Pool Environments]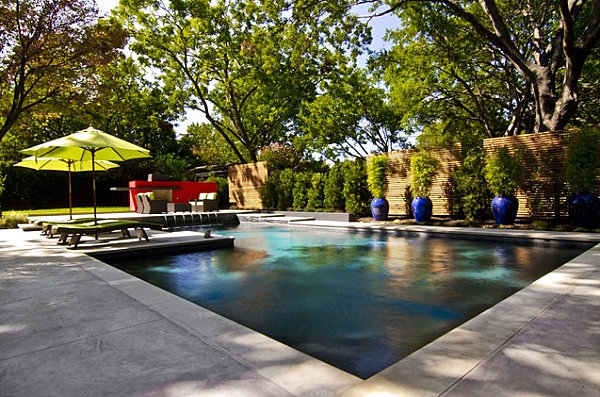 Emerald Green and Orange
We now move to some of the hottest colors in today's design climate: emerald green and orange. In fact, Emerald Green is Pantone's Color of the Year for 2013. And we can see why. This refreshing shade pops against white, and it sings beautifully when juxtaposed with orange, as shown in the next image. [from Larry Hanna Photography]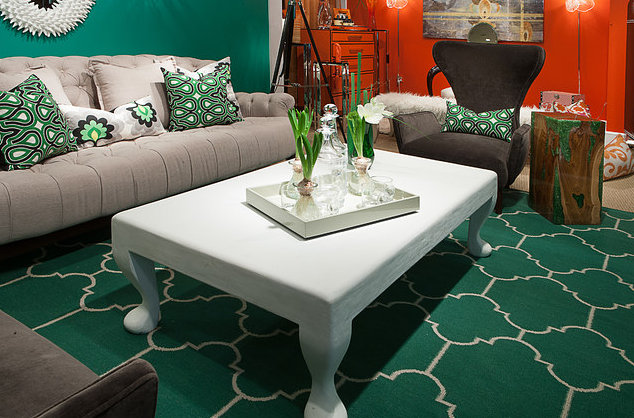 Don't forget that this amazing color duo can even be effective in small doses. Below we see a rust orange chair against the wall and an emerald green pillow casually resting on a desk chair. Patterned curtains reinforce this winning color combo. [from Hillary Thomas]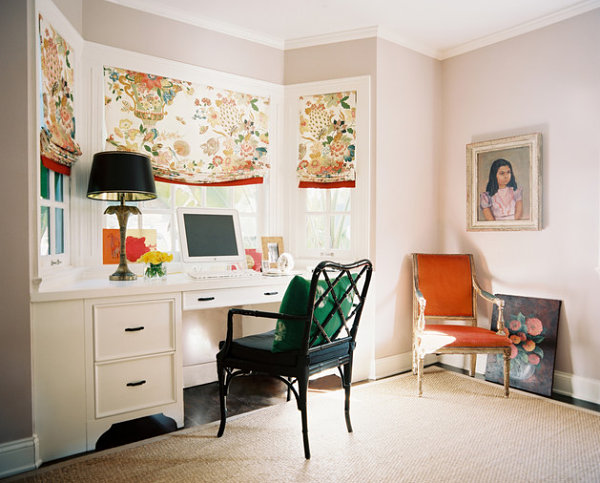 Teal and Gold
Teal blue and gold make a bold statement, and many rooms feature teal as the anchor shade and gold as the accent, as shown below. We love how gold appears on artwork, tables, rug, wall and greenery! That soothing teal wall is the perfect backdrop, don't you think? [from Busybee Design]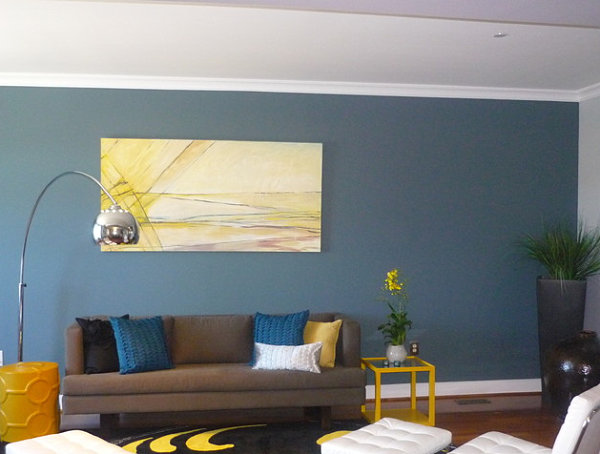 In the next image, a teal blue rug is mirrored by the artwork's main hue, and golden dining room upholstery is reinforced by a trio of tabletop vases. Pure design bliss! [from Chris Barrett Design]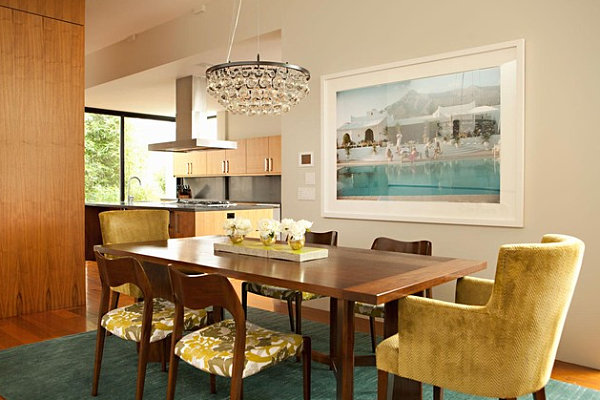 Salmon and Light Blue
Salmon is such a versatile color! Not only does it cover the walls of many a formal living room, it can be presented in a low-key setting as well. In fact, many tropical, beachy motifs utilize salmon. This color really pops when combined with an icy blue, as shown in the casual modern living room in the next featured image. [from Envi Design]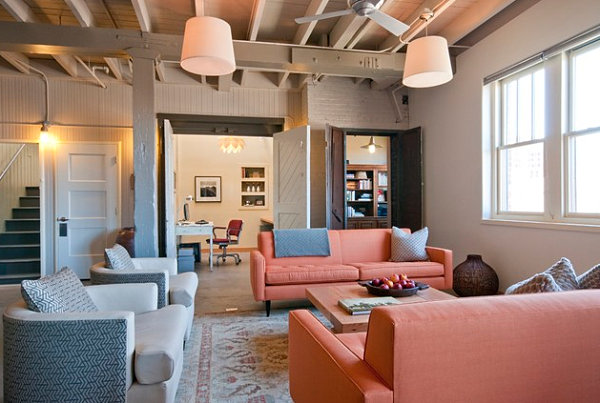 A bedroom pillow in the lightest of blues is the perfect accent to salmon walls, lamps and cushions. Note how many shades of blue grace this space. Check out the hint of aqua on the bed throw, and that headboard just might be embellished in navy. [from Lucy and Company]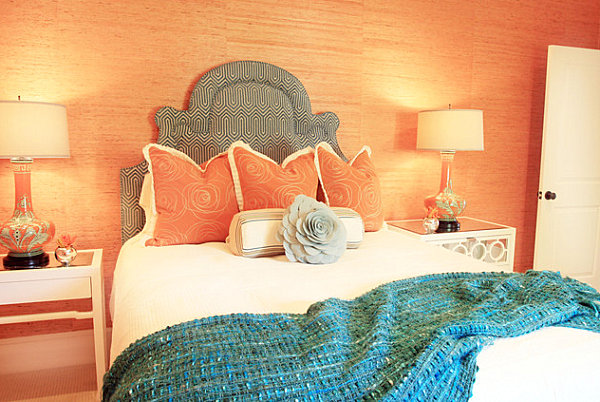 Violet and Red
"Violet and red?" You betcha! We save the most unexpected color combo for last, and we're sure this duo will not disappoint. We often see purples and yellows paired, but what if you combined a striking violet with a bold shade of red? Below we see purple patterned wallpaper in a dining area, as well as rich red dining chairs. Note how shades of violet and red are also present in the living room, further reinforcing this color combination. [from Valerie Pasquiou Interiors + Design, Inc.]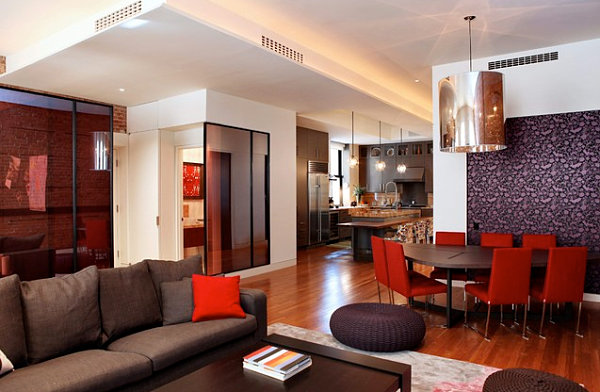 Violet and red can be decadent in the bedroom, especially if amethyst tones on the bedding are contrasted with deep red lamp shades, as well as a dark red rug. We love how muted red covers an accent wall, and how the color combo shows up on two bed pillows to tie it all together. [from Allegro Design via Houzz]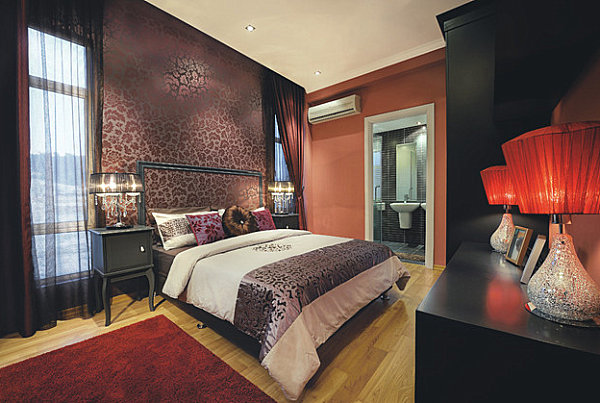 We end with a reminder that sometimes a striking color combo can be as simple as buying a few tabletop smalls. In the dining room below, plush violet chairs are a beautiful contrast to rich red tableware, especially against a crisp background of black and white. [from Last Detail Interior Design]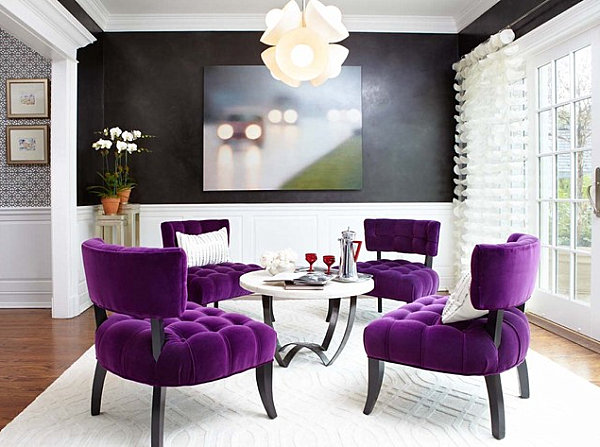 Were you inspired by any of today's color combinations?
We could see all of these taking center stage in a variety of interiors, from the most modern to the most elegant. Colors have a way of stimulating the senses and conjuring creativity. When choosing a color duo, go with shades that you love. Or start with one hue that you're crazy about, and be open to the accent color possibilities. Maybe you'll find a pairing you never would have imagined…