Soon the birds will be chirping with songs of spring. And many a bride will walk down the aisle during this season of blooms and increasing warmth. Are you gathering wedding inspiration? Look no further! Today we shine the light on some unforgettable wedding table decor, all beautifully styled and photographed.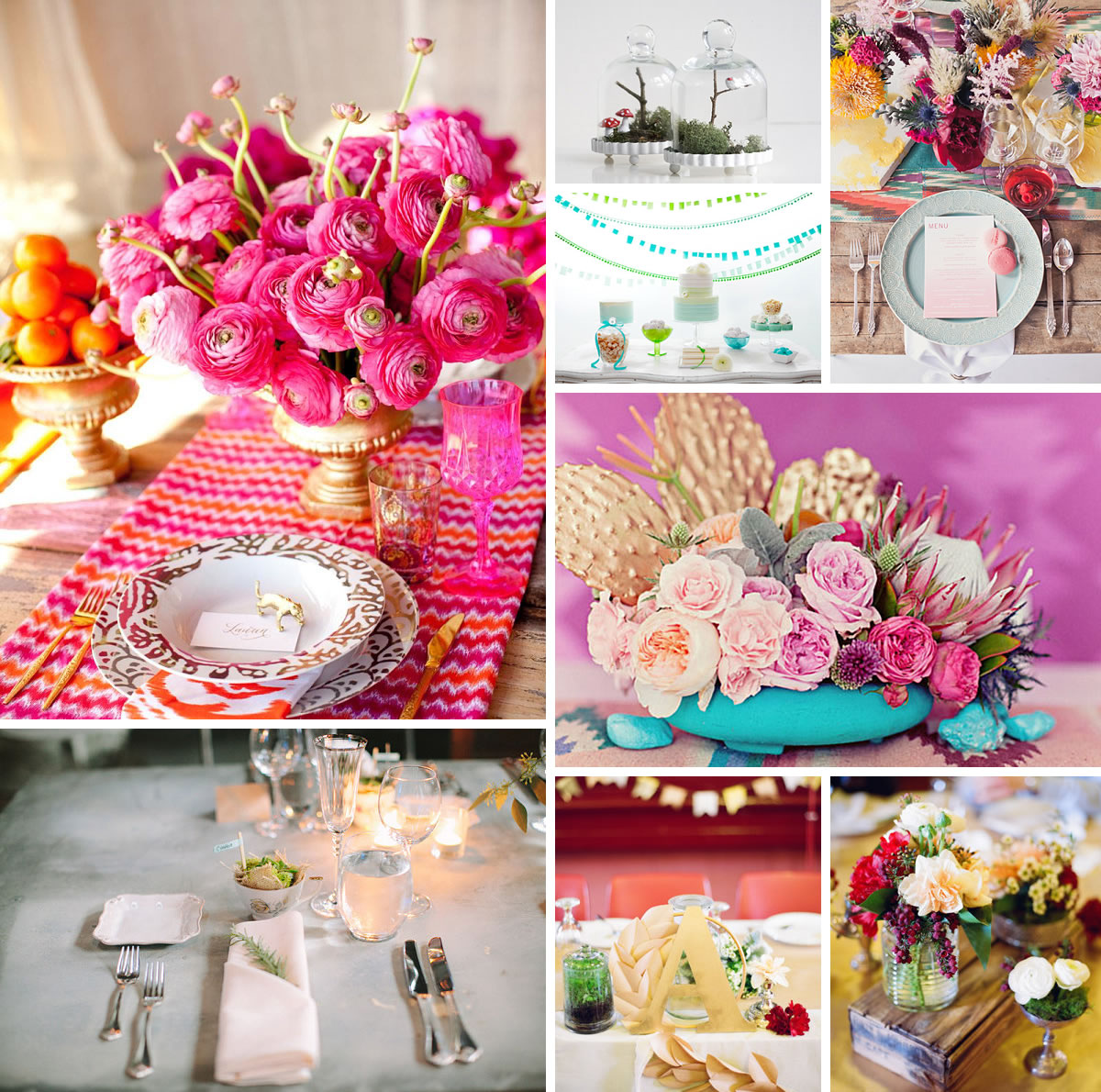 From traditional table settings to refreshingly unexpected spreads, we've got you covered. If you're searching for soft hues and delicate florals, keep reading. Looking for colorful modern decor that will catch your guests off guard in the best possible way? Luckily there are many options that celebrate edgy style. We've rounded up the best of the best, and we've got the pictures to prove it! Enjoy browsing the wedding table decor below…
Traditional Wedding Table Decor with a Twist
We begin with charming wedding decor that puts a new spin on the traditional. Are you drawn to the softness of subtle colors such as peaches and creams? At the New York City wedding below, light shades lend an elegant touch to a table holding place cards. Note how roses have been arranged at the base of an artistic branch, as well as on the upward-reaching arms. [from Ruffled]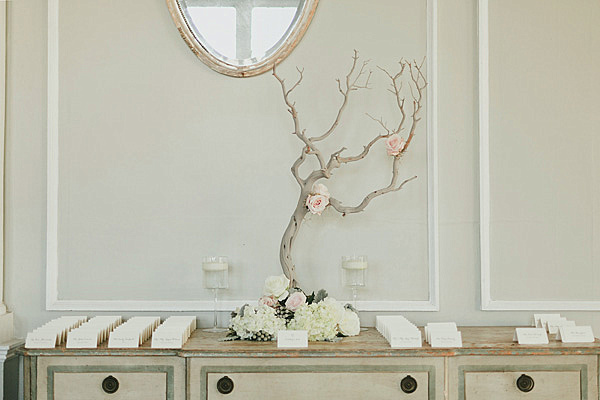 Another clever wedding decor idea involves a monochromatic centerpiece, as showcased in the violet arrangement below. An urn holds an overflowing collection of blooms that boasts shades ranging from lavender to maroon. [from The Byrd Collective]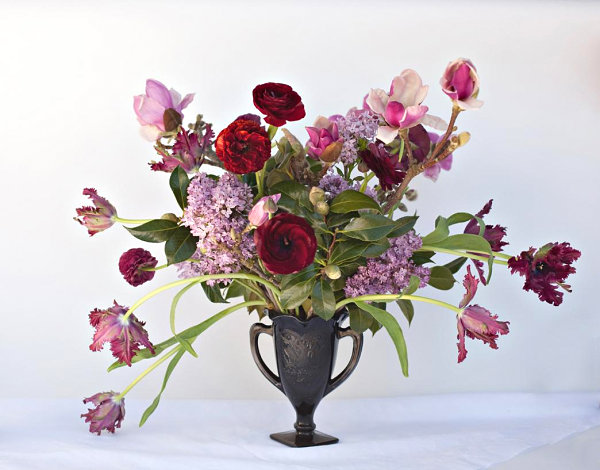 If the subtle and the monochromatic don't pack enough of a punch for your taste, try celebrating the vivid. This pink and orange table decor is headlined by a golden urn of rosy ranunculus, as well as an urn of fresh oranges. Glassware in pink and gold brings out the table's vibrant colors, as do textiles in striking patterns. [from The Byrd Collective]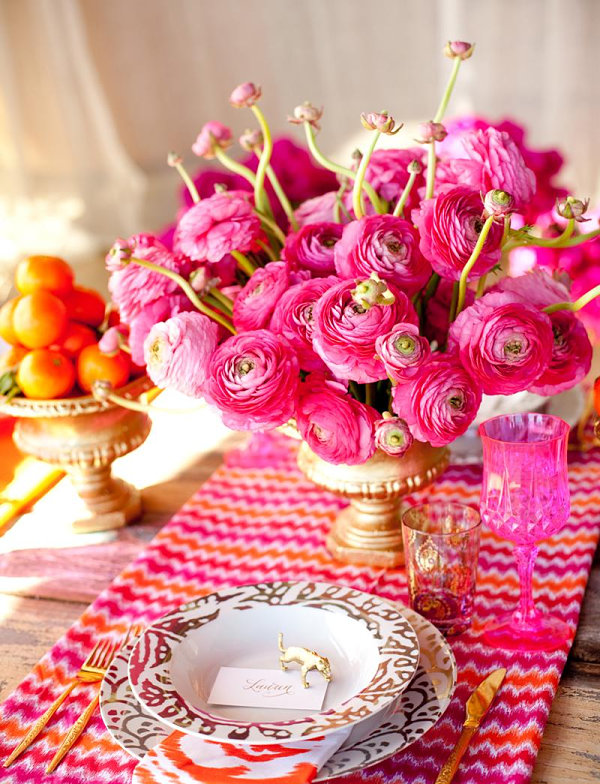 For wedding decor as decadent as the food itself, go with lush, colorful arrangements. Vintage containers keep it interesting. In this photo by She-N-He Photography and Design, decorative details styled by Camille Styles are complemented by flowers from The Byrd Collective. [from The Everygirl]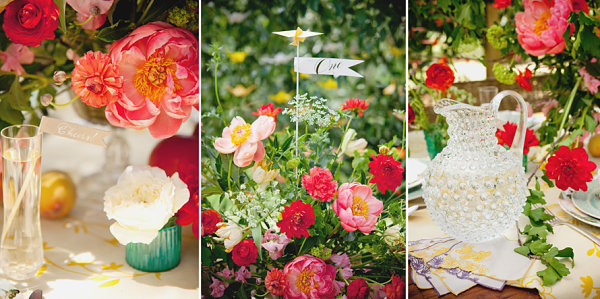 Speaking of vintage containers, don't hesitate to collect your own antique finds, such as tins and bottles. Whether you compose the arrangements yourself or use a florist, unique receptacles can make all the difference… [from The Byrd Collective]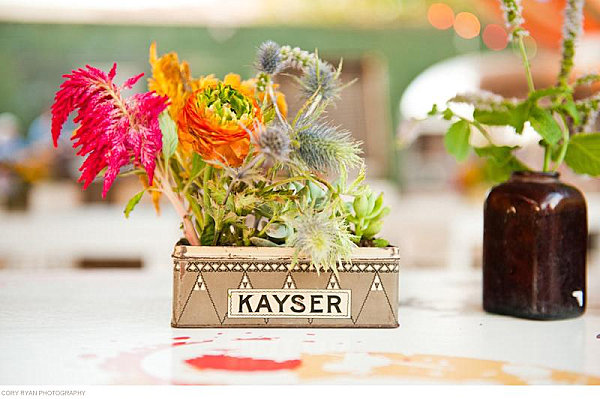 Your vintage finds shouldn't be limited to vases. Other unique pieces can add an element of whimsy, especially when dispersed at tables and incorporated into the decor. After all, a conversation piece is a great way to encourage your wedding guests to socialize with one another. [from Ruffled]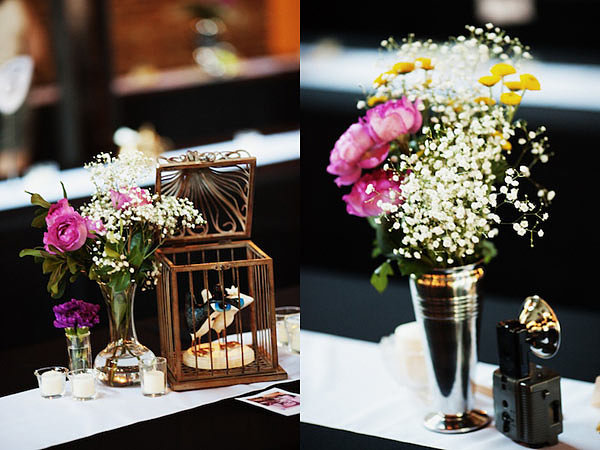 Another wedding decor strategy: choose rich tones that add an element of decadence to your wedding tables. Note the deep shades and interesting color combinations in the floral arrangements and cake table below. [from She-N-He Photography and Design]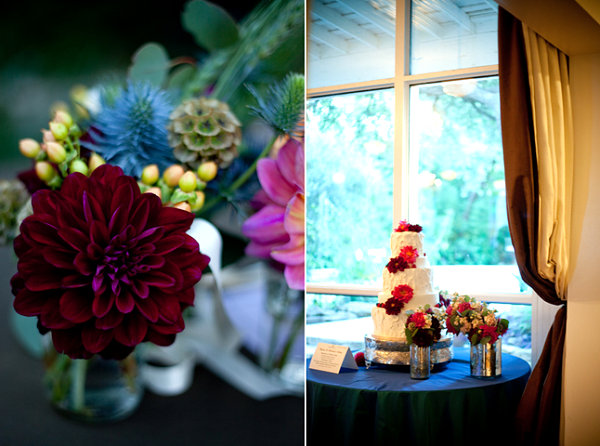 Personalize your wedding table decor with an assortment of DIY items, from terrariums to unique floral arrangements in interesting containers. At the Art Deco-style wedding below, colors such as silver, gold, peach and olive green add interest, as do handmade touches. [from Ruffled]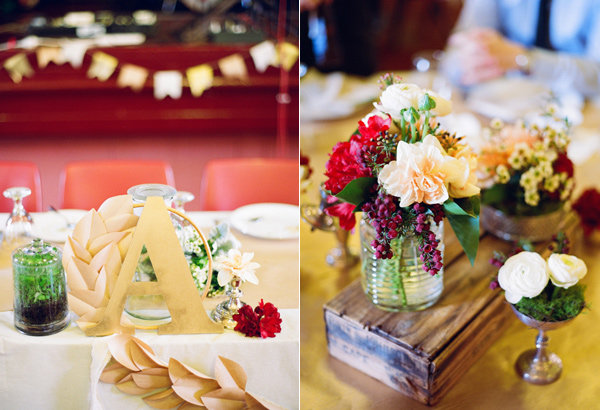 In another view of the same wedding, we see hand screenprinted napkins, as well as a handmade paper flags. In fact, the bride created many of the event's DIY flourishes. If you enjoy putting your own special touch on your entertaining endeavors, don't hesitate to create one or two crafty features that can be incorporated into your wedding table decor. Your guests will definitely take note! [from Ruffled]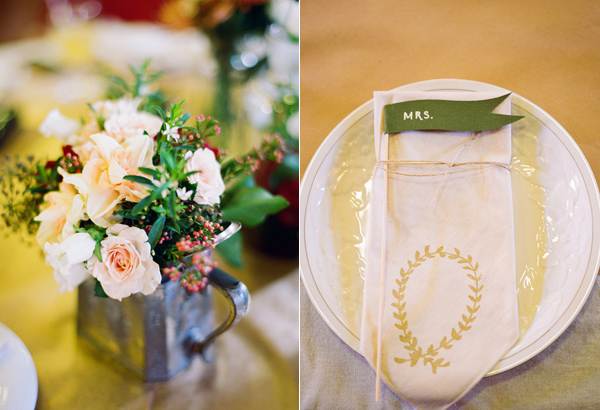 Even with more traditional spreads, you can add a dose of the unexpected. A fresh sprig of greenery adorns napkins at the California antique shop wedding below, and teacups serve as receptacles for mini arrangements and flags that pull double duty as place cards. [from Ruffled]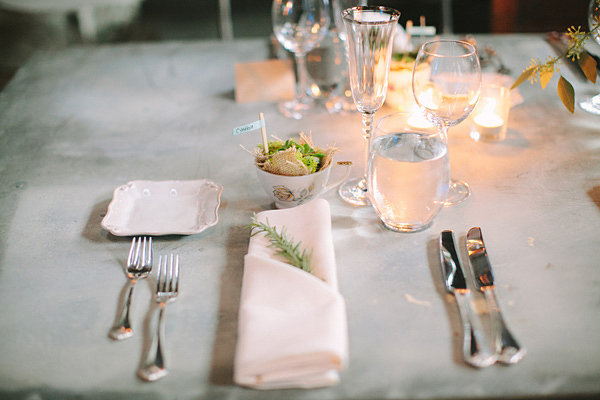 Wedding table decor can involve a slew of guests, or it can be a special way for the bride and groom to celebrate with one another. In the table setup below, a desert palette is enhanced by soft patterns, as well as lush plants like tillandsia (air plants). [from 100 Layer Cake]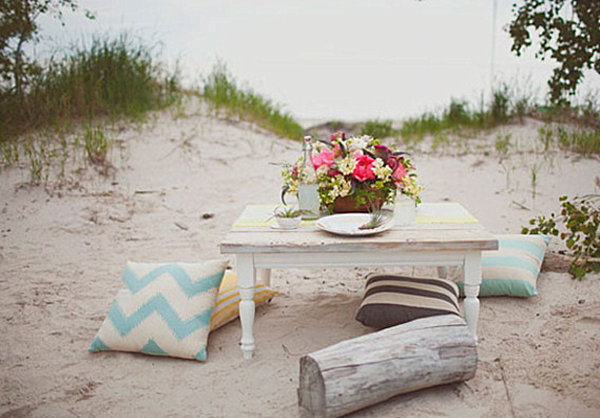 Bright and Modern Wedding Table Decor
We now move from the more traditional to the modern. We start with a colorful reminder that sometimes it's all about the dessert! To make a big impression, combine bold shades and trends, such as ombre style and vivid blues and greens. [from Confetti Pop]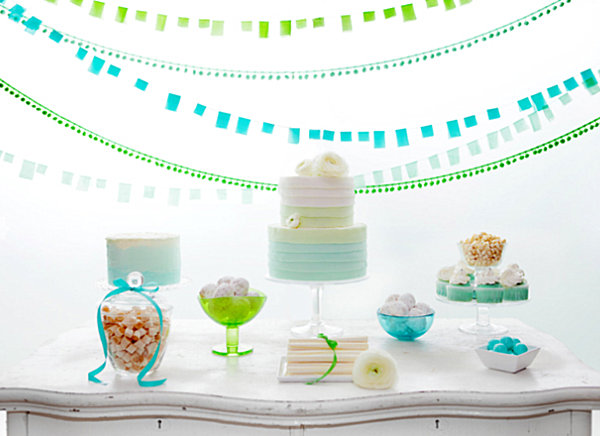 Speaking of trends, don't hesitate to juxtapose the trendy with the classic, as shown in this wedding table from Confetti Pop. Note how a beloved chevron pattern is dressed up with peach flowers and candles that cast a warm, bright glow on the event: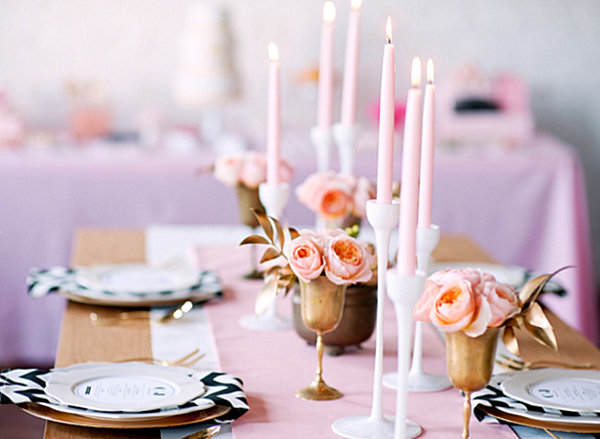 We now see a dessert table from the same event. Many brides and grooms as opting for dessert buffets featuring not only cake, but an assortment of delectable treats in candy-colored hues. The goal: to have so many goodies available, guests don't know what to taste first!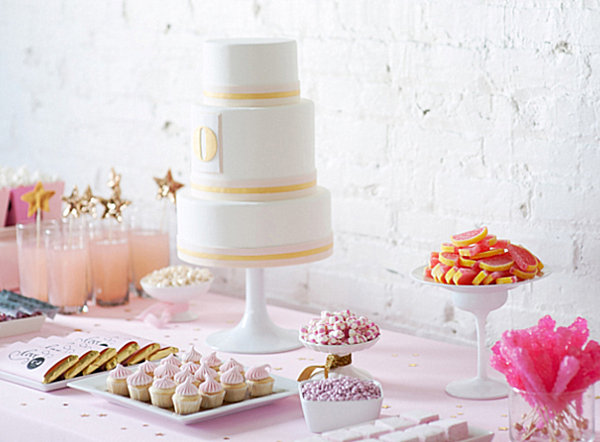 Want a wedding display that's truly unexpected? Incorporate bold patterns and motifs into the mix. In the image below, we see a geometric wedding table featuring a diamond-patterned runner, an abundance of pinks and purples, and edgy heart place cards that decorate favor boxes. [from Confetti Pop via 100 Layer Cake]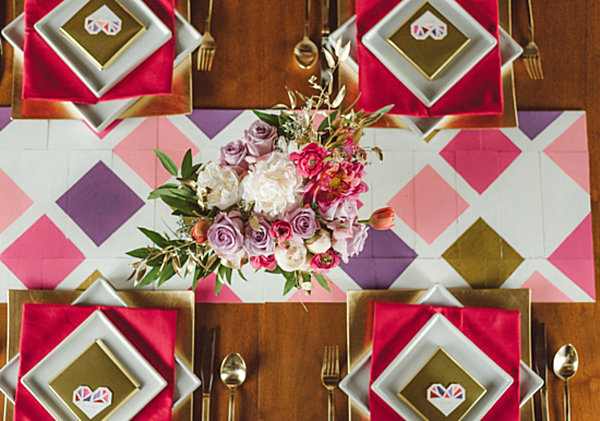 Try celebrating a favorite trend in colors that aren't typical for weddings. Below we see a Bohemian wedding inspired by Navajo culture. Pinks, peaches, golds and bright pops of turquoise saturate the display with a feast for the eyes. [from 100 Layer Cake]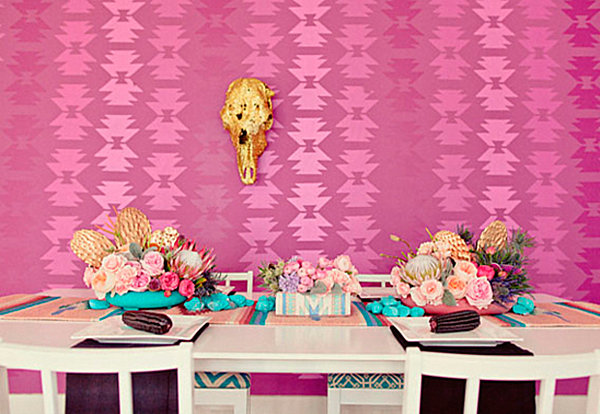 In a close-up of the same table, we see unusual floral touches in a bold centerpiece. Spray-painted cactus creates an unforgettable element in this unique arrangement, while a turquoise planter serves as a powerful contrast to the rosy blooms: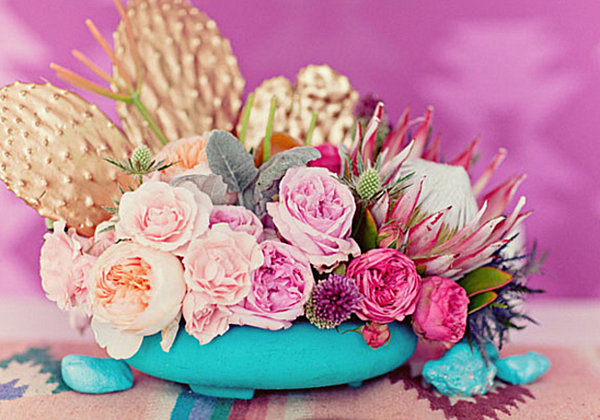 Infuse your wedding decor with quirky modern touches. This next indie wedding spread features wiry pendant lighting that adds an industrial touch. Yet vintage seating keeps the display from looking too stark. Note how the hues in the colorful floral arrangements are mirrored in the rectangular accents on the lighting shades. [from 100 Layer Cake]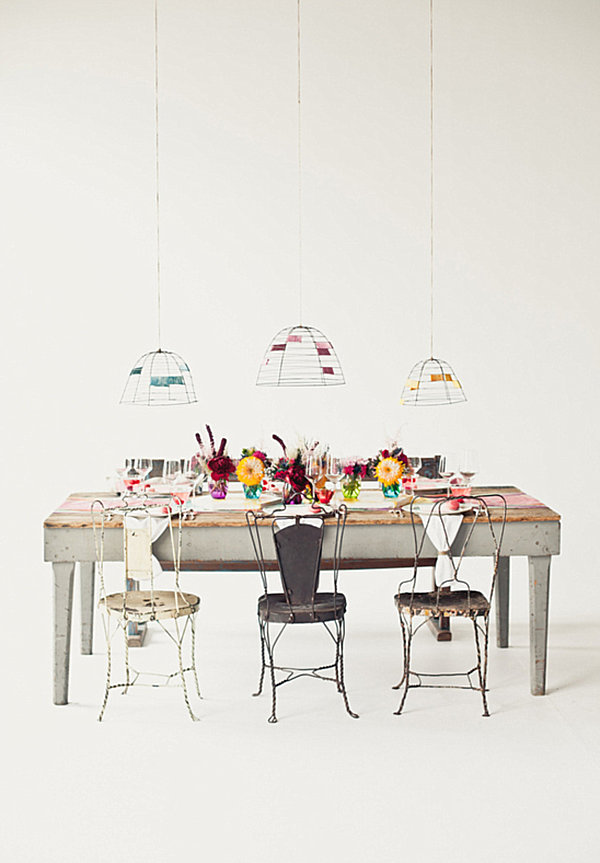 We now zoom in for a close-up of the same table, and we're treated to an undeniably glorious combination: unusual flowers, colorful textiles and decadent consumables. Yet this table display defies expectation by combining yellows, blues and pinks in the most artistic of spreads.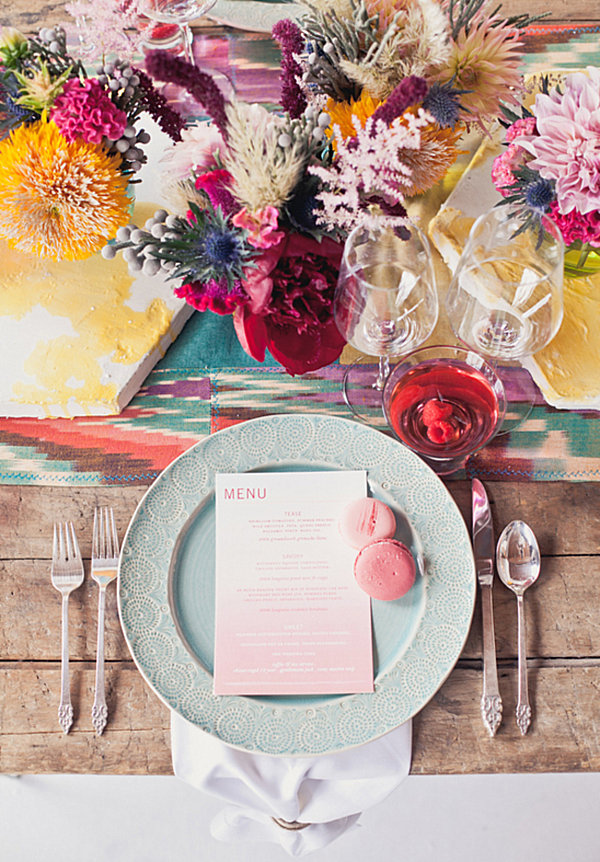 Don't forget the favors! Put a DIY spin on your thank-you gifts. These woodland terrariums were created using mini bell jars and other decorative accents. If you're feeling crafty, give your guests a handmade treat that can also serve as tabletop decor for your wedding! Check out the full tutorial at Ruffled.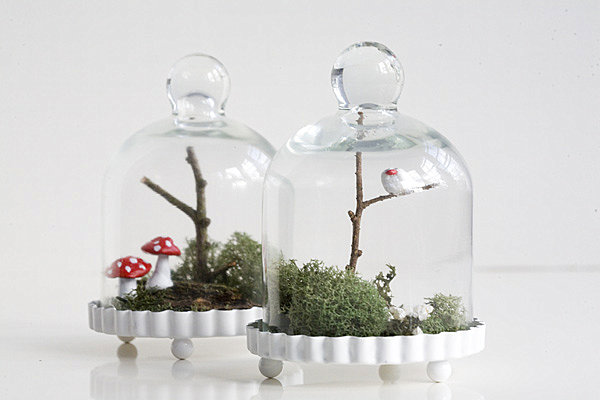 Did any of the table decor above catch your eye? Have you created a DIY table spread that you'd like to share? Tell us about your favorite wedding ideas by leaving a comment below…