A pendant light has the power to be a work of art. And many of today's pendant lights have an ultra-modern feel that makes them true showpieces. From hand-blown glass to powder coated steel, the materials vary. But the elegance of futuristic form prevails.
Today we feature 10 unforgettable pendant lights with contemporary flair. The designers of these pieces paid special attention to every element, from the shades to the bulbs to the cords. Take note of the colors, angles and forms, as well as the intricate details that make each light truly shine…
Round Pendant Lighting
We begin with round lighting as we showcase the Meltdown Lamp from Cappellini, a piece that consists of glass hand blown into a mold. Striking shades like gray, pink and amber add bold color, which is particularly intriguing when these items are displayed in a group for a cluster effect. But don't hesitate to suspend a single pendant light on its own to channel the power of one. [via Trendir]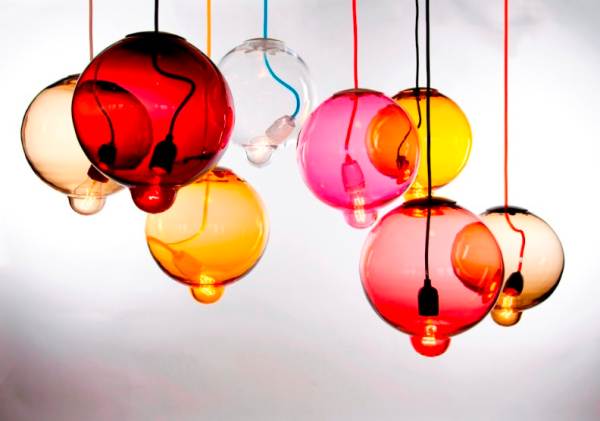 This next lighting option comes in a set of seven opal-glass globes. It's the Glass Orb Chandelier from West Elm! With a frame of satin nickel and the ability to adjust the height of each light as needed, this piece proves to be as strong and functional as it is stunning…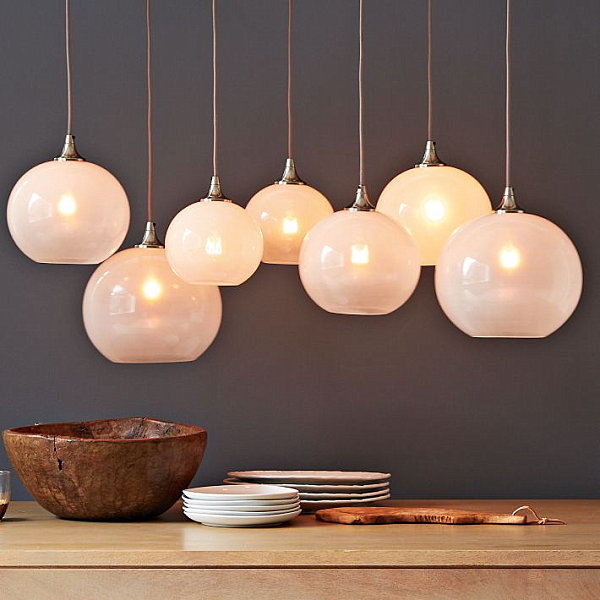 For a similar look in a fiery hue, check out the Fluoro Light by Tom Dixon. This light is "inspired by the high visibility clothing worn in industrious factory environments," and we're crazy about its vibrant color. In fact, the piece consists of blow-molded polycarbonate that is externally lacquered in a vibrant shade of fluorescent orange. Hang it alone or in a group, as shown below: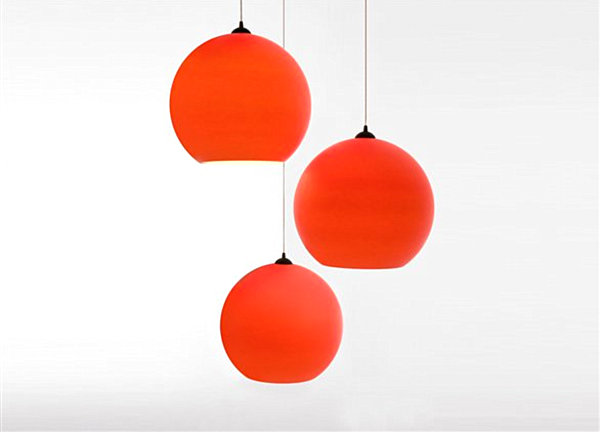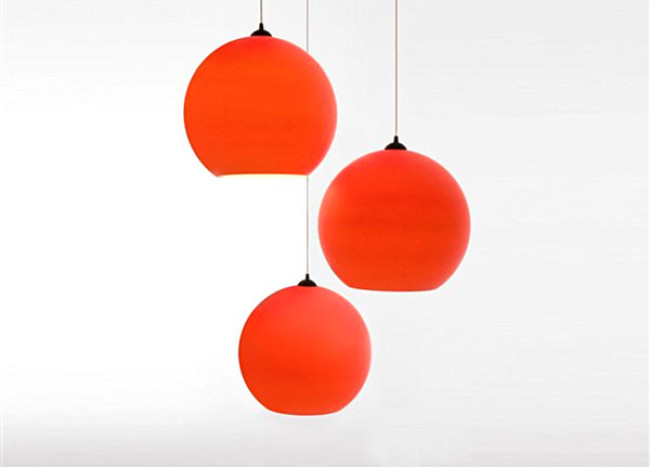 Also from Tom Dixon is the Mirror Ball lighting featured in the next image. Inspired by a space helmet, each light consists of a thin layer of metal that's exploded onto the internal surface of a polycarbonate globe. This lighting is available in a range of sizes, and as you can see in the image below, variety can be the key to true design magic: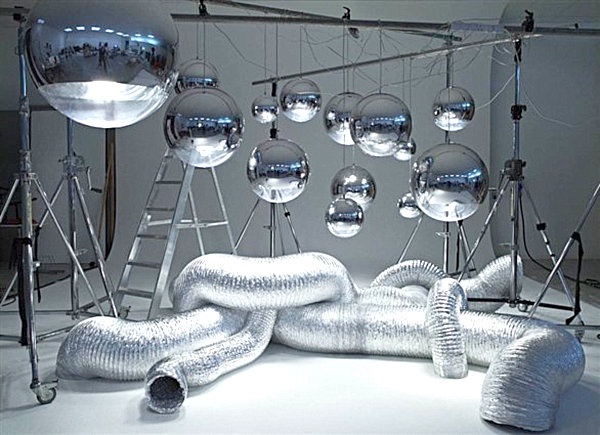 Angular Pendant Lighting
It's time to get angular! Many of today's most futuristic pendant lighting styles feature bold angles. Like the Stealth Pendant Lamp from Aarevalo, shown below. A symmetrical, origami-like design makes this piece undeniably unique, as does its folded Perspex form. [via Design is this]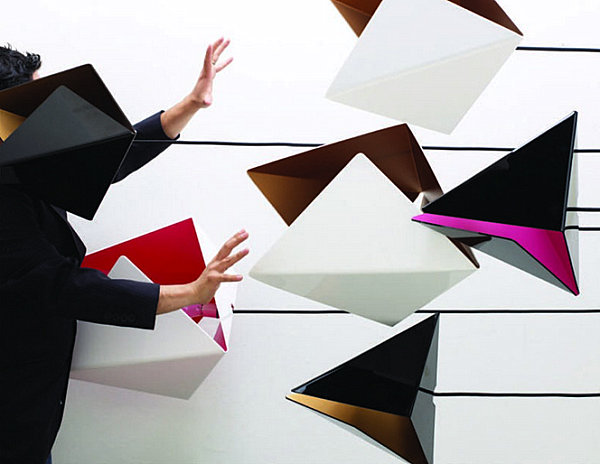 Geometric forms are all the rage in today's design world. It wasn't long ago that we blogged about holiday wonders such as polyhedra ornaments. Today we feature the Large Black Spica pendant light from Iacoli & McAllister, complete with a captivating powder coated steel frame. As noted on the site, this piece was "named after the brightest star in the Virgo constellation." We bet it will shine brightly in any room it inhabits…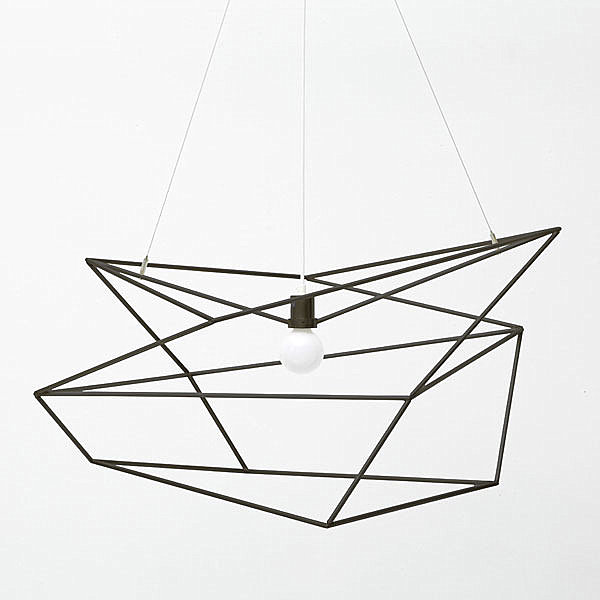 For a similar look, but craftier and in white, check out the Threaded Spica Light from Iacoli & McAllister. Among the many noteworthy traits of this standout pendant light is the amount of work involved in wrapping the frame with embroidery floss. This powder coated steel piece creates a white on white effect that makes threaded details truly stand out.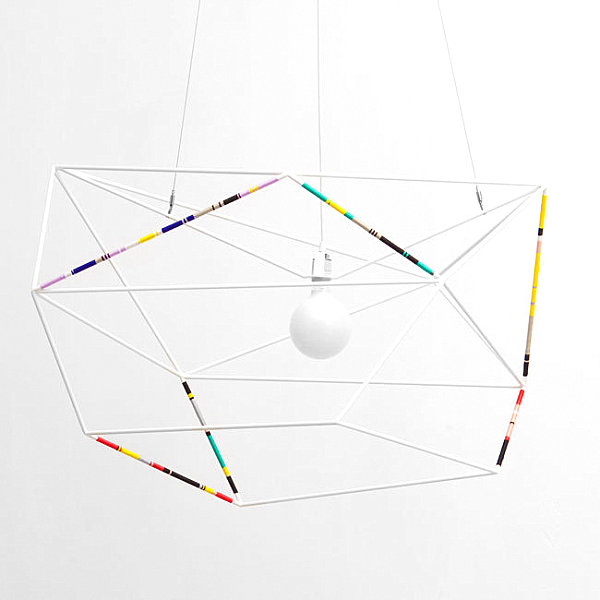 Speaking of standouts, the Etch Shade Brass light by Tom Dixon consists of digitally etched brass sheets. "Inspired by the logic of pure mathematics," this pendant light includes patterning that creates ornate shadows on the wall, adding to the futuristic effect. Looking for something smaller? This piece can also be purchased as a candle holder!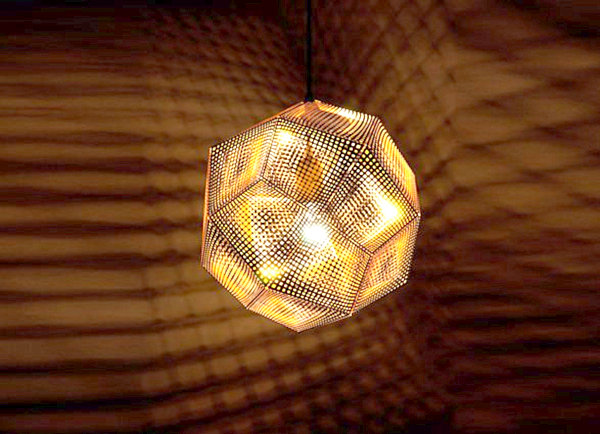 Square and Rectangular Pendant Lighting
We end on a square note. Straight lines and right angles rule in the final two featured lamps. The ReveaLED triple suspension light by renowned designer Andre Kikoski utilizes LED technology with a series of three vivid hanging squares, as shown below. [from Lighting55]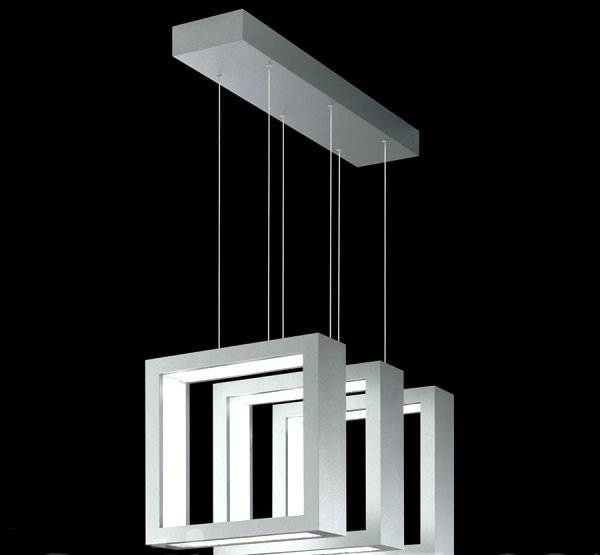 Our final piece is the Dichroix 5-Light Square Pendant, which features panels of glass covered with 15-50 coatings of metallic and silicon oxides. Due to clever construction, an optical filter is created in which some wavelengths of light are transmitted while others are reflected. A satin nickel frame and dichroic glass shades are true highlights. [from Soneman]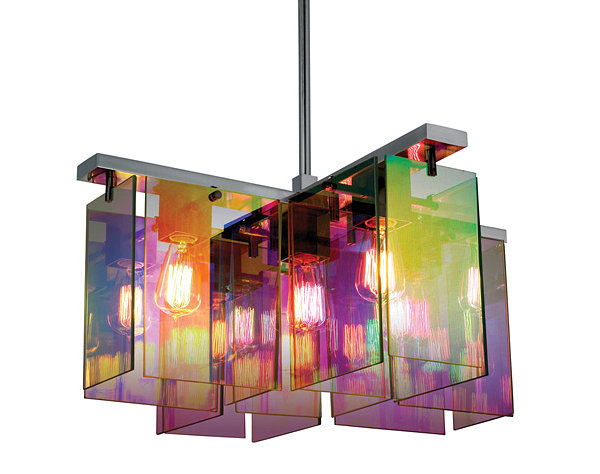 When it comes to pendant lighting possibilities, pay attention to the type and style of furniture featured in the room. If muted colors and shades abound in your space, it may pay to go big and bold with the lighting, or you may choose to play it cool and sleek with an understated yet modern piece in silver or clear. Don't assume that contemporary shades are only for contemporary rooms. There's nothing more powerful than a modern statement in an unexpected place!