We at Decoist have made no secret of our love for wall decals. The perfect artistic statement for renters, decals add a substantial touch to any room, especially kids' rooms! Not to mention, these bold wall decorations can easily be removed, so when your child outgrows a certain look, you can switch to another style.
Today we focus on wall decals with a creative touch. These selections are unique in the way they celebrate classic design yet continue to push the boundaries. Not to mention, they are undeniably stylish. Tired of wall decals that all look alike? You'll be pleased with this selection of interesting adhesives…
Wall Decals That Celebrate Nature
Many of today's most popular wall decals revel in natural motifs. Like these 3-D butterfly decals with wings that lift from the wall. Photorealistic and classic, these stickers are a nice contrast to the slew of  cartoon-like adhesives currently on the market. [from RoomMates]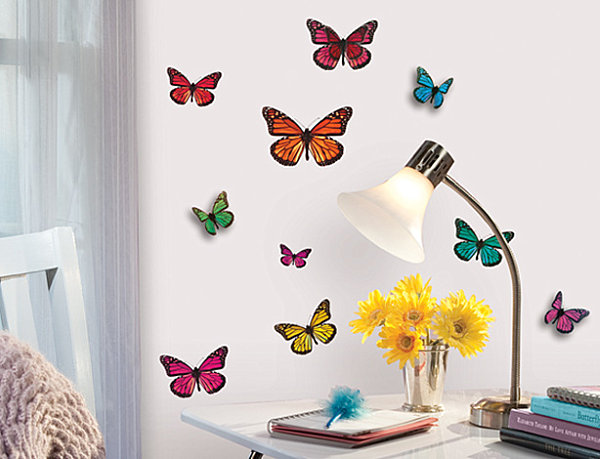 Get ready to be bowled over by color and style! The Wallcandy Flutterflies Wall Decals from Wall Sticker Outlet come in a set of 84 stickers. An easy peel-and-stick application makes it easy to adhere these vibrant decals to the wall, resulting in a burst of color that evokes the magic of whimsical flight: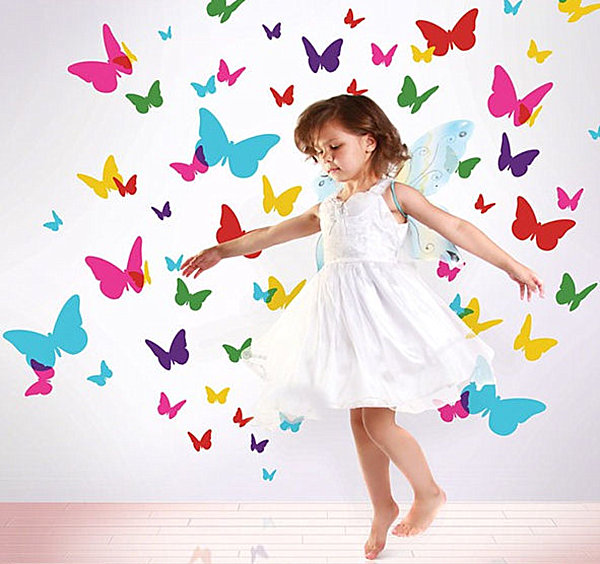 Modern style reigns with the Super Cute Weather Fun Time Wall Decals from Dali Decals. Contemporary and adorable, these items come in two possible color combinations. We love the primary colors showcased below…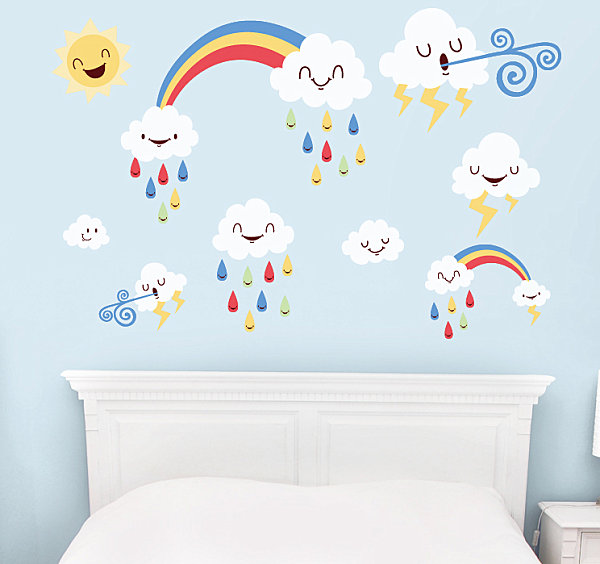 For another take on sky formations, check out this set of 15 Cloud Decals from Pottery Barn Kids. The stickers are available in various sizes, creating a magical display of white puffy clouds that will be sure to inspire some healthy daydreaming…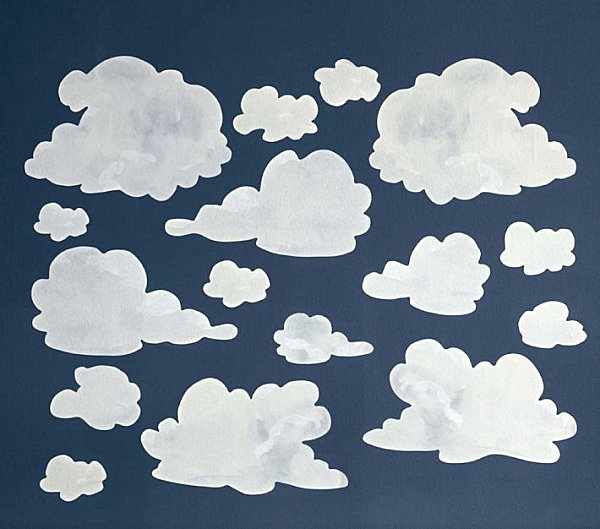 Robot- and Space-Themed Wall Decals
Ready to head to outer space? Now you can bring the heavens to your child's room with the Celestial Stars & Planets Glow in the Dark Wall Decals from RoomMates. Stick them on walls, furniture, the ceiling and more! Believe it or not, there are 258 stickers per pack! Also note that these decals must be exposed to light before they will glow in the dark.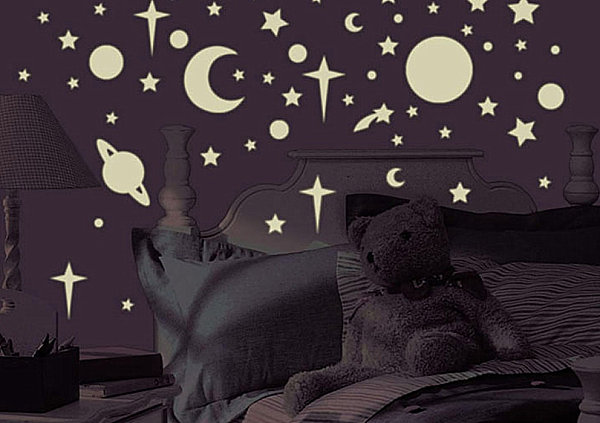 Another illuminating option is the Glow-In-The-Dark Star Decals from Pottery Barn Kids. An assortment of 100 smaller and larger stars, this decal set allows you to create your own constellations. Below we see the amazing effect achieved by sticking these decals to the ceiling (especially when the ceiling is covered in dark blue paint):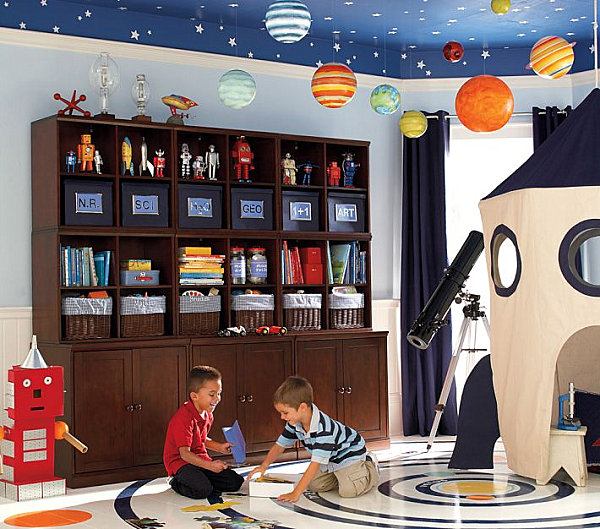 There's something strikingly simple about the Star Peel & Stick Mirrors from RoomMates. The items in this pack of 4 are so reflective, they can be used as actual mirrors. Note that the decals are very sturdy, so a heavier adhesive is used. In other words, these sticky stars work best when they are not re-positioned excessively.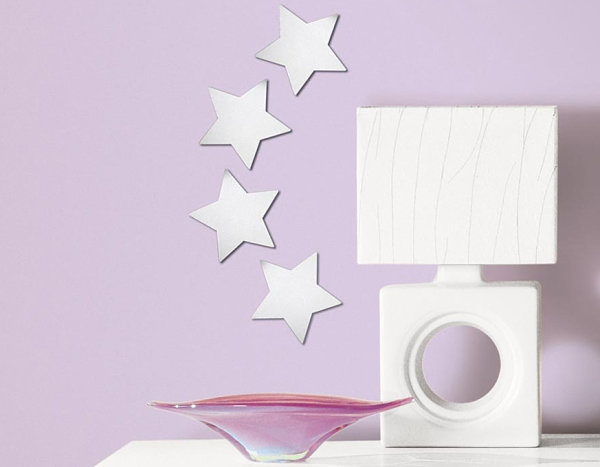 Introducing Build Your Own Robot Wall Decals, which take modern creativity to a whole new level! Create at least four robots with a series of legs, arms, chest plates, eyes, faces and antennas. Not to mention, these decals are easily repositioned, so you can build and rebuild them over and over again. [from RoomMates]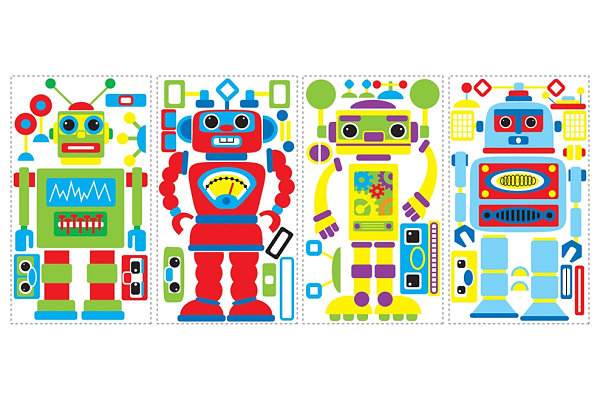 The robot fun continues with the Robot Crossing Wall Decals from WALLTATS. These stickers come in 3 sizes, and they are packaged in a set of 8. As you can see below, when you pair the decals with a room border (such as red), a bold effect is achieved.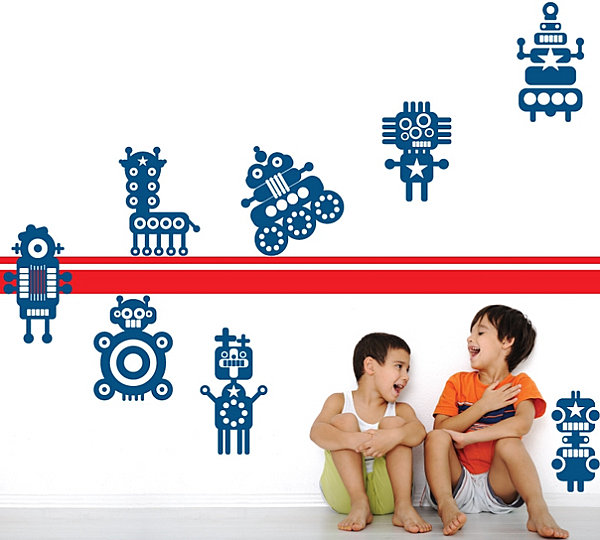 Animal Wall Decals
Bring some creature features into your child's room with animal-themed wall decals. A great solution for boys and girls alike, animal decals can create a variety of effects, from the museum-like to the safari! The Jumbo Dino Bones Decal from Pottery Barn Kids will evoke the magic of an archaeological dig, as shown below…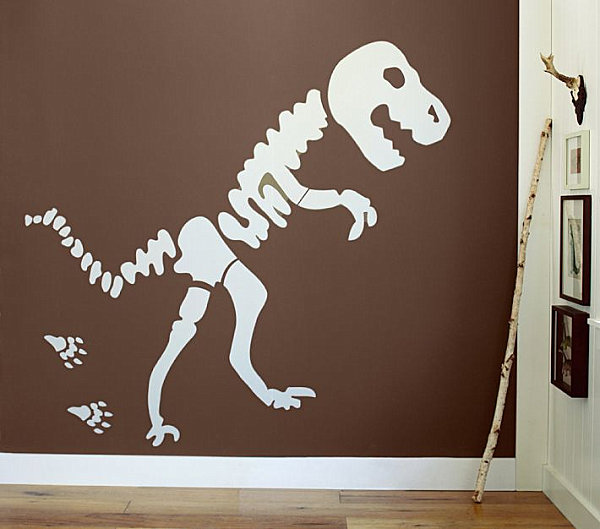 Who says dinosaurs and plaid don't mix? The Madras Dino Wall Decals from Pottery Barn Kids are based on watercolor design. These large decals are purchased as singles. Choose from the green apatosaurus or the blue triceratops. Or get both for double the fun!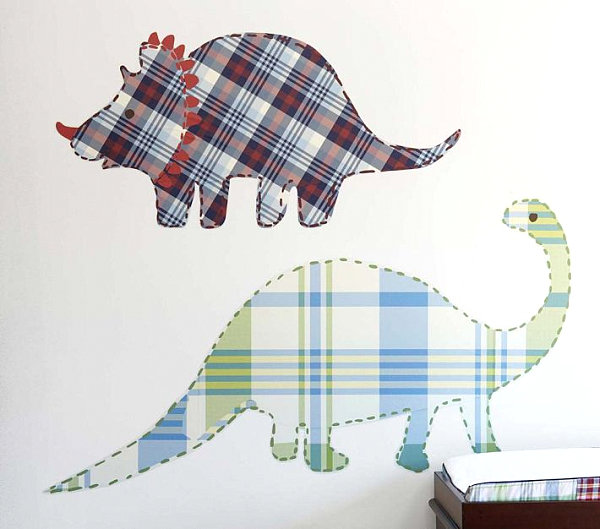 Check out the unique Sleepy Bear Decal from WALLTAT, which creates a calming presence in a child's room while evoking a larger-than-life sense of whimsy. The smallest size for this decal is over three feet wide, so you can imagine how expansive this sticker can get!  Choose a custom color to make it fit perfectly with your space.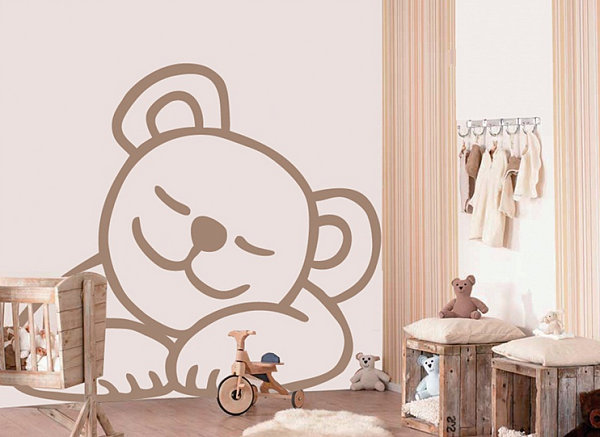 Wolves have definitely made a comeback. Bring one of these mysterious creatures to your wall with the Wolf Decal by Sudden Shadows. This large piece is perfect for kids who love animals! [from Wall Sticker Outlet]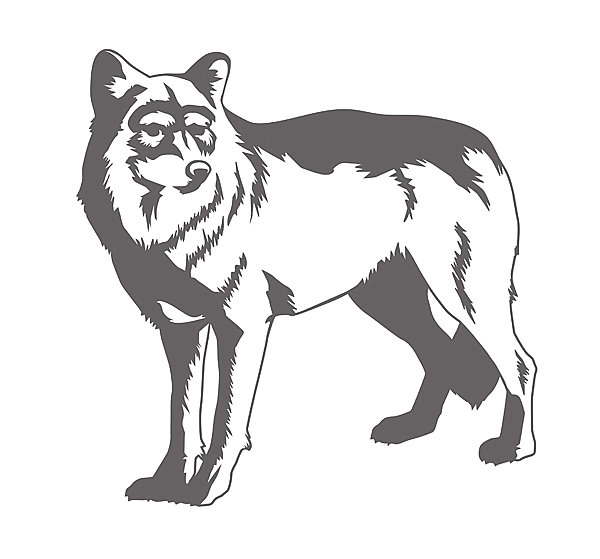 It's hard to say what we love best about the Bunny Wall Decal from WALLTAT. Is it the adorable silhouette or the woodgrain effect? You decide! Select a wooden tone that matches your interior, and you're set with this out-of-the-ordinary decorative statement: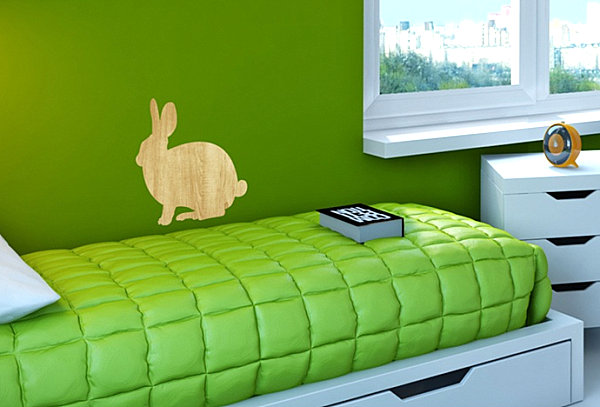 There's something a bit vintage about the Cage Wall Decal from WALLTAT. The cage itself is undeniably elegant, and the three birds that accompany it complete the charming look. As noted by WALLTAT, these decals create an amazing effect when purchased in various sizes and placed around the room so they surround the space in delicate style: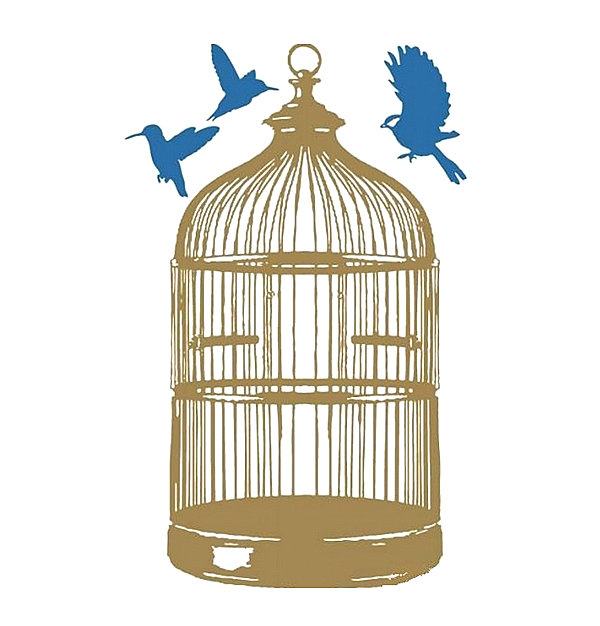 Ready to go for a dive? Enjoy this set of Submarine and Swimming Sea Life Wall Decals, perfect for the child who is fascinated by the ocean and its inhabitants. Not to mention, these decals can be customized–choose the shade that works best for your space! [from Dali Decals]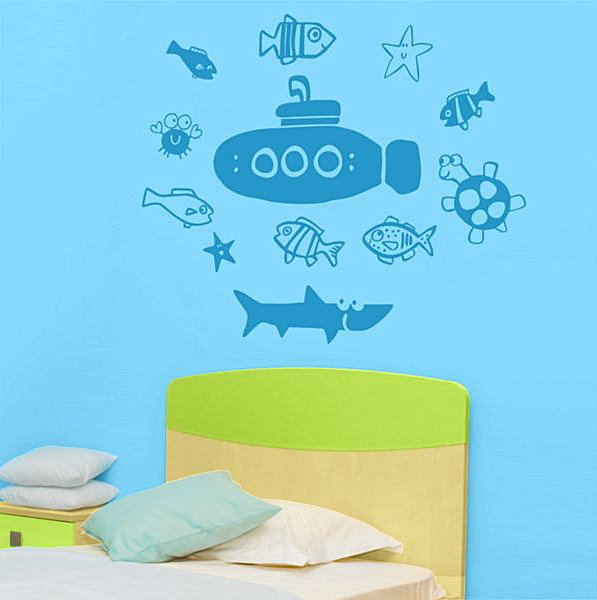 We can't resist the Fishbowl Wall Decal from Dali Decals, which looks picture-perfect when positioned above a desk, dresser or other surface. Two fish occupy the bowl, and their bubbles add a dose of whimsy to the vignette. Like many of today's most stylish wall decals, this selection can be ordered in the color of your choice.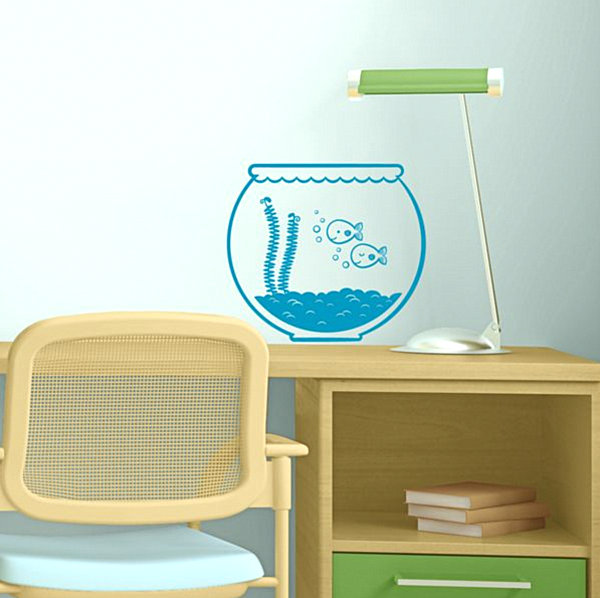 Wall Decals That Celebrate Modern Style
Our last batch of decals reminds us that modern style is alive and well in the world of adhesives. And boy, can contemporary selections truly shine in a child's room! The Bustling Little Town Wall Decals from Dali Decals are irresistibly subtle, yet also kid-friendly! Select your shade of choice, then watch as the simplicity of these stickers brings a much-needed dose of simple style to a room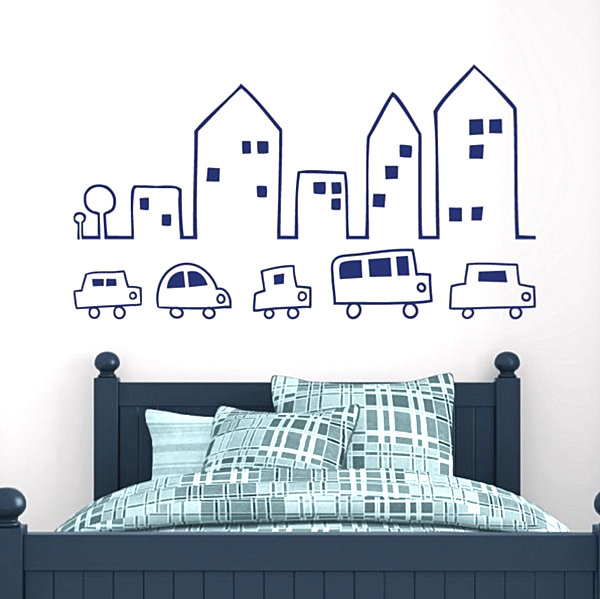 The Colorful Floating Bubbles Printed Wall Decals from Dali Decals work well in girls' and boys' rooms alike. Perfect for younger children as well as teens, this 32-piece set comes in the colors you see below. Also note that hue adjustments are possible…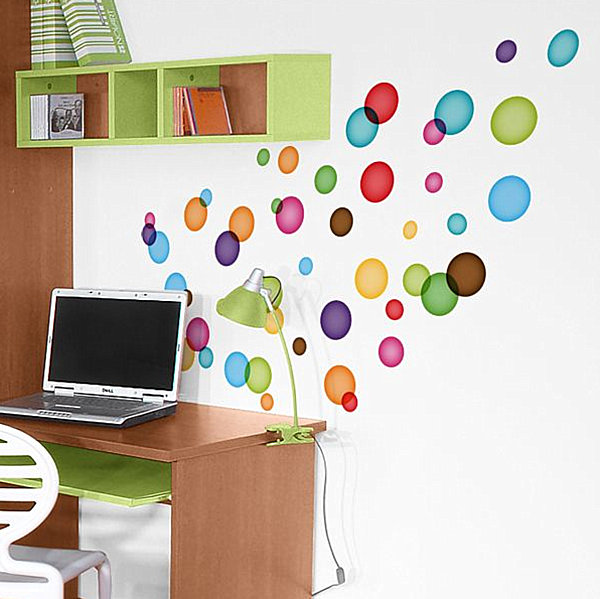 We end with the Giant Colorful Bubblegum Machine Printed Wall Decals, which can't help but serve as a vibrant focal point to the interior they inhabit. Though this selection is available in several color combinations, we're partial to the oh-s0-bright version shown below. [from Dali Decals]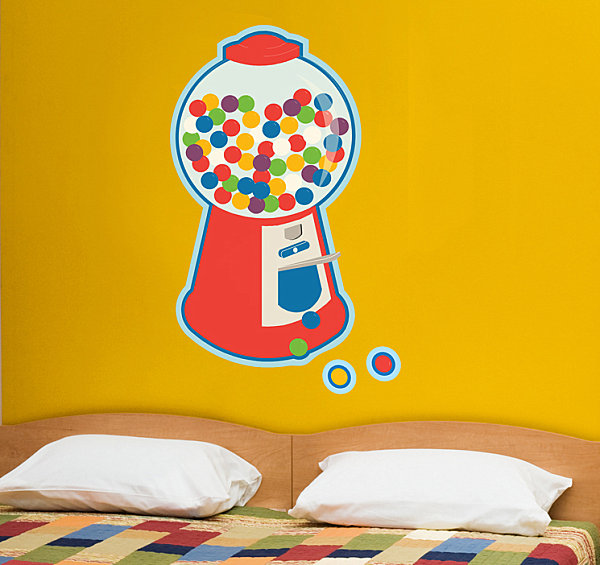 Liked the story? Share it with friends.