Wall decals are the perfect way to add color and style to your interior. Less permanent than paint, they are also fairly easy to apply, making them ideal for renters and those who are hesitant to commit to the time and cost of a mural. Today we zero in on wall decals that celebrate the intricacies of the tree. In fact, a large portion of modern wall decals focus on natural motifs such as branches, trunks, leaves and blossoms.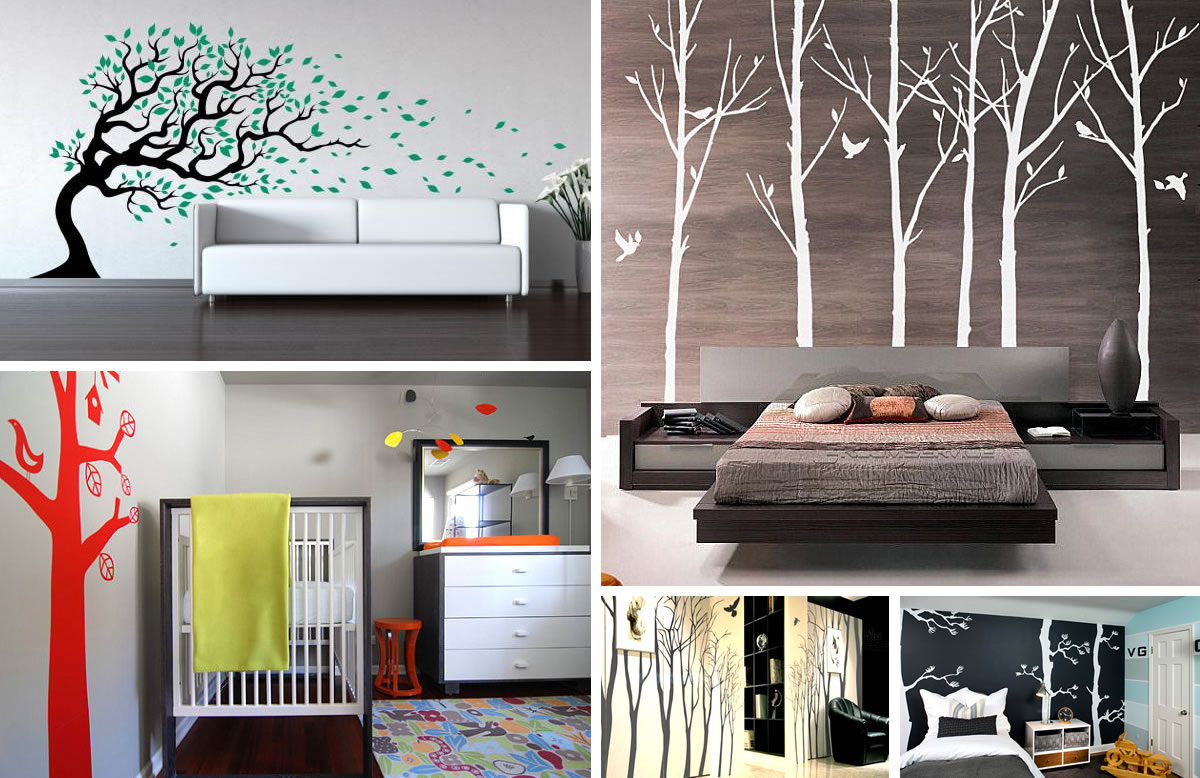 We begin by spotlighting an assortment of tree decals for sale, courtesy of Etsy. Then we take a look at real-world examples of interiors featuring tree wall decals, the majority of which are children's rooms and nurseries. But don't think that these leaf- and branch-laden stick-on images are only meant for kids. As you can see from our first featured images below, tree wall decals are a great way to set a creative, modern tone in the living room as well…
Tree Wall Decals for Sale
Our first Tree Wall Decal comes from Etsy shop Cherry Walls. As shown, sometimes the best way to call attention to a decal is to keep the rest of the decor monochromatic. As with most decal options, you can choose your own colors to personalize this design.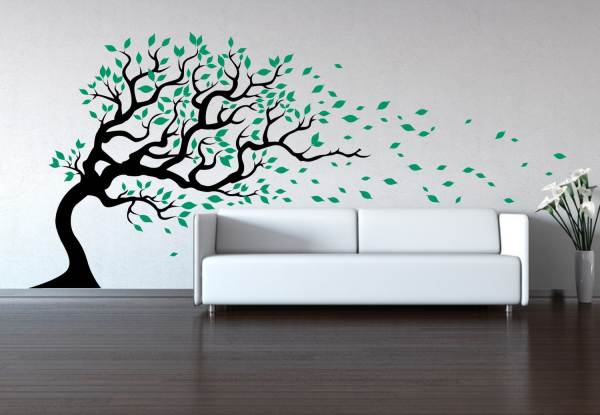 Sometimes one decal says it all, while at other times, decals come in sets for maximum effect. This Set of 14 Tree Wall Decals from Etsy shop Chin Studio covers the walls of any room with a modern design. To get just the right look, choose from Chin Studio's provided color chart, or you can have the trees custom printed in the hue of your choice.
This Plum Blossom Vine Tree Wall Decal from Etsy shop TUYAdecals is both contemporary and elegant. Select a color for the trunk, as well as a color for the blossoms. We love the combination of gold and pink shown in the cream interior below: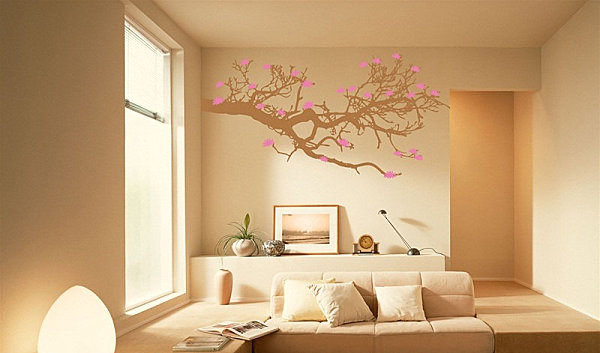 When the walls boast a stand-out color or pattern, make them shine by selecting decals in a simple yet crisp shade of white. Longing for more color? Don't worry– the Tree Wall Decal Sticker Art below can be ordered in the shade of your choice. This set of 6 striking decals comes from Etsy shop Wall Decal Depot.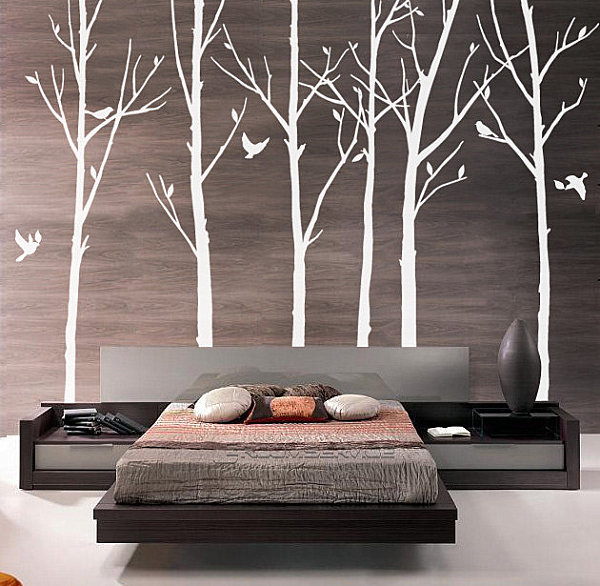 Who doesn't love a burst of color?! The Red Cherry Blossom Tree Wall Decal from Etsy shop Wall Decal Source arrives in a kit that includes 1 trunk, 11 branches and 303 flowers. Yes, 303! And no, the flowers don't have to be red, although it's hard to resist these ruby blossoms: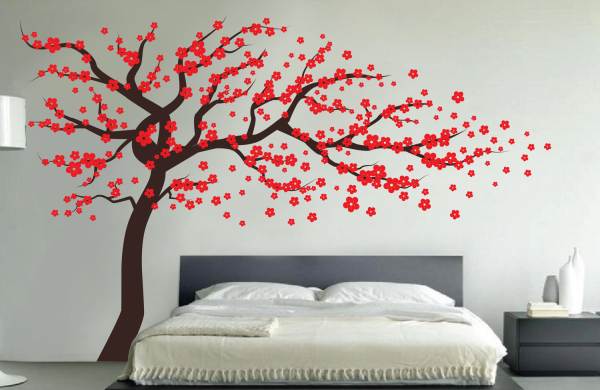 Hanging blooms whimsically adorn the child's room below, thanks to the Cherry Blossom Tree Wall Decal from Etsy shop Anna's Wall Decals. Delicate, fluid and lovely, don't you think?!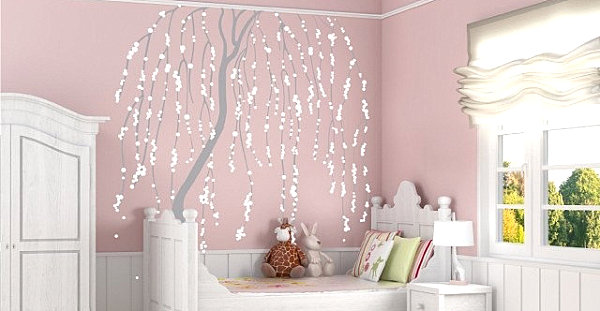 There are times when the trunks of a tree speak for themselves. The Birch Tree Wall Decals from Etsy shop Wall Consilia are simple, elegant and adorable, thanks to the addition of deer and birds. Bring the forest to your nursery: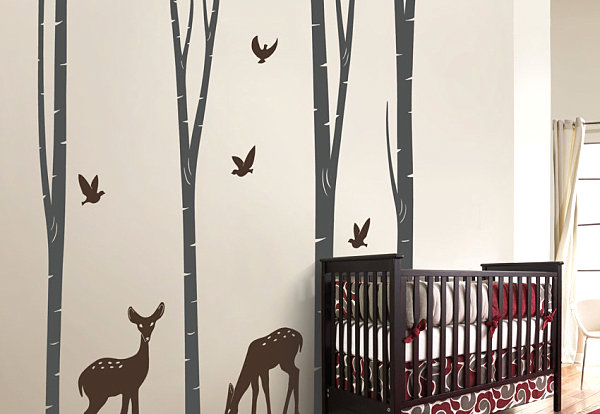 We end this section with the Custom Nursery Tree Wall Decal from Etsy shop Mommy of Ty Designs. Why custom? Because you can select a different hue for each animal, as well as personalize the tree bark and leaf colors. Add just the right shades to your well-planned nursery!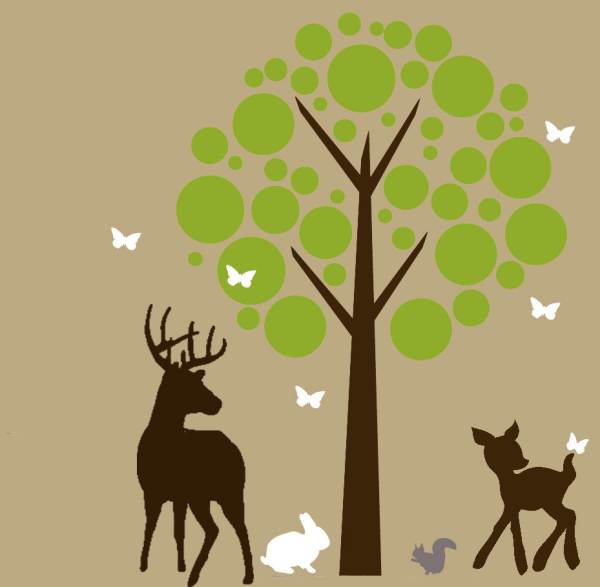 Interiors Featuring Wall Decals
We now turn to the vivid images of Houzz to showcase a variety of interiors that have skillfully incorporated tree wall decals. Like this girl's room from Jen Talbot Design. Note how the decal spreads across the wall, drawing the eye upward while uniting the space in a whimsical woodland theme: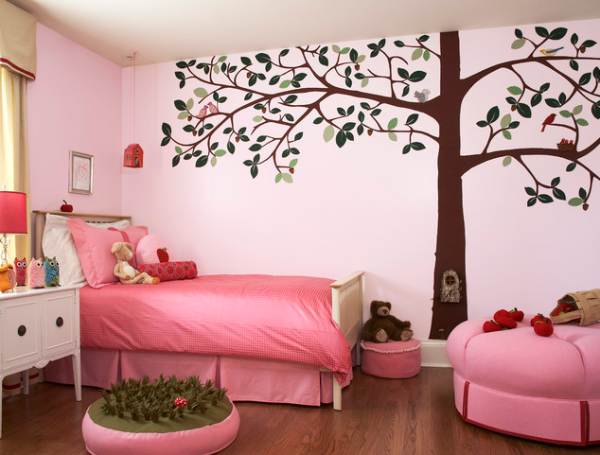 Sometimes a little goes a long way. In this next girl's room from Allen Patterson Residential, a small decal reinforces the branch-and-leaf motif created by a tall branch in a vase.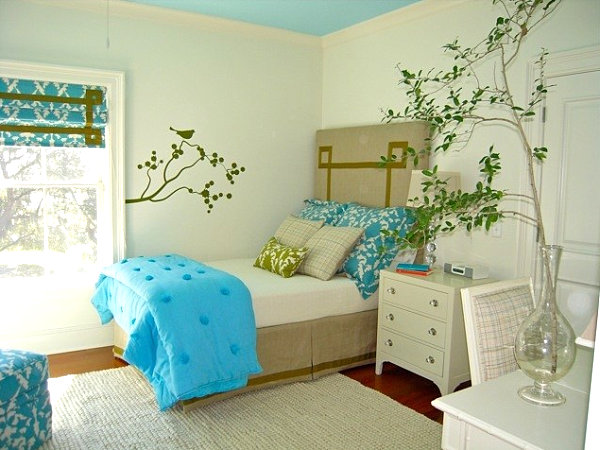 Below we see a close-up of a tree decal on a minty wall. Note how the branch, flower and bird pattern reinforces the Chinoiserie effect created by this charming girl's room. [from Embellishments Design Studio]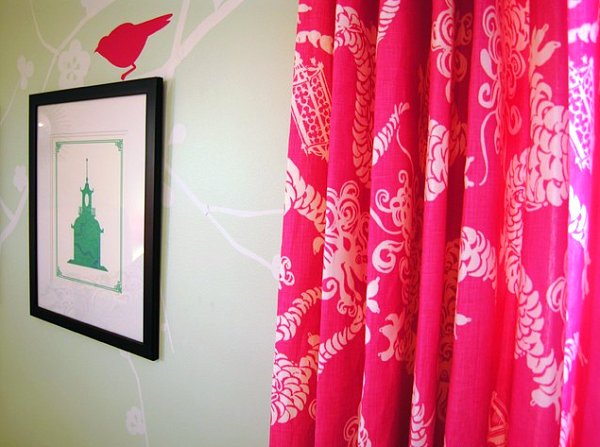 Tree wall decals can be used in boys' rooms as well! For example, the decals in the next space pop against the navy blue wall behind the bed, creating a nice contrast with the striped paint that surrounds the door. [from INVIEW Interior Design]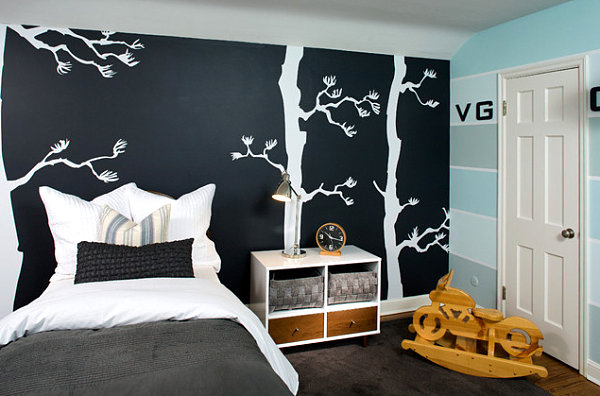 Bring on the color! The tree below embellishes a nursery by Wolf & Wing Interior Design, Note the variety created by pattern and color on this eye-catching focal point: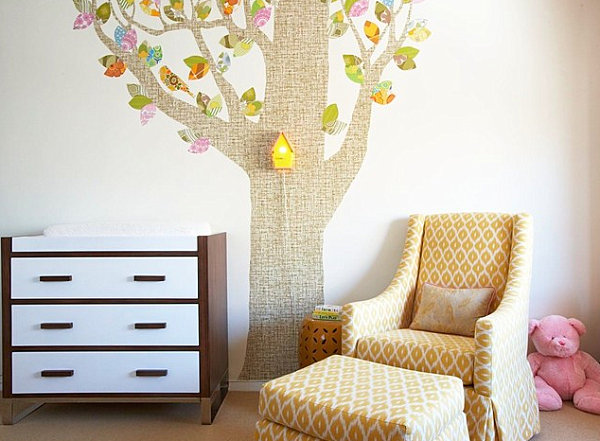 Speaking of eye-catching, when you choose a tree wall decal in a vivid shade such as red, you can enliven a room in a neutral tone such as gray. Note how other bright hues (such as yellow and orange) breathe life into the nursery below. [from M.J. Lanphier]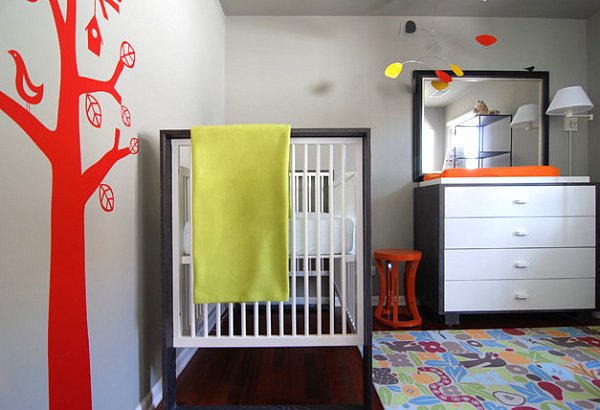 Tree nursery decals are the perfect choice for gender-neutral spaces. The simplicity of the decal below adds a modern look to this light and airy space. [from 100K]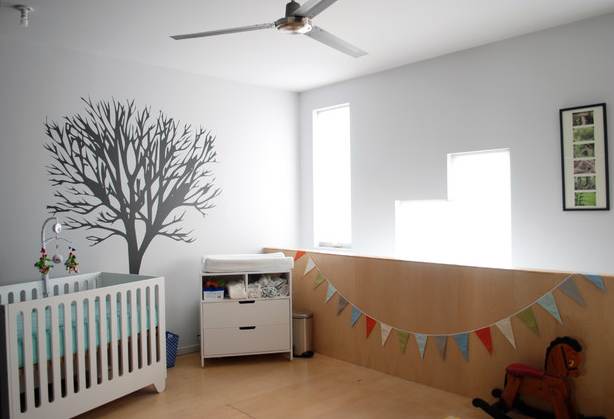 The nursery below sleeps two babies–a girl and a boy! Grey walls are personalized by a white tree wall decal in this space by Regan Baker Design: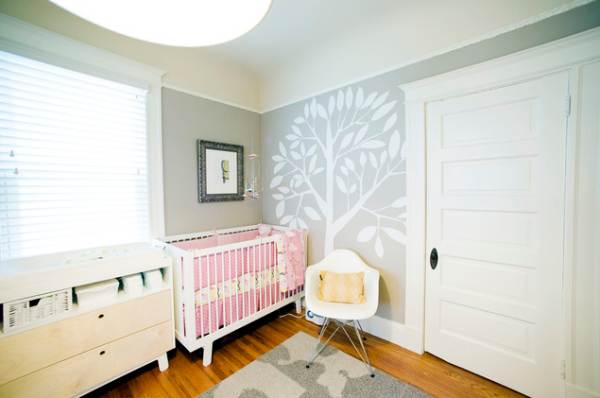 Once again, a tree decal in white is soothing yet striking against a gray backdrop. Are we sensing a theme here? Note the contrast created by leaves in a darker shade. [from A Lovely Lark]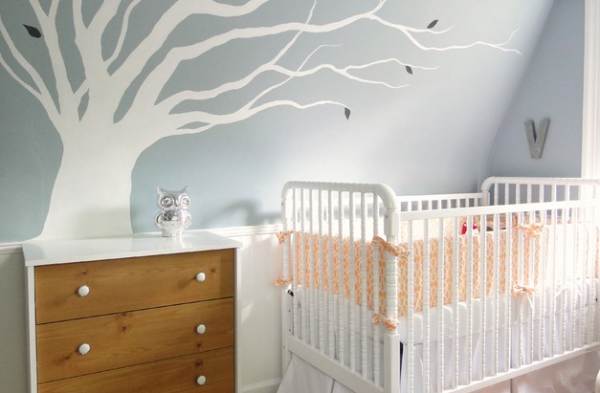 We end with a vivid green nursery that will knock your socks off with its colorful, design-rich interior. When the walls are this green and the ceiling is turquoise, what could be better than white for the decal color?! [from Jennifer Bishop Design]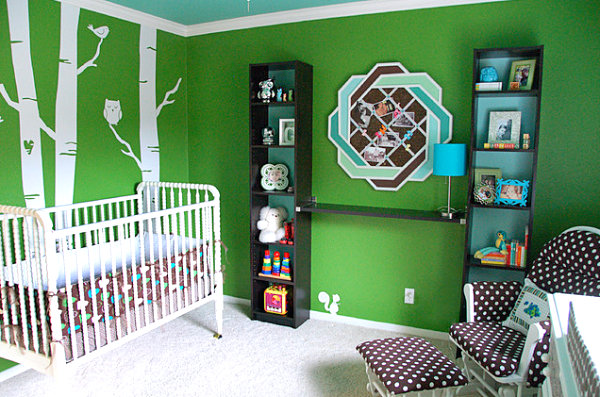 Would you decorate your home with a tree wall decal? If so, where would you place it? In the living room? In your bedroom? In a child's room? Share your thoughts by leaving a comment below…