When you imagine animal motifs in the home, you may have visions of leopard print sofas and a wall of deer heads. In fact, some people may avoid animal-themed decor altogether because they consider it to be a little too–well…wild! Believe it or not, the selections featured in today's post are surprisingly subtle and modern. If you're looking to go all out, by all means, bring the jungle to your living room! But if your tastes are a bit tamer, don't dismiss "creature feature" decor without checking out the items below.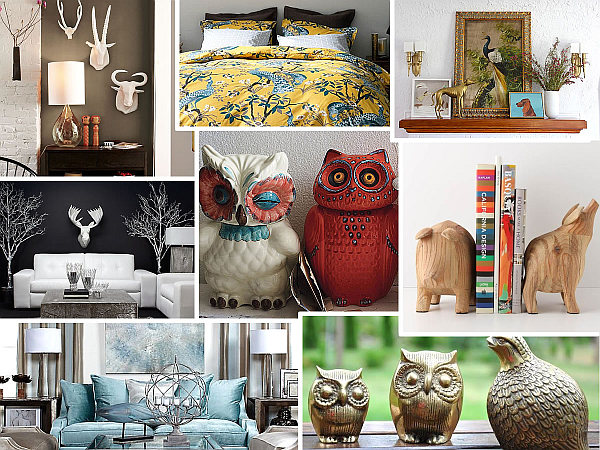 As you're probably well aware, trends such as owl figurines and ceramic animal heads have taken the design world by storm. Today we spotlight plenty of them. But what about wooden potbelly pig bookends or a triptych featuring a horse? We have those too! Don't forget the value of going eclectic, as shown below in an image from the blog of Emily Henderson. The mantle of her home layers avian and canine art to create a rich design landscape.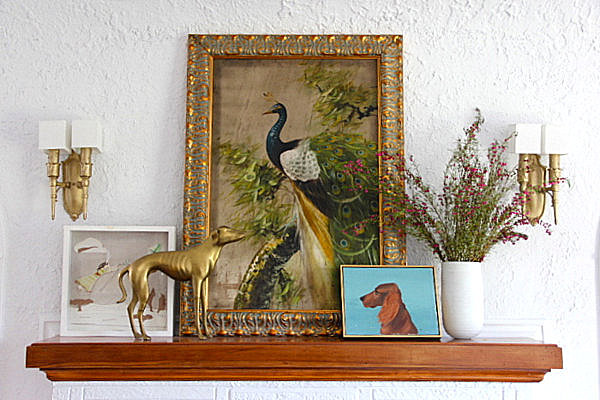 Now it's time for you to create a design landscape of your own. Your home can be a stylish "zoo" that houses the animal decor of your choice. You're the zookeeper/curator, and here are some creatures for you to feature:
Birds of a Feather
These days it's all about the birds! In fact, winged friends such as owls have entered the fashion realm as well as the world of design. After all, who doesn't love a vintage owl pendant? For now we'll focus on the tabletop and showcase these ceramic owls from West Elm. They are glazed for a shiny effect and can also be used as paperweights.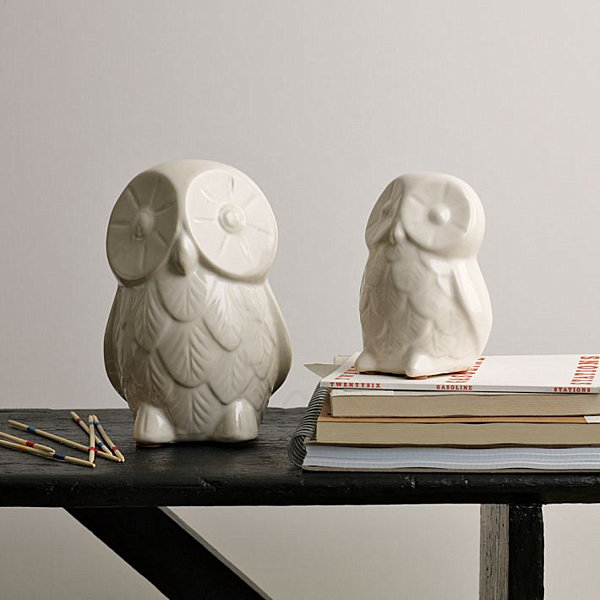 Some animal-themed items are functional as well as decorative. Contain your edible goodies with A Real Hoot Canister and the Wise Ol' Canister in orange from Anthropologie. Bright colors make these items vivid as well as charming: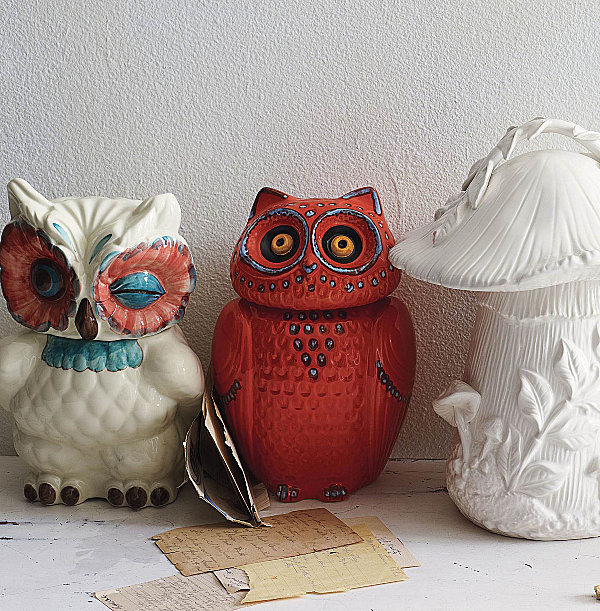 Brass is making a comeback thanks to artists (like Jonathan Adler) who are increasingly featuring fun animal figurines in this once-outdated material. For unique animal decor, go vintage with selections like the antique store finds below. [from Birdhouse Design + DIY].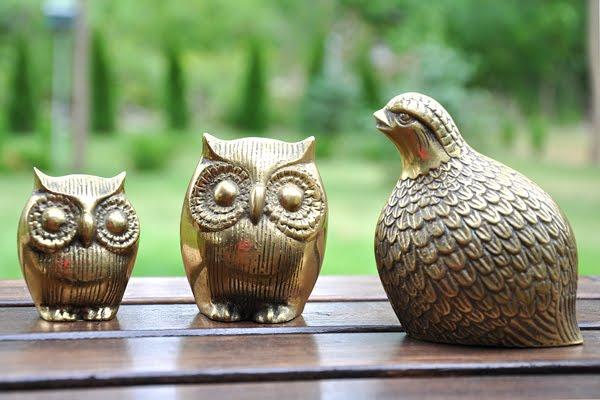 Oh how we love peacocks! The Peacock Citrine Duvet Set from Dwell Studio has the elegance of traditional Chinoiserie patterns and the vibrant color of today's most contemporary bedding. A 400 thread count doesn't hurt either!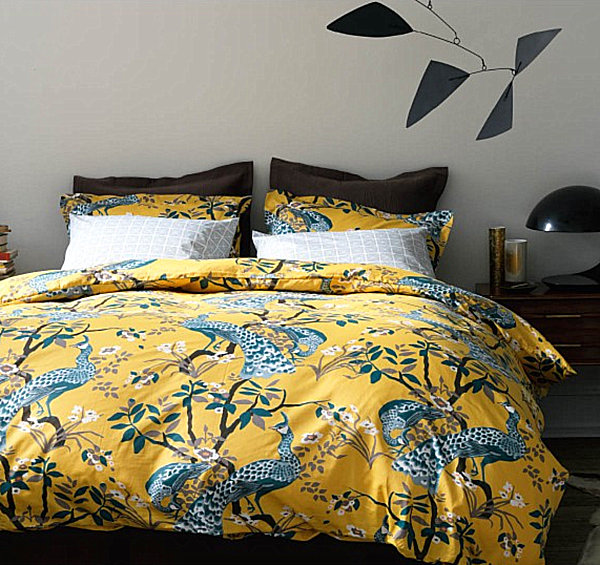 Speaking of Chinoiserie, that's the very name of this next Dwell Studio bedding feature. More sparse in design than the duvet above, Chinoiserie features bird and branch in a strikingly minimal arrangement.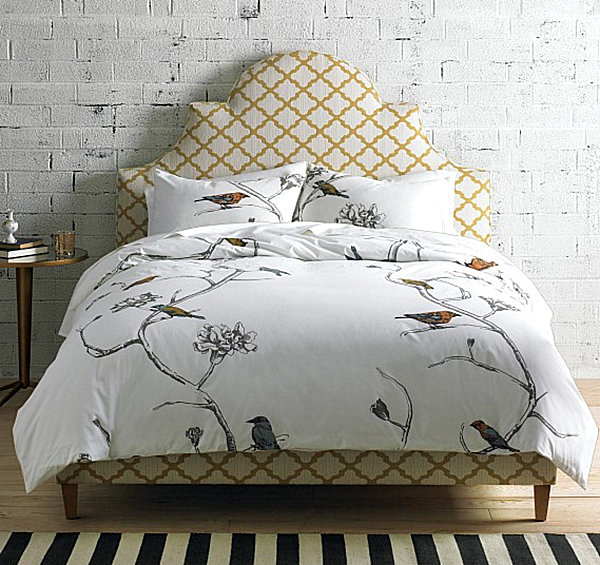 For a touch of color, check out the Orange Chick Candleholder from CB2, shown at the very top of the shelf in the next image. A modern silhouette and an eye-catching hue make this orange powder-coated aluminum/iron item a real scene-stealer: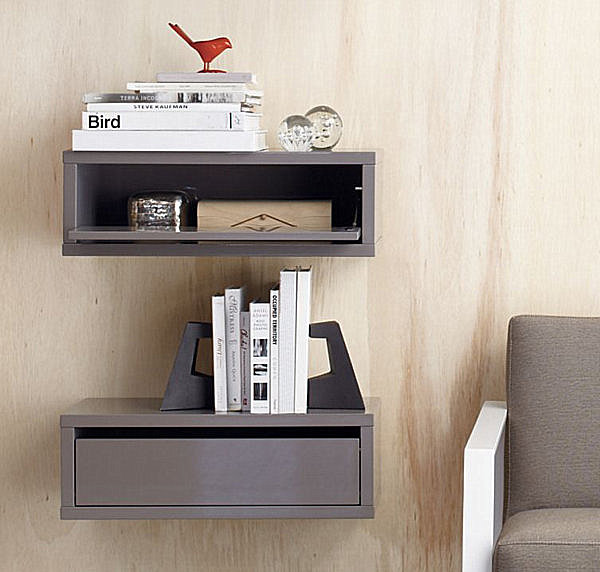 For another statement that celebrates the "little birdie," check out the Tweet Bird Candleholder from Crate & Barrel. A rock grey finish keeps the piece simple, modern and sweet: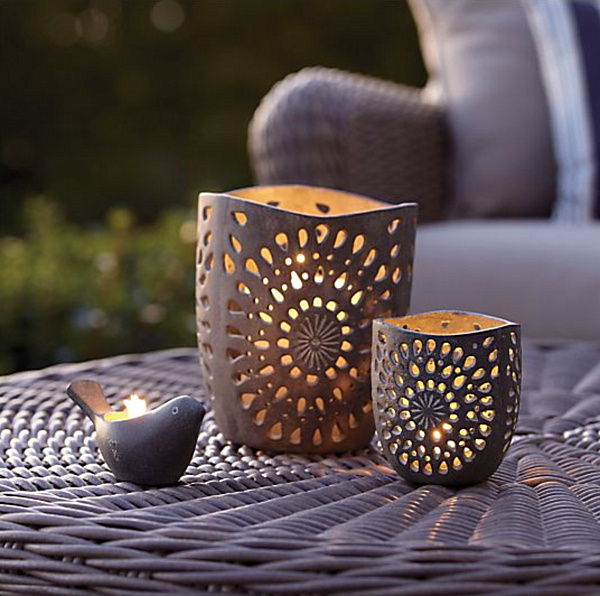 Mammal Mania
News flash: animal-themed decor isn't just for the birds! What about the wide range of mammals that inspire innovative design? In fact, our love for creatures great and small has inspired artsy alternatives to mounting actual animal heads on the wall. Made by Haitian artists, these papier-mâché animal sculptures from West Elm are a wonderful alternative to the real thing!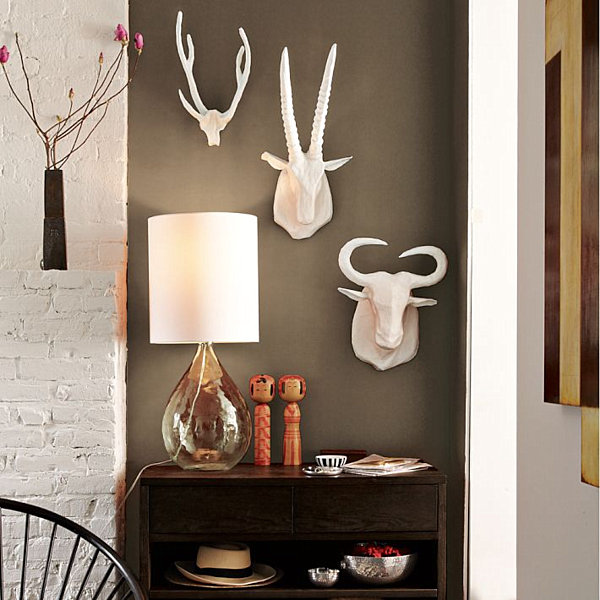 On a similar note, the White Lacquer Moose Head from Z Gallerie is made of glossy resin. The piece's large scale mimics the size of an actual moose head.
Sometimes three is better than one, at least in the case of the artwork below. The Horse Triptych from Z Gallerie is segmented for a powerful effect. Distressed wooden frames add rustic style to the grouping.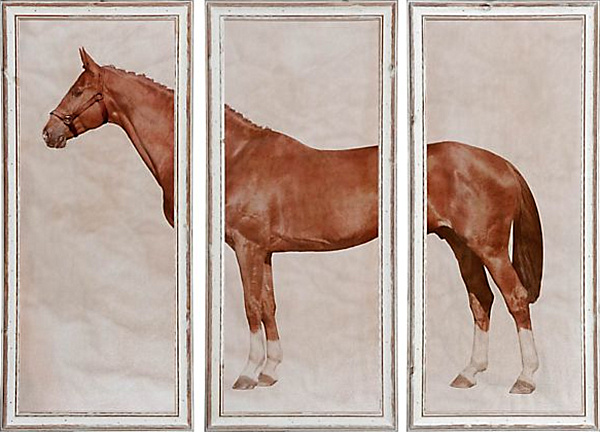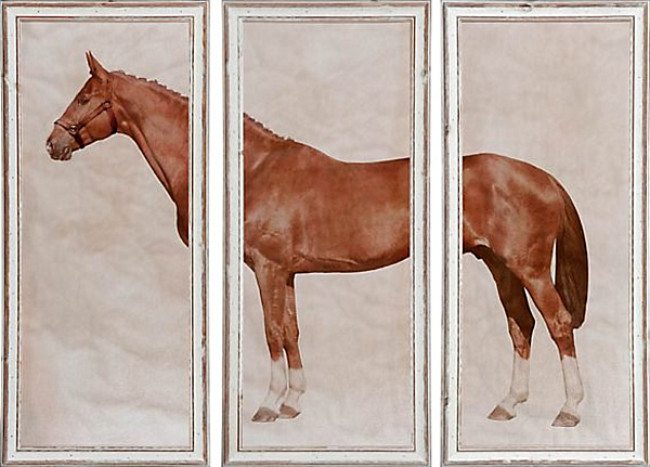 There are some folks who love a good zebra print and others who swear never to willingly surround themselves with decor that channels the hide of this mammal. If you're in the second group, maybe the Grey Zebra Runner from Z Gallerie will help change your mind. Rather than boasting a garish black and white motif, this pure cotton piece is sophisticated in grey and white and blends well with tabletop decor of all colors. Intrigued? Placemats are available as well!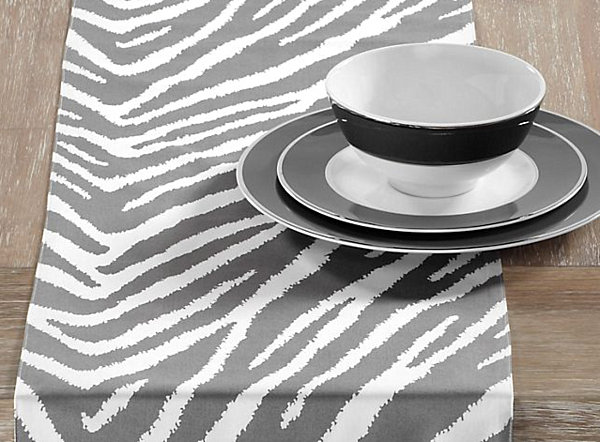 We can't forget about the pigs! While wooden piggies may not be the first thing you imagine for the task of holding your books in place, who can resist the Potbelly Bookends by Roost from Anthropologie? These hand-carved pine items are stylishly primitive in their appearance.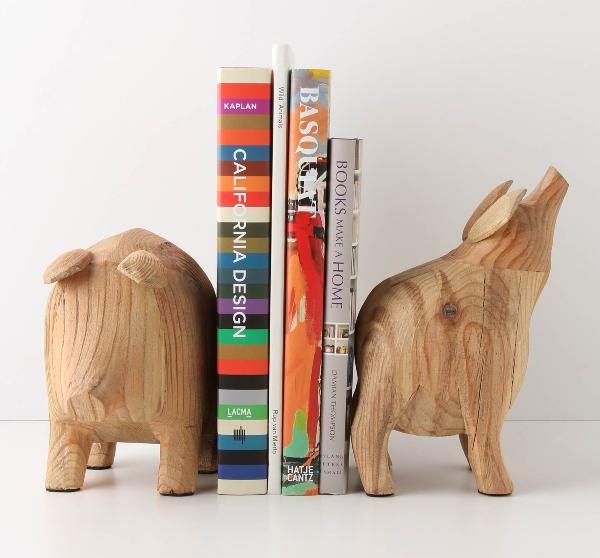 Under the Sea
We now journey to the ocean, where the riches of the sea are the inspiration for our final category of creature features. The Sea-Life Topped Bottles from Pottery Barn are made of glass and sealed shut with lids boasting cast resin creations of coral and sea fans.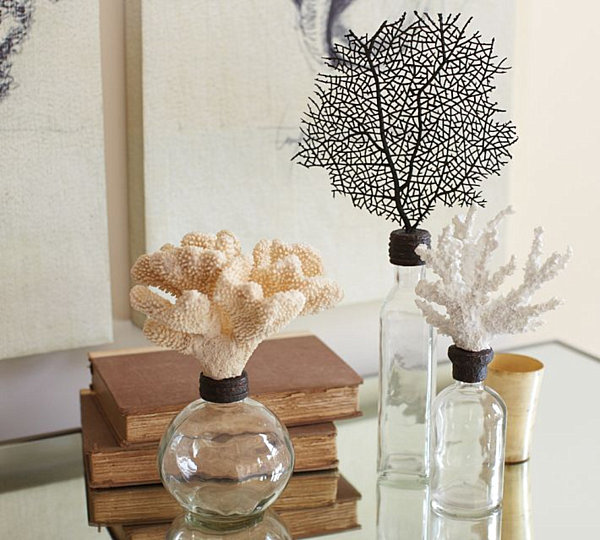 Speaking of coral, this sea creature (no, it's not a plant!) is just as stunning in artwork as it is in tabletop decor. The Coral & Shell Canvas from Pottery Barn is screen printed on stretched canvas for a "zoological drawing" effect: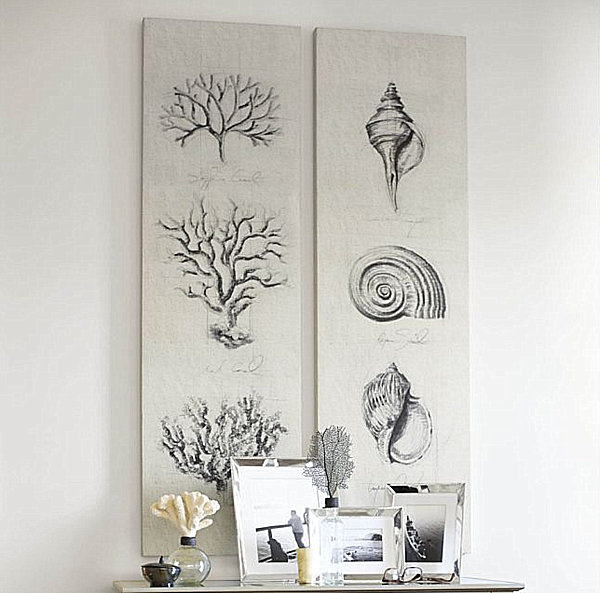 Look closely at the image below and you'll see a sleek figure in blue… The Whale Shark on a Stand from Z Gallerie is the perfect summer accessory! An antiqued copper patina finish gives this creature a softened, antiqued appearance.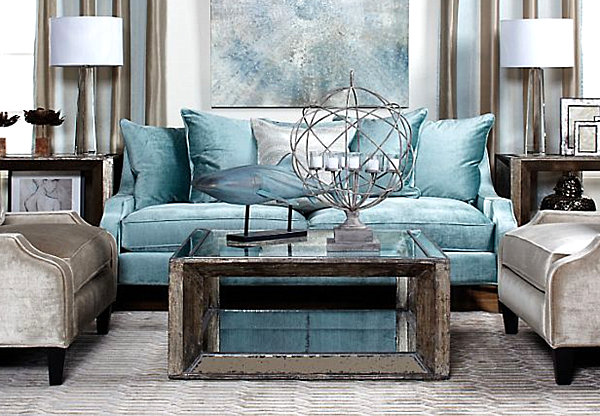 Why not bring the fish into the kitchen? The Scandinavian Fish Serving Boards from Dwell Studio are made of Shesam wood and are absolutely perfect for summer entertaining.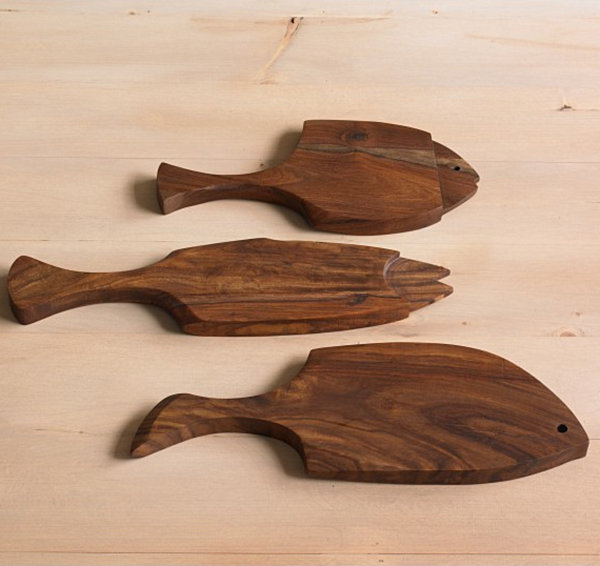 We end with the Asian influence of the Twisting Koi Taper Holder from Anthropologie. While pictured without a candle, this carp can certainly hold one, or it can stand on its own. After all, it's balancing a China rose on its tail!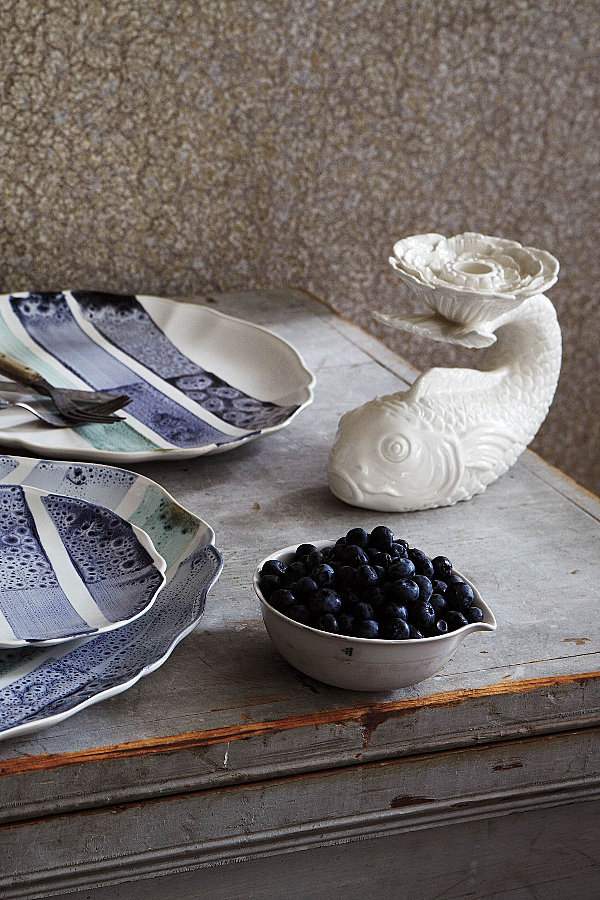 When it comes to new trends in animal decor, it's interesting how many of these pieces are removed from their natural context. In other words, rather than trying to depict these creatures as realistic or fresh from the grassland, tree branch or sea, designers are updating them with glossy finishes and modern silhouettes. Which creature will you feature in your home?
[Note from the Editor: I am partial to the owls! – Fred Hoot]