There's nothing more decadent than a tub for two! Bathing is a relaxing, rejuvenating activity. Why not enjoy it with the one you love? Today's featured two-seater contemporary bathtubs defy expectation. Innovative design combines with well-planned function to create a work of art for the powder room.
Tubs for two come in a variety of shapes, from oval and rectangle to more unusual forms, several of which you'll see below. While you peruse the designs, imagine yourself kicking back and having a soak while the hydro massage jets work their magic. Not to mention, as you picture yourself lining the tub with your favorite candles (and a few rose petals), perhaps you can convince your sweetheart that it's time to invest in one of these beauties:
Oval Bathtubs for Two
We start with a sleek two-seater hydro massage bathtub from Harmony. This clean-lined tub features ergonomically shaped massage jets that take therapeutic relaxation to a new level. Display it as is, or install it into a fully or partially tiled tub. [from Archi Expo]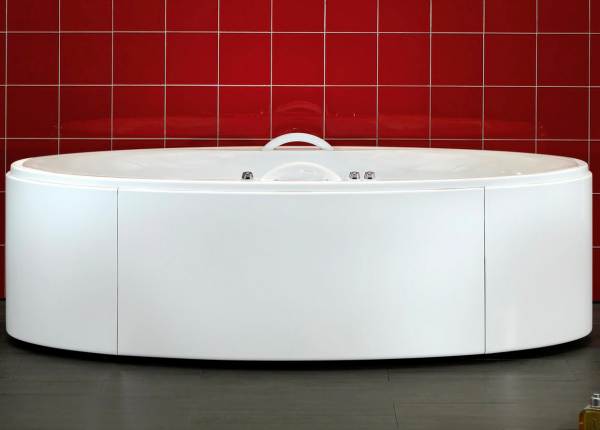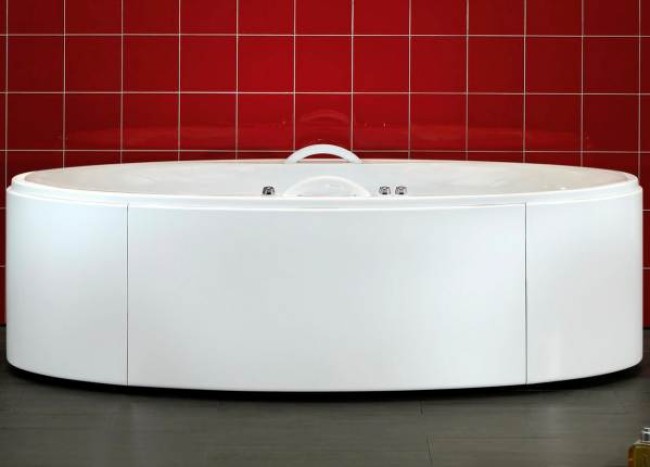 The Desiderio Jacuzzi bathtub from the Italian company Tempoperdue features hydro massage and Chromotherapy options. Yes, colorful lights enhance the experience! Not to mention, there's a special plexiglass table for holding treats such as champagne (and dark chocolate)! Looking to lay back and let all of your senses be activated? The soft leather headrests will let you recline in true comfort. [from Luxedb]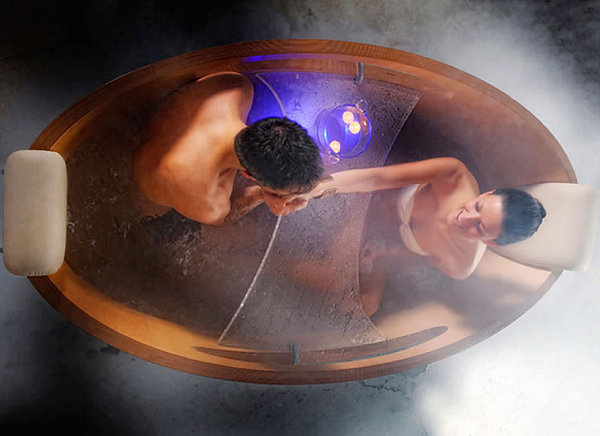 Rectangular Bathtubs for Two
In our next featured group of tubs, angles and lines combine in perfect harmony. The Fuzion Whirlpool Bath from Jacuzzi can be ordered with a teak or exotic wenge wooden deck, which elevates this piece to sophisticated territory. Special lighting in the water sets the mood. [from Archi Expo]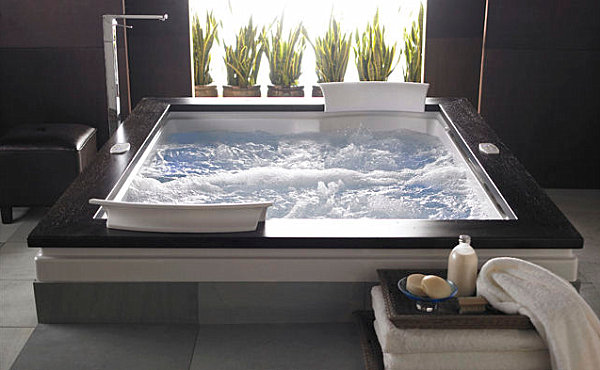 This next two-seater rectangular bathtub by MINIMAL DUO encourages side-by-side bathing with its twin headrest. Not to mention, the interplay of dark and like creates a wonderful contrast, as shown in the light and airy bathroom below. [from Archi Expo]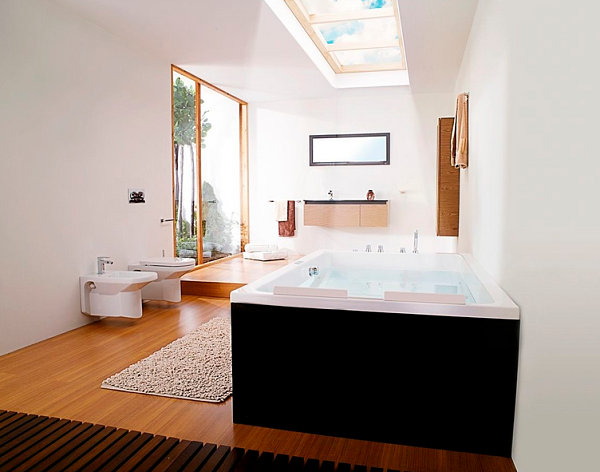 We now enjoy an overhead shot of the Two Person Whirlpool Bathtub from Leisure Concepts. Featuring eight whirlpool jets, this Lucite acrylic piece is sure to soothe and massage. Not to mention, the color can be customized to create just the right look for your powder room.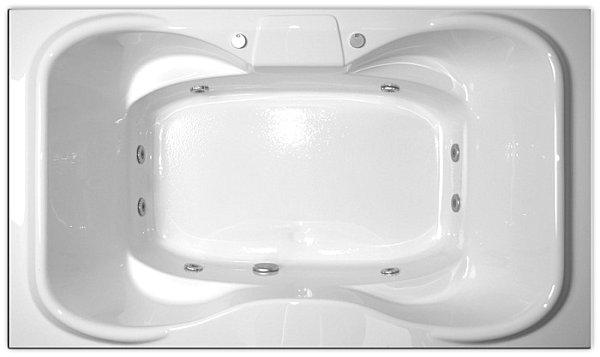 The Romeo Two-Person Whirlpool Tub by Leisure Concepts is perfect for side-by-side bathing, thanks to its cast acrylic form that accommodates a pair. Also adding comfort: two pulsating jets and four adjustable jets. Like the tub above, this piece is available in multiple colors.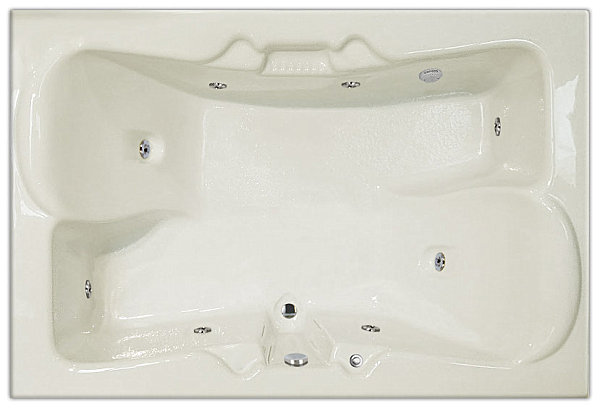 We've all heard of walk-in showers, but have you heard of a walk-in tub? The Companion Two-Seat Soaking Walk-In Tub from Ella's Bubbles features a stainless steel and tempered glass door, as well as an overall acrylic construction. Easy entrance. Easy exit. Plus a slip-resistant floor. Just make sure you drain the water before you open the door! [from Freedom Walk In Tubs]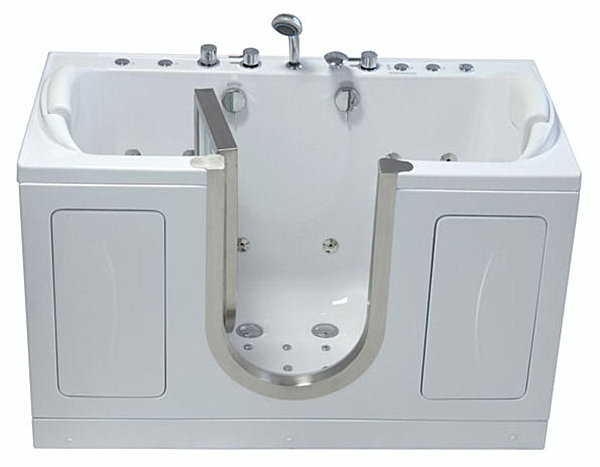 Unique Two-Seater Tubs
We round out our collection with a series of unique bathtubs that dazzle with their interesting forms. Speaking of rounding out, this Rounded Corner Waterfall Whirpool Bathtub by Eago is packed with hydro-massage jets (18 total). Not to mention, you can create a lighting scheme to match your mood and listen to the radio while you bathe. Scratch-resistant acrylic makes this piece durable as well as eye-catching. [from FaucetDirect.com]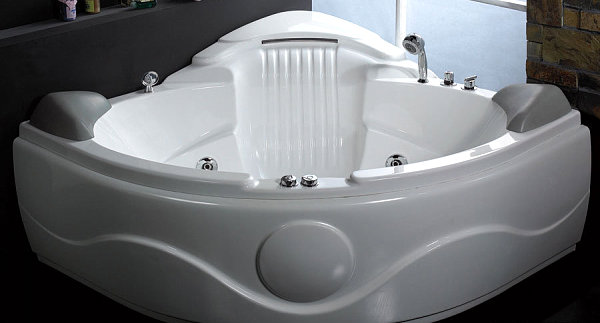 One end is wider than the other! It's a two-seater tub from Genf Duo, featuring headrests, as well as a fabulous form that offers plenty of surface space for those designer bath products. Don't forget to check out the built-in shelf space! [from Archi Expo]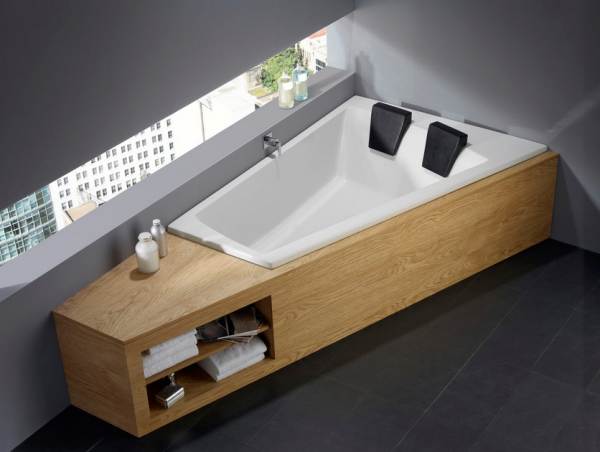 Our final tub is a bit of a showpiece! And it's no wonder, considering that this bathtub for two is featured at Cove Haven Entertainment Resorts in the Pocono Mountains. How could you not sprinkle rose petals on the bubbles when you bathe in a heart-shaped tub like this? [via Design Rulz]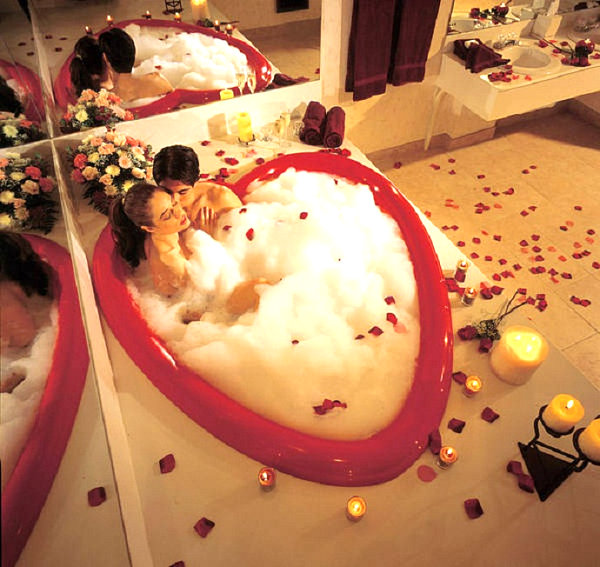 When purchasing a tub for two, consider the needs of your space, as well as the likelihood that two will enjoy the bath on a regular basis. For example, some tubs are larger than others, with more pronounced spots for each bather. Others are more narrow, and they don't feel so lonely when only one is enjoying the tub! Here's to a relaxing spring!