When you imagine a room with a theme, do you picture overdone spaces that beat you over the head with their decor? You're not alone. In fact, recent design trends have defied the concept of the theme, instead encouraging design enthusiasts to combine unique items they truly love, creating a one-of-a-kind eclectic space that celebrates individual style. But don't be so quick to throw out the idea of a good theme… After all, a well-executed motif can give a room a sense of direction, encouraging a purposeful and fun selection of items that reinforce the power of style.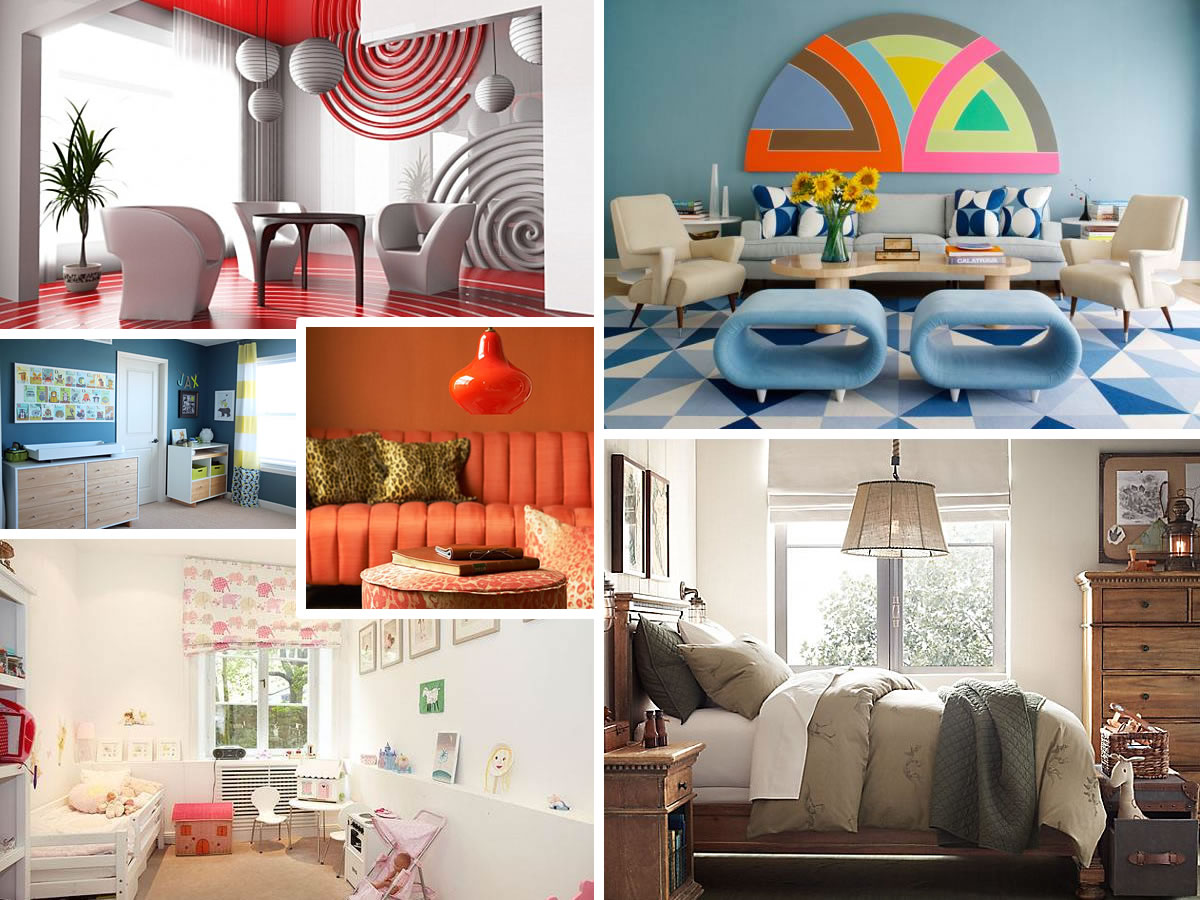 Can a theme be subtle? It depends on how it's implemented! Today we explore the world of understated room themes–those spaces that cleverly blend thoughtfully curated items to create an unforgettable effect. There's a time to be over the top. But if you're a person who has avoided incorporating a theme into your home at the risk of being too "obvious," this post is for you. We've even thrown in some eye-catching spaces that end the post with an exclamation point! Enjoy!
Animal-Themed Spaces
Our first featured space is a boy's room with a canine motif. Yes, dog is the word! However, instead of suffocating the room with bone-shaped pillows and paw print bedding, this blogger and creative mom stuck with classic choices. Doggie silhouette art and pillowcases are sophisticated yet playful, and crisp white bedding anchors the room's fun details, such as colorful wall paintings that reinforce the canine theme. [from Playing Sublimely]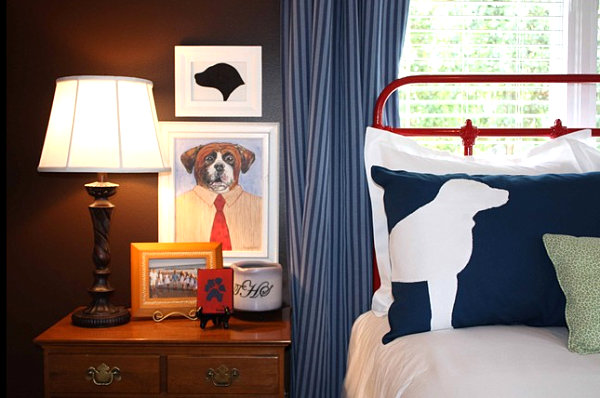 Our next themed space, an animal-motif girl's room, sets the perfect tone with elephant-print curtains and fun creature artwork. Yet there is still plenty of room for kid-friendly favorites like a dollhouse and a toy oven. An important design rule: always make space for the things you love, even if they don't fit with the theme. [from Swift Orchids]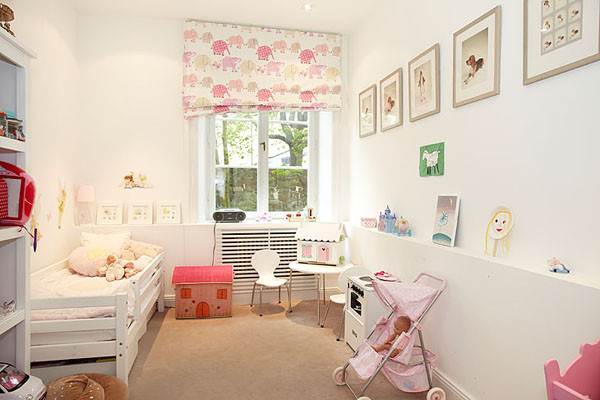 Are you certain you'd never decorate a room based on a child's literary character? Perhaps this Winnie-the-Pooh-themed nursery will change your mind! The key: subtlety. Gone are mass-produced graphics in favor of soft yet striking colors, classic storybooks and a few carefully curated stuffed animals. [from Jennifer Bishop Design]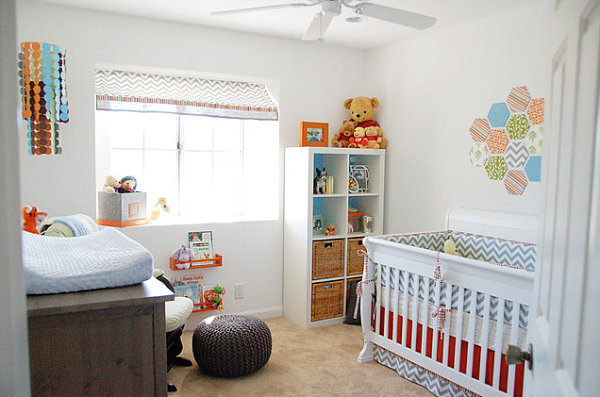 In this next creature-themed nursery from Teal & Lime, an animal alphabet, owl figurine and woodland creature artwork add classy touches to the space without dominating it: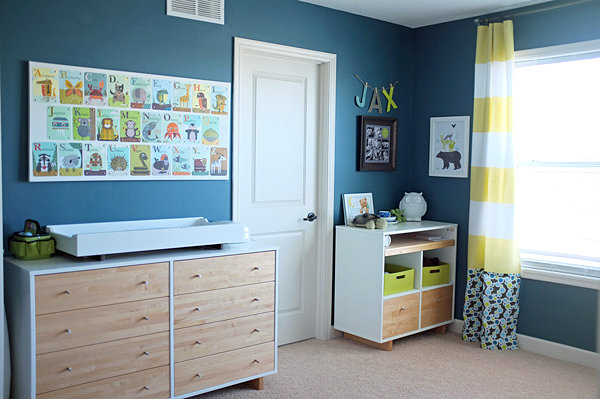 Who says animal-themed design is just for kids?! In the living room below, leopard-print cushions and textiles give the space a truly glamorous feel. Rich orange tones play up the golden glow of the couch pillows. See House to Home for further details.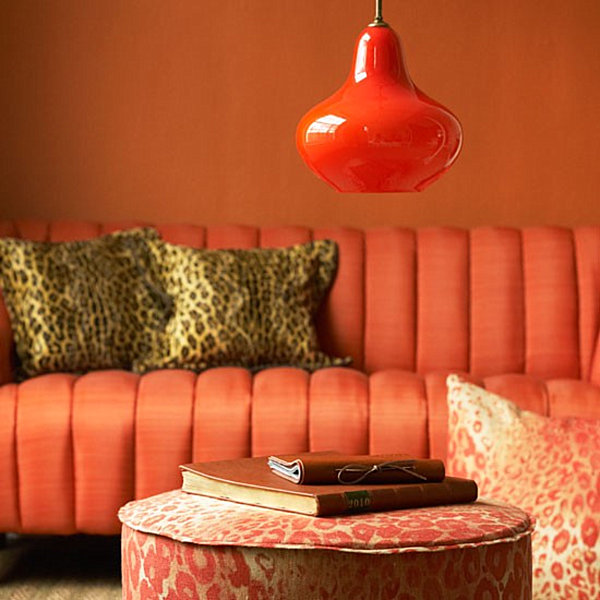 Sporty Rooms
Feeling sporty yet modern? This sports-and-fitness-themed room proclaims its active aesthetic with special features like a mini basketball court, a punching bag and a rock-climbing wall. Yet stunning contemporary design was not sacrificed, as shown by details like the geometrically interesting bed in the image below. [from Perianth]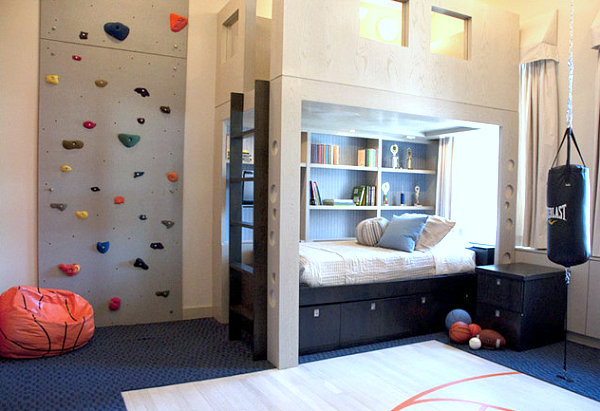 Vintage style permeates this sporty bedroom from Restoration Hardware Baby & Child. Old-school balls deck the wall over the bed, and industrial furnishings bring a quirky element to this well-designed space. [via Home Designing]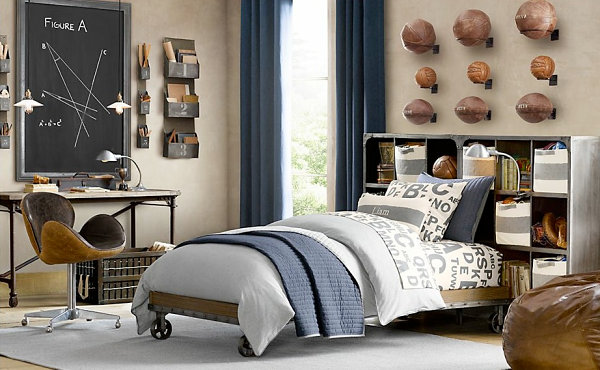 Rooms That Celebrate the Natural World
Sometimes all the inspiration you need is from the world outside! This next room theme from Pottery Barn Kids combines pegboard, chalkboard and cork board on the wall for a functional space that encourages creativity. Garden-loving kids will enjoy this upbeat room theme that celebrates the natural world without being overly theme-y. [from HGTV.com]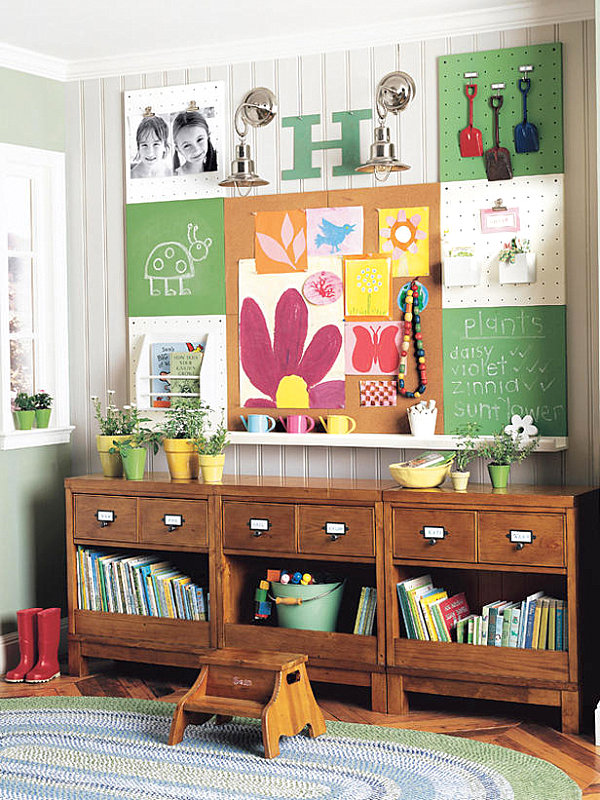 We now turn our attention from the Earth to the heavens with this astronomy-themed room from Restoration Hardware Baby & Child. Night Sky bedding and sculptural pendant lighting combine with muted colors to create a room that revels in science while keeping the style understated and classy. In fact, this room could just as well be fit for an adult!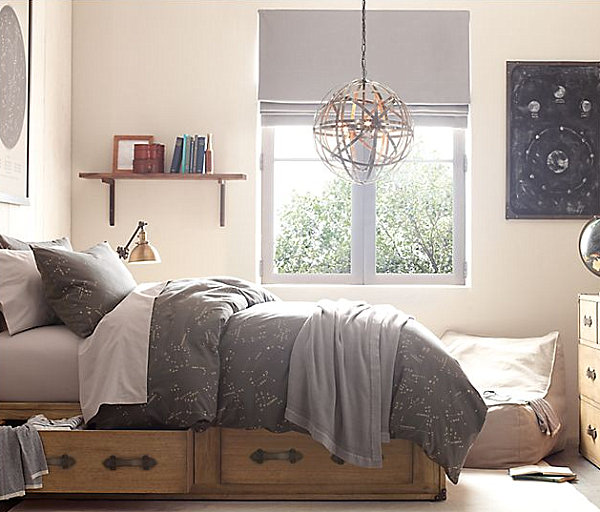 Are you ready to go on safari? This next space proves that animal style can infiltrate a bedroom without stampeding it! Neutral tones and weathered accessories create an environment that nurtures the explorer in every child. For product details, visit Restoration Hardware Baby & Child.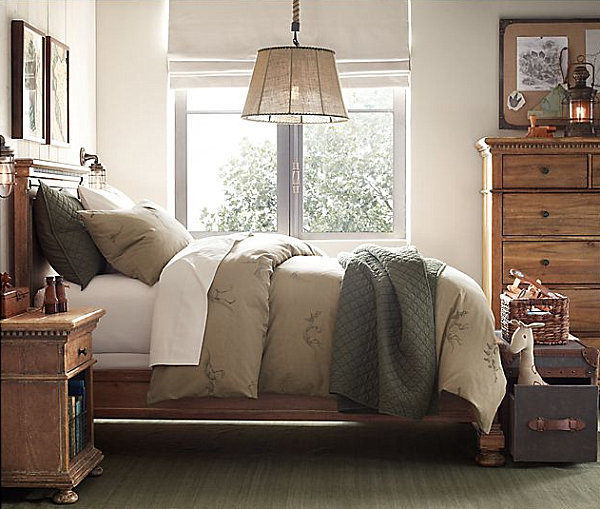 Geometric Spaces
Is "geometry" a theme? Sure is! And it's perfect for grown-up spaces. Geometry reigns in this living room designed by Anthony Baratta. Note how lines, curves and angles pop on rug, cushion and wall, tying the space together in stylish fashion: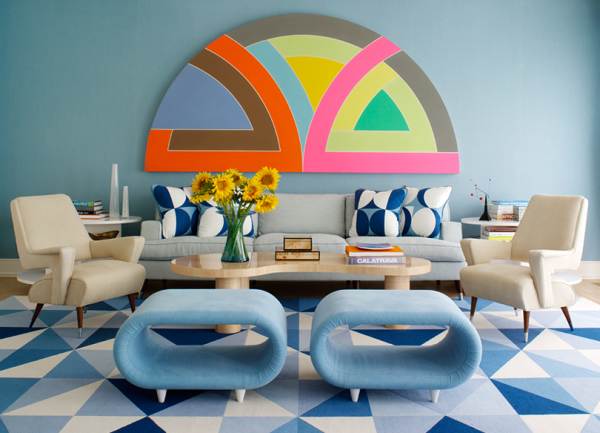 We go out with a bang by featuring a geometric living room that celebrates the spiral. Though we wouldn't call this space subtle in any shape or form, the motif itself is a modern celebration of curve and shape that defies theme-y expectation. [from Decoholic]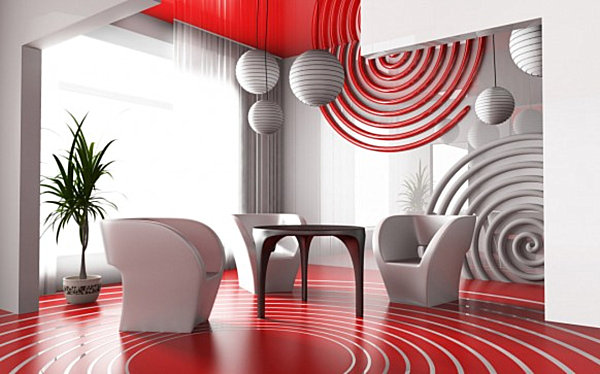 Have you ever used a theme in decorating a room? Did you make a bold statement or veer toward the subtle? Share your thoughts by leaving a comment below…
Liked the story? Share it with friends.