'Tis the season to prepare delicious food! For some, hanging decorations and wrapping gifts are ideal ways to express holiday creativity. For others, it's all about the food! In fact, just as you would thoughtfully arrange decorative items on a shelf or consider the layout for your favorite room, you can put a high level of artistry into the preparation of your holiday table.
RELATED VIDEO: Rustic DIY Tiered Serving Tray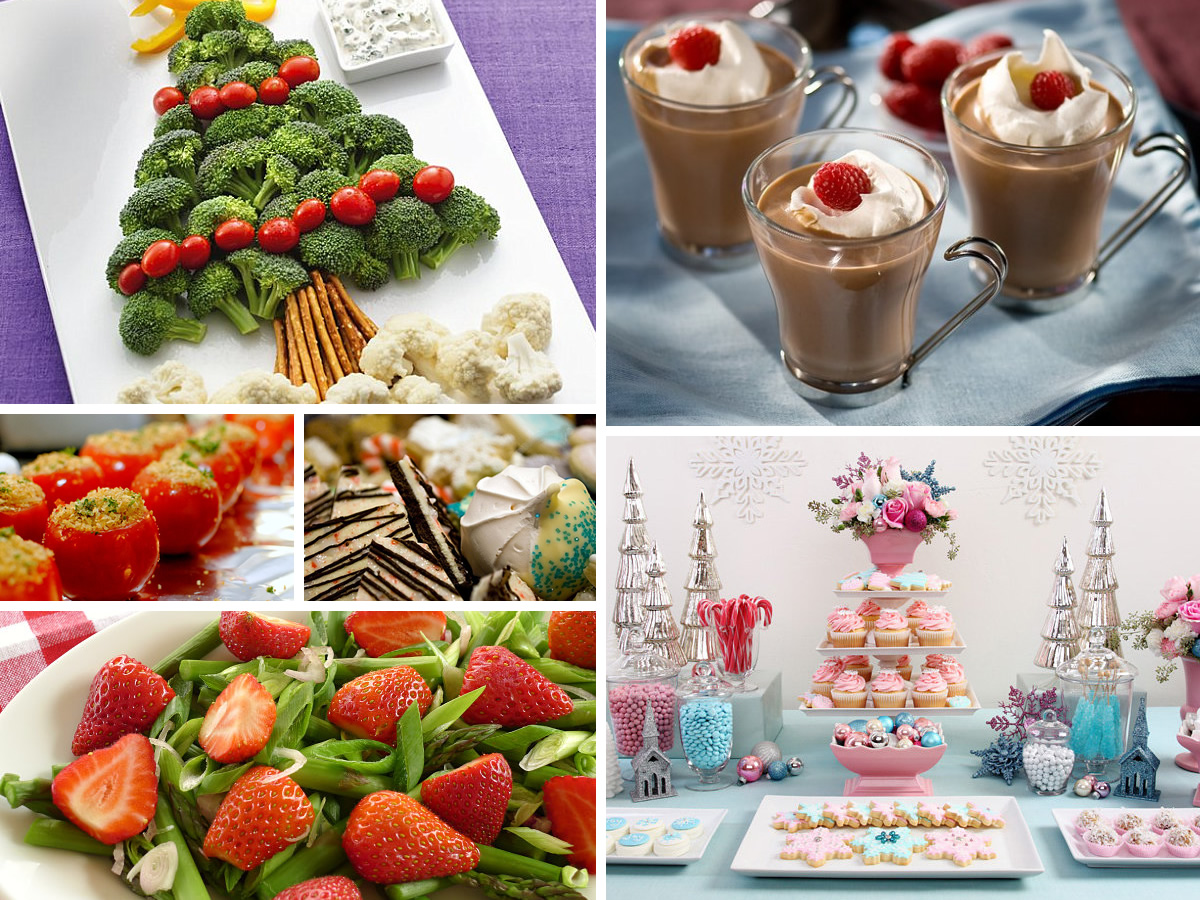 In fact, each serving plate is a blank slate. Why shouldn't an appetizer tray be a work of art? Taking the time and care to make a meal special is a wonderful gift to family and friends. Check out the festive ideas below, and let them inspire you to create your own special holiday table.
The Holiday Buffet
If you're hosting a group, a buffet table may be the answer. After all, guests can serve themselves, freeing you up for quality visits with friends and family. One of the most decadent entertaining trends in recent years is the designer buffet table. In fact, hosts and hostesses revel in each detail of the display, crafting tablescapes filled with decor and beautifully prepared spreads of food. Below we see a Christmas buffet table from HGTV.com. Note the metallic touches, and the way bursts of red roses add color. Thoughtfully assembled bites of food tempt guests!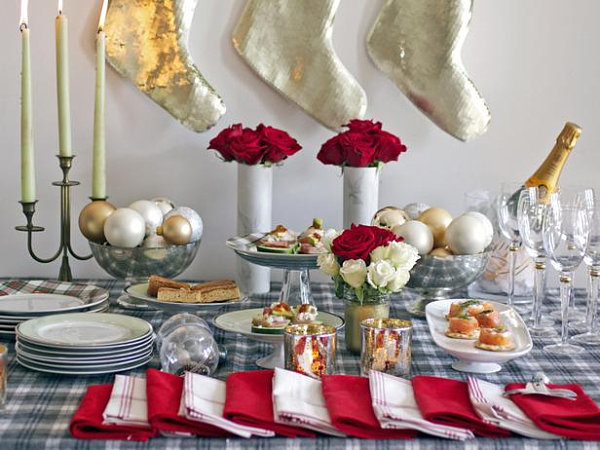 In an undeniably Christmas-themed dessert buffet, stripes and swirls spread holiday cheer. Decorated cupcakes and other edibles are strategically placed, as are decorations such as candy topiary trees. Get all the details at Amanda's Parties to Go: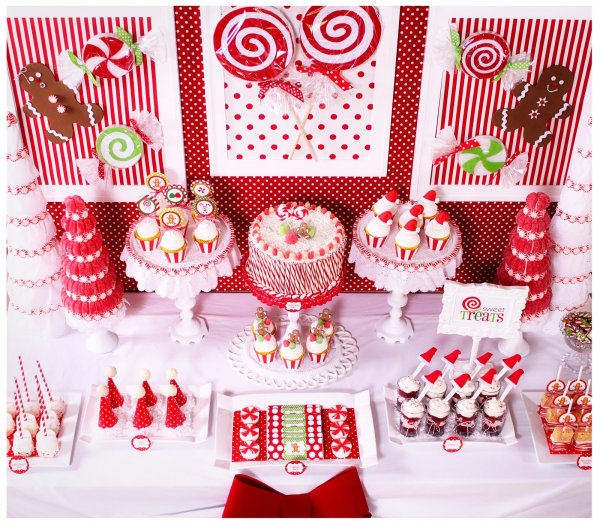 Some hosts dress up their holiday spreads with an assortment of eye-catching nibbles. But equally eye-catching is a streamlined collection of bite-sized treats arranged in neat rows on square and rectangular platters, as shown below. Check out all the details at Milk From Corn.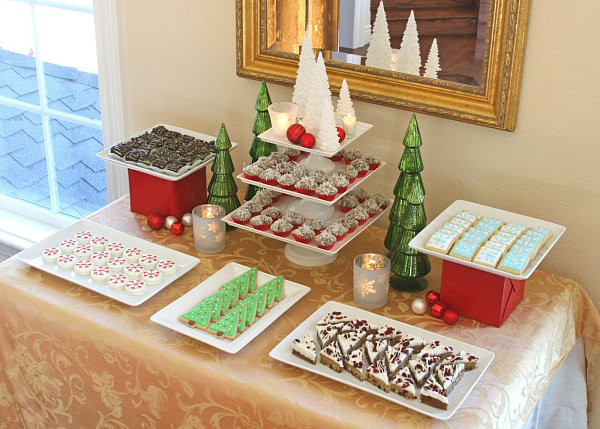 Don't assume that Christmas buffets have to feature colors like red and green. Sometimes the unexpected choices can make quite an impression! The "Vintage Pastel Christmas Dessert Table" below was created by Glory of Glorious Treats. Vintage pottery holds flowers and ornaments, while apothecary jars contain candy in pinks and blues. When the desserts are this pretty, all you have to do is provide them with a neat display space–they will sell themselves! [from Hostess with the Mostess]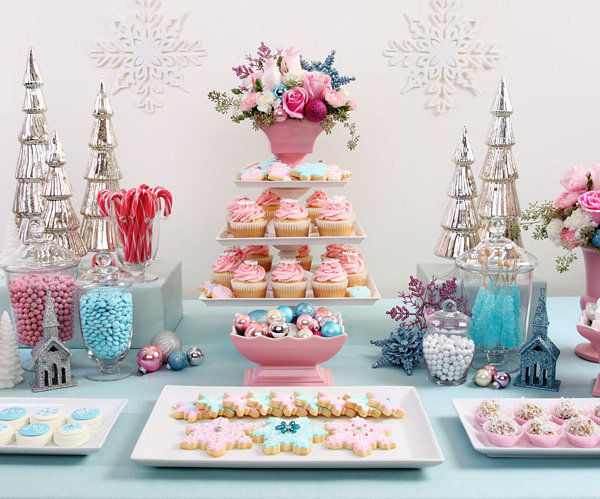 The Plate as a Canvas
We now move from tablescapes to platescapes. The images below feature plates that may as well be works of art! Like this Christmas tree vegetable platter from Betty Crocker, shown below: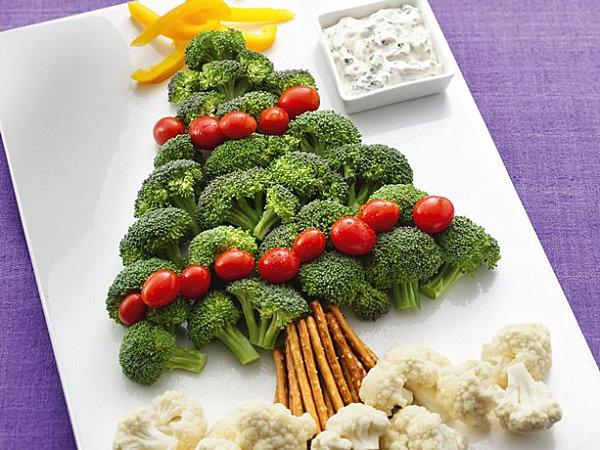 Beautifully arranged food makes all the difference. Don't forget the value of an herb garnish, a special sauce, or a scoop of a delicious side presented in a way that makes guests take notice and appreciate each bite. [Photo by Tom Dubravec via Like Croatia]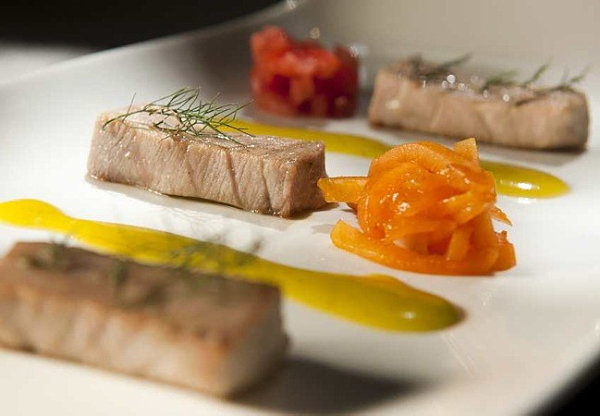 The same stunning food preparation strategy can apply to dessert, as shown by the Christmas ice cream treat featured in the next image. To create this dish, mix chocolate chips, marshmallows and other goodies into your favorite vanilla ice cream, then place scoops in ramekins or silicon muffin cups. Let the ice cream harden again in the freezer, then remove the scoops from their containers and set them on plates with chocolate syrup and fresh strawberries. Irresistible! A detailed recipe can be found at Bite-Sized Thoughts: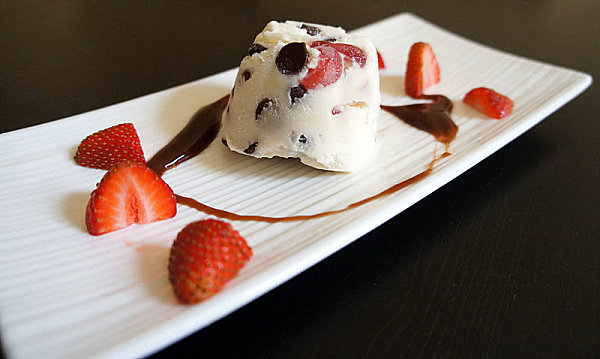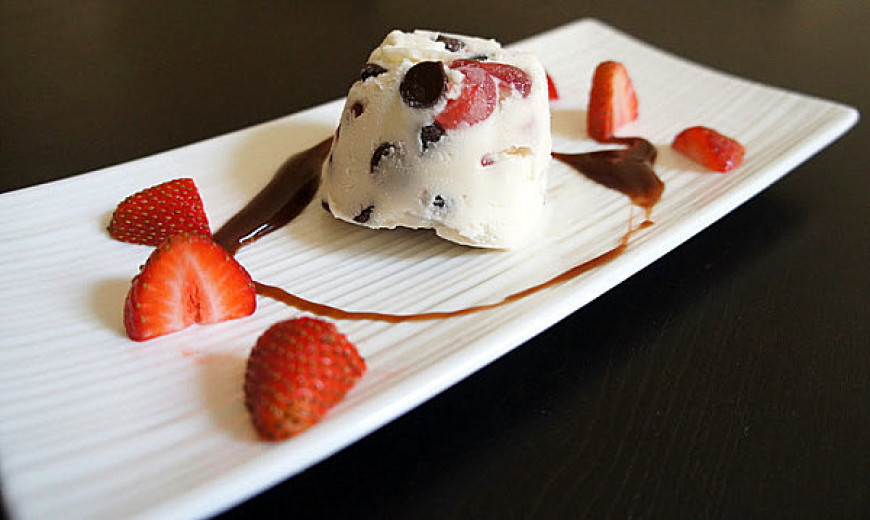 Don't forget that each cup can be a canvas too–get creative with your Christmas drinks! Below, we see raspberry-infused hot chocolate topped off with whipped cream and fresh strawberries. Details can be found at HGTV.com, and if you seek further embellishment, add some fresh mint or chocolate shavings!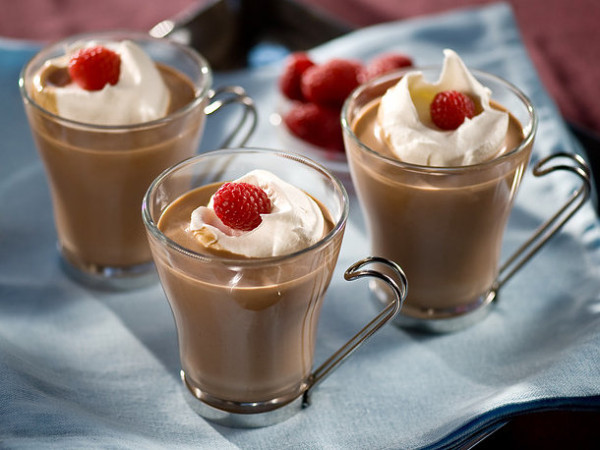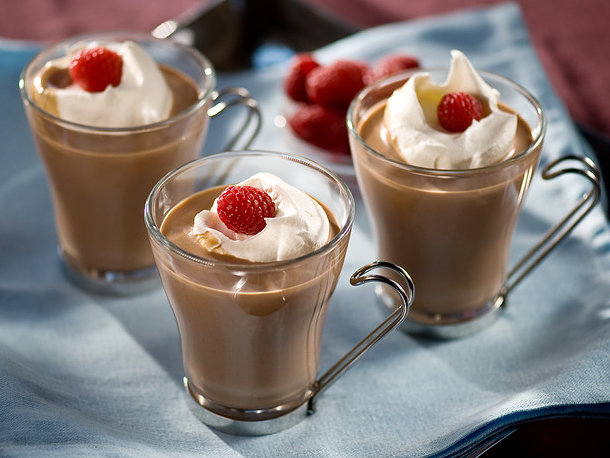 When the Food Speaks for Itself
Sometimes the food says it all, and no special arrangement is necessary. For example, the parmesan- and basil-stuffed tomatoes below have not yet been placed on a serving platter. But their vibrant color makes them naturally holiday-ready! Check out the recipe details at The Church Cook.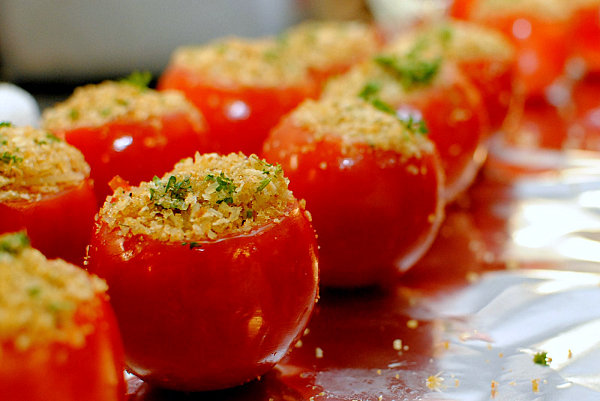 And if each cracker is a canvas in itself, you don't have to worry about garnishing the plate! In the next image, we see Sparkling Cranberry Brie Bites from Around the Table. They are perfectly enticing on a white platter.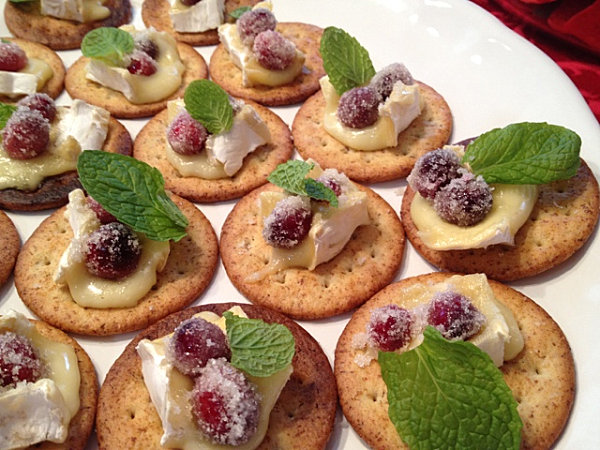 Sometimes variety is key! Pile a collection of artful dessert bites onto your favorite serving tray, and don't worry about arranging each morsel in a perfect formation. In this decadent display from 2 Unique, more is more.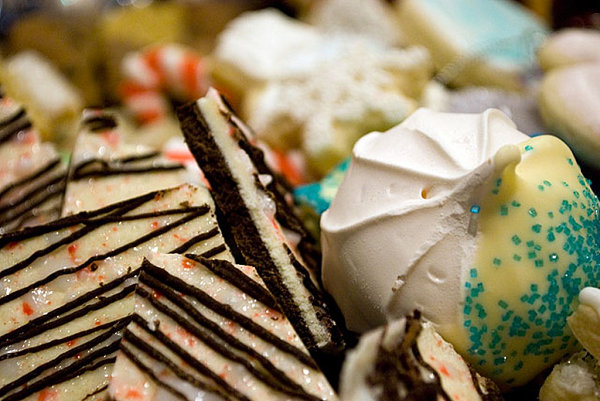 We end with a plate that reinforces the power of color. The strawberry and asparagus salad below uses a bed of green veggies as the background and bright red fruit as the festive focal point. Check out Time for a Little Something for further instruction…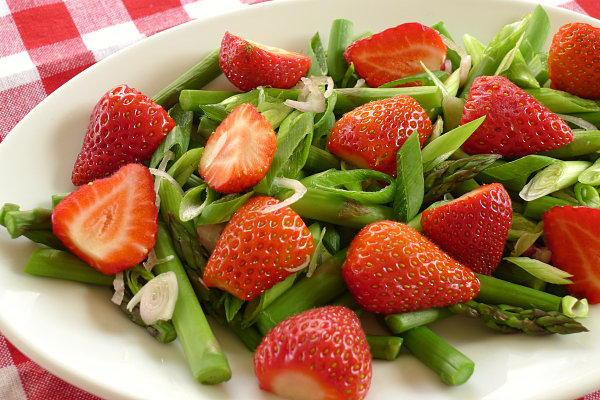 Did you find a new recipe you'd like to try out? What are some of your favorite holiday foods? Share your thoughts by leaving a comment below. We at Decoist wish you a delicious holiday!